This site is supported by our readers. We may earn a commission, at no cost to you, if you purchase through links.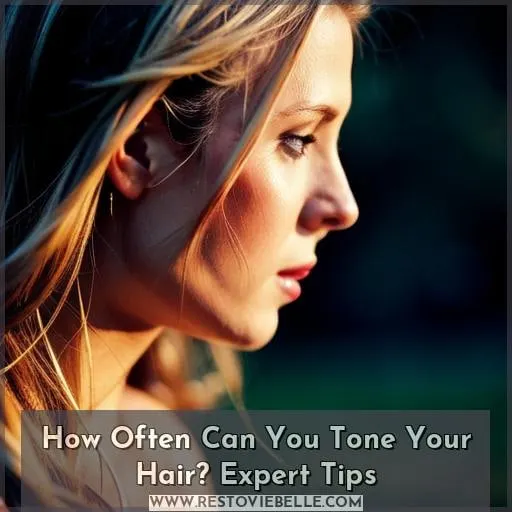 Have you ever wondered how often you can tone your hair? With the right knowledge, toning your hair at home or visiting a salon doesn't have to be daunting. According to a survey conducted by The Guardian, an astounding 87% of women color their own hair – and that's just in the UK! No matter what shade of blonde, brunette, or redhead you are striving for, toner is essential for achieving optimum results.
Let's take a look at everything there is to know about when and how often it's okay (or not) to tone your locks.
Key Takeaways
Toning hair achieves the desired color shades and counters warm tones.
The frequency of toning varies based on the type of toner used: semi-permanent toners should be used every 6-8 weeks, demi-permanent toners every 10-12 weeks, and permanent toners every 3-4 weeks.
Toning shampoos, conditioners, and hair glosses can be used to refresh color and maintain vibrancy.
Regular salon visits are recommended for expert advice and tailored solutions to effectively tone your hair.
What is Hair Toner and How Does It Work?

Toner is essential to achieve the desired shade of color, shift hues in highlighted hair, and counteract warm tones post-highlights. It can be used for semi-permanent quick applications or permanent corrections. The effectiveness of toner depends on the ingredients, application tips, and maintenance used.
For better toner color correction results, it's important to understand how often you can tone your hair without causing damage or fading the color quickly. The frequency of toning will vary depending on your natural hue and brassiness level.
Some toners may require more time for optimal effects, while others will work faster with less product needed at each session.
The toning process varies with different pigments, so it is recommended to do strand tests before full application for the best results. Additionally, maintaining a regular schedule of maintenance is important. This includes using quality products like purple shampoos, which deposit subtle violet pigments long term.
It is also advisable to use UV protection when outdoors during the summer months for maximum benefits of toning effects all year round.
Types of Hair Toners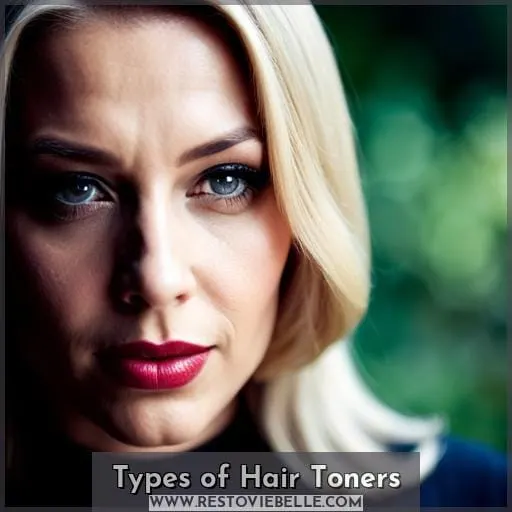 When it comes to toning your hair, you have three options: semi-permanent, demi-permanent, and permanent. Semi-permanent toners are applied quickly with 1 to 3 minutes of processing time, while demi-permanent toners take a bit longer at 5 – 15 minutes for more intense color enrichment.
Permanent toner is the most involved process since it requires major correction and can take up to 45 minutes or more depending on the desired result.
Semi-permanent Toner
Semi-permanent toner is the quickest and most convenient option for those who want to refresh their highlights, with a 1-3 minute application time on average. It's also highly effective, lifting up to four levels of color in one use. Benefits include preventing overtoning, accurate application and timing, toner longevity factors, and effective at-home toning.
Demi-permanent Toner
Demi-permanent toners offer a longer-lasting effect than their semi-permanent counterparts and provide an enriched color that can take up to 15 minutes to apply. They're ideal for enhancing natural hair colors while maintaining healthy cuticles with a glossy finish.
Demi-toners also last longer, up to 8 weeks compared to the 6 weeks of semi-permanents, and are gentler on hair since they don't contain ammonia or peroxide.
Permanent Toner
If you need to make a major correction in your hair's color, permanent toners are the way to go for long-lasting results. A professional application is best as it ensures correct timing and product use.
Permanent toner frequency depends on desired effect, hair health, and maintenance regimen.
Hair gloss benefits include enhanced shine, deeper tones, and conditioning properties without damage that can occur with regular shampooing when using a permanent toner versus semi/demi-permanent versions.
Professional products provide optimal protection against fading and brassiness while allowing safe customization of color shades.
When to Use High Lift Permanent Toners?

When it comes to toning your hair, high lift permanent toners are an excellent choice. These powerful and highly concentrated products can be used for a variety of different techniques, such as color deepening or major correction.
If you're looking to achieve icy cool blonde or silver/ash tones while neutralizing brassiness in blonde shades, then this is the perfect option for you.
High lift permanent toners require more time and care during application than semi-permanent and demi-permanent ones, so make sure to follow all instructions carefully when using them. Toner processing times may vary depending on the desired results but should never exceed 45 minutes, as doing so could potentially cause damage or discoloration of your hair strands.
To ensure optimal results every time, use quality products that will help maintain moisture retention in your tresses while also protecting against fading due to sun exposure or chlorine from swimming pools.
When to Use Regular Permanent Toners?

Regular permanent toners are perfect for achieving a long-lasting, vibrant look that is sure to turn heads. To use them effectively, one must customize their toning schedule and maximize the longevity of the toner.
Careful professional application is key as it will ensure desired results without damaging or discoloring hair.
It's important to consider how often you should tone your hair depending on its color and condition. Darker hues require more time due to deep pigments, while damaged strands may need shorter times for the tones not to be overly saturated.
Quality products, such as purple shampoos, can help deposit color pigments. However, it's best to avoid salt-based shampoos, as they strip away existing tones quickly!
Achieving lasting tint requires moisture retention through quality oils and conditioners, along with protective measures from sun exposure, like sunscreen or scalp coverage when swimming outdoors.
Investing in regular salon visits ensures expert advice tailored specifically to individual needs, resulting in beautiful, healthy tresses!
When to Use Demi-Permanent Toners?

Demi-permanent toners are perfect for enriching color and providing a longer-lasting result than semi-permanent toners. This means you can enjoy your refreshed hair hue for up to 8 weeks. Unlike permanent toners, demi-permanent toners offer subtle shifts in the hair's tone without causing unnecessary damage or unwanted color changes.
When using demi-permanent toners, it's important to follow application tips such as proper timing, accurate application, and choosing the right product based on the level of brassiness. It's crucial to understand that demi-permanent and permanent toners differ greatly in achieving subtle shifts in desired tones.
For highlights or color deepening, it's ideal to tone every 6-8 weeks. However, if you're going darker, it becomes necessary to space out toning with 10-12 week intervals.
So, get ready now and give yourself an at-home boost by utilizing the beneficial properties of demi-permanent hair toner!
How Often Can You Use Toning Shampoos and Masks on Your Hair?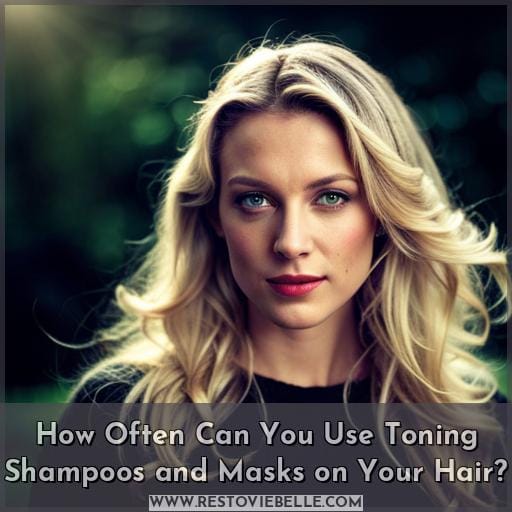 If you're looking to keep your locks bright and shiny, why not try a weekly spritz of toning shampoo or mask for the ultimate in hair pampering? Toning frequency depends on individual needs, with light-colored or brassy hair requiring more frequent applications.
Ideal products include purple shampoos specifically designed to reduce yellow tones and enhance ash blonde shades. Color maintenance masks can be used once a week while adding moisture and nourishment to damaged strands.
When applying any toning product, it's important to follow instructions carefully for best results. Overuse can cause dryness or an undesired color shift! Keep in mind that the recommended timing varies depending on individual circumstances such as natural hue intensity, porosity level of your strands, etc.
If maintained correctly, you'll enjoy vibrant tresses all year round without compromising their health!
How Long Should You Leave Toner in Your Hair?

It's important to ensure that you leave toner in your hair for the recommended amount of time, depending on your desired results. To get optimal toning effectiveness, it's best to consider the frequency and duration of application.
A strand test can help determine if a high lift toner will be effective and how long to leave it in, so as not to over-tone or damage hair with brassy undertones. DIY tutorials are available online, but professional services may provide more precise and consistent results when leaving a toner in for longer periods.
For example, you can leave the toner in for 20 minutes after bleaching or a maximum of 45 minutes for darker shades. It's important to know which products work best with different types of hair and the limited exposure times due to factors like heat styling tools, sun protection needs, and swimming habits.
Consider using quality shampoos without sulfates or chlorides, and adding moisture-rich conditioners before wet activities. Additionally, using oils before each shampoo session can help maintain lasting color vibrancy.
Factors to Consider When Deciding How Often to Tone Your Hair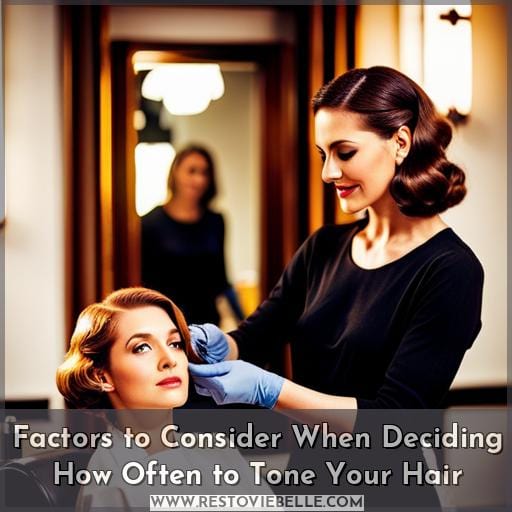 When deciding how often to tone your hair, there are many factors to consider. Your current hair color, the amount of bleaching done, and the condition of your hair all play a role in determining how frequently toning should be performed.
A strand test is also recommended for optimal timing as darker shades take longer than lighter ones due to their deeper pigments.
Your Hair Color
Your hair color is an important factor to consider when toning. Maintaining vibrancy, transitioning colors, and adjusting for seasonal changes all affect frequency. Permanent dyes, toning conditioners, hair glosses, and corrective color products are available for at-home use.
Starting shade matters: brassy tones after bleaching require platinum blonde dye or specialized toner shades to achieve the desired look.
Bleached Hair
When bleaching your hair, toning is essential to counteract warm tones and maintain dimension. Consider the frequency based on the starting color, damage level, and desired hue. Use a conditioning mask for damaged strands; choose an acid-based formula like Ugly Duckling Toner to evenly distribute pigments before applying.
Tone regularly using Purple Shampoo or Hair Gloss Clear every 6-8 weeks post the initial appointment; 10-12 if going darker with dyes.
Your Hair Condition
Before toning your hair, consider its condition to ensure the best results. Hair health indicators include moisture balance, damage repair, scalp condition, and nutrition.
Hair Strand Test
To ensure the perfect toning results, it is wise to do a strand test beforehand. Color assessment and hair health are key factors when determining the duration of your toning process. Through this method, you can gain insight into how long it will take for your desired color to be achieved while preserving hair color in between washings.
Permanent dyes may also require an additional step before dyeing; yellow-tinted strands must be treated with trusted professionals for the best results.
Tips for Toning Your Hair at Home

Are you looking for an easy way to tone your hair at home? Toning shampoos, toning conditioners, and hair glosses are great options that provide a safe and effective way of maintaining vibrant color after highlights or bleaching.
With the right products, you can keep brassiness away without needing to visit a professional salon every few weeks.
Toning Shampoo
For an effortless toning experience, try a purple shampoo like Bold Uniq or L'Oreal Paris Hair Gloss Clear to maintain your desired color and add shine. Both are formulated with intense violet pigments that help counteract brassiness and unwanted yellow hues while adding UV protection.
Vegan-friendly formulas ensure hair health is not compromised during the process, while sun protection helps prevent fading in summer months – perfect for chlorine-filled swimming pools! With added benefits such as oil infusion for moisture retention, blogger Gaga recommends these products for optimal results.
Toning Conditioner
Toning conditioner is the secret to perfecting your look, so make sure you're never without it! Not only does toning conditioner provide nourishing benefits for hair health, but it can also customize color with precision.
DIY toners are easy to apply and take minimal time. For best results, always read product labels carefully and follow all instructions closely. Ingredients vary from brand to brand; some may require a longer application than others or have specific requirements for optimal effectiveness, including usage frequency or combination with other products.
Toning conditioners often offer more precise control over brassiness levels compared to shampoos, which makes them ideal when aiming for subtle effects.
Hair Gloss
Discover the shine-enhancing power of L'Oreal Paris Hair Gloss Clear and take your hair color to the next level! With its vegan, ammonia-free formula packed with coconut oil for deep conditioning, this no-commitment toning gloss lasts up to 10 days.
Get ready for:
Gloss Application – 15 minutes in the shower with no mixing or gloves needed.
Gloss Benefits – Enhances natural color without shifting tones; adds shine & conditions hair.
Gloss vs Shampoo – No staining on the face; altered texture & wave pattern possible after use.
Color Variability – Uneven distribution may occur in some areas; blue tones suitable for dark blonde/highlighted grey hair.
Experience intense nourishment and a fresh hint of color as you enhance natural hues without lifting or changing tone—all in one easy step! Keep your look alive longer by using quality shampoos free from sulfates and chlorides, plus moisture retention products like conditioners & oils before swimming or sun exposure.
Top 3 Hair Toners for Different Needs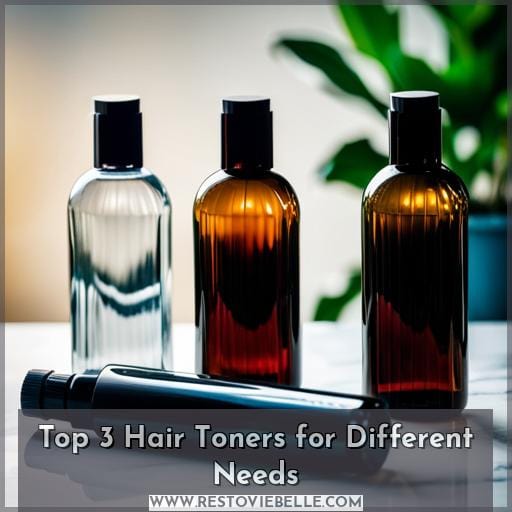 If you're looking to up your toning game, check out these top 3 hair toners that will take your color from blah to eternally fabulous in no time!
Bold Uniq Purple Shampoo is a paraben and sulfate-free formula filled with intense violet pigments that counteract yellow hues.
L'Oreal Paris Hair Gloss Clear infuses coconut oil for deep conditioning while providing a long-lasting shine without commitment.
Wella Colorcharm Toner T10 ensures vibrant results by removing brassy tones after bleaching.
When selecting the right tone of product, consider the duration of application based on hair type and condition. Darker hair needs more time due to its deeper pigments, while lighter tones require less processing time.
Regular use of these toners provides ultimate benefits like enhanced appearance, increased dimensionality, and reduced fading.
Conclusion
Toning your hair can be a tricky business, but with proper knowledge and the right product, it can be easily achieved. It's important to understand the different types of toners available and which one suits your hair best.
The frequency of toning also depends on your hair color, condition, and the strand test. As a general rule, semi-permanent toners should be used every 6-8 weeks, demi-permanent toners should be used every 10-12 weeks, and permanent toners should be used every 3-4 weeks.
For at-home toning, purple shampoos, toning conditioners, and hair glosses are great options.
To sum it up, if you want to keep your hair in tip-top shape, it's essential to understand how often to tone your hair and use the right products.