This site is supported by our readers. We may earn a commission, at no cost to you, if you purchase through links.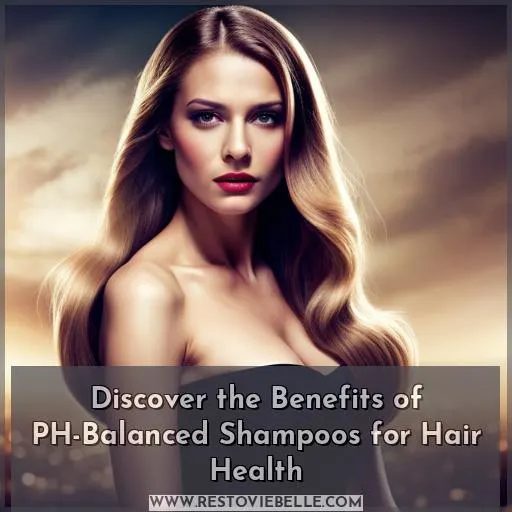 Do you know that 80% of shampoos sold in the market have a pH level between 3.5 to 9? Yes, it's true! You might not think about it when shopping for shampoo, but having an understanding of the pH levels is essential.
Using products with high or low pH levels can interfere with your scalp's natural balance, leading to hair damage and irritation.
To ensure healthy hair growth and maintenance, you need to find out more about pH-balanced shampoos. Read on as we dive into why these specialized shampoos are important for maintaining optimal scalp health and list some top picks for pH-balancing shampoo products.
Key Takeaways
Maintaining the right pH balance is vital for scalp health, preserving hair color, and preventing breakage.
Alkaline products disrupt the natural acidic pH range of the scalp, leading to dryness and irritation.
Low pH shampoos or solutions like apple cider vinegar can help restore the scalp's pH balance.
Dermatologists recommend using pH-balanced products to ensure healthy scalp conditions.
The Importance of PH in Hair Care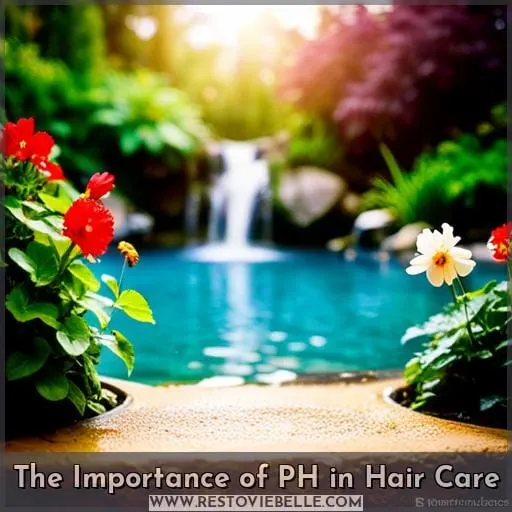 Maintaining the acidity of your hair and scalp is essential for healthy, vibrant locks – so don't neglect it! pH balance plays an important role in preserving natural oils and hair color while preventing breakage.
It's crucial to avoid alkaline products that can disrupt the acidic range (4.5-5) of the scalp and cause dryness or irritation. To restore equilibrium, a low pH shampoo or apple cider vinegar rinse is recommended by dermatologists.
They prescribe shampoos for any disorders related to scalp health, as well as over-the-counter products that focus on damage prevention. These products often contain ingredients like cationic surfactants, which are used to reduce static electricity when washing colored tresses at home.
For maximum benefit without compromising quality, look no further than pH balanced hair care items. One example is Videri Peppermint Tea Tree Shampoo, which has a unique blend of peppermint, tea tree, jojoba, and aloe vera.
Another option is the Moisture Recovery Treatment Balm from Joico, which provides 24-hour moisture replenishment, perfect for dry damaged strands. BC Bonacure Color Freeze Shampoo is also a great choice, as it freezes color pigments to extend vibrancy.
Tested through litmus tests, these top-rated picks promise results you'll love without leaving behind a greasy residue.
Understanding the PH of Hair and Scalp

Understanding the pH of hair and scalp is essential for maintaining healthy locks. Hair and scalps have an acidic range (4.5-5) that should be preserved to keep them in good condition. Alkaline products can disrupt this balance, leading to dryness, itchiness, flakiness, or even hormonal imbalances and oil production issues within the scalp.
To avoid damage from alkaline shampoo ingredients, it's important to use a product with a pH below 5n5. Pediatric shampoos tend to have higher pH levels than adult ones do! Additionally, research on how shampoo performance exactly affects hair health has been limited so far, but there are ways you can adjust your routine accordingly.
Using apple cider vinegar rinses, as well as leave-in treatments like Olaplex No 3 Hair Perfector, helps restore lost moisture while preventing further damage from occurring due to unbalanced pH levels in haircare products.
Signs of PH Imbalance in Hair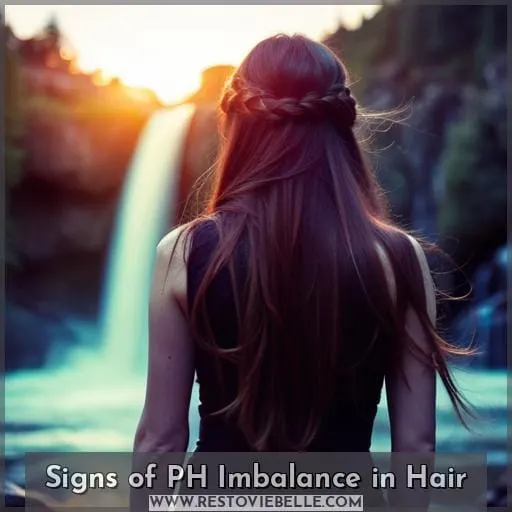 If you experience itchiness, dryness, or flakiness of your scalp and hair, it could be an indication that the pH balance is off. A simple test can help determine if acidic products have been used on the hair shaft or if sebum production has increased due to hormonal imbalances.
If left untreated, these changes in pH may lead to further damage such as split ends and weakened texture. Hair types will also affect how well a product works in terms of maintaining balanced levels. For example, curly locks are more prone to fungal growth when not properly cared for with pH-balanced shampoos and conditioners.
For those looking for solutions beyond over-the-counter treatments, they should consider consulting their doctor about prescription formulas specifically designed with their individual needs in mind while still adhering to the 5 point scale required by most professional stylists on a global level.
Additionally, researching DIY recipes based on natural ingredients can provide relief without interfering with the delicate balance needed between caretaker/stylist routines alongside daily self-maintenance habits necessary for healthy strands from root all the way up past tip end results!
Benefits of PH-Balanced Shampoos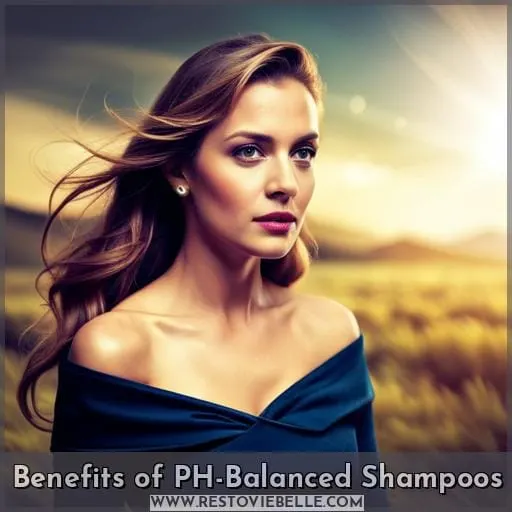 By using pH-balanced shampoo, you can enjoy the benefits of softer, smoother hair that is less prone to breakage and frizz. Such shampoos are formulated with surfactants that help maintain a healthy balance between the acidity of the scalp and the hair shaft.
They also contain antistatic agents that reduce static electricity by restoring moisture levels in your locks.
Depending on your hair type, you should tailor product selection to ensure optimal results. For example, pre-pooing or co-washing before shampooing may be necessary for those with naturally thick tresses.
Using pH testing strips prior to washing will give an indication of which products are best suited for individual needs. Most shampoos should have a pH below 5.5, but pediatric formulas tend to lean slightly higher due to their gentleness, which is ideal for children's delicate scalps.
Ultimately, finding the right balance between acidic cosmetics and the alkaline environment helps preserve natural oils while protecting against dryness and irritation, resulting in stronger, healthier-looking locks!
Tailoring Hair Washing Frequency to Hair Type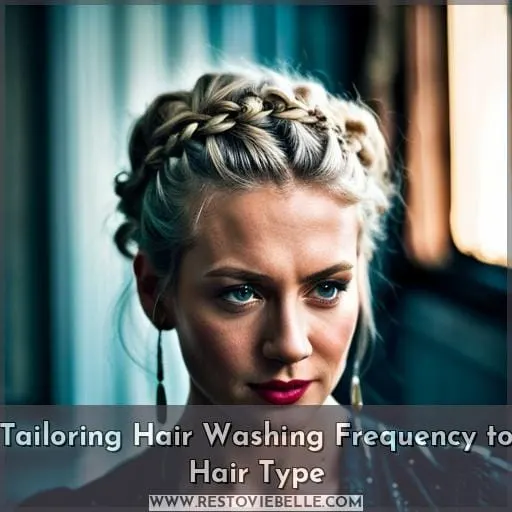 Tailoring your hair washing frequency to your hair type is key. Weekly versus bi-weekly cleansing routines can make a world of difference, with up to 80% of women reporting improved texture and shine after switching their routine.
Washing too often may cause scalp issues or damage the natural oils in the hair. On the other hand, not washing enough could lead to build-up on the scalp, which disrupts pH levels and makes it difficult for healthy ingredients like proteins and vitamins to reach strands.
Natural products are recommended over harsh chemical cleaners as they help maintain a balanced pH level while keeping locks hydrated from root to tip.
Hair care tips, such as using pre/post shampoo treatments, can help further protect against breakage or dryness due to poor practice on regular maintenance schedules by providing an extra layer of protection when styling tools are used frequently.
Ultimately, finding an effective yet gentle regimen specifically designed for you will ensure optimal health results while protecting against potential damage from improper practices!
Co-Washing and Its Effect on PH Balance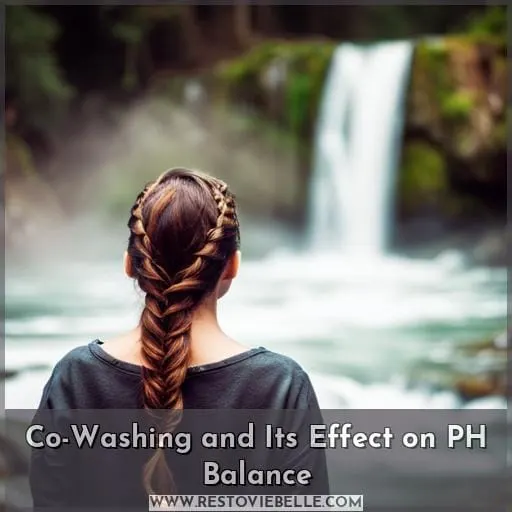 Co-washing can help keep your hair and scalp in balance, allowing you to enjoy the benefits of a healthy pH level. An alternative method to traditional shampooing, co-washing uses a cleansing conditioner instead of harsh chemical ingredients.
This helps prevent scalp irritation while still providing nourishment for the hair and scalp.
Over-the-counter products are available, but dermatologists often recommend specific shampoos for more severe cases that may require additional treatments or medication. They may also suggest changes in lifestyle habits, such as adjusting one's diet or reducing stress levels.
Hair care products with natural ingredients can be used regularly without causing an imbalance of oils on the skin. This is essential for maintaining overall good health, including preventing potential itching from occurring due to an overly dry or oily environment on the head area.
Maintaining oil balance is key when using a cleanser that won't strip away essential moisture. This helps prevent further damage by avoiding the scalp from becoming too irritated over time. It also helps prevent other unwanted issues, like dandruff flaking off prematurely before its supposed lifespan has fully expired.
Recommended PH-Balancing Shampoo Products
When it comes to pH-balancing shampoos, there are a variety of products on the market. From Videri Peppermint Tea Tree Shampoo to BC Bonacure Color Freeze Shampoo, there is something for everyone's hair care needs.
All seven of these high-quality options are free from parabens and sulfates and provide nourishment while gently cleansing hair.
Videri Peppermint Tea Tree Shampoo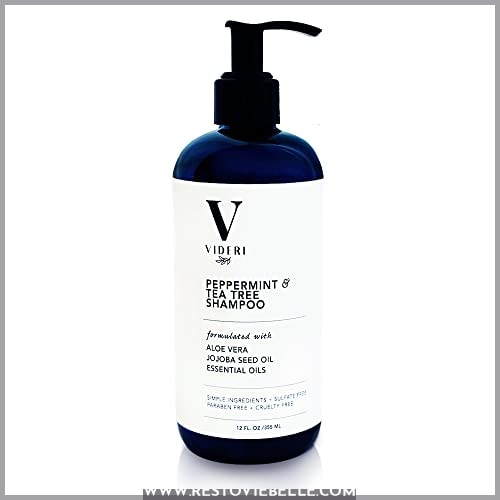 View On Amazon
You'll love Videri Peppermint Tea Tree Shampoo, an invigorating shampoo made with natural ingredients that nourish and protect your hair while maintaining a low pH of 4.
For example, one satisfied customer reported improved shine and thickness after using the product regularly.
It is free from Paraben and Sulfates, providing safe cleansing without stripping away natural oils. Plus, it contains Hydrolyzed Wheat Protein, Provitamin B5, Chamomile & Lavender Distillates to repair damaged hair fibers, as well as Rosehip & Organic Jojoba Oil to hydrate the scalp deeply.
This vegan shampoo has been recognized by the Leaping Bunny Program too!
Enjoy its pleasant scent with a unique blend of botanicals each time you use this powerhouse shampoo, which helps reduce frizziness.
Moisture Recovery Shampoo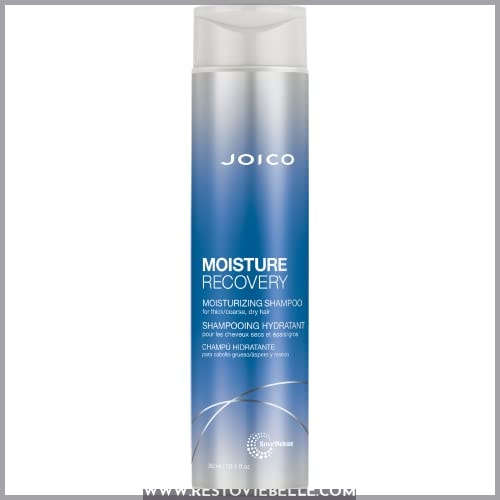 View On Amazon
Experience the power of nature with Joico Moisture Recovery Shampoo, an effective cleanser designed to replenish lost moisture and restore softness in your hair! This shampoo is ideal for dry and damaged hair types.
Enriched with sea kelp, jojoba oil, rose hip oil, arginine, and keratin, it offers 24-hour hydration while also providing Smart Release Technology that repairs damage caused by daily styling. Its hypoallergenic formula does not strip natural oils from the scalp or cause irritation.
Ideal for dry & damaged hair
24-Hour Hydration
Smart Release Technology repairs damage
Not suitable for all hair types
Expensive
Avalon Organics Biotin Shampoo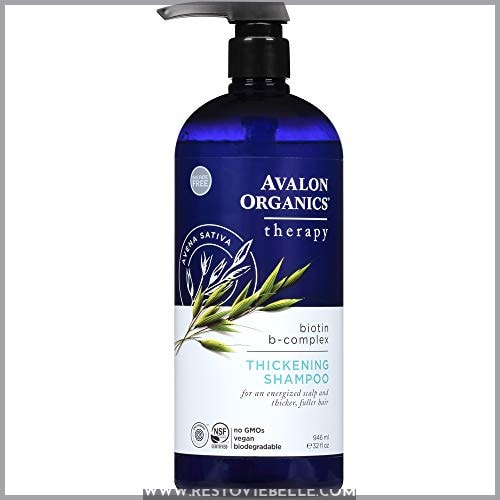 View On Amazon
Try Avalon Organics Biotin Shampoo to instantly revive your hair and experience the nourishing power of organic botanicals, vitamins, and essential oils! This unique blend is certified organic with no GMOs, parabens, harsh preservatives, or synthetic colors or fragrances included.
It's also cruelty-free and recognized by the Leaping Bunny Program – an added bonus for those who are animal lovers.
Many users have reported improved condition in their hair from using this shampoo.
Exceeded expectations for adding volume and thickness to hair
Unique blend of organic botanicals, vitamins, and essential oils nourishes and strengthens hair
Impressive ingredient list promotes noticeable improvement in hair's health and texture
Price may be considered high compared to other shampoos on the market
May not make a significant difference in terms of growth
Can potentially dry out some users' hair
Sebamed Everyday Shampoo
View On Amazon
Give your hair a gentle and effective cleanse with Sebamed Everyday Shampoo. It is designed to maintain the pH of your scalp without drying or irritating it. This shampoo has been clinically tested and recommended by dermatologists. It helps prevent hair and scalp issues, making it suitable for sensitive scalps and frequent washing.
The hypoallergenic formula ensures that it doesn't strip natural oils from the hair while providing effective cleansing. All of these benefits come in one convenient package! The unique blend of ingredients also ensures that you won't experience any dryness or irritation after use.
Maintains pH balance of scalp without drying out or irritating skin/scalp
Clinically tested & dermatologist recommended
Hypoallergenic formula prevents stripping natural oils from the hair
Suitable for sensitive scalps & frequent washing
Packaging may vary, which can make instructions difficult to follow
Does not provide extra benefits other than maintaining pH balance
Acure Ultra Hydrating Shampoo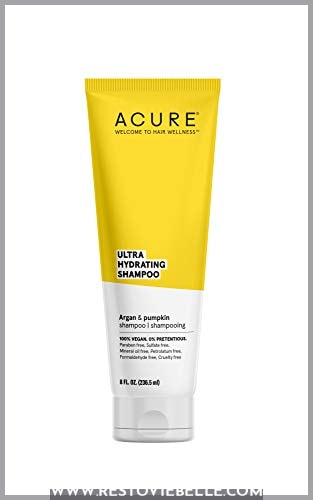 View On Amazon
Transform your hair with Acure Ultra Hydrating Shampoo, a performance-driven solution that will leave it feeling soft and manageable with alluring shine. Formulated for dry, damaged hair, this shampoo contains organic argan oil and pumpkin to deliver mega omega fatty acids, reducing frizz and enhancing elasticity while promoting healthy hair growth.
Free from parabens, sulfates, mineral oil, petrochemicals, and formaldehyde, as well as being vegan certified cruelty-free (100% Vegan), the Acure Ultra Hydrating Shampoo is gentle on the scalp yet effective in restoring moisture balance without causing irritation or over-drying.
With easy application instructions of massaging into wet scalp followed by rinsing thoroughly, users can experience amazing results after just one use!
Organic ingredients nourish and replenish dry/damaged locks.
Reduces frizz and enhances elasticity for vibrant-looking strands.
Contains no harsh chemicals; vegan certified cruelty-free.
Can be expensive compared to other shampoos.
Not suitable for oily scalps.
Herbal Essences Coconut Milk Shampoo
View On Amazon
Experience the nourishing and hydrating power of Herbal Essences Coconut Milk Shampoo, formulated with coconut milk essence for added moisture and a tropical scent.
Ideal for all hair types, this shampoo cleanses and conditions in one step to provide an invigorating shower experience.
Infused with natural ingredients such as coconut oil extract, vitamin E, pro-vitamin B5 complex, and aloe vera extract, it helps to rebuild damaged strands while replenishing lost moisture.
This vegan formula is free from parabens or sulfates, making it ideal for those looking to reduce their exposure to harsh chemicals without sacrificing performance.
The deliciously light fragrance will linger on your mane long after you've hopped out of the shower!
Suitable for all hair types
Vegan & cruelty-free
Cleanses & conditions in one step
Delightful tropical scent
Free from parabens & sulfates
Contains artificial fragrances
Not suitable if you have sensitive skin
BC Bonacure Color Freeze Shampoo

View On Amazon
Try BC Bonacure Color Freeze Shampoo for a color protection boost that'll have you feeling like a million bucks! Formulated with pH 4.5 to freeze pigments in the hair matrix, this shampoo is designed to reduce yellow tones and provide silver tones.
It effectively cleanses over-processed colored hair while strengthening its structure and adding extra care and shine. Suitable for daily use on colored or highlighted tresses, it's time you give your locks some love with this nourishing shampoo.
Designed for colored/highlighted hair with unwanted yellow tones or white hair needing silver tones
Effectively cleanses over-processed colored hair
Strengthens hair structure to optimal pH 4.5, reducing color fade
Might cause dryness after use
Some dissatisfaction with received product (different smell, oily feeling)
Not suitable for all types of scalp/hair
The Role of PH in Hair Health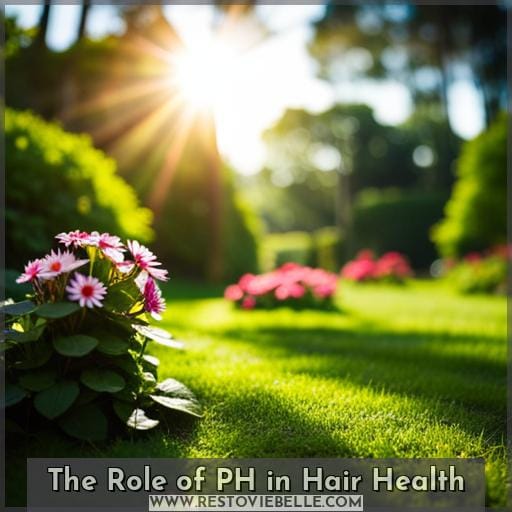 Maintaining a balanced pH is essential for healthy hair and scalp, so understanding its role in your routine is key. Natural hair requires more vigilance due to higher oil production, which can lead to an unbalanced pH resulting in breakage and irritation.
Shampoo with too high of a pH strips the hair's natural oils, leaving it dry. Clarifying shampoos may appear helpful on the surface, but they contain antistatic agents that are damaging when used too frequently.
It's important to use shampoo specifically formulated for your needs. Look out for ingredients such as hydrolyzed wheat protein or provitamin B5, which help maintain the delicate cuticle condition of each strand by keeping it hydrated without weighing down strands or increasing static electricity buildup.
Additionally, consider using leave-in treatments that restore moisture levels post-showering instead of relying heavily on shampoo alone.
Quick Fixes for PH Imbalance in Hair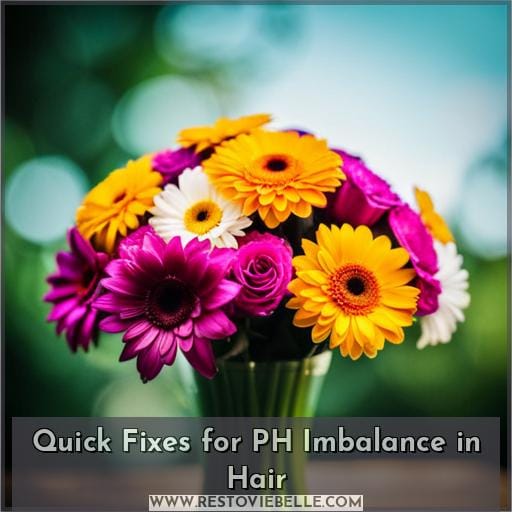 If your hair is feeling dry, itchy, or unmanageable, you may have a pH imbalance. Luckily, there are several quick fixes that can help restore balance and keep your locks healthy.
One of the best ways to rebalance hair's natural pH level is by using an apple cider vinegar rinse. For an even better effect, try using dpHue's apple cider vinegar Hair Rinse or OUAI Detox Shampoo with apple cider vinegar as part of your routine.
To soothe irritation and prevent breakage, opt for a moisturizing shampoo like Pureology Hydrate Shampoo (pH 5.
3., Mielle Organics Babassu Oil Conditioning Shampoo, or Redken Acidic Bonding Concentrate Shampoo. These shampoos are all free from harsh ingredients that could damage delicate strands further!
To repair existing damage, use Olaplex No 3 Hair Perfector treatment in combination with DevaCurl Scalp D(pH)ense Serum for maximum protection against future issues.
PH-Balanced Leave-Ins and Treatments for Healthy Hair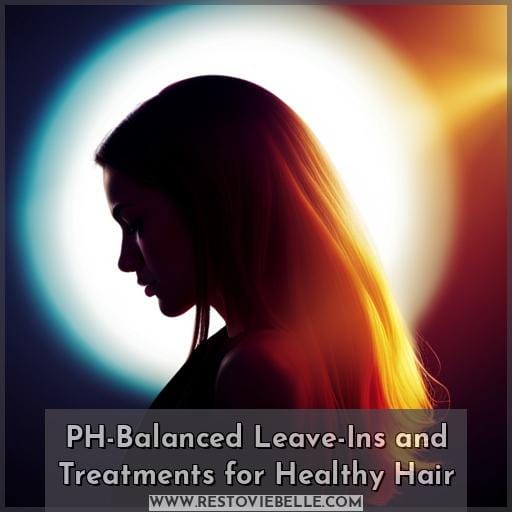 For healthy hair, try using pH-balanced leave-ins and treatments like Davines' Volu Hair Mist, Briogeo's Curl Charisma Frizz Control Gel, or Olaplex No. 3 Hair Perfector. These products help maintain scalp health while nourishing the natural oils in your hair.
They also provide added protection from damage due to styling and environmental factors, such as humidity or UV rays.
When choosing a product for your hair care regimen, consider selecting one specifically designed for pH balance to ensure optimal results. Leave-in treatments are essential elements of any successful hair care routine and can be used daily without worrying about overusing them on the scalp or damaging delicate strands of hair with excessive product selection.
These products promote shine and suppleness, reduce frizz and flyaways, hydrate dry locks, and provide long-lasting moisture retention. They should become an integral part of every person's comprehensive approach to maintaining beautiful-looking locks.
Frequently Asked Questions (FAQs)
What are the best pH-balancing shampoo ingredients?
Finding the best pH-balancing shampoo ingredients starts with understanding your hair type. For healthy, balanced locks, look for natural oils and surfactants that are gentle on strands. Many shampoos contain cationic agents to reduce static electricity while keeping a low pH below
What is the ideal pH for shampoo?
The ideal shampoo pH is below 5, as alkaline levels can damage hair fibers and cause irritation. Cationic surfactants reduce static electricity, while pediatric shampoos tend to have a higher pH balance.
Over-the-counter products focus on preventing damage for all hair types; however, more research is needed to understand the performance of different shampoo pHs.
Does hair type affect the frequency of washing?
Yes, hair type does affect the frequency of washing. Those with oily hair may need to wash more often than those with dry or normal hair as oil can build up quickly and lead to scalp irritation. Curly and coily textures should skip shampooing altogether but focus on conditioning instead for maximum hydration and moisture retention.
How can I tell if my hair is out of balance?
If your hair feels dry or brittle, is overly oily, or prone to tangling and breakage, it may be out of balance. Signs of an imbalance include itchiness and flakiness on the scalp. Consider adapting your hair care routine based on individual needs for maximum hydration and health benefits.
Are there any dermatologist-recommended pH-balanced hair care products?
Looking for dermatologist-recommended hair care? Try pH-balanced shampoos and leave-ins to achieve the perfect balance. Combat frizz, breakage, and tangles with products like Evolvh Ultrashine Moisture Shampoo or Keracare Dry & Itchy Scalp Anti-Dandruff Moisturizing Shampoo.
Conclusion
Maintaining the pH balance of hair and scalp is essential for overall hair health. Finding the perfect pH-balanced shampoo is the key to restoring and preserving your locks. From Videri Peppermint Tea Tree Shampoo to BC Bonacure Color Freeze Shampoo, there are numerous products to choose from that can help nourish, hydrate, and protect your hair.
With the help of these products, you can keep your hair looking and feeling its best.