This site is supported by our readers. We may earn a commission, at no cost to you, if you purchase through links.
Men with round faces typically have some characteristics, including full cheekbones, a rounded jaw, plus that is equal to width and height.
This can find the correct hairstyle that fits this face shape can be difficult.
Fortunately, we've put together our favorites to show you examples of the best hairstyles and haircuts for round faces men where men will love.
Whether you prefer long or short hair, browsing hairstyles and haircuts for men with round faces, helping you find a haircut that suits you. You can use them as the main start, inspiration, or even a reference to make your next visit to a hairdresser or barber successful.
15 Best Hairstyles and Haircuts for Round Faces Men
It's easy to find stylish haircuts for a round face once you know what to look for.
These best haircuts for round faced men are a guide to inspire you and lead you to a style you love.
Try mixing and matching a few styles, such as a pompadour with an asymmetrical side part.
1. Pompadour with an Undercut
This is an example of the best haircut for round face men. A swept-back pompadour with an undercut emphasizes the fullness of the crown, giving you extra inches of height and extra confidence in your self-esteem so that no one will notice the roundness of your face shape and the puffiness of your cheeks.
2. Side Part Haircut for Round Face Man
Their soft curves often make round faces look young and undefined. To combat this problem and achieve a more mature look, you can add angles to your hairstyle. A side part is an excellent example of a hairstyle that will give your round face the shape it needs. The part detail will also work to pull the eyes up and to one side, balancing wide cheekbones.
3. Faux Hawk Haircut for Round Face Men
The faux hawk is another popular hairstyle for men. Blurring a taper on the sides with hair that lengthens toward the center of the head, a fohawk is a great way to add height and dimension to your hair.
The pointed, mohawk style of the faux hawk is edgy and modern, so this haircut is perfect for round-faced men who want to try something new. However, you definitely need a quality styling product!
4. Bald & Beard Combo
If you prefer short styles or suffer from thinning hair, make the most of your facial hair like this stylish gentleman who paired a buzzcut with a short beard.
5. Spiky Haircut for Round Face Male
If you're looking for an edgy way to add volume, but don't like the faux hawk style, try adding some spikes to your hair. It's a standout style, but it's definitely not for everyone.
When you style your hair, you can define the spines however you want. This can result in high spikes or more messy, tousled spikes. How to Cut – Like the faux hawk, a spiky style does not require a specific haircut. The most important factor is length.
If you want more dramatic, bold peaks, you'll want a longer haircut. If you want more subtle spikes, go for a shorter cut. Many hairstyles can be nailed well, so you can get something like a side part and then nail it.
Styling – The styling process is crucial. You want a hair product with a firm hold; for most men, a medium pomade is sufficient. This works best with straight (or straight) hair.
Apply the product to your hair and distribute it by running your fingers through your hair or a comb. Then make the spikes. For shorter ends, grab a small section of your hair and style it upwards.
For longer ends, approach your hair in sections and tie your hair up with ties or clips. Work on one section at a time, starting at the root and styling upwards.
6. Messy Waves
As for long haircuts for round faces, remember that mess and texture are always better than smooth, straight manes. Add in some beachy waves and a touch of summer carefreeness, and don't forget to get a cool men's beard to cover the chin too. This style can also work as a suitable type of haircut for large men with round faces.
7. Pompadour
While round faces naturally appear round, the right haircut can help elongate the head and create a more flattering oval look. Styles like the trendy pompadour are perfect for this process.
Thanks to the extra height created by the volume of the pompadour, this hairstyle will make your round face appear longer than it is wide.
Remember to keep the sides of your haircut short or slicked back to avoid accidentally adding extra width.
8. Haircuts For Round Face Quiff
Like the pompadour, the quiff is a hot style for men with round faces because it gives enough volume to create a long, flattering look. By adding some hair styling products and creating a sexy quiff, guys can't go wrong with style.
To style the quiff, comb the front of your hair while blow-drying it. Use your fingers to lift the top and add volume. Using hair styling pomade or wax will keep the hairstyle in place and last all-day.
9. Comb Over With Hard Part
The asymmetrical hard dividing line on the side is the detail that probably only benefits. Firstly, it does not separate the head into two equal parts and does not emphasize the round face.
Secondly, it creates a high and prominent side-sloping crown, which is great for visual elongation of the round face. Finally, along with an edgy hairline, it looks to some geometric perfection – the concept that corrects the round face's too soft and puffy lines.
10. Haircuts for Guys With Round Faces Asymmetrical Style
An asymmetrical style adds dimension and depth to your hair while creating a strong visual interest. There are plenty of asymmetrical cuts and styles to choose from. It's important to apply the concept of asymmetry to the side part referred to above.
Parting your hair a few inches from the center (on either side) puts less emphasis on the curve of the hair—your face. Short sides help with this, too (but we recommend symmetrical sides). How to Cut – You have many options for asymmetrical styles. Some are wild and classy, while others are more understated and classy.
Usually, the sides and back are cut normally, while the top is cut asymmetrically. It is important to work with a good stylist and take pictures of the style you are looking for. Since asymmetrical haircuts are often more trendy haircuts, we recommend that you visit a good barbershop (not a traditional hairdresser).
How to style – Depending on the intensity of your chosen asymmetrical haircut, you have different types of hair products. . If you're going for a more toned-down style, a medium hold pomade or gel should work well.
For more extreme styles, check out other products such as styling creams, waxes, and pastes. This allows you to maintain a vibrant style without losing the finer details.
11. Angular Fringe
Soften the look of a round face by adding angular bangs to a short haircut. We love how this guy opened up the sides of his face by combining a pointy side fringe with a sleep fade.
12. Brushed Back With Classic Fade
Fades are always popular; paired with a longer, brushed top, it's perfect for round-faced men. This cut makes a face appear slimmer by making it appear longer.
13. High Top Fade With Beard Hairstyle for Round Face
This series of pictures shows how different men can look with a softened and edgy haircut. Definitely, the second variant is much more of a winning combination that makes your round face look longer and more distinguished.
14. Round Face Undercut
Just as a pompadour can lengthen the look of your face by adding height to your hair, an undercut can have the same effect by reducing the width. The popular hairstyle is perfect for round faces and will make the hair appear slimmer due to the short sides.
Most importantly, this flattering hairstyle leaves you free to style the top of your hair however you want. Whether you want a slanted side part or just a straight and short haircut, this cut can work for you.
15. Knotted Man Bun
If your hair has reached the long bob length (somewhere between the chin and the shoulders), you may be able to do a knotted man bun. With the hair pulled back, you get the same slimming effect as short hair on the sides.
Choosing the Right Haircut for Your Face Shape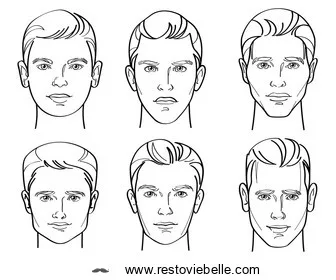 Before choosing a hairstyle based on face shape, it is important to make sure that you have correctly identified the shape of your face.
In general, round faces have softer features with few sharp corners and are about the same width and height. For example, round-faced men usually don't have a chiseled jawline or strong cheekbones. Human seems. With a round face. Resembling.
What Haircut is Best for a Round Face?
Round-faced men looking for a short haircut should opt for a side part, a pompadour, an undercut, a textured crop, a side fringe, or a smooth back with tapered sides.
If you're looking for something a little longer, go for messy waves, a bro-flow, a blowout, or even long hair and dreadlocks.
References
thetrendspotter.net
hairstyleonpoint.com
youprobablyneedahaircut.com
allthingshair.com