This site is supported by our readers. We may earn a commission, at no cost to you, if you purchase through links.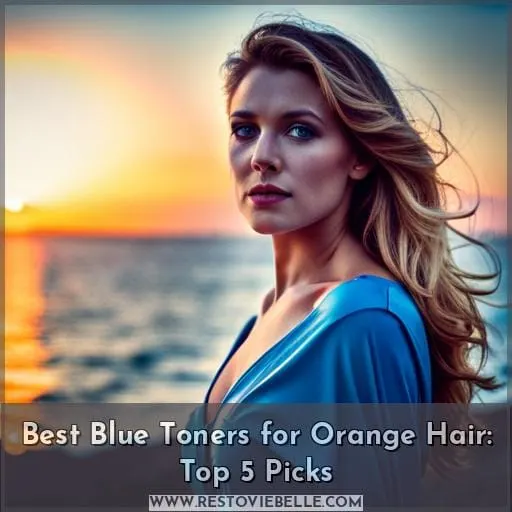 No matter how hard you try, achieving the perfect blonde hair can feel like an impossible mission. You may have gone through several rounds of bleaching and still find yourself with orange-tinted locks – a dreaded brassy hue that causes even the most experienced stylists to groan in despair.
But don't give up hope just yet! Blue toners for orange hair are here to save the day as they neutralize yellow and orange tones and restore your desired shade of blonde.
In this guide, we'll cover our top 5 best blue toners for orange hair along with tips on choosing one that's right for you and how to use it properly so your tresses look fabulous again!
Key Takeaways
Blue toners are effective in neutralizing orange tones in hair.
Matrix Brass Off Shampoo and Pravana Chromasilk Ash Blue Corrector are recommended for toning orange hair.
Proper application techniques and maintenance are essential for optimal results.
Regular use of purple masks or shampoos can help extend the life of blue tones in orange hair.
Top 5 Best Blue Toners for Orange Hair
Looking for the best blue toners to neutralize orange hair? Look no further, as Matrix Brass Off Shampoo, MANIC PANIC Blonde Toner, L'Oreal Pearl Blonde Toner, WELLA Colorcharm Toner T28, and Pravana Chromasilk Ash Blue Corrector are all excellent options.
These products can help you achieve a cool hue that perfectly complements your natural color.
1. Matrix Brass Off Shampoo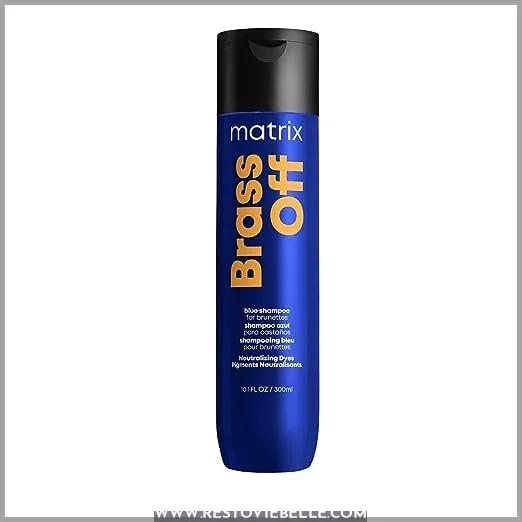 View On Amazon
Tone and neutralize your dark blondes or brunettes with Matrix Brass Off Shampoo for vibrant, cool-toned results. This multi-tasking shampoo is formulated with blue-violet pigments that deposit onto the hair to neutralize brass and red tones, as well as hydrate and maintain color.
It also refreshes existing cool tones while enhancing, restoring, and boosting them further for a beautiful result each time you wash your hair.
The product comes in a convenient size bottle, making it easy to take on trips or store at home without taking up too much space.
With just one application, this nourishing formula will leave you feeling revived and refreshed every single time you use it.
Nourishing formula
Tones brassy orange-toned hair
Cleanses & nourishes
Enhances & restores cool tones
Suitable For Multiple Levels Of Hair Lightening
Not suitable if not used correctly
Possible Results Vary Depending On Hair Type And Color
2. MANIC PANIC Blonde Toner
View On Amazon
Give your locks a pop of icy-cool pigments with MANIC PANIC Blonde Toner, like painting ice blue swirls onto a canvas. This vegan and cruelty-free formula is PPD, ammonia, paraben, gluten, resorcinol, and phthalate-free for vibrant colors that last up to 4-6 weeks.
Its conditioning polymers help enhance strand texture while providing softer, smoother, shinier blonde results in just 5 minutes.
The Virgin Snow Blue Tinted Hair Toner doubles as a deep conditioning mask, perfect for lightened or bleached hair. Users have experienced striking and vibrant colors, including a vivid plum purple shade.
Vegan & Cruelty-Free Formula
Lasts Up To 4-6 Weeks
Enhances Strand Texture
Small Container Size Compared To Expectations
5. Loreal Pearl Blonde Toner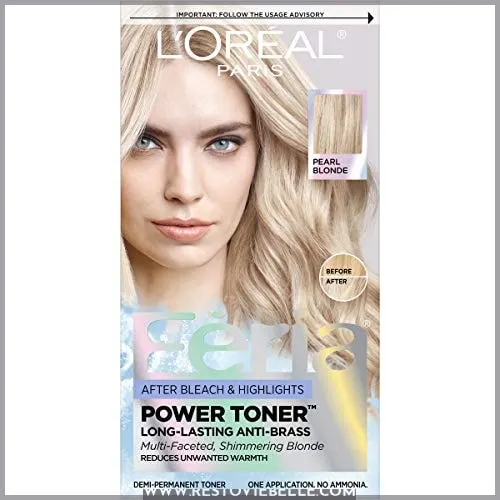 View On Amazon
Transform your blonde hair with L'Oreal Paris Pearl Blonde Toner for an ultra-soft, smooth, and shiny look. This professional toner delivers fast results in just five minutes while conditioning strands to create a multi-faceted shimmering finish without the use of ammonia.
The single application reduces orange and yellow tones up to 3 weeks for easy maintenance between salon visits.
With its high-speed technology, you can enjoy softer, smoother locks that last longer than ever before! Plus, this versatile formula is suitable for all types of hair from lightened brunettes or bleached blondes who want cool tones added as well as those looking to get rid of brassy hues altogether.
For best results, pair it with other products from the L'Oreal Paris range like their conditioners, shampoos, and masks – there's something here whatever your haircare needs are!
Ammonia-free demi-permanent toner
Enhances strand texture
Softer & shinier blonde result in 5 min
Reduces brassiness & oranges/yellows up to 3 weeks
Suitable for all hair types & shades
Not suitable if lifting/altering existing color required
May require multiple applications on thick or coarse hairs
FAQs may be needed when using
at home
.
6. WELLA Colorcharm Toner T28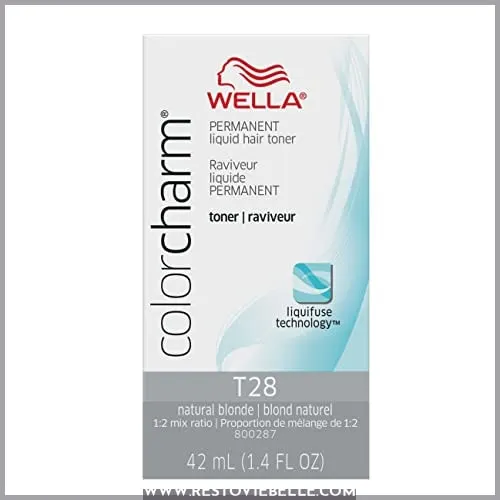 View On Amazon
Boost your blonde color with WELLA Colorcharm Toner T28, which offers up to 8 toners for varying shades of blonde hair and lasts up to 3 weeks. Rejuvenate your lightened or pre-bleached locks with Wella's balanced blend of liquid dye that won't alter the natural pH balance in your hair.
Achieve a multi-faceted shimmering effect by adding cool tones without worrying about brassiness or overtones.
The range also includes ash, beige, and silver families that will suit all types of blondes – from pale platinum blonde through to warm honey golden hues! Get creative with this easy-to-use semi-permanent toner as it requires minimal processing time before you can enjoy soft yet vibrant results lasting between 5 minutes and 3 weeks depending on how often you shampoo it out!
Easy application due to its liquid form
Suitable for both naturally colored & pre-bleached hair
Semi-permanent formula for long-lasting color
Requires more frequent application than permanent dyes
Can only lift one level at a time
May not cover stubborn greys
7. Pravana Chromasilk Ash Blue Corrector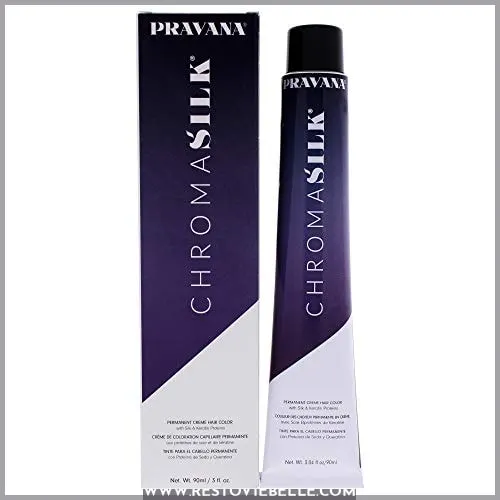 View On Amazon
Discover a vibrant color with Pravana Chromasilk Ash Blue Corrector, an award-winning creme that can give up to 100% gray coverage. Formulated in Mexico, this product is perfect for lightened or bleached hair and offers six different tonal families of reds and violets as well as pre-mixed lowlights.
Unique cool-based Naturals and golds ensure beautiful tones no matter the shade desired.
The long-lasting results are sure to leave you satisfied – plus it's easy to apply too! This liquid form allows for quick application, so there'll be less time spent at the salon waiting around for your new look.
Award-winning creme colors
Six different tonal families
Vibrant reds & cool violets
Pre-mixed lowlights & unique cool-based naturals/golds
Silk proteins & keratin infusion
Up To 100% Gray Coverage
Not suitable for dark hair
Can take multiple applications if not done correctly
Tips:
Always do a strand test before applying all over
Make sure your hair is properly bleached before using this product
How Blue Toners Work to Neutralize Yellow & Orange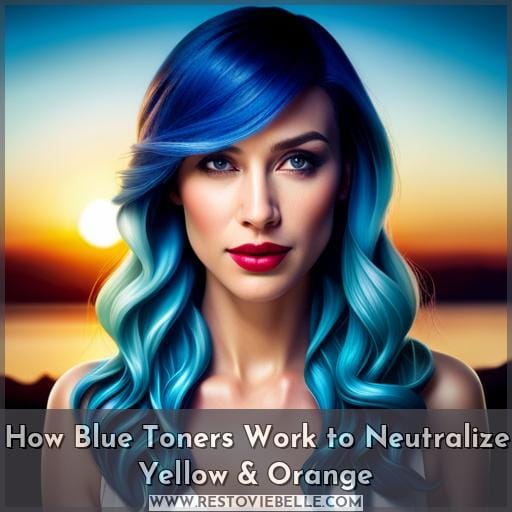 Unlock the secret to perfectly neutralizing yellow and orange tones with blue toners for a stunning, vibrant result! Blue toners act as color correctors that help remove unwanted brassy or orange hues from your hair.
Choosing the right tone is key; ash-blonde colors work best to counteract warm shades of blonde while cool-toned violet pigments can be used on darker brunettes.
Proper application techniques are crucial when it comes to using these products properly – bleaching and heat lifting before applying the toner will ensure maximum results! When using blue-based formulas, you have several options available:
Pre-mixed dyes with 20 Vol developer are great for an even coverage and long-lasting results.
Adding Ash Blue Additive helps enhance existing blues in lighter tresses.
For troubleshooting stubborn oranges or yellows, consider mixing various levels of 10.1b Extra Light Cool Blonde together until the desired shade is achieved. This technique allows you more control over how light/dark you want your final result to look like without compromising on the quality or intensity of color payoff.
Finally, regular maintenance such as Brilliant Blonde Shampoo & Mask, along with Purple Masks every few weeks, will keep brassiness at bay, ensuring your hue stays true longer than ever before! With all these tips in mind, plus a careful selection process, finding the perfect shade won't be hard anymore.
Choosing the Right Blue Toner for Orange Hair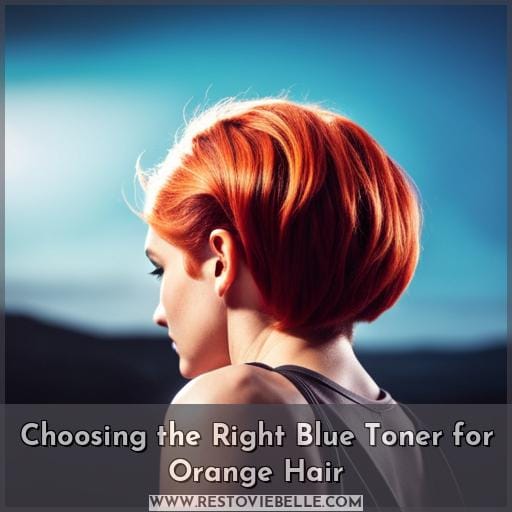 Are you searching for the best blue toner to neutralize your orange hair? Knowing how and when to apply, as well as maintaining that beautiful blue-toned hue, are essential tips for achieving a stunning look.
This guide will provide all the necessary information, from application tricks to selecting the right product, so you can get salon-quality results at home.
Best blue toner?
Finding the right toner can be a challenge, so explore your options to get the perfect shade for you! With blue-based color correction and ash blonde enhancement, consider Matrix Total Results Brass Off or Schwarzkopf Blond Me Toning.
For natural results with curls, try Manic Panic's Virgin Snow Hair Toner. Wella Blondor Pale Silver is great for light hair colors, while Redken Color Extend Brownlights works on brunettes. Maintain tone with Brilliant Blonde Shampoo & Mask or Purple mask's surface-level toning action.
Application tips and tricks.
Applying blue toners to correct orange hair requires specific steps and techniques for the most effective results. Start with bleaching and heat lifting, then use a pre-mixed ash blonde color with 20 Vol developer for vibrant results.
Enhance blue tones by adding an ash-blue additive or regular blue-based toner if needed.
Regularly maintain tone using Brilliant Blonde Shampoo & Mask, Purple mask, or Blue shampoo depending on the desired shade intensity and longevity of application.
DIY recipes like Apple cider vinegar mixed with food coloring can also be used at home, but they may not provide long-lasting effects compared to professional products designed specifically for hair toning purposes.
Maintaining blue-toned hair
Once you've achieved your desired shade, it's important to maintain the look with regular treatments and products. Consider the pros and cons of DIY recipes and longevity tips for color maintenance tricks when selecting blue toners for orange hair.
Application techniques vary between semi-permanent and demi-permanent formulas, so consider the time investment in relation to expected longevity when making a choice.
Pros and Cons of Using Blue Toner for Orange Hair

When it comes to achieving the perfect orange hair color, blue toners can be a great solution. But like all hair products, they have both pros and cons that need to be taken into account before using them.
The following table outlines the benefits and drawbacks of using blue toner for orange hair:
| Pros | Cons |
| --- | --- |
| Neutralizes yellow-orange tones | Can leave behind unwanted cool tones if used incorrectly |
| Enhances ash blonde colors | Not suitable for dark brunettes or redheads |
Using a blue based toner can result in beautiful results when done correctly. For best results, use pre-mixed colors with 20 volume developer such as Ugly Duckling's 10.1b Extra Light Cool Blonde or Schwarzkopf Blond Me Toning shades for all levels of blondes.
To enhance blues even further, Ash Blue Additive can also be added during processing time.
Maintenance is key; Brilliant Blonde Shampoo & Mask helps maintain tone whilst Purple mask provides surface level action against brassy yellows post bleaching or lightening sessions! With these tips in mind you'll achieve optimal effectiveness from your chosen blue toner along with stunningly shiny locks!
How to Use Blue Toner on Orange Hair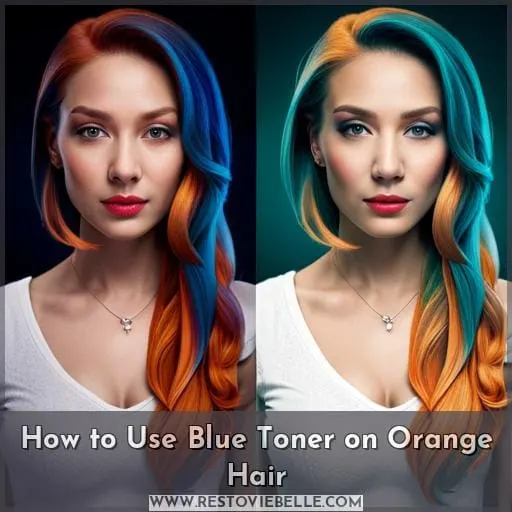 To get the best out of your blue toner, you'll want to make sure you use it correctly on orange hair.
Start with a tonal transformation process by bleaching or heat lifting before applying blue toners.
Mix the color with 20 Vol developer, apply evenly to damp hair, and let it sit for 10-15 minutes depending on desired intensity.
Add an ash-blue additive to enhance vibrancy if needed or regular blue based ash tones like Ugly Duckling's Extra Light Cool Blonde (10 1b) for darker results in medium tone blondes 8 1b can be used as well.
Remember that purple shampoo acts differently than a true blue based formula so choose carefully when selecting products according to shade and cause of brassiness; avoid using both at same time!
Finally, keep up maintenance between salon visits with Brilliant Blonde Shampoo & Mask paired with occasional purple mask applications – all designed specifically for brassy hair solutions!
DIY Blue Toner for Orange Hair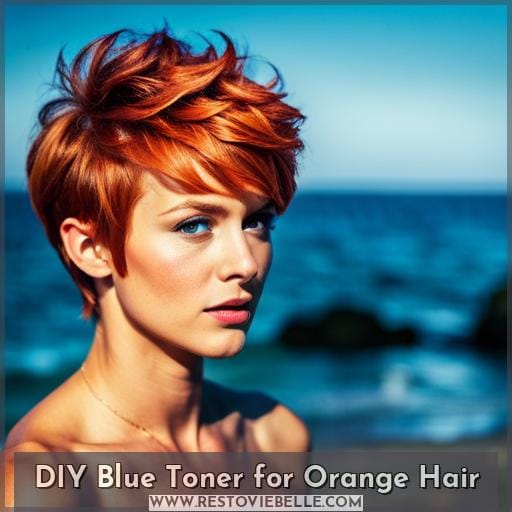 Ready to take your orange hair color correction into your own hands? DIY blue toners can be an effective way to neutralize yellow or orange tones in the comfort of your home. A homemade recipe, such as a combination of apple cider vinegar and food coloring, is often used for this purpose, but it's important that you understand how it works before attempting any hair toning products at home.
When applying a DIY blue toner on orange hair, keep in mind that the intensity of the tone will depend on how long you leave it in – so start conservatively! Mix together equal parts apple cider vinegar and food coloring.
If needed, add more food coloring until the desired shade is achieved. Start with dampened hair, then apply the mixture all over from roots to ends using gloves and a brush for even coverage throughout each strand.
Leave the product on anywhere from 5 minutes up to 30 minutes, depending on the depth/intensity desired.
Rinse out completely with cool water when the finished processing time has passed, then condition afterwards as usual for best results. Shampoo only after 24 hours have elapsed since the initial application, if necessary.
DIY blue toners are not just limited to lightening treatments. They can also be used successfully during color corrections too, thanks to their ability to neutralize yellow or orange tones effectively while simultaneously providing shine and hydration benefits along the way.
For vibrant and long-lasting results, try pairing these recipes alongside professional-grade hairspray products like those found within Ugly Duckling's line. They are specifically designed to enhance intense blues without compromising the overall health and integrity of strands.
Maintenance and Aftercare Tips for Toned Hair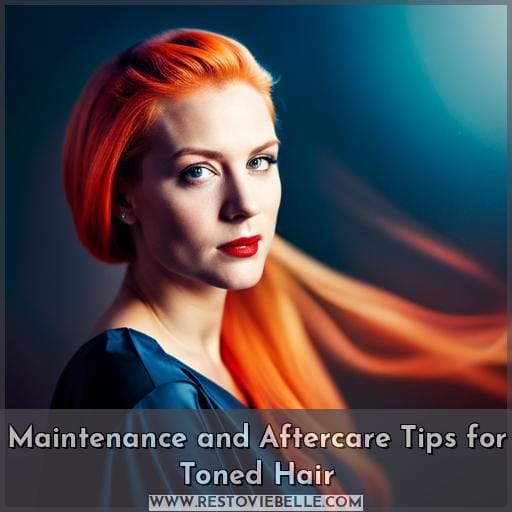 Once you've achieved your desired toned hair, it's important to maintain the color with regular aftercare treatments.
Use Color Safe Products – Shampoos and conditioners that are specifically designed for colored hair will help extend the life of your tone by locking in pigments without stripping away natural oils.
Tone at Home – Blue-based shampoos can be used in between salon visits to revive cool tones, while purple masks offer surface-level toning action ideal for those wanting more subtle results that won't damage their locks or strip away natural oils like bleaching would do.
Post Toning Care – Nourishing products such as Brilliant Blonde Shampoo & Mask should be incorporated into weekly routines. They're designed to neutralize yellow undertones while helping strengthen fragile strands caused by lightening processes such as coloring or highlighting orange hair with blue-based tints and dyes.
With proper maintenance, you'll enjoy beautiful blonde hues!
Case Studies: Using Blue Toner for Color Correction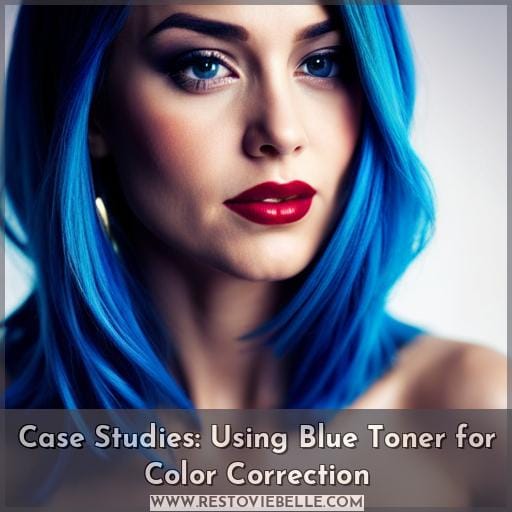 With your color wheel in hand, you can assess and correct brassy hair tones using blue toners for stunning, long-lasting results. To achieve the desired look, apply a blue toner with 20 Vol developer to damp hair and process until visible pigments appear.
Once done processing, rinse off with cool water. Then, use Brilliant Blonde Shampoo & Mask for tone maintenance or Purple Hair Mask to add surface level toning action.
When it comes to selecting the right product, consider the intensity of shade needed as well as what caused orange tones, and choose accordingly. For example, Matrix Total Results Brass Off Blue-violet pigmented shampoo or Manic Panic Virgin Snow Hair Toner are suitable for natural curls.
For DIY options, mix apple cider vinegar with food coloring. However, remember that these will provide temporary results only. If you're looking for something more permanent, try semi-permanent or demi-permanent versions like Wella Blondor Pale Silver, which is perfect for light-colored fine hairs.
When applying, do not forget the Ash Blue Additive, which adds an extra kick into the removal of yellow undertones from bleached roots, giving an even brighter result!
Conclusion
If you're looking for a way to neutralize yellow and orange tones in your hair, blue toners are a great solution. You can achieve a vibrant, cool-toned shade that will last for weeks with the right product.
But selecting the right blue toner for orange hair can be daunting; there are so many different products available.
To make it easier, we've put together a list of the top 5 blue toners for orange hair, along with tips for application and maintenance. From Matrix Brass Off Shampoo to Pravana Chromasilk Ash Blue Corrector, you're sure to find the perfect toner for your hair.
Plus, if you're looking for an affordable solution, you can even make your own DIY blue toner with simple ingredients like apple cider vinegar and food coloring.
Whichever option you choose, you'll be sure to achieve the perfect cool-toned shade that will last.
[/zonFAQ]