This site is supported by our readers. We may earn a commission, at no cost to you, if you purchase through links.
For black men's hair, the right hair styling products are necessary. If you want clean, long-lasting waves, the best wave grease for waves is necessary.
Wave grease is exactly what it goods like, a hair pomade specially formulated to place your curls on your scalp to form waves.
If you have coarsely curly hair, wave gel or grease will help lay your hair in the wave pattern and help maintain the pattern.
This is especially suitable if you are Looking for a pomade for 360 waves, 180 waves, 720 waves, etc.
There are plenty of products made especially for this purpose and a few others that work well.
So I've put together a list of reviews for the best wave pomade and grease for black hair.
The hair products are rated and ranked on how strong hold is and how healthy they are for your hair and scalp, the ingredients, and finally, how good they smell. Read on to find out which product suits you best.
How to Select the Best Wave Grease for Coarse Hair?
After reviewing several wave grease, hair pomades, and gels on the market, I've rounded up the top-rated. I then used some expert help to test them for the following factors.
Quality
Think of a situation – what if you use a cheap but nice-smelling wave grease to style your hair and then gradually discover that you are experiencing sudden hair loss? To make matters worse, you notice that there is also redness on your scalp. This is, of course, a less ideal and somewhat worrisome situation.
The reason why cheap wave grease has this adverse effect is that it consists of poor-quality ingredients. You can avoid these problematic situations by choosing quality natural ingredients over price. If you spend the extra money now, you won't have to spend money later to repair your hair and scalp damage.
Hold
The grip is the most important thing to pay attention to with good wave grease. In general, it's a good idea to use strong hold wavy grease for coarse hair, but medium-hold is fine too. The hold of a 360 wave control pomade for waves determines how well it adheres to the hair and how long it can keep your hair in shape.
Moisturizing Power
Waves are usually an African American hairstyle. This hair texture (type 4b or 4c) can become very stiff and dry. So you need grease or pomade for waves that make the strands softer.
Residue
Many hair gels and hair pomades tend to leave residue on the scalp, and it can easily make your hair look dirty and cause scalp irritation. Therefore, always look for the best wave cream that does not leave any residue on your hair; it ensures that your curls have no buildup. Some non-water-based pomades will feel greasy on the hair, but don't worry about that. You can wash it out later.
Smell
Not everyone likes their wave grease to smell, even if it's a vanilla, fruity, or musky scent. But others like that because it makes their hair smell appealing. You can choose a wave grease with no scent or one that does. It just depends on your preference.
Texture
The texture of the wave grease matters. It should not be too thick and dense. The grease should slide easily through curly hair.
Ease of washing
there are two types of pomades for waves. water-based and oil-based pomade. The former is for longevity, while the latter is for ease of washing. If you've been avoiding 360 wave control pomade for waves because of washing problems, you can now use water-based pomades, which are easy to remove with water.
Best Wave Grease and Pomade For Waves 2023
Since you have all the relevant information about the things to consider before buying a good wave grease, we've put together the best hair grease for waves for different hair types. Let's see.
1. Wavebuilder Cocoa & Shea Wave Butter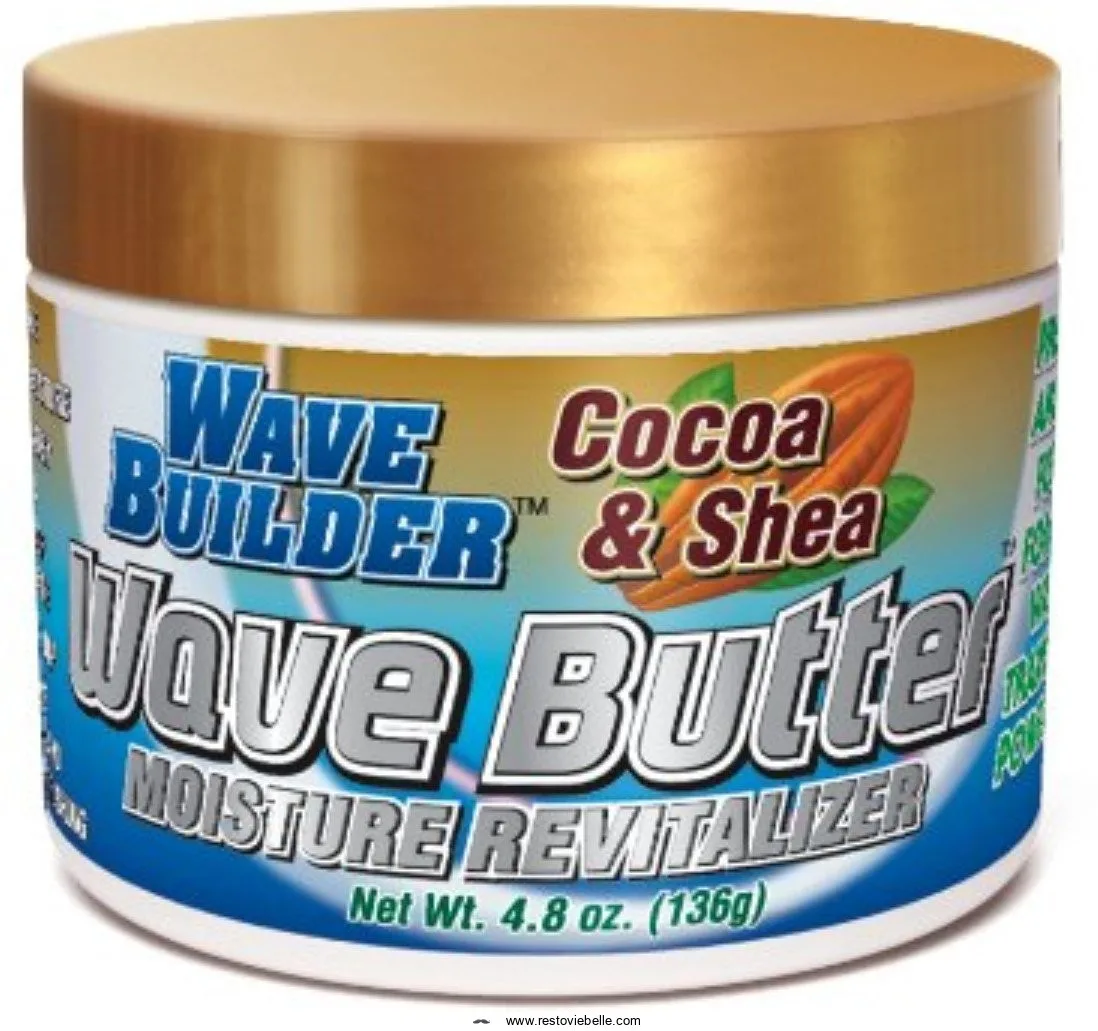 View On Amazon
If you want a wave grease that makes you shine finish without letting you let it get greasy, the wavebuilder natural wave pomade is the one for you.
I loved how cocoa shea wave butter has a superhelle formula that helps to soften coarse hair. Yes, even the kinky coily 4c variety to her.
Cocoa shea wave butter is an excellent wave grease if you want to hydrate your 360 or 180 waves. The constant brushing for waves can leave the fireplace, and this wave butter is the perfect solution for this problem.
You can request wet hair or dry hair immediately after using a hairdryer, the choice is yours.
The wave grease contains shea butter and cocoa butter as essential ingredients. Now, these are rich in amino acids and help your hair feed.
But on the other hand, they are also wealthy. So if you have an oily scalp, cocoa shea wave butter can let things work.
If not, it feels light on her and leaves a high-gloss finish.
I also enjoyed how it is not sticky and does not add much product structure to your locks.

Soothes Coarse Hair
Smells good
A small product goes a long way
Suitable for African American hair
2. Coldlabel Premium Wave & Scalp Butter​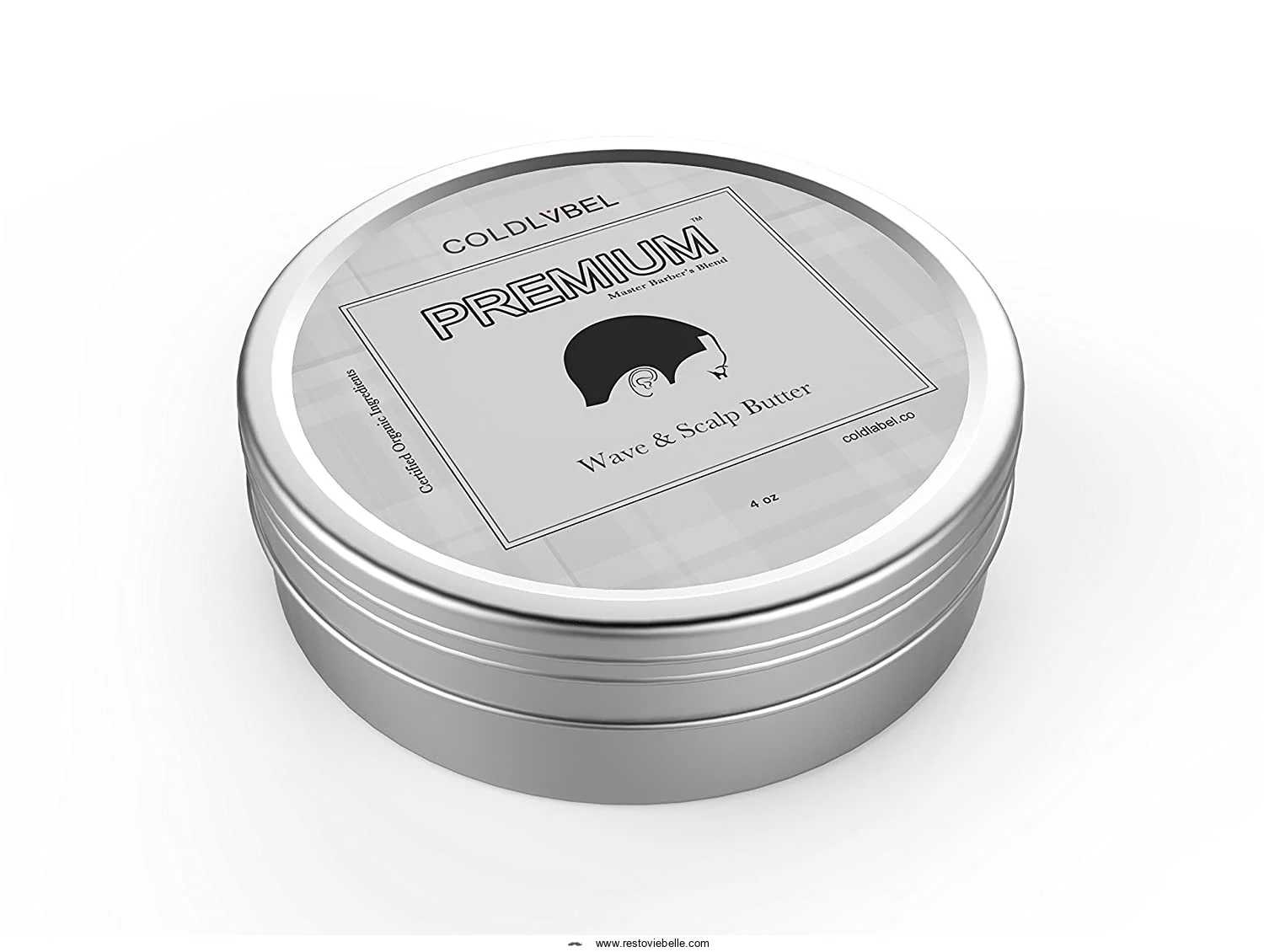 View On Amazon
Discussion about natural vs. unnatural hair products?
The Coldlabel Wave and Scalp Butter is the best of both worlds and certainly our recommendation. One of the most nutrient-rich waves greases available without sacrificing a strong hold.
It consists of high-quality ingredients such as organic beeswax and castor oil, avocado oil, essential oils, which help you achieve a light natural shine finish. The product helps to soften your hair, leaving it low and under control.
Are you just getting started or looking to switch to fully organic products? Don't worry, and this hair butter is 100% petroleum-free. No mineral oil, white paraffin, lanolin, and artificial colors. All the good stuff to keep your hair nourished and in place without the bad stuff.

Lightweight
Nutritious
Natural & Organic
Washable
3. Blind Barber 60 Proof Wax 360 Wave Cream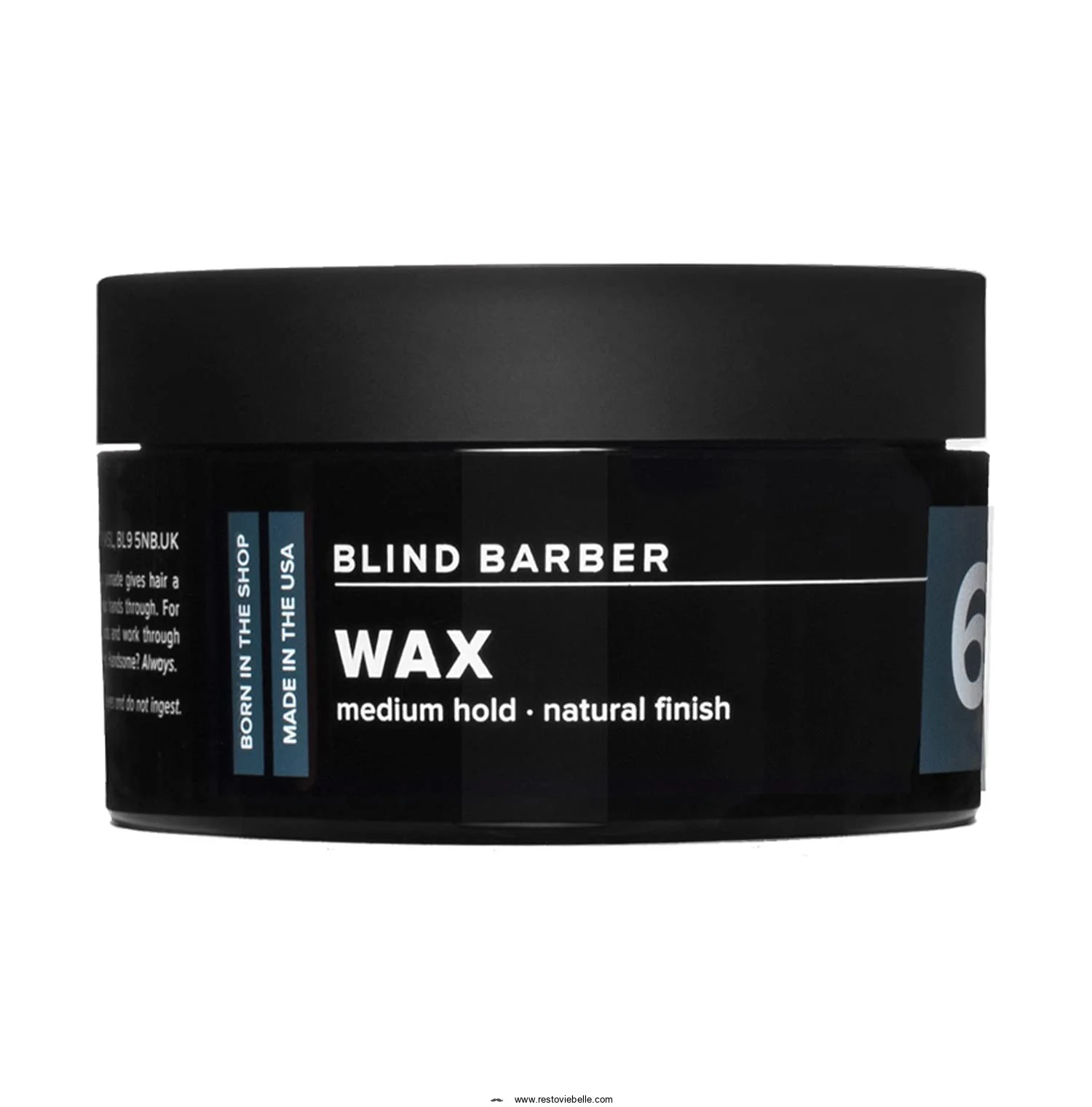 View On Amazon
Blind Barber is also a great player in designing the best wave creams for black hair and more. Of their various formulas, this is the 60 Wax.
The formula is for those who want no more than a medium hold in their hair. While it remains workable, it won't feel like a cured gel on your hair once it dries out. The easily washable, water-based nature of the pomade for waves is also a plus. It has hops in it to give your hair that definition and texture.
And the mild tonka bean blend in the ingredients gives it a pleasant scent that reminds you of vanilla when you play with it. the. It also contains pro-vitamin B5 and keratin, as you would expect from good hair products. If you want to put something on your hair every morning, hurry to the office, scoop out a dollop and use it on your hair for a medium hold/low shine finish look.

Leaves no residue after washing.
Users love the scent.
It has a tacky formula that softens upon application.
A little goes a long way.
Doesn't finish the smell—hair stiff.
Some users do not like the smell of the wax.
It is not for those whose hair produces a lot of natural oil.
4. As I Am Double Butter
View On Amazon
Were you having trouble softening or moisturizing your hair? You may have tried several products, but none have succeeded in giving you natural and soft, shiny hair. In that case, we recommend that you try the As I Am Double Butter.
This is one of the best 360 waves products for soft and shiny hair. this product works like a charm.
The handy thing about this product is that you can air-dry your hair after conditioning. The gel retains a lot of moisture. In this way, your hair will remain beautiful and hydrated even days after application.
The high effectiveness allows the product to reach its roots and revitalize them. With both the hairs and roots nourished, your hair will look soft and shiny in a whole new and fresh way. You don't have to put up with them anymore. The As I Am has a lovely vanilla scent that you will love. And it's not that strong smell that could make you uncomfortable; it is only a light fragrance.
Yes, the product comes in a small package, which may make you wonder how long you can use it. But don't worry, a little bit goes a long way, thanks to the thick nature of the gel.
The gel isn't so heavy, though, that you'll curl your hair too much if you're wolves. It has just the right thickness and consistency, and it works great. That said, don't apply too much; a little will be enough.

Helps lock in moisture.
It makes curly hair manageable.
Softens dry hair.
Contains deep conditioning pro-vitamin B5.
Gives shiny and soft hair.
It makes hair look hydrated.
Not too heavy.
It can be used daily.
Works great even with 4C Nigerian hair, except waves and curls.
5. Suavecito Pomade for Waves
View On Amazon
Are you looking for styles like side pieces or pompadours? If you like to style your hair smooth, this curl 360 wave control Pomade from Suavecito is the best choice of them all.
Suavecito pomade for waves has a firm grip and ensures that the person gets the desired haircut within seconds. You just need to apply suavecito pomade to your hair, and it gives you a strong hold and flexibility with ease for any mess-free stylish style.
Well, the best thing about this curl 360 wave control pomade is that it is water-soluble. Water-soluble means that when you want to get rid of suavecito pomade for waves, just wash your hair with water, and your hair will be free of these sporty women's gel waves. You are not required to use expensive or unique shampoos or masks to remove them.

Washes off easily without any special shampoo or products; just use water.
Leaves no residue or deposits on the scalp.
Smells like expensive men's perfume.
Works great for curly, thick, straight, or wavy hair.
The product is sweat and windproof
Affordable to buy
It gives you a basic yet raw performance
Dries too hard
The smell is too strong for some
6. Cantu Shea Butter Cream Pomade for 360 Waves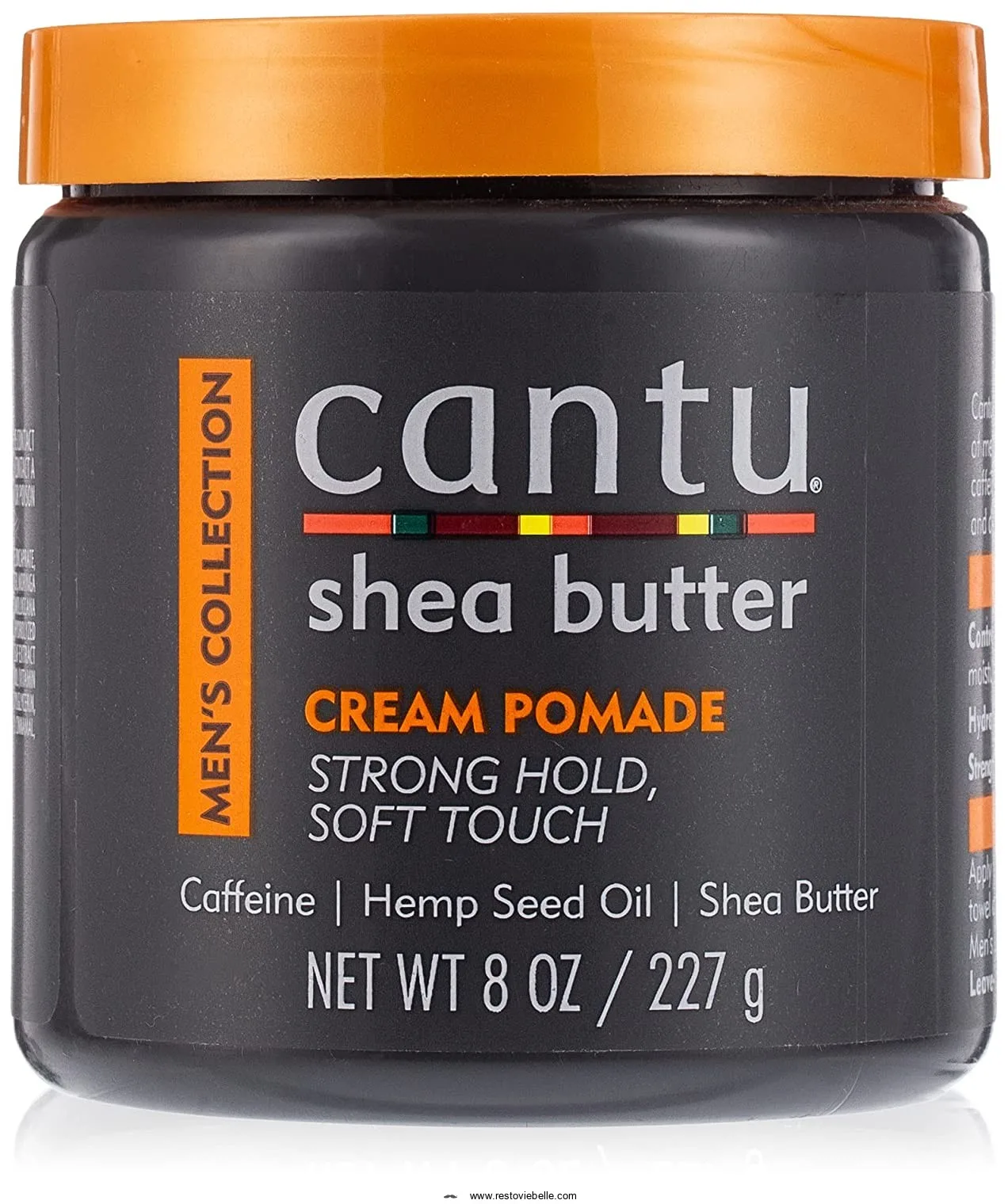 View On Amazon
Cantu Shea Butter Cream pomade for 360 waves is one of the best wave creams on market, it is made with hemp seed oil, sunflower seed oil, shea butter, and coconut oil, castor oil, avocado oil, is an excellent styling product that will keep your black hair styled, hydrated and soft.
With a strong hold for reasonable control, this wave pomade moisturizes the hair, gives a healthy glow, and does not dry out your scalp. As a natural hair product without sulgreasees, parabens, or mineral oils, it works well on sensitive skin and all hair types.
If your hair is difficult to comb, this cream may be for you. This hair styling product has been developed for men with coarse wavy or curly hair and gives your hair a natural look. Black men with thin or fine hair will still appreciate the gentle care of this cream curl 360 wave control pomade—hair for a more modeled look.
The light, subtle scent of shea butter smells very lovely. And because it's such a lightweight product, it's easy to wash out with shampoo and conditioner.
Famous for black men who want 360 waves products without harsh chemicals in their hair, Cantu's Cream pomade for waves is necessary. To consider. Worth.

Good for coarse 4k hair
Free from parabens and mineral oil
Helps with hair growth
Strong fixation
The light, subtle scent of shea butter smells very lovely.
Leaves white flakes on the hair
7. Axe Signature Clean Cut Wave Grease
View On Amazon
So we came to AX; it would be heartbreaking for some fans if we didn't take one from the classic fragrance makers. Also, it has some significant pluses, the pomade for 360 waves. Let's find out.
The Signature Clean Cut is AX's Classic pomade for 360 waves. It gives you a polished, "clean" look, as the name suggests. It is best for people with short to medium hair. If you have slightly longer hair, it gives a good hold and doesn't look greasy without weighing your hair down. Texture to your splendid hair, it's possible to do both with this classic.
And it doesn't look like you applied gel or wax. The outlook is very natural. If nothing, at least you wouldn't feel like you're wearing a helmet on your head, as sometimes happens when strong hold pomades dry out day by day.

Gives your hair a little shine finish when applied damp.
It can last up to 14 hours or more with a bit of hairspray.
It is not sticky.
Provides excellent value and quality.
Works well with smooth backs and pompoms.
Use a good amount for application.
8. Murray's Superior Hair Dressing 360 Wave Grease
View On AmazonMurray's Golf Pomade is a versatile oil-based pomade that works well on all hair types. As a highly appreciated wave grease, it is a thick product with a strong handle and a high shine finish. This curl 360 wave control pomade reaches waves faster, reaches waves, and is highly recommended by hairdressers and stylists.
Once applied, it will take all day, and your hair stays in place so that you can get those deep 360 waves. A small amount goes a long way because it effectively tams, hydrates, and soft black hair.
This hair styling product comes with a prominent scent that most men and women want. However, it must be flooded with shampoo and conditioner – only water cuts alone. Because it is so thick and powerful, you should be careful when applying it to your hair; make sure it doesn't strong hold where you don't want it.
The wave grease is hemp seed oil-based pomade with shea butter and coconut oil, avocado oil, sunflower seed oil, essential oils. Apart from nourishing your coarse hair further, these two ingredients are very efficient when it comes to softening coarse hair. Besides, the oil-based wave grease goes on beautifully and spreads uniformly.
Perfect for black men with tight curly hair that is hard to manage, this wave punkette for black hair gets your results.
For one of the best Golf greases around that is also super cheap, you can't do it either Go wrong with Murray's.

Cheap
Pleasant Odor
A little goes a long way
No superstructure
Non-sticky
Suitable for all hair types
Contains mineral oil
Contains Petrolatum
9. Sportin' Waves Pomade
View On Amazon
This is one of the top-rated wave greases on the list. The Sportin' Waves Maximum Hold hair pomade helps your hair stay in place for a long time. This product can be excellent if you have short, coarse, thick, curly, wavy, and black hair.
This is an oil-based pomade that moisturizes your dry hair. You should apply this product to your hair after a hot shower while still damp for best results.
This product has a light consistency that can be easily washed off with shampoo.
The product has a mild and light fragrance and fades quickly enough after application. This is a good option if you are looking for wavy grease that moisturizes your hair and gives you a lovely wavy pattern.

Hardwearing style
Moisturizes
Light consistency
Easy to wash
Maximum durability
A little goes a long way
Contains petrolatum
Contains mineral oil
The smell does not last long
10. Roller Coaster Waves Hair Pomade
View On Amazon
Most wave grease and hold pomades are oil-based. But these can be difficult to get out of your hair. It is also inconvenient to use them on an oily scalp.
So if you want something that gives you shine, hydrates your hair, and is also water-soluble, this Roller Coaster Waves Pomade is perfect.
Because this is a water-based product, you wash it off quickly – no strong shampoo needed!
But on the other hand, it contains nourishing ingredients such as shea butter, argan oil, castor oil, olive oil, hemp seed oil, and aloe vera that help soften coarse type 4c hair.
The roller coaster waves hair pomade gives you a strong hold. This way, your 360 waves stay in place for a long time.
There was only one problem I had with this wave hair pomade. I don't think it is very suitable for a sensitive scalp.
Roller coaster waves hair pomade contains petroleum jelly, artificial colors, and even added perfume. So it can leave susceptible skin irritated.

Light yet nourishing
Easy to wash
Good for oily scalp
Great for type 3 hair textures
Not for sensitive skin
For a dehydrated scalp, you may need a different conditioner
How to Apply Styling Pomade or Hair Grease
If you search for applying hair pomade, you will probably find many results on the internet that won't help you.
A "how to apply hair pomade" produces many searching results for white women while searching for "how to apply wave grease" will surely give you results for black women.
What if you are a man who wants to know how to apply these products for waves?
Although YouTube is a great resource, I'm here to tell you how to do it.
First, you want your hair to be damp.
If you don't just get out of the shower, wet a towel with hot water.
Make sure it's not too hot; you're going to put it on your head so that the water, heat, and steam around your hair are both wet and soft.
You will then begin to comb your hair.
For a more in-depth explanation, see our post at
Start at the crown of your head and brush the hair away from and towards your hairline.
At the front, brush from the crown to your front hairline.
At the back, brush from the crown and down towards your neck.
You should start with this move first, and then you are ready to apply whatever wave pomade or wave grease you are using.
After brushing for a few minutes, take a generous amount of a dime of the product you use.
You spread this evenly over one to two centimeters around your crown.
After applying, apply this product to your hair with the same outward motion.
Then take another dime-sized piece and apply it on a circular circumference about two inches from you. Crown. The front of your head.
Once you've applied the wave grease to all parts of your hair, start brushing your entire head in this way.
Remember always to brush. It was outwards, starting at the crown.
Frequently Asked Questions (FAQs)
Should I use Wave grease every day?
You can use wave styling pomade or Wave Grease as often as you like, considering your hair type and personal daily hair needs. Remember that sometimes less is better for beginners, so do a little more with the wax; it will clog the pores and cause heavy buildup, which can become a bad situation.
What type of brush should you use?
The type of hair pomade hairbrush you need depends on your hair type and the texture. You should also consider how deep the waves will be.
But if you are a beginner and have short hair, you should buy a soft brush. But if you have long hair, go for a stiff brush.
Is wet hair good to apply wave grease on?
Yes. The moisture sometimes helps to style it better.
Is Wave Grease bad for hair?
Not water-based or natural.
Conclusion
Using wave grease is essential to get the perfect 360 waves. Not only does it add some shine to your hair, but it also holds your hair in place.
Combined with an excellent wavy brush and a silk train, wave pomade can help you achieve great waves.
You can apply a little styling pomade right before brushing your hair. It should make brushing wave patterns easier.
All of the above wave pomade products are of good quality and are loved by beginners and experts alike.
Some of these hair pomades are also super nourishing and serve as a leave-in conditioner for coarse type 4 hair.
So now that you know all about the best wave grease and pomades, it's time to make your choice.
References
haireveryday.com
theidlemen.com
besthairlooks.com