This site is supported by our readers. We may earn a commission, at no cost to you, if you purchase through links.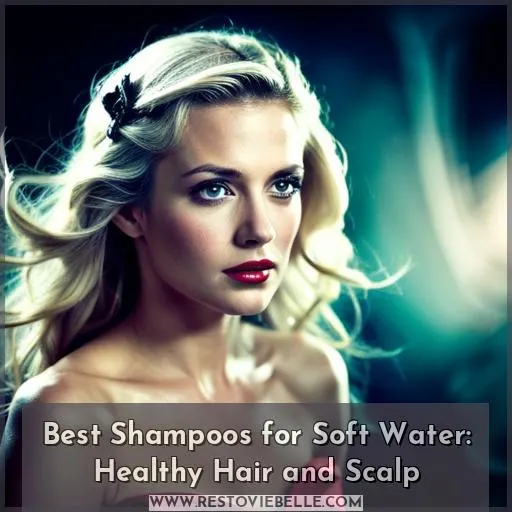 Are you looking for the best shampoos for soft water areas? Soft water can be beneficial in many ways, but it also has its drawbacks. If your hair is feeling limp and lifeless due to hard or soft water, then don't worry – there are products available that will give you healthy, shiny hair with a well-balanced scalp.
In this article, we'll be discussing some of the best shampoos for soft water along with an understanding of what exactly constitutes as soft or hard when it comes to our tap water.
Key Takeaways
Soft water can lead to greasy hair due to factors like incorrect shampoo choice and excessive use.
To combat the effects of soft water, choosing the right shampoo is crucial for maintaining hair health.
Shampoos with activated charcoal can help detoxify hair, remove impurities, and reduce oiliness.
Identifying if you have soft water and its effects on your hair is the first step in finding the best shampoo for your needs.
Best Shampoos for Soft Water
Looking for a shampoo that performs well in soft water? The Body Shop Ginger Scalp Care Shampoo and Redken Detox Shampoo are two great options to consider. These shampoos are specially formulated to provide a deep cleanse that removes buildup and excess oils associated with soft water, without over-drying your hair.
The Body Shop shampoo contains ginger essential oil that warms the scalp, stimulates circulation, and helps remove product buildup. Meanwhile, Redken uses citric acid to clarify hair and remove hard water minerals and metals.
Both are sulfate-free formulas that won't strip hair. For best results when using in soft water, focus the shampoos on the roots and scalp, rinsing thoroughly. With regular use, these shampoos can help restore bounce, shine, and manageability to hair softened by mineral-deficient water.
The Body Shop Ginger Scalp Care Shampoo
View On Amazon
Before this shampoo, you might've suffered from dry, flaky scalp. However, now you can revitalize and soothe that problem area with The Body Shop's vegan formula containing ginger essential oil and herbal extracts that reduce dryness and flakes while nourishing strands.
This affordable shampoo has a light ginger scent and is made with 90% natural origin ingredients in recycled packaging. Use this scalp-soothing vegan shampoo regularly to hydrate your scalp, improve hair health, and say goodbye to those pesky flakes.
Vegan and cruelty-free
Made with 90% natural ingredients
Affordable compared to similar products
Ginger fragrance is pleasant
Helps hydrate scalp and reduce flakes
Users report improved hair health
May not prevent flakes for some
Can dry out hair so conditioner recommended
Scent is too strong for some
Bottle is small for high use
May not see improvement with severe dry scalp
Needs continued use for ongoing benefits
Redken Detox Shampoo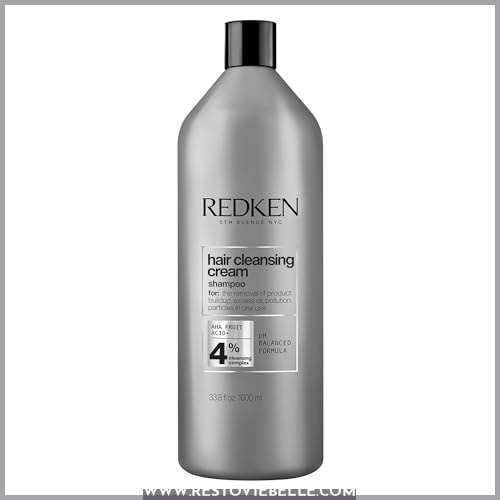 View On Amazon
You'll love how Redken Detox Shampoo removes nearly 90% of hard water buildup in just one wash, clarifying your locks without stripping them. This professional clarifying shampoo is specially formulated with alpha hydroxy acid, fruit acid, and a cleansing complex to purify hair of hard water minerals like copper, iron, magnesium and calcium that can build up and cause dryness.
The deep cleansing action also removes product residue, excess oils and pollution while strengthening the hair cuticle for a smooth, shiny finish. Users note the pleasant scent and improved feel of their hair after using it just once or twice a week.
While the bottle size is on the small side, Redken Detox Shampoo delivers impressive results on all hair types, ideal for oily, color treated and chemically processed hair. Use it regularly to prep hair for salon services, eliminate grease and revitalize limp locks.
Removes up to 90% of hard water buildup
Deeply cleanses without stripping oils
Suitable for all hair types including colored
Pleasant scent
Small 8.5 oz bottle size
Not as effective on extremely curly or coily hair
Can be drying if overused
Aveeno Apple Cider Vinegar Shampoo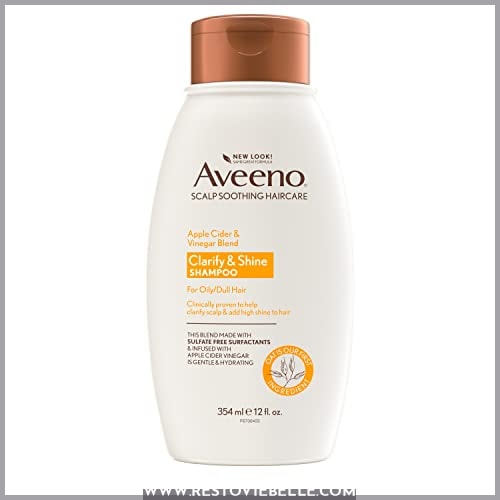 View On Amazon
Having dealt with extremely dry hair, the Aveeno apple cider vinegar shampoo's clarifying blend cleansed and added shine without stripping oils. This sulfate- and phthalate-free shampoo contains oat and apple cider vinegar to gently cleanse while adding volume and shine.
The farm-fresh formula is suitable for all hair types, including color-treated, and received positive feedback for its pleasant scent and effectiveness on oily, dull hair. Users note increased volume and an affordably priced solution to dry, flat locks.
Though not deeply moisturizing on its own, when paired with a good conditioner, this shampoo can help invigorate hair.
Some users found the apple cider scent refreshing, while others had a mixed opinion. Overall, the Aveeno shampoo's clarifying properties make it a great choice for those seeking to revive dry, lackluster strands without harsh chemicals.
Sulfate- and phthalate-free
Adds shine and volume
Pleasant apple cider scent
Affordable price point
Suitable for all hair types
Not deeply moisturizing
Mixed reviews on scent
May not cleanse as deeply as some users prefer
Bumble and Bumble Sunday Shampoo

View On Amazon
You can treat your oily locks to a deep cleanse with Bumble and Bumble's Sunday Shampoo, an intense weekly wash that scrubs away grease like a clarifying oil change for hair. This professional-grade shampoo provides a reset for product buildup, excess oil, and environmental pollutants.
Containing clarifying botanicals like ginseng, rosemary, and sage, it detangles while removing impurities for refreshed, clean hair.
Despite some drying, this sulfate-free cleanser is recommended for occasional use between regular washes. It leaves hair smooth and revitalized. Use a hydrating conditioner post-shampoo focusing on mid-shaft to ends.
Deep weekly cleansing
Removes oils and buildup
Smoothes and tones color
Can be drying
Small bottle
Expensive
Klorane Nourishing Shampoo With Mango Butter
Klorane's mango butter shampoo deeply moisturizes and repairs dry, damaged hair. This rich formula leaves hair clean, strong, and touchably soft.
Hydrates dry, frizzy locks
Restores moisture and suppleness
Repairs split ends
The mango butter provides long-lasting hydration and helps strengthen weak, brittle strands. Give your hair the nourishment it deserves with Klorane's luxurious mango butter shampoo.
Fekkai Apple Cider Detox Shampoo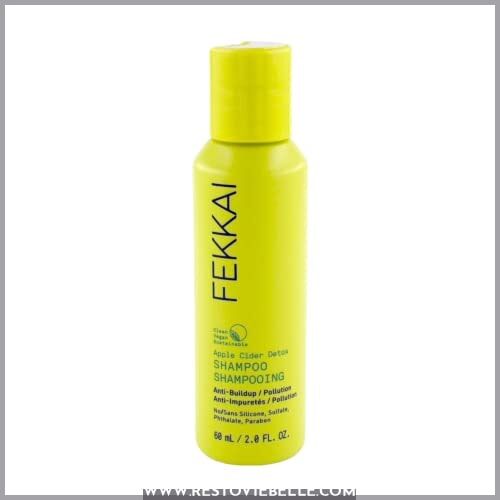 View On Amazon
Fekkai's Apple Cider Detox Shampoo removes impurities and balances your scalp's pH in just 1-2 uses per week. Infused with organic apple cider vinegar, this shampoo helps eliminate buildup from products, hard water minerals, chlorine, and pollutants.
The delicious green apple and citrus scent refreshes as ginger extract and salicylic acid work to balance and soothe your scalp.
This EWG compliant, sulfate-free formula is ideal if you have oily, color-treated or chemically processed hair. Use it as directed for a deep but gentle cleanse that lifts away impurities without stripping your strands.
Let apple cider vinegar work its clarifying magic so you can enjoy bouncy, nourished tresses.
Pleasant scent
Removes buildup
Good for oily hair
Vegan and cruelty-free
Small 2 oz bottle
Can feel slightly abrasive
Relatively expensive
Degrease Shampoo Oily Hair Scalp Cleanser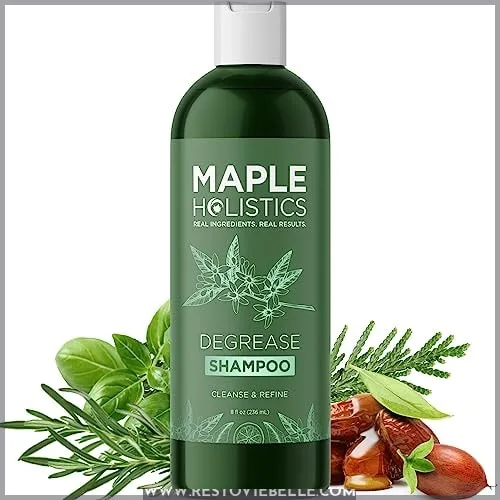 View On Amazon
Remove excess oil and grease with Degrease's natural rosemary oil shampoo if you're struggling with oily hair caused by factors like hormones or medication. This affordable sulfate-free formula is specially designed to combat oily scalp and hair concerns using natural degreasing ingredients like rosemary oil.
Users report significant reductions in oil buildup and greasiness after regular use, even reducing the need for daily hair washing. Both men and women struggling with excess oiliness praise it for outperforming expensive alternatives and delivering noticeable results in just a few days.
Degrease effectively cleanses and purifies without stripping away moisture for those with normal to very oily hair types.
Uses natural ingredients like rosemary oil
Sulfate-free formula
Affordable compared to alternatives
Quickly reduces oil and grease
Less frequent hair washing needed
Effective for very oily hair
May cause dryness if overused
Not suited for dry or damaged hair
Reports of inconsistent product between orders
Potential mild scent bothers some users
Doesn't produce much lather
WOW Skin Science Apple Cider Vinegar Hair Loss Shampoo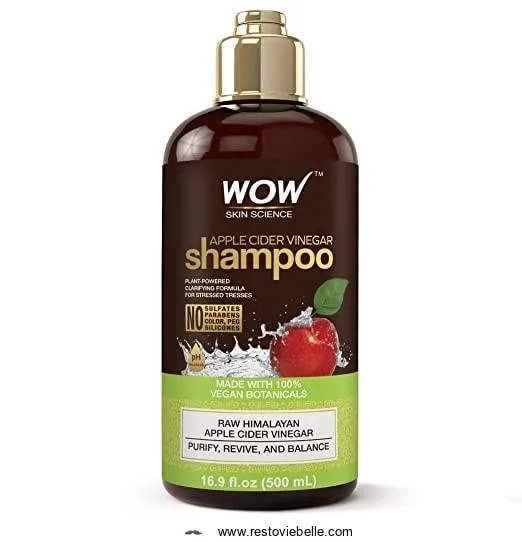 View On Amazon
You'd better grab some of WOW's apple cider vinegar shampoo if you're looking to combat hair loss and promote growth. This vegan and cruelty-free formula contains saw palmetto to aid in hair growth and thickness.
It cleanses the scalp, removes buildup, and balances pH levels to create an optimal environment for healthy hair. Customers praise its pleasant apple scent, affordable price, and moisturizing effects.
Contains saw palmetto to combat hair loss
Affordable price
Pleasant apple scent
Moisturizing effects
Can promote hair growth and thickness
Vegan and cruelty-free
Potential dryness or irritation of the scalp
Complaints about expiration dates on bottles
Not as effective for some users
Must be used consistently for best results
Voluminous Sea Salt Shampoo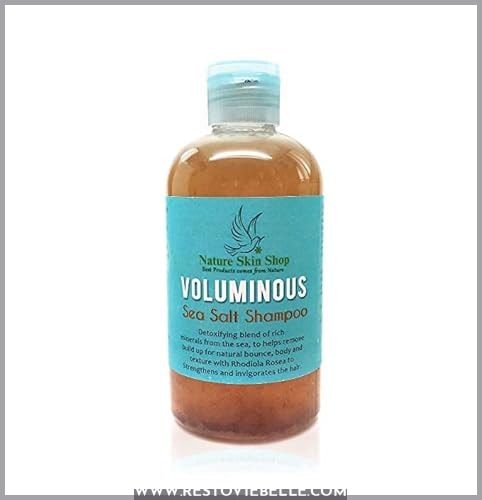 View On Amazon
You'll love boosting volume in your frizzy hair with Nature Skin Shop's Voluminous Sea Salt Shampoo. This seaweed-based shampoo contains rich sea minerals to help combat oily buildup and provide thicker-looking, more textured hair.
The sea salt formula adds body and removes excess oils for hair that looks naturally fuller.
Though some users report issues with tangling or the consistency of the shampoo between orders, many note success with hard water, soft water, volume, and even scalp conditions like psoriasis and seborrheic dermatitis.
Give your locks a beachy, voluminous boost with Voluminous Sea Salt Shampoo.
Adds volume and texture
Removes excess oil
Can help with scalp conditions
May cause some tangling
Formula inconsistencies reported
Small bottle size
Vegan Charcoal Clarifying Scalp Shampoo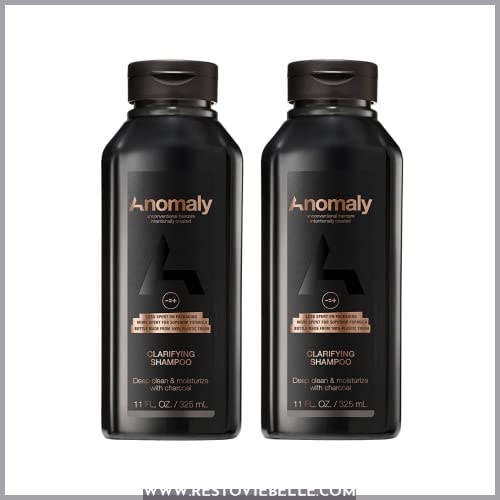 View On Amazon
Your scalp will rinse off the grease in that pricey bottle. Anthropic's Vegan Charcoal Clarifying Scalp Shampoo is designed for itchy, troubled scalps with its gentle formula that removes excess styling product build-up and environmental pollution while retaining moisture.
The charcoal helps cleanse dirt, oil, and build-up without damaging hair while the eucalyptus invigorates hair follicles and soothes itchy scalps. This clean, vegan, cruelty-free formula contains no harsh sulfates or mineral oils.
Some users reported the shampoo effectively clarified and softened their hair. But others mentioned experiencing a chemical smell, dryness, or increased itchiness after use. Consider your hair type and scalp sensitivity when deciding if this eco-friendly shampoo is right for you.
Clarifies hair and scalp
Vegan and cruelty-free
No sulfates or mineral oils
Eco-friendly packaging
Can cause dryness or itchiness for some
Chemical smell reported
Effects can vary by hair type
Understanding Soft Water and Its Impact on Hair

The quality of your water can have a significant impact on the health and appearance of your hair. Soft water and hard water differ in mineral content, which affects factors such as the lather and rinse of your shampoo as well as potential buildup or dryness.
Therefore, it is important to choose hair products formulated specifically for your local water type. Using products meant for soft water in hard water, or vice versa, could lead to issues like lifeless, greasy hair or dry, brittle strands.
When shopping for hair care products, look at the label for indications of whether the shampoo, conditioner, mask, etc. is better suited for soft or hard water. This will help you avoid problems and keep your hair looking its best no matter the type of water coming out of your tap.
Soft Water Vs Hard Water
Whether you have limp locks in Louisiana or frizzy hair in Florida, understanding how your local tap water impacts your mane is crucial for choosing shampoos that give you your dream 'do.
Comparing soft and hard water reveals differences in mineral content. Soft water has low levels of calcium and magnesium, whereas hard water contains higher concentrations.
Soft water can make fine/oily hair greasier, while thick/frizzy hair benefits from the added smoothing effect. On the other hand, hard water can cause dryness and buildup, which necessitates the use of a chelating shampoo.
Alternatively, soft water requires less product with fewer oils to prevent scalp greasiness after washing.
Installing a water softener helps balance out the minerals in hard water, but it could interfere with lathering if sodium levels are too high.
The Role of Water in Hair Care
Controlling excess buildup from the water requires choosing a shampoo suited for balancing hair's moisture levels. The pH, mineral levels, and other properties of water directly impact your hair's health.
Understanding your local water supply guides smart hair care. Test water hardness to select the right shampoo. Seek formulas with chelating agents to prevent mineral deposits in hard water. Opt for gentle, moisturizing cleansers in soft water to avoid over-stripping natural oils.
Proper shampoo choice helps maximize hair health despite variable water composition. Adjusting your hair routine based on water analysis supports managing factors like dryness, oiliness, and buildup. Analyzing your water and adjusting your hair care routine accordingly can help optimize hair health by addressing issues like excessive dryness, oiliness, and mineral buildup.
Factors to Consider When Choosing a Shampoo for Soft Water

When choosing the best shampoo for soft water, keep in mind your hair and scalp type and look for ingredients that are indicated for the effects of soft water on your hair. Focus on shampoos with ingredients like activated charcoal, apple cider vinegar, and essential oils that can help counteract excess oil and buildup to get hair and scalp results that match your needs.
Hair and Scalp Type
Although soft water may seem universally beneficial for hair, your specific hair and scalp type affects how it reacts. Those with fine, oily hair may find soft water exacerbates greasiness. However, for coarse or color-treated hair, soft water's lack of minerals prevents dryness and fading.
Ultimately, factors like porosity and scalp health determine whether soft water helps or harms. Choosing products that address your unique hair needs allows maximizing soft water's advantages while minimizing downsides.
Experiment to discover your ideal soft water hair routine. With the right shampoo and conditioner, soft water can give all hair types enhanced health, shine, and manageability.
Ingredients to Look For
Seek out gentle cleansers like coco betaine instead of harsh sulfates.
Prioritize natural oils and extracts that nourish hair.
Look for pH balancing ingredients to maintain hair's protective layer.
Avoid silicone, which can build up on strands.
By selecting the right ingredients, you can keep your hair clean, healthy, and manageable with soft water shampoo.
Shampoos Specifically Designed for Soft Water

When it comes to caring for your hair, it's crucial to use products formulated for your local water type. Let's explore some of the best shampoo options made specifically to combat the challenges of washing hair in soft water areas.
WOW Apple Cider Vinegar Shampoo
Nourish flaky hair and reduce dandruff with Wow Skin Science's apple cider vinegar shampoo. The vegan formula cleanses your scalp, removes buildup, and balances pH levels for healthier hair. This shampoo nourishes hair strands while removing impurities and controlling excess grease.
Apple cider vinegar soothes itchy, flaky scalps and clarifies follicles clogged with residue. Using Wow Skin Science's apple cider vinegar shampoo can help alleviate common soft water issues like buildup and greasy hair.
Strategically incorporating this pH-balancing clarifying shampoo into your hair care routine combats challenges posed by soft water.
Maple Holistics Degrease Shampoo for Oily Hair
Oily hair be damned, y'all need this degreaser STAT if your scalp's gloopier than a Louisiana bayou.
Rosemary oil reduces excess oil and grease.
Natural ingredients cleanse without stripping moisture.
This affordable, sulfate-free purifying shampoo helps oily hair by removing excess oil and buildup with natural ingredients.
Aveeno Scalp Soothing Vinegar Shampoo
Clarify hair with Aveeno's apple cider vinegar shampoo. Its formula contains oat as the first ingredient plus apple cider vinegar, providing scalp soothing and shine while still being suitable for color-treated hair.
It cleanses without stripping oils and leaves locks feeling clean, strong, and touchably soft.
Users praise its pleasant scent, which transitions to a light herbal note after use. Hair porosity tests can help determine if this shampoo is right for you. In hard water areas like New York City, where dry shampoos benefits may be more desired due to frequent washing requirements caused by mineral-free soft water issues such as oiliness from excessive lathering or build-up on fine strands.
Anomaly Clarifying Charcoal Shampoo
You'll find the clarifying effects of Anthropic's charcoal shampoo invigorating and refreshing. Removing buildup improves scalp and hair health. Its activated charcoal naturally absorbs and lifts away excess oils and product residue without stripping moisture, refreshing hair.
Clarifying shampoos like this specially target soft water issues like buildup and greasiness. Thoughtfully formulated without sulfates or silicones, this innovative hair detox option tackles New York's soft water woes.
Briogeo Scalp Revival Dry Shampoo
You'd do well to try Briogeo's Scalp Revival dry shampoo for soaking up excess oils without butane or propane.
Rice starch to soak up grease
Purifying charcoal to remove impurities
Refreshing peppermint and spearmint oils
It cleanses hair without drying it out, making it an ideal soft water solution for oily hair days. Formulated without parabens, silicones or sulfates, Scalp Revival refreshes hair with activated charcoal's natural detoxifying properties.
Common Hair Problems Associated With Soft Water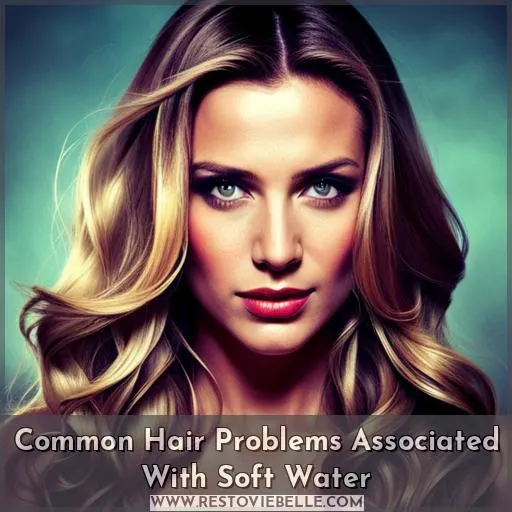 You may find that soft water contributes to an oily scalp and dry ends or a feeling of your hair being weighed down. Tangles, knots, and difficulty holding hairstyles can result as soft water leaves an invisible film that prevents proper moisture absorption.
Oily Scalp and Dry Ends
With oily roots and parched tips, babassu oil acts as a finishing touch to moisturize dry ends without exacerbating your slick scalp. Look for formulas with gentle cleansing agents like cocamidopropyl betaine that won't strip your scalp.
Meanwhile, nurture brittle ends with intensive conditioners, masks, and oils high in fatty acids. For an affordable option, try OGX's nourishing coconut curls with coconut oil. Or indulge in Rahua's color full shampoo with passionfruit oil to balance your scalp and ends.
Hair Feels Weighed Down
When your hair feels weighed down, avoid shampoos with high surfactants that leave buildup.
Avoid silicone and SLS/SLES surfactants.
Look for gentle, natural ingredients.
Use a clarifying shampoo weekly.
Consider your hair porosity and texture.
Select a shampoo made for soft water.
To prevent limp, lifeless locks, focus on choosing the right shampoo. Shampoos made specifically for soft water can help avoid weighed-down hair.
Tangles and Knots
Too much shampoo in soft water areas can result in tangles and knots due to buildup, so be sure to use the right amount for your hair type. To help prevent tangles and knots caused by soft water buildup, be cautious of overusing shampoo in your haircare routine.
Use a soft bristled brush and detangling spray or leave-in conditioner when styling to smooth the hair cuticle and minimize snarls.
For curly or textured hair prone to knotting, finger detangling while conditioned in the shower is an effective technique. Limit shampoo use, condition hair thoroughly, and use the proper tools to minimize frustrating tangles and knots.
Difficulty in Holding Hairstyles
Let your voluminous mane revolt against lifeless, limp styles when soft water upends your 'do day after day. Embrace techniques like heat styling, volumizing mousse, texture sprays and dry shampoo to prolong your look between washes.
Layer in flexible hold hairspray as insurance against droop, while clipping strands up with spin pins or fabric-covered claws. Weave braids into ponytails or topknots for lift, or mist with sea salt spray once dry.
Hairstyle longevity demands diligent prep yet rewards you with enviable, touchable texture.
Why Soft Water May Leave Your Hair Greasy

You've likely noticed your hair feeling weighed down and greasy after washing it in soft water. This is often caused by using the wrong shampoo, excessive sodium in your water softener, silicone buildup, overuse of products, or harsh surfactants that don't interact well with soft water.
Using the Wrong Shampoo for Soft Water
You're kidding yourself if you think using the wrong shampoo won't leave your hair a greasy mess in areas with soft water. Many make the mistake of using shampoos made for hard water, full of harsh surfactants like sulfates.
Seek out gentler cleansers made for soft water, often with natural oils to nourish while lifting grease. Consider your hair type too. Shampoos that target oily strands work well for fine or thin hair prone to getting weighed down.
Adjusting your hair care lineup based on water softness makes all the difference in avoiding greasy hair.
High Sodium in Water Softener Systems
Your water softener needs adjusting because the high sodium is making your shampoo foam too much. Water softeners replace hard minerals like calcium and magnesium with sodium. But if sodium levels get too high, shampoos will foam excessively, fail to rinse out, and leave residues that weigh hair down.
Have your softener serviced to optimize sodium dosing. The right balance ensures water feels soft without compatibility issues between soft water and your shampoo.
Silicone in Shampoo
Since silicone buildup can occur in soft water, avoid shampoos with those ingredients. As silicone coats each strand, it prevents proper hydration and weighs hair down. Opt for shampoos with clean, silicone-free formulas to allow soft water's moisturizing effects.
Seek out natural oils and extracts that provide needed moisture without greasy residues. Your hair's health depends on balancing hydration, so silicone shampoos contradict soft water's benefits.
Using Too Much Shampoo
Stop drowning your scalp in piles of lather. Soft water makes too many suds, tricking you into thinking more shampoo is needed. But overuse leads to buildup and greasy hair. Instead, gently massage in a small amount, just enough to work through hair without harsh scrubbing.
Rinse thoroughly, ensuring all foam and residue is gone. Your scalp will naturally rebalance with gentle cleaning while soft water lets hair keep needed moisture. Proper shampoo usage prevents overproduction of oils for healthy, manageable hair.
High Levels of Surfactants
High levels of sodium lauryl sulfate (SLS) and sodium laureth sulfate (SLES) surfactants can lead to shampoo buildup in soft water, even causing tangles and knots as hair strands become less flexible. For instance, a new soft water user may use their usual amount of hard water shampoo, causing serious residue issues from too many suds and poor rinsing.
These common surfactants can inhibit cleansing efficiency in soft water by binding to hair and scalp. Shampoos with gentler, plant-based cleansers may better respect scalp health and hair integrity. It's important not to assume myths about soft water—shampoos should be selected wisely.
Buying Guide: What to Look for in a Soft Water Shampoo

When choosing a shampoo for soft water, look for formulas with low levels of surfactants like SLS and SLES that can lead to buildup. Opt for gentle cleansers with natural ingredients to avoid issues like greasy, limp hair from high surfactant shampoos.
Low Surfactants
You'll want shampoos with low SLS and SLES to avoid buildup.
Focus on gentle cleansers like decyl glucoside instead of harsh surfactants.
Seek out formulas with naturally derived ingredients when possible.
Alternate your usual shampoo with a clarifying option weekly.
Evaluate your hair's porosity and texture to find your best match.
Lowering surfactants prevents residue from accumulating over time. Clarifying intermittently clears buildup for hair that feels clean and moves freely.
Avoiding Silicone
To maintain hair health in mineral-free, gentle-on-hair liquid, opt for products free from silicone. Silicone, while common in many hair products, can contribute to buildup on your hair and scalp, especially in soft water conditions.
Here's a table with some silicone-free shampoos to help you combat soft water challenges and enhance lather for a thorough cleanse:
| Shampoo Name | Benefits |
| --- | --- |
| The Body Shop Ginger Scalp Care Shampoo | Soothes and cleanses without silicone. |
| Redken Detox Shampoo | Removes buildup and strengthens hair without silicone. |
| Aveeno Apple Cider Vinegar Shampoo | Adds volume and shine without silicones. |
| Bumble and Bumble Sunday Shampoo | Deep cleanses without silicone, suitable for color-treated hair. |
Choosing these silicone-free options will keep your hair fresh and free from residue, even in soft water.
Benefits of Activated Charcoal
Experience the detoxifying power of activated charcoal in your hair care routine for a refreshing cleanse that removes impurities and buildup. Activated charcoal, a key ingredient in some shampoos, offers multiple benefits.
It acts as a magnet, drawing out excess oils and impurities from both your hair and scalp. This can lead to a healthier scalp, reduced oiliness, and improved overall hair health. Charcoal-based hair products like shampoos contribute to a revitalized, balanced, and purified hair care experience.
What is Soft Water?
Discovering soft water is like finding a gentle breeze on a scorching summer day – it can make your hair feel smoother and shinier, but understanding its effects is crucial.
Reduced Mineral Buildup: Soft water prevents mineral deposits on your hair, leaving it feeling cleaner.
Improved Hair Porosity: It can enhance your hair's ability to absorb moisture and products.
Better Shampoo Choices: With soft water, you should select shampoos that maintain a healthy balance between moisture and oil.
Embrace the power of soft water and choose the right shampoo to unlock its full potential for your hair.
How to Determine if You're Using Soft Water
Identifying whether you're using soft water is essential for tailoring your hair care routine effectively. To determine your water's softness, consider using water testing kits available at local hardware stores.
Soft water is typically characterized by a lack of mineral buildup on faucets, a slightly saltier taste, and abundant lathering with soaps and shampoos. Knowing your water type will help you address the specific needs of your hair and avoid any potential issues caused by soft water, such as greasiness or flatness.
Effects of Soft Water on Hair
Soft water can cause hair to become weighed down and limp due to buildup, but using the right shampoo for your area's water type can help prevent this. Soft water presents both benefits and challenges for hair. While it can lead to greasiness, it also requires less shampoo and helps maintain pH balance.
To tackle the challenges of soft water, opt for shampoos designed for this water type, avoiding ingredients that exacerbate oiliness. By understanding the unique care soft water demands, you can ensure your hair stays healthy and vibrant.
Conclusion
To conclude, selecting the appropriate shampoo for your soft water region is akin to choosing the perfect note in a symphony. The synergy between your hair and the correct product can make a significant difference.
Soft water can present its own unique challenges, such as excessive greasiness and flatness, but with the aid of the finest shampoos for soft water, you can maintain a healthy scalp and vibrant hair. Therefore, embrace the lather, the cleansing power, and the nourishment that these shampoos provide.