This site is supported by our readers. We may earn a commission, at no cost to you, if you purchase through links.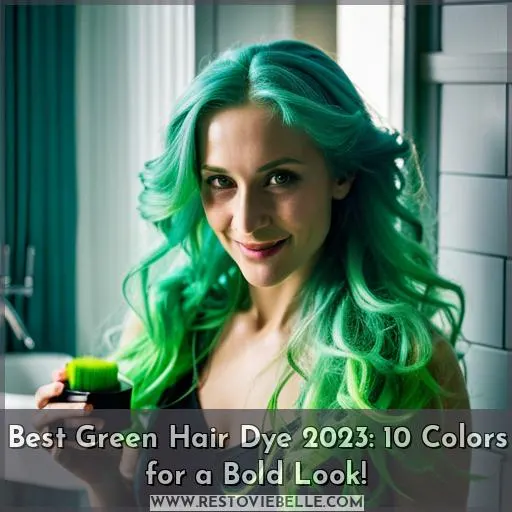 Ready to make a statement? Green hair dye is the perfect way to do that! This article will tell you everything you need to know about finding the best green hair dyes for 2023.
Whether it's Arctic Fox Phantom, Manic Panic Electric Lizard, or Punky Apple Green, we'll show you 10 of the trendiest colors available right now.
We'll also cover how on-trend green hair really is and answer questions such as: Can I dye my dark brown, blonde, or red locks without bleaching? Will this color suit me? What are some other shades of green that might be more suitable for me?
If these sound like topics of interest, then read on and let us help pick out your very own unique shade!
How to Choose the Best Green Hair Dye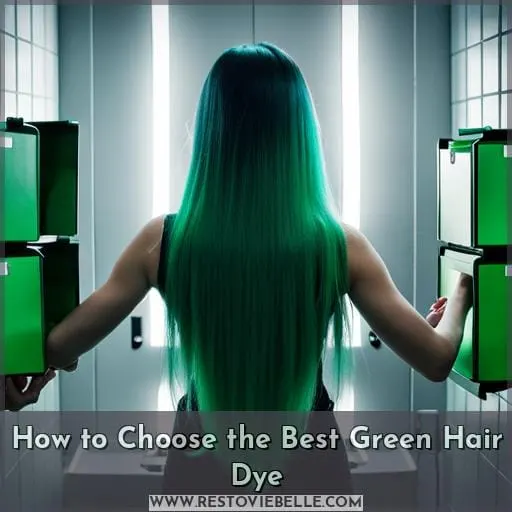 With so many shades and types of green hair dye available, choosing the right one can be overwhelming.
From bright neon greens to olive and sage tones, there's something for everyone! To ensure you get the color of your dreams while avoiding risks like skin staining or fading too quickly, consider factors such as how long it lasts on different hair textures/types and if it complements different skin tones before purchasing.
If you're looking for jewel-toned colors with longevity, then permanent dyes are best suited. However, if you're just trying out trends, then go with temporary or semi-permanent dyes.
Popular brands include Manic Panic Electric Lizard Green Hair Dye, which is perfect for achieving a vibrant hue on pre-lightened hair, or Pulp Riot Neon Area 51 for multi-dimensional looks that last up to 42 washes.
For added protection, always use sulfate-free shampoo when washing colored hair. Also, keep in mind aftercare tips such as using color-protecting conditioners and avoiding excessive washing.
Top 10 Green Hair Dyes
Are you looking for the best green hair dye? Look no further! This list has got you covered. From Arctic Fox Phantom Green Hair Dye to Crazy Color Emerald Green Hair Dye. Manic Panic Electric Lizard Green Hair Dye and Pulp Riot Neon Hair Color Area 51 provide bright neon greens that glow under blacklights.
Garnier Nutrisse Matcha Latte offers permanent nourishing color. Jerome Russell Temporary Green is a fun way to add some boldness without commitment. Punky Apple keeps your hair soft and healthy while coloring it with up to 35 washes of vibrant color.
Lime Crime Unicorn Jello provides a vegan formula full of shine. Lunar Tides Juniper adds an exotic look on pre-lightened blonde hair. IROIRO Neon gives long-lasting 4-8 week results. And Crazy Color Emerald leaves strands energy-filled with its semi-permanent conditioning cream formula.
Arctic Fox Phantom Green Hair Dye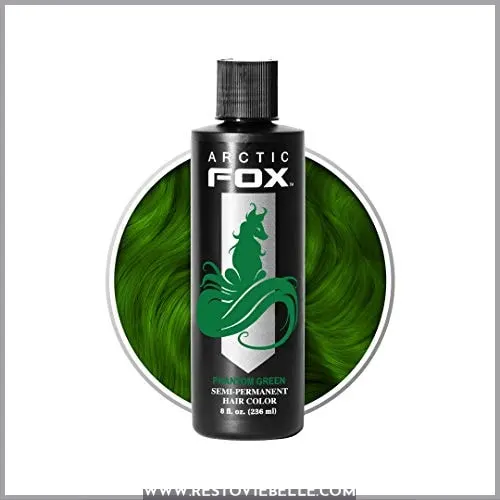 View On Amazon
Experience a deep, forest-like hue that fades to a shimmery aquamarine with Arctic Fox's Phantom Green Hair Dye – like swimming in an emerald sea! This vegan and chemical-free hair color provides vibrant jewel tones on pre-lightened hair while lightly tinting darker locks.
The cream formula is easy to apply and gentle for frequent use, leaving behind a sweet scent.
Vegan & Chemical-free
Provides Vibrant Jewel Tones On Pre-Lightened Hair
Lightly Tints Darker Locks
Easy To Apply & Gentle For Frequent Use
Sweet Scented Formula
Long-Lasting Results In An 8 Oz Bottle Made In The USA
May Not Pigment As Expected – Can Come Out Lighter
Fades After A Few Washes – Leaves Behind Greenish Tint
Works Best On Very Light Blonde Hair
Manic Panic Electric Lizard Green Hair Dye
View On Amazon
Manic Panic's Electric Lizard Green Hair Dye gives you a burst of neon color that'll have heads turning. This semi-permanent dye is vegan, cruelty-free, and free from harsh chemicals like ammonia, paraben, gluten, or PPD.
It's easy to apply at home and works best on pre-lightened hair for the most vibrant results.
For those with darker hair tones, it will lightly tint the strands, giving your mane an awesome pastel effect when it fades away over time.
Vegan & cruelty-free formula
Easy application at home
Pre-lightening recommended for vivid results
Fades quickly after washing
May require bleaching before applying if dark-haired
Pulp Riot Neon Hair Color Area 51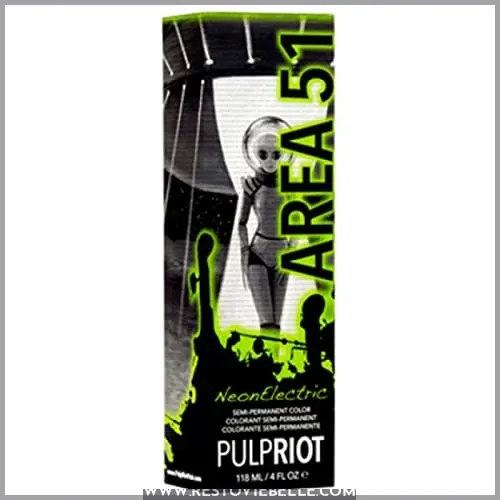 View On Amazon
Get ready to create an electrifying look with Pulp Riot Neon Hair Color Area 51. This semi-permanent hair dye is designed to provide long-lasting, vibrant color without damaging your hair. It's a vegan and cruelty-free formula, free of ammonia, paraben, gluten, and PPD, that you can apply at home for spot-on results.
With its easy application process and conditioning effects, it won't be long before you're showing off your new neon green shade!
This product from the United States comes in an 8 oz jar, making it easy to use at home or take along when traveling. Its unique blend of nourishing oils helps repair compromised strands while offering up bold colors that last 4 – 42 washes, depending on the depth of color desired.
For best results, pre-lighten blonde hair or layer over existing shades, as this will help maximize longevity.
Vegan & Cruelty-Free Formula
Easy To Apply At Home
Repair & Restore Compromised Strands
Quickly Fades
Requires Pre-Lightening On Darker Hair
May Require Multiple Applications For Full Vibrancy
Garnier Nutrisse Matcha Latte Hair Dye
View On Amazon
Garnier Nutrisse Matcha Latte Hair Dye nourishes and colors your hair for a vibrant, permanent hue that will last. This dye is enriched with grapeseed oil, avocado oil, triple fruit oil blend, and Color Boost Technology to deliver bold color without damaging your hair or scalp.
It's the perfect choice for achieving intense results, no matter what shade of green you choose – from minty pastel hues to neon shades.
Best of all, it comes in a complete kit with an easy-to-use non-drip creme formula, so you can apply it at home easily and quickly! Get ready to take charge of your look with this popular brand trusted by professionals worldwide for its high-quality products that provide long-lasting results.
Nourishing formula conditions while coloring
Delivers bold permanent color even on dark hair
Easy application at home using non-drip creme formula
Results may vary depending on pre-lightened hair level
Fades over time, requiring touch-ups
Price might be too expensive
Jerome Russell Temporary Green Hair Color
View On Amazon
Try Jerome Russell's Temporary Green Hair Color for a super vibrant, eye-catching look that will last up to 16 washes! This hair dye comes from the United States and is easy to apply. Its small size makes it simple to use and remove. It'll give you a bold splash of color without permanently changing your hair, so you can switch up your style as often as you like.
Plus, this temporary green color won't damage or dry out your locks – leaving them soft and healthy-looking even after several uses.
Easy application
Long-lasting results (up to 16 washes)
No permanent change in hair color
Non-damaging formula
Only available in one shade of green
May require bleaching for darker colors
Punky Apple Green Hair Dye
View On Amazon
Make a bold statement with Punky Apple Green Hair Dye, and watch your hair transform before your eyes! This semi-permanent conditioning hair dye provides an apple green color that nourishes strands while preventing breakage.
Easy to use at home on all types of hair, this trusted leader in the industry allows you to create head-turning multi-tonal looks. Plus, it's vegan and cruelty-free, so you can feel good about what you put on your body.
Keep in mind, though, that maintenance may be required as the color fades over time; plus, it may stain skin or clothing too.
Regardless, make a statement today by transforming yourself into someone new with Punky Apple Green Hair Dye!
Nourishing formula prevents damage
Vegan & Cruelty-Free
Multi-tonal looks possible
Long-lasting (up to 35 washes)
Requires maintenance as the color fades away
May stain skin/clothing
Results vary depending on base color
Lime Crime Unicorn Hair Dye Jello Green
View On Amazon
Lime Crime's Jello Green hair dye is an easy way to get a vibrant, semi-permanent green hue that conditions and boosts shine. It contains no harsh chemicals like PPD, peroxide, or ammonia, so it won't damage your hair.
This vegan and cruelty-free product adds permanent color to pre-lightened blonde hair with just one application for head-turning results.
Plus, it's DIY-friendly, so you don't need any professional help getting this look right at home – saving time and money! Whether you want a bold statement or something softer, Lime Crime has got you covered with their range of iconic pink bottle colors, including an emerald green shade perfect for achieving multi-tonal looks.
Vibrant semi-permanent color without damaging ingredients
Vegan & cruelty-free
Adds tint to darker blonde & light brown hair
Subtle citrus vanilla scent
DIY-friendly
Fades over time
Results vary depending on the individual's hairstyle & condition
Must be applied properly following instructions closely
Lunar Tides Juniper Green Hair Color
View On Amazon
Experiment with Lunar Tides Juniper Green Hair Color for a semi-permanent, vegan, and cruelty-free dye that lasts up to 8 washes. This hair dye is perfect for those seeking an eye-catching bold color. It conditions while coloring without damaging strands.
The 8 oz jar is enough to cover medium-length hair, and it is easy to apply at home. For best results, use on clean, dry hair and process for 15-30 minutes before rinsing thoroughly. It is recommended to do a patch test 48 hours beforehand if you have sensitive skin or are unsure of allergies.
Vegan & cruelty-free
Conditions while coloring
Long-lasting – up to 8 washes
Requires a light blonde/bleached base color
Patch testing needed prior
IROIRO Neon Green Hair Color
View On Amazon
Try IROIRO Neon Green Hair Color for a vibrant, long-lasting hue that conditions your hair while coloring! This vegan and cruelty-free semi-permanent dye adds an eye-catching bold color to your locks. It is free from ammonia, peroxide, and parabens. It's easy to apply on clean, dry hair before processing for 15 to 30 minutes.
Results may vary based on the type of starting color, but prelightened or bleached hair is best for achieving this neon green look. For extra vibrancy, mix with conditioner prior to application – just make sure you perform a patch test 48 hours before each use as temporary staining of the skin can occur.
Keep the product out of your eyes, and if contact is made, rinse immediately. It is not recommended for use on chemically relaxed hair.
Conditions hair while coloring
Vegan & Cruelty-free
Vibrant neon green shade
Fades faster on darker shades
Patch test recommended prior to usage
Not suitable for chemically relaxed hair
Crazy Color Emerald Green Hair Color
View On Amazon
Crazy Color's Emerald Green Hair Color is a long-lasting, vibrant option for those looking to make a bold statement. It can last up to 9 weeks on bleached hair! This semi-permanent conditioning dye nourishes strands and prevents breakage while leaving your hair soft, silky, and healthy-looking.
It comes in an iconic pink bottle with 27 vivid colors available, including this emerald green shade. Plus, you can mix colors for creative effects, so the possibilities are endless! The formula conditions and adds color without damaging your locks, so you'll be sure to get lots of compliments when rocking this bold look.
Easy application at home – the squeeze bottle makes it mess-free
Conditions hair while coloring – leaves locks soft & shiny
Vibrant & long-lasting color on porous bleached hair
Not as reliable on unbleached dark brown/black colored hairs
Some reviews suggest the actual hue is more neon or yellow than emerald green
How On-trend is Green Hair?

Express your creativity with a bold green hairstyle! Green hair is on-trend and offers endless possibilities for styling and experimenting. Whether you choose to go full neon or opt for an emerald hue, the options are seemingly limitless.
With these styling tips in mind, transitioning shades has never been easier:
Choose brightening techniques like UV protection shampoos to help maintain vibrancy.
Get inspired by celebrity looks featuring color combinations of green hues.
Blend multiple shades together to create one-of-a-kind effects.
Keep lengths trimmed regularly to prevent split ends and damage. Keeping locks healthy will help keep colors vibrant.
Go from subtle seafoam pastels all the way up through acid lime greens – no matter what shade you choose, it's sure to turn heads as you celebrate your individuality.
Can You Dye Your Hair Green Without Bleaching It?

Dyeing your hair green without bleaching it can be a tricky process. It depends on the shade of green you want and what type of hair color you have.
If you're looking for a bright, vivid look like neon or lime, then pre-lightening to the lightest blonde is recommended to get the best results. Alternatively, if you have darker colored hair, try using temporary dyes that can still give great color but won't last as long as semi-permanent options with Color Boost Technology.
These dyes deposit bold colors even when used on dark strands without lifting natural pigments.
Semi-permanent dyes will fade over time, so don't expect them to last forever. Toners are ideal for adding subtle pops of pastel hue and coating gray hairs in one use without lift either.
Permanent dye may seem intimidating, but it's perfect for achieving an eye-catching emerald tone or minty shade with intense longevity.
So whatever way suits your style, there's definitely something out there that works well with no bleach needed – experiment away until finding your new favorite green hairdo!
Will Green Hair Suit Me?

It's time to find out if you're ready for a new look with green hair! Green is trending in the world of hair care and can be achieved with or without bleaching. When going for the bolder warm green shades, lightening your natural color will give you better results.
However, cool greens such as hunter and raven are easier to achieve on darker locks without pre-lightening.
Before taking the plunge into a vivid hue of green, consider how it'll fit into your lifestyle—whether it's something that meshes well with your day job or an edgy look for special occasions only. If this is more than just a short-term experiment, then prepare yourself by researching all things related to coloring maintenance: shampoos & conditioners designed specifically for colored hair as well as tips on how often one should shampoo their vibrant hued mane before any fading occurs (hint – less washing = longer-lasting color).
Last but not least, don't forget about removal methods when it comes time to switch back! Clarifying shampoos are a great way to start alongside cleansers formulated specifically for removing dye from strands like Redken Color Extend Magnetics Deep Attraction Shampoo.
Which Green Hair Colors Suit Me?

Finding the right green hair color for you can depend on your skin tone, eye color, and style preference. Cooler tones of lime, neon, and emerald greens work best with fair skin, while olive green hues are ideal for warmer complexions.
If you have brown eyes, try a brighter shade like mint or seafoam to make them pop! Celebrities from Kim Kardashian West to Kylie Jenner have been spotted sporting these trendy shades, so why not join in? There are also plenty of dye options that offer mixable colors, allowing you to customize your own unique look.
Permanent dyes require more upkeep but offer long-lasting pigment, whereas semi-permanent formulas last around 4-6 weeks before needing touch-ups – great if commitment isn't an option! Hair care is key after any coloring session, so invest in sulfate-free shampoo & conditioner, as well as heat protectants when styling with hot tools, for glossy results every time.
Frequently Asked Questions (FAQs)
How Long Does Green Hair Dye Last?
Get ready to show off your vibrant, glowing green locks – green hair dye can last up to 8 weeks! With the right aftercare and protection from washing too often, you'll be able to fully enjoy this daring color for a while.
Go wild with neon or keep it subtle with pastel shades – either way, you'll feel electrified and liberated.
Is Green Hair Dye Safe?
Green hair dye can be a safe and fun way to express yourself. When used correctly with the right products, it won't damage your hair and even provides nourishment! Make sure you read instructions carefully, pre-lighten for vivid results if needed, use petroleum jelly on the skin when applying dye, and choose sulfate-free shampoo to prolong color vibrancy.
What Hair Types is Green Hair Dye Suitable For?
Green hair dye is suitable for all hair types, ranging from light blonde to dark brown. Whether you're seeking a temporary wash-out or a more permanent option, there is a choice that will complement your natural color and texture.
How Do I Maintain Green Hair Color?
To maintain green hair color, use sulfate-free shampoo and conditioner, refresh the color as needed, avoid washing too often, and use products specifically for colored hair. For extra vibrancy, try a toner or color-depositing treatment to revive your look.
Are There Any Side Effects of Using Green Hair Dye?
Green hair dye is generally safe, but there are some potential side effects. Bleaching can cause scalp irritation or dryness, and permanent dyes may contain chemical irritants that could cause an allergic reaction.
If you experience any discomfort or reactions during application, stop immediately and seek medical attention if necessary.
Conclusion
Green hair dye is a great way to make a statement and stand out, but it's important to choose the right color and brand to get the results you want. Whether you're looking for a neon green, a hunter green, or something in between, there are plenty of options to choose from.
Before you dye, make sure to strand test and pre-lighten for the best results. Arctic Fox Phantom Green Hair Dye, Manic Panic Electric Lizard Green Hair Dye, and Pulp Riot Neon Hair Color Area 51 are some of the best green hair dyes around, and they will give you a vibrant, long-lasting look.
With the right color and brand, you can get the perfect green look for you!