This site is supported by our readers. We may earn a commission, at no cost to you, if you purchase through links.
The best cordless water flossers can be very effective for teeth, gums, and overall oral health.
Using water flosser reduces the gums bleeding by more than 93 percent. The water flosser is a convenient, comfortable, and gentle tool much better than the traditional teeth flossing.
Water flossers reach those areas of the mouth which aren't reachable by the traditional flossing.
The appliance works by producing pulsating and pressurized water that flows to the water reservoir, and then to the mouth. The pulsating water helps in removing plaque, bacteria, and food particles, thus helping you in maintaining clean teeth.
Have your gums ever started to hurt while you were flossing? Do you use a traditional flossing system? If so, this method could be irritating your gums or even damaging them, opening a pathway to infection if all of this sounds like you, consider purchasing a water flosser.
There is one problem that normally people face while using a water flosser, and it is that it could need the power source, which limits its use. But thanks to the cordless water flossers, which are manufactured with excellent research and lengthy processes to meet the oral hygiene requirements.
When it is about buying the best cordless water flosser for you, you need to consider some of the essential factors as well.
Things To Consider When Buying A Water Flosser
Welcome to the world of water flossers, a world of many choices, we are interested in helping you choose the right water flosser while understanding that each person's needs are different. Here are some things to consider when shopping for a water flosser:
1. Quality
While deciding which water flosser to buy, you should always have one made from highly durable materials and of good quality. Checking the building material used in the manufacture of the flosser is essential to determine its quality level.
2. Pressure Settings
A multi-setting flosser is good for those with special needs, such as sensitive gums, braces, or specific oral conditions. Some brands offer up to 10 pressure settings.
3. Power and Durability
Look for a cordless water flosser that uses a powerful USB rechargeable battery that lasts. Go for a flosser with a very durable and waterproof construction that promotes internal and external protection for durability and to serve you for a long time while maintaining high performance.
4. Noise
Some flossers produce noise during use. It is a matter of personal choice to determine how much sound you can handle. You also want to consider the mental health of others if you plan to use it while they are sleeping.
5. Usability
Select a water flosser that is easy to use and operate. Don't choose an overly complicated tool that is difficult to handle. You can choose a portable and lightweight cordless water flosser so you can take it anywhere.
10 Best Cordless Water Flossers Of 2023
We went outside to check if any cordless models meet all those needs, spent 30 hours, and managed to find the ten best cordless water flossers on the market. Our rating is based on dozens of specifications and hundreds of real customer opinions.
Below is our list of recommendations, a brief review of each flosser we considered, and a link to our more detailed review.
1. Waterpik Wp-560 Cordless Water Flosser
View On AmazonWP White 560 Cordless Water Flosser does not bind users with wires. This water flosser is ADA approved. It has a 360-degree rotating mouthpiece, which has excellent access to almost every part of the mouth to improve better cleaning. Waterpik cordless water flosser has three tips and three pressure settings that have an operating time of more than 45 seconds with the full tank.
The flosser has a magnetic charging system, which ensures that the tool is charged quickly when needed for use. It comes with a travel pouch, so you can take this water flosser anywhere. You have five colors to choose from. The Waterpik water flosser is the right choice to have bright white teeth and healthy gums within a minute. It is a rechargeable irrigator with a NiMH battery with a magnetic charge and a battery indicator to give you enough time to charge.
The water flosser has a portable design and is perfect for traveling. Other than this, the flosser has a microfiber pouch that keeps it safe and protected.
It has five color options, including rose gold, radiant orchid, classic blue, brilliant black, and pearl white.
It has a magnetic charging system, which makes charging efficient.
It comes in a microfiber travel bag.
The rotation angle of 360 degrees
Easily rechargeable
Regular size
Cordless
Print modes
Interchangeable tips
2. Philips Sonicare Airfloss Rechargeable Electric Flosser
View On AmazonThis is the best choice for convenience and ease of use.
It's a lot less hassle and feels faster and more convenient than all other options.
But it is not strictly a water flosser.
Airfloss uses a combination of water and air to achieve a similar effect but produces short sharp bursts between the teeth.
What makes it so good and desirable is the much smaller profile, it is cordless, very easy to use and can be cleaned in 30 seconds.
It makes for effortless daily use.
Convenience and simplicity are one thing, but it can't be cleaned under the gums like a real water flosser, because not all bacteria are removed so effectively.
While doing something is better than nothing, keep in mind that the Waterpik is technically better for your oral health.
Clinical studies show that Waterpik options are better, and in reality, you know this when you use them.
You need less time to master this. It's a great option for those who know they would still struggle to get into a routine with a regular water flosser.
Simplicity of use
Less messy and takes a lot much less obtaining employed to
Design
Portability
Battery life
Targets only in among teeth rather than along the entire gum line
Tiny tank
3. Panasonic Ew Dj10 Cordless Dental Water Flosser
View On AmazonIf portability is one of your major concerns, then you should check out the Panasonic EW-DJ10 Flosser. For example, it is cordless, but it also has a foldable design that easily fits in luggage and bags when traveling.
Not that you have to be a traveler to get the most out of this flosser.
The EW-DJ10 comes with two speeds: a normal setting suitable for people with sensitive gums and teeth, and a quick option that offers a more powerful option for removing stubborn food particles and plaque.
At the highest setting, the Panasonic EW-DJ10 operates at 1,400 pulses per minute to easily clean and rinse even the most stubborn food scraps.
In addition, the pressure helps to increase blood flow to the gums, which in turn revitalizes the gums. Also, the lower speed setting is a great option for kids.
Yes, it's smaller than many flossers: which makes it great for travel: but it has a 5.5-ounce water reservoir that allows you to floss for quite a while before you need to refill it.
What else do we love? Well, it's a good price for a very affordable price. But it is also easy to take apart and clean and is completely waterproof.
You don't have to worry about water getting into any part of the unit that could damage other flossers. A soft cloth is sufficient to dry the device.
You need two AA batteries to power the EW-DJ10 (you must purchase the batteries).
Portability
Simple to clean
Two velocity pulse settings
The on-off switch is not easy to use
4. Zerhunt Professional Cordless Water Flosser Oral Irrigator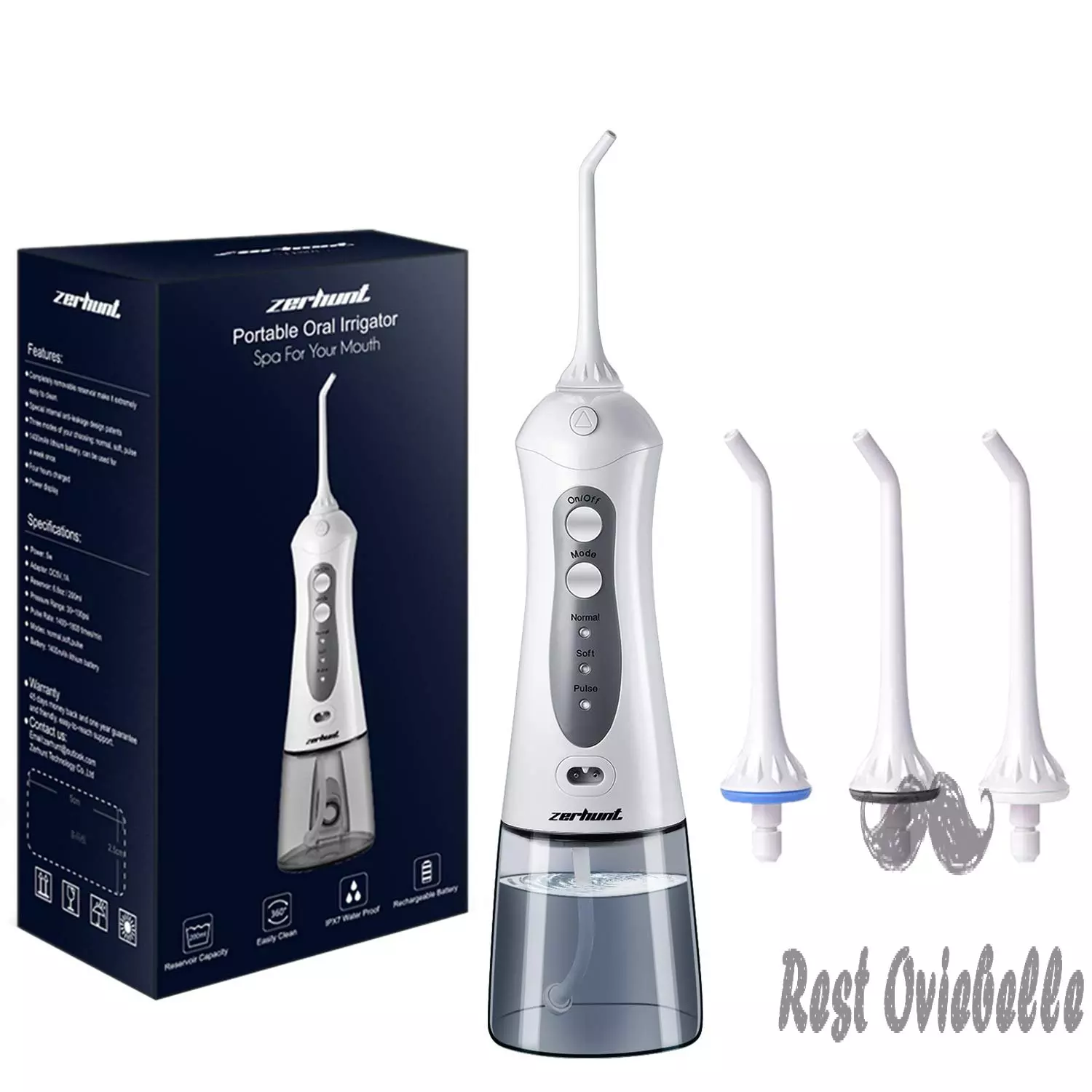 View On AmazonThis long-lasting water flosser will revolutionize the way you brush your teeth. With its powerful speeds and multiple settings, the Zerhunt flosser removes the harmful bacteria and debris missed by traditional brushing and flossing. For those who need extra dental care, the high speeds and settings can help you deeply clean your teeth daily.
The Zerhunt is very easy to use: it has programmable settings, and it switches on and off easily. The ergonomic design lies in hand for comfortable use. The product has an extremely long battery life for the amount of charging time. The intense water pressure and high speeds are unique to the portable unit. It comes with a wall and a USB charger, making it ideal for people who travel or are always on the go.
Make sure your hands are dry because the button of the water tank has a firm connection that is difficult to put on with damp hands. Although the device is waterproof, handle it carefully when refilling the reservoir. Too much water can damage the irrigator.

Large water tank and extended regular flossing time
Ergonomic and straightforward to use
The mode can be modified just before you flip on the irrigator
Remembers the last mode you utilized
Lengthy battery lifestyle
LED battery charge indicator
Wonderful value for the functions
Tough to flip on with moist hands
5. Mospro Cordless Professional Water Flosser Dental Oral Irrigator
View On AmazonIt is one of the best cordless water flossers that is manufactured to meet customers' requirements. It is a professional cordless dental flosser that is easy to use. The professional cordless water flosser effectively cleans teeth and gums in less than a minute. It is easy to carry and lightweight with quiet, smooth operation.
The rechargeable oral flosser is made of BPA-free plastic, which is lightweight and easy to use. It is made with standard processes, which makes it even more durable.
The flosser is made with FDA standards and is therefore of high quality. Moreover, it does not hurt. The flosser has three control modules. The modes of operation include pulse, soft, and normal. The flosser is available in two colors with changing tips. It ensures 100 percent gum health and safety. It has lithium-ion batteries, which make the flosser work for a long time. You can charge the battery of this irrigator with any available charger. There is also a separate water tank in the package.
The flosser has an electronic motor, which ensures smooth, quiet operation. The tip release button also makes it easy to use. The best part about this professional, cordless oral hygiene oral irrigator is that it treats all bad smells in your mouth. In addition, it reduces gum bleeding and makes your gums healthier than before.

Transportable
Simple to use
360 rotating angle
Cleanable water tank
Lacks broad shade selections
6. Waterpik Wf-03 Cordless Freedom Water Flosser
View On AmazonPowered by user-removable AA batteries, you don't have to worry about AC power with this device.
It's a bit bulkier and maybe not so friendly to those who like to pack light.
But with a large tank, different pressure settings, interchangeable tips, and as the industry leader, these are compromises worth ignoring, given the benefits.
The contents of the box are good with two classic jet tips, and an orthodontic tip included.
A travel pouch and even a travel plug are included. The plug goes where the mouthpiece goes to stop leakage.
If you want to floss in the shower, this is also possible because it is completely water-repellent.
Overall quite good value compared to some of the other options, and while it is not the most compact and does not have a rechargeable battery, it is arguably the best all-round option that offers good performance and flexibility over the AA batteries, one set of which is included.

Trusted brand
Interchangeable suggestions
Two anxiety modes
Pretty sized tank
Outstanding battery existence
Excellent box contents
7. Waterpik Wp-563 Cordless Water Flosser
View On AmazonThe Waterpik WP-563 Cordless Advanced Water Flosser comes from one of the most trusted names in the oral hygiene market. Using both pressure and pulsation, the Waterpik cleans your mouth thoroughly, missing what normal brushing and flossing and other water flossers leave behind.
The simplicity of the design makes refilling the water tank and charging a snap. It is small but powerful and helps keep your teeth and gums healthy.
The pressure settings have different strengths, so you can clean as little or as much as you need. The flosser comes with several tips so you can have the cleaning experience you need.
The device is magnetically connected to the battery charger, and an LED light indicates the status of the charge, making the device easy to charge.
The Waterpik is one of the larger water flossers on the market, almost one meter high. While the power of the device is one of the best, the format can be intimidating for new users.
Leaving the battery charger plugged in for an extended period of time will cause it to die in a few months, so be sure to unplug the power cord and store it after the flosser is fully charged.

Easy and neat design
Extended continuous flossing time
Three kinds of jet ideas for different needs
LED battery charge indicator
Neat charging unit and simple connection
Thorough cleaning
Accepted by the American Dental Association
Huge and can be uncomfortable to hold
Battery dies if left plugged on
8. Abox Water Flosser 300ml Cordless Oral Irrigator
View On AmazonAn oral water flosser is a high-quality irrigator and one of the well-known flossers from ABOX. With the ABOX 300ML cordless oral irrigator, users can clean their entire mouth. The water pressure of this water pump is more than 1800 times per minute. Likewise, it has a rotation angle of 360 degrees, which is why this flosser has access to all corners of the mouth.
ABOX 300ML has an IPX7 design, making it water-resistant from both the internal and external structures. Thanks to the powerful lithium battery, you can quickly charge the battery, and the battery will last for more than ten days after full charging. It is a perfectly made, lightweight, and very durable water flosser that you can buy at a competitive price.

Lightweight
Durable
Easy to use
9. Abox Water Flosser 300ml Cordless Oral Irrigator
View On AmazonFairywill has made a name for itself in the electric toothbrush market and offers good quality products.
The Chinese company has now applied this approach to the waterside market.
I don't apologize for saying it's not as good in the hand as some other units, especially Waterpik's. There is also no extensive clinical support.
However, the 5020a is a functional package that offers three flossing modes, normal, soft, and pulsating. I think it probably cleans almost as well scientifically as Waterpik.
With a pressure range of 40-90 PSI, you should get a great cleaning experience.
It takes up to 45 seconds, the tank size is good for a portable unit, and you should be able to complete a full clean without refilling.
Also nice to see is that the device charges via a USB cable so you can connect it to a USB socket, power adapter, or even a USB port on a computer.
Replacement mouthpieces are also available, which incredibly less well-known manufacturers don't seem to offer.

Good really worth
Three modes
Excellent sized tank
USB charging
Quality could be far much better
Only available in black color
10. SmarToiletries Professional Water Flosser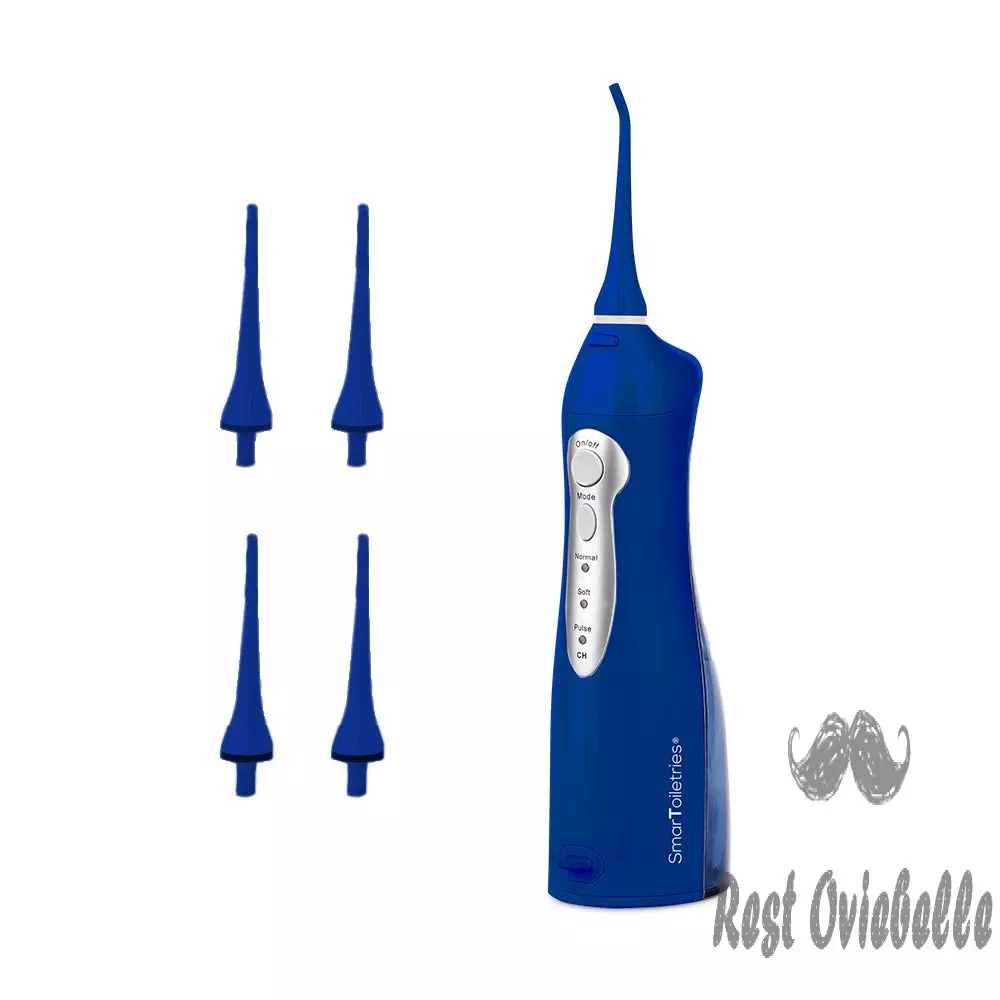 View On AmazonThe SmarToiletries Cordless Professional Water Flosser can help promote better dental health and reduce time at your local dentist. Using a water flosser removes plaque, which significantly improves the health of your teeth and reduces halitosis and gum disease. This water flosser is perfect for those with dental work because it is strong enough to remove unwanted plaque and dirt, but gentle enough to protect your fillings and crowns.
The battery lasts incredibly long. Some users report that the SmarToiletries water flosser remains charged daily for months on a single charge. It is extremely quiet and waterproof. The SmarToiletries is an essential tool for people with dental work, including braces, as it prevents plaque from building up around the most sensitive areas of your mouth, more than just brushing.
This flosser is one of the larger portable water flossers on the market, making it somewhat difficult to handle if you have small hands or when traveling with it. It only comes with an A / C adapter charger, making it a better home accessory than one for travel.

Lengthy steady flossing time
Excellent on dental perform
Extended lasting battery
LED battery charge indicator
Massive and challenging to travel with
Advantages and Disadvantages of Cordless Flossers
There are advantages and disadvantages to water flossers in a general sense, as well as those specific to cordless flossers.
For example, all water flossers are cordless or not easier to use, gentler on the gums, they provide better cleaning and achieve more of the tooth surface compared to normal flossing.
A disadvantage is that the technique takes some getting used to and is initially more expensive than normal dental floss. -)
Below are the specific pros and cons of a cordless oral irrigator.
Advantages of a cordless water flosser
Check out the benefits of using a cordless water flosser. You will be surprised.
1. Reusable
Cordless Water Flossers can be used again and again. We do not have to empty them after every use, which makes them environmentally friendly, and there is no plastic waste. This is an important factor given today's increased global warming. Using a thread to floss leads to daily and increased wastage.
2. Improve oral hygiene
Some dental procedures are quite expensive. It is important to ensure that they last a long time, and you can do that by maintaining good oral hygiene. Cordless Dental Water Flossers help you with this. They are a gentle and effective way to clean your teeth and are detrimental to your post-surgery treatment.
3. Reduces the risk of gum disease
Because the water pressure is high and the flosser is under control, it easily gives all parts of the gums, especially the gums, water, and cleans efficiently. It removes all bacteria and plaque stored there. Keeping the gums and teeth clean helps reduce the risk of periodontal disease, other gum infections, and cavities.
Disadvantages of Cordless Water Flosser
1. Tank / Reservoir Size
To be portable, the flossers must be smaller, and the tank is the biggest compromise. Often enough to just do the job, you need to refill regularly.
2. Batteries / Charging
The batteries are built-in and require recharging or are often user-replaceable AA designs. They need to be changed regularly because of the power used, and often the chargers are plugged into 2-pin outlets, which is one of the attractions in the first place to go cordless.
FAQs About Water Flossers
How does a water flosser work?
A water flosser or oral irrigator is a device that offers a more advanced and efficient way to floss your teeth, especially if you have braces. Unlike traditional flossing, water flossers use high-pressure jets of water to clean between your teeth, which is not only a more powerful way to clean, but also allows you to reach places you couldn't have with flossing.
Is a water flosser just as good as flossing?
A water flosser is much better than flossing because it is more efficient at removing stubborn plaque and tartar from teeth. A water flosser is easy to use because it is not manual, like flossing. Here you will find more information about water flossers.
Is water flosser good for gum disease?
Yes, water flossers have been proven to reduce the signs of gum disease by more than 50 percent.
Conclusion
Any of the above oral irrigators are an excellent choice. You really can't go wrong with all these choices.
Cordless flossers come in different sizes and with different functions. Their clear advantage is portability. You can take them with you if you travel without space issues because they are relatively small.
No need to worry about wires or cables, and they are ideal for children as there is no risk of electrocution. The above products will contribute significantly to maintaining your oral health and winning smile.
As always, we welcome your feedback and suggestions. Do you use a water flosser? If so, what brand and type? Have you used any of the best cordless water flossers listed here? We would like to hear from you.
References
baldingbeards.com
electricteeth.com
thetoothbrushexpert.com
wisepick.org