This site is supported by our readers. We may earn a commission, at no cost to you, if you purchase through links.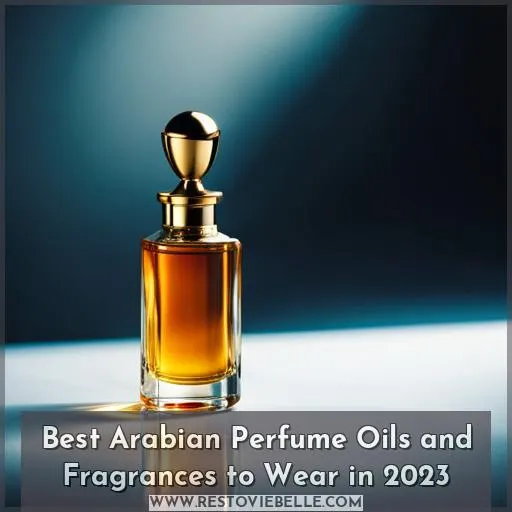 You're looking to add an exotic yet elegant fragrance to your collection. Let Arabian perfume oils transport you. With scents evoking warm desert nights under starry skies, they create an enveloping aura that intrigues the senses.
We've researched and curated the finest options to help you choose. Applying to pulse points allows the warmth of your skin to release the luxurious oud and floral notes. A little goes a long way, so start with a pearl-sized drop and experience how these rich fragrances linger.
Blending tradition with modern style, our favorites use pure ingredients to craft complex scents that evolve throughout the day. Find your signature aroma from this exquisite selection of the top Arabian perfumes.
You'll feel immersed in a world of luxury and wonder with each breath.
Key Takeaways
Look for signature notes like oud, rose, and jasmine to create an exotic, layered fragrance.
Test oils on pulse points before purchasing so the scent has time to develop on your skin.
First consider your preferred scent families and notes, as well as when you plan to wear the perfume.
Trust your nose over marketing claims to find the perfect personal perfume for you.
All About Arabian Perfumes

You'll be transported to distant shores when those exotic Arabian perfumes envelop you in their sultry scents. These luxury fragrances offer an escape with their rich ingredients like oud, rose, jasmine, and musk.
Traditional Middle Eastern perfumery techniques bring intoxicating depth and complexity.
The industry has grown through savvy global marketing and European partnerships, but true aficionados appreciate the heritage. There's an artistry in how the natural essences are blended and aged. With so many variances, you can find an Arabian perfume for every mood and occasion.
Experiment with their soulful, lingering trails and find new favorites. Though initially strong, the notes evolve beautifully over hours.
Choosing the Best Arabian Fragrances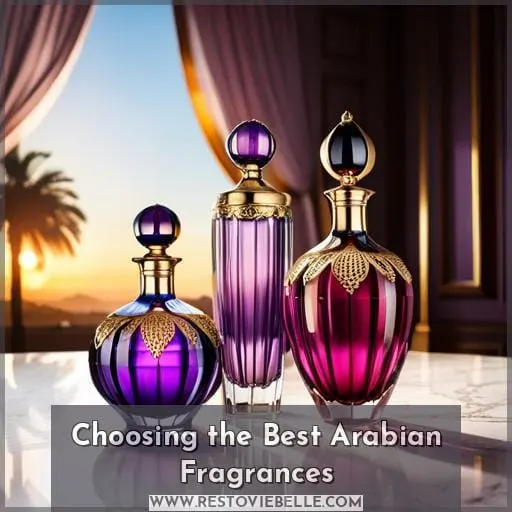 When selecting an Arabian fragrance, begin by identifying your preferred scent families and notes such as musky oud or floral rose. Next, consider when you will wear your perfume most often to determine if you need a robust parfum extrait or lighter eau de toilette.
For application, gently dab your wrists, behind ears, and neck for an enveloping scent experience.
To choose an ideal Arabian fragrance, start by pinpointing your favorite scent families and notes, including musky oud or rosy florals. Then think about when you'll wear your perfume most, to decide if a strong parfum extrait or lighter eau de toilette suits you best.
Finally, for application, lightly dab pulses, behind ears and neck to surround yourself in the scent.
When picking an Arabian fragrance, first identify which scent families and notes appeal most, from musky oud to floral rose scents. Consider when you plan to wear your perfume most, as this determines whether an extrait parfum or lighter eau de toilette works better.
For application, a delicate dab on wrists, behind ears and neck creates an enveloping fragrance experience.
How to Choose the Best Arabian Perfume for Women?
Start by deciding which scent notes appeal most, then sample oils with those key ingredients. Focus on quality over price – pure, natural essences last longer than synthetic ones. Let the perfume interact with your body chemistry before committing to a full bottle.
When selecting an Arabian perfume, consider your personal preferences and lifestyle. Floral scents suit warmer weather while musky, woody oils complement cooler months. Seek out traditional ingredients like oud, rose, and agarwood for an authentic Arabian aroma.
Let the perfume notes unfold on your skin before making a final decision. Follow your instincts to find the perfect scent.
How to Wear Arabian Perfume?
Splash on your favorite Arabian perfume right after showering so its exotic aroma infuses your moisturized skin, leaving an enticing scent trail that lingers as you embrace the day.
Apply to pulse points like wrists, behind ears, and décolletage for best projection.
Layer with unscented moisturizer for softer sillage.
Carry travel size oils or sprays for refreshing midday.
Gift beautiful bottles like artisan oud chips or gold flasks.
Note how the scent reacts with your body chemistry over time.
Top 8 Best Arabian Perfumes
Smelling divine with exotic Arabian scents is easier than ever with high-quality options like Nemat's Amber Perfume Oil, Swiss Arabian's Shaghaf Oud EDP, and Arabian Oud's oud-based Sehr Al Kalemat Black.
You'll find captivating fragrances on this list whether you prefer floral, fruity, woody, or musky perfume oils and eau de parfums that evoke Arabian culture's rich perfumery heritage.
1. Amber Perfume Oil Nemat Enterprises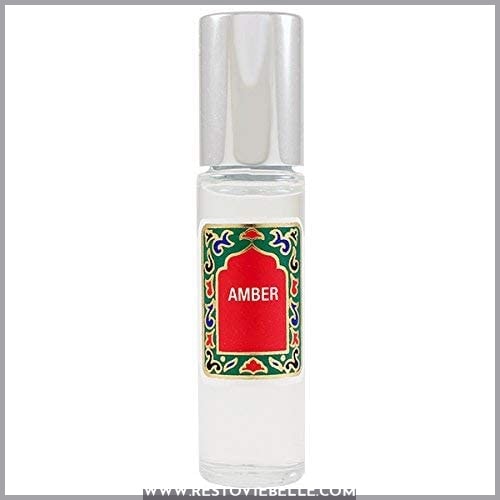 View On Amazon
Discover the luxurious amber scent in Nemat's vegan-friendly perfume oil. This alcohol-free fragrance crafted from premium ingredients offers a long-lasting, sweet, resinous, woody amber aroma. The pure oil comes in an elegant glass bottle with rollerball applicator for easy portability and application.
Reviewers praise its fresh, natural scent that outlasts traditional fragrances. With versatile notes, it can be worn alone or blended with other oils to create custom fragrances.
Long-lasting woody amber scent
Vegan and cruelty-free
Versatile – can blend with other oils
Portable rollerball applicator
Fresh, natural aroma
Scent does not last as long for some
Color varies slightly from image
Leaks possible during shipping
2. Swiss Arabian Shaghaf Oud EDP Fragrance Luxury Scent Arabia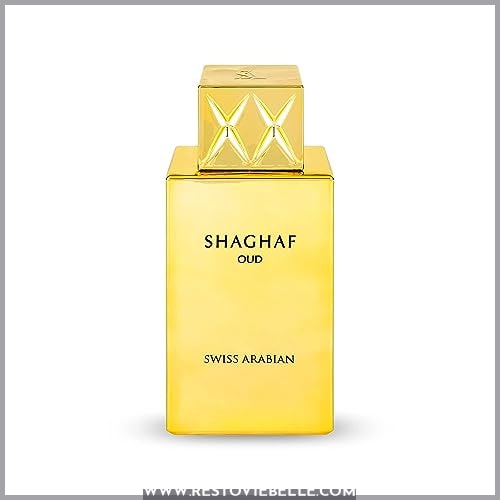 View On Amazon
Experience the smooth, sweet gourmand scent of Shaghaf Oud, a designer Arabian fragrance. This EDP spray perfume by Swiss Arabian features an alluring blend of oud, saffron, rose, praline, and vanilla notes.
The fragrance opens with fruity apple pie accords that develop into a spicy yet delicate harmony. With quality ingredients and expert craftsmanship, Shaghaf Oud offers a long-lasting, everyday luxury scent.
Spray on wrists and neck for best performance. Reapply as needed throughout the day to experience the fragrance's beautiful evolution.
Long lasting
Smooth, layered scent
High quality ingredients
Suitable for daily wear
Nice sillage and projection
Can be too strong initially
Not everyone likes sweet gourmand notes
Perfume may arrive damaged or leaked
3. Arabiyat Khashab Oud White Eau De Parfum Perfume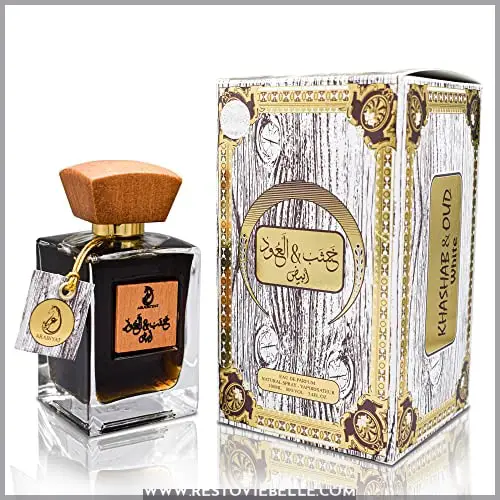 View On Amazon
Try this smokey white oud eau de parfum and fall for its alluring, exotic scent. As an Oriental perfume, Arabiyat's KhashabOudWht features a romantic fusion of rich, powdery rose, soft leather, and refreshing cedarwood accords.
Its mysterious white oud gives this perfume an earthy depth that captivates. The scent is reminiscent of the inside of an old trunk with notes of spice and wood.
This eau de parfum by My Perfume Factory is guaranteed to satisfy, or return it within 30 days.
Long-lasting, alluring scent
Mysterious and exotic
Heavy on the rose note
Powdery softness skews feminine
4. Hijaz Saffron Oud Arabian Scented Perfume Oil Alcohol Free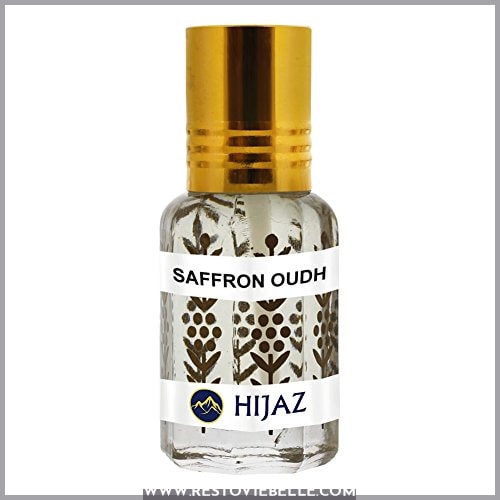 View On Amazon
Hijaz Saffron Oud Arabian Scented Perfume Oil Alcohol Free
Let this sumptuous saffron oud oil envelop you in its smooth, floral aroma that lingers with good sillage. This alcohol-free 12mL oil features saffron as the key note with supporting oud wood aromas. The sweet, light yet potent perfume oil comes in a plastic bottle with dispenser.
Expect an exotic, uplifting scent reminiscent of white musk that starts strong and becomes sweeter over time. While some find it lasts all day, others require reapplication for longevity. Satisfaction varies based on individual body chemistry and preferences.
Overall, this floral oud oil shows potential as a unique addition to your scent wardrobe.
Sweet, floral saffron scent
Smooth, exotic aroma
Good sillage and projection
Portable dispenser bottle
Varying longevity
Not long lasting for some
Bottle dispenser difficult to use
Quality inconsistencies
5. Unisex Concentrated Perfume Oil Khadlaj Azaari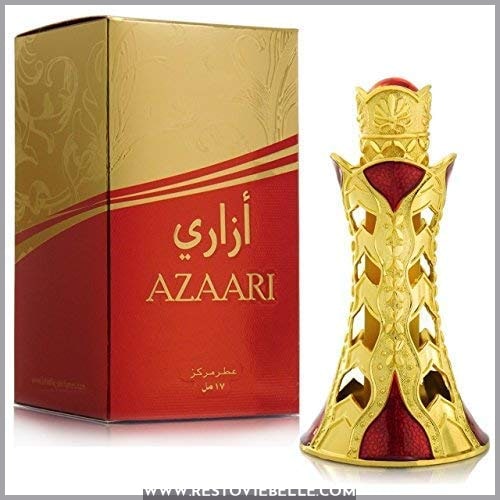 View On Amazon
With Khadlaj Azaari perfume oil's sharp rosy and amber top notes, you'll uplift your mood despite its initial laundry detergent scent. This potent, unisex oil has an enduring aroma thanks to its woody base notes. The uplifting fragrance starts off strong, so use sparingly and allow it to develop on your skin.
The oil comes in a distinctive bottle and is Balad Al Atoor's bestseller. Many buy it as gifts or their first Arabic perfume, claiming it lasts up to 3 days with one application.
Smooth, uplifting scent
Long lasting
Unique bottle
Can smell like detergent initially
Use sparingly, very potent
Some orders arrived leaked
6. Zoha Amber Oud Wood Perfume Oil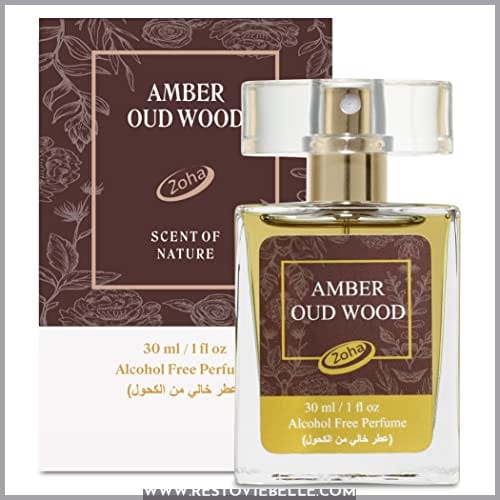 View On Amazon
Experience a sophisticated Arabian oud perfume with Zoha's exclusive blend in an easy-travel moisturizing vegan formula. Escape into subtle woody depths with lingering notes of rich oud wood and golden amber.
The concentrated 30mL oil comes in a sleek black bottle and indulges the skin with nourishing oils, free of toxins or harsh chemicals. Let your senses savor this exotic elixir, blended to perfection. Spray on wrists and pulse points before special occasions for an alluring Arabian aroma with exceptional staying power.
Savor this sophisticated fragrance as a daily signature scent or for romantic evenings out.
Unique oud wood and amber blend
Vegan moisturizing formula
Long lasting subtle scent
Travel friendly size
Expensive
Polarizing scent
7. Sultan Al Haramain Perfume Oil Attar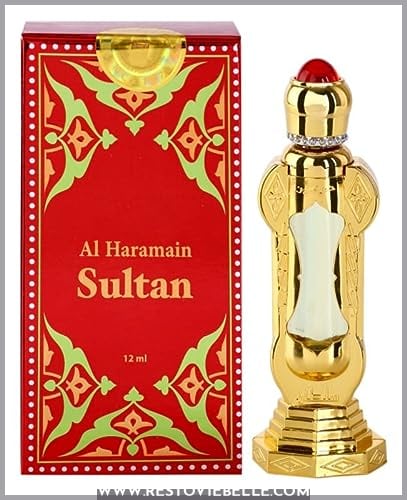 View On Amazon
This affordable 12mL Al Haramain tropical, sweet attar evokes a warm, feminine scent, making it an intriguing budget-friendly option, though longevity and development vary. Some find the fruity top notes alluring, while others say the dry down turns too musky.
With its plastic bottle, this oil is not luxury but does offer an alternative to a popular TikTok perfume.
Affordable price
Fruity, tropical top notes
Alternative to popular scent
Bottle not high quality
Longevity and dry down vary
Not identical to TikTok perfume
8. Arabian Oud Sehr Al Kalemat Black Unisex Perfume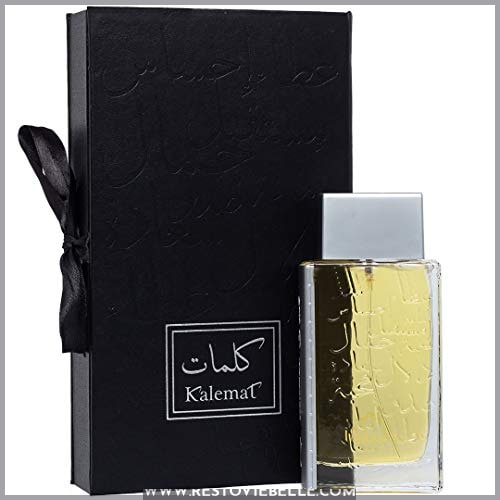 View On Amazon
Arabian Oud's Sehr Al Kalemat Black lets you enjoy an intriguing oud-based oriental perfume with sweet yet woody, spicy, and smoky notes. This concentrated 100mL perfume oil comes in a sleek black bottle aiming to provide long-lasting oud fragrance.
With top notes of Cambodian oud, musk, amber, and vanilla, it offers a complex, exotic scent profile.
Reviews suggest it has excellent projection and sillage initially, though frequent reapplication may be needed.
Unique oud-based oriental scent
Notes of Cambodian oud, musk, amber, and vanilla
Strong projection and sillage
Sleek, stylish black bottle
May require frequent reapplication
Sprayer could be better
Longevity not as expected
Signature Notes in Arabian Fragrances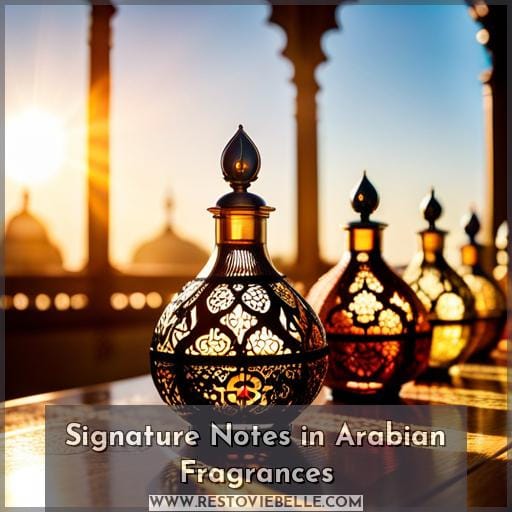 You'll spot oudh, rose, jasmine, and vanilla drifting through the air as signature notes in Arabian fragrances. The sultry, earthy aroma of oudh derived from agarwood trees provides a mesmerizing base for many scents.
Its versatility allows it to blend with fruits, spices, and florals. Jasmine's sweet, sensual floral bouquet reveals each perfume's uniqueness. The sentimentality of the rose touches your heart. Warm, addictive amber's subtle spice in the drydown stages hooks you.
Years of tradition merge with modern perfumery techniques for these exotic, Oriental compositions.
Why Trust Our Recommendations?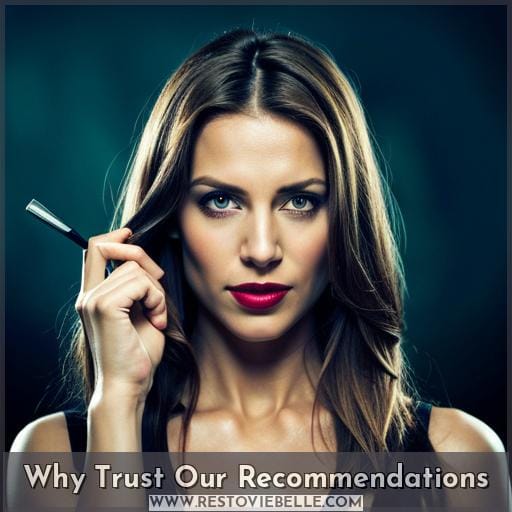 Friend, we've vetted these options to find scents that'll transport you. When choosing new fragrances, we know the excitement of discovering your signature scent.
That's why we put in the work, analyzing specialized perfume blogs, enthusiast forums, even reaching out to brands directly. Comparing notes, assessing prices, reading firsthand accounts. All so you can find that captivating essence effortlessly.
One spritz and you'll feel transported to faraway lands. We want your shopping to be guided yet adventurous. Try layering our picks, alternating between them for mood or occasion. However you apply them, may these exotic elixirs uplift your days and nights.
Frequently Asked Questions (FAQs)
What are some tips for applying Arabian perfume oils?
You'll find Arabian perfume oils are highly concentrated, so begin with just a tiny dab on pulse points like wrists or behind ears. Allow the exotic scent to develop on your skin – less is more. Reapply lightly when it fades.
How do I know if an Arabian perfume will have good longevity on my skin?
Test new scents on your pulse points, like your wrists or neck, then wait several hours. Fragrances with base notes of musk, oud or amber tend to have better longevity, while citrus and aquatic notes fade faster.
You may need to reapply lighter, fresher scents more often throughout the day. When selecting an enduring Arabian perfume, trust your senses – how the scent develops on your skin over time is the best indicator of its staying power.
Rubbing pulse points allows you to get a sense of how notes emerge and evolve before committing to a full bottle. Letting a fragrance settle for a few hours shows if it has the lasting power you want.
Choosing formulas with tenacious base notes like musk or oud can help Arabian perfumes cling to skin. With trial and time, you'll find the right Arabian scents with longevity to match your personal chemistry and preferences.
Are there any particular scents I should avoid if I have sensitive skin or allergies?
Yes, avoid heavy notes like musk, amber, and oud which may irritate sensitive skin or trigger allergies. Opt for lighter florals and citrus scents and always test fragrances on a small area first before applying all over.
What are some inexpensive dupes for high-end Arabian perfumes?
Search street markets for rich musky or floral essential oils to uncover hidden gems with similarities to expensive ouds and attars. Blend your own majestic fragrance at home by layering amber, rose, and sandalwood oils purchased from apothecaries.
With an adventurous spirit, you can discover intoxicating scents to delight your senses for a fraction of designer prices.
What notes or accords should I look for if I prefer fresh, clean scents?
Look for bright citrus, green herbal, or aquatic notes if you want a clean, fresh Arabian perfume. These lively accords evoke feelings of crispness and renewal. Focus on top notes when sampling scents to find your perfect match.
Conclusion
After exploring the intricacies of Arabian perfumery, it is clear these exotic fragrances can transport you to faraway lands. Whether your nose desires the earthy richness of oud or the sweet warmth of amber, the reviewed Arabian perfume oils equip you with olfactory magic carpets.
Let these artisanal elixirs spirit you away through scent memories long after the perfume fades. With knowledge of signature notes like rose and jasmine in hand, you are ready to embark on your own Arabian fragrance journey.