This site is supported by our readers. We may earn a commission, at no cost to you, if you purchase through links.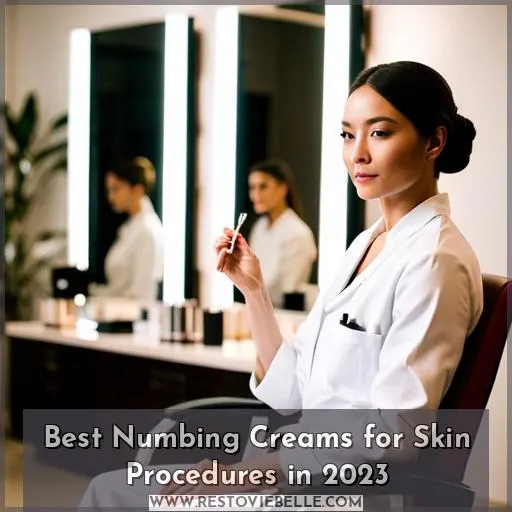 Whether you're considering your first tattoo or preparing for a painful procedure, finding the right numbing cream is key. We understand that needles piercing the skin make most of us wince, but you don't have to white-knuckle through the pain.
The best numbing creams allow you to keep your cool through everything from tattoos to injections. We have tested and curated the top-performing numbing creams on the market today. Simply apply 30 minutes before your appointment and get ready for some sweet relief.
Key Takeaways
Numbing creams contain lidocaine, benzocaine, and tetracaine to temporarily numb the skin.
They block nerve pain signals by blocking sodium channels in nerves.
Numbing creams can be used for various purposes such as tattoos, piercings, injections, wound care, and minor medical procedures.
It is important to do a skin test before applying and to reapply as needed for long procedures or when the feeling starts returning.
What is a Numbing Cream?

You may be wondering what a numbing cream is and how it can help you with pain relief.
A numbing cream contains ingredients like lidocaine, benzocaine, or tetracaine that temporarily numb the skin when applied topically. These creams work by blocking sodium channels in nerve cells, preventing pain signals from reaching the brain.
They are commonly used for minor medical procedures like dermal fillers, wound care, blood draws, and IV insertions to numb the skin and relieve pain. Numbing creams can also provide relief from muscle spasms, joint pain, nerve damage, and other conditions causing discomfort.
With over-the-counter and prescription strength options, numbing creams allow you to manage pain safely and effectively. Whether you need relief at the doctor's office or at home, talk to your provider about trying a topical numbing cream to see if it improves your quality of life.
Why Use a Numbing Cream?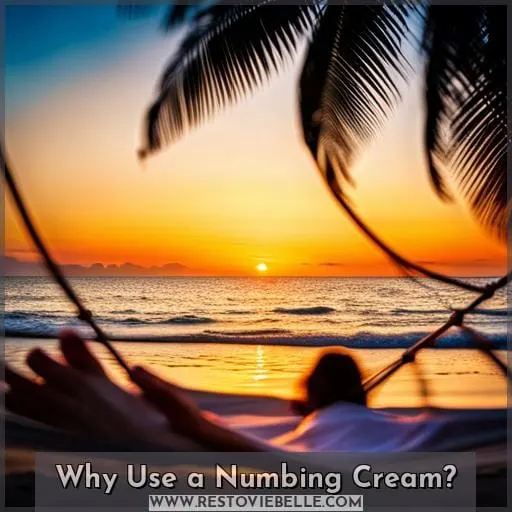 Numbing creams can provide temporary relief from pain and discomfort for a variety of procedures, helping you face them with greater ease.
Tattoo preparation is one common reason to use numbing cream. Applying lidocaine-based cream before your tattoo session ensures the area will be numb during the process, allowing you to sit through hours of ink application without experiencing too much pain or irritation.
Numbing creams are also helpful for laser hair removal due to their ability to reduce skin sensitivity in areas that have been treated repeatedly or over a long period of time.
Additionally, they may be used prior to piercings and minor surgery as an extra layer of comfort while undergoing these potentially uncomfortable experiences.
It's important, however, that numbing cream only be applied after consulting with a doctor and following all directions on the product label—especially when it comes down to applying plastic wraps afterwards!
Depending on your needs, there are many options out there – including natural alternatives like ice packs – so make sure you find what works best for you before putting anything onto your skin!
Ultimately, using OTC lidocaine-based products allows individuals seeking body modifications or medical treatments alike more peace of mind, knowing they won't need as many breaks throughout their procedure, if any at all.
How Do Numbing Creams Work?

Feel the quick relief of numbing creams as they penetrate deep into your skin and provide long-lasting pain relief.
With product comparisons, natural alternatives, dosage guidance, and application tips available for over-the-counter and prescription anesthetics, you can now make informed decisions about numbing cream use.
Over-the-counter lidocaine is usually 4%-5% in concentration, while prescriptions are stronger than OTCs. For example, BLT Cream combines benzocaine, lidocaine, and tetracaine to numb in 20 minutes with maximum effect if left on for more than 20 minutes before a procedure.
For tattoos or piercings lasting longer than four hours, consider using Tattoo Numbing Cream with high concentrations of lidocaine ranging from 4%-5%.
Natural options, such as ice cubes or aloe vera gel, also offer temporary pain relief but may not last long enough depending on the situation.
It's important to always follow all precautions and directions provided when using any kind of anesthetic cream, whether it be over the counter or prescribed by a doctor. Perform patch tests prior to use, especially when dealing with sensitive facial areas where reactions could occur rapidly due to allergies that weren't previously known prior to usage.
You'll find yourself experiencing less fear during procedures, allowing them easier completion without compromising quality results because you chose wisely, selecting one that best suited your needs.
What to Look for in a Numbing Cream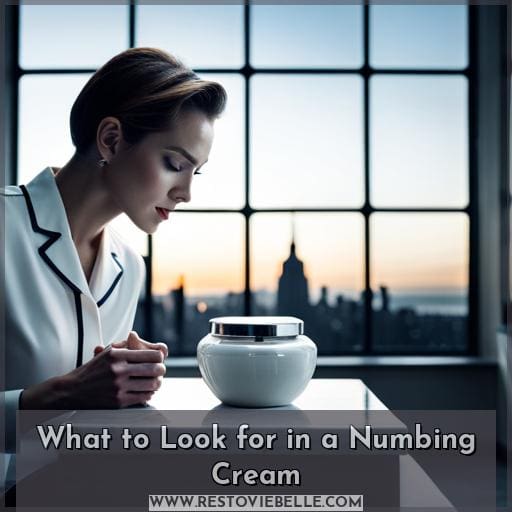 When shopping for a numbing cream, consider factors such as the strength of lidocaine, the duration of relief, and the ingredients like aloe and vitamin E to ensure you get the most powerful pain-fighting experience ever! Look for a cream with the maximum over-the-counter strength of 5% lidocaine or 4-5% if you have sensitive skin.
Also, check how long the effects last. Some creams can numb for 2-4 hours, so choose one that fits your procedure time. Seek creams with natural moisturizers like aloe, coconut oil, and vitamin E to soothe the skin and prevent dryness or peeling.
These creams provide healing benefits and skin protection. Avoid products with harsh chemicals or preservatives like parabens.
Perform a patch test to check for burning, irritation, or allergic reactions. And be sure to carefully follow usage and safety guidelines, as too much lidocaine can be toxic. If over-the-counter options are insufficient for your pain relief needs, ask your doctor about compounding a custom anesthetic.
With the right topical anesthetic, you can have a more comfortable and relaxed experience.
Types of Numbing Creams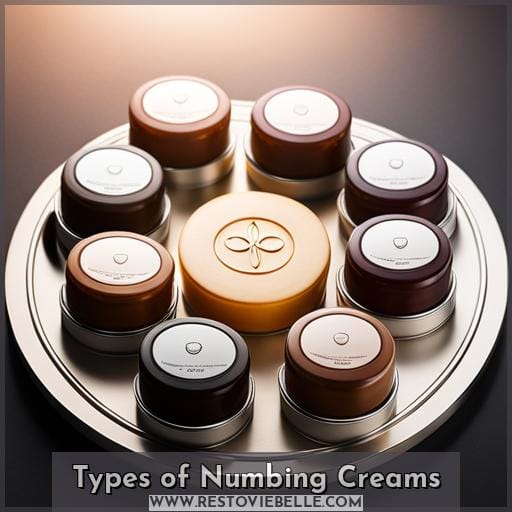 Are you looking for a numbing cream to help ease your discomfort? There are two types of numbing creams available: Over-the-Counter Numbing Creams and Prescription Numbing Creams. Both have their advantages depending on the type of procedure or pain relief you need.
Over-the-Counter Numbing Creams
Experience intense relief with the right over-the-counter numbing cream. For tattooing discomfort, skincare concerns, athlete recovery, and dental procedures, an OTC product can help numb pain without a prescription.
With lidocaine as the active ingredient in many products, up to 5%, it's easy to apply for quick relief on areas like your nape or back where skin care professionals have difficulty reaching. However, keep in mind that the maximum strength of OTC creams is limited to 5%. So, if you need higher doses, speak with your doctor about other options or prescriptions before attempting any procedure.
For medical exams and aftershocks of pain from procedures such as injections and laser treatments, there are also vegan-friendly natural ingredients such as arnica montana extract. It has anti-inflammatory properties that effectively reduce swelling while promoting healing at the surface level quickly due to its fast absorption rate into skin cells.
Hemp seed oil works similarly but contains more fatty acids, providing a softer touch against delicate facial tissue.
Prescription Numbing Creams
You can find relief from pain and discomfort with a prescription numbing cream, which is stronger than over-the-counter options.
More potent pain relief
Faster onset
Longer duration
Risks:
Potential side effects
Requires prescription
Higher cost
Opt for a prescription only if warranted, since these creams contain more concentrated anesthetics and pose toxicity risks if misused. Consult a doctor to determine if one is right for you. Use precisely as directed and never exceed dosage guidelines.
While more powerful, prescription creams necessitate caution. Seek medical guidance to use them safely and effectively.
10 Best Numbing Creams
Suffering from intense pain or discomfort during procedures and injuries? We've discovered the 10 best numbing creams to assist you, ranging from the potent Zensa to the natural pain reliever Hustle Butter.
1. Zensa Numbing Cream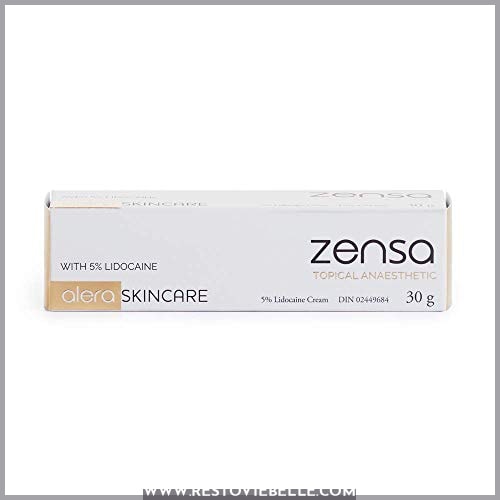 View On Amazon
Enjoy fast-acting relief with Zensa Numbing Cream, a maximum strength lidocaine cream that provides up to 8 hours of skin numbing for tattoos and other procedures. This fast-absorbing, non-greasy application is hypoallergenic and cruelty-free – perfect for face, body, or kids.
It is preferable by top tattoo artists and microblading professionals due to its ability to not affect the color or texture of the skin it's applied to.
Fast absorption
Non-greasy
Hypoallergenic
Cruelty-free
Safe for all age groups
Maximum over the counter strength 5% (some products have 4%)
Needs 15 minutes before the procedure starts to achieve peak numbness effect
Not suitable during pregnancy/breastfeeding without consulting a doctor first.
2. Dr Numb Lidocaine Cream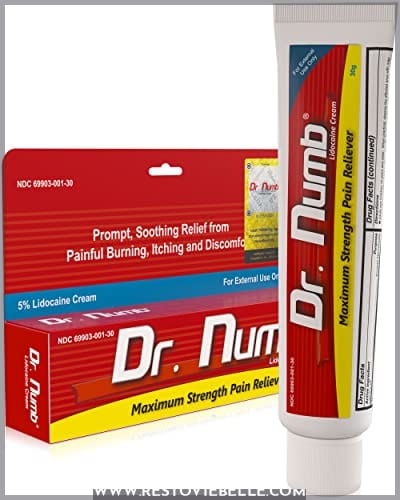 View On Amazon
Dr Numb Lidocaine Cream rapidly relieves pain and discomfort, providing fast-acting numbing relief that lasts up to four hours. This 100% hypoallergenic formula is recommended by healthcare professionals for tattoos, hemorrhoid relief, and splinter removal.
The non-oily cream comes in a convenient 1 oz size with a child-resistant cap, making it easy to apply even to hard-to-reach places without mess or irritation. It starts working within 15 minutes, so you can be confident your procedure will have maximum comfort levels before starting the process.
With Dr Numb Lidocaine Cream, you'll never fear those dreaded procedures again!
Fast-acting – starts working in 15 min
Long-lasting – 2–4 hrs of numbing relief
Non-oily/non-greasy
Child-resistant cap for safe application
Not suitable for pregnant/breastfeeding women
Patch test required prior to use
3. Ebanel Lidocaine Numbing Spray


View On Amazon
Ebanel Lidocaine Numbing Spray offers fast, temporary relief from pain and swelling with its 5% lidosomal lidocaine. Just spray the affected area and feel numbness kick in within 2-3 minutes. The liposomal delivery allows the lidocaine to penetrate quickly and provide up to an hour of soothing numbness.
This odorless, non-greasy spray can conveniently reach hard-to-access irritated spots. It is safe for minor cuts, bites, and hemorrhoids, and it also reduces inflammation.
Fast-acting within minutes
Convenient spray application
Liposomal delivery for better absorption
Provides up to 1 hour of numbness
Reduces inflammation
May cause a burning sensation initially
Numbness only lasts about an hour
Not as long-lasting as some creams
Can stain clothing if sprayed directly
4. Uber Numb Lidocaine Numbing Cream Pain Relief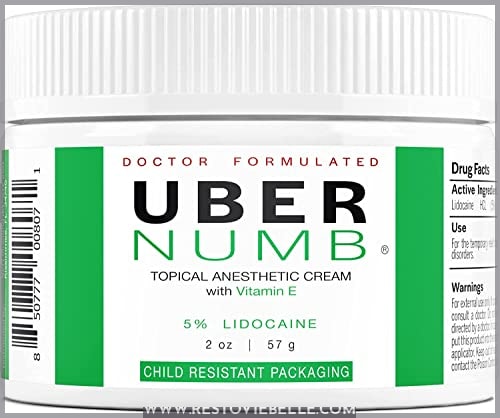 View On Amazon
Uber Numb Lidocaine Cream numbs pain in only 3-5 minutes and lasts up to an hour – get fast relief from minor cuts, scrapes, burns, and more! This maximum strength OTC 5% lidocaine cream is formulated with vitamin E and allantoin for skin soothing.
It's doctor-formulated, non-greasy water-based formula starts working quickly and can be used on the face or body.
Best of all, it comes secured with a child-resistant cap for safety. Uber Numb has been praised by healthcare professionals as the go-to choice when needing temporary relief from any kind of discomfort or irritation your skin may experience.
Fast-acting
Long-lasting
Easy application
Must do a patch test before using
Not suitable during pregnancy/breastfeeding
5. Hustle Butter Tattoo Balm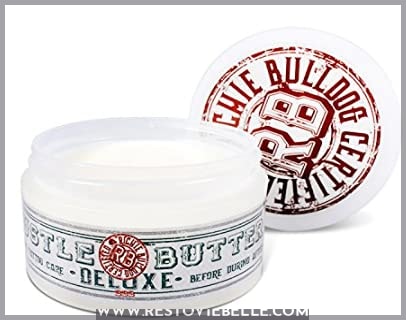 View On Amazon
Experience a tattoo session like never before with Hustle Butter Tattoo Balm, the luxurious aftercare product that soothes and protects your skin. Certified cruelty-free and vegan, free from petroleum and parabens, this premium balm is made in the USA using natural butters and oils such as Shea, Mango, Aloe Vera, Coconut Oil, Sunflower, Rice Bran, Vitamin E Complex, and Essential Oils.
It promotes maximum healing while reviving color in older tattoos. Recommended by artists worldwide, it does not remove stencils or clog tubes, allowing for an easier tattoo application experience for both artist and client alike.
Enjoy unparalleled care of your ink with Hustle Butter's unique formula. It penetrates deeply into the skin, reaching even more than just the surface level, without leaving any sticky residue. It is safe for use on new or old inkings and helps reduce irritation during long sessions, making it perfect for those looking out for themselves.
With all these benefits combined, it's no wonder why this original luxury product has become essential for properly caring for one's tattoos.
Certified cruelty-free and vegan
Free of petroleum and parabens
Made with natural butters and oils
Reaches deeper than surface level
Reduces irritation during long sessions
More expensive than conventional lotions/creams
Not suitable if allergic to specific ingredients
6. Numbskin Numbing Cream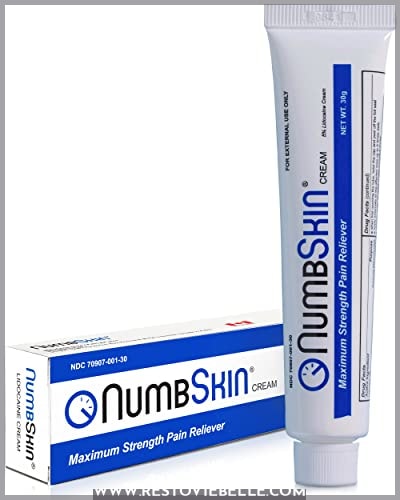 View On Amazon
Numbskin Numbing Cream offers fast-acting relief for up to 4 hours, allowing you to get through your procedure with less pain and fear. This topical numbing cream contains 5% lidocaine and provides temporary relief from minor cuts, scrapes, burns, insect bites, as well as anorectal disorders.
It is non-greasy and water-based, while the liposomal delivery system helps the active ingredients work quickly within 2 – 3 minutes, lasting up to one hour from peak.
With a child-resistant cap for safety reasons, it is safe enough even if used on sensitive areas like the face or kids' body parts.
Fast-acting Relief Up To 4 Hours
Non-Greasy & Water-Based Formula
Liposomal Delivery System Works Quickly
Not Recommended For Pregnant/Breastfeeding Women Without Doctor's Approval
Patch Testing Is Required Prior To Use
7. WELMATE Numbing Cream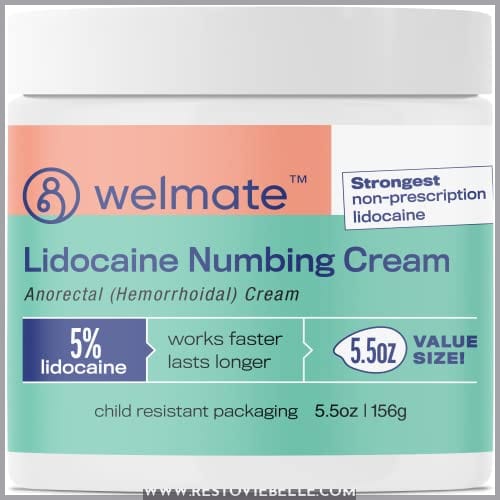 View On Amazon
WELMATE Numbing Cream provides fast-acting, long-lasting 5% lidocaine relief for up to an hour, with soothing vitamin E and a child-resistant cap that ensures safety.
As one of the strongest OTC numbing creams, it can temporarily numb pain from injuries, procedures, and skin conditions in as little as 2-3 minutes.
The non-greasy cream is easy to apply before tattoos, piercings, waxing, injections, and more.
The lidocaine blocks sodium channels to numb nerves, while the vitamin E reduces swelling and inflammation.
With its fast onset and safety cap, WELMATE Numbing Cream lets you comfortably undergo treatments without the sting.
Fast-acting 5% lidocaine
Up to 1 hour relief
Vitamin E reduces swelling
Child-resistant safety cap
Not for oral or internal use
Avoid eyes, nose, mouth
Pregnant/nursing check with doctor
May cause skin irritation in some
8. Numb Master Lidocaine Cream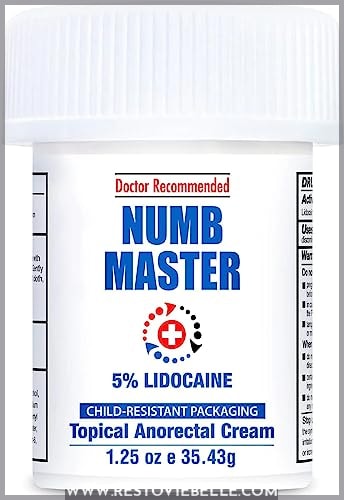 View On Amazon
Enjoy fast-acting relief from pain and discomfort with Numb Master Lidocaine Cream, formulated with 5% lidocaine for up to one hour of numbing. This non-oily topical anesthetic starts working in as little as five minutes, peaking at 20-25 minutes, and maintaining its peak effectiveness for another hour.
It's perfect for minor surgery, blood draws, or IV insertions – no prescription required! Doctor recommended and cGMP certified, it uses a liposomal delivery system to fuse the active ingredients into your skin quickly while providing maximum safety.
The child-resistant cap ensures your safety too – even if you have kids around! Plus, it's paraben-free and cruelty-free, so you can feel good about using this product on yourself or others.
Enjoy a two-year shelf life when stored properly out of reach of children, ensuring that each application will be just as effective throughout its lifetime use after use without worry over expiration dates sneaking up on you unannounced and leaving unpleasant surprises behind them!
Fast-acting
Long-lasting
Non-oily/Non-greasy
Doctor recommended
Child-resistant cap
Not suitable for pregnant/breastfeeding women
Patch test before usage advised
9. Lidocaine Pain Relief Cream Fast Acting Long Lasting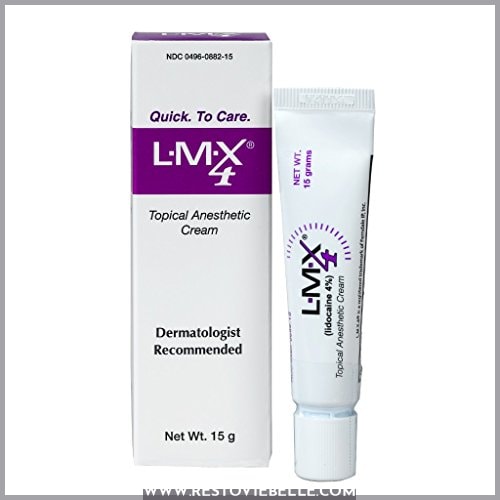 View On Amazon
Try Lidocaine Pain Relief Cream for an incredibly fast-acting, long-lasting numbing sensation. This 4% lidocaine cream, recommended by Baylor College of Medicine's Dermatology Department, works in minutes to numb nerve endings in the skin before minor procedures like blood draws, injections, piercings, and laser hair removal.
Simply apply a thin layer 30 minutes prior, letting the anesthetic absorb while minimizing excess.
Reviews show it's a must-have for needle phobias.
Fast-acting numbness
Long-lasting effect
Clinically proven ingredients
Recommended by medical experts
Useful for various procedures
Helps ease needle phobias
Can be expensive
Risk of receiving used product
Avoid eyes, nose, mouth
For external use only
10. Curist Lidocaine Cream Pain Relief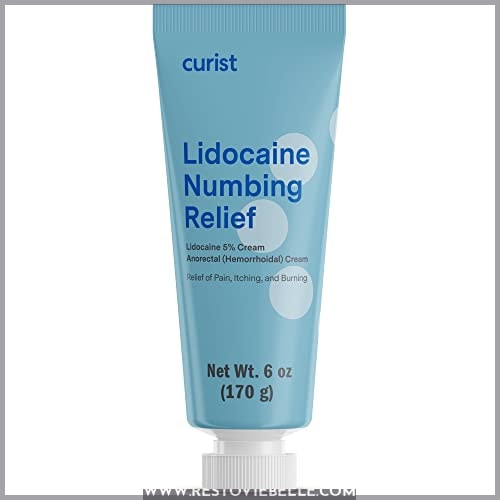 View On Amazon
Curist Lidocaine Cream Pain Relief provides fast relief from pain, itching, burning, and discomfort. The extra-large 6 oz tube contains 5% lidocaine for maximum strength without a prescription.
Formulated with water-based ingredients that are non-oily and non-greasy, this cream is paraben-free and cruelty-free, making it safe for even sensitive skin types. The cream is quickly absorbed, ensuring peak numbing within 20 to 25 minutes. Its effectiveness lasts up to an hour from its peak.
The cream has been lab tested by Baylor College of Medicine's Dermatology Department, ensuring only top-quality ingredients are used in this product. Additionally, it has a child-resistant cap, adding an additional layer of safety.
Fast Acting & Long Lasting Numbing Effect
Maximum Strength Without Prescription Markup
Water-Based Non-Greasy Formula Safe For Sensitive Skin Types
Lab Tested Top Quality Ingredients
External Use Only
Not Recommended During Pregnancy or Breastfeeding
How to Apply Numbing Cream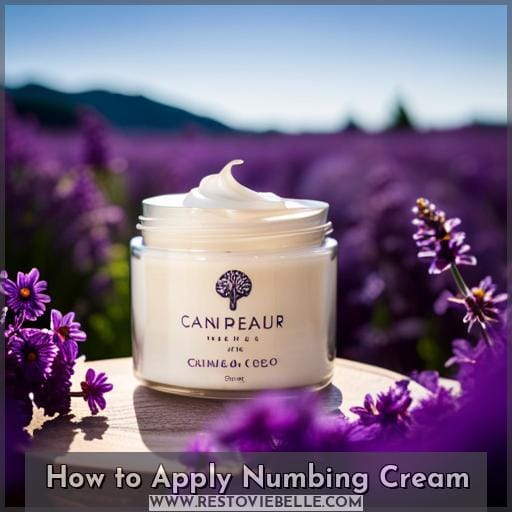 Applying numbing cream is an effective way to reduce pain sensations during medical procedures and cosmetic treatments.
Skin Testing – Before applying a new topical product, always test it out first by applying a small amount of cream to your skin and wait for 15 minutes. If there are no adverse reactions such as itching or a burning sensation, then you can proceed with the application.
Numbing Effects – Apply the numbing cream 30-45 minutes before the procedure starts so that it has enough time to take effect. This will provide intense relief from pain during treatment. Make sure to remove all of the product prior to starting any procedure.
Pain Relief – Rub in a thin layer evenly over the desired area until completely absorbed into the skin, which usually takes 5-10 minutes depending on the thickness applied. This will ensure fast-acting relief from discomfort and irritation when needed most, without leaving behind a greasy residue.
Applying numbing creams correctly allows patients to feel more relaxed throughout their medical or cosmetic treatments while minimizing potential side effects. The cream has the ability to absorb quickly into body tissues, providing temporary yet long-lasting pain management capabilities.
Precautions When Using Numbing Creams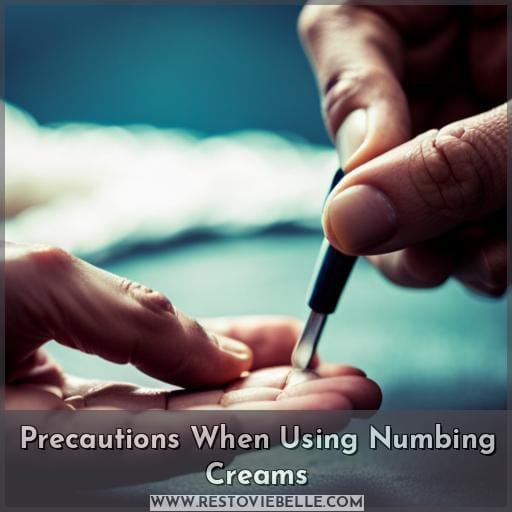 It's important to take precautions when using numbing creams, as they can be powerful and should not be used without consulting a doctor first.
Always do a skin test first. Apply a small amount to your arm and wait 24 hours to check for redness, swelling, itching, or other signs of reaction before using on a larger area.
Follow dosage recommendations carefully, as too much topical anesthetic absorption can lead to systemic toxicity.
While numbing creams can provide relief, they do carry risks when misused. Never use on broken or inflamed skin. Do not cover treated areas with bandages or plastic wrap for prolonged periods, as this drives the numbing agent deeper into the body and raises the toxicity risk.
Avoid getting creams near eyes, nose, or mouth. Seek medical attention for difficulty breathing or intentional damage from overuse. Choose quality products from reputable brands with clear usage instructions. Consult a doctor if unsure about using topical anesthetics or have any concerns.
With sensible precautions, numbing creams can be used safely.
Frequently Asked Questions (FAQs)
How often should I apply a numbing cream?
For best results, apply your numbing cream up to 30-90 minutes before any procedure. Allow time for the full effect of the topical anesthetic to take place and ensure maximum relief from pain and discomfort.
How long does numbing cream last?
The duration of numbness from topical anesthetic creams depends on the concentration of the active ingredient. Generally, 5% lidocaine creams used for tattoos numb for 2-4 hours. Numbness lasts 1-2 hours from over-the-counter 4% lidocaine products.
Are there any side effects from using numbing cream?
Yes, there can be side effects from using numbing cream. Possible reactions include skin sensitivity, burning sensations, or rashes. Speak to your doctor before use and always follow the directions for best results.
Be sure to test a small portion of skin first and stop using if any irritation occurs.
Are numbing creams safe to use on sensitive skin?
Numbing creams can be used on sensitive skin, but it's important to read the label carefully and test a small area first. Choose one with natural ingredients like aloe, vitamin E, emu oil, or chamomile for extra soothing benefits.
Many brands offer lower lidocaine concentrations, which may be better suited for delicate areas. Talk to your doctor if you have any doubts or concerns about using numbing cream on sensitive skin.
Are there any natural alternatives to numbing creams?
Yes! Natural alternatives to numbing creams include ice, aloe vera, clove oil, and chamomile oil. Talk to your doctor about the best option for you based on your needs. These natural pain relievers can help relieve current pain as well as anticipate future discomfort and are safe for sensitive skin types.
Conclusion
Whether you're planning a tattoo, piercing, or laser hair removal, a numbing cream is essential for reducing pain and discomfort. Take the case of John, who was considering a tattoo but wanted to avoid the pain associated with it.
With the help of a numbing cream, John was able to get a tattoo with minimal pain and discomfort.
When choosing the best numbing cream, consider the strength, duration, and type of procedure you'll be doing. Over-the-counter numbing creams are available for home use, while prescription numbing creams are stronger and should be used for larger procedures.
Some of the best numbing creams in 2023 include Zensa Numbing Cream, Dr Numb Lidocaine Cream, Ebanel Lidocaine Numbing Spray, Uber Numb Lidocaine Numbing Cream Pain Relief, Hustle Butter Tattoo Balm, Numbskin Numbing Cream, WELMATE Numbing Cream, Numb Master Lidocaine Cream, Lidocaine Pain Relief Cream Fast Acting Long Lasting, and Curist Lidocaine Cream Pain Relief.
Be sure to read the instructions and follow the precautions when using numbing creams. Before applying, make sure to do a skin test to ensure the cream won't cause an allergic reaction. Allow time for the cream to take effect before starting the procedure, and make sure to remove any excess cream before beginning.
With the right numbing cream, you can reduce your pain and discomfort and enjoy a successful procedure.