This site is supported by our readers. We may earn a commission, at no cost to you, if you purchase through links.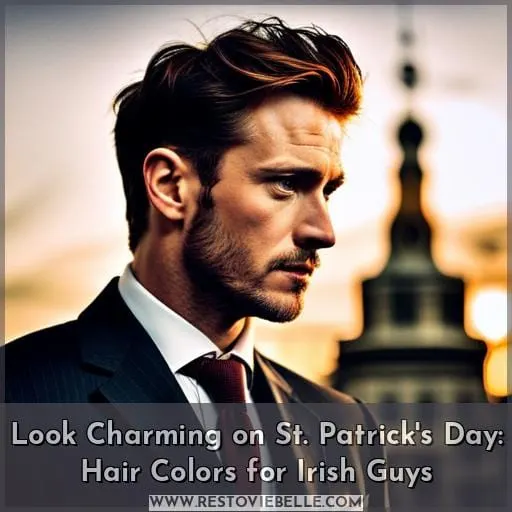 Greetings, my fellow Irish brothers! We all know how tricky it can be to find the perfect hair color that really makes those fiery locks of yours pop.
Let's talk about how to find a color that complements and enhances your natural Irish beauty in just two shakes of a lamb's tail.
Now, you might be wondering to yourself as you stare hopelessly into the mirror, 'What hair color looks good on Irish guys?' Well, buck up! We'll figure this out together.
The right color is out there, we just gotta find it – and I'm gonna help ya do just that. Trust me fellas, when we're done, you'll have all the lasses chasing after your stylish mop.
So let's not waste another second talking about it – follow me to unlock your handsome Irish charm!
Key Takeaways
Warm ash brown hair with golden highlights adds dimension and suits most complexions.
A shade of auburn hair complements warm undertones and freckles. Using sulfate-free products helps maintain this color.
Light golden brown enhances a natural glow and works for those with both warm and cool undertones.
Ash Brown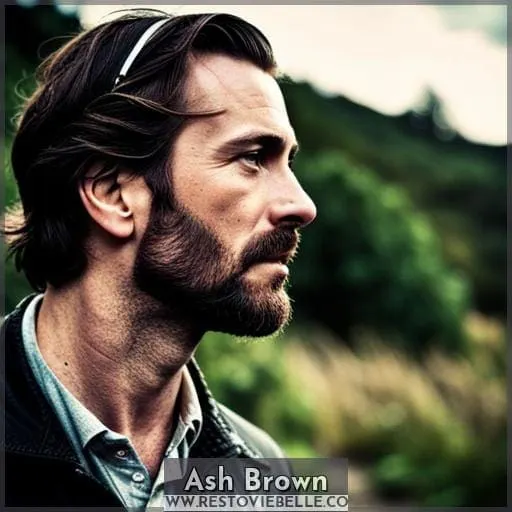 For an Irish lad, ash brown hair tones down your fair complexion and brings out your natural glow. With fair skin prone to redness, ash brown's cool tones create balance, muting ruddiness. To prevent washing you out, avoid an icy shade. Opt for a warm ash brown, blending in subtle golden highlights.
This adds dimension while complementing your complexion's pinkish undertones. When matched to your eyebrows, ash brown looks natural.
To find the right hue, examine your eye color. Green and hazel eyes pop against ash brown hair while blue eyes shine. For best results, use an ash brown semi-permanent dye. This gradually lightens, syncing with your roots.
Experiment with stylish cuts, adding texture with layers or bangs. Feel confident embracing your Irish good looks with a flattering ash brown shade.
Honey Blonde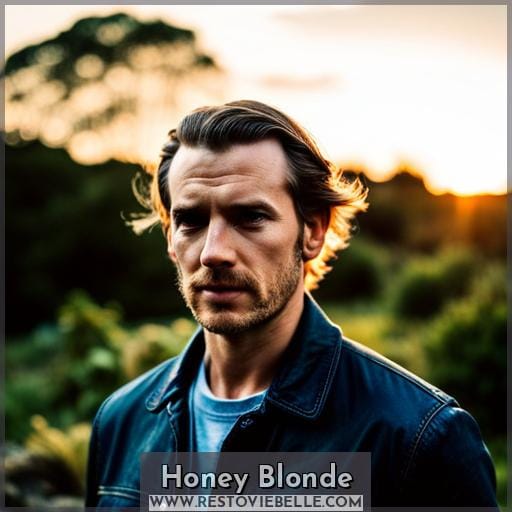 Cause honey blonde adds that warmth and radiance to your Irish complexion, mate. If you're looking to complement your fair skin while still appearing natural, consider honey blonde. The warm golden tones will enhance your natural glow without overpowering your complexion.
When paired with light eyes, this sun-kissed blonde creates a bright and lively look. For best results, ask your stylist for a multidimensional blend with lighter and deeper shades of honey interspersed throughout.
This'll mimic the light catching effects of natural hair and avoid the dreaded solid bleach blonde appearance.
As it grows out, honey blonde seamlessly blends into lighter roots as well. Styling with sea salt spray adds texture and beachy waves that give life to fine hair.
Dark Copper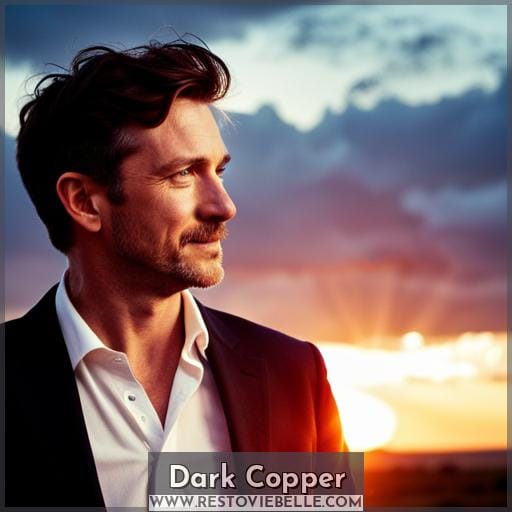 You feel your freckles popping against that deep, warm ruddiness. Dark copper hair color flatters those with fair Irish skin and brings out a radiant glow. The reddish-brown tones complement cool, pink undertones and make green or blue eyes dazzle.
To keep your dark copper shade vibrant, use a sulfate-free shampoo and conditioner for color-treated hair. Apply a weekly deep conditioning mask to boost shine and softness. Style your copper locks with sea salt spray for sexy, tousled waves or sleek them back with a lightweight pomade.
Fashionwise, pair rich burgundies, forest greens, or camel coats with your warm mane to create a pulled-together yet effortless look. While darker copper hues pair well with ivory complexions, those with medium to olive skin often look best with strawberry blonde or golden brown shades.
Ultimately, choose what makes you feel most confident and stylish.
Light Golden Brown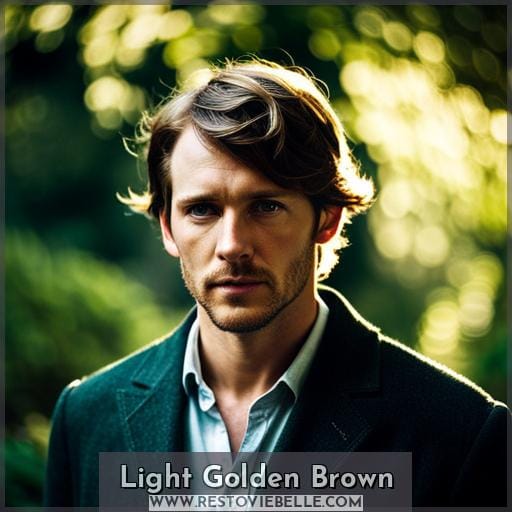 Light golden brown enhances a natural glow for Irish guys. This warm, sun-kissed hair tone brightens fair complexions with a radiant finish. When matched to skin, light golden brown adds dimension and warmth without being overpowering.
This versatile shade allows you to make fashion choices that enhance your natural coloring. While staying true to Irish heritage, it brings out a healthy luminosity from within. Light golden brown boosts natural confidence with its soft, approachable effect.
Hair color experts recommend it to complement pale skin while avoiding the harshness of platinum or ash blonde.
Adding texture and movement takes the look from safe to sexy. As a lively expression of masculinity, light golden brown hair invigorates Irish charm. Make the most of your genetic luck of the Irish with a hair color that emanates an inner glow.
Platinum Blonde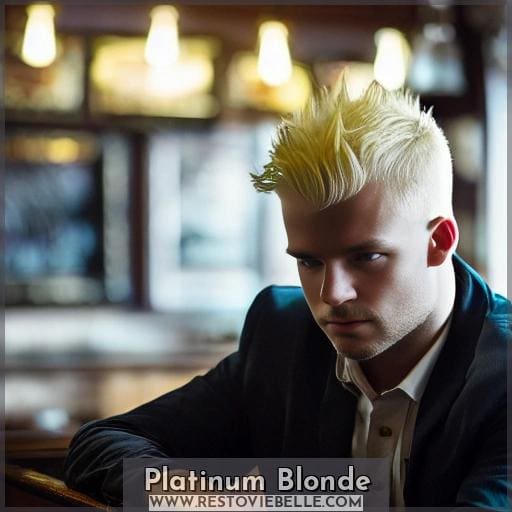 Platinum Blonde
Bold contrast it creates, accentuating your fair Irish complexion and freckles. Platinum blonde hair can be a bold, yet sophisticated choice for Irish men. The nearly white color provides high contrast against fair skin while complementing light eyes.
Use a purple shampoo and conditioner to keep cool tones.
Get trims every 4-6 weeks to maintain condition.
Use bonding treatments and leave-in conditioners.
Style with texture spray or sea salt spray.
Irish actor Jamie Dornan rocks platinum hair, demonstrating how it pairs well with his complexion. Other natural blonde Irish celebs like Niall Horan or Colin Farrell inspire platinum variations. This striking hair color makes a statement yet has a polished appearance. With proper care, platinum blonde hair can give that rockstar edge to an Irish guy's look.
Warm Chestnut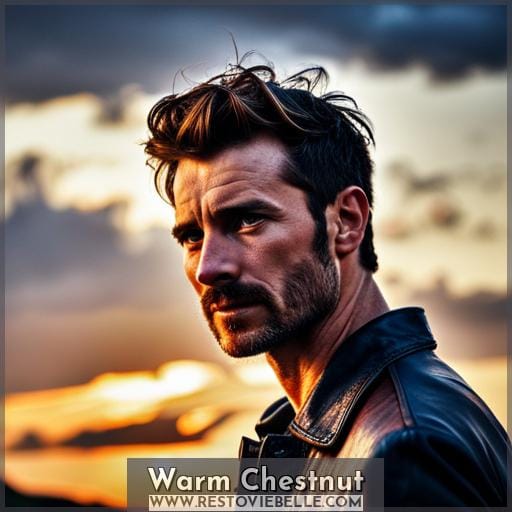 A rich chestnut brown perfectly complements your fair complexion, accentuating subtle freckles and adding warmth to your face. This hair color shade exhibits a mix of red and yellow undertones, providing the ideal amount of contrast against light skin while still retaining a natural look.
Warm chestnut flatters those with fair or pale complexions by introducing a touch of color without overwhelming.
The tone also encompasses various natural hues. So, as your hair grows out, the demarcation line will be less noticeable. This versatility ensures chestnut brown seamlessly blends with your genetic profile.
With its warm yet subtle boost, chestnut brown allows your inner radiance and authentic self to shine through.
It's among the most complementary hair colors for Irish men seeking a natural enhancement aligned with ancestry. Just be mindful of ingredients when dyeing as you'll want to avoid metallic salts that can interact poorly with future hair color changes.
By embracing the chestnut, you'll feel more vibrant while retaining your heritage.
Light Ash Blonde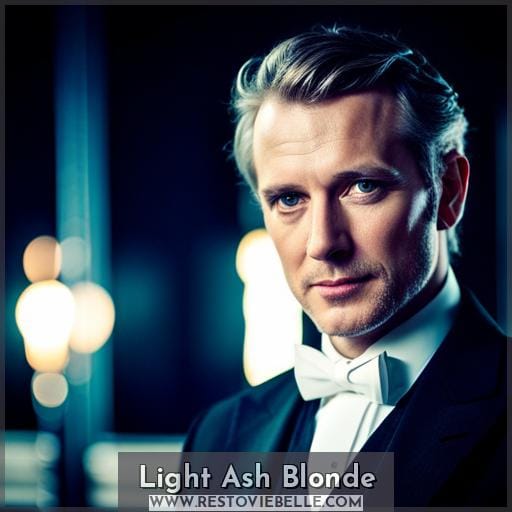 Going for light ash blonde can give you a cool, sophisticated look that stands out. This icy blonde shade creates striking contrast against fair Irish complexions, making your eyes pop. When skillfully applied, light ash blonde can impart natural dimension while harmonizing with your skin's undertones.
To style:
Add warmth and temporary color with bronde highlights.
Try a pastel pink or blue for an edgy, modern vibe.
Opt for mushroom brown lowlights to soften the contrast.
Use temporary henna hair dye for vibrant red tones.
Style with texture spray or sea salt spray for beachy waves.
Add layers for movement and extra styling options.
Use a glossing treatment to reduce brassiness over time.
Experimenting with different looks allows you to find a light ash blonde shade that suits your personal style. A knowledgeable colorist can help you achieve a customized blonde that flatters your complexion.
Auburn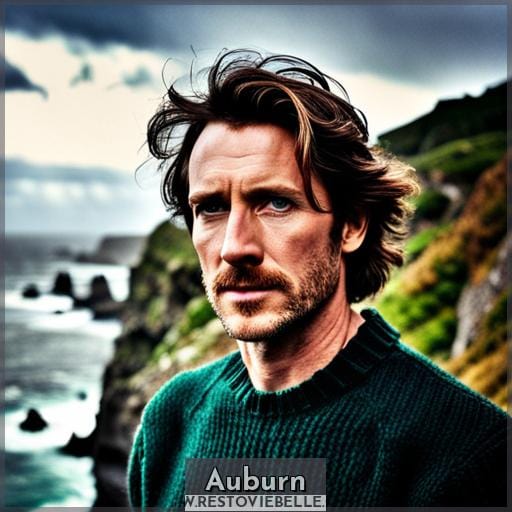 Bout time ya think of goin' auburn if ya wanna complement them fair freckles and warm undertones. Auburn hair can give an allurin' glow that brings out natural warmth in fair Irish complexions.
Auburn requires diligent upkeep as it tends to fade quickly. Use color-safe shampoos, deep conditioners, and semi-permanent dyes between salon appointments. Avoid overwashin' and heat stylin' to prevent dryin'. Embrace natural texture for low maintenance.
Chocolate Brown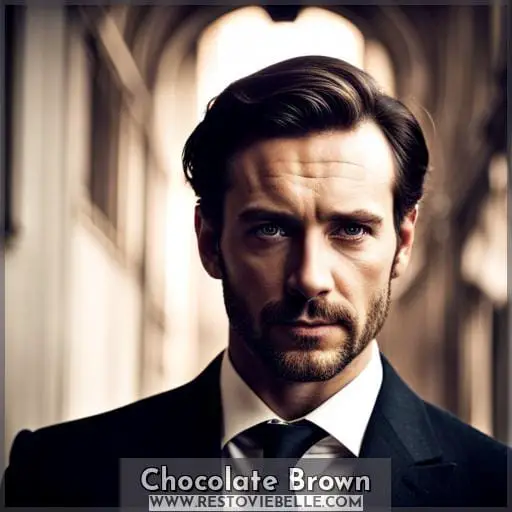 Y'all'd get that classic 'n timeless look with chocolate brown hair, but maybe go for a more natural red to reflect the motherland, eh lad?
Chocolate brown hair gives Irish lads a distinguished, mature 'n refined appearance that flatters most complexions. Go for cool ash brown tones if ya have pinkish undertones or warm chocolate browns if yer skin's more yellow.
The rich color contrasts nicely with fair Irish skin without washin' ya out. Just keep in mind, permanent hair dyes like this can be tricky to remove.
And if ya ever wanna lighten up, it may take some time 'n effort. But overall, chocolate brown's a classic, natural-lookin' choice that honors Irish roots while lettin' yer inner rogue shine through.
Ditch the dye 'n let yer rich inner colors glow!
Natural Red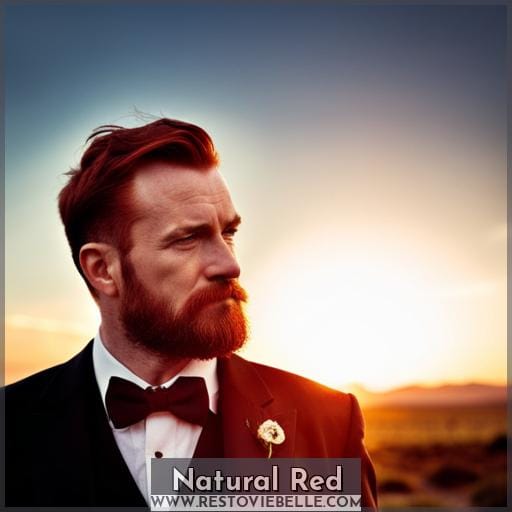 Ya ain't gonna believe how reflectin' that fiery red hair shows off your proud Irish roots, bro. Sportin' that natural red mane connects ya to generations past. Makes ya stand out in a crowd while representin' where ya came from.
But keepin' that ginger glow requires care. Use sulfate-free shampoo and conditioner daily to avoid dryness.
If your roots are showin', henna is a natural way to get an all-over coppery color. Just be prepared for a long dye time. For style, enhance those natural waves with mousse.
Fashion-wise, rich jewel tones like emerald and sapphire make your hair pop. Or rock a classic white tee to let those locks flame on. At the end of the day, celebratin' your heritage with that fiery red mane shows the world who you are.
Conclusion
Wearing the right hair color can make all the difference on St. Patrick's Day. Ash brown and honey blonde complement the fair complexion of many Irish men. For those seeking something bold, platinum blonde offers striking contrast. Or embrace your heritage with natural red locks.
Whichever hue you choose, wear it with confidence and let your Irish charm shine through.