This site is supported by our readers. We may earn a commission, at no cost to you, if you purchase through links.
Surprising, isn't it? You can actually get professional salon-quality color at home using Wella toners. Whether you want to go blonde or create gorgeous styles with warm or cool tones, the Wella toner chart has got you covered.
From neutralizing unwanted tones in your hair to achieving vibrant colors that flatter your skin and enhance your overall look, there is something for everyone! In this article, we will explore everything from understanding the various types of Wella toners available on the market to tips on how to best apply them and achieve desired results with a bit of help from our beloved professionals.
So let's dive into all things Wella Toner Chart: Before and After Hair Results!
Key Takeaways
The Wella toner chart provides a range of tones based on complexion.
Choose toner shades that match skin undertones for consistent results.
Toner techniques enhance hair color transformation.
Utilize the Wella Color Charm Toner Chart to aid in selecting shades.
Understanding Wella Toner Chart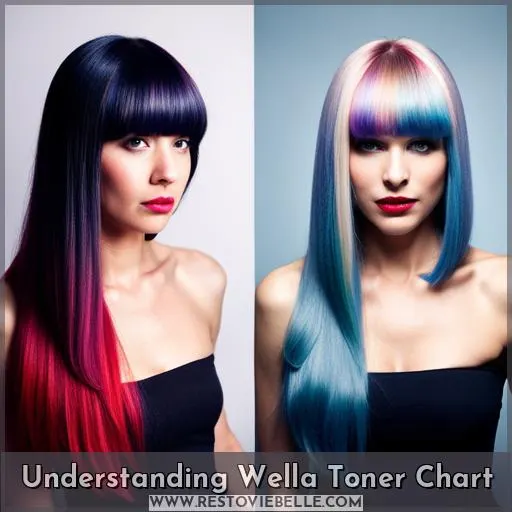 By consulting a Wella Toner Chart and assessing your base color, you can achieve the desired blonde shade to complement your complexion.
With Google Image searches, compare hair colors with different complexions for the best tone-matching solution. For orange hues, blue-based toners such as Wella 050 Cooling Violet are ideal; pair it with T14 if lighter tones are desired.
Be sure to use volume 10 or 20 developer depending on the condition of hair before applying generous amounts of toner evenly over damp strands starting from the brassiest areas first – all within 30 minutes!
From Silver shades like T28 and Pale Blonde (T10) to Ash ones like Lightest Ash Blonde (T18), Pale Beige Blonde (T15), Medium Blonde (T27), etc.
Explore the options offered by this brand today and find your perfect match according to the Wella Toner Chart before and after results!
Before and After: Wella Toner Results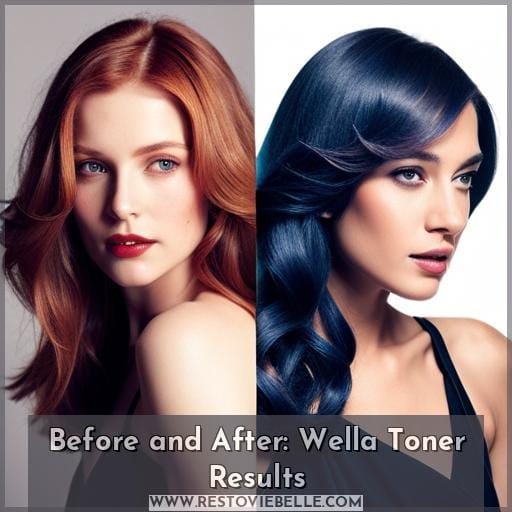 Looking to tone your hair for a desired color? The Wella toner chart has the perfect solution. From T18, T14, and T10 to neutralizing orange tones with 050 Cooling Violet, they offer eight different toners that can help you achieve the shade of blonde or silver that you want.
Toning for Different Hair Colors
Unlock the beauty of blonde hair with Wella Color Charm Toners and discover how to achieve the perfect shade for you. Correct brassy tones by using toner on yellow-tinted hair; for orange hues, a violet-based product like 050 Cooling Violet will work best.
Mix shades such as T14 and T18 to create custom colors or select from preselected recommendations such as T11 or T27 Beige Blonde, depending on desired results. Advanced techniques involve mixing various toners for lighter platinum looks, while gray hairs can be blended with both cool and warm ash shades.
Toning for Specific Tones
Discover how the right toner can help you achieve your desired hair tone. Correcting brassiness, toning orange hair, blending highlights, and neutralizing yellows – Wella Colour Charm Toners offer an array of options to address any blonde shade concern.
When choosing a color, consider pre-lightening level as well as your skin undertone for best results. Toner over bleached or lightened strands with shades like T18 and 050 Cooling Violet for warm tones; Silver shades like T28 and 10 add depth while beige options such as 11 and 15 keep it subtle.
Tips for Applying Wella Toner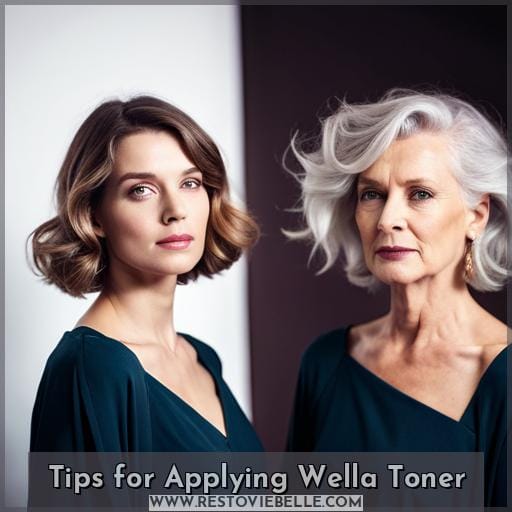 Transform your locks with the perfect Wella toner shade for a stunning blonde finish.
Start by selecting the right toner and developer strength based on hair condition, pre-lightening level, and undertone considerations.
Then apply an even distribution of toner onto damp hair from root to tip for consistent results. Avoid leaving any strands uncovered as this may lead to patchiness in color once processed.
To prevent overprocessing, stick within the 30-minute processing time recommended by Wella. Otherwise, you risk undesired effects such as discoloration or breakage due to chemical damage caused by prolonged exposure to the product's chemicals.
Lastly, use generous amounts when applying so that each strand is fully coated with enough product per application session.
Achieving the Desired Results With Wella Toner

With Wella toner, you can achieve the desired results and get that perfect blonde shade with just a few easy steps – as they say, practice makes perfect. Knowing your hair color history is key in order to determine what kind of transformation you're looking for and which Wella toner shades will work best.
For neutralizing unwanted tones or adding coolness to warm hair colors, T14 has a violet-blue base, while T18 has a violet base which gives it lighter cooler tones. To even out brassiness in yellowish hues, opt for the T18 option. If dealing with orangey tints, then use the blue-based 050 Cooling Violet Tone instead.
Depending on your condition, choose between volume 10 or 20, depending on how much strength is needed when applying the product evenly from roots to ends.
With these simple yet effective techniques combined with proper knowledge of different toners available through Wella's Color Charm range, you'll be able to reach any look imaginable!
Professional Consultation for Best Outcome

For best results, consult a professional when choosing the right Wella toner for your hair. With their expert guidance and tailored recommendations, you can make optimal choices based on skin undertone, desired shade, and pre-lightening level.
Professional insights into color selection will help you achieve the Wella toner chart before and after look that is perfect for you.
A stylist or colorist's expertise can ensure the best outcome for achieving your desired hair color with Wella Toner products. Explore all of their options! From Ash to Beige tones, experienced advice from a professional who knows which product works best is invaluable when selecting just the right one.
Don't be afraid to ask questions about any concerns regarding application or how certain colors work together.
How to Bleach Hair Using Wella Toner Chart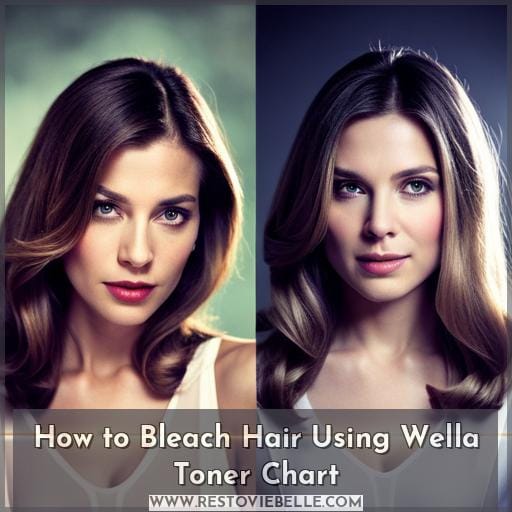 Discovering the right blonde shade for you requires a thorough understanding of Wella Color Charm Toners and their effects. To get the best results, choose toner shades based on pre-lightening level and skin undertone.
When it comes to application steps, follow instructions precisely. Dampen your hair first, then apply generous amounts of toner evenly throughout strands with the appropriate strength (10 or 20 volume) cream developer mixture.
Keep in mind the following tips:
Pre-lightened hair must be taken into consideration when selecting a tone
Choose an appropriate strength depending on how lightened your locks are
Apply generously to ensure even coverage
Start from the brassiest areas first to avoid patchiness
With these tips, plus knowledge about specific Wella toner shades such as Silver (T28/T10), Ash (T14/T18/050), Beige (1
Enhancing Hair Color With Wella Toner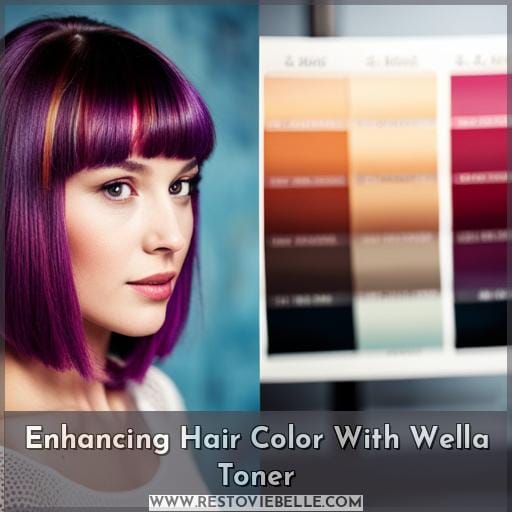 Unlock your color transformation potential with Wella toners to enhance hair colors for the perfect finish. Whether you're aiming for a platinum blonde tone or an ashy dark blonde look, incorporating Toner Techniques into your styling routine will give you great results.
Color Transformation is made easier by blending different shades of toner together, creating subtle variations in shade and depth that can be tailored to suit any desired outcome. Shade Enhancement is achieved through precise application of the product. Apply liberally and evenly onto damp hair for even coverage throughout.
Use a 10 or 20 Volume Cream Developer depending on how light you want it, in conjunction with Wella's Toner Chart before and after photos to get just the right hue! With these tips combined, amazing Platinum Blonde results are achievable at home.
Start transforming today!
Maintaining Vibrant Hair Color With Wella Toner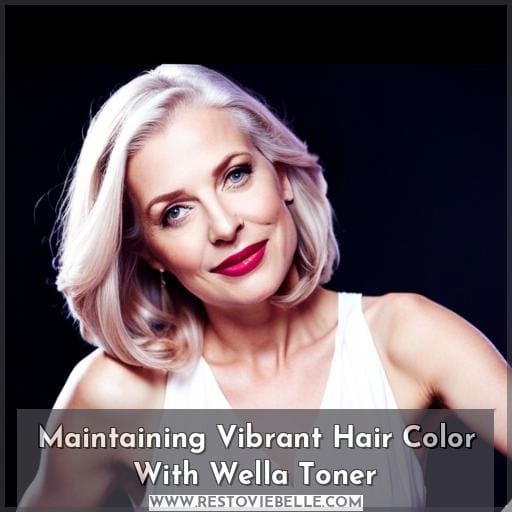 Maintaining your hair color's vibrancy with Wella toners requires specialized care, from choosing the right shade to using protective products.
At-home toning is possible with their range of liquid and cream developers. To ensure optimal longevity, use color protection shampoos. Apply a generous amount of product for even coverage. Condition mousse keeps tones vibrant between salon visits.
Refresh conditioners revive colors in minutes. Prevent fading by avoiding direct sunlight.
A Wella Color Charm Toner Chart helps you select the perfect hue while balancing ease and expertise. It offers clients a virtual 'try on' experience that demystifies shade selection.
For extra assurance, take advantage of professional consultation services offered at salons equipped with the latest tools for maximum results.
Conclusion
Blonde hair can be daunting, but Wella toners are designed to help make the process simpler and more predictable. With the right toner and product knowledge, you can achieve a beautiful, vibrant color that can last for months.
Wella's color chart is an excellent reference guide for selecting the right toner for your hair. The chart's before and after images help you visualize how your hair will look after the toning process.
With a little patience and the right Wella toner, you can achieve the perfect blonde hair you've been dreaming of.