This site is supported by our readers. We may earn a commission, at no cost to you, if you purchase through links.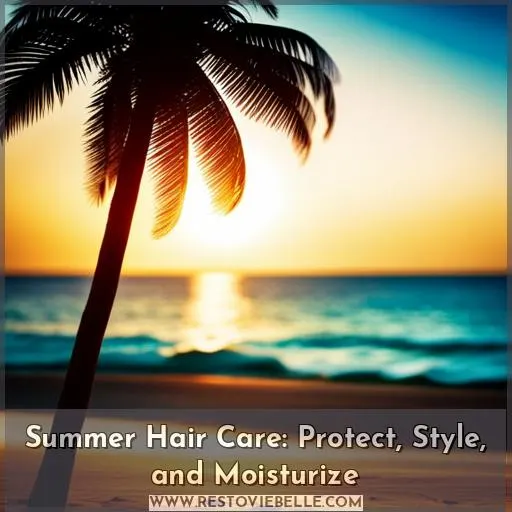 Ready to bask in the sun and make summer memories? Don't forget that your hair needs just as much love and care during these hot months! To keep your locks looking beautiful, follow our summer hair care guide.
From protecting against UV rays with hats or scarves to keeping it moisturized by minimizing heat styling, we've got everything covered here.
Protect Your Hair From the Sun

When it comes to summer hair care, protecting your hair from the sun is essential. Wearing a hat or scarf can help block out damaging UV rays, while applying products with UV filters will provide extra protection.
Use Hats and Scarves
Cover your head with a hat or scarf for extra protection from the sun's rays, and don't forget to top off your look! Whether it's a stylish fedora, an alluring hair wrap, or a UV shielding beanie, fashionable headwear is always in.
For beach days when you need maximum sun protection but still want to be stylishly accessorized, try tying up colorful scarves to give you that effortless summer vibe.
If humidity has got your hair down during outdoor activities, then use hats and scarves as chic alternatives for taming frizziness while also protecting strands from the heat of the day.
Sun safety doesn't have to mean compromising on style. Make sure you make these accessories work for both fashion and function this summer season!
Apply UV Protection
Protect your locks from the sun's damaging rays by using products containing UV filters. Invest in a good quality sunscreen with UVA and UVB protection, and apply it to wet or dry hair regularly when outdoors.
There are many options available for hair and scalp protection from the sun, such as leave-in conditioners, elixirs, sprays, and creams.
If you want an easier option, consider wearing protective hats or scarves that cover your head.
Opt for Loose and Comfortable Styles

The summer months can take a toll on your hair. Heat, sun, and chlorine can cause damage and dryness if not properly protected. To protect from the elements while still looking stylish in the summer heat, opt for loose styles that are both comfortable and chic.
Moisturize often with creams or oils to counteract any potential sun damage or moisture loss due to swimming pools or saltwater exposure.
Embrace beachy waves by sleeping with your hair in a bun or braid.
Try hot oil rinses with coconut, olive, or avocado oil as an additional way of hydrating your locks after being exposed to the elements.
Create easy hairstyles like sleek ponies, high buns, or side braids for humid conditions when you don't feel like doing more elaborate styling routines.
Be mindful of how much time you spend exposing yourself (and thus also exposing) your beloved tresses during those long sunny days – make sure you cover up either through headwear choices such as hats, scarves, etc.
Adjust Your Hair Washing Routine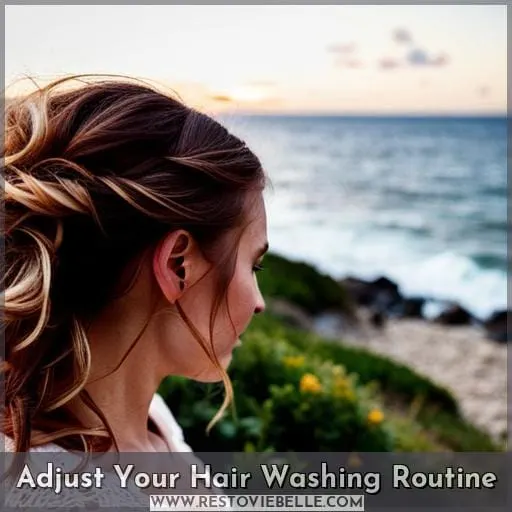 Adjust your hair washing routine this summer by reducing the frequency of washes to retain natural oils. Longer intervals between washes allow for moisture retention and less heat damage.
In addition, chlorine in pools can strip away natural oils, so skipping a wash after swimming is recommended for scalp health.
For added protection against chlorine damage, consider using non-toxic purple shampoos such as Oway Silver Steel Hair Bath or Original & Mineral Conquer Blonde that help prevent brassiness caused by pool chemicals.
Additionally, opt for hot oil rinses with coconut, olive, or avocado oil before swimming to add extra hydration; post-swim be sure to rinse out any saltwater residue from ocean trips too!
Summertime also calls for more protective hairstyles like braids and buns – these are great options because they reduce exposure while still allowing you to stay cool throughout the season without sacrificing style choices!
Finally, remember that sun protection is just as important on land as it is in water – use products containing UV filters along with hats/scarves when spending time outdoors (and even indoors) during sunny days.
Minimize Heat Styling

Reduce your reliance on hot styling tools and give your hair a break this summer with heat-free hairstyles – you'll be amazed at the results! Combat frizz with natural oils or serums, using them sparingly.
Embrace beachy waves by sleeping in braids and buns for carefree styles that look gorgeous without any extra effort. Opt for loose hairstyles to minimize sun exposure and keep locks healthy. To maintain moisture, reduce hair washing frequency, allowing natural oils to do their job properly, and avoid blow-drying when possible.
For special occasions, consider using heated tools only occasionally instead of daily.
Keep Your Hair Moisturized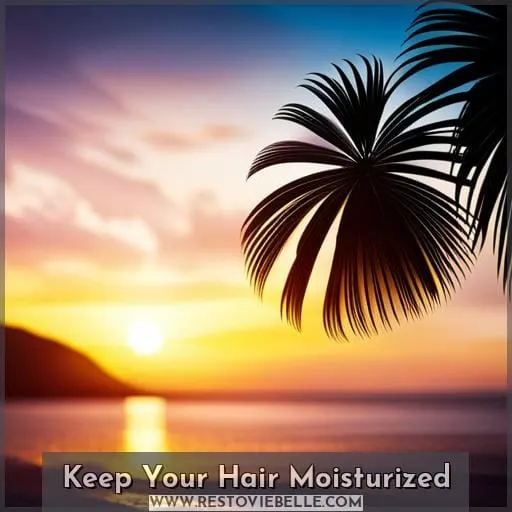 Keep your hair hydrated and healthy this summer by moisturizing regularly with products like Oway Nurturing Drops! Hair oil, such as coconut or olive oil, can help lock in moisture.
Afterward, use hydrating conditioner to replenish lost moisture. For maximum protection during swimming and sun exposure, try using a leave-in conditioner that offers UV protection from the sun's rays.
Deep conditioning treatments can also provide nourishment while helping prevent breakage due to dryness or excessive heat styling.
Combat Swimmer's Hair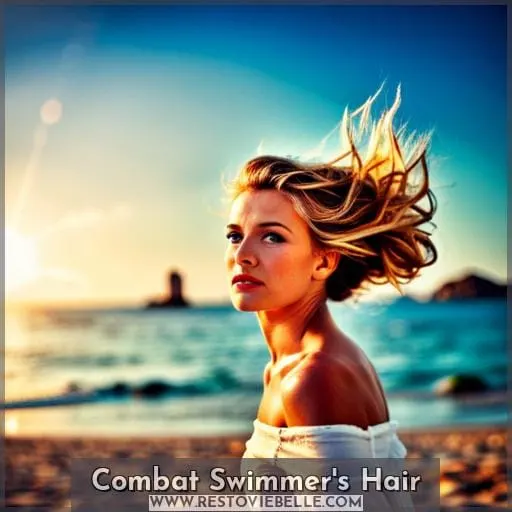 Combat swimmer's hair by pre-saturating with water or conditioner, rinsing away saltwater and chlorine, and using non-toxic purple shampoos for blonde locks.
You can also protect your strands from chlorine damage with Oway Sunway Sun Protective Elixir.
Clarifying shampoo once a week helps remove pool chemicals without stripping natural oils.
Follow up with an oil massage to rehydrate the scalp and nourish follicles then seal in moisture with a leave-in conditioner or hair mask treatment before swimming again!
When it comes to summer swimmers' haircare, resilience is key so limit washing as much as possible – use dry shampoo for longer lasting freshness between washes when needed.
Hair sealants should be used prior to entering the pool while sparingly applying sunscreen on top of your head will help keep sunrays at bay too!
To maintain healthy hydrated locks throughout summer season opt for moisturizing products such as protective elixirs, masks, and treatments that combat humidity-related issues along with regular clarifying routines so you can hit up those beach days worry-free!
Don't Forget the Sunscreen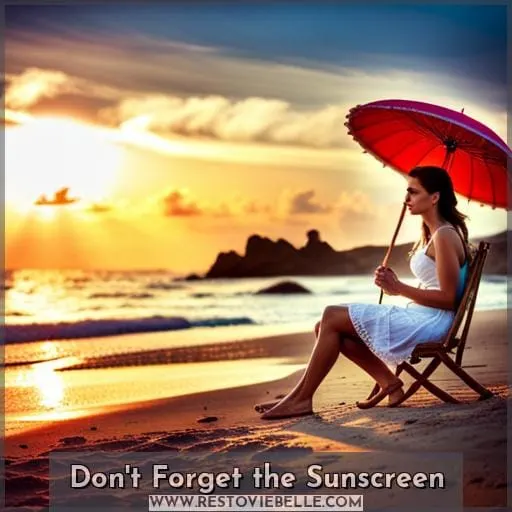 Summer hair care isn't complete without sunscreen! Sunscreen is a must for protecting your hair from sun damage, and adding it into your routine doesn't have to be complicated. You can use a special UV-protectant spray or serum on wet or dry hair before heading outside – just make sure you fully saturate the ends of each strand.
For added protection, consider wearing hats and scarves to help keep the sun off your head. If you're swimming in chlorinated pools or saltwater, rinse off after exposure as these chemicals strip natural oils from the scalp and cause dryness over time if not removed properly.
To finish up with some extra TLC for those hot summer days, deep condition once weekly using natural products like coconut oil that will nourish strands while helping combat frizziness caused by humidity levels rising outdoors.
Try a Hot Oil Rinse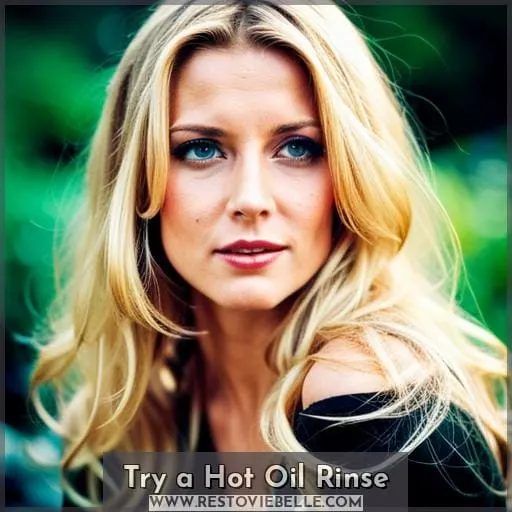 Take the extra step of trying a hot oil rinse to protect your locks during the summer months! Hot oil treatments are an effective way to nourish and protect hair from sun damage. They can help prevent color fading and promote healthy hair growth. The best oils for this DIY method include coconut, olive, or avocado.
These oils are rich in beneficial fatty acids that add moisture and shine back into dull tresses.
Here's how you should apply it:
Begin by heating up the desired amount of chosen oil until warm (not too hot).
Massage the oil onto the scalp and through the lengths of your hair.
Cover your hair with a shower cap or heat wrap/towel for 10-15 minutes.
Rinse out the oil thoroughly.
It is suggested that you do this no more than twice per week, as overdoing it may strip away the natural oils from your strands, leaving them drier than ever before! Remember, regular trims are also necessary throughout the summer season if you want soft, bouncy locks come fall time.
Hot Oil Benefits:
Nourishes and protects hair from sun damage
Best Oils For This Technique:
Coconut, olive, or avocado (rich in fatty acids to add moisture and shine back into dull tresses)
Application Tips:
Heat up the desired amount of chosen oil until warm (not too hot)
Massage the oil onto the scalp and through the lengths of your hair
Cover with a shower cap or heat wrap/towel for 10 minutes
Frequency Suggestions:
No more than twice per week, as overdoing it may strip away natural oils from strands, leaving them drier than ever before
Regular Trim Necessary During Summer Season:
If you want soft, bouncy locks come fall time
Create Beachy Waves

Embrace your inner beach babe and create effortless waves with a homemade sea salt spray. Start by wetting the hair, then apply the mixture to damp strands using a wide-tooth comb or fingers, scrunching as you work from root to tip.
Once finished, air dry or use a diffuser for extra texture. For those looking for more textured waves than just what salt spray can offer, braiding is an option! Braided beachy hair works best on second-day curls that have already been styled once before.
If heat styling isn't your thing, try these heatless curls instead: After applying product, twist sections around two fingers until you reach scalp level. Pin each section in place until completely cooled off, then release them one at a time for beautiful springy spirals from root to end.
Sea-inspired locks can also be achieved by spraying directly onto freshly washed tresses when still wet. It will give great definition without being too crunchy or heavy like some products might leave behind green hair.
Gentle Hair Care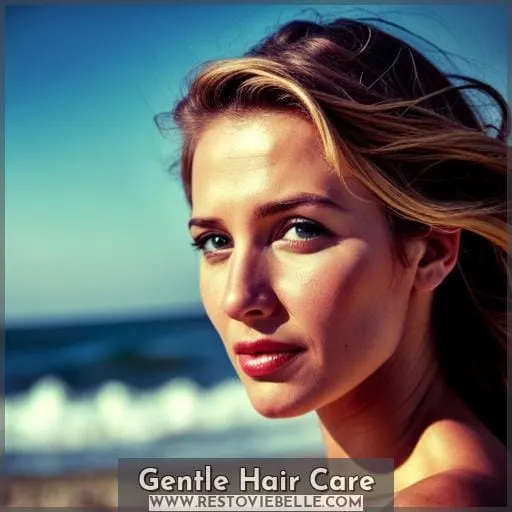 Gently detangle your locks with a wide-tooth comb to keep them healthy and strong throughout the season. A few simple tips can help you maintain beachy waves, summer hydration, sunscreen protection, pool care, and hair color maintenance.
Use a deep conditioner or oil treatment to add moisture before styling.
Apply leave-in UV protectant products for sun protection.
Pre-saturate hair with water or conditioner before swimming in saltwater or chlorinated pools.
Visit your stylist midway through summer for trims that help prevent split ends while preserving the length of locks during long days spent outdoors!
Keep colors vibrant by using non-toxic purple shampoos when needed. Adding hats as an extra layer of shade also helps preserve hue longevity in windy conditions.
Be sure to use Oway's Thermal Protector spray prior to any heat styling sessions.
With these easy steps, you'll be able to enjoy beautiful tresses all season long without worry!
Conclusion
Summer is the perfect time to take a break from heat styling and embrace your natural hair. But that doesn't mean you should neglect your hair care routine. To keep your hair healthy and beautiful during the summer months, remember to use a hat or scarf for sun protection.
Opt for loose and comfortable styles. Adjust your hair washing routine. Minimize heat styling. Use moisturizing products. Combat swimmer's hair. Don't forget the sunscreen. Try a hot oil rinse.
Taking the time to care for your hair in the summer will ensure you have healthy and beautiful locks all season long.