This site is supported by our readers. We may earn a commission, at no cost to you, if you purchase through links.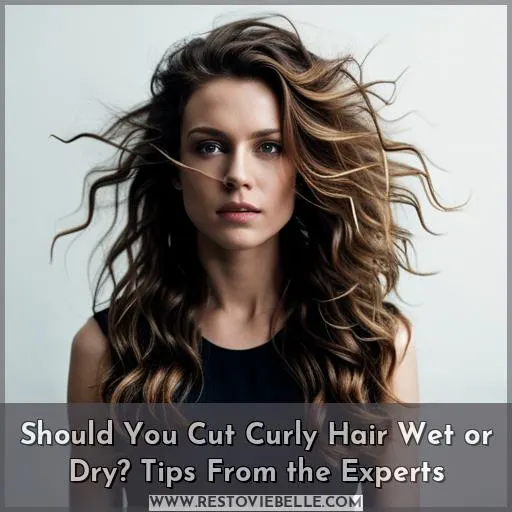 Trust us, we've been there: standing in front of the mirror, frustrated with your mop of curly hair that seems impossible to tame. You've tried everything – the right shampoos, the fancy styling products, the diffusers – but still your curls seem determined to do their own thing.
That's when the questions start creeping in. Should I just chop it all off and start over? Get it straightened? Maybe I should try cutting it wet instead of dry? Hold up though, curly soul. Before you make any rash decisions, take a deep breath. Your curls are a beautiful, natural part of you.
The truth is, whether to cut curly hair wet or dry depends on your hair's needs and goals. And there are good reasons for both. So don't despair. With some expert tips, you can figure out the best way to cut your curls so they can finally be the mane you've always dreamed of.
Key Takeaways
Dry cutting shows the natural curl pattern and shrinkage.
Wet cutting allows for precise shaping and split end trims.
Dry cuts enhance volume and definition.
Wet cuts add shine and smoothness.
How Often to Cut Curly Hair?

With your unique curl patterns, aim for trims every 6-8 weeks to prevent worsening knots and split ends. More frequent trims keep curls healthy and bouncy by removing ragged, split ends before they travel up the hair shaft.
Watch for knots and tangles, a telling sign it's time for a trim – don't wait for a full-on trim disaster. Schedule regular trims even when hair feels smooth since curly hair is prone to splits and damage.
For tighter coils, opt for 8-week trims to retain length. Looser waves can likely go 10-12 weeks between proper shaping. Finding the ideal trim frequency for your hair curl, health, and style prevents over-trimming while keeping your natural hair looking its best.
Wet or Dry: Which is Better for Cutting Curly Hair?

Deciding between wet or dry cutting for your curly hair can be tricky, but understanding the benefits of each method will help you make a confident choice.
A dry cut allows your stylist to see your hair's true curl pattern, texture, and shrinkage factor. It maximizes natural volume and definition. However, a wet cut makes it easier to control and shape a uniform look.
Conditioner smoothes and detangles so the stylist can focus on repairing damage.
Evaluate your hair's health and your usual style. Seek out a certified curly hair stylist to advise the best method for your unique hair type and goals.
For frizz-prone waves, a wet cut with face-framing layers does the trick. Kinky curls thirsty for volume get perfect spirals from a dry devacut. An experienced stylist for curly hair helps determine if a dry cut's definition or a wet cut's smoothness suits you best.
Going to a Salon or Cutting Curly Hair Yourself?

Whether you visit a curl-specialized stylist or give yourself an at-home cut, understanding the benefits of each method can help you make a confident choice.
Seeking professional guidance for your unique curls ensures an expert's eye on your hair type and individual pattern. They can properly section out different parts of your curls, maximizing the style for your unique locks.
DIY cutting allows more freedom but requires vigilance. Check your work often, only trimming a little at a time. Curly hair girls know their hair's temperament. An at-home cut gives you control to shape your spirals as you wish.
With either option:
Study your curl's needs pre-cut
Acquire quality styling tools
Section hair in its natural state
Trim conservatively
Maintain regularly
Carefully weighing your hair goals, commitment level, and budget makes the wet vs dry decision seamless.
Choosing the Right Products for Curly Hair

Choosing the right products for your curls is essential to maintain and enhance their health, definition, and shine – so much so that it can even impact future haircuts! In fact, a recent survey by NaturallyCurly.
com found that 85% of women with textured hair have experienced product-related issues such as dryness or frizz.
Develop custom hair care based on individual needs.
Consult an expert stylist who specializes in curly textures to get the best cut for you. Consider factors like lifestyle habits and goals before beginning any cutting process.
Invest in quality tools and products tailored specifically towards curly locks. Look for ingredients that nourish without weighing down strands or creating build-up over time.
Achieving perfect curls requires dedication, but with careful planning at each step of the way – starting from selecting appropriate styling items all through maintaining regular trims – you'll be able to reach those desired tresses! Take control of your own destiny by finding a specialist who understands your unique needs while also incorporating tips into practice at home.
This will enable long-term success no matter what route you choose along the path.
Benefits of Cutting Hair Dry Vs Wet

Shimmering ringlets frame your face as the stylist reveals your new 'do. Deciding between a wet or dry cut comes down to your hair's unique needs and the look you're going for. A dry cut maximizes natural curl definition and volume by cutting each coil based on its natural spring factor and shrinkage.
But a wet cut makes split end trims and precision layering simpler by revealing the full length of each strand. This enhances shine and smoothness. Discuss your goals, hair health, and lifestyle with an experienced stylist specializing in coily hair.
They can advise the best method and execute it properly with professional lighting and tools.
Though personal preference matters, a pro understands how to cut and style multiple different curl patterns and shrinkage factors together seamlessly.
| Dry Cut Pros | Wet Cut Pros |
| --- | --- |
| Enhances natural volume | Allows precise split end trims |
| Maximizes curl definition | Makes layering and shaping easier |
| Cuts based on true coil shape | Enhances shine and smoothness |
How to Choose the Best Cutting Method for Your Curly Hair

After weighing the benefits of both wet and dry cuts, the method you choose depends on your curl goals. Though a dry cut enhances definition, a wet cut allows for more precise shaping.
Ultimately, choosing between cutting curly hair wet or dry comes down to the health of your hair and the look you want to achieve. Those with tighter coils and more shrinkage often benefit from dry cuts. This shows the stylist your hair's natural curl patterns and spring factor, preventing improper cutting.
However, if your priority is split end removal and added moisture, a wet cut helps reveal individual strand length.
Discuss your hair's needs with a stylist well-versed in cutting highly textured hair. An experienced professional understands how to blend multiple curl patterns and textures together seamlessly. They can advise you on the ideal method to achieve the vibrant, healthy curls you deserve.
Getting the Most Out of a Dry Haircut

You're gonna shine rocking those bouncy ringlets when you seek out an expert stylist versed in sculpting coils dry. A pro specializing in cutting textured hair knows how to shape each curl to maximize definition and manageability.
They section hair based on curl pattern, snip coil-by-coil with sharp shears, and avoid cutting too short by calculating for shrinkage. Dry cuts bring out hair's natural texture and volume too. Schedule trims regularly to keep curls healthy.
Here's tips for success:
Do:
Come with clean, product-free hair
Bring example photos
Explain problem spots
Request face-framing layers
Have patience during the process
Don't:
Show up on a rainy humid day
Expect a flawless shape immediately
Skip deep conditioning after
DIY trims without a plan
Use wrong products post-cut
With an expert guiding your dry cut and proper at-home care, your hair will shine its brightest and curliest yet.
Tips for Cutting Curly Hair the Right Way

Radiant you, rock those luscious locks with skilled hands guiding scissors through each coil.
Start with completely clean, product-free hair to reveal the hair shaft's natural texture and curl pattern.
Have the stylist cut curl-by-curl, considering each coil's precious volume, spring factor, and natural positioning.
Avoid cutting too short by measuring the curl's shrinkage and leaving extra length.
Embrace added volume as the hair's natural texture emerges, despite less length.
With a curl-specialized stylist respecting your hair's needs and maximizing your natural shape, you'll achieve the healthiest, bounciest curls yet.
Frequently Asked Questions (FAQs)
How do I find a stylist who specializes in curly hair?
Look for stylists certified in cutting textured or curly hair by DevaCurl or Ouidad. Check salon sites and social media for photos of curly cuts. Ask friends with curls for recommendations. Once at the salon, confirm that the stylist understands curl types, shrinkage, and dry cutting.
What tools and techniques can I use to cut my curly hair at home?
Invest in quality shears and proper lighting. Section hair based on curl pattern. Measure for shrinkage. Cut curl-by-curl, checking often and removing a little at a time.
How often should I get a trim if my hair is damaged or prone to splitting?
Trim every 6-8 weeks. Trim more frequently if you notice knots or feel rough, split ends. This will help rejuvenate your curls and prevent further damage. However, pay attention to your hair's needs rather than relying solely on a calendar.
Your hair will let you know when it's time for a trim. Make it a priority to focus on your hair's health every two weeks to ensure you're taking good care of it.
What is the best way to style my curly hair after a cut?
Why don't you start styling curly hair by applying your favorite leave-in conditioner and gel immediately after drying. Then, scrunch upwards from the ends to enhance volume before air drying the rest of the way.
Are there any precautions I should take before getting my curly hair cut wet or dry?
Take precautions when getting your curly hair cut, whether wet or dry – don't just jump in headfirst! Familiarize yourself with the process and tools needed. Avoiding DIY is key, so find an experienced stylist who knows their stuff to get the best results.
Conclusion
Following experts' advice on your unique curl pattern, products, and lifestyle will lead you to your best cut. Seeing a stylist who specializes in curly hair every 8-12 weeks ensures proper maintenance of your spirals' health and style.
Though some may choose DIY trims, professionals know how to bring out the full potential of your texture. With the right curl-focused cuts and at-home care, your vibrant ringlets will continue to bounce back.