This site is supported by our readers. We may earn a commission, at no cost to you, if you purchase through links.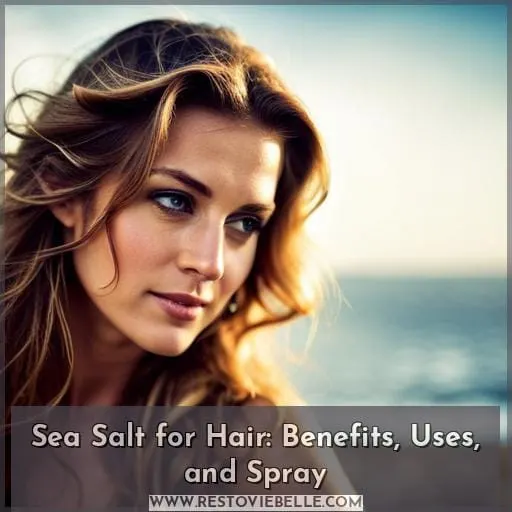 You may be hesitant to try sea salt for your hair, thinking it's too harsh. But the truth is that sea salt can actually do wonders when it comes to improving the health and appearance of your locks!
Rich in minerals like calcium, potassium, magnesium, and sodium – all components found naturally within our bodies – this natural ingredient helps nourish hair from root to tip while providing volume and texture.
Plus, its exfoliating properties help cleanse the scalp of any buildup that blocks healthy growth.
Not just a delicious addition to ice cream sundaes, sea salt is good for your hair!
Benefits of Sea Salt for Hair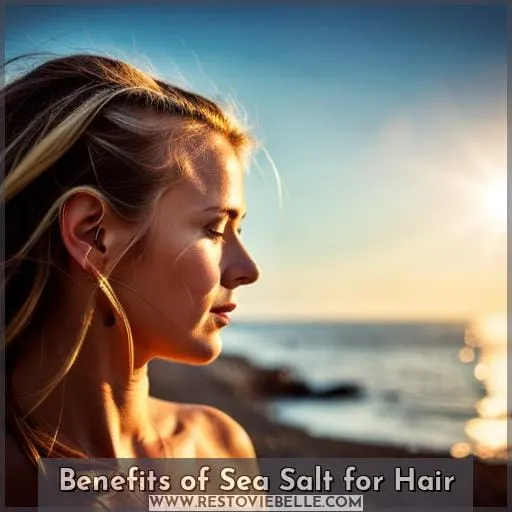 Are you looking for an effective way to improve the health of your hair? Sea salt offers a variety of benefits, such as exfoliation and scalp health, volume and texture, as well as promoting hair growth.
With its numerous minerals and nutrients, it is no wonder sea salt has become popular in the beauty industry.
Exfoliation and Scalp Health
The natural minerals in sea salt can help exfoliate your scalp, leaving it feeling healthier and invigorated. Sea salt remedies promote hair vitality by removing dead skin cells, product buildup, bacteria, and other impurities from the scalp while providing soothing benefits.
By using a sea salt scrub shampoo, you're able to not only cleanse but also exfoliate your hair for added protection against future damage. This type of cleansing helps rejuvenate the scalp and leaves it looking refreshed after every wash.
It also allows for better absorption of products like oils or conditioners when used afterwards.
In addition to its detoxifying power, regular use of a gentle sea salt treatment is necessary for overall healthy hair growth.
Volume and Texture
Sprinkle in some sea salt spray to add volume and texture to your hair! It's rich in essential vitamins and minerals, promoting healthier growth. Sea salt opens the cuticle for a tousled look that complements all hair types. Its antifungal properties control oiliness while stimulating blood flow for faster regrowth.
Try styling techniques like sectioning off damp or dry strands before spritzing at roots or midsection. Finish with product recommendations like Love Beauty & Planet's shampoo with sea salt grains, Vintage Pomade for shine, Murdock Sea Salt Spray for natural lift.
Hair Growth Promotion
Feel your hair grow with sea salt spray – it stimulates blood flow and helps promote healthy hair growth. The minerals in this product nourish the scalp from within while exfoliating away flakes, bacteria, and impurities.
It also opens up the cuticle for versatile styling options like beachy waves or a tousled look.
With regular use of sea salt shampoo and conditioner, you can enjoy all these benefits plus enhanced texture and volume without overdoing it on other styling products.
How to Use Sea Salt on Hair

Slather on some sea salt spray for a beachy vibe and healthier locks! With the right styling techniques, you can achieve ocean-inspired waves without having to actually step into the surf.
Start with damp or dry hair – whichever works best depending on your desired outcome.
Apply your salt spray evenly throughout your strands, using more at the root area for extra lift if needed (just be sure not to overdo it).
Create texture by gently scrunching up sections of hair between palms as you move around the head in circular motions until everything is covered in product and looks tousled but controlled at the same time.
Blow-dry using a low heat setting while still scrunching lightly with hands before finishing off with a cold air blast from the hairdryer nozzle; this locks the style into place longer than usual so that it lasts all day without needing too much touching up later on!
Lastly, don't forget about regular maintenance – make sure to incorporate sea salt products like Cleansing Purifying Scrub into your haircare routine every few weeks or so.
Sea Salt Spray offers plenty of benefits when used correctly, including increased thickness & gritty texture plus added definition – perfect for achieving those signature beach waves we all know and love no matter what type of hair you have been blessed with naturally.
What is Sea Salt Spray?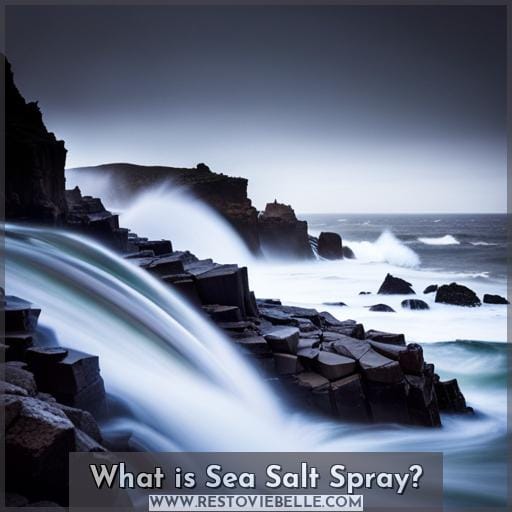 Sea salt spray is an essential styling product for modern men that mimics the effect of a natural ocean breeze. It's used to recreate beachy waves and add texture, volume, and consistency to hairstyles without weighing them down.
Sea salt spray contains minerals like magnesium, potassium, selenium sulfide, and sulfur, which can naturally open up the hair cuticle, giving you tousled-looking locks suitable for all types of hair – from fine to thick.
To use sea salt on your hair, there are several DIY recipes available. One option is to mix warm water with one tablespoon of sea salt in a spritz bottle. Another option is to add moisturizing drops before application, whether your hair is damp, dry, or unwashed.
You can also section off sections at the roots if desired when spraying for additional lift.
Popular products include Love Beauty & Planet's shampoo & conditioner, which has a nourishing blend of sea salt grains perfect for detoxifying and exfoliating. Another option is Matt Mud, which provides a natural understated look. Vintage Pomade offers a more shiny finish.
Benefits of Sea Salt for Different Hair Types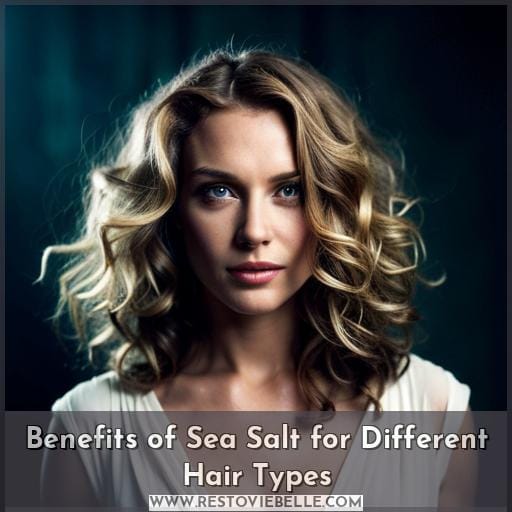 Are you curious about the benefits of sea salt for different hair types? Sea salt can be an effective styling aid for those with fine or thick hair, offering volume and texture to both.
Fine Hair
For fine hair, sea salt spray can provide a much-needed boost of body and texture without weighing down the locks. Sea salt spray adds thickness to each strand while also providing hold for styling products like pomades or mudds.
It is perfect for achieving beach waves that many desire but have difficulty attaining with their hair type.
When using sea salt spray on fine hair, it's important to avoid products containing alcohol as this may dry out the strands further and make them difficult to manage. Love Beauty & Planet's Shampoo & Conditioner is a great option which contains natural ingredients including sea salts grains for detoxifying and exfoliating benefits.
Murdock Sea Salt Spray provides lift, definition, texture, and volume. Vintage Pomade gives a shiny finish while Matt Mud offers an understated look – both ideal when looking to style finer hairs! A few spritzes of this product will add life into your tresses in no time, giving you natural movement along with plenty of bounce!
Thick Hair
If you have thick hair, sea salt spray can provide texture and hold while reducing the need for excessive styling products. It adds thickness to your mane, giving it a gritty texture that makes it look fuller and easier to style without weighing down.
The minerals in sea salt are also beneficial. Magnesium helps create healthy skin cells on the scalp, while selenium supports tissue regeneration, and zinc unclogs pores.
Try sectioning your hair before spraying at the roots or midsection for added lift. Use volume techniques like scrunching or pinning curls up after drying with a diffuser.
With regular use of quality products like Murdock Sea Salt Spray combined into your haircare routine, you can enjoy natural textures all day long!
Refreshment comes from its antifungal properties, which combat flakes while detoxifying the scalp too.
Conclusion
In a nutshell, sea salt is the perfect ingredient for achieving healthy hair. Sea salt can provide the perfect amount of texture and volume without overly drying out the scalp, regardless of whether you have thick or fine hair.
Its natural exfoliating and detoxifying properties can help remove product buildup, unclog pores, and promote scalp health.
Additionally, the minerals in sea salt can support tissue and cell regeneration, leading to healthier hair growth. For those interested in trying sea salt for their hair, Love Beauty and Planet's shampoo and conditioner with sea salt grains is a great starting point.
Ultimately, sea salt is an essential hair product for modern men and women, and its popularity continues to grow.