This site is supported by our readers. We may earn a commission, at no cost to you, if you purchase through links.
Do you want to find the best hair gel for black men's hair? Look no further!
From finding the right hairstyle for your texture and type, to understanding how much hold is necessary for your look, this guide will help you pick out a quality product that defines and tames curls without making them crunchy.
We've rounded up 7 of the best gels on the market today: SheaMoisture Gel, Taliah Waajid, Paul Mitchell Super Clean, Hicks Total Transformations, Design Essentials, Briogeo Curl Charisma, and Kinky Curly.
Plus, we'll provide tips on using it effectively as well as maintaining healthy locks while using products like these.
Key Takeaways
SheaMoisture and Taliah Waajid gels offer moisturization and control frizz.
Lightweight gels are better for natural styles on afro hair to avoid matting and a cardboard effect.
Apply gel to damp hair using a comb or hands, and consider using the LOC method with moisturizing oils.
Avoid gels that contain silicones, sulfates, alcohols, and parabens for healthier hair.
Why You Need a Hair Gel for Black Hair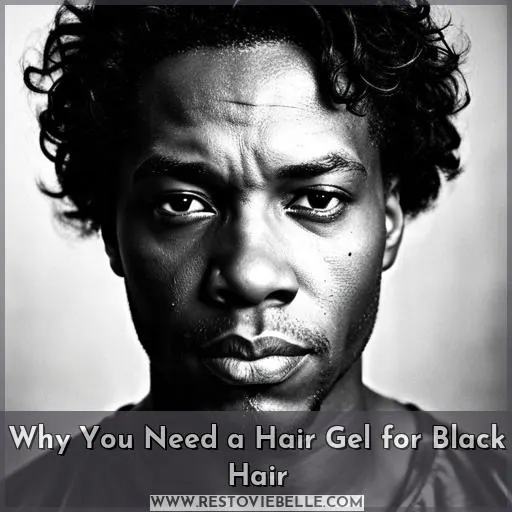 If you have curly or coily hair, using a hair gel can help define and enhance your natural curls while providing long-lasting hold, shine, and protection from damage. Hair gels for Black men's hair come in various forms to suit different needs. Lightweight gels offer a subtle scent with no flaky residue, such as Shea Moisture Gel or Taliah Waajid Gel, which helps define curls and hydrates without alcohol.
For strong hold products, like Paul Mitchell Super Clean, provide maximum hold, shine, and texture with its buildable control, leaving a touchable finish. Hicks Total Transformations is one of the best choices for strong holds due to its non-greasy formula that smoothens frizzes without leaving any flaking behind.
Stylers, such as Design Essentials, add polished textures, while Briogeo Curl Charisma smooths down cuticles, sealing in moisture and giving intense shine to each curl strand, all while being sulfate-free! Kinky Curly provides softness, body, and extra definition, giving naturally looking locks that'll last all day long.
Choosing the Best Hair Gel for Black Hair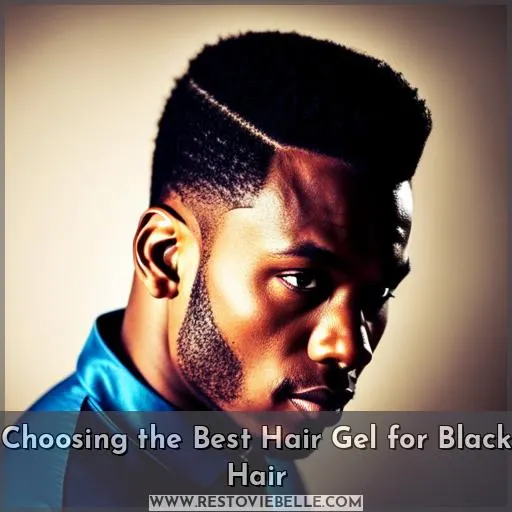 When it comes to styling black hair, the hairstyle, hair type, and texture of your locks play an important role in choosing a gel. Different gels offer varying levels of hold, so you can pick one that suits your needs best.
It's essential to choose wisely as the wrong product can cause matting or cardboard-like effects that are hard to repair.
Hairstyle
When styling black men's hair, choosing the right gel is key to achieving your desired look. Moisturizing techniques, like using the LOC method and hot oil treatments with emollients such as shea/cocoa butter or oils, can help nourish hair.
Additionally, silicone-free gels that provide light to medium hold are ideal for natural styles. They don't run the risk of matting or creating a cardboard effect. Curl enhancing products from brands like Cantu, As I Am, and Tgin can also be used daily without any sulfates or parabens.
Experimenting with different products until you find one that works best for your individual style will ensure you get maximum definition every time.
Hair Type
It's important to consider your hair type when selecting a gel for black men's hair. Different types of curls and textures require different holds and finishes. For example, afro-textured hair works best with light gels that promote natural styles, rather than strong gels that can lead to matting or the dreaded cardboard effect.
Moisturizing oils like castor and argan penetrate deep into the scalp using the LOC Method. Hot treatments further nourish strands, while durags help retain moisture during sleep.
Natural styles are ideal for afro coils. Avoid combing with strong hold products, as this increases the risk of knotting or the cardboard effect. Start off small! Read labels carefully, then experiment until you find what works best for your unique type of curl.
Hair Texture
Discover the perfect gel to define and elongate your curls while hydrating and taming frizz! When it comes to styling black hair, using light gels is most beneficial as strong gels can cause matting and cardboard-like effects.
Use hands or a wide-tooth comb instead of a brush for afro coils, which provide volume.
Moisturizing oils, such as castor oil, are great for nourishing locks without weighing them down. Use the LOC method when applying them to damp hair. To prevent damage from occurring, try out simple natural styles like wash 'n go's, updos, or pulled back styles that enhance curls without causing damage.
Avoid alcohols in products and always read labels carefully before purchasing any product.
Gel Hold
No matter the style you're striving for, choosing a hair gel with the right hold is key to achieving your desired look. Look for moisturizing oils like castor and argan oil that can penetrate and provide moisture without weighing down strands.
Light gels are best suited for natural styles, while strong gels should be used sparingly as they could lead to matting or a cardboard effect.
For those with Afro curls, opt for light-medium hold products that help define coils without ruining them. To enhance curls and avoid damage, use simple natural styles. Pick good products tailored towards your individual hair type.
Top 7 Hair Gels for Black Men's Hair
Black men's hair is often difficult to manage and needs special care. When it comes to finding the right gel for your locks, you've got plenty of options – from SheaMoisture Gel, Taliah Waajid, Paul Mitchell Super Clean, Hicks Total Transformations, and Design Essentials to Briogeo Curl Charisma or Kinky Curly.
Each has its own unique advantages that can help define curls while providing a strong hold with minimal flaking or buildup.
SheaMoisture Gel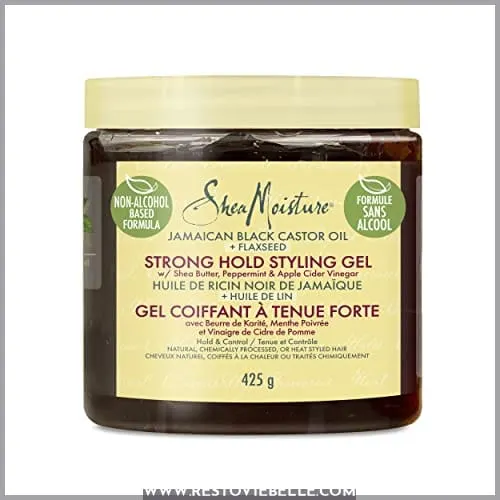 View On Amazon
Feel the luxury of SheaMoisture Gel, enriched with Jamaican Black Castor Oil, to define and smooth curls while controlling frizz and adding shine. Formulated with shea butter, peppermint, and apple cider vinegar, this paraben-free gel can be used for twisting, braiding, wash 'n go styles, updos, or pulled back styles.
To get maximum hold plus added texture & shine, try Paul Mitchell Super Clean Professional Strength Hair Gel. It is sure to keep your style intact all day long while leaving a touchable finish without any flaking or residue left behind.
Hicks Total Transformations provides flexible hold along with a non-greasy lightweight formula that smoothens flyaways & frizz, giving you a sleek look full of polish & control over unruly hair.
For natural-looking definition, Design Essentials offers firm holding power, taming wild strands into place while imparting intensive shine throughout the locks. It also helps protect against damage from external elements like heat styling tools, etc.
Finally, Briogeo Curl Charisma pampers curly/wavy hair types (2A – 3C), providing light-medium hold plus nourishment due to its 93% naturally derived ingredients such as rice amino acids, quinoa extract, and keratin amino acids.
It strengthens each strand, promotes curl formation, locks out moisture, increases elasticity, smooths the cuticle, and protects against breakage. It guarantees shiny, soft, hydrated locks free from sulfates, silicones, phthalates, artificial dyes, gluten, cruelty, etc.
Lightweight styling gel enriched with Jamaican Black Castor Oil
Defines curls controls frizz adds shine
Paraben-free
Maximum hold w/ high shine bold texture
Non-greasy formula
Natural-looking definition
Nourishing ingredients
Can leave hair crunchy if too much product is used
Expensive compared to other products
Strong gels have a high risk for matting/cardboard effect
Taliah Waajid
View On Amazon
Try Taliah Waajid's incredible styling gel and experience maximum hold, definition, moisture, and shine for your curls like never before. Infused with natural ingredients such as Shea Butter, Peppermint Oil, and Apple Cider Vinegar, this 8 oz gel won't cause any flaking or build-up while providing long-lasting protection from the elements.
It has a paraben-free formula that is cruelty-free too, making it perfect for anyone looking to keep their curls in check without compromising on quality! This styling product gives you flexible control, so you can shape your hair into almost any style imaginable without worrying about it becoming stiff or crunchy afterwards.
Maximum hold & definition
Long-lasting protection from the elements
Paraben & cruelty-free
Can make hair feel crunchy if used in large amounts
May not provide enough hold for highly textured hair
Works best when applied to soaking wet hair
Paul Mitchell Super Clean
View On Amazon
For that bold, lasting style, Paul Mitchell Super Clean is the perfect choice. This high-grade styling product offers maximum hold and texture for any look you desire. With a firm hold and high shine finish, Super Clean provides buildable control to keep your hair in place all day long.
The touchable finish won't leave behind any residue or crunchiness either! You'll be sure to strut around with confidence, knowing your hair will stay put even through windy days or active activities.
Maximum Hold & Texture
Buildable Control
High Shine Finish
Touchable Finish
Professional Strength – Not Recommended For Lightweight Hair
Hicks Total Transformations
View On Amazon
Reap the benefits of strong hold and control with Hicks Total Transformations; its lightweight, non-greasy formula will give you a sleek, polished look. This professional strength product ensures your style won't go anywhere for hours on end.
It has buildable control and a touchable finish to create the perfect look and is ideal for short to medium styles.
Plus, it's cruelty-free and vegan-friendly, so you can feel good about using this product in addition to looking great! Enjoy natural-looking hair without any flaking or residue left behind when washing out the gel – just make sure not to use too much as it could leave your hair feeling crunchy if used in large amounts.
Provides strong hold & control
Buildable Control & Touchable Finish
Lightweight Non-Greasy Formula
Cruelty-Free/Vegan Friendly
No Flaking Or Residue Left Behind When Washing Out
Can Leave Hair Feeling Crunchy If Used In Large Amounts
Design Essentials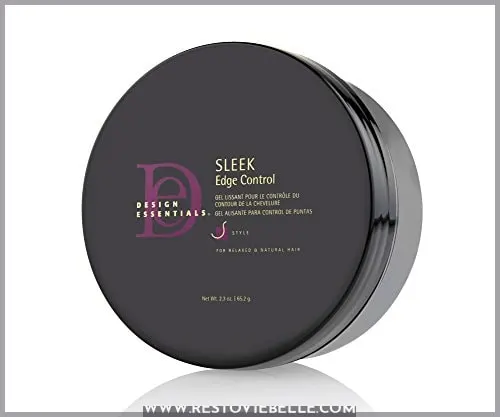 View On Amazon
Design Essentials hair gel offers a firm hold to tame unruly locks while adding intense shine and polish for an effortlessly styled look. Perfect for those looking to control frizzy hair or add a bit of shimmer, this styling product controls frizz and smoothens strands.
With its buildable control and touchable finish, you can create the perfect style that will last all day long without flaking or residue left behind.
Get ready to experience beautiful texture with Design Essential's lightweight formula that won't weigh your locks down – just the sleekness you're after!
Firm hold tames unruly hair
Moisturizes & smoothens
Adds shine & polishes styles
Can leave a crunchy feeling if used in large amounts
Lightweight, so you may need multiple applications
Briogeo Curl Charisma
View On Amazon
Try Briogeo Curl Charisma for a lightweight hold that will define and enhance your curls, leaving them shiny, soft, and hydrated. This 93% naturally derived gel is formulated with key ingredients like rice amino acids, quinoa extract, shea butter, and tomato fruit ferment to strengthen strands while locking out moisture.
It also helps promote curl formation while increasing elasticity as well as protecting against damage.
Light-medium hold
Long-lasting definition
Natural-looking shine & texture
Superior movement
Can leave hair crunchy if used in large amounts
Expensive
Kinky Curly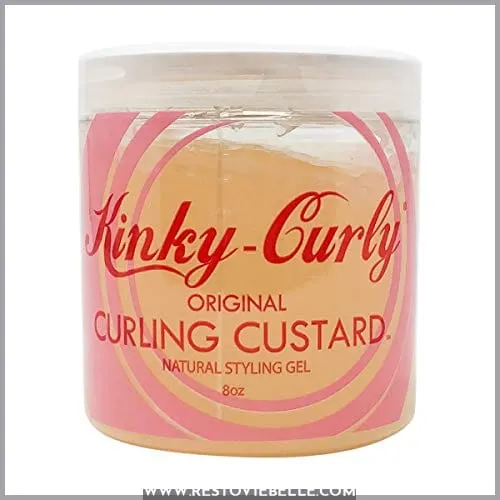 View On Amazon
Experience the ultimate hold and shine with Kinky Curly — a lightweight, natural product that will help define your curls while keeping them hydrated all day. Perfect for anyone looking to enhance their waves or curls without any harsh ingredients or sulfates, this family-owned business has been hand-crafting cruelty-free, vegan hair care products in the USA since 2008.
Kinky Curly's unique formula is designed specifically for curly strands of all types and textures. It won't weigh down your hair but rather provides softness, body, and shine. It also seals in moisture while smoothing out the cuticle to eliminate frizz.
Enjoy luxurious curl definition without ever worrying about greasy results again – just beautiful bouncy ringlets even after an active day outdoors!
Natural curl or wave pattern enhancer
Defines curls & removes frizz
Provides long-lasting hold & shine
No harsh ingredients or sulfates
Made in the USA only
How to Use Hair Gel for Black Men's Hair

You can unleash the power of your curls with the right hair gel for black men's hair. To get started, look for moisturizing oils like shea or cocoa butter, castor oil, and argan oil to nourish and penetrate strands while avoiding alcohols, silicones, and parabens.
Use a LOC method – liquid/oil/cream – which allows you to lock in moisture without weighing down your locks.
For natural styles, try light gels that won't cause matting or a cardboard effect. Use hands or wide-tooth combs instead of brushes when styling afro coils as they offer more volume than combing does. When using strong hold gels, start small as too much can lead to knotting and damage.
Finally, remember that simple styles generally work better on afro-textured hair.
Tips for Maintaining Healthy Hair With Gel

Maintaining healthy black men's hair with gel requires a careful balance of the right products and technique. For instance, using something like Taliah Waajid Gel can help define curls while nourishing them—just like keeping an eye on a ship's helm keeps it sailing steady.
Here are three tips for maintaining healthy hair with gel:
Use moisturizing oils such as castor or argan oil to penetrate and add moisture without weighing down your locks—try the LOC method.
Wear durags when necessary to prevent moisture loss from evaporation or being washed away in showers/pools, etc., but remember to clarify every few days to remove buildup caused by product use.
Select products that will nourish your strands rather than damage them; those free of sulfates, parabens, and mineral oil work best—Cantu, As I Am, and Tgin are good options! The key is applying small amounts of strong hold gels onto dampened hair daily and washing out fully afterward so as not to build up over time, which can lead to dryness and breakage.
Frequently Asked Questions (FAQs)
Does using hair gel for black men's hair increase hair growth?
Using hair gel can help to define and lock in moisture, giving your curls a polished look while nourishing your hair. Depending on the ingredients, it can also promote growth with its hydrating properties – but be sure you're using one that won't cause buildup or dryness.
Are there any hair gels specifically made for black men's hair types?
Yes! There are a variety of gels specifically designed for black men's hair types. Choose one that fits your hairstyle goals, hair type, and texture for the best results. Consider natural ingredients and products free from alcohols, sulfates, and parabens to keep moisture locked in and curls defined without buildup or damage.
Can hair gel for black men's hair be used on other hair types?
Yes, some hair gels made for black men's hair can be used on other hair types. For example, a light hold gel like Ideal provides moisture and a strong hold without causing buildup or dryness. As with any product, read labels carefully to ensure it meets your needs – then experiment! Let the power of creativity guide you towards definition and liberation, achieving beautiful results no matter your hair type.
How often should hair gel for black men's hair be used?
Use hair gel for black men's hair sparingly and as needed. Utilizing a product with natural ingredients, like Shea Moisture Gel, will prevent buildup and dryness while still providing a strong hold. Clarify regularly to ensure the style looks freshly done every time! Metaphorically speaking, use it as you would any other accessory; strategically in order to make a powerful statement without saying anything at all.
Are there any risks associated with using hair gel for black men's hair?
Using hair gel for black men's hair can risk styling damage if not used properly. When choosing a product, consider hairstyle goals and type/texture; avoid strong gels to prevent matting or a cardboard effect.
Apply lightly with hands, a comb, or a pick to define curls without ruining them. Let the hair air dry for best results! Nourish strands with natural ingredients like shea butter and oils; clarify regularly to remove buildup and maintain moisture.
Conclusion
With the right knowledge and products, black men can now have the hair of their dreams. From the curly and kinky coils to the more natural styles, there is a hair gel out there perfect for each look. From SheaMoisture to Kinky Curly, these top seven gels offer the hold and definition needed to create the perfect style.
Understanding the needs of black hair and learning about the different gels available will help determine the best product for the job. With a little experimentation and a few tips, every black man can find their perfect hair gel for long-lasting, natural-looking styles.
So, if you're ready to take your hair game to the next level, grab one of these hair gels and show off your style with confidence!