This site is supported by our readers. We may earn a commission, at no cost to you, if you purchase through links.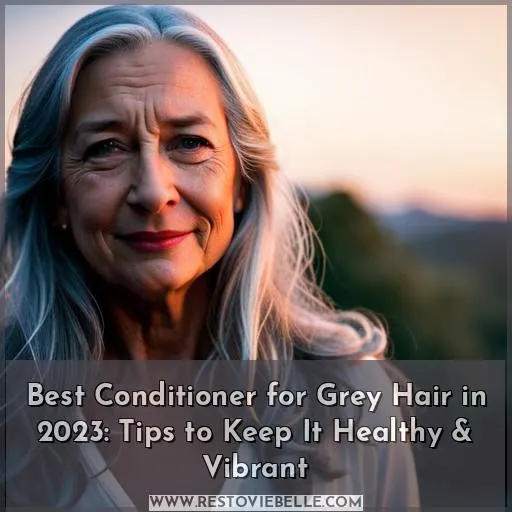 Letting your hair go grey can be a liberating experience. As you move away from regular dyeing, product selection and maintenance become even more important to ensure that your silver strands remain healthy and vibrant.
With ingredients formulated specifically for grey locks, these special products are designed to keep brassy tones at bay while adding gentle moisture back into the mix.
So if you're looking forward to freeing yourself of all those dyes yet still maintain beautiful tresses, then look no further than our guide on finding the best conditioner for your grey mane this year!
How to Select the Best Conditioner for Gray Hair

Choosing the right conditioner for gray hair can be a tricky task. To ensure your locks stay healthy, moisturized, and toned while neutralizing any unwanted brassiness, look for products specifically designed to address these needs.
Pay special attention to the ingredients listed on labels to make sure they are free of mineral oils, sulfates, silicones, or parabens as well as fragrances that may dry out your strands.
Moisturizing
For gray hair, you need to look for conditioners that offer moisturizing benefits as well as toning and nourishing properties to keep your strands healthy and vibrant!
Look for products with natural oils like jojoba or argan oil, proteins like keratin or collagen, plus hydrolyzed silk and amino acids. Avoid alcohols, sulfates, silicones, and parabens. Seek out deep hydrating formulas with color-enhancing pigments and frizz control.
Bond repair is important too – protect the cuticle layer by adding necessary nutrients while maintaining a good pH balance of 5-6.
Toning and Neutralizing
Choose a conditioner with toning and neutralizing properties to keep your grey hair looking vibrant. Look for products containing natural moisturizing oils, such as plant or amino acids, along with silver pigment that helps reduce yellow undertones without drying out the hair.
Color depositing shampoo and gloss can also help maintain color in-between treatments while root cover up will blur lines between colors during transition stages.
For gray hair, purple pigments are essential for nourishing strands while fighting brassiness, so opt for brands featuring these tones like Aveda and Davines, which offer strong silver pigment options but may be expensive or have added perfume scents.
Ingredients
When selecting a conditioner for gray hair, look out for ingredients such as natural moisturizing oils and purple/blue pigments to help neutralize brassiness. Consider plant-based ingredients like organic honey, amino acids, and essential oils that will boost hydration levels without compromising the bonds of your hair strands.
To get an extra dose of toning benefits, opt for leave-in conditioners or purple shampoos with cool undertones. These products are especially designed to counteract any unwanted yellowish hues in gray locks.
For maximum heat protection while styling, also include protein-rich bond repair products into your routine.
What to Do About Brassy Gray Hair

Combat brassiness in gray hair with color-depositing shampoos and conditioners that neutralize unwanted tones while nourishing strands.
Invest in a purple shampoo or conditioner to remove brassy tones from gray hair. Pantene Age Defy Shampoo is specifically formulated for aging grey locks and uses violet pigments to help restore vibrancy.
Incorporate natural moisturizing oils into your routine. Olive oil, jojoba oil, and coconut oil are all effective choices when it comes to protecting and restoring dry coarse grays.
Try root cover-ups if you want an extra boost of confidence during the transitioning process.
Protect against heat damage by using lower temperature tools on your tresses or investing in a silk pillowcase for nighttime care.
In addition, opt for products without sulfates, parabens, and other harsh chemicals that can strip away moisture from fragile grey strands. For optimal toning, leave color depositing treatments on for 2-3 minutes before rinsing off thoroughly with lukewarm water.
Follow up with deep conditioning once weekly, as well as regular hydrating masks throughout the month.
Why Your Hair Changes Texture When It Goes Gray

As your hair grays, you may notice the texture becoming coarser and drier. According to research conducted by WebMD, over 50% of people in their sixties experience this change. Grey hair is especially prone to dryness and damage due to its lack of protective melanin.
To maintain healthy silver strands, it's important that you provide plenty of moisture with regular deep conditioning treatments. You can also try using a heat protectant spray before blow-drying or curling ironing your grey hue to minimize dryness caused by heat styling.
Color depositing shampoos are great for maintaining vibrancy, while root coverage products allow you to blend away gray roots between color appointments. When choosing these products, make sure to select ones with nourishing ingredients and free from mineral oils, sulfates, silicones, parabens, and phthalates.
These harmful ingredients can cause further damage if left on too long or used frequently enough, even at low levels.
The best way to keep grey tresses looking fresh is through consistent hydration while minimizing heat exposure. You can also utilize a shampoo specifically formulated for gray hair, such as Jhirmack Silver or Pantene Age Defy Shampoo.
Pair it with an ultra moisturizing conditioner like All About Curls Divine Treatment, an oil-based product filled with botanical extracts and natural oils.
Are There Good Shampoos and Conditioners for Grey Hair?

If you're looking for the best shampoo and conditioner to keep your natural gray hair healthy, then look no further! There are a few great products that can help nourish your strands while neutralizing brassiness.
From Clairol's tones to Aveda's moisturizing formula, find out which ones will work best for you.
Best Shampoos for Natural Grey Hair
Discover the perfect shampoo to keep your natural grey hair looking vibrant and healthy. Look for sulfate-free shampoos that are designed specifically for grey strands, as they help minimize yellow and brassy tones.
For extra color deposit, pick a toning shampoo like Jhirmack Silver or Finesse Silver, which helps provide extra brightness and shine without product buildup.
To protect from heat styling damage, try using Keracolor's Heat Protectant Serum before blow-drying your hair.
Finally, Pantene Age Defy Shampoo is great at removing unwanted brassiness with its bond repair formula plus added hydration.
Best Conditioners for Grey Hair
Choose a nourishing conditioner to help keep your silver locks looking their best. Moisturizing, smoothing, and color-enhancing products are key, as is frizz control. Avoid mineral oils, silicones, and sulfates for optimal results. You can use natural oils such as jojoba or argan instead of these harsh ingredients to nourish hair while adding shine and softness without weighing it down.
Silver toning shampoos with strong pigments like Davines' can also be beneficial in neutralizing brassiness associated with grey hair when used weekly.
Extra Care for Grey Hair

If you have gray hair, it is important to take extra care of your locks. To keep your hair looking vibrant and healthy, try using Clairol Professional Shimmer Lights Toning Hair Mask, Better Not Younger Silver Lining Purple Butter Masque, or Matrix Total Results So Silver Triple Power Hair Mask.
Clairol Professional Shimmer Lights Toning Hair Mask
Clairol Professional Shimmer Lights Toning Hair Mask is the perfect choice for grey hair care. This color-depositing mask tones and strengthens while de-frizzing, repairing bonds, and nourishing the scalp – all without harsh sulfates or parabens.
With its unique blend of natural oils, it helps eliminate yellow tints from fine gray strands while adding a glossy shine to dry hair.
Better Not Younger Silver Lining Purple Butter Masque
Upgrade your daily hair care routine with the Better Not Younger Silver Lining Purple Butter Masque for luscious, moisturized locks. This masque contains a unique blend of natural oils and purple pigments to brighten grey hair while providing intense hydration.
Bond repair technology helps protect strands from damage.
Natural UV filters help protect against sun exposure.
Color depositing agents provide an extra boost of shine and color vibrancy.
And it's sulfate, paraben & cruelty-free!
Brightening results last up to 6 weeks when used in conjunction with Clairol Professional Shimmer Lights Toning Hair Mask, Pravana Pure Light, or Provoke Touch Of Silver.
Give yourself the gift of beautiful silver locks today!
Matrix Total Results So Silver Triple Power Hair Mask
Try Matrix Total Results So Silver Triple Power Hair Mask for a boost of moisture and to neutralize brassiness while toning your gray hair. Packed with natural oils and extracts, this conditioning mask offers protection against alcohol, sulfates, parabens, silicones, and drying alcohols – all without breaking the bank! Experience smoothness that's sure to turn heads as it redefines curls with protein strengthening while hydrating them.
Frizz will be gone forever too thanks to heat protection plus added silver toning without any perfume! Get ready for healthy-looking locks like you've never seen before.
Tips for Transitioning to Gray Hair

If you're considering transitioning to gray hair, the best place to start is with a trim. Then, add highlights or lowlights that will help blend your natural color and create dimension. Finally, proper maintenance of your gray hair is essential for keeping it looking healthy – this means regular conditioning treatments as well as using products specifically formulated for gray strands.
Get a Trim
Regular trims are essential when transitioning to gray hair as they help remove any split ends and create a healthy base for your new look. This is especially important if you have thin or damaged hair, so root cover-ups, bond repair treatments, color depositing shampoos/glosses, and heat tools can be used safely.
Try using natural oils such as coconut oil to nourish strands of gray hair; Jhirmack Silver Shampoo is one of the best conditioners for gray curly hair! Get regular trims every 6-8 weeks for healthier-looking locks that'll last longer with better coverage.
Add Highlights or Lowlights
Adding highlights or lowlights to your gray hair can help create a dimensional, salon-style look without the expense. Sun-kissed locks are easy to achieve with subtle hues around the face and by avoiding brassiness.
For optimal results, nourish strands through bond repairs and use heat tools sparingly. Also, consider sleeping on silk pillowcases for the best results. Achieving an effortless natural look is simple with these tips in mind.
Proper Hair Maintenance
In order to keep your silver locks looking their best, incorporate a daily conditioner into your hair care routine that is specifically formulated for gray hair.
Protect from heat styling by using low temperature tools and protecting the strands with thermal sprays.
Take supplements to strengthen and nourish the hair from within for healthier growth and vibrancy.
Shield against external aggressors such as sun exposure, pollutants, wind with protective creams or hats when outdoors.
Use color depositing shampoos or glosses in between salon visits to maintain intensity of color tones without fading out quickly.
Avoid mineral oils which can weigh down grey strands; instead, opt for natural moisturizing oils like plant oil or amino acids blends which will add shine & hydration while fighting frizz at the same time!
How to Achieve Bright and Healthy Gray Hair

Transform your gray hair with nourishing conditioners specifically designed to neutralize brassiness and add moisture for a beautiful, healthy look.
To get your desired color and shine, try these steps:
Use a color depositing shampoo or gloss to maintain the hue of your grey shade.
Incorporate bond-repairing products into your routine as this will help keep hair strong and prevent breakage at the scalp line, which can cause undue dryness in gray locks over time.
Massage oils onto wet strands before styling – they'll act as heat protectors while adding extra hydration that is essential for maintaining light, bright colors in grayscale shades!
Shield from sun exposure by wearing hats or applying SPF protection on days spent outdoors; UV rays are notorious for stripping away brightness from silver tresses!
With regular use of these tips, you can enjoy vibrant grey hues without worrying about dullness or brassy tones creeping back into sight again soon after application.
Frequently Asked Questions (FAQs)
What are the benefits of using a conditioner specifically for grey hair?
Using a conditioner specifically for gray hair can provide many benefits, such as neutralizing brassiness, enhancing color, and controlling frizz. It also helps to nourish and hydrate strands while protecting from sun damage. Moreover, it offers protection against dryness by using natural moisturizing oils instead of harsh chemicals.
How often should I use a conditioner for grey hair?
To get the most out of a conditioner for gray hair, use it at least once a week. It should be applied to dry hair and left in for two to three minutes for optimal toning effects.
Is there a difference between a conditioner for grey hair and regular conditioners?
Yes, conditioners specifically formulated for gray hair contain ingredients designed to neutralize brassiness and reduce frizz. These products often have a higher amount of moisturizing oils and purple/blue pigments compared to regular conditioners.
Are there any ingredients I should avoid when looking for a conditioner for grey hair?
When looking for a conditioner, avoid products with alcohol, perfume, silicone, or mineral oils. Choose ones that are moisturizing and have purple/blue pigments to neutralize brassiness.
Is it beneficial to use a toning shampoo in addition to a conditioner for grey hair?
Yes, using a toning shampoo in addition to a conditioner for gray hair is beneficial. Toning shampoos help neutralize brassiness and bring out the desired color tones, while conditioners provide nourishment and hydration.
Conclusion
Gray hair can be a beautiful thing, but it can also be difficult to maintain. Like a diamond in the rough, you need the right tools to get it to shine its brightest. Finding the best conditioner for grey hair in 2023 is key to keeping it healthy and vibrant.
Much like a treasure hunt, you need to search for conditioners that offer moisturizing, toning, and neutralizing properties, all without the use of harsh chemicals. Products like Clairol Professional Shimmer Lights Toning Hair Mask, Better Not Younger Silver Lining Purple Butter Masque, and Matrix Total Results So Silver Triple Power Hair Mask are all excellent options that will help nourish and protect your hair.
With the right tips, you can easily transition to a new head of healthy, bright grey hair – like a phoenix rising from the ashes.