This site is supported by our readers. We may earn a commission, at no cost to you, if you purchase through links.
A diffuser is the key to gorgeous, frizz-free curls and waves. Simply attach it to your blow dryer, then gently cup sections of damp hair in the diffuser's bowl. Allow your hair to air dry partially before diffusing, as this minimizes frizz. Work in sections, hovering the dryer several inches from your hair to avoid disrupting the curl pattern.
Diffuse until hair is about 80% dry, moving the diffuser bowl slowly along the hair shaft. Avoid rubbing or scrunching hair when diffusing, as this can lead to frizz. Be patient – diffusing damp hair can take 15-20 minutes.
But once you've mastered this technique, you'll have touchable, bouncy curls or loose waves that last all day. With the right diffuser method, everyone can achieve healthy, beautiful hair – the kind that looks effortlessly gorgeous and full of life.
Key Takeaways
Work in sections and diffuse hair to 80% dryness, moving the diffuser slowly to avoid frizz.
Prepare hair by hydrating, detangling, and styling with products before diffusing.
Use a heat protectant and focus the diffuser on curl clumps without breaking them up.
Gently break the curl cast once dry and avoid raking fingers through hair while diffusing.
Benefits of Using a Diffuser for Curls
The Drybar Bouncer Diffuser and Aquis Microfiber Hair Towel help define and enhance your curls while minimizing frizz and drying time. Shape healthy, hydrated curls by locking in moisture with the Bouncer Diffuser attachment and rapidly absorbing excess water with the innovative Aquis Microfiber Hair Towel that cuts drying time in half.
Drybar Bouncer Diffuser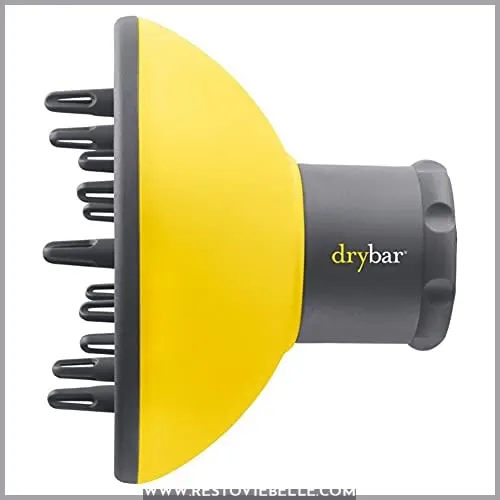 View On Amazon
Attach the Drybar Bouncer Diffuser to your blow dryer's nozzle on low heat to gently define your curls and reduce frizz. This universal diffuser broadens and slows down the airflow from your dryer to provide a gentle, even drying effect that minimizes frizz.
Made from durable plastic, its adjustable design fits Buttercup and Baby Buttercup dryers as well as most other brands.
Start drying your roots, then work down the hair shaft in sections. Tilt your head upside down and use your fingers to scrunch curls as they dry for extra volume. Avoid over-diffusing the ends to maintain moisture balance. Let hair air dry the last 20% for a flawless finish.
Fits most blow dryers
Adjustable grippy end
Reduces frizz in curly hair
Adds volume
May not fit Conair dryers
Could be small for extra long hair
Aquis Microfiber Hair Towel Ultra Absorbent Faster Drying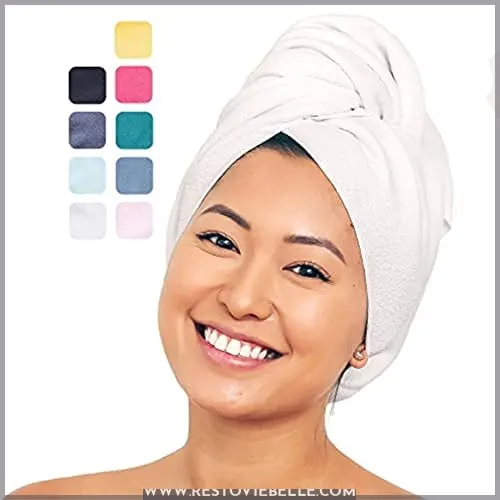 View On Amazon
After scrunching those luscious locks with the Drybar diffuser, wrap your precious curls in Aquis' quick-drying towel lest they frizz up into a poodle 'do. Crafted with Aquitex fabric, this innovative hair towel leverages the power of microfiber to gently wick moisture away.
Your hair will thank you for enveloping it in this ultra-absorbent cocoon that cuts drying time in half. Wave goodbye to frizz and friction damage as the towel works its magic. Reach microfiber nirvana as your curls emerge nourished, defined, and free of breakage.
Reduces hair drying time
Minimizes frizz and friction damage
Ultra-absorbent microfiber material
Hands-free wrapping technique
Small size may not fit extra long hair
Limited color options
Prepare Hair Before Diffusing

You're gently finger-detangling your hydrated hair and lightly scrunching in curl cream before reaching for the diffuser.
Start by generously hydrating hair in the shower, using a hydrating shampoo and conditioner. For low-porosity hair, consider a pre-shampoo treatment. Then detangle gently with a wide-tooth comb or fingers, avoiding excessive tugging.
Instead, wrap hair in a soft microfiber towel or t-shirt to absorb moisture. This reduces friction, preventing damage. Next, style wet curls with leave-in conditioner or curl cream, scrunching to encourage the natural curl pattern.
With hydrated, detangled, styled hair, you're ready to diffuse for maximum definition and shine. Avoid touching wet hair, and let hair partially air dry before finishing with the diffuser.
Follow these preparatory steps, and your curls will reward you with healthy bounce and frizz-free definition all day long.
Apply Styling Products to Wet Hair
To achieve the best curl definition when diffusing, you must properly prepare wet hair with the right styling products before drying. Carefully raking the optimal blend of leave-in conditioner, curl cream, or mousse through strands while soaking wet will allow for enhanced clump formation, frizz reduction, and touchable softness once dry.
The key is gently distributing the products from roots to ends, encouraging your natural curl pattern to form. Work in sections for easy, even coverage. Start at the nape of the neck, glide fingers and palms to disperse each product, then clip up before moving to the next section.
Continue until every strand is coated. Be mindful not to overdo it, as too much product can weigh down curls. Find the perfect balance through experimentation with versatile formulas catered to your hair's needs.
Once coated, do not touch or disturb curls until dry. This preserves definition for bouncy, touchable spirals that dazzle.
OGX Locking Coconut Curls Creamy Mousse
View On Amazon
Soaking your curls with OGX's coconut mousse ironically leaves hair feeling lighter, not heavier. Infusing its mousse with moisturizing coconut oil and shea butter means this formula actually boosts hydration instead of drying out thirsty ringlets.
Scrunching its whipped cream through damp spirals allows the rich ingredients to soak in and provide a touchable soft hold sans stiffness. Low porosity types prone to dryness and frizz especially benefit from the extra shot of nourishing elements.
While some caution crunchy residue if over-applied, using a conservative amount provides adequate curl control. The fluffy foam means you get airy bounce alongside defined coils. Unlike many botched store-bought mousses, this one truly does help maintain the natural spring pattern your curls were born to have.
Defines and tightens curls
Fights frizz and flyaways
Light, airy formula
Can cause slight crunchiness/stiffness if overused
May not suit very thick or coily hair
L'Oreal Paris Total Repair Protein Recharge Leave-in Conditioner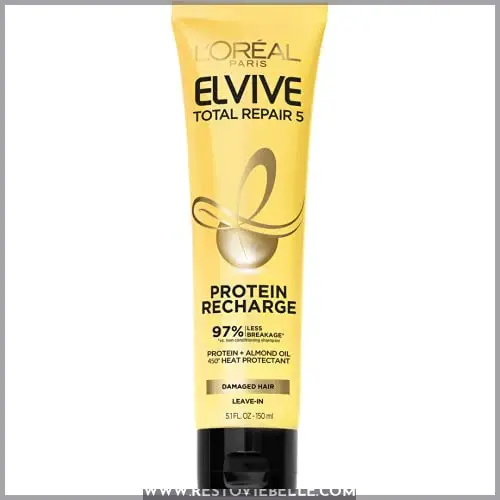 View On Amazon
Smooth L'Oreal Paris Total Repair Protein Recharge Leave-In Conditioner through your locks for heat protection and to nourish damaged strands. With almond oil and replenishing proteins, coat each strand, sealing in moisture and flexibility for your tresses.
Ideal after shampooing, comb this lightweight cream from roots to ends before heat styling. The formula penetrates deep to reinforce damaged areas, leaving hair remarkably stronger yet touchably soft.
With an alluring almond aroma, it shields against split ends and breakage while boosting shine. Allow your hair to transform in both look and feel, becoming silkier and easier to manage.
Pros: Lightweight, non-greasy formula; Heat protection up to 450°F; Softens and detangles hair; Suitable for all hair types; Repairs damage and protects hair.
Cons: Can potentially weigh down very fine hair; Not designed for significant styling hold.
Diffuse Hair Properly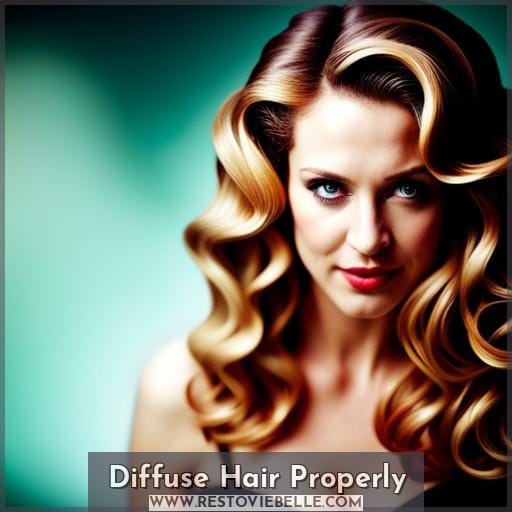 As curly hair starts to dry, grab your diffuser attachment and prepare to enhance those curls. Before using, mist hair with a thermal protectant to shield strands from heat damage. With the diffuser on low speed and heat, start at the roots. Gently cup sections of curls into the diffuser bowl, moving it around to distribute airflow.
Avoid raking fingers through hair, which causes frizz. Once roots feel dry, hover diffuse the lengths and ends, moving the diffuser to encourage curl formation. When hair is 80% dry, stop diffusing. Let your curls air dry the rest of the way for the best results.
You'll be left with hydrated, defined curls that frizz and heat styling can't touch. For extra nourishment, try adding a couple drops of lavender or rosemary essential oil into your palm and scrunching gently through the ends before diffusing.
Maintain Healthy Curls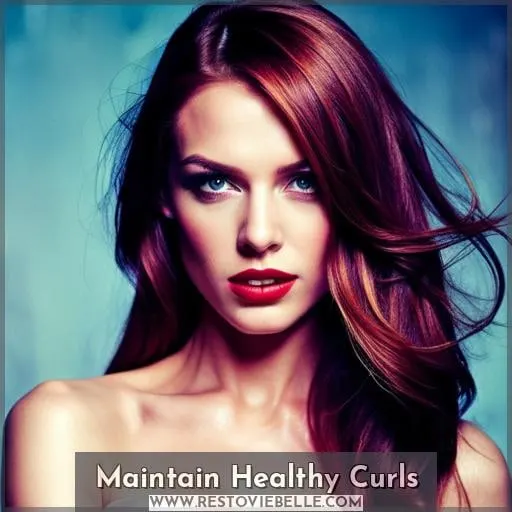 You'll love lusciously defined locks when lightly scrunching saturated strands after diffusing. Maintaining hydrated, frizz-free curls requires curl-conscious techniques. Gently scrunch sopping strands saturated in frizz-fighting formulas.
Let hair partially air dry before diffusing for 10 minutes on low heat. Focus the diffuser on roots initially before hovering around damp ringlets.
The key is even, consistent air exposure to avoid frizz-inducing friction. Stop diffusing just before hair fully dries. Hair still slightly damp perfectly sets springy curls without rigidity. Release curls from diffuser and let air dry the last 15 minutes.
Essential oils like lavender and chamomile restore moisture when misted over curls. For an added shield, try protective styles like braids or gentle updos on day two. When craving extra sheen, smooth a pea-sized dollop of argan oil over dry spirals.
With a delicate touch and the right techniques, your coils will boast lively definition and sensational shine.
Expert Tips for Diffuser Success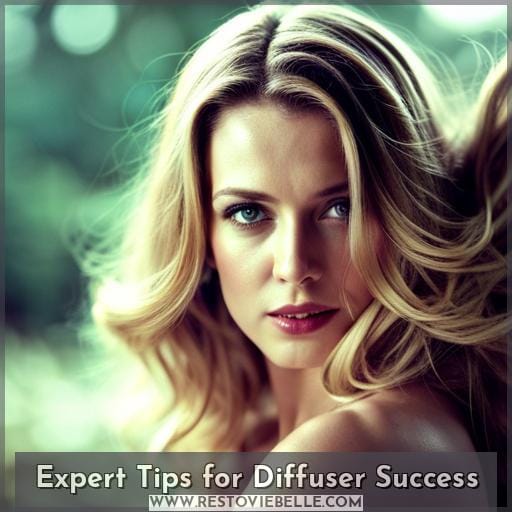 Cause you wanna perfect that curly hair routine, get the lowdown from hair gurus on must-know techniques for flawless curls.
Use a leave-in conditioner or curl cream before diffusing to define curls and prevent frizz.
Invest in a thermal protecting spray or serum. Applying before heat styling shields strands and maintains moisture.
Try pixie diffusing – drying hair in sections for better curl separation and definition.
When finished diffusing, use your fingers to gently break the cast and bring out those touchable, bouncy curls.
Following expert guidance helps you discover the right styling products and diffusing methods for your hair's needs. Consistent techniques like using a heat protectant, drying in sections, and scrunching out the crunch elevate your curl game.
With the right tools and know-how, you'll achieve healthy, flawless curls every day.
Conclusion
Achieving perfect, defined curls with a diffuser takes time, practice, and finding the right techniques and products for your hair. Don't get discouraged if it doesn't come naturally at first. Embrace the journey of learning how to best accentuate your natural waves and curls.
Think of each day as an opportunity to try a new diffuser trick. With an open mind, patience, and the willingness to experiment, you'll find a custom routine that brings out your gorgeous, healthy curls.
Trust the process to guide you in mastering diffusers for beautiful, frizz-free results.