This site is supported by our readers. We may earn a commission, at no cost to you, if you purchase through links.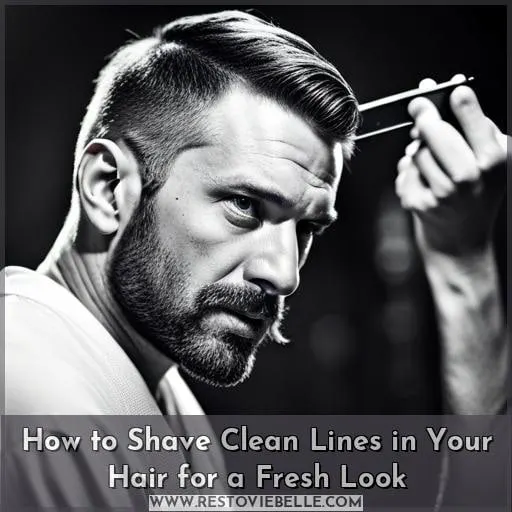 You've come to the right place if you're looking to shake things up and get creative with your hair. Shaving sharp, clean lines into your hair can give it an edgy, stylish look – whether it's a subtle detail or bold design.
As your barber, my goal is to help bring out your confidence and individuality. Let's talk about how we can work together to craft the perfect tramlines or designs to compliment your features.
I'll walk you through the process so you can maintain your fresh style at home. With some clippers, sharp focus, and trust between us, we'll have you strolling out the door with a head-turning new look in no time.
What do you say, shall we get started?
Key Takeaways
Invest in quality tools like precision clippers for clean, sharp lines.
Use shaving gel and make gentle motions for smooth results.
Maintain lines with regular trimming as your hair grows out.
Treat irritation and prevent bumps with proper aftercare products.
Deciding Where to Shave Tramlines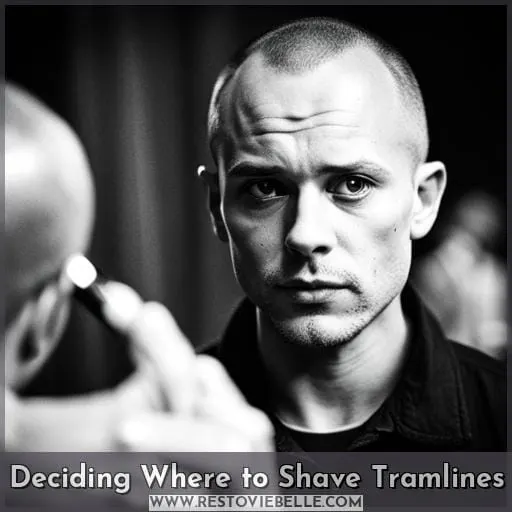 You'll wanna choose where to put your tramlines on your short hair before grabbin' the clippers. Find some inspiration from celebs rockin' fresh linework, or get creative with your own tramline design.
You can stick to classic hairline patterns, or get funky with curves, zigzags, or words shaved into your fade. Think about how to accentuate your face shape and natural edges. For DIYers: Grab a steady hand and go slow, shaving lines in the direction of growth.
As an experienced barber, I'll use my razor technique to create precise shave lines that last. With the right tools and shaving tips, you'll be stylin' some sleek tramlines in no time. Just prep your canvas and trust my expertise – together we'll design the perfect lines to make ya stand out.
Choosing Your Design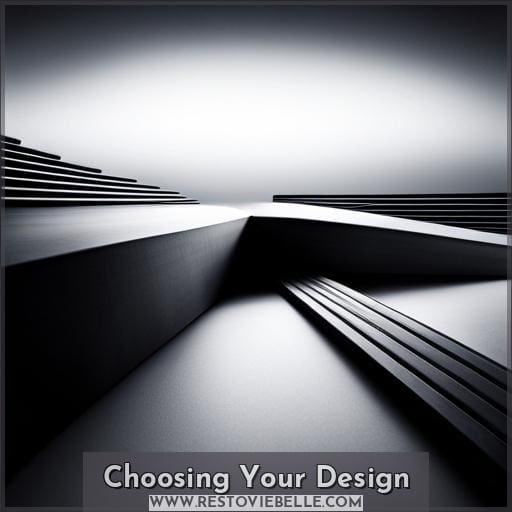 When shaving tramlines into your short hair, you have plenty of creative shape options from which to choose. Ridges, straight lines, and intricate patterns are all great ways to express yourself through these precision hair tattoos.
Just be sure to select a steady-handed barber experienced with clippers to avoid any mishaps.
Tramline Shape Options
How about getting creative with some cool shapes like zigzags or stars for your fresh cut? With a steady hand and a sharp razor, you can carve precise arcs, waves, or even your initials into a fade. Or try something wild like a lightning bolt or yin-yang symbol if you're feeling funky.
Just take it slow and remember—straight lines are easier than curves for beginners. Go simple at first, then get fancy with practice. You'll be rocking razor-sharp hair tattoos in no time.
– Bikini Line Shaving Steps
Before the tramlines, gently scrub your bikini line with the Dove body scrub to get rid of any dead skin. Exfoliating opens your pores for a closer shave. Use Gillette Venus Shave Gel for sensitive areas.
It lifts and moisturizes. Shave in the direction of hair growth with short, steady strokes. Take care around bones. Rinse with cool water. Apply Bikini Zone After-Shave to prevent redness and irritation.
– Preventing Irritation Techniques
After perfecting your design, keep your skin silky by exfoliating gently and shaving lightly.
Exfoliate the day before or morning of with a gentle scrub to reveal smooth skin.
Use a shaving cream or gel to provide a protective barrier when shaving.
Finish with a skin-soothing, antimicrobial aftershave to ward off irritation.
Gentleness while grooming prevents razor bumps. Buffing away dead skin cells first, then gliding the blade lightly completes the ritual by calming just-shaved skin.
Trimming the Area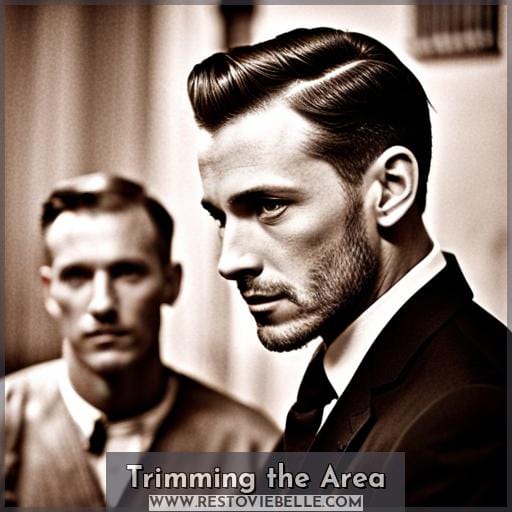 Once you've envisioned the unique tramlines to express yourself, gently trim the short hair with Bikini Zone's soothing shave gel and precision clippers. As an experienced barber, I rely on steady hands and clipper control to create the clean canvas for your personalized hair designs.
With precise trimming techniques, I shape and taper the hairline artistry, skillfully crafting the ridges, lines and patterns you desire.
But first, I prep the skin and prime the clippers for optimal results. Shaving gel lifts each hair while the clean razor glides across gently. Whether geometric lines or curvy shapes, I pride myself on executing intricate details that highlight your individuality.
With my hair tattoo talents, you'll leave with a smooth shave and bold style to show off.
Steadily Shaving the Lines

Gently glide the clippers along the area to evenly shave the design. As a skilled barber with expertise in hair art techniques, I recommend taking your time to get clean, precise lines. Make sure you're using quality clippers with sharp blades to get that sharp distinction between shaved and unshaved hair.
Hold the clippers at a slight angle, applying gentle pressure as you follow the contours of your pre-determined design. For straight lines, keep your movements steady, slow and intentional. For curved lines, maintain a light touch to achieve the rounded shape.
Precision is key. Avoid quick jerky motions and let the clippers glide effortlessly along the path. Patience and practice will lead to stunning clipper designs and flawless shaving lines in hair. This adds artistic flair and personality to any hairstyle. With proper tools and care, you can create next-level grooming.
Allowing Lines to Grow Out

To fade your tramlines, let the shaved skin grow out flush and even. As the shorter hairs resurface, slowly reduce the contrast by trimming the longer sections with clippers. You can maintain the lines more subtly this way if you're not ready to lose them completely.
I suggest trimming evenly about once a week to keep a fresh new look as the shaved art blends back into your natural hair growth.
With patience, you'll find the lines turn into a shadow that blends in over a few weeks. Don't worry about perfecting the edges too often or it'll never grow out smooth. Let me know if you need styling tips when it's time to remove your hair tattoo entirely.
Prepping Your Bikini Line

Scrub your skin baby-soft before artfully shaping the landscape below.
Use a gentle scrub free of microbeads a few days before shaving to exfoliate.
Shave after a warm bath or shower to hydrate skin and follicles for a closer shave.
Apply a moisturizing shave gel, oil, or cream to lubricate the skin.
Shave in the direction of hair growth using short, light strokes.
Rinse with cool water to close pores, then pat dry and apply toner and moisturizer.
When prepping your bikini line, be sure to select a fresh razor and properly hydrate for a smooth, irritation-free shave. Exfoliate beforehand and finish with soothing, nourishing care. With this routine, you'll reveal soft, touchable skin and confidently style your most intimate canvas.
Shaving Technique for Bikini Line

You gotta focus for that straight edge. Mastering a bikini shave technique helps protect skin after waxing. It reveals feminine confident beauty – feeling glamorous in your body art. Begin by selecting a single blade razor, the sharpest for precision lines.
Exfoliate everyday to reveal youthful skin texture, smoothing ingrown bumps. Softly shave in the direction the hair grows, pulling the skin taut to expose follicles. Rinse the blade often during the session to prevent clogs. Finish shaving the outside of the labia majora, and inside to smooth the pubic mound.
Avoid over-shaving which risks irritation and razor burn. Complete the beauty ritual by massaging aloe vera balm to seal in moisture. Schedule wax appointments before major events or an island vacay to bare your bikini body.
This softens any stubble regrowth. You're a radiant goddess, rocking your custom style.
Investing in Quality Tools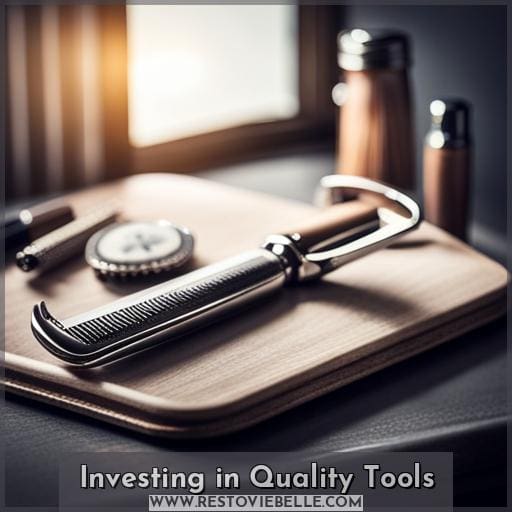 You've made a wise choice by investing in professional tools like Equinox Hair Cutting Scissors. The tool you choose dictates the precision of the result. With shaving intricate designs into short hair, a steady hand and reliable equipment are crucial.
The craftsmanship of the shears directly impacts their sharpness and durability, so it's worth investing in superior tools made from quality materials. Equinox uses surgical-grade Japanese steel to produce an extremely sharp, long-lasting blade.
The ergonomic handle ensures comfort and control when working on delicate hair tattoo designs. With tools built for reliability, you'll achieve clean lines and flawless results. Shaving designs into hair takes skill, so arm yourself with shears engineered for precision.
Your clients will appreciate the careful attention paid to each artwork etched in their hair.
Preventing Irritation

Using Bikini Zone's medicated creme daily protects against irritation, razor bumps, and ingrown hairs.
After delicately removing hair, nurture skin with this healing elixir. The cooling menthol soothes heated skin while the anesthetic lidocaine provides quick relief from any stinging.
Smooth it on right after hair removal while skin's still damp, allowing the creme to penetrate pores.
Exfoliate gently before shaving to prevent ingrown hairs. Opt for a sharp, clean razor and shaving cream to minimize irritation. Handle skin gently, shaving in the direction of hair growth using light, short strokes.
Applying Bikini Zone Medicated Crème completes the ritual, sending skin into restful recovery.
Treating Razor Burn and Ingrown Hairs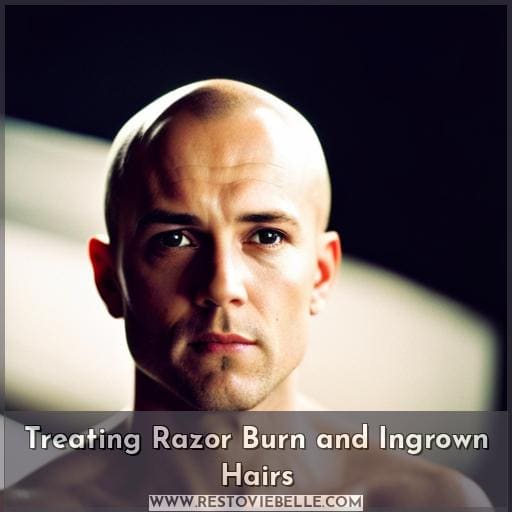 When grooming intimate areas, moisture and soothing formulas are your friends. After hair removal in the bikini zone, use Aveeno Daily Moisturizing Body Wash and pat dry before applying Amazon Hydrocortisone Cream to any irritation or inflammation.
Then follow with Bikini Zone Medicated After Shave Creme daily to prevent bumps and ingrown hairs while soothing the skin.
Aveeno Moisturizing Body Wash
After shaving, soothe your skin with Aveeno's moisturizing body wash. This daily essential hydrates with oat extract, locking in moisture without stripping sensitive areas. The rich foam cleanses gently, leaving skin nourished and smooth. Aveeno is a trusted brand for irritated, bump-prone skin.
This dermatologist-recommended wash nourishes as it cleanses for healthy, well-cared-for skin. Pair with the Daily Moisturizing lotion for optimal soothing and hydration benefits.
Amazon Hydrocortisone Cream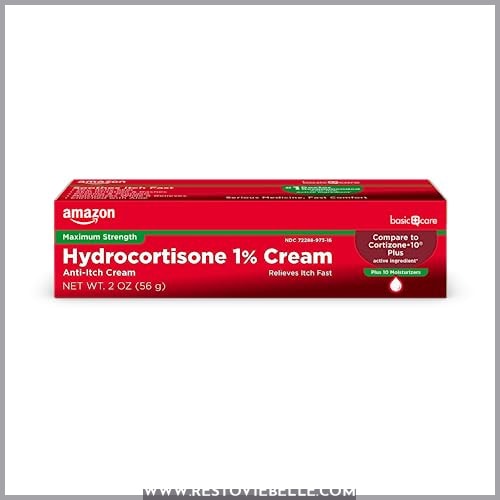 View On Amazon
Rub Amazon's Hydrocortisone Cream onto irritated skin for fast relief from razor burns or ingrown hairs. The 1% hydrocortisone formula reduces inflammation and itchiness quickly, while nourishing aloe and vitamins soothe and moisturize the area.
This affordable cream is ideal to keep on hand for use after hair removal, especially on sensitive skin that's prone to irritation from shaving or waxing. It washes off easily with no residue, providing targeted relief so you can continue grooming smoothly.
Fast-acting itch relief
Soothes irritation
Affordable pricing
Temporary relief, not a cure
Can thin skin with prolonged use
Potential side effects with overuse
Bikini Zone After Shave Creme
You'd better slather on some Bikini Zone cream to stop the stinging and soothe your irritated skin after hair removal.
Helps numb razor pain fast
Prevents itching and redness
Clear gel won't stain clothes
Dermatologist recommended
Soothes bumps from waxing too
I know shaving can lead to irritation, especially in sensitive areas. But don't worry – just reach for the Bikini Zone after-shave cream. The menthol cools, while the lidocaine numbs. It quickly calms razor burn, ingrown hairs and anything that makes your skin say Ouch!.
Conclusion
The tramlines shaved into your short hair symbolize self-expression and confidence. With practice and the proper tools, you can create this edgy, artistic look. Trust an experienced barber's steady hand to shave clean lines that make a bold fashion statement.
Embrace this chance to define your personal style and showcase your individuality. Let your inner artist inspire fresh angles and designs you can shape in your hair. A few careful strokes carve the hair tattoo, symbolizing your dynamic spirit and identity.
However you choose to style them, precisely shaved lines in hair let your true colors shine.