This site is supported by our readers. We may earn a commission, at no cost to you, if you purchase through links.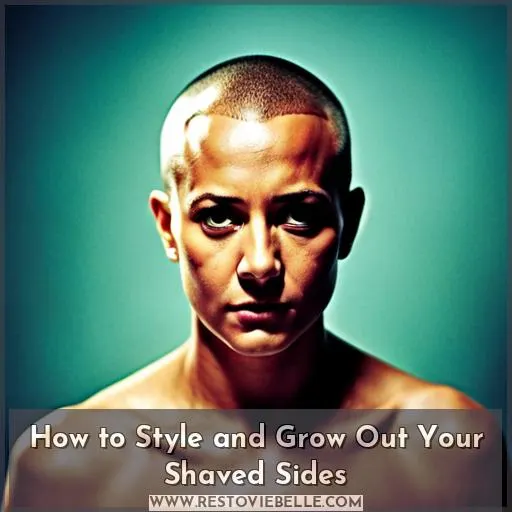 You're probably feeling vexed about that shaved side right now. I understand – what seemed edgy and daring mere months ago has morphed into an awkward, lopsided reminder of your impulsive glory days. But take heart! With a little patience and strategic styling, you can transform that shorn strip into a chic, seamless 'do once again.
This calls not for rash action, but for clever illusion. Obscure that bare expanse with wispy layers and sweepy bangs. Drape it in diaphanous scarves and weaves. Seek out pomades and gels to slick it back or spikes and glitter to bedazzle it.
And through it all, celebrate your fearlessness to experiment. Your hair will grow, but your bold spirit remains.
Key Takeaways
Use styling techniques like clip-in extensions, weaves, and creative parting to camouflage shaved sides as you grow them out.
Embrace patience and let your hair grow out naturally. Enjoy the journey as your hair lengthens.
Quick fixes such as scarves, head wraps, and pomade can assist in disguising shaved sides.
Show off shaved sides with fun accessories and bold colors while you wait for the length to increase.
Extend Your Length

To hide your shaved sides while growing out your Skrillex cut, clip-in extensions seamlessly blend real hair with your own. Opting for a weave adds fullness and length if you want a quick fix during the grow-out process.
Clip-in Extensions
You can clip and blend long hair extensions to frame your face when camouflaging a short shaved undercut that's growing out. Use feathered clip-ins that match your hair color and texture. Part them from the visible side over the shaved side.
Add clips close to the scalp for a seamless blend. Flip the top layers forward as the shorter hair underneath grows longer. Try glamorous side-swept celeb styles. Experiment with braids, updos and volume.
Weave
As you wrestle with growing out your shaved sides, a beautifully blended weave grants instant locked-in length and body, with no commitment.
Choose a natural-looking texture that matches your hair.
Opt for a loose waved or curly style to add volume.
Go for a warm ombre blend to make it look natural.
Add some face-framing layers for flow and movement.
Style with accessories like headbands or hair clips.
A seamless weave allows you to completely transform your look as you grow out your undercut.
Crochet Braids
Y'all, before weaving in those crochet braids to extend your length, you'd best have patience as that Skrillex cut grows out, honey. While crochet braids can help hide shaved sides and add length as your hair grows, be mindful of tension on your edges and gentle hair care.
Try styling with scarves or headbands to blend real and faux hair. Experiment with different braiding patterns and incorporate bangs or layers to help mask the undercut as it transitions. Protective styles like these allow your mane to flourish, but don't rush the process, sweetie.
Change Your Part

Let's discuss changing your part to grow out shaved sides. Parting your hair in the center can distract attention away from the shaved sides that you're trying to conceal during the grow-out process. Don't be discouraged if the shaved sides peek through occasionally while sweeping your hair to the other side.
Center Part
Changing to a center part helps hide the shaved side's awkward stage. By parting hair directly down the middle, you can push the longer hair at the crown over the shorter undercut. Conceal it further by tightly pulling hair back into a neat bun or sweeping it behind one ear.
This look works for all hair types when styled neatly. Remember that scarves, clips, and gel help camouflage.
Side Part
You should flip your hair over the shaved side to hide it. To rock a side part, first brush your hair straight back. Next, create a deep side part above one eyebrow. Then use a comb to sweep hair over the undercut.
Finally, add gel to slick it down smoothly. This camouflages the short hairs growing in.
Style With Scarves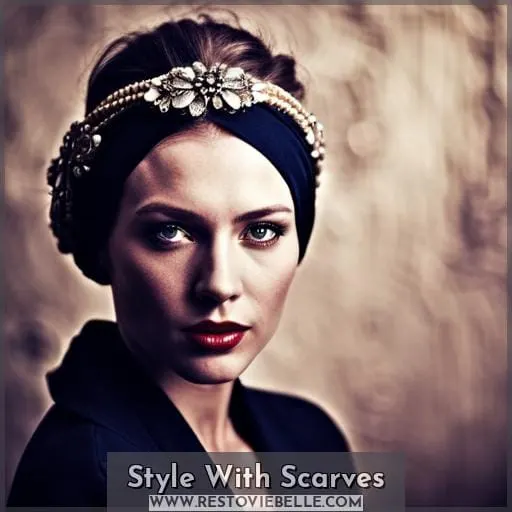 Let's get to work camouflaging that Skrillex cut so you can grow out your shaved sides gracefully. Disguise your shaved hair with head wraps or turbans while waiting for it to reach the length you want—no one ever needs to know! Try wrapping your head in a stylish scarf or floral turban to mask the shaved sides as they grow out.
Tuck your hair behind the accessory to keep your new 'do under wraps. A colorful head wrap can add a fun pop of color and draw eyes up instead of to the sides. Go for a trendy turban style to put a fashionable spin on hiding grown-out shaved sides.
With the right head wraps, no one will be the wiser about your cropped cut as you transition to a new look. Get creative with scarves, bandanas, and turbans to stylishly camouflage the grow-out phase.
Head Wraps
Scarfing that head wrap hides the shaved sides from sight. Girl, wrap a silk scarf around your dome to conceal those short hairs. Tie it tight so no strands escape. Add some glam with jeweled pins or a fun pattern.
It's like wearing a crown while your 'do grows out. Rock it like Queen Latifah or Whoopi and feel fierce.
Turbans
Turbaning up the nape of your neck adds a playful pop that discreetly conceals the shorn sides. For curly textures, try a deconstructed turban twist using a long rectangular scarf. Wrap it diagonally around your head once, letting the ends loosely drape over your shoulder.
Add some leave-in conditioner for soft definition. Celebrity Zendaya inspires with her printed turban looks. Her texture allows effortless styling. Simply twisting up longer hair on top creates a chic style.
Slick It Down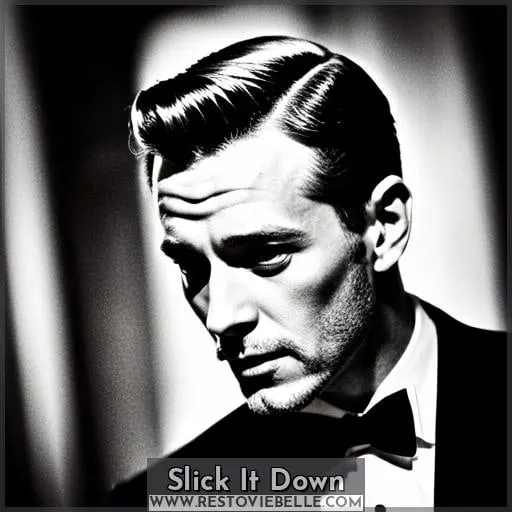 You're growing out your undercut with the sides shaved, and it's time to slick it down. A little pomade for thick hair or some gel for fine hair will help keep those short sides flattened as they grow out.
Pomade
Pattin' some pomade slicks down those shaved sides in a jiffy. Honey, pomade's like magic for taming unruly hair sprouting up. Just work a pea-sized bit into your palms, then pat-pat-pat it on. Pick a high shine, medium, or matte look depending on your preferences.
Now style it however you please, sugar – pomade keeps those flyaways in check and shows off your edgy 'do.
Gel
Swoop your locks over with a solid gel hold for a smooth transition. Selecting the right gel for your hair texture is key. Thicker gels work wonders for coarse, thick hair while lighter gels better suit fine locks.
Remember, patience remains vital. Focus styling efforts on the longer side, sweeping hair over the shorn section. Draw inspiration from celebrities like Kesha who use embellishments. With practice, you'll ace disguising your cut's transition.
Updos & Buns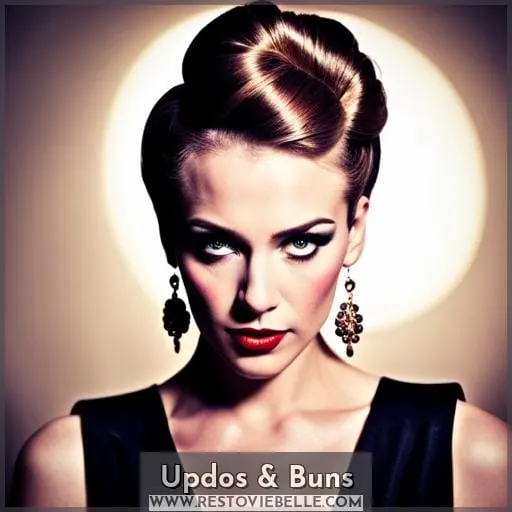 Try pullin' your hair into buns and updos to nicely cover the shavin' as it grows out. Braided updos can be a lifesaver when tryin' to mask those short hairs. Do a fishtail braid that sweeps over the undercut for a pretty vintage updo vibe.
Or go for a twisted bun – just add some volume on top before twistin' into a low bun.
Floral hairpins and clips can add a girly touch to distract from the shave. For straight hair, do a sleek top knot up high to show off your features while hidin' the undercut as it grows.
Change up the location and style day-to-day. Don't get discouraged, you've got this!
Show It Off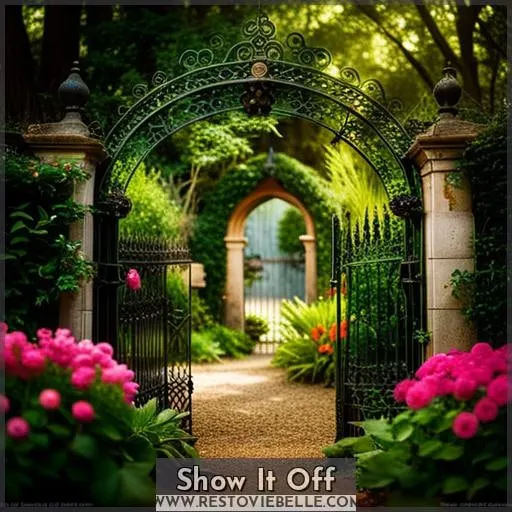 Good day! Have you committed to a daring undercut or extreme side shave? Adorning the exposed patches with bright hair colors or shimmering accessories immediately draws eyes to your edgy style. Hair grows at its own pace, so enjoy showing off your buzzed sides before they blend into the longer layers.
Studs & Glitter
Sparkle your undercut with glimmering studs like Kesha to add dazzle while it lengthens. Darling, you're a trendsetter! Glam up your shave with dazzling accessories. Celebrities adore adorning an undercut with rhinestone pins, shimmery combs, and glitter sprays for high-wattage style.
Show off unique hair jewels in your short locks – they'll keep all eyes on your fabulous sidecut as those tresses transform.
Color
Tint the sides boldly to draw attention away as you grow it out. Paint your short sides with trendy shades to accentuate your new 'do. Temporarily color the cropped area a vivid hue like emerald or cobalt. This will highlight the cut in a fun way.
Go for an ombre blend, dip-dye the tips, or get creative with rainbow stripes. Accessorize your hair with temporary color to complement your face shape and make a statement.
Go Short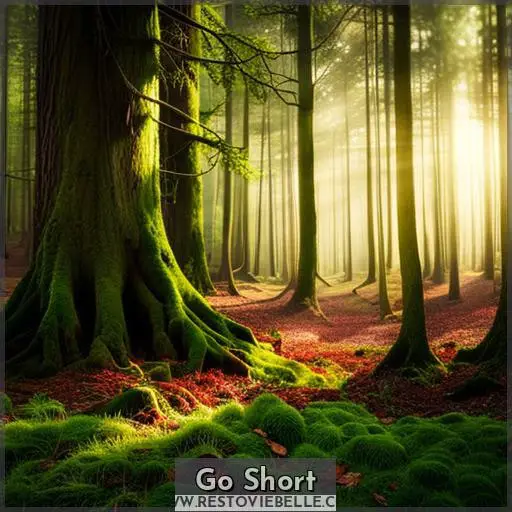 Hey there! You're ready for a new look as your Skrillex cut grows out. Consider a sassy pixie cut or a trendy asymmetrical bob to bridge the grow-out gap with flair.
Pixie Cut
You can clip in bangs to hide your growing-out undercut as it smoothly transitions into a pixie cut. A chin-length pixie is ideal for transitioning your Skrillex to a feminine style. Cutting layers into your hair will help blend uneven lengths as the undercut grows out.
Ask your stylist to texturize your pixie's ends for lots of choppy volume. Keep your pixie's sides short; let your bangs, crown, and nape length grow out. Rihanna and Anne Hathaway rocked chic, face-framing pixies while growing out shaved sides.
Asymmetrical Bob
Rock a fierce asymmetrical bob to glamorize the uneven growth.
Let those sexy layers fall where they may.
Embrace the texture with dry shampoo.
Go for the chop at your next trim.
The blunt cut and sleek finish of an asymmetrical bob allows you to transition in serious style.
Disguise With Layers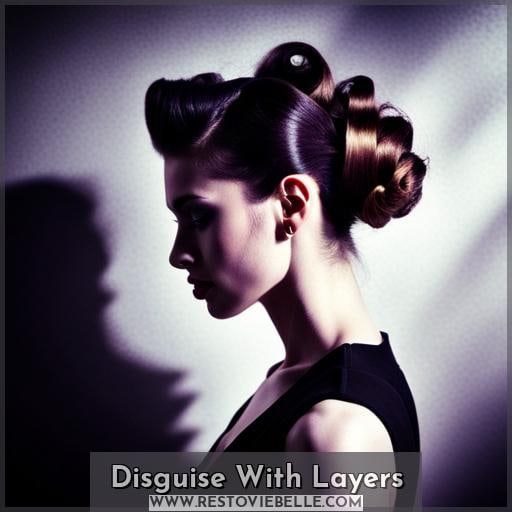 To disguise those shaved sides as your hair grows out, ask your stylist for a blunt cut with feathered layers. This will help camouflage the shorter sections around your sides and nape. A blunt cut with feathered layers can disguise shaved sides as your hair grows out by camouflaging the shorter sections around your sides and nape.
As your hair grows out, feathered layers in a blunt cut will conceal the shorter hair around the sides and back of your head.
Blunt Cut
Instead of a blunt cut, opt for gradual layers to blend the grow-out. You're in a transition phase, so avoid harsh lines. Go for softness—ask your stylist for long layers to help camouflage that undercut as the length comes in.
We'll shape the perimeter while retaining some weight up top. Have patience; it takes time.
Feathered Layers
Cause feathered layers instantly disguise those dang shaved sides, girlfriend!
Right where ya need that extra oomph.
One side smooth, one side stylin'.
Even your gram won't recognize that undercut.
Switchin' up your part and usin' the perfect amount of height right at the hairline lets your short bits blend into longer strands. Add some waves with a curlin' iron to get extra movement and lift at the crown. Grab that teasing comb to build lift at the roots too for mega volume.
You'll look just like JLo with an updated, face-framing style minus the shave. Trust me, feathered layers got your back.
Feathered layers can add volume and help hide growin' out an undercut or shaved sides. Changin' your part and teasin' the hair at the roots can give height to disguise short layers. Usin' a curlin' iron to add waves and movement also helps blend short and long sections.
Stylin' tricks like teasin' and curlin' can help transition from an undercut or shaved style. Celebrity inspiration can provide ideas – Jennifer Lopez often wears feathered layers with volume. Proper hair care is important when growin' out short layers to keep hair healthy.
Strategic trims and careful stylin' are key durin' the grow-out transition period.
Be Patient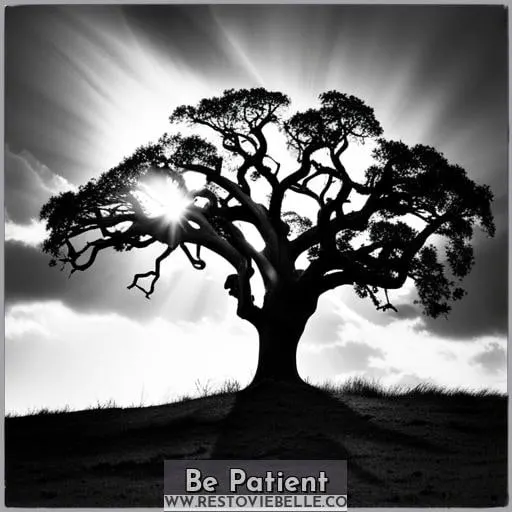 Cuz growin' out your shaved sides takes time and patience. You gotta let it slowly fill in. I know it's a grind watchin' those short hairs creep out, but resist the urge to keep buzzin' 'em down. Hair growth don't happen overnight, so try to embrace the growin' pains. Play the waitin' game and let your locks do their thing.
Time and tresses work together if you give 'em space. Have faith in the process, and don't sweat the awkward phase too much. Patience pays when you're transitionin' your cut. Before you know it, those shaved sides'll be long gone if you hang in there.
Just breathe easy and let your hair grow, don't force it. The length'll come back in time. For now, enjoy the short style you got and appreciate the journey. No need to rush it, growin' out takes time.
Trust the timeline and you'll get there.
Conclusion
You've got this! Growing out your shaved sides may seem daunting, but take it from me – with a little creativity and patience, you can totally rock the journey. Try extensions, scarves, or slick styles to blend and disguise the grow-out. Experiment with fun colors or accessories like studs to draw attention away from shaved sides.
Regular trims will keep your layers and ends fresh while you grow out those shaved sides. Most importantly, embrace the process and know that you look amazing no matter what length your hair is.
With the right attitude and styling tricks, growing out the shaved sides will be a breeze!