This site is supported by our readers. We may earn a commission, at no cost to you, if you purchase through links.
The art of blending a beard is like painting a masterpiece – it requires patience, precision, and plenty of practice. With the right tools and technique, mastering how to blend your beard with your fade can be perfected in no time, as if an invisible brush has been applied to create the perfect look.
Whether you're aiming for an edgy hipster vibe or something more subtle for work, understanding how to achieve a flawless blended finish will give you exactly what you need.
Key Takeaways
Patience, precision, and practice are required for blending a beard.
Washing and hydrating the beard before brushing out tangles is important.
Use clippers or trimmers to outline the outer edge of the beard and create a smooth transition between lengths.
Regular trimming, washing, and applying balm or oil are essential for maintaining a beard fade.
What is a Beard Fade?

A beard fade is a trendy and flattering way to upgrade your facial hair style, giving you an effortlessly cool look that will turn heads. It starts with well-trimmed sideburns and gradually transitions into a fuller beard.
To achieve this stylish result, you need to start by washing and hydrating your beard before brushing out any tangles. Use clippers or trimmers to outline the outer edge of your beard around the neckline and jaw.
Then use different grades for creating a smooth transition between lengths. Clean up edges with a razor afterwards if needed. Finish off by styling faded areas with shears or a trimmer and comb for the desired length and shape, such as long fades or short fades.
There are plenty of options available. For high contrast looks, you can try a skin fade with a beard. Thick cropped bangs with a gradual transition can also create a stylish look. If you want something bolder, a faux hawk can be a great choice.
Don't forget that maintaining its condition through regular trimming is essential in order to keep it looking sharp.
How to Achieve a Beard Fade

To achieve a stylish beard fade that'll have everyone looking your way, grab your trimmer and show off those blending skills you've been practicing – because practice makes perfect!
Here are some tips to help you out:
Keep up with regular beard hygiene by washing and moisturizing regularly. This helps condition the hair follicles for easier trimming and fading.
Use an adjustable trimmer with different length guards to create a seamless transition between lengths of hair. As you go from high to low guard numbers in a downward motion, you can create fades around the neckline, sideburns, or cheeks.
Maintain the overall look of the fade by trimming every two days. You can use shears or detail trimmers for extra-crisp lines along edges if desired.
With these techniques in mind, plus good beard care practices such as applying oils/balms after washes/shaves, you can ensure success in achieving any type of fashionable faded look you desire.
How to Blend Your Beard With Your Fade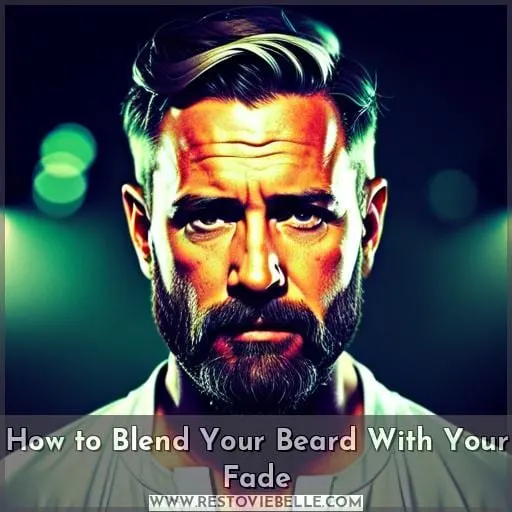 Once you've outlined your beard fade, it's time to blend the longer parts of your facial hair with the shorter sections for a seamless look.
Start by using an appropriate fading technique – use a beard trimmer and adjustable guard combs or clippers with different guards for precision cutting.
Make sure that you nourish and condition your beard properly with regular haircare products such as shampoo, conditioner, oil, and balm.
Take advantage of helpful trimming techniques like using scissors instead of a trimmer over certain areas where blending is required.
Finally, invest in quality tools like King C.'s Beard Trimmer & Beard Care Kit, which includes everything from adjustable combs that cover 13 length settings (from 0-21mm), detail trimmers, ear/nose attachments, and much more.

This way, you don't have to worry about not having what's needed while working on perfecting fades at home too.
With these items combined together alongside proper care maintenance routines, soon enough anyone can master their own fade, regardless if they are just beginning out or already experienced barbers themselves.
After mastering specific shaping skills involving facial hairs all around lips, face, neck, etc.
How to Care for Your Beard Fade

Now that you've mastered the art of blending your beard with a fade, it's essential to maintain your look with proper care. For instance, Zayn Malik has kept his signature style by regularly using beard shampoo and balm to nourish and moisturize his facial hair.
A good beard trimming routine includes:
Washing and hydrating your facial hair at least twice a week with a quality beard shampoo or facial wash.
Applying an oil or balm after every wash for additional nourishment.
Trimming the edges of the fade weekly for crisp lines between lengths.
Shaving any stray hairs around the jawline once per month to keep the skin looking smooth.
Maintaining an even length all over so as not to create blocky patches in faded areas – use adjustable length combs on trimmers/clippers if necessary!
To achieve higher contrast looks such as skin fades, take extra caution when shaving close to cheeks while ensuring straight lines from the neckline up towards Adam's apple are maintained symmetrically.
When styling faded beards, consider adding curl definition through shears/trimmer, then combing out tangles afterwards – this will make sure cuts stay sharp but don't appear too harsh against the face shape itself! Finally, invest in quality tools like razor blades specifically designed for fading, which should help reduce irritation caused by DIY trim jobs compared to regular barber visits where professional-grade equipment is used instead.
How to Maintain a Beard Fade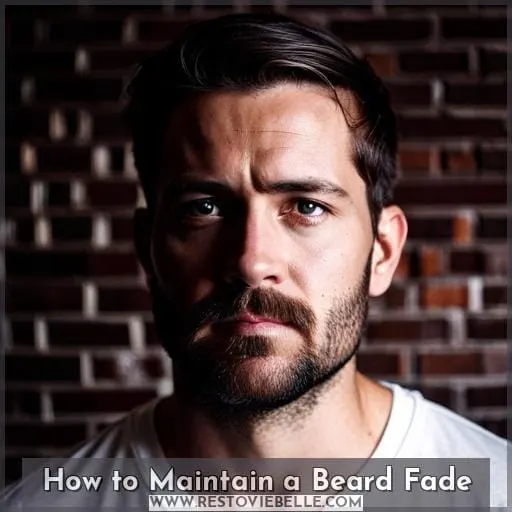 Maintaining your beard fade is key to keeping it looking sharp and stylish. To achieve the perfect look, you'll need to follow a good beard care routine that includes regular trimming, washing with shampoo and conditioner, applying balm or oil for nourishment, and using quality tools like trimmers.
Here are some tips on how to maintain your facial hair fade:
Wash your face daily with a gentle cleanser or soap made specifically for use on beards. Follow up by conditioning the hairs with an appropriate product, such as a specialized beard conditioner or oil-based balm.

This helps keep the skin healthy while promoting the growth of strong hair follicles in the desired direction of the fading pattern.

Use proper tools when trimming; avoid scissors at all costs! A high-quality trimmer will offer precision cutting capabilities, so you can easily define edges around cheeks and neckline without leaving any harsh lines behind.
Create definition between lengths by adjusting guard settings accordingly before each cut. Start low near the sides where the length should begin fading out gradually, then increase guard numbers closer towards the chin area as this will give the appearance more dimension.
Keep edges clean after styling sessions by running an electric razor over them if needed.
Top 7 Best Beard Trimmers for Fading
Getting the perfect beard fade requires precision and skill, so choosing the right tools is essential. The MGK3060 Series Generator, Philips Norelco Multigroom Trimmer, Bevel Cordless Beard Trimmer, Kent R7T Beard Care Comb, Beard Brush ZilberHaar, and Andis Professional Slimline Pro are all great options for achieving a professional-looking beard fade.
MGK3060 Series Generator
View On Amazon
Try the Procter & Gamble MGK3060 Series Generator for a smooth, effortless fade on your beard that will make you look like a movie star!
This versatile and powerful grooming kit offers 13 precision length settings from 0.5-21mm. It also comes with detail trimmer and ear & nose trimmer attachments for complete body grooming.
The MGK3060 Series Generator is fully washable under running water, making it easy to keep clean. It has an adjustable guard for even cuts that are true to length, and an ergonomic design that makes it user-friendly regardless of experience level.
With its waterproof and shower-safe design, plus a rechargeable battery life of up to 6 hours, this product is perfect for any man looking to maintain his appearance without compromising quality or style.
Additionally, the hard EVA men's beard trimmer hair trim shell case provides shockproof protection while traveling or storing away when not in use.
Versatile with 13 precision length settings from 0.5-21mm
Detail Trimmers & Ear/Nose Trimmers Attachments included
Waterproof & Shower Safe Design
Rechargeable Battery Life Up To 6 Hours
Hard EVA Men's Beard Trimmer Hair Case Protection Included
Adjusting Guard Can Be A Little Trickier Than Expected
No Head For Final Detailing – manual device required
Batteries Not Included
Philips Norelco Multigroom Trimmer
View On Amazon
Achieve a seamless transition between lengths with the Philips Norelco Multigroom Trimmer, perfect for trimming beards and buzz-cutting hair. This premium trimmer comes with a hard EVA men's beard trimmer shell case that is shockproof, dustproof, and water-resistant to protect your trimmer from drops, scratches, bumps, and more.
It also includes an inner mesh pocket, two trays, as well as zippered compartments for organizing all of your accessories. The soft velvety texture lining on the inside ensures maximum protection, while its lightweight design makes it easy to carry wherever you go.
With this dependable tool in hand, you'll have no trouble achieving professional results every time.
Hard EVA men's beard trimmer shell case protects against drops, scratches, bumps, etc.
Inner mesh pocket, two-tray system, plus zippered compartments offer plenty of storage space.
Soft velvety texture lining maximizes protection.
Lightweight yet powerful – runs 8 months on one charge.
May require blade adjustment depending on the user's skin type.
Cordless design may feel heavy or awkward when held.
Bevel Cordless Beard Trimmer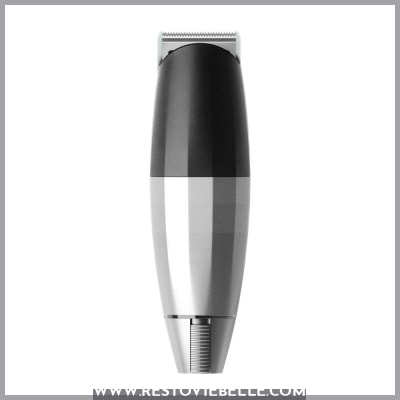 View On Amazon
For professional-level beard care, the Bevel Cordless Beard Trimmer offers a comfortable shave with its adjustable zero-gapped blade and long-lasting 6-hour rechargeable battery life. Its sleek black cordless design makes it easy to carry around for on-the-go trimming.
The trimmer is designed with professionals in mind and can be used for all types of facial hair maintenance, from beard to mustache. Customers have praised this product's well-built construction, which allows it to cut super close and provide clean edges while still being gentle on the skin.
The Andis Professional Slimline Pro also provides a powerful experience but may require some initial adjustment due to variable customer experiences reported regarding cutting ability and condition of the product received upon delivery.
The Kent R7T Beard Care Comb is another essential tool in any man's grooming kit that will last him years. It is made from cellulose acetate for less static when combing through your thick tresses.
Finally, don't forget about beard oils like King C.'s Fragrance, which contain beneficial ingredients such as avocado oil and argan oil combined together, adding nourishment plus an added pleasant scent just before heading out into public view again – the perfect way to round off any good styling session!
Sleek black cordless design
Powerful 6K RPM Rotary Motor
Tool-free adjustable Zero Gapped Blade
Well-built construction
4 Guide Combs
Heavy & awkward hold at times
Initial issues with cutting/condition
Requires regular maintenance
Kent R7T Beard Care Comb
View On Amazon
Complete your look with the Kent R7T Beard Care Comb, handmade from cellulose acetate for less static and featuring a thumb grip for more control. This saw-cut fine-tooth comb is perfect for all hair types and styles – from short to medium-length beards.
It provides relief from beard itch, exfoliates the skin underneath, promotes growth, and helps achieve a polished finished look.
Customers have praised the high quality of this comb, with some even receiving a free gift along with their purchase. The compact size makes it easy to carry in any bag or pocket, allowing you to groom on-the-go without worry.
Handmade from cellulose acetate, which creates less static in hair
Thumb grip provides greater control while grooming
Perfect choice for all hair types and styles
Compact size makes it convenient to take anywhere
One customer mistakenly ordered the wrong size
May not be suitable if specifically looking for mass-produced combs
Beard Brush ZilberHaar
View On Amazon
Experience the softness of natural boar bristles as you groom your beard with the Beard Brush ZilberHaar. It is a perfect addition to any man's grooming kit that will help keep your facial hair looking neat and orderly.
Crafted in Germany from 100% natural materials, including pear wood and boar bristles, this brush is ideal for men with short to medium-length beards.
With its handy pocket-size design, complete with a thumb grip for greater control, it can be used both at home or on-the-go. The brush promises excellent results no matter where you are. It is highly recommended by customers who praise its high-quality construction and effectiveness in relieving beard itch while promoting growth.
This brush will ensure that your daily routine is full of comfort, no matter how long or short your facial hair may be.
Quality craftsmanship engineered in Germany
100% natural boar bristles & pear wood
Relieves Beard Itch & exfoliates skin
Promotes growth naturally
Compact size fits perfectly in hand
Pleasant smell of wooden handle & bristles
Andis Professional Slimline Pro
View On Amazon
The Andis Professional Slimline Pro offers an effortless trimming experience, allowing you to feel the power of a professional barber in the comfort of your own home. This cordless and lightweight trimmer includes four guide combs for different sizes and styles, plus a charging stand to keep it powered up all day long.
With its powerful 6,000 cutting strokes per minute rotary motor and adjustable zero-gapped blade, this product is ideal for achieving precise cuts with ease. It is perfect for beard maintenance or even buzz-cutting hair! Customers have praised this trimmer's ability to cut super close while maintaining clean edges.
However, some have experienced initial issues with cutting performance or condition upon delivery.
Lightweight design and easy grip handle
Powerful 6K CSPM rotary motor
Adjustable zero-gapped blade
Includes 4 guide combs and charging stand
Initial issues with cutting and condition on delivery
Battery may die after one year
Will a Faded Beard Work for Me?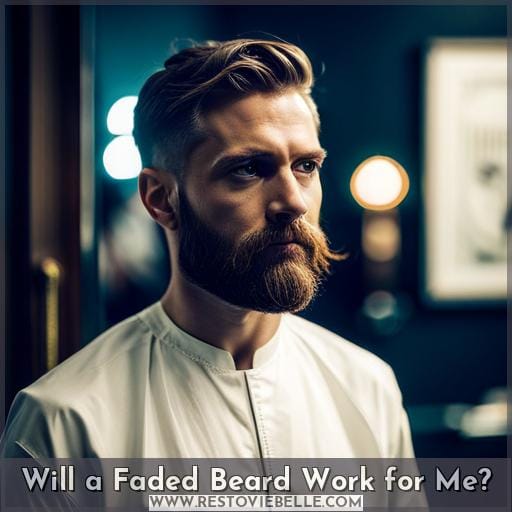 Before deciding if a faded beard is the right look for you, consider what kind of style and maintenance it will require to keep your facial hair looking sharp.
Gather all necessary tools such as a beard trimmer with adjustable length combs, a razor, and shave gel.
Clean up your beard by washing it first before trimming.
Define cheek lines and neckline for crisp edges using a transparent shave gel so that they stand out from the rest of the face.
Start fading from high guard numbers, then use a scooping motion to fade in the neckline area, followed by switching guards on sideburns for a smooth line transition.
Style according to the desired length or shape, such as short or mid-length faded beards with skin fades giving high contrast looks or black men's bald fades creating a balanced appearance, while faux hawks can offer bold styles.
The King C Beard Trimmer & Beard Care Kit is an excellent choice when tending to facial hair needs like these because its fragrance adds a pleasant scent along with providing nourishment through ingredients like avocado oil, argan oil, shea butter, cocoa butter, etc.
Ultimately, make sure you follow routine cleanups, including shampooing regularly, plus applying oils/balms afterward, in order to not only receive compliments but also have healthy growth of facial hair!
Will I Be Able to Do It at Home?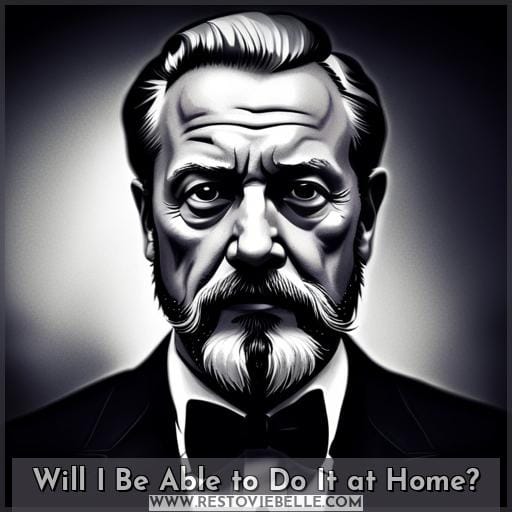 With the right tools and practice, you can master the art of fading your own beard at home—practice makes perfect!
Start by gathering all the basics: a trimmer with adjustable length combs, a razor, transparent shave gel, and a comb.
Clean up your beard first by washing it well and drying off any excess moisture before combing out tangles.
Next, define crisp edges for the neckline and cheek lines using clippers or trimmers to outline around the jaw and neck area.
Use different grades on the guard setting to create a blend from the shortest near the cheeks to the longest near the jawline. Use a scooping motion in areas like the neckline for an extra-crisp look, then switch guards to further smooth the sideburns transition into a fade.
Finish styling fades with shears or a detail trimmer along the mouth area, and apply aftershave lotion when done trimming facial hair down to the desired length.
| | Beard Trimming Basics | Beard Care Tips | Grooming Styles |
| --- | --- | --- | --- |
| 1 | Wash/dry beard Comb out tangles Clip outlines Choose grade settings Scooping motions< br >Switch guards | Shampoo/conditioner < br >Use oil/balm regularly ● Regularly trim sides● Follow routine | Long faded beards ● Skinfade+beard contrast ● Cropped cut design● Faux hawk+beard boldness● Baldfade + curls dapper look |
How to Style a Faded Beard

To upgrade your facial hair style, try a trendy beard fade for a smooth blended look. Achieving this look requires some skill and the right tools – like an adjustable-length trimmer with combs to ensure uniform length, a razor for crisp edges, shave gel for extra precision, and scissors or a trimmer to add detail.
Start by washing and hydrating your beard before brushing out tangles. Then use clippers or trimmers to outline the outer edge of your jawline and neckline. Trim with different grades until you reach the desired fading point from high guard numbers down low.
Choose from various faded styles, such as long mid-length fades, which are great if you want more volume around the chin area. Skin fade looks ultra sharp against longer beards. Thick cropped bangs create a gradual transition between lengths, while faux hawks make bold statements on darker complexions.
Don't forget about maintenance either – regular trimming is essential, as well as keeping the sides short so it doesn't get too scruffy in appearance over time! Keep nourished using natural ingredients found in products like beard oil (avocado & argan oils), balm (cocoa butter & shea butter), plus fragrances that smell divine throughout the day and night routine.
Frequently Asked Questions (FAQs)
What products are best for styling a faded beard?
For a crisp and modern look, try the MGK3060 Series Generator for precision trimming. Achieve close shaving with the Gillette Styler Trimmer Razor. Get versatile styling from the Philips Norelco Multigroom Trimmer.
How long does it take to achieve a faded beard?
Fading your beard can take time and practice, but with dedication, you can master it quickly. Start by trimming the shortest bits of your fade to create a smooth transition between lengths. Use quality products like trimmers and combs for precise control, then maintain regularly to keep your look sharp.
Is a faded beard suitable for all facial shapes?
Fading your beard is a great way to upgrade any facial hair style, but not all shapes are suitable. Your face must have an even pattern of facial hair growth for the fade to look natural and balanced. Researching different fades that may work with your shape can help you determine which one is best suited for you.
How often should I trim my beard to maintain the fade?
Trimming your beard every two days is key to maintaining a fade. To keep it looking sharp, use different guard numbers when fading and scooping the neckline.
How do I avoid a blocky look when fading my beard?
Avoid a blocky look when fading your beard by trimming gradually and using different length settings on the trimmer.
Conclusion
Achieving the perfect beard fade is a craft that takes time and skill to perfect. As the old saying goes, practice makes perfect! With the right tools and a lot of patience, you can master the art of blending your beard for a polished and pulled-together look.
Whether you decide to go for a high-contrast skin fade or opt for a more subtle, blended approach, you can be sure that a faded beard will make you look handsome and up to date with the current trends.
Invest in some quality beard trimmers and brushes, and don't be afraid to experiment with your style.