This site is supported by our readers. We may earn a commission, at no cost to you, if you purchase through links.
Surprise – highlights don't have to take forever! If you're looking for a change in your look that won't require hours of chair time, then getting highlights might be the perfect option. But how long do they actually take? The answer depends on several factors, such as the type of highlight technique used and hair type.
From foil highlighting to cap techniques or balayage coloring, we'll share tips and tricks for quicker results so you can get out faster with beautiful locks in tow.
So if you've been wondering how long does it take to get highlights, read on – we've got everything covered from start to finish!
Key Takeaways
The time it takes to get highlights depends on the technique and hair type.
Foil highlights are best for dark hair and offer more control over placement.
Regular touch-ups are recommended every 30 to 60 days to maintain color and vibrancy.
At-home highlighting options can provide a more convenient styling experience.
Hair Colorist Consultation

You'll want to have a consultation with your hair colorist before getting highlights, so they can assess the length and thickness of your hair and determine what type of highlighting technique is best for you.
A consultation will help ensure that you get the look that's right for you, as well as offer benefits such as helping to choose the correct color choice and lightening techniques. They may also provide professional advice on which products should be used during a highlight session in order to achieve optimal results while keeping damage at bay.
The dyeing process itself usually consists of applying bleach or lightener first, followed by toner if needed – both processes take time depending on how dark the base shade is. An experienced hair colorist can use their expertise to assess these factors quickly during an in-person appointment prior to beginning any work with highlights or other coloring services like foil technique balayage/ombre etc.
Lastly, proper maintenance after receiving highlights is important if one wishes them to last longer. This includes avoiding daily washing routines using gentle shampoos specifically formulated for colored hair care along with regular conditioning treatments coupled with minimal heat usage whenever possible (air drying instead).
With all this taken into consideration combined together – including consultations – it's safe to estimate that full head highlights typically take two to four hours from start to finish.
Types of Highlights

Highlighting your hair with either the foil or cap technique is a great way to add vibrant color and dimension. Depending on your hair type, length, porosity, and the desired look you are going for, it can take anywhere from two to four hours.
The process entails applying bleach or lighteners followed by toners if needed – all of which require proper formulation mixing as well as processing time.
Foil Highlights
Unlock the secret to gorgeous, sun-kissed locks with foil highlights that'll transform your look! Foil highlights are best for dark hair and allow for more control over placement. Depending on the length and thickness of your hair, a colorist consultation is important to determine the time frame.
Heat protection must be taken into account when using heat tools like flat irons or blow dryers. Hair dye processing can take longer if it's used to lighten color, so plan accordingly during your visit.
The time between touch-ups should be about 30–60 days, but proper care is necessary to maintain highlighting results.
Experience beautiful tresses every day without worry by getting foil highlights today!
Cap Technique (also Called the Cap Method)
The cap technique, also known as the cap method, is a highlighting process that involves using a special plastic or metal cap to separate sections of hair for individual highlights. It usually takes two hours in-salon and requires color-safe products to preserve your look.
Heat usage should be minimized, and regular shampooing with lukewarm water encouraged.
The wait time will depend on hair type and processing time needed but can take up to four hours for longer length/thicker hair, while shorter styles may be done quicker.
Hair Type, Hair Length, and Porosity
Your hair's length, type, and porosity can have an impact on how quickly you get those vibrant highlights. If your hair is short or thick, it may take longer for the bleach to process than if your hair was long and thin.
Also, certain techniques, like foil usage, require more time depending on the color choice of the highlights.
The bleach process also takes longer in darker colors than lighter ones, so keep that in mind when considering a highlight service! Lastly, taking good care of highlighted hair will help make them last longer over time.
This includes avoiding daily washing, using gentle shampoos and conditioners, and limiting exposure to heat products.
The Hair Dying Process
You can expect the hair dyeing process to involve applying bleach or lightener, followed by toner, to achieve the desired highlights. Bleaching techniques vary and require careful application in order to prevent damage.
Toner is applied after bleaching for color fading control and heat protection from styling tools.
The salon visit may include a consultation before starting with the hair coloring process, along with washing and conditioning your hair prior to highlighting it.
Finally, proper maintenance, like avoiding hot water while washing your highlighted locks, will help retain their look longer than expected!
How to Take Care of Your Highlights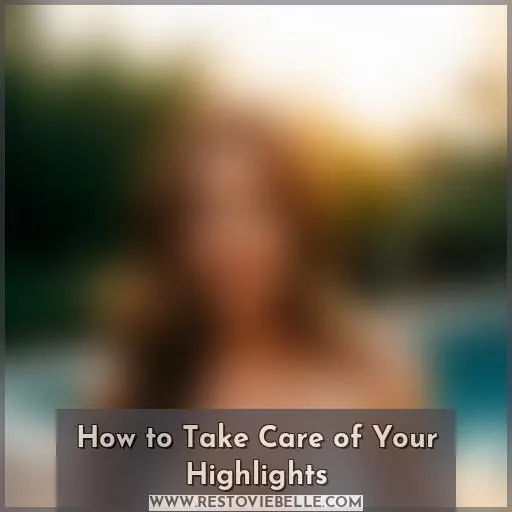 Taking care of your highlights is essential for keeping them looking vibrant and fresh. To ensure the longest-lasting results, you should wait two days before washing your hair after getting highlights, and regular touch-ups are recommended every 30 to 60 days.
By using color-safe products and avoiding heat styling, you can help make your highlights last longer.
Washing
Properly washing and conditioning your hair after highlights will keep them looking vibrant for longer. For best results, use a color-safe shampoo and conditioner that won't strip the color away from your locks.
Try to avoid washing every day as this can reduce the longevity of your highlights by stripping away essential oils from the scalp. Instead, opt for an in-between shower option like a dry shampoo or co-wash routine so you don't have to lather up too often while maintaining healthy hair care habits.
When using heat styling tools on highlighted hair, make sure you apply a Thermal Protectant Spray beforehand or choose lower temperature settings. Higher temperatures may cause more damage over time, leading to dulled out colors faster than usual! Finally, be mindful of products with alcohol since they can affect how well toners stick around on lightened strands.
Drying out softness in favor of brassy tones ultimately reduces color retention efforts made during treatment sessions at salons.
Touch-ups
Regularly scheduling touch-ups can help you keep your highlights looking their best. Whether you've gone for pink, gray, or balayage highlights, regular maintenance is key to maintaining the color and vibrancy of your hair.
A good starting point is to get a touch-up every six weeks. This will ensure that any fading or new growth showing through doesn't become too noticeable before it's tended to. Bleaching can be harsh on hair, so make sure you use an oil mask between dyeing sessions.
Experience level stylists may have some advice on how frequently they recommend getting a touch-up based on the type of highlight chosen at the start.
Time from start to finish usually takes two hours, with additional time needed for prepping and processing treatments like toner after bleaching. It's also important to apply other products such as Arvazallia Argan Oil Hair Mask treatment during the post-styling care routine.
These products are important in ensuring maximum protection against damage due to improved hydration levels when using salon-grade quality product lines like R+Co Gemstone Shampoo combined with Pureology Hydrate shampoo, followed by Olaplex Bond Maintenance Shampoo along with HSI Professional Argan Oil Heat Protector.
Factors Affecting the Time It Takes to Get Highlights

Factors like hair length, porosity, color, and technique used can significantly affect the time it takes to get your highlights done. For instance, shorter hair requires less processing time than longer hair when applying bleach or lightener for highlighting.
Additionally, the type of highlight will also determine how long it takes. A full head of highlights generally takes two to four hours, while partial highlights may only take 30-45 minutes since fewer foils are being applied.
When considering budgeting your time for getting highlighted locks as desired by you, make sure you consult with a professional colorist who is experienced in providing efficient services that meet all your needs without compromising on quality results!
When selecting products to use at home between salon visits, consider using purple shampoo or toning masks if you have lighter blonde tones so they do not fade away soon after application. Also, avoid washing with hot water as much as possible and be mindful about heat usage when styling, which can cause damage over extended periods of wear and tear.
This can result in frequent touch-ups needed more often than desired, especially if your hair is already colored previously.
Additionally, try reducing daily washings where possible, but ensure conditioning regularly always. Invest in good quality color-safe shampoos and conditioners specifically formulated for colored-treated tresses.
How to Make Highlights Last Longer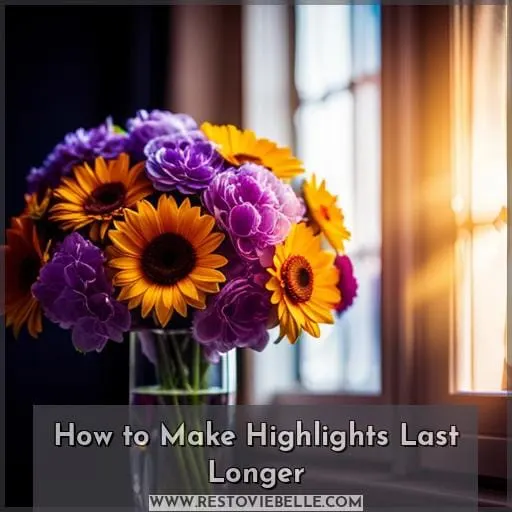 To maintain your highlights for longer, it's important to delay washing your hair and use cool water. Additionally, go to a trusted hair colorist who is experienced in highlighting techniques so that you can get the best results.
Delay Washing Your Hair
Delay washing your hair after getting highlights to extend their life and keep them looking vibrant! Avoid using heat-styling products and wash your hair with cool water. Consider incorporating a purple shampoo or toning mask into your haircare routine for light blonde highlights.
At home highlighting options like hair chalk, paint, bleach kits, and highlight caps are available if you want to take the DIY route. However, it's best to consult professional stylists for different highlighting techniques such as foil or cap in order to get the desired look that lasts longer.
Also, use color-safe shampoos plus conditioning products regularly but avoid daily washing of highlighted locks as much as possible in order to maintain those beautiful hues!
Use Cool Water to Wash Your Hair
To keep your highlights looking fresh, rinse with cool water after washing and never use hot water as the heat can cause them to fade faster.
To further protect against damage, opt for a natural alternative to coloring hair, such as hair chalk or paint, that won't affect the health of your locks.
Additionally, when drying your hair, use the lukewarm or cool air setting on the blow dryer and only use color-safe shampoos. These will help protect from heat damage while taking care of highlighted tresses.
Lastly, consider investing in quality products like thermal sprays for extra protection before using any heated styling tools on highlighted sections of the head!
Go to a Trusted Hair Colorist
For the best results, visit a trusted hair colorist for your highlights. A professional can make sure that you get the perfect shade of color and advise on chemical protection to ensure healthy hair in the long term.
They will also be able to select highlight placement specifically suited to your face shape and hairstyle goals.
Additionally, they can provide advice on avoiding heat styling and proper care between regular touch-ups for balayage highlights or other coloring techniques used.
Top 5 Highlighting Products
Getting highlights can be a time-consuming process, but the right products can make it easier. From Arvazallia Argan Oil Hair Mask to Olaplex Bond Maintenance Shampoo and HSI Professional Argan Oil Heat Protector, there are many high-quality highlighting products available on the market today.
Each of these items will allow you to achieve professional results while reducing your highlight processing time significantly.
Arvazallia Argan Oil Hair Mask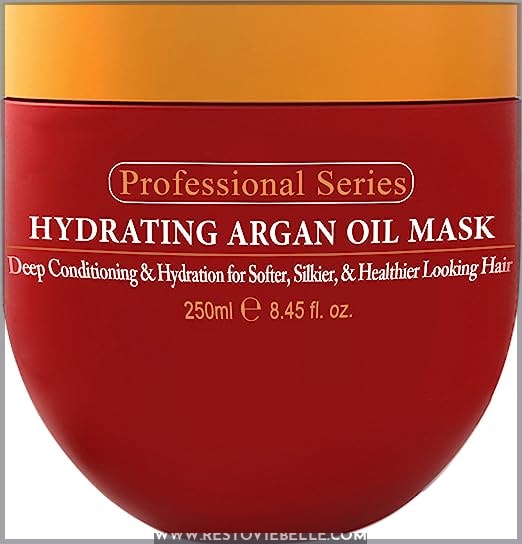 View On Amazon
Enjoy the benefits of Arvazallia's professional-grade, Argan Oil Hair Mask and revitalize your tresses in no time. Formulated with high-quality cosmetic-grade argan oil, this mask repairs, restores, and strengthens weak or overprocessed hair while deeply conditioning to detangle and hydrate dry strands.
Not only does it provide damage restoration, but it also helps promote natural hair growth for healthier-looking locks that are soft to the touch. Plus, its sulfate-free and paraben-free formula makes it a great choice for those seeking an all-natural alternative.
With regular use of this intensive treatment, you can achieve a smoother texture with less frizz plus added shine that will make styling so much easier!
Restores a healthy look & promotes natural hair growth
Deeply conditions & hydrates dry strands
Repairs damaged/overprocessed hair
Sulfate-free paraben-free formula
Smoothens out texture reduces frizz
Thick consistency takes longer application times
Must be used regularly for best results
Can take some experimentation before the desired result is achieved
R+Co Gemstone Shampoo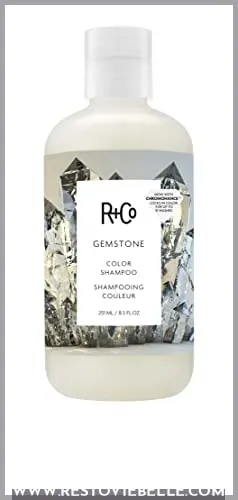 View On Amazon
Experience the luxurious R+Co Gemstone Shampoo and feel your color-treated hair become healthier, shinier, and more manageable! This nourishing shampoo is infused with vitamins and minerals to hydrate hair while promoting optimal moisture balance.
It contains a scientifically proven complex that shields hair from UV damage while protecting its color for longer. The mild formula not only deeply cleanses but also leaves your tresses feeling soft, silky smooth, and touchable.
Infused with vitamins & minerals to promote moisturization
Contains natural ingredients to maintain colored hair's multi-dimensional look & shine
Proven complex protects against UV damage & free radicals
Mild non-drying formula leaves hair silky smooth & touchable
Pleasant eucalyptus scent provides an aromatherapy experience
Shampoo may be drying for some people
Conditioner may take longer to rinse out
Heavy conditioner can weigh down thick hair
Pureology Hydrate Shampoo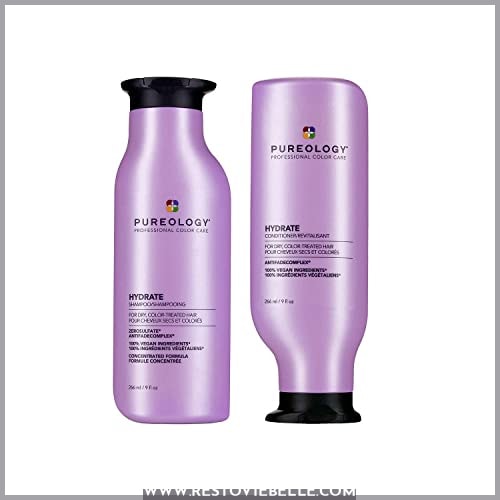 View On Amazon
Try Pureology Hydrate Shampoo to nourish and protect your hair with its luxurious, creamy formula—like a refreshing drink for parched locks!
Formulated with jojoba, proteins, green tea extract, and sage leaf extract, this shampoo helps restore internal strength while deeply moisturizing the hair.
The sulfate-free and paraben-free formula actively protects color while leaving it soft to the touch.
Perfect for all types of hair, including natural or colored tresses, you can trust that this gentle yet powerful shampoo will not strip away any of your hard-earned intensity in hue.
Use as part of the Superfood Treatment system if needed – it's also safe on color-treated strands too!
It leaves behind smoothness without drying out strands or weighing them down, so you get healthy-looking locks each time you wash.
Moisturizes dry & damaged hair
Protects color & shields from UV rays & free radicals
Non-drying mild formulation
Safe on all types of colored tresses
Sulfate-, paraben-, vegan-friendly
May require multiple applications before desired results are achieved
Results may vary depending on individual's unique scalp type
Olaplex Bond Maintenance Shampoo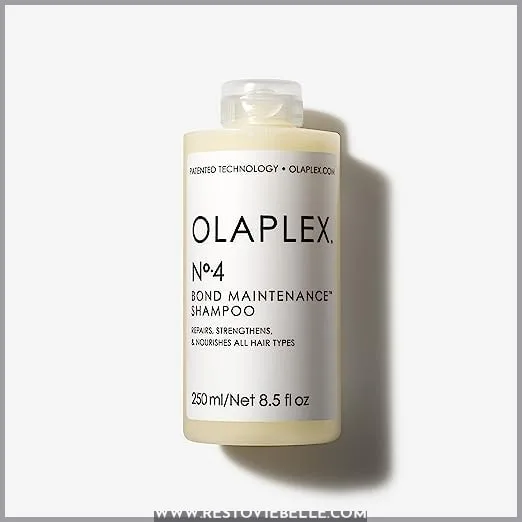 View On Amazon
Transform your damaged hair with Olaplex Bond Maintenance Shampoo and experience its bond-building chemistry that instantly adds incredible shine and manageability. This sulfate-free shampoo is designed to restore the internal strength of your hair while giving it a noticeable boost in moisture levels.
Plus, there are no artificial chemicals or fragrances, so not only does this shampoo help repair damage, but it also helps protect against further damage caused by heat styling tools or environmental factors.
With regular use of Olaplex Bond Maintenance Shampoo, expect improved elasticity and fewer split ends, as well as protection from UV rays for longer-lasting color vibrancy.
Restores internal strength and moisture levels
Adds shine and manageability to all hair types
No harmful chemicals or fragrances added
Expensive compared to other shampoos on the market
Can be difficult to find locally
HSI Professional Argan Oil Heat Protector


View On Amazon
Protect your hair from heat damage with HSI Professional's Argan Oil Heat Protector. It provides professional salon-level protection up to 450º F and leaves hair feeling soft, smooth, and shiny.
Formulated with high-quality argan oil infused with vitamins, this heat protector also contains a scientifically proven complex that protects color while shielding the scalp from UV rays and free radicals.
The creamy formula actively repairs broken bonds in cuticles while improving moisture balance for optimal hair health. When used in combination with other products like Pureology Hydrate Shampoo or Olaplex Bond Maintenance Shampoo, it can provide an even more intense treatment routine.
Provides extreme heat protection up to 450º F
Sulfate-, phosphate-, and paraben-free
Repairs broken bonds in cuticles and improves moisture balance
May leave hair sticky after use on dry strands
Not suitable for all budgets
How Long Will You Be at the Salon?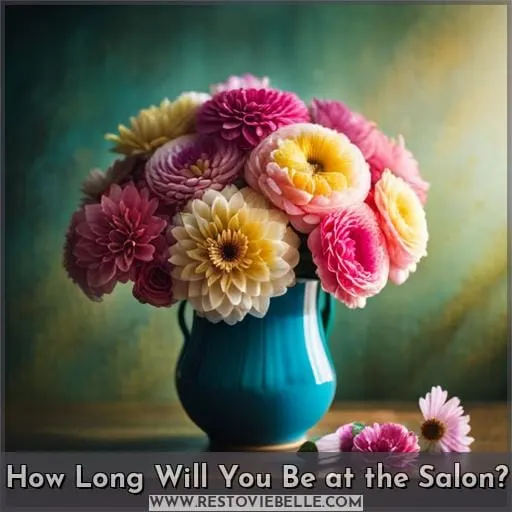 You're ready to take the plunge and get the highlights you've been dreaming of. But before you make an appointment, it's important to know how long this process will take. While basic highlights can usually be done in two hours or less, more complex looks like balayage may require three hours or longer – depending on your hair length and thickness, color maintenance needs, as well as other factors.
Here are a few tips for getting through your salon visit:
Consult with a salon expert beforehand – Ask questions about their services so that they can customize an experience just for you! They should also provide advice on any home kits that might work best for maintaining your new look between appointments.
Be prepared – Bring something entertaining such as music or books so that time passes quickly while waiting for processing times during coloring sessions; hot water is not recommended when washing highlighted hair after the service either!
Regular touch-ups – To keep those glossy locks looking vibrant between visits to the hairdresser's chair plan regular touch-ups every six weeks at minimum–this helps maintain healthy hair even if it requires multiple treatments over time too!
Follow these guidelines and enjoy many months of beautiful highlights without compromising on quality care!
At-Home Highlighting Options

You can also try at-home highlighting options like hair chalk, hair paint, bleach kits, and highlight caps for a more convenient styling experience.
Hair chalk is an easy way to add temporary color without the commitment of highlights or dyes. This type of product comes in multiple colors, so you can choose the one that best suits your look. It's important to use color-safe products when working with colored hair as they won't damage natural locks or human extensions while providing great coverage.
Hair paint provides a similar effect but offers long-lasting results compared to its counterpart – ideal if you're looking for something more permanent than just highlights!
Bleach kits are another option that give full control over placement and provide intense lightening effects on darker tones.
Highlight caps are perfect for hiding gray strands quickly. Simply place them over sections of dry or dampened hair, then heat up using either steam from water baths or electric tools such as straighteners or curlers before lifting away after cooling down completely!
Color-safe shampoos must be used during this process; otherwise, they could strip away any applied hues, leaving behind duller tresses needing further attention afterwards.
Highlights don't have to take all day – they can easily fit into your busy schedule.
Frequently Asked Questions (FAQs)
How often should I get highlights?
Highlights should be touched up every six to eight weeks to maintain the look. Using color-safe products and avoiding heat can help keep highlights vibrant for longer, while regular touch-ups will ensure you get the desired effect.
Consult with your stylist before starting so they can determine the best technique based on your hair's length, base color, and type of highlights being performed.
Is there any way to speed up the process?
Consulting with your stylist before starting the highlights is crucial. Bring something to entertain yourself during the appointment and consider opting for partial highlights if possible; they typically take less time than a full head application.
What is the difference between foil and cap highlights?
Foil highlights are best for dark hair and allow for more control over placement. Cap highlights, on the other hand, hide gray hairs well and can last longer between touch-ups.
What is the best way to maintain highlights?
Properly caring for your highlights will help them last longer and look better. Avoid washing with hot water, using too many heat-styling products, or going more than 6-8 weeks between touch-ups. Use color-safe shampoo and conditioner regularly and try purple shampoo or toning masks to maintain light blonde highlights.
Consult a stylist before starting the process and use at-home highlighting options like hair chalk, bleach kits, paint pens, etc.
Is it safe to use at-home highlighting products?
At-home highlighting products can be safe to use if you follow the instructions carefully. Choose an appropriate product for your hair type and color, make sure it's properly mixed with any needed developer, and don't leave it on too long.
Conclusion
Getting highlights is a great way to add dimension and texture to your hair, but it can also take up to four hours. Before you get started, it's important to consult with a hair colorist to determine the best technique for your hair type, length, and porosity.
Foil and cap highlights are the most common techniques, and you should consider the time it will take to apply and process the dye. Taking care of your highlights is also important to make them last longer, so be sure to avoid hot water, use color-safe products, and wait a couple of days before washing your hair.
With the right products, expertise, and maintenance, you can enjoy your highlights for up to six weeks.