This site is supported by our readers. We may earn a commission, at no cost to you, if you purchase through links.
When it comes to changing up your hair color, the prospect of using bleach can be daunting. But there's no need for fear – you can dye brown hair blonde without ever touching a bottle of bleach! With our easy guide and natural lightening methods, we'll show you how to get gorgeous blonde locks without any harsh chemicals.
Let us take away the worry and help you on your journey from brunette to beautiful blonde! We know that everyone wants something different when it comes to their hair color – some want just a subtle change while others crave an extreme transformation.
So let's not waste another moment: grab those natural ingredients or high lift dyes and get ready to create stunningly sun-kissed blondes in no time at all with our step-by-step guide on how to dye brown hair blonde without bleach.
Key Takeaways
Choose the right box dye for your desired shade and gather materials.
Protect skin with Vaseline Blue Seal Petroleum Jelly Original.
Assess your hair's condition and trim dry ends before coloring.
Consider natural lightening methods like lemon juice or tomato paste for subtle highlights.
Dye Your Hair From Brown to Blonde With Box Dye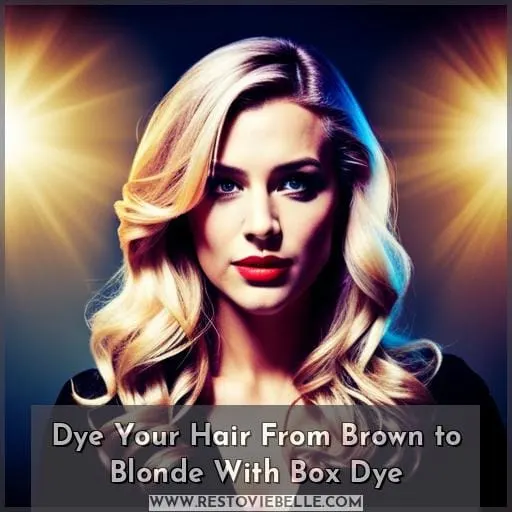 Are you ready to go from brown to blonde? Before embarking on this journey, it's important to determine the condition of your hair and choose the right box dye for your desired shade. Additionally, gather all necessary materials such as gloves, a tinting brush, a bowl or applicator bottle, and a processing cap.
Preparing both hair and skin before application is key to achieving a successful transformation with minimal damage; use petroleum jelly or barrier cream along with clarifying shampoo to remove any buildup for effective color penetration.
Determine Hair Condition
Before embarking on your blonde journey, make sure your hair is in good condition by trimming dry and split ends. This will prevent further damage. Assess the porosity of your locks to determine how much color they can absorb.
Check for elasticity and texture changes after bleaching or dyeing. If your hair has been drastically altered, it may be best to wait before coloring again.
With a few simple tests, you can assess the overall health of your hair before using box dye. This is especially important when attempting a brown-to-blonde switch without bleach! Always prioritize proper hair care before experimenting with colors or shades.
This will help maintain the strength and vibrancy of your hair over time, while still keeping it beautiful throughout each change.
Choose the Right Box Dye
Selecting the right box dye for your hair color is key. From brands like Garnier Nutrisse and Carol's Daughter to tools such as Goodofferplace combs, Vaseline jelly, and ACURE shampoo, there are many options available.
Take into account allergies and whether you prefer boxed or salon-dyed hair when selecting a product. Use natural lightening methods like lemon juice or tomato paste if seeking subtle highlights without bleach.
Gather Materials
Gather all the supplies you'll need to dye your hair from brown to blonde with box dye for an easy at-home transformation.
Start by prepping your hair. Trim any dry or split ends and cleanse away product buildup and oil for effective dye penetration.
Next, apply petroleum jelly or a barrier cream around the skin that may come into contact with the high lift color bleach solution.
Mix up your chosen toner in a bowl/applicator bottle per instructions on the package. Then, divide clean hair into four sections using ties and use a tinting brush to saturate mid-lengths and ends before moving onto roots.
Finally, follow the recommended processing time of 30–45 minutes. Then, rinse until water runs clear before following up with a conditioner treatment.
Prepare Hair and Skin
Cleanse your hair and skin of any buildup or oils to ensure the dye penetrates effectively.
Old towel
Rattail comb
Vaseline or barrier cream
Clarifying shampoo & conditioner
Gloves, tinting brush & bowl/applicator bottle
Processing cap. Divide clean hair into sections and secure with a tie before applying the petroleum jelly around your face and ears for extra protection. Now you're ready to start transforming your look!
Mix Dye
Mix the dye according to the box instructions, taking care to ensure its accuracy for optimal results. Take into account the desired color outcome and select a blonde box dye accordingly. When mixing, pay attention to consistency – it shouldn't be too thick or thin – as well as the odor and texture of the product.
Hair must also be prepped before application. Trim split ends, wash with clarifying shampoo, and apply petroleum jelly around the hairline for protection from staining the skin. Use a tinting brush in sections when applying the dye. Begin at the roots, then comb the mixture through the mid-lengths and ends before covering with a processing cap or foil wraps if using the highlights technique.
Follow the instructions precisely to achieve maximum lightening without damaging your hair!
Dos and Don'ts of Dyeing Brown Hair Blonde Without Bleach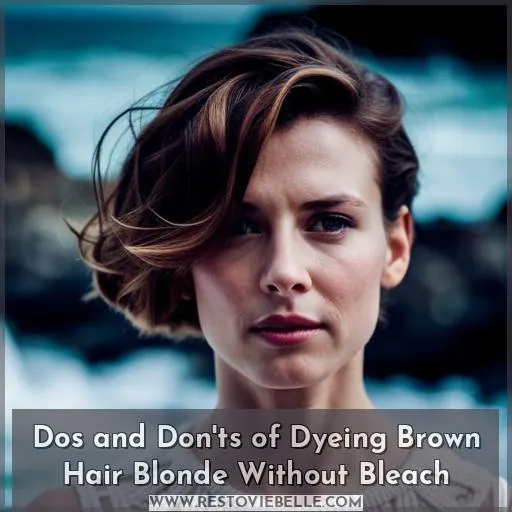 The key to dyeing brown hair blonde without bleach is knowing the dos and don'ts. From choosing the right box dye to maintaining your color, these tips will help you achieve a beautiful sun-kissed look.
Before any transformation starts, it's important to be aware of what needs to be done for successful results.
Dos
Before you start dyeing your locks, make sure to do a patch test first and protect your skin with some petroleum jelly or barrier cream.
Here are the dos for lightening brown hair without bleach: use high lift dyes for maximum coverage; follow toner tips to combat brassiness; keep up with hair health maintenance routine by using color removers, moisturizing products, and regular trims; and monitor ingredients in tomato paste or sauce for purity.
To achieve the desired blonde shade while avoiding damage from bleach, it's important to employ these methods through an effective yet gentle process that keeps your mane looking healthy and vibrant all year round.
Don'ts
Don't start with the roots, as this can cause uneven dyeing and dark patches. Don't skip a patch test before trying out any new color to ensure your hair won't be damaged or react badly. Avoid over-leaving the dye on your hair as it can lead to dried-out locks and brittle strands.
Try the balayage technique for natural highlights instead of allover coloring, which is more damaging to your tresses, in order to maintain healthy locks.
Invest in quality toners if you're looking for that perfect blonde shade without using bleach; however, use them sparingly since too much toner could leave you with a dry, straw-like mane! Avoid common mistakes when going from brown hair to blonde without bleach at all costs.
What is High Lift Dye?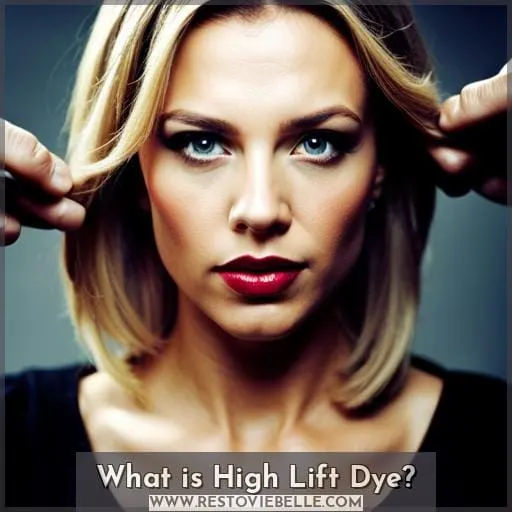 Take the plunge and totally transform your look with High Lift Dye – a simple, hassle-free way to go from brunette to blonde without using bleach! This type of hair dye is made up of special ingredients that can help lift color levels and reach lighter shades without any damage.
It's also great for achieving ashy tones or cool blondes, making it perfect for those looking to switch up their style. High Lift Dye is best used on light brown/dark blonde hair that has already been prepped with clarifying shampoo before application.
To get the most out of this product, use it in conjunction with other techniques like balayage or ombre highlights – this will give you more control over how much you want lightened while maintaining natural movement in your locks.
Finally, don't forget about natural ingredients like lemon juice or tea which are safer alternatives when trying to eliminate brassiness from dyed hair—just be sure to avoid contact near eyes and rinse thoroughly afterward!
How to Make a Natural Hair Lightener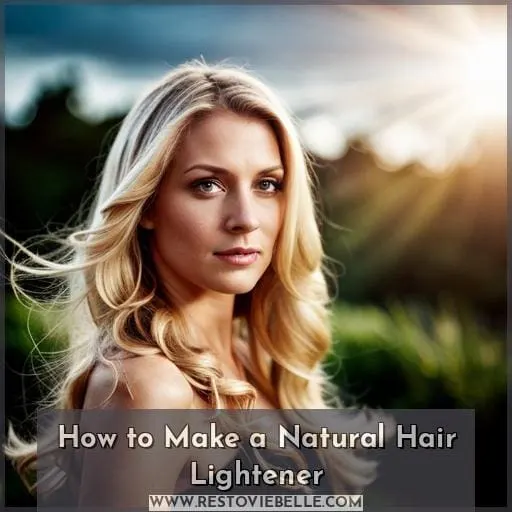 If you are looking for a natural way to dye your brown hair blonde without using bleach, there are several methods available. From lemon juice and tomato paste to vinegar, honey, olive oil, and cinnamon or cardamom-based mixtures; these simple techniques can help lighten dark locks without damaging strands.
Black tea is also an option for achieving a subtle golden hue without harsh chemicals.
Lemon Juice Method
Lemon juice can be your go-to lightener for a natural, sunny look. It's safe and cost-effective with benefits such as heat activation to accelerate the bleaching process, reducing brassiness with the acidic properties of lemon juice, and helping to keep hair healthy by avoiding bleach damage.
When using fresh squeezed or organic lemon juice, mix 2 parts water and 1 part lemon in an applicator bottle or bowl before sectioning the hair for precise application. Protect the skin from staining with petroleum jelly, then heat activate either via sunlight or a blow dryer.
Regularly moisturize since it may cause some dryness. Use toner if needed after processing is complete! Be mindful of individual hair type when applying this method for the best results.
Tomato Paste Method
Combat brassiness with tomato paste or sauce. An old adage goes, A spoonful of sugar helps the medicine go down! Tomato paste should only contain tomatoes and water for maximum benefits.
Sunlight exposure expedites lightening while moisturizing products combat dryness caused by the dyeing process. For best results, ensure your hair is healthy beforehand with regular trims. Be cautious when staining skin around the eyes or face area.
To complete this method, use toner to combat any remaining brassiness. Also, shampoo after dyeing.
Vinegar, Honey, Olive Oil, and Cinnamon/ Cardamom Method
Treat your tresses to a luxurious blend of vinegar, honey, olive oil, and cinnamon or cardamom for an all-natural lightening experience. Start by creating a mixture that combines the beneficial qualities found in each ingredient – such as its antiseptic properties from vinegar and anti-inflammatory benefits from honey.
Then, add some olive oil for moisture while also using either cinnamon or cardamom to provide additional flavor.
Apply this concoction evenly across damp hair with a comb or hands before wrapping it up with plastic wrap, baggie, or shower cap overnight.
Keep strands healthy during this process by moisturizing frequently. Use toning techniques when necessary to tackle brassiness. Always protect eyes when applying products containing lemon juice. Be aware of tea staining skin when using brewed teas on hair too long.
Black Tea Method
Brew up a strong cup of black tea and saturate your strands for a natural lightening effect. Section hair into sections for targeted application. Then rinse with brewed tea and spend extra time in the sun to expedite lightening if desired.
Rinse again, shampoo & conditioner. Optional toning products can combat brassiness while maintaining blonde color maintenance. This is an ideal DIY highlight alternative for those looking to dye brown hair blonde without using bleach.
Tea rinses are an excellent Sun-In alternative as they provide similar results but with less drying effects on hair.
Can I Buy a Natural Lightener to Dye Brown Hair?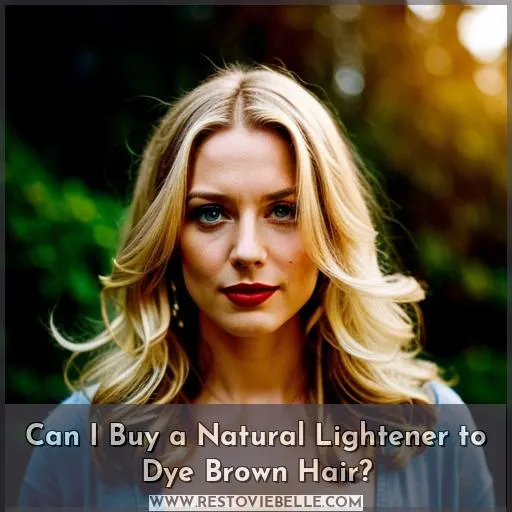 Are you looking for a natural way to lighten your brown hair without using bleach? Then look no further! Klorane Sun Lightening Spray and Natural Blonde Hair Lightening Spray are both excellent options that offer an easy, damage-free transformation to blonde.
Natural Blonde Hair Lightening Spray
Transform your locks to a stunning blonde hue with the help of natural lightening sprays! Try DIY highlights utilizing lemon juice or tomato paste. Alternatively, opt for Sun-In spray and apply it directly to clean hair followed by some time in the sun.
Chamomile tea is another great option that can be applied directly to damp hair for gradual lightening. Natural methods are easy to use but require patience as results may vary depending on an individual's hair type and color.
Klorane Sun Lightening Spray
Klorane Sun Lightening Spray is a natural, sun-activated lightener perfect for giving dark strands a golden glow. The spray helps achieve subtle and effortless sun-kissed highlights without the damaging effects of bleach.
It's ideal for those looking to dye their brown hair blonde naturally and safely – no harsh chemicals or bleaching needed.
So if you're after lighter tresses without spending too much time in the salon chair, Klorane Sun Lightening Spray will be sure to do the trick while keeping your hair healthy as ever.
Does Sun-in Contain Bleach?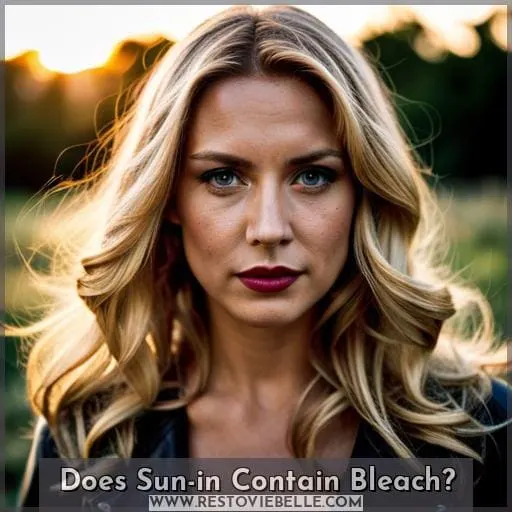 You may be wondering if Sun-in contains bleach, or what alternatives there are to using this product. While the ingredients do not contain any bleaching agents, some people still opt for safer and more natural solutions.
Here is a list of items you can use for highlights:
Lemon juice: Fresh squeezed organic lemon juice helps lighten hair naturally without causing damage.
Tomato paste/sauce: Combat brassiness with tomato paste or sauce that only includes tomatoes and water as its main ingredients.
Vinegar mixture: Distilled vinegar mixed with raw honey, olive oil, and cinnamon/cardamom help gradually lighten your locks overnight when applied to damp hair before rinsing off in the morning.
Strong tea: Brewed strong tea works as an effective way to dye brown hair blonde without using bleach due to its ability to open up cuticles while adding subtle color tones at the same time! However, it's important that you remember regular trims are necessary in order maintain healthy locks throughout your transition process!
How to Dye Brown Hair Blonde Without Bleach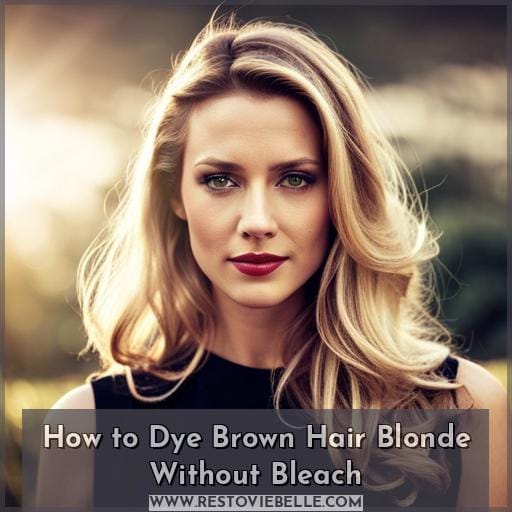 Switch up your look without the stress of bleach by dyeing your brown hair blonde with this easy DIY guide. Start off by investing in a high lift dye, such as Garnier Nutrisse Blonde Hair Dye, and some Goodofferplace Hair Rat Combs to help style it afterward.
To protect skin from potential staining, use Vaseline BlueSeal Petroleum Jelly Original on any exposed areas before you begin.
Wash out product buildup with an ACURE Clarifying Shampoo Lemongrass Argan for effective color penetration then condition with Carols Daughter Black Vanilla Conditioner afterwards to keep hair soft and manageable.
Finally, put on a pair of VOVCIG Hair Dye Gloves and grab the KOENWEENI Hair Dye Kit or squeeze bottles – whichever is more convenient for you – before diving into box dyes tips like sectioning off hair beforehand!
Remember to condition regularly after dying too; Sun In alternatives won't provide enough moisture if used alone so follow these steps along with helpful advice such as natural lighteners every few weeks for healthy locks that will last all season long!
Conclusion
Making the transition from brown to blonde hair can feel daunting, but with the right know-how and supplies, it can be done without using bleach. Whether you choose to use a high lift dye, natural lightening methods, or a box dye, it is important to understand the process and necessary precautions to ensure your hair remains healthy and vibrant.
With a little bit of patience and the right guidance, you can achieve a beautiful blonde hue without subjecting your hair to harsh bleaching agents. With the right approach, you can successfully dye your brown hair blonde without using bleach.