This site is supported by our readers. We may earn a commission, at no cost to you, if you purchase through links.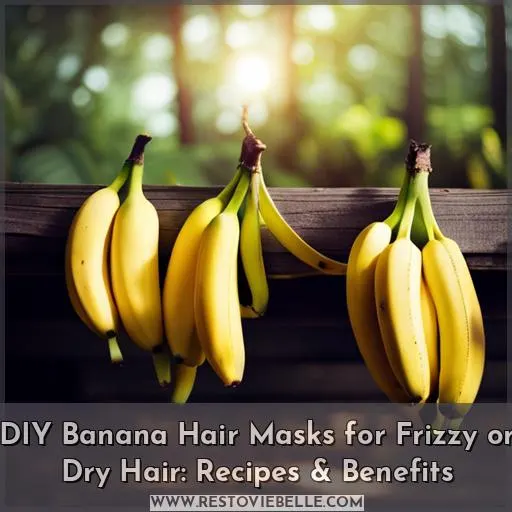 You gotta try this! There's nothing quite as satisfying as pampering your locks with a homemade hair mask. And when it comes to natural ingredients that pack a nourishing punch, you simply can't beat the humble banana.
Whether your hair is dry, frizzy or damaged, a banana hair mask can transform your tresses. Blame it on bananas' amazing cocktail of vitamins, minerals and oils that moisturize hair, leaving it soft and silky smooth.
Instead of spending big bucks at the salon, whip up an easy DIY banana hair mask right in your own kitchen. Make sure to mash that sucker up real good – you don't want any chunky bits in your hair. Then just mix it with a few other simple ingredients like yogurt, olive oil or honey.
Apply the mask and let it soak in for 20 to 30 minutes before rinsing out. We're telling you, your hair will look and feel so good, you'll be grinning from ear to ear! So grab yourself a ripe banana and get ready to unleash some serious hair magic!
Key Takeaways
Homemade banana hair masks moisturize and soften hair, reducing frizz and boosting shine.
Banana hair masks can fight dandruff and promote hair growth due to their high content of vitamins, minerals, and oils.
These masks are budget-friendly and made with natural ingredients, making them a great option for those looking for a DIY solution for frizzy hair.
It is important to test for a latex allergy, avoid chunky bits in the mixture, and not let the mask dry on the hair for optimal results.
Banana Hair Mask Benefits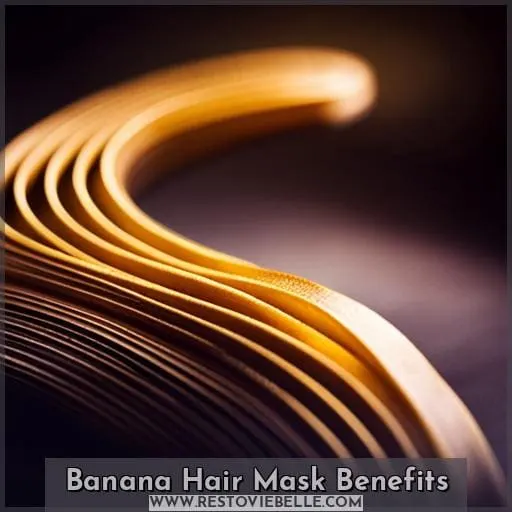 Let's take a look at the amazing benefits of banana hair masks! Not only do they help fight dandruff and smooth out frizz, but they also promote thicker and longer hair growth. With their high content of vitamins, minerals, zinc, and manganese – all essential components for healthy locks – you can rest assured that your tresses will be nourished with every use.
Dandruff Fighter Properties
You can fight dandruff with the power of bananas, which are packed with zinc and manganese to give you a salon-worthy sheen in no time.
Antioxidants kill bacteria.
Potassium restores scalp health.
Vitamins balance moisture.
Bid farewell to drying chemicals. Welcome banana masks that restore your scalp's natural radiance.
Frizz Smoothening Abilities
Hey girl, combat that frizz by slathering your locks with a creamy banana blend – it nourishes each strand and tames even the wildest mane. Bananas are packed with nutrients that strengthen and smooth each follicle. Just mash, lather, and let your hair soak up the frizz-fighting powers of potassium and silica.
Hair Growth and Thickness
Promoting healthy hair, the antioxidants within bananas strengthen follicles for longer strands. Nourish follicles and boost growth with a weekly banana mask. This simple, budget-friendly ingredient makes locks lustrous while supporting your natural hair care routine.
The nutrient rich properties of bananas encourage a healthy scalp for healthier hair.
Banana Hair Mask Precautions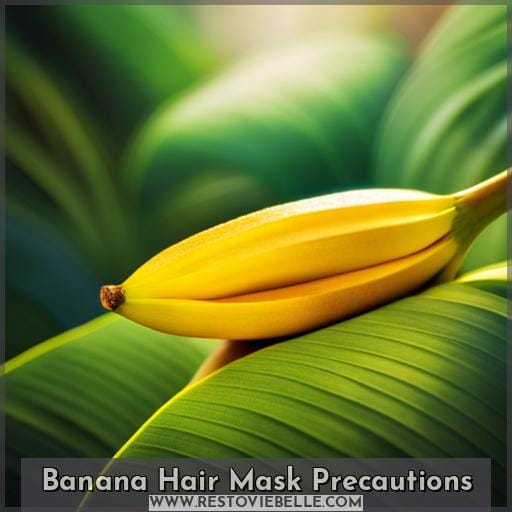 Make sure to test for any latex allergy before applying banana hair masks. A simple patch test on your arm can help determine if you'll have an adverse reaction. When preparing masks, mash bananas thoroughly to achieve a smooth pulp without chunks that could tangle in hair.
For best results, apply to damp hair and let sit for 15-30 minutes with a shower cap. Rinse thoroughly with cool water to remove all residue. Proper moisture balance is key to managing frizz and enhancing your hair's texture.
Experiment to find how often banana hair masks benefit your unique hair care needs.
Natural ingredients can provide wonderful hair care benefits.
Banana Hair Mask for Frizzy Hair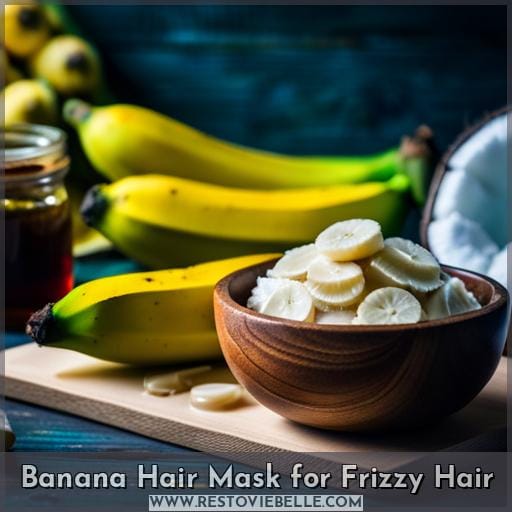 You'll love how a simple banana hair mask tames unruly frizz for smoother, shinier locks.
Hydrates parched strands
Soothes rough cuticles
Seals in moisture
Detangles and defrizzes
Softens and strengthens
Indulge your thirsty tresses by blending up this vitamin-packed paste. Bananas, with their silicic acid, work wonders on frizzy manes, leaving hair ridiculously sleek.
Banana Hair Mask for Dandruff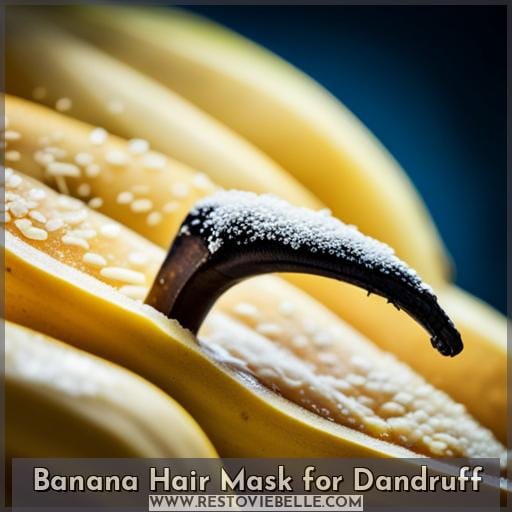 Combating dandruff naturally starts with understanding that bananas pack zinc and manganese. Scrape up those pesky flakes by mashing a ripe banana into a buttery pulp. Mix with a dollop of coconut milk for added moisture and slip the mask onto damp strands.
Let banana's antioxidants soak up excess oils while the fruit sugars exfoliate your scalp.
Banana hair masks soothe irritation while cleansing pores, leaving hair flake-free with regular use. Skip complicated routines and reach for nature's anti-dandruff remedy growing in your kitchen. Banana's nutrients will have your scalp feeling refreshed and hair looking healthier in no time.
Banana Hair Mask for Hair Growth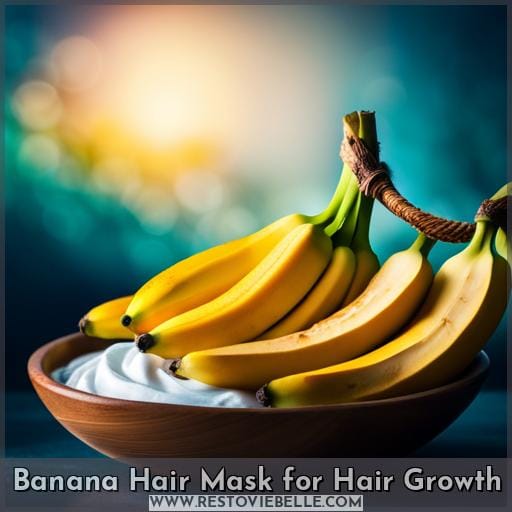 Even though bananas strengthen your hair follicles like superfood for strands, their antioxidants promote longer locks by reducing breakage.
Renew your scalp with a pre-shampoo scalp massage using banana pulp. The potassium energizes follicles.
Mix banana with amla powder and apply to your roots weekly. This Ayurvedic combo encourages new growth.
Make a leave-in conditioner by spraying mashed banana onto your lengths. The silica in bananas smooths cuticles to prevent snapping.
Add banana to your favorite deep conditioner for an antioxidant boost. Fighting free radicals keeps strands growing strong.
Bananas pack nutrients that nourish your scalp and protect your strands. Harness their power in homemade recipes to boost hair growth and thickness naturally.
Easy DIY Banana Hair Mask Recipes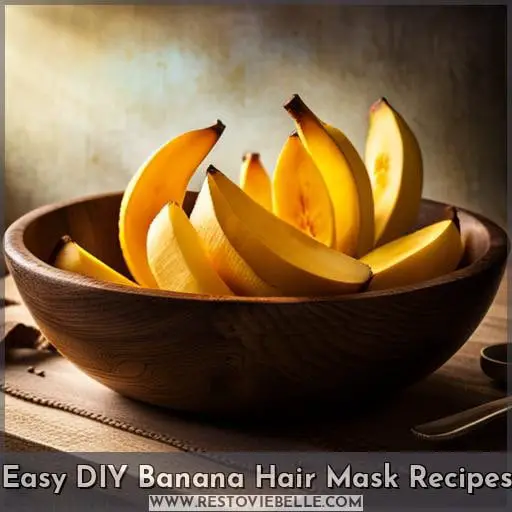 I've got some fantastic banana hair mask recipes that will help tame your unruly locks. We're talking about a banana and egg mask to strengthen strands, a banana and honey blend to deeply condition, a banana and coconut mixture to detangle, and a banana and avocado combo to soften your hair.
These natural hair masks are simple to prepare at home and will leave your hair feeling silky and smooth. The banana provides moisture while the eggs, honey, coconut, and avocado add extra nutrients and slip to your hair.
Whip up one of these masks after shampooing by mashing and mixing the ingredients together. Apply the mask to damp hair, put your hair in a shower cap, and let it sit for 15-30 minutes before rinsing out.
Your hair will air dry soft, shiny, and frizz-free. Give these easy homemade banana hair masks a try for manageable, healthy hair.
Banana and Egg Mask
Mixing banana pulp and an egg creates a nourishing hair treatment that brings damaged strands back to life. Protein-rich eggs provide a boost of hydration, while the bananas lock in moisture for soft, bouncy locks.
Egg alternatives like yogurt or olive oil can be used to create similar effects without compromising on nutrition.
Banana and Honey Mask
For a deep nourishing treatment, try combining honey with a mashed banana for an ultra-hydrating mask. Natural sweetener honey deeply moisturizes parched strands, smoothing the cuticle. Its emollient properties saturate each hair fiber with hydration and shine, restoring manageability to unruly frizz.
Apply the mask weekly, leaving this homemade treatment on for thirty minutes before rinsing thoroughly.
Banana and Coconut Mask
You'll love how the banana and coconut mask leaves your hair silky smooth. The creamy coconut milk provides tropical hydration, while banana nourishes and coconut deeply conditions for hydrating paradise.
Banana and Avocado Mask
You've nourished your hair by slathering on a velvety banana and avocado mask, deeply conditioning each strand.
The rich, creamy blend deeply hydrates and repairs hair due to containing:
Vitamins that provide nutrients.
Antioxidants that protect hair from damage.
Essential fatty acids that moisturize.
Minerals that strengthen hair.
Natural oils that soften hair.
Anushka Sharma's DIY Banana Hair Masks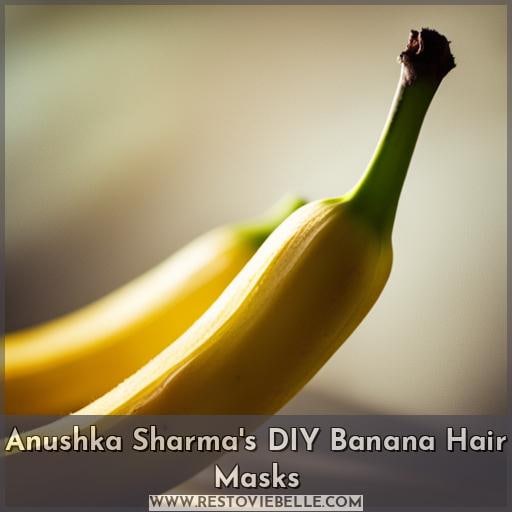 Anushka Sharma's DIY banana hair masks
Juxtapose Anushka Sharma's curated homemade hair rituals with your impulse to grab whatever's lying around when mixing up a hair mask. Anushka knows that kitchen cupboard treasures like banana, milk, curd, coconut milk, and honey can transform lackluster locks.
Her homemade masks – like the frizz-fighting banana and milk blend, the dandruff-relieving banana, curd, and honey mixture, and the smoothing banana coconut milk conditioner – reveal beauty secrets that rely on simple ingredients rather than products.
Don't underestimate what's already in your kitchen like Anushka. Whip up one of her hair recipes, and experience the star-quality shine and silkiness that you can get from ingredients in your own pantry.
Tips for Applying Banana Hair Masks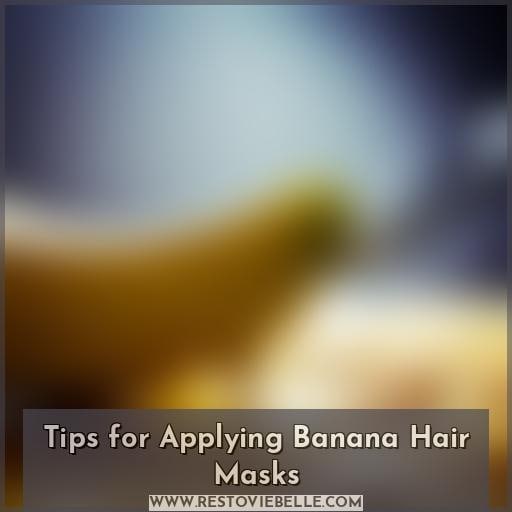 Explore simple yet effective tips for applying banana hair masks to reduce frizz and give your hair a glossy shine.
Application Techniques – Start by mashing the banana with a fork or blender until it's creamy and lump-free. Then apply it evenly from roots to tips, taking care not to oversaturate your scalp area as this can cause product buildup over time.

Drying Time – Leave the mask on for around 30 minutes before rinsing thoroughly with lukewarm water (cold water will seal in moisture, which won't help if you have dryness). For best results, follow up with an herbal conditioner after every use!

Hair Types & Potential Variations – Banana works great on all types of strands, but there are variations that may suit some more than others. Try combining banana with other natural ingredients like honey or avocado depending on what type of benefit you're looking for post-mask care!
How Often to Use Banana Hair Masks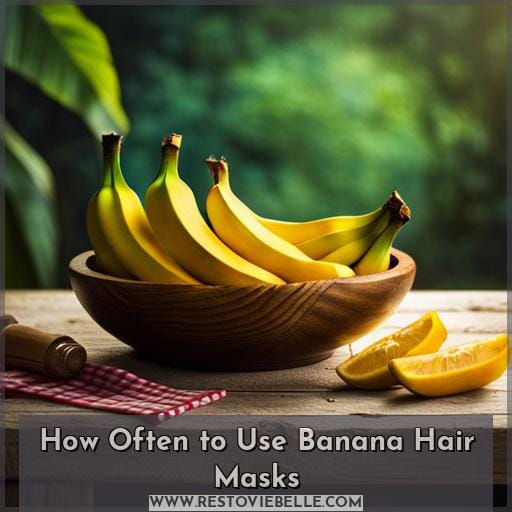 Treat your tresses to banana masks once or twice a week for soft, hydrated hair without over-moisturizing. Banana masks offer frizz-fighting nutrition in an easy, affordable DIY treatment.
Consider trying:
Once a week for very dry, damaged hair.
Every 5-7 days for frizz control.
Twice a week for intensive hydration.
Adjust as needed for your hair type. Give your scalp a break on off days. Swap banana masks with other nourishing DIY hair treatments like avocado, honey, or olive oil. With the right frequency, banana masks boost shine and manageability without overdoing it.
Additional Banana Hair Mask Insights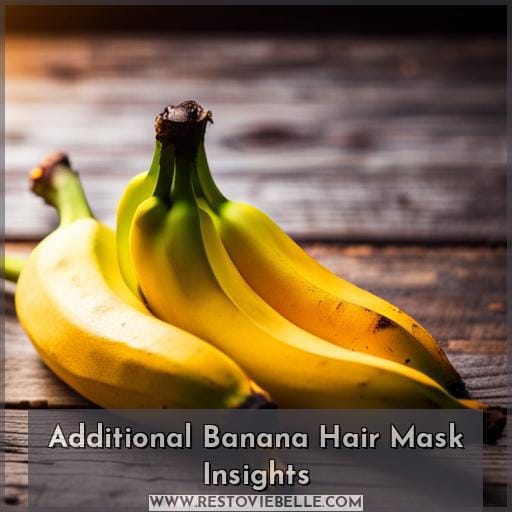 You'd be bananas not to indulge your locks with these rejuvenating masks! Bananas pack a powerful punch of vitamins, minerals, and nutrients to revive dull, damaged hair.
Mix mashed bananas with coconut milk for intense moisture and slip, yogurt to soothe scalp irritation, or olive oil to restore shine – these ingredients are readily available in your kitchen.
Like celebrity Anushka Sharma, discover the beauty secrets hiding in your pantry. Whip up one of her tried-and-true recipes, from a banana-milk mask to combat frizz to a banana-curd-honey treatment for dandruff relief.
Give your hair the TLC it deserves and reap the rewards of luminous, healthy strands!
Conclusion
Though bananas may seem an unlikely frizz-fighting ingredient, their nourishing vitamins and minerals can truly transform lackluster locks! Whip up one of the easy DIY banana hair masks we discussed to turn frizzy, parched hair into supple, sleek strands.
The avocado, coconut, honey, and egg variations all provide unique benefits. Just a few applications can leave you with hair that's soft, shiny, and smoothed to perfection. So grab some overripe bananas and get ready to fight the frizz and unleash your inner beauty! With these DIY banana hair masks for frizzy hair, gorgeous, frizz-free tresses are only minutes away.