This site is supported by our readers. We may earn a commission, at no cost to you, if you purchase through links.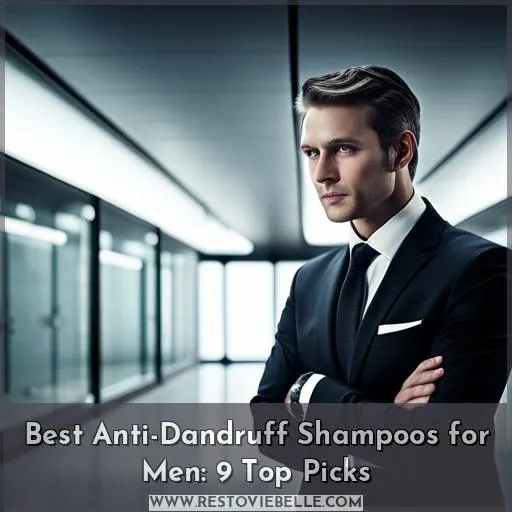 Are you struggling with dandruff? If so, don't worry—you're not alone. Millions of men around the world are dealing with this common scalp issue and looking for a way to find relief.
Out of all the anti-dandruff shampoos on the market, which one is best suited for your needs? To help you narrow down your search and make an informed decision, we've rounded up some of our favorite best anti-dandruff shampoos for men.
From Head Shoulders Royal Oils Scalp Care to Amika Reset Exfoliating Shampoo, each product offers its own unique benefits and features that can help keep pesky flakes at bay while nourishing strands from root to tip!
We'll also dive into what ingredients should be included in a good dandruff shampoo as well as discuss why trust us when it comes to making sure your hair stays healthy and strong without any flaking or itching involved.
Key Takeaways
Millions of men worldwide struggle with dandruff.
Effective ingredients against dandruff include selenium sulfide, zinc pyrithione, salicylic acid, and coal tar.
Tea tree oil and apple cider vinegar provide added relief.
Consulting a dermatologist is recommended.
9 Best Anti-Dandruff Shampoos for Men
Dandruff can be an embarrassing and frustrating problem, but the right shampoo can help. From Head & Shoulders Royal Oils Scalp Care to Amika Reset Exfoliating Shampoo, here are nine of the best anti-dandruff shampoos for men to try: Philip B AntiFlake Shampoo, Rahua Scalp Shampoo Nourish Renew, Jupiter Anti-Dandruff Shampoo, Canviiy ScalpBliss Foam Treatment, R+Co Submarine Enzyme Shampoo, and more.
Each one offers a unique combination of active ingredients designed to soothe symptoms like itchiness and flaking while restoring balance back into your scalp health routine.
1. Head Shoulders Royal Oils Scalp Care
View On Amazon
If you're looking for an effective dandruff solution with natural ingredients and a fresh coconut oil scent, give Head & Shoulders Royal Oils Scalp Care a try. This sulfate-free shampoo is infused with coconut oil and apple cider vinegar, designed to balance the scalp's natural oils while restoring its health with regular use.
Infused with Coconut Oil and Apple Cider Vinegar
For Curly & Coily Crowns
Balances and restores scalp health with regular use
Sulfate-free, Paraben-free & Dye free
Does not dry out Hair or Scalp
May be too oily for Straight Hair
Can take up to 3 weeks before results show
2. Kick Mens Shampoo Anti Dandruff
View On Amazon
Experience the power of 11 botanical ingredients with Kick Men's Shampoo Anti Dandruff – perfect for restoring balance to your scalp and relieving itchiness. This shampoo offers a unique blend of natural, vegan-friendly ingredients such as Tea Tree leaf, Peppermint, Eucalyptus, and Rosemary.
It's 100% irritant-free, so it won't damage or dry out your hair like harsher chemicals can.
Not only does this shampoo provide relief from dandruff symptoms, but it also strengthens hair while offering moisturizing benefits too! With its sleek bottle design and invigorating clean scent, you'll be sure to love every use!
This anti-dandruff treatment works by balancing pH levels in the scalp while helping reduce inflammation caused by yeast overgrowth that leads to dandruff formation.
Some users may not see a significant reduction in flakes; however, many say they have noticed improvements when used regularly over time, along with fewer issues related to thinning hair and an overall healthier-looking mane.
Formulated with 11 powerful, pure, ultra-potent botanicals
Hair-strengthening moisturizing shampoo in one
Leaves a soft, light feeling & invigorating clean scent
May not show a significant reduction for some people
No SLS/sulfates, parabens, harsh chemicals
3. Neutrogena TGel Shampoo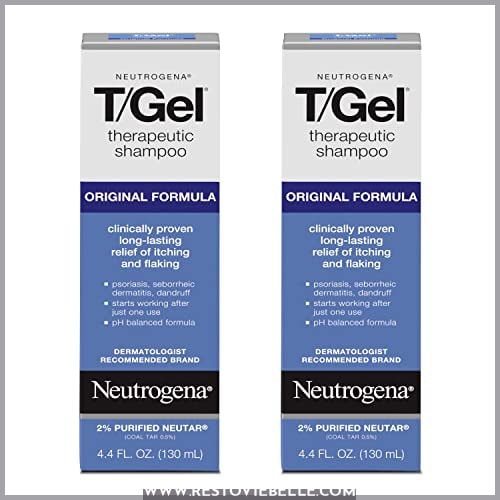 View On Amazon
Try Neutrogena T/Gel Therapeutic Shampoo to get long-lasting relief from itchy and flaky scalps. This anti-dandruff treatment starts working after just one use, providing fast and effective relief for those suffering from scalp psoriasis, seborrheic dermatitis, or common dandruff.
Formulated with 2% Neutar Solubilized coal tar extract as an active ingredient that continues to work for hours after use, the shampoo provides fast relief of itching and flaking.
The alcohol-free formula gently cleanses the scalp while maintaining its natural balance without over drying it out like some harsher treatments can do.
Plus, the National Psoriasis Foundation recognizes this product, so you know you are getting something that has been proven effective time and again with their patented technology!
Provides fast relief of itching and flaking
Active ingredients continue working for hours after using the shampoo
Gentle on hair while still being powerful
Alcohol-free formula won't dry out your scalp
Recognized by the National Psoriasis Foundation
Can temporarily stain blonde or dyed hair
Has a strong smell which not everyone may like
Difficult to find in local stores
4. Philip B AntiFlake Shampoo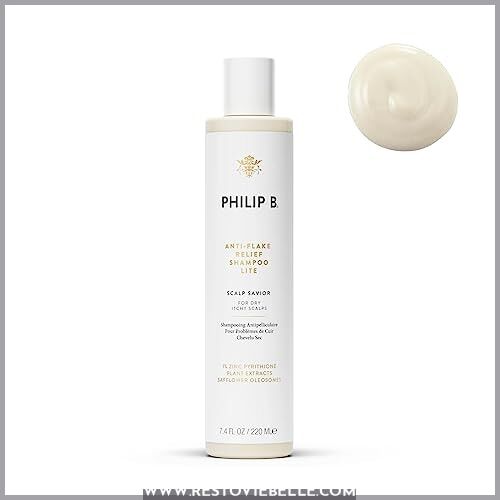 View On Amazon
Feel the soothing effects of Philip B AntiFlake Shampoo, with its time-released hydrators for immediate relief and natural botanicals like Italian White Truffle Oil. This shampoo is formulated specifically for those suffering from severe scalp issues such as heavy dandruff or dry skin.
Enriched with ingredients known to fight inflammation around each hair follicle, this product penetrates deep into your strands to help promote thicker and healthier hair over time. With all-natural extracts including chamomile, hops, nettle, thyme, lavender, horsetail, and burdock, it helps you achieve a renewed sense of comfort that lasts long after use.
For an even more luxurious feel, try pairing it up with their Aloe & Fenugreek leave-in conditioner! While some may find this formula works well on mild cases of dandruff, others report needing a conditioner afterward due to its strong cleansing properties, which can strip away too much moisture if used without one regularly.
Provides instant soothing relief for lasting comfort
Promotes thicker and healthier hair over time
Contains all-natural botanicals like Italian white truffle oil
Penetrates the hair, working from the inside out
May require using a conditioner alongside shampoo
Formula may have been changed, resulting in longer wait times
May not work for everyone looking for dandruff control
5. Rahua Scalp Shampoo Nourish Renew
View On Amazon
Rahua's Scalp Shampoo Nourish Renew is the perfect choice for those looking to nourish and strengthen their hair, with its exotic blend of crushed star anise, mango, and passionfruit enzymes. Infused with a refreshing real botanical aroma scent, Rahua's natural shampoo helps remove dead skin cells and build-up while improving circulation at the scalp.
Easy to use and rinse off – unlike other brands – this luxurious formula leaves your scalp feeling refreshed without over-drying or stripping it of its natural oils. Perfectly suitable for all types of hair from thinning to coarse or curly locks, this plant-powered shampoo will leave you feeling revived after each use.
Rahua stands by their commitment to clean beauty products that are naturally derived; so not only do you get stunning results but also aid in preserving acres of rainforest land per sold bottle too!
Natural & Organic Ingredients
Aids Hair Strength & Growth
Refreshing Scent
Refreshes & Revives Scalp
Plant Powered Formula
Unfamiliar Scent
Not Suitable For Color Treated Hair
6. Jupiter Anti Dandruff Shampoo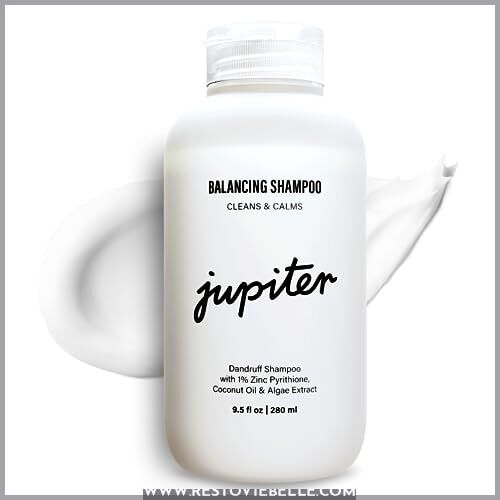 View On Amazon
Jupiter's Anti Dandruff Shampoo gives you a flake-free cleanse with its active ingredients that target the root cause of dandruff. It is dermatologist-tested and FDA approved for treating flaking and scalp irritation.
The shampoo contains Zinc Pyrithione, Coconut Oil, Decylene Glycol, and Algae Extract. It is scientifically proven to reduce hair breakage by over 75%. This shampoo effectively addresses flakes, irritation, dryness, or oiliness in your scalp as well as itchiness.
The shampoo is free from sulfates, parabens, phthalates, and dyes. It removes flakes while controlling irritation and minimizing excess sebum buildup on your head. The natural fragrance blend of mint, vanilla, rosemary, sage, tangerine, and lavender makes Jupiter's Anti Dandruff Shampoo an unforgettable experience for both men and women alike.
Dermatologist tested and FDA listed active ingredient helps treat flaking and scalp irritations
Effective in addressing flakes, itching, and oily/dry scalps
Minimizes excess sebum buildup on the head
Natural fragrance blend leaves a pleasant scent behind
Contains some chemicals such as decylene glycol
Not suitable for people sensitive to fragrances
7. Canviiy ScalpBliss Foam Treatment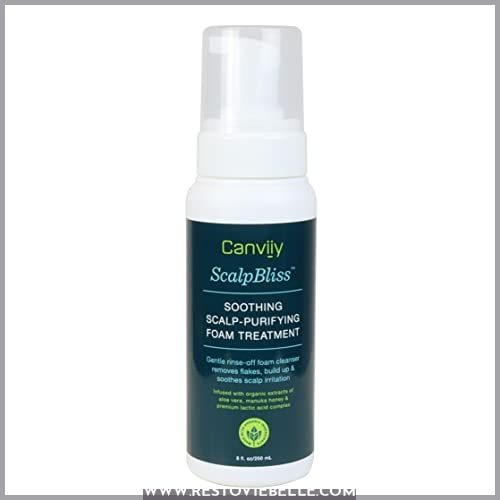 View On Amazon
Canviiy ScalpBliss Foam Treatment is specifically formulated to balance and restore scalp health, drawing out impurities with its organic-infused blend of aloe vera, witch hazel, tea tree oil, sandalwood, and coconut extracts.
This foaming treatment shampoo provides a luxurious experience that nourishes even the most sensitive scalps while removing product build-up and other irritants. The easy application foam pump requires only 2-3 pumps per use – once a week – for optimal results without stripping or drying out hair follicles.
It's free of sulfates, parabens, artificial fragrances, or colors, making it suitable for all types of dandruff-prone skin! With natural botanicals like aloe vera providing hydration along with antifungal properties from witch hazel; scalp soothing & itch relief provided by essential oils such as tea tree oil & sandalwood; plus intense moisture replenishment from Coconut extract, this product truly lives up to its name: Scalp Bliss!
Easy applicator pump makes usage mess-free
Non-Stripping formula hydrates flaky scalps
Natural Botanical ingredients provide gentle yet effective care
Strong scent may be off-putting for some users
Not helpful in treating stubborn cases of dandruff
Inconsistent smell across multiple bottles
8. RCo Submarine Enzyme Shampoo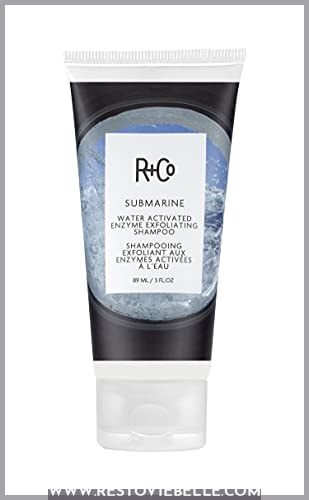 View On Amazon
RCo's Submarine Enzyme Shampoo nourishes and softens hair while calming the scalp. It is formulated with bilberry extract, fermented radish root, and tomato extract, which help stimulate the scalp for improved shine and dissolve odor-causing sebum.
This shampoo is suitable for all hair types, especially those with sticky oily dandruff.
After rinsing out this thick shampoo that doesn't lather much but works effectively when properly used, you'll find yourself sporting softer locks of hair along with a cleaner feeling on your scalp. Users have also found it effective in clearing product buildup without drying out their tresses or irritating their scalps.
You can follow up this revitalizing experience by using RCo's Super Garden Hair Treatment for optimal results: goodbye flakes and itchiness!
Revitalizes Scalp
Stimulates Shine & Dissolves Odor-Causing Sebum
Clears Product Buildup Without Irritation
Leaves Hair Soft & Happy
Thick Texture That Doesn't Lather Much
No Noticeable Effects For Some Users
9. Amika Reset Exfoliating Shampoo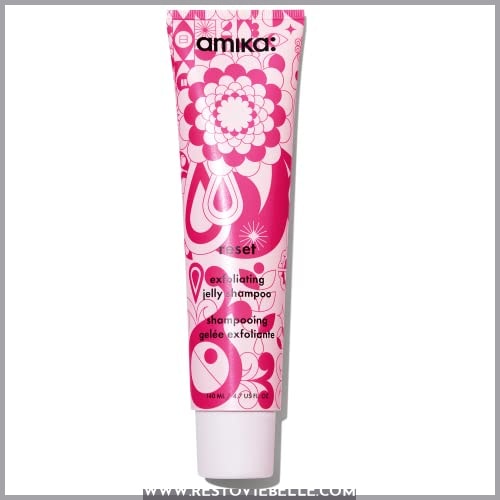 View On Amazon
Finally, complete your dandruff-fighting routine with Amika's Reset Exfoliating Shampoo – a refreshingly scented gel that effortlessly banishes flakes and itchiness like magic! This shampoo is specially designed to act as a magnet for all the unwanted gunk on your scalp.
It purifies and rebalances any oily or sensitive scalps, leaving you feeling clean for several days after just one use.
With an easy application process through its needle nose design for deep root penetration, this product will keep your hair looking shinier than ever before.
Acts as a magnet to slough off unwanted gunk
Purifies and rebalances the scalp
Easy application with needle nose for deep root and scalp penetration
Suitable even for the most oily, itchy, and sensitive scalps
Leaves hair shinier & clean for several days
Pleasant scent
Pricey compared to other products
Difficult availability
What to Look for in a Dandruff Shampoo

When choosing a dandruff shampoo, look for one with active ingredients that can help reduce flaking and itching while calming the scalp. Ingredients such as selenium sulfide, zinc pyrithione, salicylic acid, and coal tar have been proven to be effective against dandruff.
To maintain a healthy scalp, it is also important to consider lifestyle factors such as diet choices and stress levels. Natural remedies like tea tree oil or apple cider vinegar may provide relief from symptoms when used in combination with an anti-dandruff shampoo.
It's always best to consult a dermatologist before starting any new treatment plan for optimal results. Keep in mind that certain health conditions or genetics can increase the risk of developing dandruff, so it's important to understand your individual needs when selecting products designed specifically for treating this condition.
Why Trust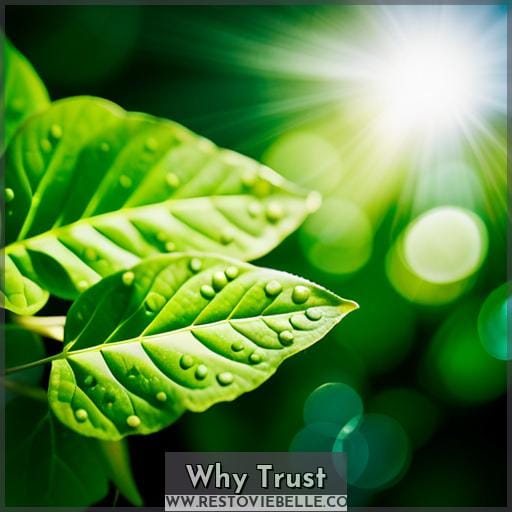 When it comes to finding the best anti-dandruff shampoo for men, you want to make sure that you're considering both user reviews and expert recommendations. It's important to pay attention to ingredient selection when choosing a dandruff shampoo.
Ingredients such as pyrithione zinc, tea tree oil, salicylic acid, and coal tar can be effective in combating flakes and itchiness.
When reading product reviews online, pay attention and look for dermatologist-tested shampoos with anti-fungal properties that have been proven effective by customers who've tried them.
Finally, personal experiences are invaluable resources. Ask friends or family members if they've used any specific shampoos that had good results on their scalp health!
What Exactly is Dandruff?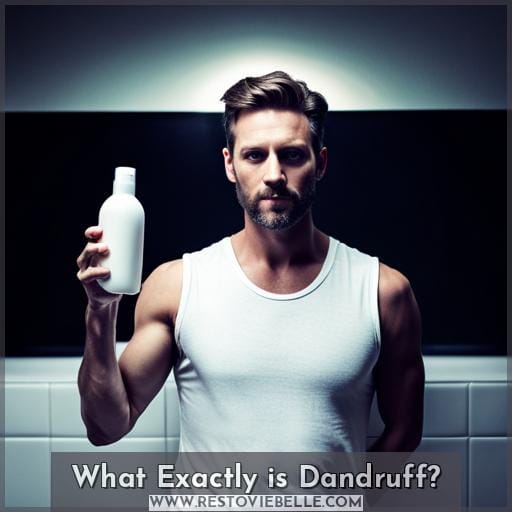 You may be wondering what dandruff is and why it's such a common issue for so many people. Dandruff, or seborrheic dermatitis, is an inflammatory skin condition that causes white flakes to form on the scalp.
It's caused by an overgrowth of Malassezia yeast which thrives in warm and humid environments.
Common symptoms include flaky patches of dead skin cells, redness, itchiness, and oily residue from hair products like gels or sprays. Treatment options vary depending on the severity but can range from using shampoos with active anti-fungal ingredients like pyrithione zinc or selenium sulfide to natural remedies such as apple cider vinegar rinses or coconut oil massages into the scalp.
To prevent dandruff flare-ups, regularly washing your hair with a gentle shampoo formulated specifically for men should help keep things under control. It is also important to avoid overly drying hair products that can strip away essential oils needed for healthy scalps.
Learn What is Triggering Your Dandruff

Discovering what triggers your dandruff can be the key to finding an effective solution. Causes of dandruff vary from person to person, but some common culprits are excess oil production, dry scalp, and even lifestyle factors such as stress or diet.
With this in mind, it's important to identify potential causes before looking for a treatment option that works best for you. To prevent flare-ups of flakes and irritation associated with dandruff, try natural remedies like apple cider vinegar rinses or tea tree oil shampoos that help regulate sebum levels on the scalp without stripping away essential oils.
If more severe symptoms persist despite these measures, then it may be time to look into over-the-counter options like medicated anti-dandruff shampoo containing zinc pyrithione or selenium sulfide. These shampoos help slow down skin cell turnover rate while providing relief from itching and flaking caused by yeast build-up on the scalp surface.
Additionally, adding omega 3 fatty acids into your daily diet can also have beneficial effects when fighting off pesky flakes! Keeping track of environmental changes such as cold/dry weather conditions is another great way of preventing a full-blown outbreak.
Conclusion
Scrutinizing the scalp for signs of dandruff and doing your research on the best anti-dandruff shampoos for men is an essential part of maintaining overall scalp health.
With the best products, you can reduce flaking, itching, and oiliness, and protect your hair from damage due to dandruff.
From Head & Shoulders Royal Oils Scalp Care to Canviiy ScalpBliss Foam Treatment, we've reviewed the top nine anti-dandruff shampoos for men to help you choose the best one for your needs.
Each of these shampoos contains powerful ingredients like zinc pyrithione, selenium sulfide, salicylic acid, tea tree oil, coal tar, menthol, and piroctone olamine to provide relief from dandruff and other scalp conditions.
With the right shampoo, you can enjoy a healthy, flake-free scalp and healthier hair.