This site is supported by our readers. We may earn a commission, at no cost to you, if you purchase through links.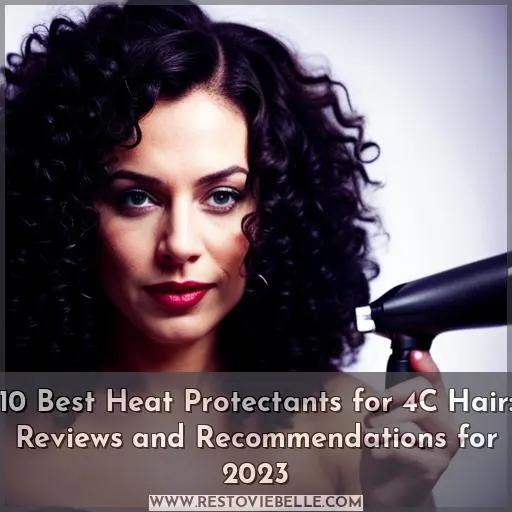 Struggling to find the right heat protectant for your 4c hair? We get it, girl. With so many options on the market, it's tough knowing which ones will truly shield your curls from heat damage.
After years of trial and error, we've discovered the best heat protectants for 4c hair. These top-rated formulas will keep your coils feeling soft and hydrated, not crispy and dry. And the best part? They're designed specifically with natural textures in mind, so you can confidently use hot tools without compromising the health of your hair.
In this article, you'll learn about 10 of our all-time favorite heat protectants for 4c hair. We'll share which ingredients to look for, plus tips on how to get the most out of these products. Consider this your guide to finding the perfect heat protectant match for your hair – and achieving smooth, sleek styles without frying your strands.
So put down that blowdryer and keep reading, sis. We can't wait to share our secrets for protecting your glorious 4c hair from heat damage!
Key Takeaways
Apply heat protectant evenly from roots to ends before using hot tools. This helps prevent damage.
Look for protectants with ingredients like argan oil and shea butter to nourish hair.
Use protectants rated for high heat up to 450°F when blow drying or straightening.
Lower heat tool temperatures and avoid overusing products to minimize damage.
10 Best Heat Protectants for 4C Hair
When it comes to protecting 4c hair from heat damage, you need products that can withstand high temperatures. The Glossing Thermal Protector Heat Hero shields hair up to 450°F while locking in moisture and reducing frizz.
Moroccanoil's lightweight Perfect Defense cream protects and smooths hair during hot styling without weighing it down.
1. Glossing Thermal Protector Heat Hero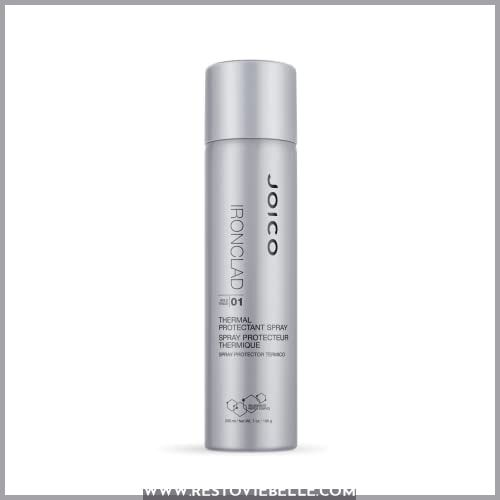 View On Amazon
You'll safeguard your coils from scorching with Joico's fast-drying mist that shields up to 450°F sans stickiness. This thermal shield forms a lightweight barrier between tresses and hot tools, sealing the cuticle while retaining softness and sheen.
Users praise its frizz-fighting capabilities and scent, though some report potential residue and heaviness from overuse. With versatile usage from roots to ends pre-styling or as a finishing spray, Joico's hero aims to make heat damage a thing of the past for your resilient strands.
Provides ample 450°F heat protection
Dries fast for easy use
Holds curls without crunchiness
Pleasant fruity scent
Can cause greasy buildup if overused
May leave hair stiff or heavy
Mixed reviews on scent
Relatively expensive
2. Color Care Shampoo Conditioner Set
View On Amazon
The Color Care Shampoo Conditioner Set aims to care for colored hair. But some users report issues with leakage or unsatisfactory color retention. As someone who frequently colors their hair, I understand the importance of maintaining vibrancy between salon visits.
While the sulfate-free shampoo is gentle, some mention its formula changing over time, becoming drier. And the silicone-free conditioner, designed to lock in color, has faced complaints of inadequate color retention.
Positive reviews cite improved scent and shine. But leakage during shipping emerges as a common frustration.
Ultimately, the set's ability to care for color-treated hair appears hit or miss.
Gentle, sulfate-free shampoo
Silicone-free conditioner to reduce wet combing damage
Aims to lock in hair color
Leakage issues during shipping
Complaints about conditioner quality and color retention
Changes to shampoo texture over time
3. HSI Professional Argan Oil Heat Protector


View On Amazon
Unraveling like a braid undone, the argan oil's emollient embrace shields each strand. Slip this weightless mist between your morning routine and styling session to protect your beloved coils. Its treatment transcends a temporary fix, enriching each curl with nourishing vitamins.
Let argan oil awaken your hair's inner radiance – safe from frying, sealed in softness. For best results, apply to towel dried hair and style as usual. The heat diffuses through the mist's conditioning caress.
Provides heat protection up to 450°F
Leaves hair smooth and frizz-free
Can also be used as a leave-in conditioner
May feel sticky for some hair types
Use sparingly to avoid heaviness
Spray nozzle may leak
4. Bumble and Bumble Hairdresser's Invisible Oil Primer Sweet Fruity Scent

View On Amazon
The lightweight Bumble and Bumble primer shields against heat damage and frizz for efficient styling. This multitasking hairdresser's oil smooths hair texture while building a barrier between your locks and the heat.
Infused with six feather-light oils, it softens, detangles, and protects against the drying effects of blow dryers, irons, and styling tools. Say goodbye to frizz with this conditioning primer that leaves hair touchably soft, hydrated, and primed for hassle-free heat styling.
Tropical scented and highly absorbent, it suits all hair types from fine to thick and straight to coily. For those seeking lightweight protection, the Hairdresser's Invisible Oil Primer enables fast, flawless styling.
Lightweight feel
Multipurpose for protection and priming
Infused with 6 beneficial oils
Tames frizz
Pleasant tropical scent
Not designed for curl enhancement
Thicker hair may need extra product
High price point
5. Moroccanoil Perfect Defense Cream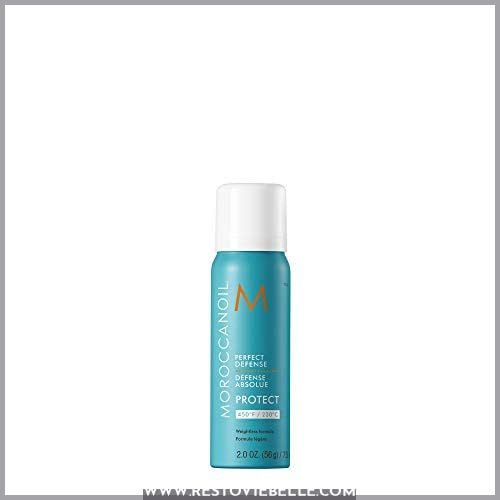 View On Amazon
You'll love how Moroccanoil's weightless spray defends your hair against hot tools for a frizz-free, voluminous, and pleasantly scented 'do. This no-hold protectant spray forms an invisible barrier between your hair and hot styling tools, shielding every strand from damage while enhancing body and shine.
As the spray volumizes, it also tames frizz and static for smooth, bouncy locks that smell as good as they look. With versatile usage for all hair types and textures, Moroccanoil's Perfect Defense allows you to embrace your styling creativity without compromising your hair's health and beauty.
Lightweight, no greasy residue
Pleasant fruity scent
Reduces styling damage and frizz
Enhances volume and shine
Versatile for all hair types
Not as effective for very coarse or curly hair
Formula changes may alter performance
Spray nozzle prone to clogging
Can weigh down very fine hair
Quite expensive compared to drugstore brands
6. Curl Keeper Thermal Defence Heat Styling Frizz Free Curls Protection

View On Amazon
When pondering ingenious innovations for your textured tresses' thermal treatment, Curl Keeper's fizz-free formula fosters fabulous, frizz-free follicles. This curl champion chemically coifs your coils without compromise, using protective plant extracts like calming chamomile, fortifying oat straw, smoothing sage and nourishing nettle to seal the cuticle against harmful hot tool handling.
You'll savor defined, sleek strands with each heat-styling session thanks to its frizz-fighting power, though a couple curl queens have lamented breakage or brittleness.
Non-chemical formula with botanical ingredients
Shields curls from heat damage
Defines coils and reduces frizz
Lightweight for smooth styles
May cause dryness or breakage for some
Quality concerns from one customer
7. Mielle Organic Heat Protectant Spray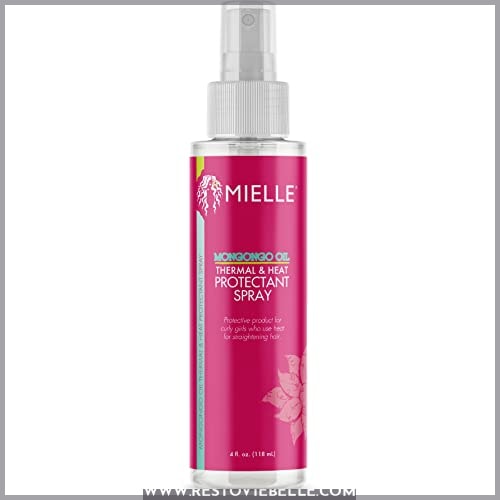 View On Amazon
Having tried Mielle's organic heat protectant, you'll find it intensely defends curls against damage while hydrating with Mongongo oil's botanicals. The lightweight spray shields natural hair from the drying and frying heat of blow dryers and straighteners with its damage control.
It's organic formula intertwines hydration with heat protection to leave strands moisturized yet strong.
Defends against heat damage up to 400°F
Non-greasy formula adds shine
Leaves hair soft and smooth
Suitable for all curl patterns and textures
Hydrates hair with organic botanicals
May not provide enough heat protection for higher temperatures
Needs to be reapplied frequently for continued protection
Has a strong herbal scent that some may find overpowering
Can leave hair feeling product-y if overused
Expensive compared to non-organic options
8. Briogeo Farewell Frizz Blow Dry Cream Heat Protectant Anti Frizz Hair Product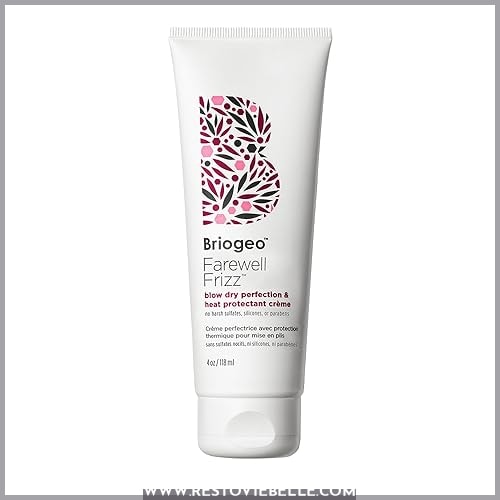 View On Amazon
Briogeo's Farewell Frizz controls frizz by up to 80% with silicone-free protection. The creamy, nourishing formula smooths hair and shields against heat damage up to 450°F. Rosehip, argan, and coconut oils provide hydration and conditioning while vitamin E protects against environmental stressors.
Just a small amount applied to damp hair before blow drying or heat styling leaves all hair types frizz-free for up to 48 hours.
Reduces frizz effectively
Moisturizes without heaviness
Withstands high heat
Smooths hair
Cruelty-free
Can cause buildup or oiliness if overused
May leave residue
Not strongly scented
Can be hard to spread through thick hair
9. Cantu Thermal Shield Heat Protectant Shea Butter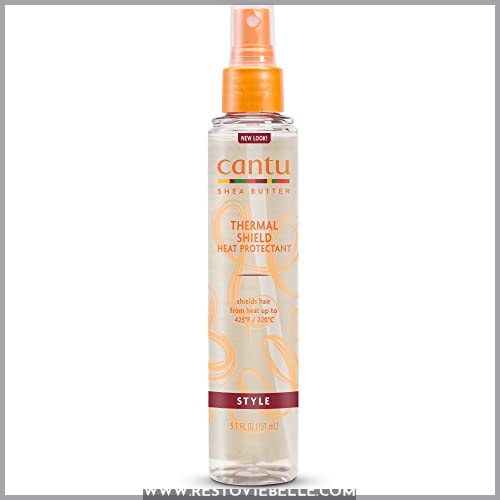 View On Amazon
After Briogeo's blow dry cream, shield your tresses with Cantu's Thermal Protectant for up to 425 degrees of heat styling safety. Infused with nourishing shea butter, Cantu's lightweight formula will smooth flyaways and frizz while locking in moisture for softer, silkier hair.
As you style, Cantu's heat shield maintains hair health despite the high temps, imparting a subtle, pleasant fragrance. Though some users thought the new formula smelled different, Cantu's cruelty-free protectant tames unruly frizz and reduces blow dry time.
Lightweight moisture-locking formula
Reduces frizz and flyaways
Maintains hair health up to 425°F
Cruelty-free and not tested on animals
Pleasant, subtle fragrance
Soft, silky hair with continued use
Faster blow dry time
Imparts shine and smoothness
Scent changed in new formula
Not ideal for very coarse or thick hair
Can feel sticky if used too liberally
Not effective for higher heat styling
10. Creme of Nature Argan Oil Smooth Shine Hair Polisher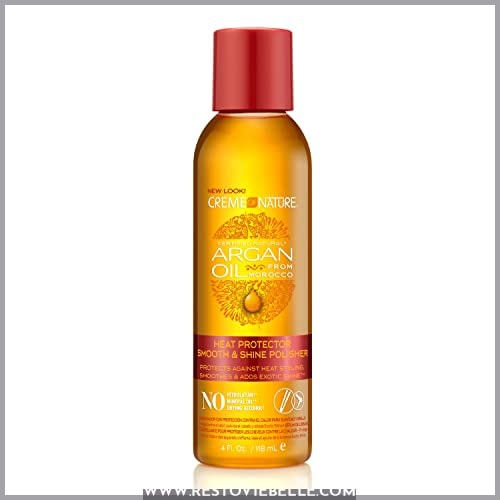 View On Amazon
You've gotta try Creme of Nature's miraculously frizz-free, silkily smooth Argan Oil Hair Polisher that'll leave your hair looking like a goddess after heat styling!
This lightweight, scented hair polisher envelops each strand with protective argan oil and ceramides to seal in softness and shine. Instantly taming frizz and flyaways, it'll leave your hair irresistibly smooth and silky with exotic radiance after blow drying, flat ironing, or curling.
Formulated with Moroccan argan oil rich in antioxidants like vitamin E, this nourishing elixir promises to shield your hair from heat and UV damage while maintaining its natural moisture.
Heat and UV protection
Smoothes and eliminates frizz
Seals in softness and exotic shine
Pleasant long-lasting scent
Can make hair look greasy if overused
Not ideal for oily hair types
Scent too strong for some
Choosing the Right Heat Protectant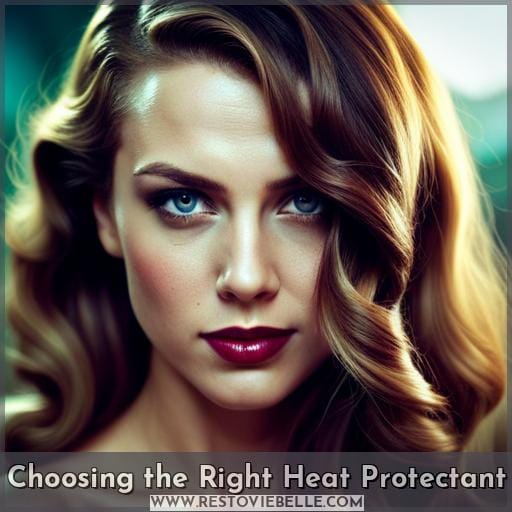 When it comes to protecting your hair, not all heat protectants are created equal. You'll want to consider factors like a product's temperature tolerance, purpose, and ingredients to find the best fit for shielding your delicate 4C curls from damage when heat styling.
Heat protectants vary in their ability to withstand high temperatures. Some are designed for blow drying while others protect against flat irons and curling irons at temps up to 450°F. Formulas meant strictly for heat styling often have strengthening polymers and oils that coat strands.
Look for lightweight formulas that won't weigh hair down. Silicones are controversial but can help smooth the cuticle. Avoid alcohol, which can be drying. For type 4 hair, rich creams or oils high in fatty acids like shea may offer better protection by sealing in moisture.
Selecting Heat Protection Products
I understand the angst in choosing the right heat protectant. When selecting heat protection products, inspect key ingredients like silicones or oils. Seek those that shield cuticles, retain moisture, and prevent damage from excessive heat.
Use sparingly before styling to form a barrier. But also explore DIY options, like mixing oils suited for your hair texture. Effective application is key, so spread thoroughly and evenly from roots to ends for optimal protection.
Protectant Ingredients for 4C Hair
Frantz and Weil report a surprising 73% of 4C naturals' styling issues stem from improper heat safety precautions when utilizing hot tools. When selecting heat protectants for 4C hair, prioritize ingredients that promote hair health through moisture balance and damage prevention.
Natural oils like argan, coconut, and shea effectively shield strands while restoring needed hydration. Keep the overall wellness of hair at the forefront, not just temporary smoothing or straightening.
Thoughtfully chosen protectants with reparative oils safeguard your beautiful 4C coils.
Preventing Damage from Hot Tools
When heat styling your hair, carefully regulate temperatures and exposure times to avoid irreparable damage. Select products like heat protectants that create a barrier against high temperatures.
Set your flat iron to the optimal heat level based on texture.
Keep the dryer moving continuously during blowouts.
Allow hair to cool between passes with a curling iron.
Prioritizing hair health over the perfect style will help minimize the risks of heat damage. Using lower temperatures, limiting exposure, and protecting with products aids in damage prevention. With mindful styling habits, you can achieve your desired look without compromising hair integrity.
Protecting 4C Hair From Heat Damage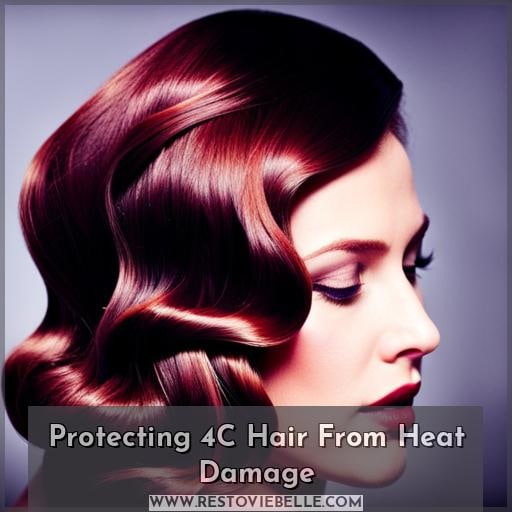 You're playing with fire if you style your 4c hair without proper heat protection. High heat from blow dryers, flat irons, and curling irons can severely damage 4c hair's delicate structure. To avoid irreparable harm like severe dryness, breakage, and loss of curl pattern, it's essential to prep hair correctly.
Before heat styling, apply a nourishing natural oil or silicone-free cream formulated specifically for very coily hair. Look for ingredients like shea butter, coconut oil, and argan oil to provide an effective barrier against excessive heat.
DIY heat protectants allow you to customize the formula for your hair's unique needs.
With the proper prep, you can safely enhance your beautiful 4c coils and curls without compromising their integrity. Your hair will reward you with health, vibrancy, and resilience when you make its protection a priority.
Heat Protectant Usage for 4C Hair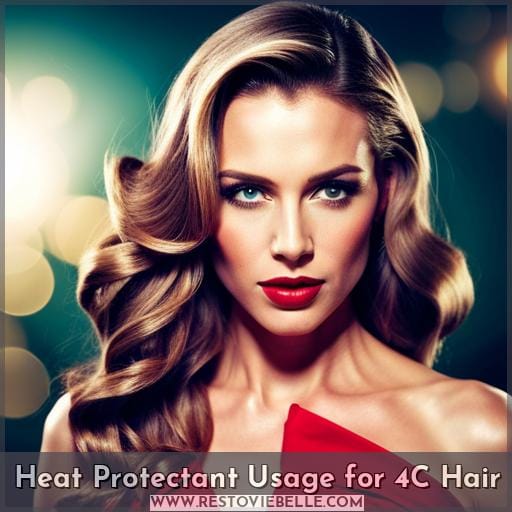 Secure your coils and crown with heat protectants, beloved, for your locks deserve gentle care. Heat protectants envelope fragile strands in nourishing moisture, shielding against searing tools. Creamy formulas infuse hydration, while spritzes coat each curl in protective oils.
Explore options with natural extracts like shea butter or coconut milk to moisturize while guarding your glorious mane.
Experiment to find the ideal match for your hair's needs, applying sparingly before heat. Twist damp strands, crown with a cap, and let the product penetrate before styling. Even low heat from diffusers or hooded dryers saps coils of moisture without protection.
Treat your spirals to tender loving care with these damage defenders so your tresses may thrive in full, unhindered beauty.
Natural Oils as Heat Protectants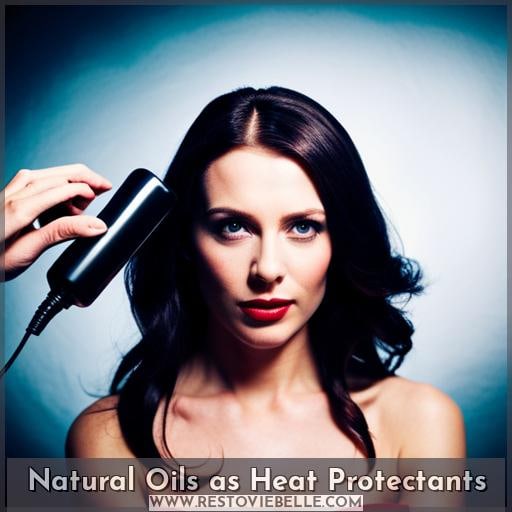 Check these organic oils to shield your tresses from heat damage while styling. Avocado oil creates a barrier against damaging heat and UV rays. Its high smoke point of 520°F makes it ideal for all hair textures. Mix it with water for even dispersal.
Argan oil absorbs into your hair for deep conditioning. Its medium smoke point of 400°F suits thicker curls. Add shine by applying it sparingly from midshaft to ends before heat styling. Shea butter retains moisture and has a higher smoke point.
Dilute it with oils like jojoba for optimal protection. Experiment with these pure, natural oils to find your perfect heat protectant.
Avocado oil's natural fatty acids penetrate the hair shaft to seal in moisture and prevent protein loss. Its 520°F smoke point provides a protective barrier for all types and textures. Creating a spritz by emulsifying with water allows even dispersal from roots to ends before heat styling.
Argan oil is readily absorbed for lasting conditioning. Its medium 400°F smoke point makes it ideal for thicker, tightly coiled strands. A few drops of this liquid gold applied midshaft to ends will enhance shine and reduce flyaways caused by hot irons.
Try pure, natural oils alone or combined to find your custom heat protectant recipe.
DIY Heat Protectants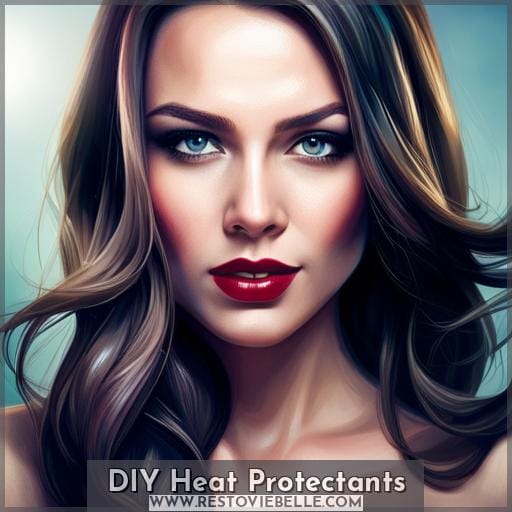 Mixing avocado oil and water makes a simple yet effective DIY heat protectant for your hair. With its high smoke point of 520°F, avocado oil protects against heat damage. Just combine equal parts avocado oil and water in a spray bottle.
Mist it evenly on damp hair before blow drying or using hot tools. The water allows the oil to spread easily while the fatty acids coat hair shafts.
For added nourishment, try a coconut milk and honey treatment. Whisk together 1 tablespoon coconut milk, 1 teaspoon honey and 2 drops argan oil. Apply to damp hair, wait 20 minutes, then rinse out. The proteins and fatty acids strengthen hair and shield it from high temperatures.
Using natural oils and ingredients lets you customize effective heat protection.
Safe and Effective Heat Protectant Use

You can shield your tresses from damage by thoughtful application of protectants when heat styling. Before applying heat, ensure hair is completely dry to allow full penetration of the product. Apply a quarter-sized amount evenly from roots to ends, allowing it to absorb for 2-3 minutes before styling.
Style in small sections, keeping heat tools moving constantly to prevent concentrated heat in one spot. Let hair cool completely before brushing or touching. Give coarse, coily hair 2-3 day breaks between high-heat styling sessions.
Regular trims help minimize splits and keep hair healthy under repeated heat exposure. Using lower temperatures and air drying when possible will further help decrease heat damage over time.
Conclusion
Symbols of renewal and strength protect your crowning glory. Discover your inner goddess and embrace her 4c energy. These gentle nurturers shield your mane while unleashing the power within. Let your curls come alive with the caress of loving hands.
Imbibe their wisdom and watch your spirit soar. Choose your guardians well, for they unlock the magic. With patience and trust, your tresses will blossom in beauty and resilience. Heat protectants permit your radiance to shine ever brighter.