This site is supported by our readers. We may earn a commission, at no cost to you, if you purchase through links.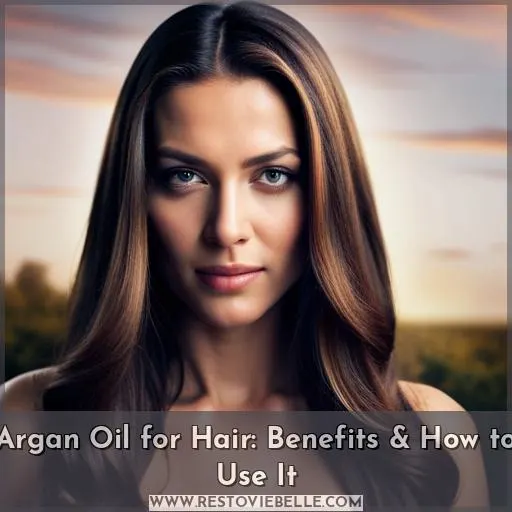 Glistening like the sun on a summer day, argan oil is fast becoming one of the most popular hair treatments.
Argan oil for hair has numerous benefits that can help keep your tresses healthy and strong. It's packed with nutrients which hydrate the scalp while also providing protection from external damage caused by heat styling or over-washing.
In this article, we'll explore how to use it properly, what its possible benefits are, as well as why it's so good for our manes – plus product recommendations if you want to give it a try!
So grab yourself some argan oil and let's get started on unlocking healthier hair today using this incredible natural remedy!
Key Takeaways
Locks in moisture and adds shine.
Nourishes and protects hair from damage.
Stimulates scalp circulation and reduces dandruff.
Promotes hair growth and thickness, while reducing split ends and repairing damage.
How to Use Argan Oil for Hair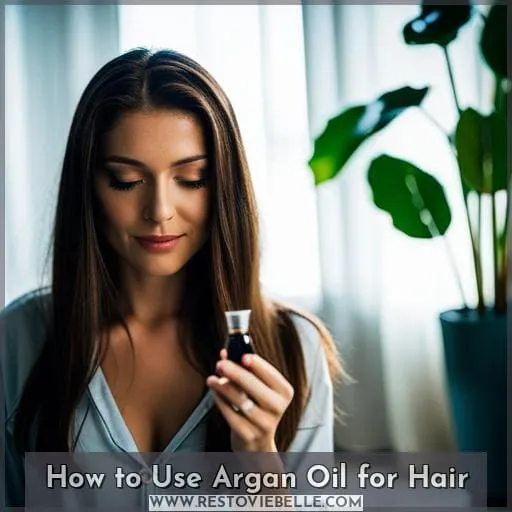 Argan oil is a versatile product that can be used for hair care in various ways. Depending on your desired effect, you can apply it to wet or dry hair. When applied to wet locks, the oil will help lock in moisture and add shine, while application on dry strands will reduce frizz and protect from mechanical damage.
By understanding its properties and how they interact with your specific type of tresses, you'll be able to maximize the benefits of argan oil for healthy-looking hair.
Application on Wet Hair
You can give your hair a glossy finish by applying argan oil to wet locks before you blow-dry. Heat protection is key, and the nourishing benefits of this natural ingredient help keep split ends at bay.
If you prefer an overnight mask, saturate your head with oil and let it soak for 15-30 minutes before rinsing off. Alternatively, use as a leave-in conditioner or mix in some coconut, castor, or essential oils to create unique blends that target specific needs.
Styling products like shampoos and creams also contain argan oil, which helps seal the cuticle for smoothness without weighing down hair strands too much.
Application on Dry Hair
For dry hair, rub a small amount of the oil into your strands to help reduce frizz and add shine. Argan Oil can be used for heat protection, scalp massage, leave-in conditioners, or even mixed with other oils like coconut and castor for added benefits.
It's also great when styling as it adds moisture while protecting from mechanical damage such as brushing or blow-drying.
Get creative with your routine by incorporating different products suited to your unique needs.
What Are the Possible Hair Benefits of Argan Oil?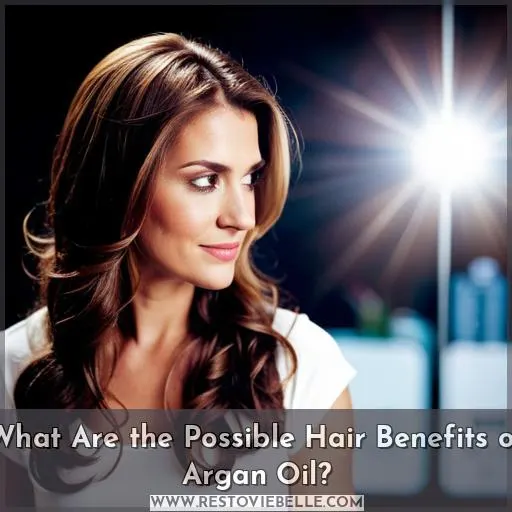 Greeting! Argan oil has been popularly used for hair care due to its nourishing and moisturizing properties. It can help with dandruff, soothe scalp conditions, add shine to the hair, as well as prevent and repair breakage.
This article will explore the various ways in which argan oil can benefit your hair.
Nourishes and Moisturizes Hair
Argan oil is a natural moisturizer that nourishes and hydrates your hair, restoring its health and shine. Its fatty acids help protect from heat damage, while the antioxidants like Vitamin E help guard against UV rays.
Suitable for all hair types, including dry or damaged curls, it can be used to create oil blends with coconut or castor oils for added benefits.
Deep conditioning treatments involve overnight masks and scalp massages to provide intense hydration while protecting from mechanical damage.
Helps With Dandruff
Tame your dandruff and soothe that pesky scalp with the magic of Argan oil! Rich in antioxidants, vitamins, fatty acids, and essential fatty acids like Vitamin E, this powerhouse treatment is perfect for all hair types.
Benefits include dandruff prevention, scalp massage pre-shampooing to stimulate circulation, heat protection when applied before styling, plus oil blends can be mixed with coconut or castor oils for extra nourishment.
Soothes Scalp Conditions
You can use the nourishing properties of argan oil to soothe scalp inflammation, dryness, and irritation caused by conditions such as dandruff. Its anti-inflammatory properties help reduce symptoms like itching and flaking, while vitamin E increases elasticity for stronger hair.
Argan oil is also known for its moisturizing benefits that restore a healthy balance on the scalp, helping relieve allergies and other related issues. It further provides UV protection, which helps prevent damage from environmental factors like sun exposure or pollution.
Additionally, it restores essential nutrients lost due to chemical treatments or styling products.
This natural remedy's unique blend of fatty acids, antioxidants, and vitamins all work together to create an effective treatment for improved scalp health.
Adds Shine to Hair
Adding a few drops of argan oil to your hair is like giving it the royal treatment – it'll shine brighter than ever before. Heat styling, coloring, and other damage can take its toll on our locks, but argan oil brings back the life in even lifeless hair.
It's suitable for all types, so you don't have to worry about color or texture when trying out this natural elixir.
Oil blends with coconut, castor, and essential oils provide added benefits, while scalp massage helps improve circulation for an extra healthy glow.
Try out some deep conditioning masks overnight or use special shampoos and creams that contain this goldmine ingredient.
Prevents and Repairs Hair Breakage
Replenish damaged and brittle strands with argan oil to help prevent breakage and keep your hair looking healthy. It can be used before heat styling as a protective shield against UV damage or applied directly afterwards for an extra boost of shine.
For added nourishment, try adding it to shampoo or conditioner. Use a scalp massage during application for maximum absorption into the skin cells of the scalp. Argan oil blends easily with other oils such as coconut and castor. These combinations provide additional benefits that promote hair growth while strengthening fragile strands from within.
Products containing argan oil are also available if you prefer not to use pure oils on your hair.
What Makes Argan Oil Good for Hair? Here Are 7 Reasons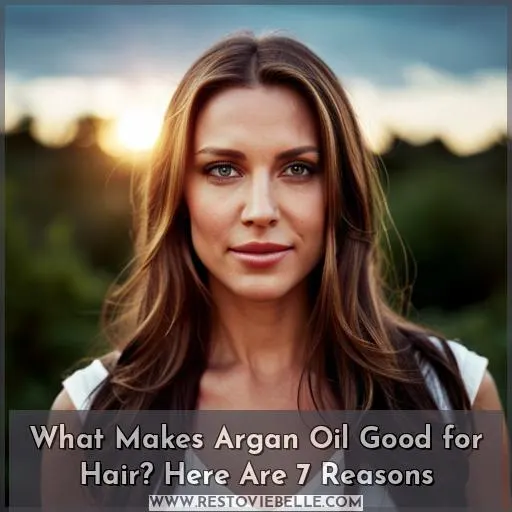 You may have heard of the many benefits that Argan oil has to offer, particularly for hair. It's no wonder it is becoming increasingly popular among those looking for a natural solution to nourish their hair inside and out, soothe other scalp conditions such as dandruff or dryness, and make their locks more lustrous.
All these features are due to its unique composition of fatty acids and antioxidants like vitamin E – making argan oil an ideal choice when it comes to taking care of your mane.
Nourishes Hair Inside and Out
Rejuvenate your locks with argan oil to nourish them from the inside out, restoring their natural vitality and luster. This miracle product contains fatty acids that protect hair from environmental damage and promote a frizz-free finish.
With regular use, you can enjoy shiny strands while promoting growth for longer tresses.
Enjoy a conditioning treatment that will leave your hair looking healthier than ever before – without weighing down or greasing up those gorgeous locks! Incorporating this treasure into your routine will make sure you have beautiful hair not just on the outside but deep within as well – keeping it healthy, strong, and moisturized all at once!
Soothes Other Scalp Conditions
You can soothe inflammation, dryness, and irritation from conditions like dandruff with Argan Oil. This natural oil is packed with vitamin E, oleic acid, linoleic acid, and other anti-inflammatory properties that nourish the scalp.
Massage it into your scalp before rinsing to get maximum relief or use a leave-in conditioner for all-day protection.
To customize results further, blend it in an oil mix or apply before heat styling to protect against damage and split ends.
Makes Hair Shinier
Achieve salon-worthy shine with the help of argan oil, which adds a glossy finish to your locks. It protects from heat styling and UV damage while deep conditioning treatments like overnight masks nourish for long-lasting results.
Oil blends with coconut, castor, and essential oils provide anti-inflammatory properties that soothe scalp conditions and detangle strands.
Is Argan Oil Good for Hair?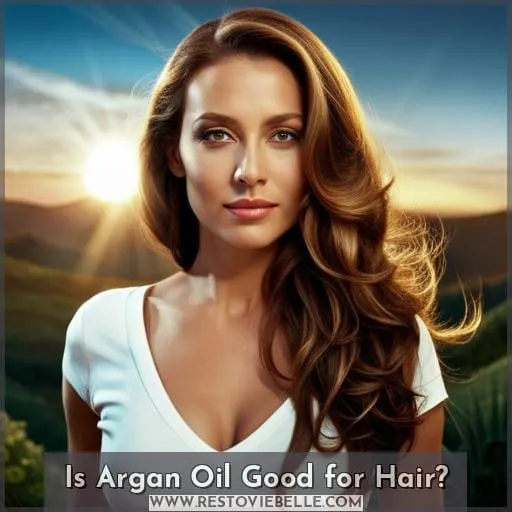 Are you looking for a way to improve the health and appearance of your hair? If so, argan oil may be the answer. This natural oil has been used for centuries due to its ability to fight dandruff, reduce frizziness, protect from damage caused by heat styling tools or other environmental factors, and can even be used in shampoo and conditioner formulas.
With this powerful ingredient at your disposal, it's no wonder why many people are turning towards argan oil as an effective solution for their hair care needs.
Fights Dandruff
Regular use of argan oil can help soothe an inflamed scalp and reduce irritation caused by dandruff, softening up your locks like silk. It's loaded with antioxidants and vitamin E, which nourish hair inside and out. This anti-inflammatory oil is also effective in helping with dandruff, as well as other scalp conditions such as eczema or psoriasis.
Argan oil makes hair shinier, thanks to its high quantity of Vitamin E. It prevents breakage while increasing elasticity due to its ability to penetrate the cuticle layer. Additionally, it detangles knots without causing further damage and smoothens frizz for fewer tangles.
Not only that, but it also provides heat protection when used during styling! You can mix it with coconut or castor oils for added benefits, add drops into shampoo before washing, or apply leave-in conditioner instead of the regular one.
Fights Frizz
Fend off the frizz and get a smooth, glossy finish with argan oil. It fights flakes to soothe irritation on your scalp while strengthening each strand of hair and enhancing elasticity for extra bounce.
Argan oil boosts brilliance by giving you a lustrous look that reduces roughness in even damaged or colored tresses.
Try it as:
A leave-in conditioner before blow drying
An overnight mask after shampooing
Mixed into shampoo or styling products for added protection
Achieve beautiful hair without sacrificing its health – let argan oil fight flakiness, strengthen strands, enhance elasticity, boost brilliance, and reduce roughness!
Protects Hair From Damage
Protective Argan Oil helps keep your hair healthy and strong by shielding it from UV damage, heat styling, and pollution. An ounce of prevention is worth a pound of cure. Applying oil before blow-drying locks in moisture while protecting tresses from the damaging effects of heat.
Scalp massages with this nutrient-rich elixir promote circulation for healthier roots. Leave-in conditioners nourish strands all day long. They are perfect for any hair type, including colored or damaged hair.
Blends can be tailored to individual needs. For example, coconut oil adds shine while castor oil boosts growth.
Unlocking its powerful potential through regular use ensures gorgeous locks that are healthy inside out!
Use in Shampoo and Conditioner
You can add a few drops of pure Argan oil to your shampoo and conditioner for instant softness, smoothness, and shine.
Heat protection: helps protect from heat styling damage.
UV protection: guards against sun-induced damage.
Oil blend: allows you to mix with other oils for customized benefits.
These additions will help nourish the scalp and hair follicles while locking in moisture without weighing it down. Your locks will be left shiny, strong, and voluminous without any greasy residue or buildup! Plus, the added bonus of UV and heat protection makes this an ideal choice for those who want beautiful results without the risks associated with frequent use of heated tools or prolonged exposure to harmful rays.
Product Recommendations for Argan Oil
If you're looking for the best products to use with argan oil for hair, then you should consider the Safe Home Lead Test Kit, John Frieda Frizz Ease Serum, and PURA DOR Argan Oil Conditioner. These products have been awarded prestigious awards such as the Good Housekeeping Seal and the Best DIY Lead Test Kit by both Good Housekeeping and the New York Times.
Furthermore, they offer trilingual instructions plus illustrations that make testing easy, even without prior experience.
Safe Home Lead Test Kit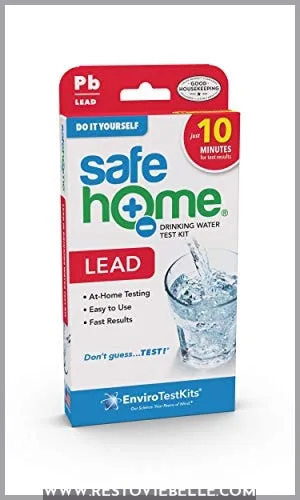 View On Amazon
Shield your hair from the effects of lead exposure with a Safe Home Lead Test Kit that can accurately detect down to 5 ppb. This exclusive brand is recognized by Good Housekeeping and The New York Times as the best DIY Lead Test Kit, making it an excellent choice for protecting both you and your family.
It features trilingual instructions and illustrations so everyone can understand testing methods easily.
Accurately detects lead down to 5 ppb
Trilingual instructions & illustrations for easier testing
Includes promo codes & e-learning center
Donates to clean water initiatives with each sale
Instructions may be confusing
Gives pass/fail reading without exact level detected
Accuracy questioned by some users
EPA acceptable level unclear
John Frieda Frizz Ease Serum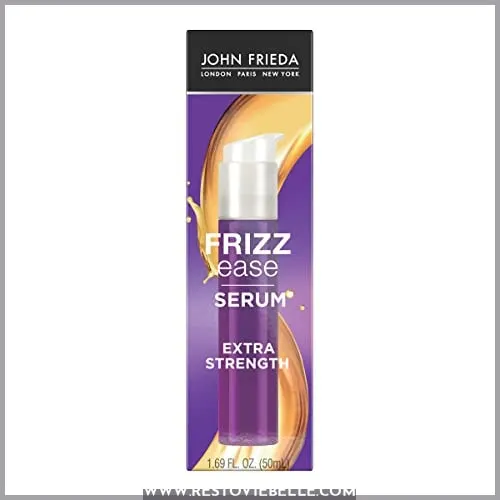 View On Amazon
Transform your hair with John Frieda Frizz Ease Serum – the perfect solution for unmanageable, frizzy locks! This anti-frizz formula nourishes hair and leaves it smooth, soft, and shiny.
Ideal for damaged, dry, or curly tresses, this serum makes it easy to restore natural health and shine to dull locks. It is also suitable for color-treated strands. Just apply sparingly before styling wet or damp hair whenever you want a sleek look that lasts all day long.
With its thick consistency that goes a long way and an irresistibly light coconut scent, enjoy healthier-looking manes without sulfates, parabens, or alcohols in the mix!
Helps control frizz
Suitable for dull, dry, damaged, curly, and colored tresses
Thick consistency goes far
Smells great
Paraben-free and safe on color-treated hair
Can feel greasy if overused
Works best when applied as directed
PURA DOR Argan Oil Conditioner
View On Amazon
Restore your hair's natural health and shine with PURA D'OR Argan Oil Conditioner – a nourishing liquid formula that helps repair dry, damaged hair. Containing key ingredients such as argan oil, lavender, and vanilla extract, this hypoallergenic conditioner not only works to control frizz but also detangles while restoring volume.
With each application of this conditioning treatment, you can expect improved texture and shine, along with a reduction in breakage.
This product is ideal for anyone who desires softness without the greasiness or heaviness associated with other oils on the market today – making it suitable for all types of hair, from fine to thick alike! Plus, its vegan formulation means you don't have to worry about animal testing being involved in any way either.
Revitalizes damaged & dry hair
Repairs split ends
Controls frizz
Conditions & moisturizes
Nourishes Hair
Tames Frizz
Restores Volume
Detangles
Softens & smooths
Reduces Breakage
Improves Hair Health
Works well with PURA D'OR shampoo
Leave on for several minutes
Faint Lavender Vanilla Scent
Small bottle size
Pump dispenser
Safe for color treated
Price
Not long-lasting results
Frequently Asked Questions (FAQs)
Does Argan Oil have any side effects?
Argan Oil is generally considered safe with no known side effects, but some may experience mild skin irritation. Alliterative words like 'safe' and 'soothing', paired with the power of its nourishing fatty acids, make it a liberating choice for all hair types.
How long does Argan Oil last on the hair?
Argan oil lasts on the hair based on its type and how often it is used. For most hair types, use 2-3 times a week for best results; adjust as needed. Apply before heat styling to protect from damage or leave it in overnight for deep conditioning treatments.
Does Argan Oil work on all hair types?
Yes, Argan Oil is suitable for all hair types, including colored, damaged, and dry. It moisturizes and nourishes while protecting from UV damage and heat styling. Its unique fatty acids restore shine to dull locks without over-greasing or weighing down the hair.
How do I know if Argan Oil is right for my hair?
To determine if Argan Oil is suitable for your hair, consider its composition and potential benefits. Evaluate the condition of your hair type, including the level of damage and texture. Research various oil blends to meet your needs and explore products containing argan oil that work best for you.
Is Argan Oil safe for kids?
Yes, Argan Oil is generally safe for kids. It's packed with nourishing fatty acids and antioxidants that moisturize their hair, add shine, reduce frizz, and protect from UV damage. But it should be applied sparingly to mid-lengths and ends only – never overapplied or used on the scalp.
Conclusion
Using argan oil for hair is a great way to nourish, protect, and style your locks. Its unique composition makes it a versatile product that can be used on all hair types, from dry and curly to colored and damaged.
It can be used in a variety of ways, from heat protection and leave-in conditioner to scalp massage and overnight masks.
Argan oil locks in moisture, fights frizz, and repairs damage, helping your hair look and feel its best. Whether you choose to use a product that contains argan oil or an all-natural oil blend, you can rest assured that your hair will be healthier and more beautiful with the help of this miracle ingredient.