This site is supported by our readers. We may earn a commission, at no cost to you, if you purchase through links.
Tired of dealing with waxy hair after washing? You're not alone. Discover the reasons behind that unpleasant texture and learn how to fix it quickly.
From product buildup to hard water, there are several factors that can leave your hair feeling greasy and weighed down. Luckily, we've got you covered with effective solutions and recommended products to restore your locks' natural shine and bounce.
Key Takeaways
Excessive product use can weigh hair down and make it feel waxy. Reduce the use of styling products.
Chemical treatments like bleaching can damage hair over time, leading to a waxy texture. Take breaks between coloring sessions.
Hard water deposits can build up on hair, making it feel coated and waxy. Install a shower filter to remove minerals.
Washing too frequently or infrequently strips hair's natural oils or allows buildup. Find the right washing balance for your hair type.
Why Does My Hair Feel Waxy? – Possible Causes

Do you ever wonder why your hair feels waxy after washing? There are several possible causes for this issue.
Product buildup
Chemical treatments
Hard water deposits
Infrequent washing or over-washing
An unhealthy diet
Let's delve into these possible reasons and find the solution to fix it now!
Hair Feels Waxy From Product Buildup
If you're experiencing a waxy feeling in your hair, it could be due to product buildup.
Styling Techniques:

Excessive use of styling products can lead to buildup.
Find the right product-to-hair ratio and fully wash your hair.

Hair Health:

Damaged or over-processed hair is prone to waxy feeling.
Regularly washing brushes and avoiding dirty hats helps prevent oil transfer.

Scalp Massage:

Massaging the scalp stimulates blood circulation, promoting healthy follicles and preventing build-up.

Shower Filters:

Installing a shower filter can help reduce mineral concentration in hard water that contributes to waxiness.
Chemical Treatments
Have you ever wondered why your hair feels waxy after getting chemical treatments?
Chemical treatments can have various effects on the hair, including causing it to feel gummy or waxy.
Excessive chemical treatments, particularly bleaching, can compromise the keratin structure of the hair and make it feel weighed down.
To maintain healthy hair after chemical treatments, consider taking breaks between appointments and using gloss treatments for maintenance.
Stretching out color appointments can also promote overall hair health.
Sticky Hair From Hard Water
Are you experiencing a waxy feeling in your hair after washing, possibly due to sticky hair caused by hard water?
Hard water contains mineral deposits that can build up on your hair, leaving it feeling waxy and weighed down.
To combat this issue, consider investing in a shower filter to reduce the mineral content of the water.
Additionally, maintaining a proper pH balance and following a clarifying routine can help improve your hair texture and overall health.
Not Washing Hair Often Enough or Too Often
When you don't wash your hair often enough or wash it too frequently, the buildup of oils and products can leave your hair feeling waxy.
Finding the right balance in hair frequency is crucial to prevent this issue.
Washing too infrequently allows substances to accumulate on the scalp and strands, while washing too often can strip away natural oils, causing the sebaceous glands to produce more oil in response.
Adjusting your washing frequency and using proper cleansing techniques can help maintain a healthy scalp and prevent waxy buildup.
Unhealthy Diet
If you're experiencing a waxy feeling in your hair after washing, it could be due to an unhealthy diet.
Nutrient Deficiency: A lack of essential nutrients like vitamins and minerals can weaken the hair shaft, making it feel waxy.
Imbalanced Eating Habits: Consuming excessive amounts of processed foods or sugary snacks can disrupt the natural balance of oils on your scalp, resulting in buildup.
Poor Hair Nutrition: Not getting enough protein or healthy fats in your diet can affect the health of your hair follicles and contribute to a greasy residue.
Inadequate Hydration: Dehydration affects not only our overall health but also our scalp's oil production, leading to oily buildup and that unwanted waxiness.
Products to Combat Waxy Feeling Hair
To combat the waxy feeling in your hair after washing, there are several products that can help.
Consider using an AquaBliss Shower Filter to reduce mineral deposits and improve water quality.
Additionally, try a Kitsch Hair Scalp Massage tool to stimulate circulation and promote scalp health.
Other options include:
Malibu C Un-Do-Goo Shampoo for removing product buildup
Briogeo Banana Coconut Shampoo for hydrating dry hair
MopTop Daily Conditioner for nourishing and softening your locks.
AquaBliss Shower Filter
View On Amazon
You can combat that waxy feeling in your hair by using the AquaBliss Shower Filter. This multi-stage filtration system is designed to provide immediate rejuvenation and advanced filtration for your shower water, helping to restore damaged hair, reduce chlorine levels, and neutralize odors.
The filter also infuses beneficial minerals into your skin, hair, and nails for added nourishment. With easy installation and cost-effective maintenance options like cartridge replacements, the AquaBliss Shower Filter offers a convenient solution to address waxy buildup in your hair.
Immediate rejuvenation with multi-stage filtration.
Reduces chlorine levels for healthier-looking hair.
Infuses beneficial minerals into skin and nails.
Some users experience recurring issues after several months of use.
Complaints about reduction percentages in chlorine levels from some customers.
Mixed reviews on overall effectiveness of reducing waxy feeling
Kitsch Hair Scalp Massage
View On Amazon
To combat waxy feeling hair, try using the Kitsch Hair Scalp Massage for a stimulating and exfoliating scalp massage that promotes hair growth and reduces product buildup. Its flexible bristles massage the scalp, increase circulation, and clean thoroughly from root to tip.
This reduces buildup and allows combing through tangles. It's suitable for all hair types with its durable plastic body and fine, dense bristles.
Stimulates scalp and improves circulation
Exfoliates scalp and reduces product buildup
Suitable for all hair types and lengths
Built-in handle for easy use
Helps detangle and reduce tangling
May seem small or cheaply made
Bristles could be longer or stiffer
Not ideal for very wet or thick hair
Requires gentler use initially
Some quality concerns for the brand
Malibu C Un-Do-Goo Shampoo
View On Amazon
Combat waxy feeling hair with the Malibu C Un-Do-Goo Shampoo, a pH balanced anti-residue shampoo that effectively removes buildup from styling products. This sulfate-free shampoo is specifically formulated to restore shine, softness, and manageability to your hair.
Infused with magnesium and limonene, it promotes overall hair growth cycle while being vegan and cruelty-free. Suitable for color-treated and chemically processed hair, this scalp buildup remover can be used weekly or prior to a chemical service.
Say goodbye to waxy residue on your locks with the help of Malibu C Un-Do-Goo Shampoo.
Effectively removes product buildup
Restores shine and softness
Promotes overall hair growth
Some users report tangling after use
May not work well for all curly girl hairstyles
Requires additional deep conditioning treatment
Briogeo Banana Coconut Shampoo
View On Amazon
Briogeo's Banana Coconut Superfood shampoo hydrates your hair by harnessing nourishing ingredients like banana, coconut, and acai. This lightweight and natural formulation leaves hair soft, shiny, and hydrated without harsh sulfates.
Suitable for all hair types, including color treated and chemically processed
98% naturally derived, vegan ingredients
Infused with vitamins, minerals, and antioxidants
Pleasant tropical scent
Safe for daily use
Cruelty-free and ethically sourced
Cons:
Lower lather compared to traditional shampoos
Thin, runny consistency
May not provide enough moisture for very dry hair
Expensive compared to drugstore brands
MopTop Daily Conditioner
View On Amazon
You can refresh your hair with the MopTop Daily Conditioner, which is designed to defrizz, rehydrate, and soften all hair types with natural ingredients like honey, aloe, and sea botanicals. This paraben, sulfate, silicone, and dye-free conditioner comes in cream form and is suitable for oily, wavy, curly, dry, normal, kinky, and coily hair.
Users have praised it for leaving hair soft and manageable while maintaining curl patterns without causing dryness.
Leaves hair soft and manageable
Maintains curl pattern
Good for daily use
Works on various hair types
Confusion between products
Concerns about added sudsing chemicals
Some don't like texture and smell
Whole Foods Organic Apple Cider Vinegar
View On Amazon
To combat waxy feeling hair, try using Whole Foods Organic Apple Cider Vinegar.
This organic apple cider vinegar is made from select varieties of organic apples, ensuring a high-quality product that's free from GMOs and additives. It contains the mother, which provides additional health benefits for your hair and scalp.
By using this natural remedy as a rinse after shampooing, you can help remove buildup and residues that contribute to the waxy feeling in your hair.
Made from organic apples
Free from GMOs and additives
Contains the beneficial mother
Strong smell may not be appealing to everyone
Cloudier appearance compared to other apple cider vinegars

May require some adjustment if used to clear versions
Desert Essence Coconut Hair Protector
View On Amazon
To combat the waxy feeling in your hair, try using Desert Essence Coconut Hair Protector. This weightless, silicone-free hair spray controls frizz and protects your hair from heat damage. It contains provitamin B5 to nourish your strands and jojoba extract and coconut oil to detangle and soften them.
Additionally, nopal and agave extracts provide moisture derived from the desert environment. With this product, you can expect silky, radiant hair with a light coconut scent.
Lightweight leave-in suitable for fine hair
Amazing smell that isn't overwhelming
Chemical-free formula with natural ingredients
Not very effective as a heat protectant
Some users experience frizz after straightening their hair
Effectiveness may vary depending on different types of hair
VERB Ghost Oil
View On Amazon
Combat waxy feeling hair with VERB Ghost Oil, a weightless smoothing oil that softens and defrizzes your hair while promoting radiant shine. This versatile product is suitable for all hair types and can be used on both damp and dry hair.
With ingredients like Bamboo Extract to strengthen the strands, Moringa Oil to nourish and smooth frizz, and Hydrolyzed Soy Protein to seal in moisture, this oil provides multiple benefits for your locks.
Weightless formula won't weigh down fine or easily weighed-down hair
Helps soften the texture of the hair
Controls frizz without making it greasy
Promotes shiny-looking locks
Can also be used on skin or beard
Some users may not enjoy the light grapefruit scent
Amika Perk Up Dry Shampoo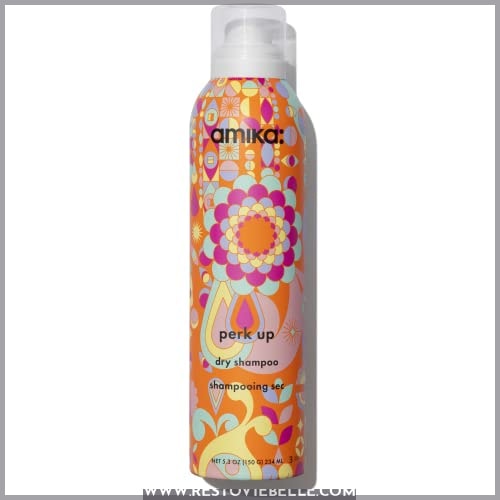 View On Amazon
Squeeze Amika's Perk Up Dry Shampoo can and you've got an easy fix for absorbing excess oils and buildup between washes without leaving behind a dusty residue. This dry shampoo is designed to refresh your hair, add volume, and cool the scalp.
With its rice starch formulation, it effectively eliminates dirt, oil, and odor while being free from sulfates, parabens, phthalates,and other harmful ingredients.
Absorbs excess oil without leaving white cast
Lightweight formula adds volume to hair
Certified vegan and cruelty-free
Strong scent may be overpowering for some individuals
Limited in adding significant volume to hair
Some users experienced difficulties with the spray nozzle
Silk Satin Bonnet Hair Wrap
View On Amazon
You can combat waxy feeling hair by incorporating the Silk Satin Bonnet Hair Wrap into your hair care routine. This high-quality bonnet is made of breathable pure cotton with a premium satin lining, providing protection and reducing frizz, tangles, and thinning.
Its adjustable strap ensures a secure fit throughout the night while maintaining comfort. The bonnet is versatile and suitable for daily wear, workouts, sleeping or windy days. It also helps preserve curls and prevents matting for individuals with long hair.
Breathable pure cotton material
Premium satin lining reduces frizz
Adjustable strap for a secure fit
Some customers mentioned wanting sturdier elastic
Hair Wash Routine

To ensure that your hair feels clean and free from waxy buildup after washing, make sure to:
Thoroughly rinse out all shampoo and conditioner.
This step is crucial in removing any residue left behind on the hair strands.
Additionally, incorporating scalp massage techniques during shampooing can help stimulate blood flow to the scalp and promote a healthier environment for your hair follicles.
Consider using a water softener shower head to reduce mineral deposits in hard water, which can contribute to waxy feeling hair.
If you're experiencing persistent waxy buildup, you may benefit from doing a DIY hair detox once or twice a month using ingredients like apple cider vinegar or baking soda mixed with warm water.
Lastly, managing stress levels through techniques such as exercise and mindfulness practices can also improve overall scalp health and prevent excessive oil production leading to greasy-looking locks.
Hard Water in Shower

Upgrade your shower head with a filter to reduce the effects of hard water on your hair. Hard water contains high levels of minerals like calcium and magnesium that can leave behind a sticky residue on your hair, causing it to feel waxy.
Here are three benefits of using a shower filter:
Prevents Mineral Buildup: A shower filter removes impurities and reduces mineral concentration in the water, preventing them from depositing onto your hair strands.
Improves Hair Texture: By reducing the harshness of hard water, a filtered showerhead helps maintain healthy-looking hair by preventing dryness and frizziness.
Enhances Scalp Health: Filtering out contaminants from hard water can alleviate scalp irritation caused by mineral buildup, leading to healthier follicles and less clogged pores.
By investing in a quality shower filter, you can effectively combat the negative effects of hard water on your hair while promoting overall scalp health.
Damaged Hair

Continuing the discussion from hard water issues, you may have waxy hair after washing if your hair has been damaged by chemical processing or using soiled products.
Chemical treatments such as bleaching and coloring can compromise the health of your hair cuticles, leading to a dull or waxy appearance.
To repair cuticles and recover from heat damage, it's important to incorporate nutrient-infusing products into your routine. Look for frizz control serums, heat protectant sprays, and repairing conditioners that contain ingredients like keratin and argan oil.
Additionally, prevent split ends by regularly trimming your hair and avoiding excessive heat styling. Cleaning your hairbrushes regularly will also help remove any product buildup that could contribute to a waxy feeling in your hair.
[KEYWORDS: repairing cuticles,nutrient infusion,hair oil,silicone products,
conditioner,hair cuticle,hairbrush cleaning]
Health Problems & Medications

If you're experiencing waxy hair even after washing, it could be a result of underlying health problems or medications you may be taking.
Certain health conditions and medications can have an impact on your hair's texture and appearance.
Hormonal imbalances, such as thyroid disorders or polycystic ovary syndrome (PCOS), can cause changes in oil production, leading to waxy buildup.
Additionally, stress can also affect the condition of your hair by increasing oil production on the scalp.
Environmental pollution is another factor that can contribute to waxy hair due to its influence on oil secretion from the scalp.
Finally, dietary factors may play a role as well; consuming excessive amounts of fatty foods or having nutrient deficiencies could lead to an imbalance in natural oils produced by the scalp.
Environmental Pollution

Now that we've discussed the impact of health problems and medications on waxy hair, let's delve into another factor that can contribute to this frustrating issue: environmental pollution.
Urban areas are particularly prone to high levels of pollution, which can take a toll on your tresses. Smog, particulate matter, and pollutants in the air can settle onto your hair strands and scalp, leading to a waxy buildup over time.
To protect your locks from pollution's impact and combat urban hair woes effectively, here are some environmental solutions you should consider:
Regularly cleanse your hair with clarifying shampoos or detox treatments designed specifically for removing impurities caused by environmental pollution.
Use protective styling techniques like braids or updos to minimize exposure of your tresses to polluted air.
Consider wearing hats or scarves when outdoors in highly polluted areas as an additional barrier against harmful particles.
Consult professional healthcare advice regarding suitable haircare products formulated for protecting against pollutants while maintaining overall scalp health.
By implementing these measures into your daily routine, you'll be taking proactive steps towards managing the effects of environmental pollution on both appearance and well-being.
Psychological Stress

To address the issue of waxy hair after washing, let's delve into how psychological stress can contribute to this problem.
Psychological stress can have a significant impact on various aspects of our health, including our hair health.
When we're under high levels of stress, our bodies release cortisol, also known as the stress hormone. Elevated cortisol levels can disrupt normal hair growth cycles and lead to conditions like telogen effluvium (excessive shedding) or alopecia areata (patchy hair loss).
Additionally, psychological stress may affect the overall health and quality of your scalp and strands by increasing oil production or altering sebum composition.
Managing psychological stress through techniques such as mindfulness meditation, exercise, therapy sessions for anxiety disorders or depression is crucial not only for your general well-being but also for maintaining healthy hair porosity, volume, and softening.
How Do You Fix Waxy Hair Fast?

To quickly fix waxy hair, try incorporating a clarifying shampoo into your hair care routine. A clarifying shampoo can help remove product buildup, excess oils, and environmental pollutants from your hair and scalp.
Here are some fast tips to combat waxy hair:
Use an apple cider vinegar rinse weekly to clarify hair and restore pH balance. The acetic acid helps remove residue.
Apply dry shampoo to soak up oils between washes. Focus application at the roots to absorb excess sebum.
Massage your scalp daily to increase blood flow and promote hair growth. Use fingertips in a circular motion.
Consider your hair type and texture when selecting hair products. Seek lighter, silicone-free formulas that won't weigh hair down.
Frequently Asked Questions (FAQs)
Can using too many hair products cause waxy hair?
Using too many hair products can cause waxy hair.
The accumulation of product buildup, heavy ingredients, and infrequent washing contribute to the waxy feeling.
Proper rinsing and personalized product recommendations are essential for addressing this issue.
What are some common ingredients in hair products that can contribute to waxy buildup?
Hair products containing waxes, resins, silicones, dimethicones, plasticizers and polyquaterniums can contribute to waxy buildup.
These ingredients adhere to the hair shaft and create a shiny appearance but can compromise hair health over time.
How often should I wash my hair to prevent waxy buildup?
To prevent waxy buildup, wash your hair every other day or as needed.
Regular cleansing helps remove excess oils and product residues that can contribute to the waxy feeling.
Take charge of your hair's health with consistent washing habits!
Can hard water contribute to waxy hair after washing?
Hard water can contribute to waxy hair after washing.
The high mineral content in hard water leaves a sticky residue on the hair, leading to that unpleasant feeling.
Consider using a shower filter or other solutions to address this issue.
Are there any specific health conditions or medications that can cause waxy hair?
Yes, certain health conditions and medications can contribute to waxy, greasy hair.
Hormonal imbalances
High stress levels
Thyroid disorders
Steroids
Blood thinners
Consulting your doctor to address any underlying medical causes is advisable. Adjusting hair care routines may help manage waxiness stemming from health issues.
Conclusion
Wax on, wax off, you're sick of that greasy feeling after every wash.
We get it – dealing with lackluster locks is no fun.
But before you go all Mr. Miyagi on your hair, try our tips.
With the right products and techniques, you'll be flipping heads, not flipping out.
Don't settle for waxy hair after washing – you deserve soft, touchable tresses.
Now get out there and make those karate kids jealous with your sleek, shiny mane!