This site is supported by our readers. We may earn a commission, at no cost to you, if you purchase through links.
Curious about whether long layers or short layers are the right choice for you? Layered hairstyles have been popular for a while, and it's no wonder why! Not only do they add texture and volume to your hair, but they also give you countless styling options.
Deciding between long and short layered styles can be tricky since both offer unique benefits. To help make things easier, let's take a look at the key differences between these two types of layered haircuts so that you can choose the one best suited to your needs.
Key Takeaways
Layered hairstyles add texture, volume, and styling options.
The choice between long and short layers depends on hair type, face shape, and lifestyle.
Long layers offer versatility, ideal for thick hair, but require time-consuming styling and high maintenance.
Short layers add volume, define curls, and are versatile, requiring touch-ups every three months.
Suitable Face Shape for Layered Hairstyles

You can find the perfect layered look for your style and face shape, whether you choose long or short layers to frame it.
Oval faces suit both long and short layers as they provide balance.
Square-shaped faces are complemented by softening medium length or side-swept bangs with shorter layers at the sides.
Heart-shaped faces work best with longer haircuts because of their angular jawline; however, asymmetrical cuts help add dimension to this facial type too!
Round-faced individuals should opt for a cut that creates volume on top while keeping the sides shorter in order to elongate their face shape.
Diamond shapes benefit from an overall lightness around the cheekbones, so avoid heavy layering here and instead go for subtle framing of your features with some added body near your crown area.
Hair type also plays into layer choice: if yours is fine, then short ones create texture without weighing it down. On the other hand, thick hair looks great when cut into dramatic, choppy styles using longer lengths as well as texturizing techniques like razor cutting to give movement through every strand without losing volume along its length.
Difference Between Short and Long Layered Hairstyles

Are you looking to switch up your look with a layered hairstyle? Short and long layers provide different styling options, volume changes, subtlety levels, and hippie vibes. Whether you go for the shorter or longer option will depend on your preferences – so let's take a closer look at the differences between short and long layered hairstyles.
Length
Experience the transformation of your hair with a layered cut that varies in length, from cheekbones to crown. Short layers are great for adding volume and dimension to flat hair, while long layers can provide subtle change and more movement without altering length.
Both types offer styling options depending on your desired look; short is perfect for thin or low-density locks, while long works best for thick tresses.
Consider texture when choosing between short and long. Sleek strands benefit from shorter cuts, whereas wavy manes will love longer lengths! Layered hairstyles come with benefits such as providing an overall slimming effect, volumizing fine or limp hair, creating head-turning looks with added movement and definition.
Styling
Styling your hair with long and short layers offers you a versatile look that can be tailored to fit your lifestyle. Layering techniques, styling tools, and hair care tips all come into play when considering the perfect layered cut.
Long-layered cuts are great for creating bohemian looks, while shorter layers work best for adding volume to fine hair. Textured looks need regular maintenance, but layering provides flexibility if you're looking to grow out a style or switch up your look more frequently.
Volume
Comparing long and short layers, short layers add volume while long layers reduce it. Texture variety is key when styling layered hair, as the amount of volume created depends on where the layer begins and ends.
Short layers can be added to flat or thin hair for more body or low-density curls for increased definition. On the other hand, longer layered haircuts are best suited to thick, voluminous locks that need shaping without sacrificing length.
Celebrity styles range from seasonal layering with fringe accents to choppy texture framing a face shape, and even full-bodied waves that keep their bounce right through the summer months.
Layered haircare involves regular trims every 3 – 6 months, depending on desired length.
Subtlety
You can create subtle shapes and styles with long layers, crafting a layered look that adds texture without being overly obvious. On the other hand, short layers offer an overt style that provides more volume and movement to your hair.
Whether you choose long or short layers depends on personal preference as well as face shape. Both have their own unique impacts when it comes to styling versatility and maintenance needs. Longer layered cuts are perfect for those who want a bohemian look, while shorter ones are great for adding subtle body to thin hair types.
Ultimately, the differences between these two hairstyles will depend on your individual features in order to make an informed decision regarding which one is best suited for you!
Hippy Styling
For a hippy-inspired look, long layers are perfect for creating volume and movement, but don't you want to stand out from the crowd? Consider short layers as an alternative. With boho chic layered curls or effortless waves, you can enhance your natural texture while still having beachy vibes.
Short layers add body and definition that will turn heads in any direction. From subtle shape changes to more dramatic alterations of hair volume, short layer hairstyles are sure to be showstoppers! For extra flair, try adding bangs or fringe for added depth.
Factors to Consider When Choosing a Layered Hairstyle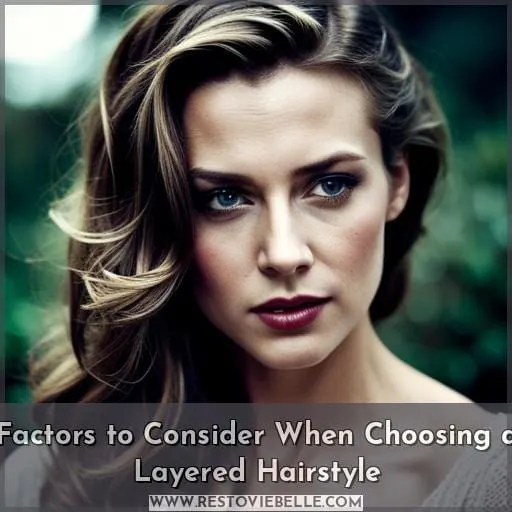 Choosing the right layered hairstyle for you depends on several factors, including your hair type, preferred style, and maintenance needs. Layered haircuts offer a wide range of options to suit different types of hair—from short layers that add body to fine strands, to long layers perfect for thick and voluminous locks.
Additionally, they require regular touch-ups every three months or six months depending on the length of the layer chosen.
Hair Type
When considering a layered hairstyle, it's important to consider the texture and thickness of your hair. For fine hair, long layers create a slimming effect while short ones add body and volume. For thick or wavy hair, long layers provide subtle change without altering length, whereas short layers can define curls.
If you have curly locks, then shorter layers will make them curlier. If you want an effortless look, then longer layers are the way forward.
Maintenance frequency depends on whether you have opted for long or short cuts. Touch-ups every three months are required for shorter styles, while longer options only need maintenance every six months.
Hairstyle Preferences
It's important to consider your hairstyle preferences when choosing between long and short layer cuts, as the look of each can drastically change your overall style. Celebrity choices are a great source of inspiration. Some may opt for long layers to achieve an effortless bohemian look, while others might prefer short layers that add volume and definition.
It all depends on hair type compatibility. If you have thin or straight hair, shorter layers will likely be more flattering, whereas thicker or curly styles benefit from longer lengths.
Moreover, styling options vary with maintenance requirements. Shorter cuts need frequent touch-ups every three months.
Maintenance
No matter your preference, maintenance is an important factor to consider when selecting the perfect layered hairstyle for you. Short layers require more frequent touch-ups every three months, whereas long layers can go up to six.
Hair types also play a role in upkeep. Short layers suit straight and low-density hair, while long ones are great for thick, voluminous locks. Curly hair benefits from either, depending on the desired effect. Short layers add movement with definition, while long layers reduce frizz and define curls without sacrificing length.
Here is a numeric list to summarize the maintenance requirements:
Short layer maintenance: every 3 months
Long layer upkeep: every 6 months
Layered hairstyle care: depends on the type of hair
Maintaining layered hair: frequency and product use
Haircut maintenance: professional help recommended.
It's important to take into account daily habits and lifestyle before deciding which option works best for you. This will determine how much time needs to be invested in styling or visits to the salon.
Be sure that whichever option you choose fits your personal style goals while allowing freedom of expression.
Pros and Cons of Long Layered Hairstyles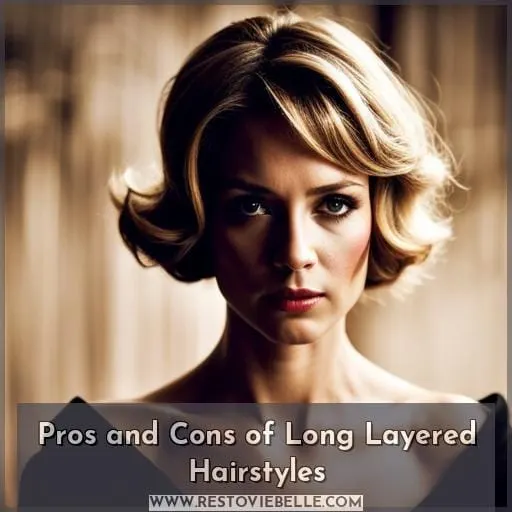 If you're looking for a timeless and stylish look, long layered hairstyles are the perfect choice. They offer volume and dimension without compromising length, allowing you to make subtle changes with more movement.
Plus, there's a wide variety of trendy cuts that will suit your individual style! However, they do require more styling time than short layers and can become messy if not maintained properly; so before taking on this look, be sure to consider all the pros and cons involved.
The Perks of Long Layered Hairstyles
You'll love the versatility and effortless style of long layered hairstyles. Whether you're looking for a bohemian vibe or voluminous curls, adding layers to your hair can offer multiple benefits.
Low maintenance is key when it comes to styling these looks, but with the right products, you can still achieve a polished finish.
Long layers are great for creating texture in thick hair without sacrificing length, while shorter layers add body to fine locks – so there's something for everyone!
Layer hairstyles are also popular because they grow out easily; perfect if your lifestyle requires frequent changes in look and style!
With trendy long layered hairstyles being all over red carpets everywhere nowadays, why not try one yourself? Layered haircuts may be just what you need to make heads turn this season!
5 Trendy Long Layered Hairstyles
Get creative with your look and check out these five trendy long layered hairstyles!
Bohemian Waves, Voluminous Curls, Sleek and Straight, Textured Beach Waves, and Layered Bob offer a range of styling options to change up your look.
Long layers are perfect for adding dimension without sacrificing length. They start near the cheekbones on thicker hair or higher up if you have thin locks.
They provide subtle movement in voluminous hair while reducing frizz. Updos get a nice finish with long layers that fall gracefully around the face for an effortless bohemian vibe or sleek straight looks when blow-dried smooth.
Last but not least, textured beach waves – no need to explain why this style is so popular!
Choose from any of these stylish cuts today – it's time to create something new!
Disadvantages of Long Layered Hairstyles
Though they offer volume and dimension, long layered hairstyles can be time-consuming to style and require regular maintenance. With the added complexity of styling multiple layers, high maintenance is inevitable.
While they may look great when done correctly, limited updos leave little room for creativity in styling them – potential messiness creeps in if not styled properly. Plus, growing out these cuts can create awkward stages as hair adjusts to a new length or shape.
Pros and Cons of Short Layered Hairstyles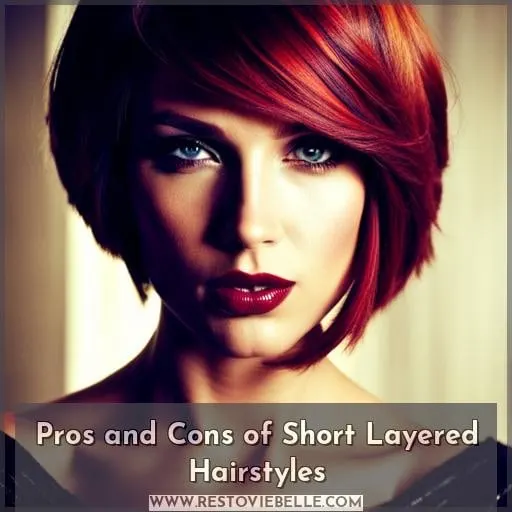 Choosing a short layered hairstyle has many advantages. It can add volume to thin or flat hair, define curls, and create movement. There are also five popular short layered hairstyles that are fashionable and timeless.
Advantages of Short Layered Hairstyles
With short layers, you can easily add volume and dimension to your hair while creating subtle shapes that suit any face shape. Styling benefits include an effortless way to frame the face, enhance curls, or create sleek looks with minimal products.
Short layers provide more volume than long ones while still allowing for plenty of styling options.
Maintenance considerations should also be taken into account when deciding on this style. Frequent touch-ups will be necessary every three months to keep it looking fresh and neat.
5 Popular Short Layered Hairstyles
You can try some of the most popular short layered hairstyles to add volume, dimension, and texture to your hair.
Try a Layered Bob for an easy-to-maintain, sophisticated look.
Go for Pixie Layers with choppy layers and side-swept bangs to create a bold statement.
Opt for Shaggy Chic if you want an effortless style packed with personality.
Consider Messy Waves if you're looking for something fun but low maintenance.
Or try an Edgy Crop that will show off your face shape.
Short layers are perfect as they offer versatility when it comes to styling options without compromising on overall length.
With various lengths available, there's sure to be one suited just right!
Conclusion
With over 60% of people having a round, oval, or heart face shape, layered hairstyles are the perfect way to customize your look.
Short layers are great for adding volume and dimension to thin and flat hair. They provide flexibility and versatility for frequent hairstyle changes. On the other hand, long layers are ideal for thick and voluminous hair. They offer subtle change and more movement without altering the length.
Ultimately, the decision between long layers vs short layers depends on factors such as hair type, face shape, and lifestyle. By considering these factors, you can find the perfect layered haircut for your style and personality.