This site is supported by our readers. We may earn a commission, at no cost to you, if you purchase through links.
Are you looking for a way to protect your hair from the harsh effects of chemical coloring? Coconut oil is an excellent choice! It has many benefits, including hydration, frizz control, and protection from chemicals.
Plus, it can help prevent protein loss while still allowing color absorption. With just a few steps before dyeing your hair, coconut oil can make sure that it stays healthy and strong after coloring.
Key Takeaways
Excellent pre-coloring treatment
Hydrates, reduces frizz, and protects against chemical damage
Prevents protein loss during coloring
Forms a protective barrier around hair strands
Benefits of Using Coconut Oil Before Coloring Hair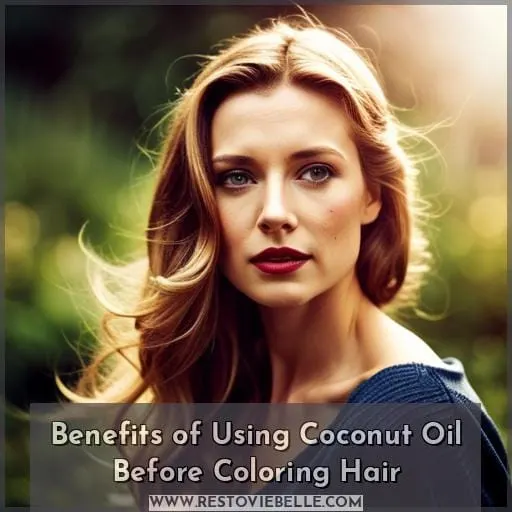 Using coconut oil before coloring your hair is an excellent way to keep it hydrated, reduce frizz, protect from chemical damage, and prevent protein loss. The fatty acids present in the oil form a protective barrier around the strands while its moisturizing properties nourish them deeply.
Hydration
You'll love the way coconut oil infuses your hair with moisture, leaving it looking and feeling smooth and healthy before you color. Its natural fatty acids provide hydration that helps boost dye absorption while protecting from chemicals.
Additionally, its Vitamin E locks in moisture for long-lasting frizz control and can be used as a leave-in conditioner post color care.
For those who prefer alternatives to coconut oil, lighter oils such as grapeseed or jojoba are perfect for low porosity hair types needing extra hydration when coloring their hair.
With these products at your disposal, you'll have everything needed to keep your colored tresses looking vibrant and healthy!
Frizz Control
Smooth out your locks with coconut oil before you color – it's like a breath of fresh air for frizz! Coconut oil helps to protect against humidity and other weather conditions that can cause hair to become unruly.
It also acts as a barrier, preventing the effects of fading from chemical treatments.
Some key benefits of using coconut oil for frizz control include:
Frizz prevention
Humidity control
Frizz-free hairstyles
You don't have to choose between style and protection – coconut oil is an all-in-one solution for keeping your hair looking gorgeous no matter what the forecast holds! Weatherproofing has never been easier or more effective than when using this amazing product.
Protection From Chemicals
Protect your hair from potential chemical damage with coconut oil before coloring! Coconut oil is a great choice to use pre-coloring as it helps prevent protein loss, maintains moisture levels, and seals in hydration.
It also forms a protective barrier against harsh chemicals while controlling frizz and boosting shine.
For best results, apply generously the night before dyeing; don't wash out coconut oil beforehand. To ensure compatibility with any hair dye used, opt for lighter oils like jojoba or grapeseed if you have low porosity hair types.
Afterward, keep up regular conditioning treatments to maintain the vibrancy of color and the health of your tresses!
Prevents Protein Loss
By nourishing your locks with coconut oil, you can reduce protein loss during color treatments and keep them healthy-looking and vibrant for longer. Coconut oil offers moisture retention, frizz control, protection from chemicals, and improved color vibrancy.
Start with clean hair.
Apply warm coconut oil the night before coloring.
Don't wash it out prior to dyeing.
Use a sulfate-free shampoo after treatment.
Try lighter oils like jojoba or grapeseed for low porosity hair.
Coconut oil is an ideal choice when it comes to protecting your hair from damage caused by bleaching or coloring.
How to Use Coconut Oil Before Coloring Your Hair

Are you ready to add a splash of color to your hair? Before you do, be sure to prepare it with coconut oil. Start by shampooing your hair thoroughly and then applying the coconut oil the night before coloring.
Step 1: Wash Your Hair Thoroughly
Start off your hair coloring routine by thoroughly washing it with a sulfate-free shampoo to get rid of any dirt and oils. This will help prepare the hair for pre-dye preparation and ensure that the coloring process is successful.
You can also use coconut oil as an additional form of protection for your locks. It forms a protective barrier due to its fatty acids content, preventing over-bleaching when applied before coloring treatments.
Afterward, don't forget to use post-color care products like WOW Coconut Milk Shampoo specifically designed for colored hair.
Step 2: Apply Coconut Oil the Night Before Coloring
Generously apply warm coconut oil the night before to get the most out of your coloring experience and give hair a boost in moisture, shine, and protection. Coconut oil is packed with fatty acids that form a protective barrier against chemical damage from dyeing.
It also helps reduce the bleaching effects while retaining color vibrancy for long-lasting results. Use this overnight treatment to counter drying agents found in bleach or dyes and keep hair healthy throughout the color process.
Step 3: Dye Your Hair
After the coconut oil has been applied, it's time to dye your hair and add some color! Here are three tips for applying hair dye to get a flawless finish with added protection:
Before starting, make sure you have all of the necessary tools and supplies.
Apply in even sections using an application brush or comb.
Leave on for the recommended amount of time before rinsing off with lukewarm water.
Following these steps will help ensure that your coloring process goes smoothly and give you great results while protecting your hair from further damage caused by dyes or UV rays.
With regular maintenance, such as deep conditioning treatments combined with coconut oil pre-dye treatments, you can enjoy vibrant colors without compromising on healthy locks!
Step 4: Wash Your Hair
Rinse off the dye and wash your locks with a sulfate-free shampoo for color-treated hair to lock in moisture and protect from damage. Hair maintenance is essential after coloring, so use natural oils like coconut oil to retain vibrancy and luster.
Alternatives such as jojoba or grapeseed are great for low porosity hair, while WOW Coconut Milk Shampoo provides further protection against fading or discoloration. Consider using coconut oil as a leave-in conditioner too; it helps eliminate tangles whilst moisturizing deeply.
With regular washing tips, nourishing techniques, plus weekly applications of this miracle ingredient – you'll have beautiful results that last!
Consider Using WOW Coconut Milk Shampoo
For extra protection and to prolong vibrancy, consider using WOW Coconut Milk Shampoo before you color your hair. Its blend of coconut oil and other natural ingredients helps nourish the hair while sealing in moisture for maximum hydration.
The fatty acids content forms a protective barrier against harsh chemicals found in many dyes, preventing over-bleaching or drying effects of bleach on the hair strands.
Moreover, it prevents damage from pollutants, UV rays, and heat. It also reduces protein loss during coloring treatments.
Will Coconut Oil Affect the Hair Dye?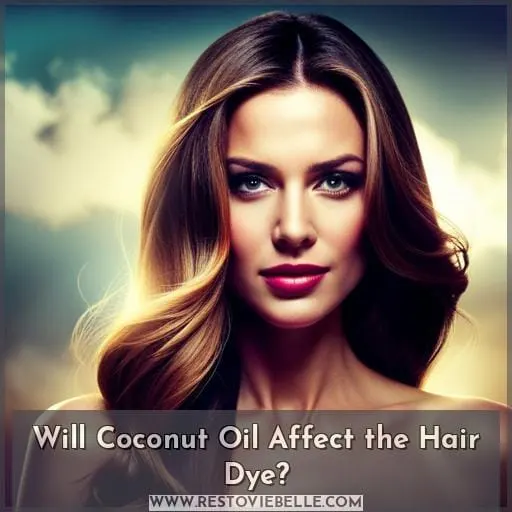 Before you start your hair transformation, it's important to consider if coconut oil will affect the dye. Contrary to popular belief, using coconut oil before coloring won't reduce its effectiveness or longevity.
Coconut oil can actually help protect against chemical damage and UV rays while maintaining hair health and color vibrancy.
However, make sure you apply generously only on clean, sulfate-free shampooed hair and don't wash out the product before applying dye. This will prevent over-bleaching for better results. Additionally, use lighter oils like jojoba or grapeseed for low porosity strands as they penetrate deeper into each strand of your locks than heavier oils do.
Also, bear in mind that coconut oil is a great leave-in conditioner which helps add moisture retention without the risk of breakage, resulting in long-lasting results!
Best Coconut Oils for Hair
Are you looking for the best coconut oils to use before coloring your hair? OGX Coconut Miracle Oil Hair Mask, Biolage ColorLast Shampoo, Okay Coconut Oil Hair Skin, and Palmer's Coconut Oil Shampoo are all excellent options.
These products are formulated with natural ingredients such as coconut oil and shea butter that help protect your hair from damage while also nourishing it.
OGX Coconut Miracle Oil Hair Mask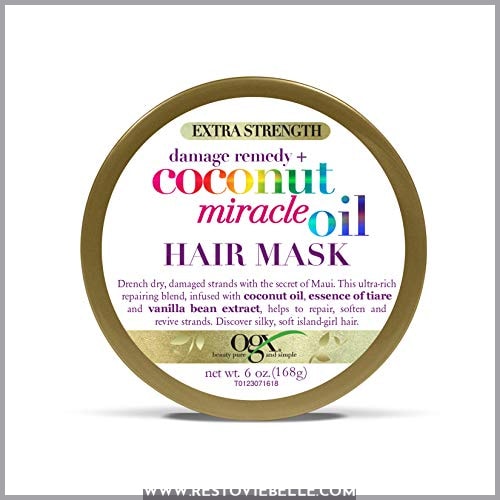 View On Amazon
Try the OGX Coconut Miracle Oil Hair Mask for a luxurious spa-like experience that'll leave your hair feeling like silk and smelling divine!
Infused with coconut oil, vanilla bean extract, and essence of tiare flower, this non-harsh and nourishing formula is perfect for medium to coarse-textured hair types in need of deep hydration. It's free from parabens and sulfated surfactants, so you can trust it'll be gentle on delicate strands.
Its subtle scent of coconut milk, tangerine, and warm vanilla will make every shower an indulgent one, while its moisturizing ingredients help control frizziness. For best results, pair it with the matching shampoo or conditioner or use it as a pre-dye treatment for extra protection against chemical damage.
Free from parabens & sulfates
Non-harsh & nourishing formula
Ideal for medium to coarse textures
Small size product
Mixed reviews about moisture effectiveness
Suggested using paired products
Biolage Color Last Shampoo
View On Amazon
Discover Biolage Color Last Shampoo, a color-safe shampoo that helps keep salon vibrancy and prevents fading for up to 9 weeks. This professional-inspired treatment balances moisture while enhancing hair surface with its low pH level specifically designed for color-treated or natural hair.
Free of parabens, this product contains a key ingredient inspired by nature's orchid to maintain saturated, shiny, vibrant colors in your hair without any harsh detergents, phthalates, mineral oil, gluten, or dyes.
To use it effectively, simply apply the shampoo to wet hair and massage gently using circular motions until lather builds up before rinsing out thoroughly with water.
Cleans effectively yet requires a small amount when used
Suitable for use even if you have water softeners installed at home
Provides long-lasting results
Maintains healthy and shiny colored/natural hair
Compatible with seborrheic dermatitis
Has a pleasant scent
Price is on the expensive side
Not suitable as a stand-alone deep conditioning treatment
Some users may find it too mild
Okay Coconut Oil Hair Skin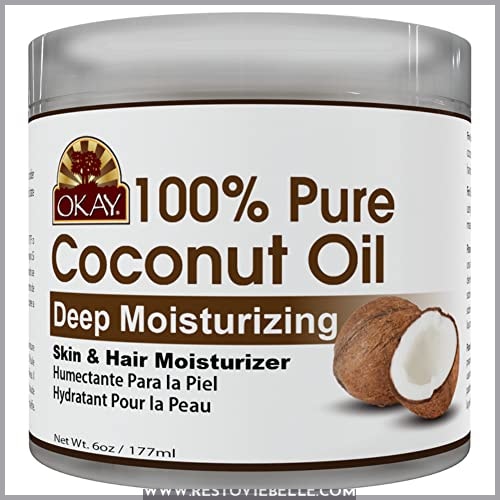 View On Amazon
You'll love Okay Coconut Oil Hair Skin for its deep moisturizing benefits and anti-aging properties.
It can be used as a conditioner or treatment to soften hair and add shine while conditioning the scalp too. The oil also helps remove makeup residue from the skin with ease. Many users have reported improved skin texture after using this product, along with a glowing complexion, thanks to its ability to stimulate collagen production while protecting against sun damage.
This oil has endless uses that range from treating dermatitis, dandruff, or allergies on your scalp to rashes elsewhere on your body – making it ideal for those who suffer from these conditions regularly! Plus, if you mix this coconut oil in combination with rosemary essential oils, you can even promote hair growth by giving yourself regular massages directly onto your scalp.
Deep Moisturizing Benefits
Anti-Aging Properties
Stimulates Collagen Production
Removes Makeup Residue Easily
Not Pure Coconut Oil Due To Added Scent
Absorbs Quickly
Palmer's Coconut Oil Shampoo
Experience the moisturizing and protective benefits of Palmer's Coconut Oil Shampoo to nourish your color-treated hair! This shampoo is specifically formulated for all curl types and textures, with no harsh detergents or parabens.
Its Moisture Boost System locks in moisture from root to tip, while its cocoa butter, coconut oil, shea butter, olive oil, and vitamin E ingredients provide deep hydration. Users have reported that it's effective at repairing damaged hair while providing a pleasant scent.
How Does Coconut Oil React With Hair Color?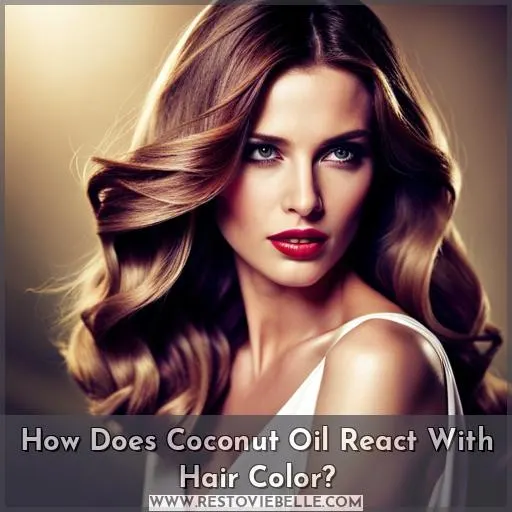 By applying a generous amount of warm coconut oil to your locks the night before you color, you can form a protective barrier that will help retain moisture and counter drying effects from bleach or hair dye.
Coconut oil helps to reduce protein loss during coloring treatments, moisturize and protect against chemical damage, prevent overbleaching when applied pre-dyeing, and improve retention of moisture in the hair strands for reduced breakage risk after bleaching or dying processes occur.
It is important to choose an appropriate quality coconut oil as this will make it easier for it to penetrate deeply into each strand, providing better results than other oils such as jojoba or grapeseed, which are lighter in comparison.
These oils are more suitable for those with low porosity hair types due to their non-comedogenic properties, allowing them not to clog pores should any scalp irritation arise from use on sensitive skin areas.
Popular brands include Vita Coco Organic and Shea Moisture, while Naissance Refined Coconut Oil provides an odorless yet affordable alternative option if needed at any point throughout the process.
Can Coconut Oil Damage Hair?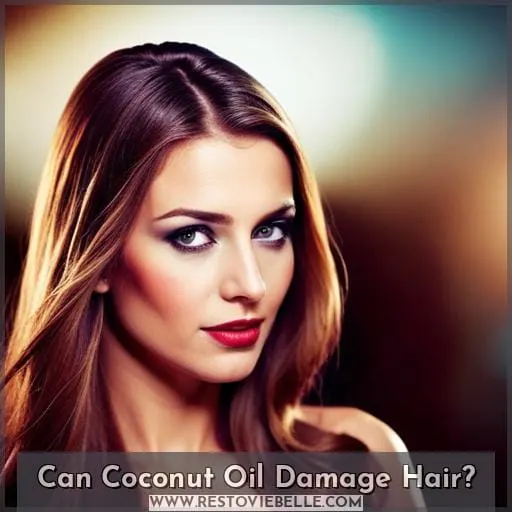 Despite its many benefits, using coconut oil for hair coloring can potentially damage your locks if not done correctly. When considering incorporating coconut oil into your hair care routine before you color it, there are a few things to keep in mind.
Coconut oil is often considered a miracle product when it comes to nourishing and protecting the hair from damage caused by chemicals in dyes or bleaches. However, this is one of the most common coconut oil myths. If applied too heavily or left on for too long prior to dyeing, it may cause buildup and prevent even coverage of colorant throughout the strands, leading to patchy results.
To ensure maximum protection against chemical damage with minimal risk of buildup, opt for lighter oils such as jojoba or grapeseed. These oils effectively penetrate low-porosity hairs better than thick formulas like cocoa butter or shea butter, without leaving residue behind that could interfere with even distribution during the application process.
Additionally, consider using an organic shampoo free from sulfates after dyeing. These agents can strip away natural oils, including those found in coconut milk, preventing future protective effects and diminishing vibrancy over time due to their drying properties.
When to Not Use Coconut Oil in Hair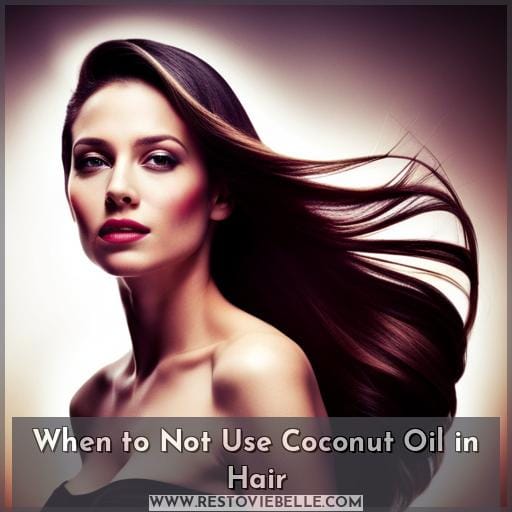 It's important to know when not to use coconut oil in your hair, as overuse can lead to buildup and unwanted effects. If you've already used a heavy moisturizing product or if your hair is overly dry, such as after swimming in salt water or a chlorinated pool, avoid using coconut oil.
Additionally, it's best to avoid applying any additional oils, including coconut oil, for several days after undergoing chemical treatments like color processing, perms, relaxers, etc.
For optimal results when coloring your hair, follow these steps:
Avoid using coconut oil for at least 48 hours before dyeing.
Hydrate your hair with coconut oil after dyeing.
Prevent chemical damage by applying coconut oil before coloring.
Use coconut oil before hair coloring for color protection.
By properly balancing and applying natural oils like coconut oil before coloring treatments, you can ensure maximum vibrancy and long-lasting results from your color services!
Aftercare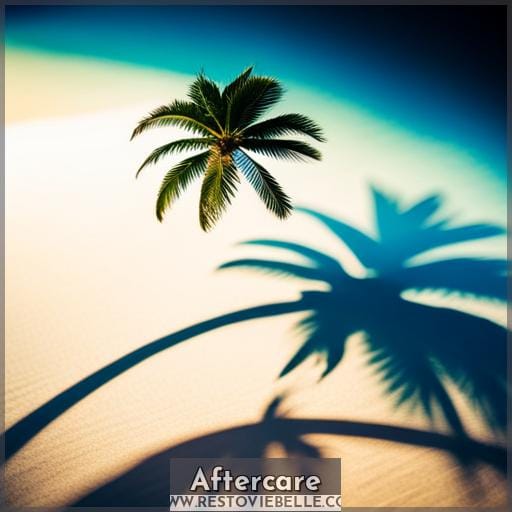 Now that you've colored your hair with coconut oil as a pre-dye treatment, aftercare will help maintain its color vibrancy and health.
To keep your hair looking vibrant and prevent chemical damage, use sulfate-free shampoo to wash it post coloring. Coconut oil can be used as a leave-in conditioner for extra hydration or applied once a week afterwards for ongoing maintenance of the color longevity.
For an even longer lasting result, invest in dedicated products intended specifically for colored hair. WOW Coconut Milk Shampoo is formulated with aloe vera extract and hydrolyzed wheat protein to nourish your locks without stripping away the dye's hue.
Don't forget about protecting against UV rays by wearing hats when outside too! With regular treatments of coconut oil before coloring your hair, plus continued care afterward, you'll see maximum results in terms of both shine and overall strength while preventing fading from taking place prematurely – all vital components when aiming for long-lasting hues each time around!
Alternatives to Using Coconut Oil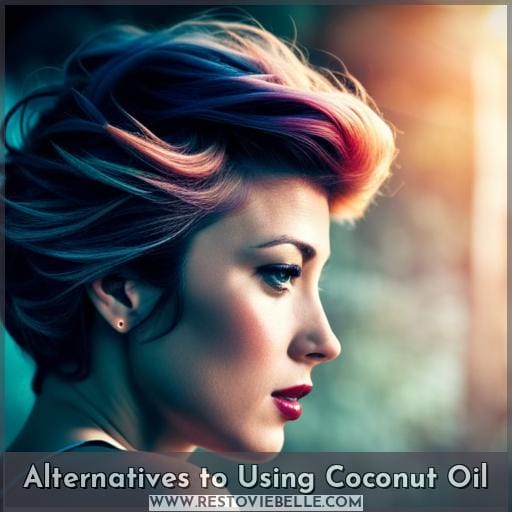 If you're looking for an alternative to using coconut oil before coloring your hair, try out some of these tried-and-true products that will leave your locks vibrant and healthy.
Argan Oil Hair Mask: This deep conditioning mask is formulated with natural argan oil, shea butter, and vitamin E to nourish the scalp and provide intense moisture. It helps protect against UV rays while providing lasting hydration without weighing down the hair.
Jojoba Oil: Jojoba oil is a lightweight natural alternative to coconut oil that can be used as both a pre-dye treatment or leave-in conditioner for colored hair types. Its anti-inflammatory properties help soothe damaged strands while promoting healthy growth from root to tip!
WOW Onion Black Seed Hair Mask: The WOW onion black seed hair mask has been designed specifically for color-treated tresses. It's infused with powerful botanical actives such as aloe vera juice extract, black seed extract, and hydrolyzed wheat protein, which provide intense moisturization and long-lasting protection against fading dyes! These ingredients work together not only to prevent further damage but also repair existing damage caused by heat styling tools or environmental pollutants like UV rays.
Conclusion
Have you ever wondered how coconut oil can help you before coloring your hair? Coconut oil is an excellent choice for pre-coloring hair as it helps to reduce protein loss, moisturizes and nourishes hair, and forms a protective barrier to keep color vibrant for longer.
To use coconut oil before coloring your hair, start with clean, shampooed hair and apply the oil the night before. When ready to color, don't rinse the oil out and wash with sulfate-free shampoo after.
Additionally, choose the best coconut oil products, such as OGX Coconut Miracle Oil Hair Mask, Biolage Color Last Shampoo, Okay Coconut Oil Hair Skin, and Palmer's Coconut Oil Shampoo. Although coconut oil is generally beneficial for hair, it can damage hair when used in excess.
Therefore, use coconut oil in moderate amounts and apply it only a week after coloring.
With proper use, coconut oil can be a great way to protect and maintain your hair's vibrancy and health.