This site is supported by our readers. We may earn a commission, at no cost to you, if you purchase through links.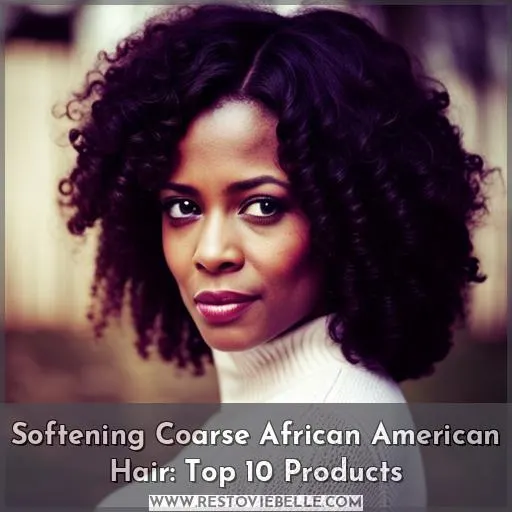 Tired of dealing with dry, coarse African American hair? Struggling to find the right products that will make your mane more manageable and less frizzy? Well, we've got you covered. We know just how difficult it can be to soften coarse African American hair without using harsh chemicals or relaxers.
Key Takeaways
Use sulfate-free shampoos with natural ingredients.
Deep condition with shea butter and oils.
Incorporate hair steaming into your routine.
Sleep on a silk pillowcase.
Top 10 Best Products to Soften Coarse African American Hair
If you have coarse African American hair, it can be difficult to manage and often leads to dryness. To soften this type of hair, try SheaMoisture Hydration Shampoo for intensive moisturizing effects; Carol's Daughter Black Vanilla Shampoo for hydration without weight; or Cantu Shea Butter Leave-In Conditioner, which detangles and reduces breakage.
1. SheaMoisture Hydration Shampoo
View On Amazon
You'll find the perfect solution to your parched locks in SheaMoisture's nourishing Hydration Shampoo, which uses Manuka Honey, Mafura Oil, and Fig Extract to revive even the driest of hair. Its sulfate-free formula is free of harsh chemicals like parabens and mineral oil but packed with moisturizing ingredients that won't weigh down or damage your hair.
Plus, with its competitive price tag on Amazon compared to salon products, you can get great results without breaking the bank. Users have commented positively on this shampoo's effectiveness on dry locks as well as its pleasant scent.
Some noted a change in consistency, making it more runny than other SheaMoisture variants, though not affecting performance significantly.
Sulfate-free formula gently cleanses without stripping moisture
Lightweight yet intensely hydrating ingredients won't weigh down or damage strands
Suitable for all types, from natural curls through relaxed tresses
Some users note an alteration in texture, making the product more runny
Others may be put off by the intense fragrance
2. Carols Daughter Black Vanilla Shampoo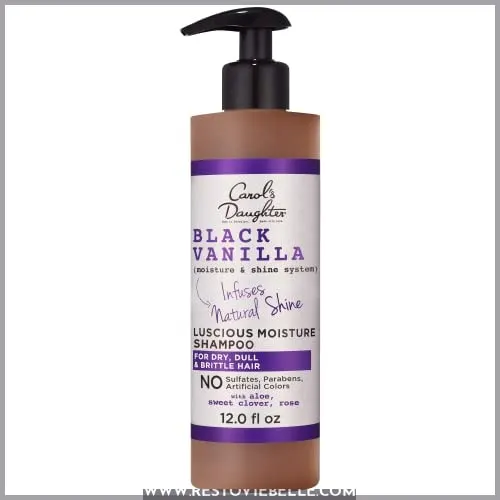 View On Amazon
Carol's Daughter Black Vanilla Shampoo helps restore moisture while nourishing your curls, providing a luxurious spa-like experience. It is formulated with Shea Butter, Aloe, and Rosemary Extracts to cleanse without stripping hair of its natural oils.
This sulfate-free shampoo is suitable for all curl types (2A to 4C). It has a pleasant dark vanilla scent and can be used daily or weekly depending on your needs.
Sulfate-free formula
Gentle enough for daily use
Lightweight yet deeply moisturizing
Not suitable for fine curls
Pump dispenser may be difficult to handle
3. Cantu Shea Butter Leave-in Conditioner
View On Amazon
Treat yourself to the Cantu Shea Butter Leave-in Conditioner and give your locks a much-needed pamper session! This revitalizing formula is designed to provide intense hydration while taming flyaways and adding shine.
Formulated with pure shea butter, castor oil, and argan oil, it helps detangle hair without weighing it down.
It's suitable for various hair types, from natural curls to relaxed or color-treated strands – plus, it's cruelty-free, so you can use it with peace of mind. With mixed user experiences on consistency and scent, this product still delivers when used correctly.
Revitalizes & adds shine
Lightweight formula provides intense hydration
Helps detangle & reduce breakage
Suitable for all hair types
Cruelty-free
Mixed user experiences regarding product consistency & scent
May not be ideal for thick curly hair
4. African Pride Aloe Coconut PreShampoo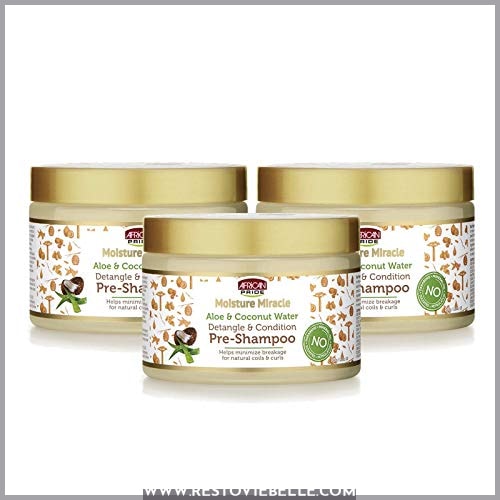 View On Amazon
Nourish your hair with African Pride Aloe Coconut PreShampoo for a deep conditioning and detangling experience. This product is designed to protect and nourish, containing aloe vera and coconut water that work together to keep hair hydrated while removing impurities.
Free of parabens, mineral oil, sulfates, and petrolatum, this pre-shampoo treatment will leave your locks feeling soft without the heavy weight of other treatments.
The Moisture Miracle line by Strength of Nature is specifically designed for coily & curly textured hair, so you know it's up to the task when restoring balance in hard-to-manage textures!
The reviews are highly positive about this product; many speak highly of its ability to tackle difficult knots or tangles as well as provide slip during styling processes such as braiding or styling afro curls.
It also works great on elderly individuals who may have challenging tangle issues due to age-related changes in their mane texture – providing excellent moisturizing effects lasting all day long! Some users noted that although effective, they found it worked best only when used with a brush or comb post-application.
Provides excellent detangling properties
Works well for elderly individuals
Provides slip & moisture
Positive feedback from 4C Hair Type Users
Lasts 2 months with regular use
Can be too heavy for some finer hairs
Best results achieved using brush/comb post-application
5. Biolage RAW Replenish Oil Mist

View On Amazon
Try Biolage RAW Replenish Oil Mist for instant hydration and conditioning – without weighing down your hair! This pre-shampoo treatment oil mist is formulated with Olive oil, sunflower oil, and Borage oil to smoothen and condition all hair types.
It's silicone-free, so it won't build up on strands or leave them feeling heavy. Users love that it works even in humid conditions and has a pleasant scent. Plus, it can be used as a light moisturizer when the weather gets cold.
There have been some complaints about the product being delivered in leaked containers. However, this issue seems to have been resolved by customer service teams quickly.
Effective in humid conditions
Pleasant scent
Lightweight
Packaging issue reported by some users
Color appears lighter than expected
6. EZBASICS Hair Facial Steamer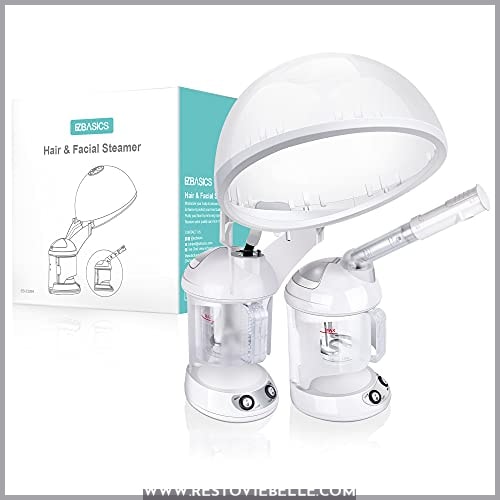 View On Amazon
Experience luxury spa treatments in the comfort of your home with the EZBASICS Hair Facial Steamer! This professional-grade device is equipped with an advanced PTC ceramic heating element for strong steam and a facial steamer function to nourish your hair and skin.
It opens up pores, exfoliates dead skin, removes excess oil, and provides long-lasting hydration. Plus, it's suitable for all types of hair, including thick or coarse textures, so you can get that salon look at home.
The hooded steamer provides a spa-like experience, evenly distributing steam for deep conditioning without weighing down hair texture. It is also portable and easy to assemble with quick-wicking technology powered by AQUITEX fabric.
However, some users have reported that the product stopped working after 2 months. Additionally, oil seeps through the product if filled too high. The instructions could also be slightly better.
Overall, the EZBASICS Hair Facial Steamer offers a convenient way to enjoy the benefits of a spa treatment at home.
7. Etae Carmel Hair Treatment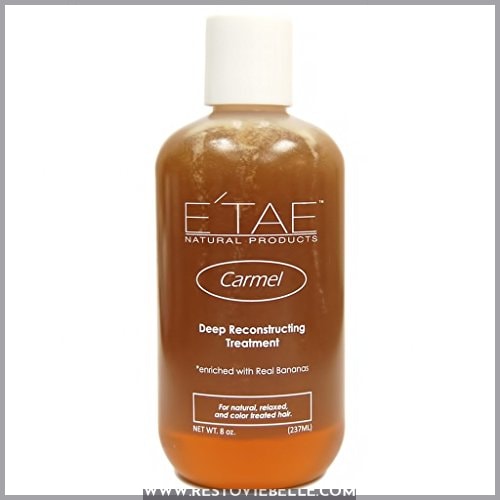 View On Amazon
Feel the effects of Etae Carmel Hair Treatment, a natural deep-conditioner that adds volume and body to all hair types. Formulated with molasses and bananas, this sticky treatment is suitable for thick, curly, or long hair.
It works best when used consistently alongside regular trims and protective styles such as wrapping your hair. As soon as you apply it to wet strands, you'll experience its quick straightening power. However, results may vary over time due to changes in your hair's texture adaptation.
Our users have also experienced an unusual smell, which some find distracting but bearable overall. Others found the product crystallized or hard-to-use due to poor packaging quality control from the manufacturer.
In conclusion:
Moisturizes & softens all hair types
Quickly straightens with lasting results
Reduces styling times & controls frizz
Unique smell can be distracting
Rare instances of crystallization & poor product packaging
8. Aquis Microfiber Hair Towel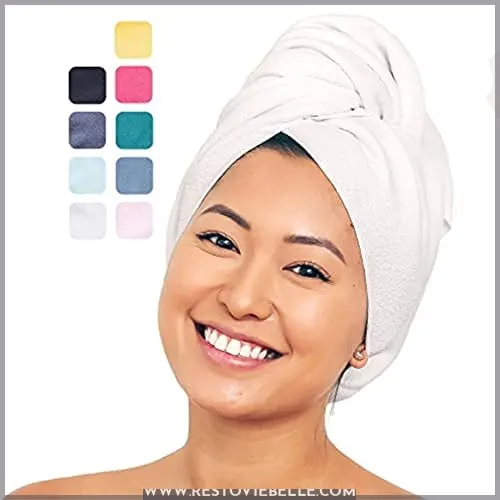 View On Amazon
You'll love the AQUIS Microfiber Hair Towel for its quick-wicking technology and luxurious feel that helps reduce damage, breakage, and frizz. Made from 80% polyester and 20% nylon, this regular-sized towel is suitable for thick, coarse, or porous hair.
It's non-toxic too, so you don't have to worry about releasing microplastics or toxic dye into the environment.
With quick wicking capabilities powered by AQUITEX fabric, it can dry your hair faster – up to 5x stronger than traditional methods – while protecting it from heat damage at the same time! Plus, it's machine washable, making maintenance easy as 1 2 3!
Whether you're looking for a more efficient way of styling your locks or want something lightweight yet strong enough to handle long tresses, this is definitely an ideal choice.
Quick wicking technology reduces drying time
Non-toxic material won't release microplastics/dye in washing
Suitable for all types of thick, coarse, or porous hair
Machine washable – hassle-free maintenance
Size may be too small if the user has very long hair
May not significantly reduce drying time in some cases
9. Redken Detox Shampoo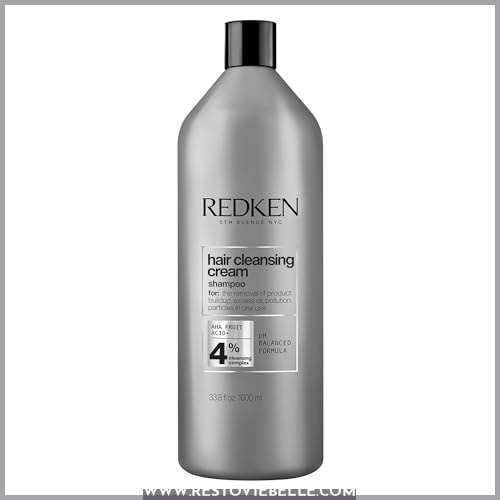 View On Amazon
Try Redken's Detox Shampoo to purify and revitalize your hair with its refreshing lemon scent, leaving it smooth as silk. This professional clarifying shampoo removes dirt, grease, grime, product build-up, and hard water minerals from the scalp while strengthening the cuticle for a healthy shine.
Formulated with alpha hydroxy acid and fruit acid complex, plus a cleansing blend of lactic acid and panthenol, it helps to remove not only dry shampoo but also pollution residue on even color or non-color treated hair.
Effective for oily hair and product buildup
Softens hair & reduces oiliness
Deep cleans without over-drying
Pleasant lemon scent
Concerns about packaging authenticity addressed in user reviews
10. Slip Silk Queen Pillowcase Plum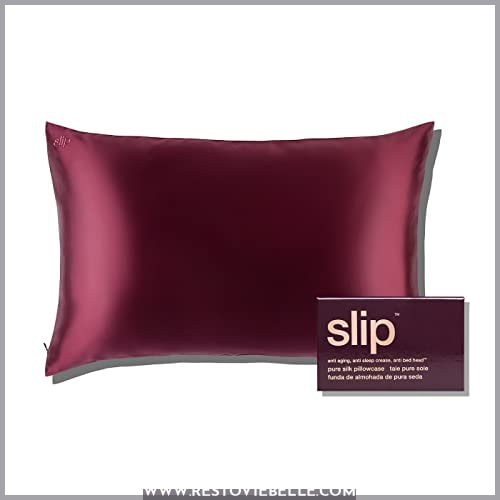 View On Amazon
Experience the ultimate in hair and skin care with a Slip Silk Queen Pillowcase in Plum. Crafted from high-quality 22 momme mulberry silk, this pillowcase prevents friction to reduce creased skin and acne while protecting your hair from tangles during sleep.
The 360 thread count ensures durability, softness, shine, and thickness for years of use.
Developed over ten years for superior performance, it's hypoallergenic – perfect for those with sensitive skin or allergies. It's also machine washable with pH-neutral liquid detergent and/or fabric softener.
Quality packaging
Soft and comfortable
Reduces facial lines and bed head
Cool to the touch
Retains color as shown online
Stitching issues on some models
Color accuracy may vary
What Causes Coarse African American Hair to Dry?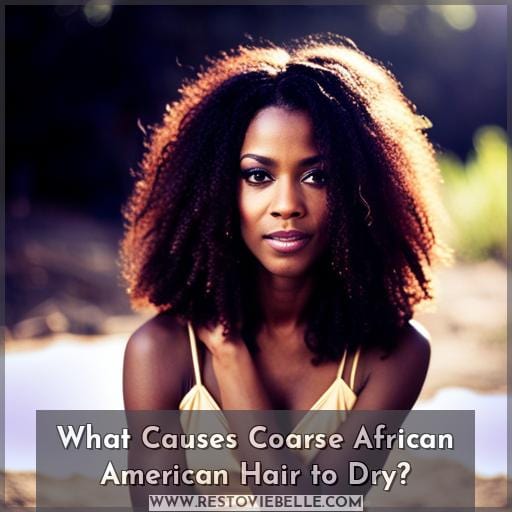 Having dry, coarse African American hair can be a challenge. The good news is that there are steps you can take to restore moisture and softness.
Moisture retention is essential for healthy coils – make sure you're using products with hydrating ingredients like coconut oil or shea butter and deep condition regularly.
Environmental factors such as harsh climates or hard water also play an important role in keeping your tresses moisturized; try investing in a shower filter if necessary!
Last but not least, proper hair care habits should be adopted including avoiding excessive heat styling tools and washing too often, which strips away oils from the scalp.
To soften coarse African American hair, it's important to focus on maintaining moisture levels by using natural conditioning treatments like pre-pooing with coconut oil before shampooing, as well as weekly hot oil treatments for extra nourishment.
Selecting the Right Hair Products for Coarse African American Hair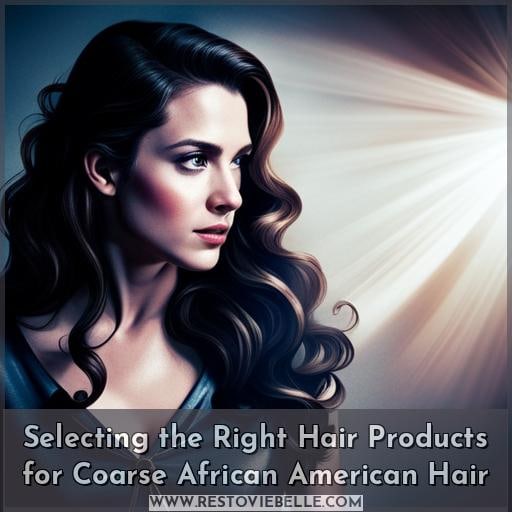 When it comes to selecting the right hair products for coarse African American hair, sulfate-free shampoo is key. Look for options with enriching ingredients like coconut milk and organic oils such as coconut, hemp seed, shea, or cocoa butter that will help moisturize and soften your locks.
Deep conditioning treatments are also imperative in order to restore hydration levels and ensure healthy strands.
Sulfate-free shampoo options
Choosing a sulfate-free shampoo can help replenish moisture, restore strength, and elasticity to your hair, and prevent further damage. Sulfate-free shampoos are packed with natural oils that nourish the scalp while providing an intense hydration boost for coarse African American Hair.
With its ability to retain more water than other products on the market, it makes for an ideal way to maintain healthy curls without compromising their texture or vibrancy. An effective wash day routine is essential when trying out this type of shampoo.
Start by pre-pooing with organic oil before lathering up to get the most out of each wash session.
Incorporating moisturizing techniques into your regular hair care routine will go a long way towards ensuring great results!
Benefits of organic hair oils
Empower your hair with organic oils like coconut, almond, and avocado to bring back its natural shine and strength. These oils are excellent for moisturizing while helping to lock in the moisture that is essential for coarse African American Hair.
Apply these oils regularly as part of a protective styling routine or after detangling techniques to maximize their benefits.
Using the right oil can also help alter hair porosity levels, allowing you access to an array of natural remedies that will soften your tresses over time.
Importance of deep conditioning
Regularly treating your hair to a deep conditioning routine is essential for restoring moisture and healthy shine. Deep conditioners contain powerful, hydrating ingredients like shea butter and oils that penetrate the hair strands, helping to lock in hydration.
This helps soften coarse African American hair without weighing it down or leading to product buildup.
Look for natural-based products with moisturizing properties such as argan oil or coconut oil. These ingredients help nourish damaged strands while also detangling them more easily. Use deep conditioner once a week or every other week, depending on how dry your curls are.
For best results, use warm water when applying deep conditioner and allow it time to work its magic before rinsing out thoroughly.
Essential Tools for Softening Coarse African American Hair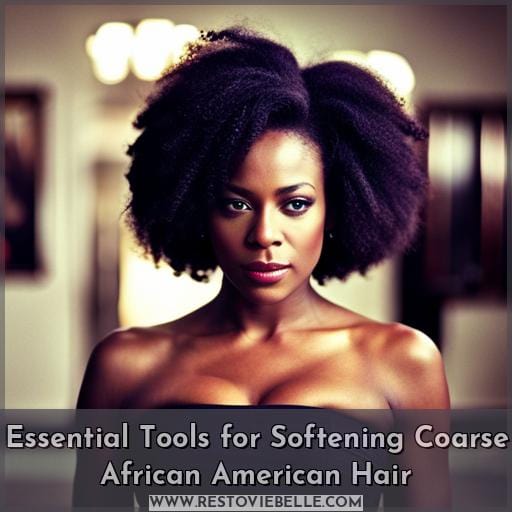 Now that you've selected the right hair products for your coarse African American hair, it's time to consider essential tools.
A microfiber towel is an excellent choice for drying as it helps preserve moisture and reduce frizz.
For deep conditioning and scalp moisturization, a hair steamer or thermal cap will help open up the cuticles to better absorb product nutrients.
To maintain optimal hydration throughout the night, switch out your regular pillowcase for a silk one. This allows strands to glide over without tangling or pulling on delicate curls.
Additionally, hot oil treatments done once weekly with natural oils like avocado or olive are beneficial. Clarifying shampoos should be used weekly to remove product build-up from styling aids such as coconut oil.
While coconut oil provides nourishment, it can also lead to buildup if not monitored closely enough.
By implementing these steps into your routine and using quality products tailored specifically for African American textures, you'll notice softer and more manageable strands in no time!
Step-by-Step Guide: How to Soften Coarse African American Hair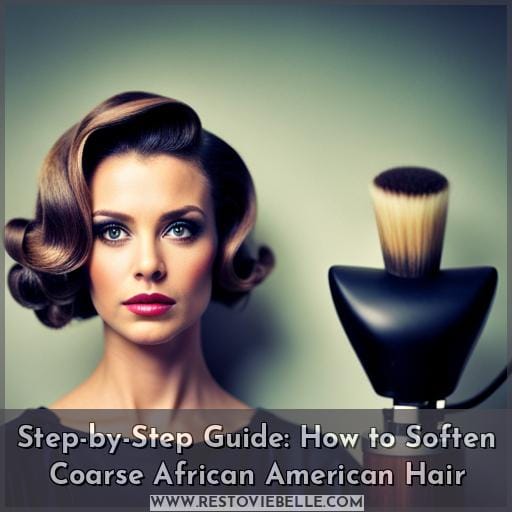 To achieve the best results, follow this step-by-step guide to ensure your African American hair is fully hydrated and nourished.
Start with a pre-poo treatment like coconut oil or shea butter to protect your locks from shampoo's effects while adding moisture retention and frizz control.
Use sulfate-free shampoos such as SheaMoisture Hydration Shampoo that contain natural ingredients like Manuka Honey, Mafura Oil, and Fig Extract for deep conditioning of dry strands without weighing them down too much.
Apply leave-in conditioners such as Carol's Daughter Black Vanilla Shampoo, which has aloe vera extract plus rosemary to reduce breakage due to its lightweight formula great for all curl types (2A – 4C).
For an even deeper conditioning, use hot oil treatments with almond or avocado oils combined with amino acid treatments providing elasticity while being gentle on texture.
Lastly, don't forget about porosity when choosing products alongside clarifying shampoo weekly, helping rebalance pH levels.
How Often Should You Soften Coarse African American Hair?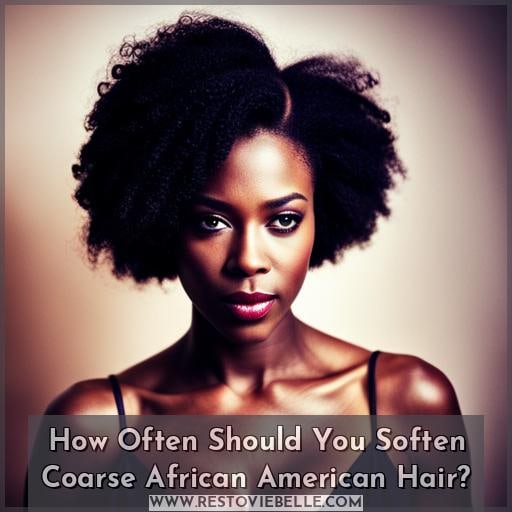 You should aim to soften your coarse African American hair at least once a week; in fact, 85% of people who have done this found their strands became smoother and more manageable. To keep your hair hydrated and healthy, you need an effective routine that adjusts for seasonal changes.
As part of the weekly care regimen:
Shampoo with sulfate-free shampoo every two to three days.
Try deep conditioning treatments or hot oil treatments 1 – 2 times per month.
Use natural oils like coconut oil on a daily basis.
Additionally, during nighttime routines make sure to use soft microfiber towels instead of regular cotton ones and switch out pillowcases from cotton/polyester blends for silk/satin covers which helps preserve moisture retention when sleeping.
Also consider using hard water shampoos specifically designed for such environments as well as buttering up locks with organic products like shea butter or mango butter.
With consistent hydration methods throughout the year combined with quality scalp massages, your coarse African American hair will become softer over time!
Quick Tips for Softening Coarse African American Hair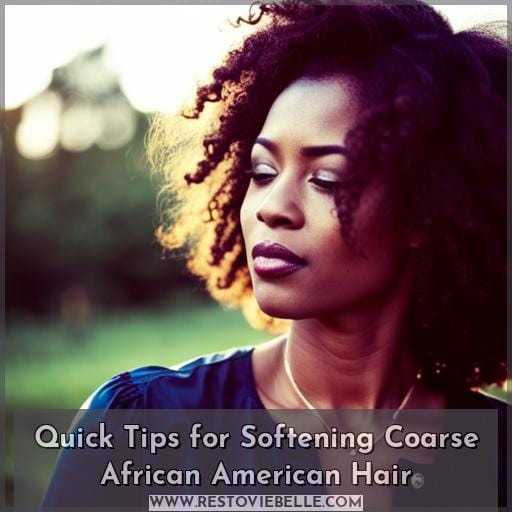 Try these quick tips to keep your hair looking hydrated and nourished for lasting results! Incorporate daily hydration, pre-pooing with natural ingredients, and using a microfiber towel instead of cotton towels for detangling your hair.
Determine the porosity of your strands. Moisturize regularly with leave-in conditioners or deep conditioning treatments like hot oil treatments or amino acid treatments. Clarify weekly by using clarifying shampoo to remove product buildup from hard water.
Switch out regular cotton pillowcases for silk ones to maintain tangle-free locks even while you sleep.
Using these simple steps can give you soft, manageable African American hair that is not only healthy but also looks great too!
Conclusion
It's time to get your coarse African American hair back to its natural, soft state. With the right products, tools, and techniques, you can make a huge difference in the texture of your hair.
From sulfate-free shampoos to deep conditioning treatments, and from microfiber towels to silk pillowcases, there are plenty of ways to soften your coarse African American hair.
With a little bit of effort and knowledge, you can get your hair looking and feeling better than ever.