This site is supported by our readers. We may earn a commission, at no cost to you, if you purchase through links.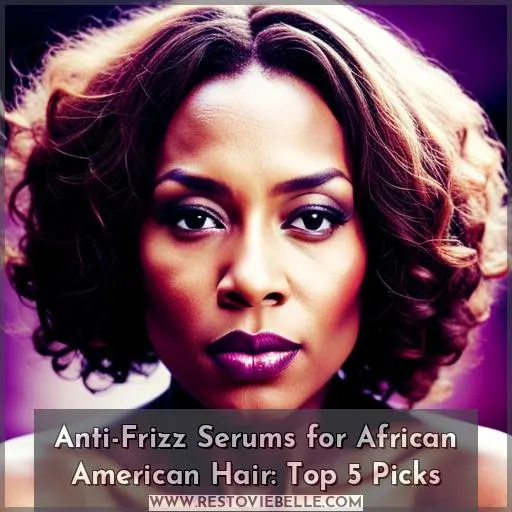 Do you struggle with frizzy, dry African American hair? You're not alone. Many of us battle to keep our locks looking smooth and shiny without the help of harsh chemicals or expensive treatments. Luckily, there are anti-frizz serums specifically designed for Afro-textured hair that can give your hairdo a sleek finish while also providing protection from heat and humidity damage.
Top 5 Anti-Frizz Serums for African American Hair
Looking for a solution to manage frizz and maintain healthy hair in African American hair? Look no further! IGK Crybaby Smoothing Serum, Nubi Marula Hair Serum, Garnier Fructis Anti-Frizz Serum, Pure Brazilian Travel Kit, and Cantu Super Shine Hair Silk Shea Butter are the top five anti-frizz serums that will help restore moisture to your curly locks.
1. IGK Crybaby Smoothing Serum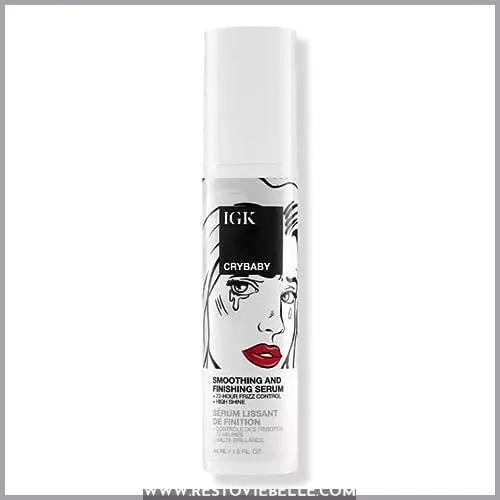 View On Amazon
You'll be crying tears of joy at the unbelievable results you get from this luxe smoothing serum – goodbye to unmanageable, frizzy hair and hello to sleek, beautiful locks!
IGK Crybaby Smoothing Serum is a revolutionary formula designed specifically for African American hair. Coconut oil helps restore and repair strands from the inside out while reducing protein loss and maintaining natural moisture levels.
The lightweight formula won't weigh down your locks or cause any extra frizz either – perfect for long curly styles that need some taming.
Restores & repairs hair from inside out
Reduces protein loss & maintains natural moisture
Vegan & cruelty-free
Lightweight formula won't add weight or cause extra frizz
Comparable effects to keratin treatment
Bottle requires tipping instead of a regular pump bottle
High price point in comparison to the amount received
Potential leakage issues during shipping
2. Nubi Marula Hair Serum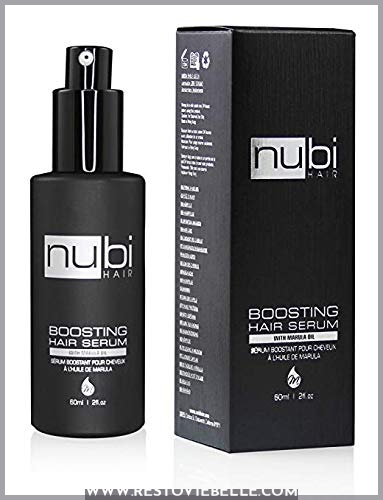 View On Amazon
Discover the power of Nubi Marula Hair Serum for smoother, shinier hair that lasts! This revolutionary formula is designed to restore and repair your hair from within. It's enriched with Aloe Vera and Marula oil to nourish each strand, reduce frizz, enhance shine, protect against heat styling damage, and leave you looking like a million bucks.
The lightweight non-tacky formula won't weigh down your tresses or cause greasiness – perfect for all types of hairstyles! Plus, it has a pleasant coconut fragrance too.
So what are the benefits? Well, firstly, this serum works well on all types of African American hair – be it natural or color treated; curly or straight; dry or textured – leaving them feeling soft and manageable after use.
Its paraben-free, silicone-free formulation makes sure there's no harm done either way as long as you follow directions properly by applying on slightly damp strands before blow-drying/styling, etc.
Reduces protein loss & maintains natural moisture content
Shields against heat style damages
Non-greasy & lightweight
Smoothens out tangles & split ends
Suitable for thick curly hairstyles
Vegan Cruelty Free Certified
Unpleasant smell might be strong enough for the user to leave the room
3. Garnier Fructis Anti-Frizz Serum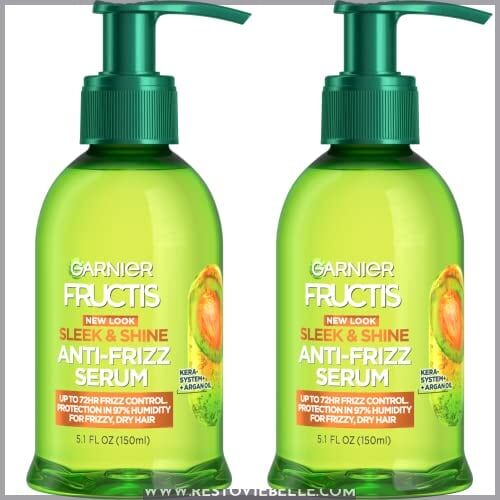 View On Amazon
Experience the power of Garnier Fructis Anti-Frizz Serum to tame your unruly locks and keep them looking sleek and shiny! This scientifically proven formula helps manage static, adds softness, prevents tangling, and provides up to 72 hours of frizz control even in 97% humidity.
It's infused with argan oil and Kera-System+, providing a lightweight yet powerful solution that won't weigh down your hair or leave behind any greasy residue. Plus, it's paraben-free, silicone-free, and phthalate-free – so you can feel good about what you're putting on your hair.
Customers have reported improved texture after using this product for touch-ups on both wet or dry hair; they also appreciate its pleasant citrus scent.
Up to 72 hours of frizz control in 97% humidity
Infused with argan oil & Kera System
Lightweight but powerful solution without leaving greasy residue
Paraben-, Silicone-, Phthalate-free – safe for use
Pleasant citrus scent & Cruelty Free/Vegan friendly
May not be effective on severely damaged/frizzy hair types
Not ideal as a heat protectant
4. Pure Brazilian Travel Kit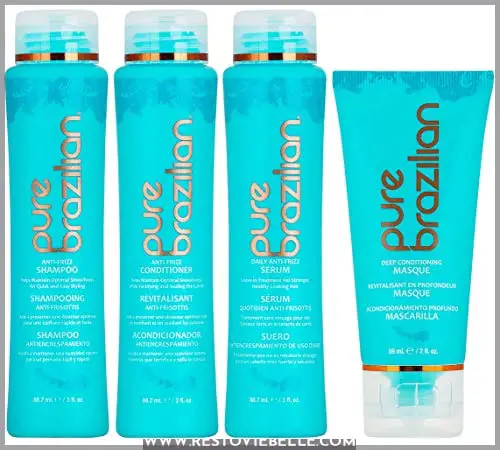 View On Amazon
With the Pure Brazilian Travel Kit, you can take advantage of deep conditioning and extreme protection on-the-go to keep your hair looking and feeling its best. This travel kit includes a 3 fl.oz Anti Frizz Shampoo, 3 fl.oz Conditioner, 3 fl.
oz Daily Anti Frizz Serum, and 2 fl oz Deep Conditioning Masque that work together to help protect your hair from damage while reducing frizziness for smoothness with added shine and moisture.
Customers have reported improved texture, manageability, as well as scent after using these products! The salt-free formula in the shampoo helps preserve natural moisture without stripping away essential oils found in African American Hair types, which makes this an ideal product for long curly strands or even relaxed coarse textures alike!
The conditioner provides nourishment plus strengthens so it won't be prone to breakage or tangles easily while smoothing out any flyaways caused by static electricity buildup during dry weather seasons like wintertime too!
The serum works wonders at shielding against UVA/UVB rays, ensuring no sun damage occurs when styling outdoors with heat tools such as flat irons, curling wands, etcetera.
Lastly, don't forget about using the creamy deep conditioning masque. It deeply moisturizes & repairs cuticle layers, leaving behind sleek, soft, manageable tresses every time used consistently throughout each wash cycle, especially when starting off with a freshly washed, dampened scalp before blow-drying.
Salt-free formula preserves natural moisture
Protects from heat tool usage (flat irons & curling wands)
Shields against UVA/UVB rays
Adds radiant shine & reduces frizzy ends
Creamy Deep Conditioning Masque repairs cuticles & leaves behind silky soft locks
Squeezing bottles hard due to low viscosity liquid inside
Not sealed like full-size products during shipping
5. Cantu Super Shine Hair Silk Shea Butter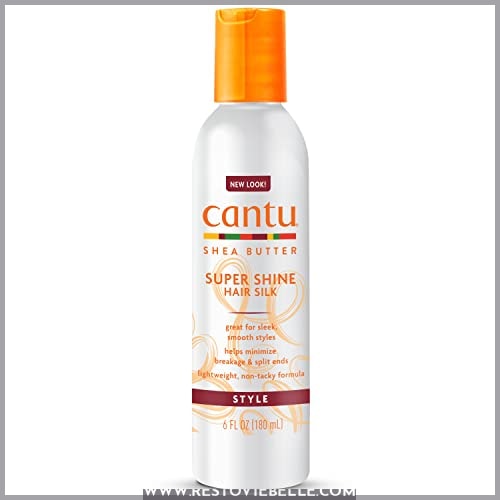 View On Amazon
Tame your tresses with Cantu Super Shine Hair Silk Shea Butter, a lightweight, non-tacky formula that moisturizes and strengthens while adding shine to dry, brittle hair. Infused with shea butter for extra nourishment and moisture retention, this product is designed to reduce breakage and split ends.
Ideal for relaxed or coarse medium to thick textured hair types, the subtle coconut scent adds an indulgent element while shielding hair from heat styling equipment.
For those looking specifically for something cruelty-free, there's no need to worry: this dye-free product is 100% Vegan approved! This versatile serum can be used after shampooing before blow-drying as a finishing effect or when combing wet/dry strands of all lengths in order to strengthen them against damage caused by brushing too harshly on delicate curls.
It will also work wonders if applied onto matted locks in desperate need of detangling love! The results are smooth, shiny, manageable tresses full of life – not only feeling better but looking healthier too.
Lightweight, non-tacky formula with moisturizing & strengthening effects
Suitable for relaxed, coarse, and medium/thick textured hair types
Cruelty-Free, vegan approved, dye-free product
Adds shine and touchable softness without heavy build-up
Subtle coconut scent shields from heat styling equipment
May not be suitable across all different curl patterns due to heaviness
Initial dislike among some users due to variation in suitability
Not suitable across all varying levels of dryness/frizz
Understanding Frizz in African American Hair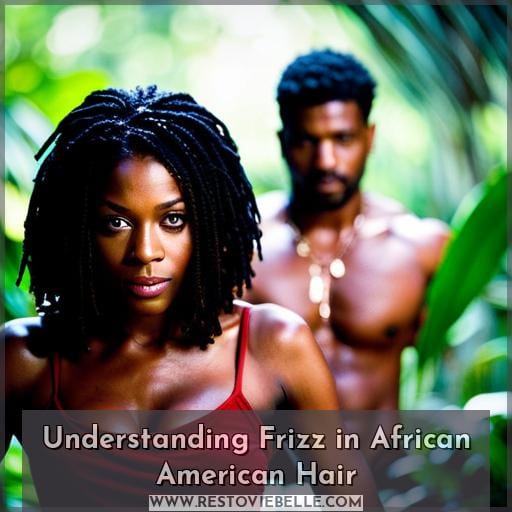 You can easily take control of your frizz by understanding the unique needs of African American hair. Frizz prevention techniques vary depending on porosity, texture, and weather conditions.
To combat flyaways, it's important to mimic sebum production with natural oils and retain moisture from root to tip. Humidity is a major factor when it comes to frizz. Opt for products that protect against heat styling tools while providing anti-humidity protection as well as cuticle sealing effects.
A few great options include: Cantu Hair Serum, Redken Frizz Dismiss, John Frieda Frizz Ease, Vegamour Gro Hair Serum, Beneath Your Mask Nourish Serum, Kérastase Elixir Ultime Bread Beauty Scalp-Serum, Canviiy Scalp Bliss Serum, The Ordinary Multi-Peptide serum, and Adwoa Beauty Blue Tansy serum – all designed specifically for tackling afro-textured hair!
With these serums, you can achieve amazing results without sacrificing time or comfort in the process.
Cantu Hair Serum: Lightweight Frizz Control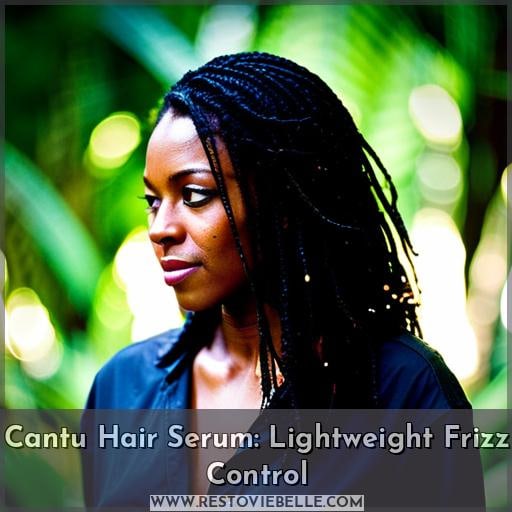 Transform your unruly curls into smooth, glossy locks with Cantu Hair Serum – like taming a lion to a housecat. Its lightweight formula combines raw shea butter and hydrolyzed silk to tame frizz, promote curl stretch, add slip, and offer anti-humidity protection for African American hair types.
Cyclomethicone and Dimethiconol are key ingredients in this cuticle-sealing serum. It also contains Raw Shea Butter, Limnanthes Alba Seed Oil, and Hydrolyzed Silk. This serum can be used as a leave-in conditioner or heat protectant without weighing down the hair.
To use, apply from roots to tips on wet or dry hair, then distribute using a comb for versatile styling options.
Redken Frizz Dismiss: All-around Protection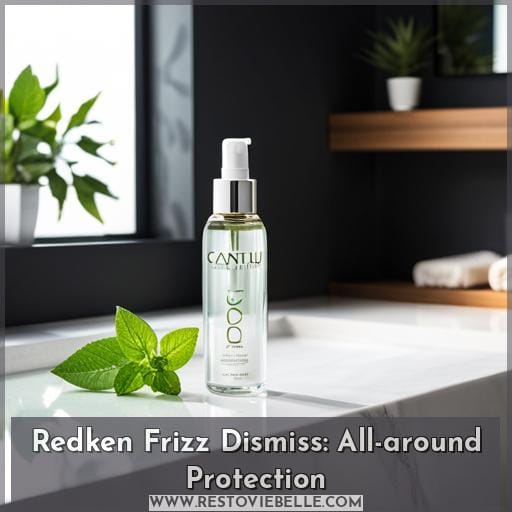 Unleash your inner goddess with Redken Frizz Dismiss; an all-around shield for maximum protection and shine. This oil-in serum is enriched with Babassu oil to provide smooth and shiny hair while guarding against humidity, heat styling, and sulfates.
It's the perfect choice for those looking to prevent frizz without weighing down their locks or compromising on quality ingredients.
Apply a small amount of the product from midshafts to ends before heat styling or leave in overnight as a protective treatment – either way, you'll be sure that your luscious mane stays hydrated, manageable, and beautiful!
For African American hair types specifically, this serum offers unbeatable protection against humidity while also creating smoother results than other serums on the market.
John Frieda Frizz Ease: Budget-friendly Option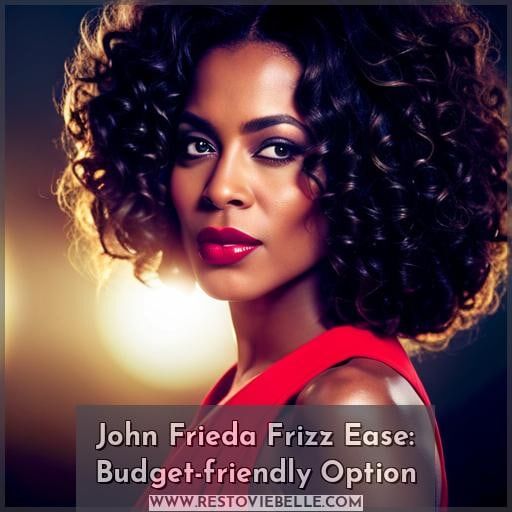 Are you looking for an effective yet budget-friendly anti-frizz serum to keep your African American hair healthy and manageable? Look no further than John Frieda Frizz Ease! This formula is designed with heat protection technology and helps reduce frizz, tangles, and static.
It can be used on both wet or dry hair while providing an ultra-smoothing effect that won't strip color from treated strands.
The key ingredients in this product are Cyclopentasiloxane, Dimethiconol, Fragrance/Parfum, and Prunus Amygdalus Dulcis Oil/Sweet Almond Oil. This powerful combination of natural oils provides excellent slip, making it perfect for styling even the most stubborn curls without tugging or pulling at the roots.
With regular use of John Frieda Frizz Ease as part of your haircare routine, you'll enjoy softness like never before with long-lasting results.
Styling Tips and Celebrating Natural Hair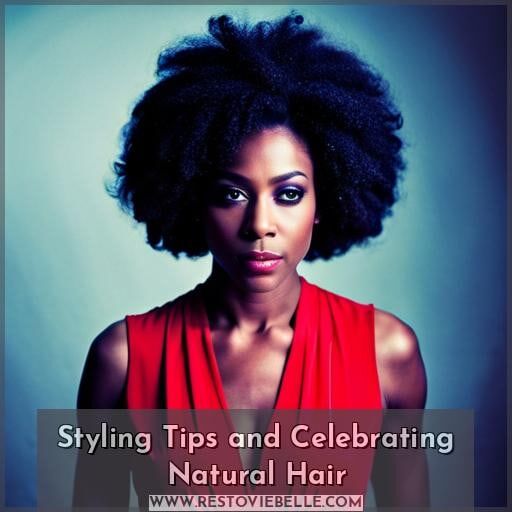 Celebrate your natural beauty by learning how to style and maintain healthy hair with the help of anti-frizz serums. Try protective hairstyles like braids, buns, twists, or cornrows for easy curl definition – many are heat-free styling solutions.
For nighttime care, use a silk bonnet or scarf and an anti-frizz serum to keep strands soft and hydrated.
Make sure you're using the right products too; look out for lightweight formulas rich in shea butter and hydrolyzed silk specifically formulated for African American hair textures.
Lastly, don't forget about your scalp health. Opt for serums designed to nourish skin cells with vitamins and minerals while soothing any irritation caused by dryness, allowing follicles the time they need to grow healthier locks!
Conclusion
With so many anti-frizz serums available for African American hair, it can be difficult to choose the right one. This article highlights five top picks, from IGK Crybaby Smoothing Serum to Cantu Super Shine Hair Silk Shea Butter, that help combat frizz and restore shine and softness to hair.
To get the most out of these products, it's important to understand frizz in African American hair and to use the right styling techniques.
So go ahead and take your pick from these anti-frizz serums to enjoy smooth, shiny, and beautiful hair.