This site is supported by our readers. We may earn a commission, at no cost to you, if you purchase through links.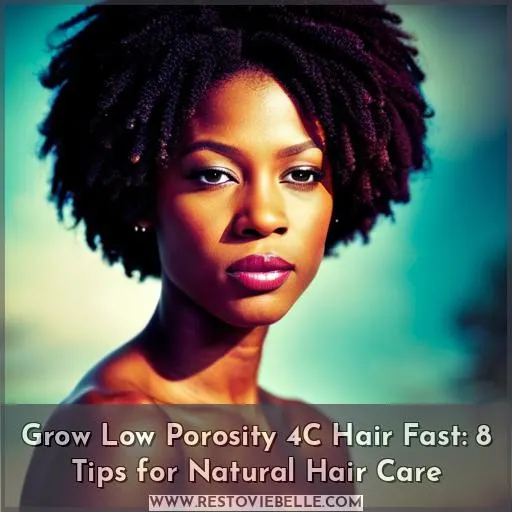 Are you struggling with low porosity 4C hair? You're not alone. An estimated 40% of women have this type of hair, making it one of the most common textures out there. And while these strands can be beautiful and resilient, they often require special attention to keep them healthy and growing.
Fortunately, we've got plenty of tips for natural hair care that will help you grow your low porosity 4C curls fast! Learn how to determine if your locks fit this category, plus discover the best products for hydration and moisture retention, so that you can get those luscious tresses in no time!
What is Low Porosity Hair?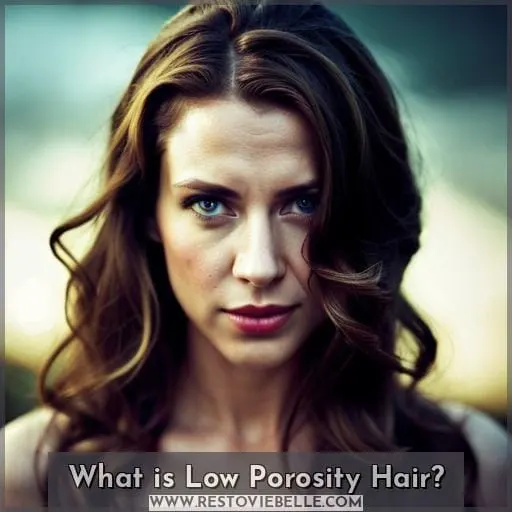 Low porosity hair is characterized by its difficulty in absorbing moisture and products, as well as its slow drying time. The causes of low porosity can range from genetic factors to environmental damage such as excessive heat or chemical treatments like bleaching.
Understanding this type of hair will help you determine the best care practices for your locks and encourage healthy growth over time.
Characteristics of Low Porosity Hair
Discover how to identify and address the unique needs of your hair with these characteristics of low porosity strands. Hair porosity levels refer to the ability for moisture retention, which is essential for maintaining softness and elasticity.
To ensure optimal hydration, heat usage in combination with deep conditioning treatments may be necessary when creating a routine.
Protein balance is also important as too much can lead to over-hardening or brittleness, while not enough will leave hair limp and weak.
Causes of Low Porosity Hair
Unlock the secrets of low porosity hair and reveal its true potential with simple changes to your routine. Low porosity hair often lacks adequate moisture retention due to a tightly bound cuticle layer, resulting in dryness, lack of elasticity, and reduced manageability.
However, lifestyle changes such as incorporating protein treatments or scalp cleansing with clay masks can help improve moisture levels. Selecting suitable oils for low porosity 4c hair can further aid in maintaining optimal hydration levels over time.
Periodically using a clarifying shampoo helps reduce product buildup that hinders proper absorption of nutrients from products applied after washing, which is key for promoting healthy growth.
How to Determine if You Have Low Porosity Hair

To determine if you have low porosity hair, feel the texture of your strands – are they dense and resistant to water?
There are three main levels of hair porosity: Low, Medium, and High. Signs that indicate low porosity include slow drying time after washing or showering, water beading on top of the strands instead of getting absorbed quickly, as well as product buildup due to difficulty in absorbing moisture.
To maintain a healthy balance between moisture and protein for optimal growth is essential for those with this type of hair. A pre-shampoo treatment with oil can help retain more hydration while using clarifying shampoo regularly helps remove any build-up from products or minerals in hard water.
Additionally, regular deep conditioning treatments infused with honey or fatty alcohols should be done monthly along with protein treatments like Olaplex No 3 Hair Perfector for stronger-looking locks.
Maintaining a balanced diet high in vitamins such as vitamin C also contributes towards healthier tresses. However, it's important to seek advice from a doctor before taking any supplements orally since everyone's needs vary depending on their individual body chemistry.
Finally, opt for organic natural ingredients when choosing shampoos & conditioners so that your scalp isn't exposed to harmful chemicals which can cause irritation & inhibit growth!
Top 8 Best Products for Low Porosity Hair
Are you looking for the best products to help grow your low porosity 4C hair? Redken All Soft Shampoo, Camille Rose Sweet Ginger Cleansing Rinse, Aussie Miracle Moist Conditioner, TGIN Miracle RepairX Hair, Olaplex Hair Perfector Repair, and more are all fantastic options.
Whether it's a deep cleansing clay wash or a restorative protein treatment you're after, these top 8 products will provide nourishment and hydration so that your locks can reach their full potential.
Redken All Soft Shampoo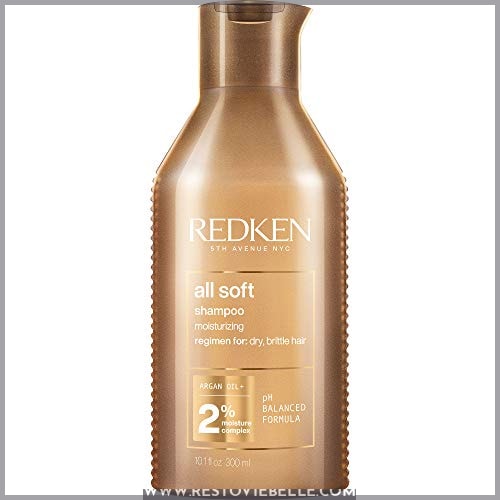 View On Amazon
Try Redken All Soft Shampoo for incredibly soft, manageable hair that can withstand color treatments and is perfect for those with dry and thick hair.
Formulated with Argan Oil to condition from root-to-tip, this professional-grade shampoo helps restore moisture balance while replenishing hydration, suppleness, and manageability. It's also suitable for all types of dry hair, including fine to medium textures in need of nourishment – helping reduce oily roots without drying out your ends.
Suitable for all dry hair types – especially color-treated & thick/coarse textures
Restores moisture & hydrates strands
Pleasant scent & good lathering properties
Small amounts needed per use
Higher price point than non-professional shampoos
Not ideal if you have an allergy/sensitivity to Argan Oil
Camille Rose Sweet Ginger Cleansing Rinse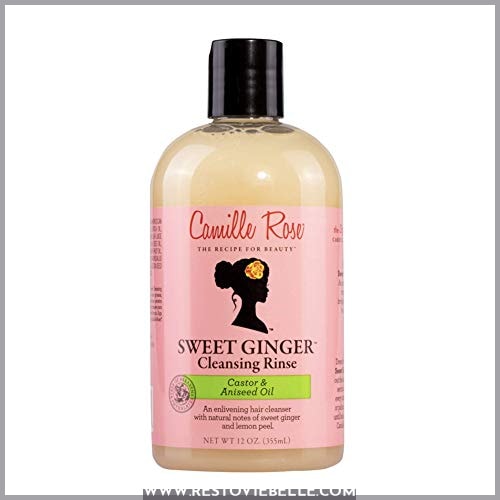 View On Amazon
For moisture-rich cleansing, try Camille Rose Sweet Ginger Cleansing Rinse to relieve dryness and bring your curls back to life! This enlivening hair cleanser clarifies and moisturizes the scalp and hair with natural notes of fresh sweet ginger and invigorating lemon peel.
Aniseed Oil relieves dry scalp, provides root-to-tip moisture, promotes healthy growth, and leaves the hair soft. The product is suitable for all types of curly or wavy locks without stripping away essential oils that help retain hydration levels in the strands.
Use this product by applying it in the shower while massaging throughout sections of thicker textures. Then, follow up with a deep conditioning mask from Camille Rose Algae Renew line for best results! Customers have reported positive experiences from using this shampoo as it made their coils more manageable, leaving them silky soft.
However, some users have been challenged by its gel-like consistency, which makes dispensation difficult at times.
Smells good
Worked well on their hair
Low cost
Brought curls back to life
Leakage issue due to quantity received not matching price paid
Difficult to dispense bottle
Aussie Miracle Moist Conditioner
View On Amazon
Experience the nourishing power of Aussie Miracle Moist Conditioner and see your dry hair transformed into irresistibly soft locks. This conditioner is formulated with avocado and jojoba seed oil, working to hydrate and soften hair without feeling heavy or building up residue.
It has a pleasant citrus scent that lingers throughout the day, and it's free from parabens, so you can trust that it won't damage delicate strands.
Customers report excellent results when using Aussie Miracle Moist Conditioner in combination with other Aussie products for a comprehensive haircare routine.
However, be careful while handling the bottle, as some users have found it to be slippery when their hands are wet in shower conditions.
Hydrates & Softens Hair
Pleasant Citrus Scent
Free From Parabens
Bottle Can Be Slippery When Hands Are Wet
TGIN Miracle RepairX Hair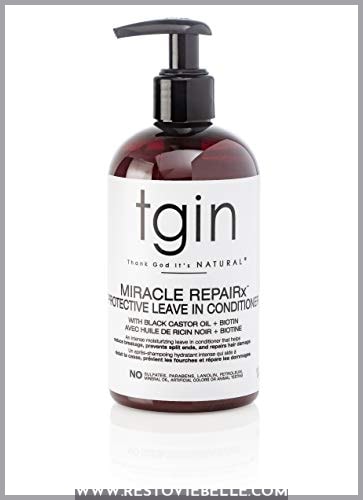 View On Amazon
Improve your hair's health and appearance with TGIN Miracle RepaiRx Hair, a lightweight leave-in conditioner that helps reduce split ends and supports growth with Black Castor Oil and Biotin.
96% of the team at this 100% Black-owned company is female!
This revolutionary product penetrates the hair cuticle for thorough conditioning while replacing moisture, restoring softness, and adding definition to curls. It also reduces breakage due to styling or heat damage, as well as color treatments.
It also works great as a pre-styling product for protective styling needs without any build-up from sulfates or parabens, petrolatum, lanolin, or artificial colors.
TGIN Miracle RepaiRx Hair provides amazing results when used on color-treated, dry, thick hair types. It also provides relief for itchy scalp issues like seb derm, while reviving dull, lifeless strands.
The result is maximum shine, hydration, strength, even texture, elasticity, bounce, volume, suppleness, manageability, frizz control, and detangling.
The perfect solution whether you're using it during regular wash days as an everyday styler, post-workout refresh, root rinse, clarifying treatment, protein boost, or before braiding, twist out, bantu knot out, etcetera.
Adds definition to hair
Replenishes moisture & restores softness & enhances shine
Utilizes Black Castor Oil & Biotin to reduce split ends & support growth
Lightweight formula – no build-up
Penetrates deep into the cuticles
Focuses on preventing breakage & repairing damaged locks due to styling/heat/color, etc.
May not be suitable if an allergic reaction occurs upon usage
Olaplex Hair Perfector Repair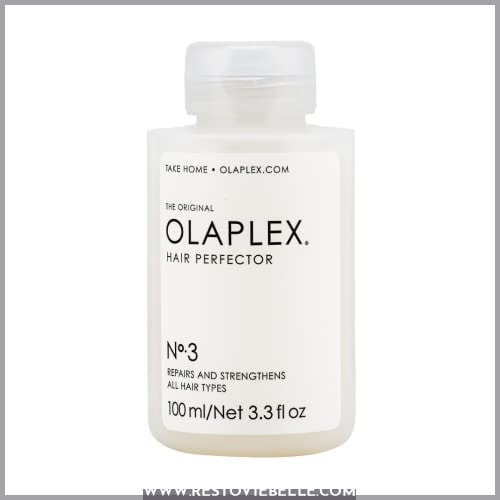 View On Amazon
Restore your hair's strength and shine with Olaplex Hair Perfector Repair, an all-in-one treatment that repairs damaged hair while protecting its structure. It's formulated with a powerful active ingredient to help restore healthiness and texture in just one application.
This product works like a miracle for those who've experienced damage due to bleaching or highlighting their hair. It leaves hair feeling smooth and strong afterwards. You can easily apply this on damp, towel-dried hair – no need for frequent shampooing either! Customers appreciate the clear instructions provided on the packaging, as well as its ability to last up to 3 months when used regularly.
With so many benefits packed into one bottle of Olaplex Hair Perfector Repair, you'll be sure to get great results quickly and effectively without experiencing any negative side effects.
Repairs damaged & compromised hair
Strengthens & protects hair structure
Restores healthy appearance & texture
Expensive compared to other treatments
Can cause skin sensitivity if directions are not followed correctly
Results may vary depending on the user
Red Kiss Ceramic Tourmaline Hair Dryer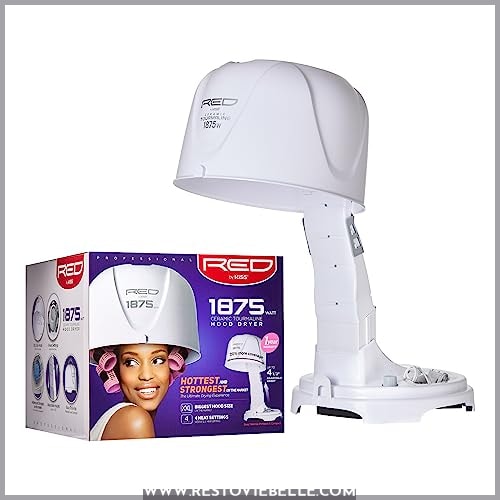 View On Amazon
Transform your hair with the Red Kiss Ceramic Tourmaline Hair Dryer, designed to provide salon-quality results at home. Will you get the perfect blowout? This dryer is specifically designed for effortless and efficient drying.
Featuring an innovative hood design with adjustable height up to 4.5 inches, a powerful motor, and four heat settings, it ensures even heat distribution. This ensures that every strand of hair gets just enough attention for bouncy locks or sleek tresses without compromising on volume or texture.
Its lightweight design makes it easy to store away when not in use, while its advanced technology allows users maximum flexibility in customizing their look according to their individual needs.
Innovative hood design enables uniform heat distribution
Powerful motor and adjustable height feature offer optimal convenience
Lightweight yet compact size makes storage simple
Not suitable for fine hair types as too much power may damage them
Conair Cord Keeper Hair Dryer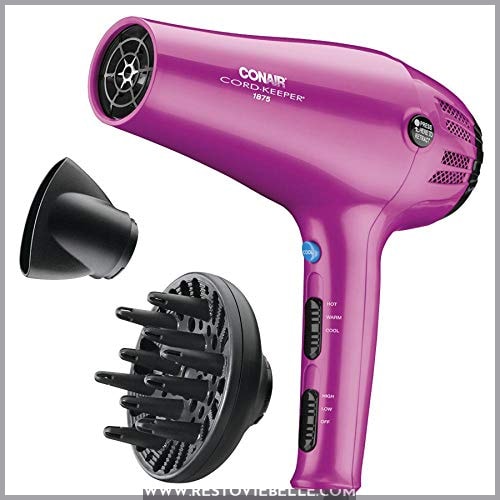 View On Amazon
The Conair Cord Keeper Hair Dryer offers an easy storage solution with its retractable cord and powerful 1875 watt motor. It allows you to dry your hair quickly and effectively without worrying about frizz or damage.
The hair dryer features Ionic Technology for frizz control and Tourmaline Ceramic Technology for uniform heat distribution. This lightweight appliance has 3 Heat/2 Speed settings suitable for various hair types.
The Cool Shot button locks style in place, while a diffuser attachment works best on curly/wavy styles.
For those looking to take their styling game up a notch, the Conair Cord Keeper Hair Dryer provides reliable performance over several years at an affordable price point, with decent attachments too! However, some users have noted issues such as a short cord length, which may require extension cords.
There is also a slightly inconvenient location of the retraction button. The plastic build quality is not as sturdy compared to previous versions. Additionally, there is a louder, higher-pitched fan noise when running, and the dryer is slightly heavier compared to other brands' models.
International shipping difficulties, such as ripped packaging or incompatible plugs, have also been reported.
Effective drying with less damage due to variable heat & ionic technology
Suitable for various hair types – multiple heat/speed options
Reliable performance over several years
Decent attachments & performance relative cost
Short cord requiring extension cords (1875 watts)
Inconveniently placed retraction button
Plastic build quality not as sturdy as prior version
Louder high-pitched fan noise upon operation
Slightly heavier than competitors' products
International shipping issues (ripped packaging non UK plug)
In spite of these concerns, many customers still find value in this product. The convenient cord retraction feature makes storage easier, and the improved drying time reduces the risk
of damage caused
by excess exposure, thanks to its Ionic & Ceramic technologies.
Cantu Refresh Root Rinse
View On Amazon
Escape the frizz and flakiness with Cantu Refresh Root Rinse, an all-natural deep scalp cleanser made with apple cider vinegar, tea tree oil, and shea butter. This product will leave your hair feeling fresh, hydrated, and moisturized. It is infused with natural ingredients to soothe irritation while providing lightweight conditioning without build-up.
Cantu Refresh Root Rinse is suitable for all curl types, including kinky or wavy. Its minty scent of tea tree oil not only refreshes but also helps manage seb derm without over-drying, giving you back control of your locks.
To get the most out of this root rinse, use it on damp towel-dried hair before styling as usual for maximum softness and shine. It works best when mixed together with apple cider vinegar, which adds an extra cleansing boost to reveal stronger, healthier-looking hair.
This makes it a great alternative if you're looking for something gentler than shampooing every day.
Refreshes scalp and reveals stronger and healthier hair
Soothes irritation and moisturizes dry, brittle hair
Works best when mixed in combination with Apple Cider Vinegar
Ideal for straight styles, weaves, locks, and extensions
Not effective on thick, greasy/oily hair
Packaging issues – leakage reported by some users
Hair type mismatch – may not be suitable for certain types
The Importance of Proper Hair Care Techniques for Low Porosity Hair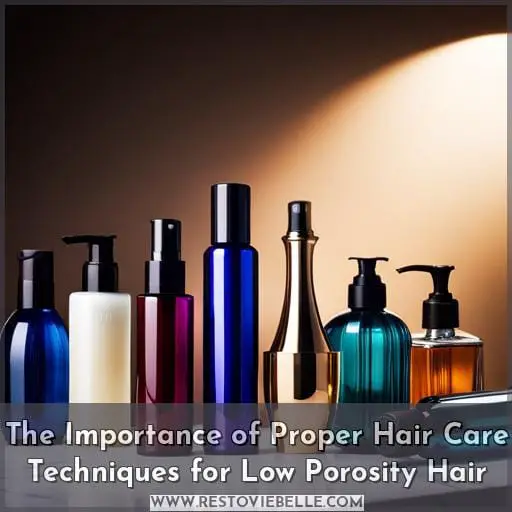 Greetings! Taking good care of low porosity hair starts with understanding the unique needs of this type. To promote growth, focus on proper shampooing technique, using water-based stylers, and limiting oils and butters for hydration.
Deep conditioning is also essential to keep the hair moisturized and healthy-looking.
Shampooing Technique
Take charge of your hair's health by using the right shampooing technique for low porosity hair! Sectioning, lathering, and cleansing the scalp with suitable ingredients are essential steps in taking care of 4C hair type.
Heat steaming or steam treatment helps to open up cuticles for deep conditioning treatments like protein treatments. Clarifying shampoos must be used once a month to remove product buildup from water-based stylers and leave-in conditioners.
Water temperature should not exceed warm when washing as this can cause excessive dryness and damage the delicate strands of 4C hair.
Water-Based Stylers
Try water-based stylers to boost your hair's moisture and make styling a breeze. Heat-based, steam-powered, protein-balanced treatments can help you achieve the softness and hydration you crave. Try light oils for deep conditioning. Use bentonite or rhassoul clay to cleanse build-up from the scalp.
Regular weekly clarifying treatments with products that won't dry out your hair will keep product buildup at bay. Using water-based stylers like gel or mousse can provide extra hold without compromising on hydration.
Protein treatments every month are great for restoring elasticity, as well as adding strength and shine! Finally, finish off by sealing everything into place with an oil of choice to ensure long-lasting moisture retention throughout days of wear.
Limiting Oils and Butters
Limit the oils and butters you use on your hair to those that are specifically designed for low porosity tresses, so that you can keep your curls hydrated and nourished. For moisture retention, suitable oils include Argan, Grapeseed, Jojoba, Almond, or Baobab oil.
When using heat with deep conditioning treatments to aid in absorption of products like Mielle Organics', it's important not to overdo it.
To help maintain a balanced diet of moisture-protein balance for optimal growth results, try a monthly protein treatment such as Olaplex No 3 Hair Perfector. Follow it with an ambient heat usage if needed for product penetration into the strands, instead of direct high heat damage from hot tools.
Deep Conditioning
Regularly deep condition your hair to replenish moisture, reduce split ends, and help promote healthy growth. Benefits of deep conditioning include improved hydration, softer strands, increased elasticity, and a stronger protein balance.
To get maximum benefits from deep conditioning treatments, use heat therapy or steam for better penetration into your cuticles. Achieve optimal results with natural ingredients like honey, panthenol, or fatty alcohols.
Make sure to nourish the scalp as well with regular oiling sessions using lightweight oils such as jojoba or almond oil before washing off the product thoroughly afterwards! Additionally, opt for a silk pillowcase, which will lock in more moisture compared to cotton ones while you sleep at night, ensuring proper hydration throughout the day.
Tips for Retaining Moisture in Low Porosity Hair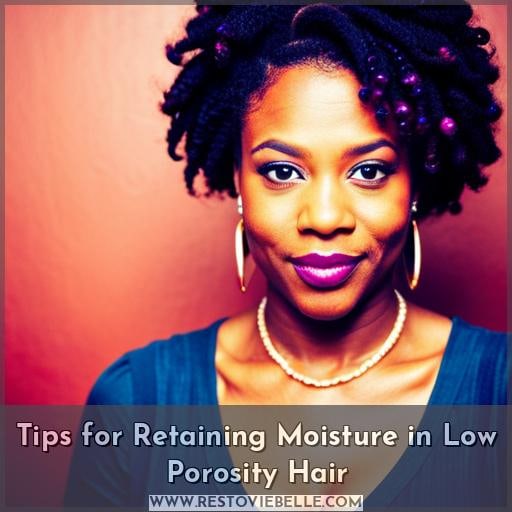 Maintaining hydrated, healthy strands of low porosity hair can be challenging. However, with the right techniques and products such as the L.O.C Method (Liquid-Oil-Cream), regularly clarifying your scalp to remove buildup, limiting protein usage, and pre-pooing treatments, you can keep your hair looking beautiful and healthy! By incorporating these steps into your routine, you will be able to effectively manage moisture retention in low porosity 4c hair for long-lasting results.
Keeping Strands Hydrated
You can keep your strands hydrated and healthy by using water-based stylers, deep conditioning treatments, and the L.
To boost curl definition while preventing dryness, use pre-shampoo treatments with natural oils and butters. Take advantage of heat absorption during deep conditioning sessions. Opt for scalp cleansing products like apple cider vinegar rinses or clay washes that won't strip away moisture.
To ensure adequate hair care practices are followed for effective results, mix up a personalized blend of nourishing ingredients such as honey, fatty alcohols, or panthenol to help achieve optimal balance while avoiding unnecessary product buildup on the scalp.
By finding an ideal combination that works best for you – be it water-based stylers or lightweight leave-in conditioners – you'll be able to restore softness without compromising on your desired style!
Using the L.O.C. Method
Try using the L.O.C. Method to keep your hair hydrated and nourished! The L.O.C. stands for Liquid, Oil, and Cream method of layering products on damp or wet hair. This method helps increase moisture retention, promote healthy growth, and reduce frizziness in low porosity 4c hair types.
These hair types typically struggle with retaining moisture balance due to tightly packed cuticles, which make it difficult to absorb product nutrients efficiently without indirect heat or ambient warmth from steamers or heat caps.
It is also beneficial to incorporate protein treatments like Olaplex No 3 Hair Perfector monthly and maintain a balanced diet with plenty of vitamins, such as biotin, for strong locks.
To use this technique, apply the products in the following order: liquid, oil, and cream.
Clarifying the Hair
It's time to give your hair a serious reboot with clarifying treatments – you'll be amazed at how unbelievably soft and hydrated it feels!
When considering product selection, opt for a sulfate-free clarifying shampoo, water-based stylers, moisturizing oils, and butters.
For heat protection, look no further than using a hair steamer or heated cap during deep conditioning sessions.
Apple cider rinse or clay washes are great alternatives for natural cleansing without harshness.
For maximum moisture retention, try incorporating the L.O.C method: liquid oil cream routine followed by regular deep conditioning treatments that incorporate ambient heat to boost absorption of nutrients into the scalp and strands while removing buildup from products used in styling routines.
This will leave your low porosity 4c hair feeling healthy and nourished!
Limiting Protein Usage
Limit protein usage in your haircare routine to ensure that your hair is getting the moisture it needs for growth and retention. Low porosity 4C hair tends to be more sensitive to proteins, so aim for a balance of both hydration and protein treatments.
Consider using hydrating products such as the LOC method with water-based stylers when styling.
Use clarifying shampoos regularly but sparingly, avoiding harsh sulfate detergents that can strip away natural oils from strands while still removing build-up.
Utilize ambient heat styling techniques like hooded dryers or heated cap during deep conditioning treatments for better penetration of ingredients into strands without causing damage from direct heat sources like flat irons/curling irons.
For best results, opt for organic all-natural ingredients whenever possible and consult a doctor before taking any supplements.
Trying a Pre-Poo Treatment
Adding a pre-poo treatment to your hair care routine can help provide extra moisture and nourishment, so why not give it a go? To ensure safety, select products that are free of parabens, silicones, or sulfates.
Additionally, use organic ingredients when possible and include oils like argan or jojoba for added nourishment.
Steam therapy is also beneficial as the heat helps open up the cuticles for better product absorption. For deeper conditioning treatments, try fatty alcohols such as cetyl alcohol along with panthenol to promote healthy growth while avoiding protein overload on low porosity 4c hair, which tends to be sensitive.
By investing in quality products tailored towards your needs, you will be able to retain more moisture over time, thus promoting healthier-looking tresses!
The Benefits of Heat for Low Porosity Hair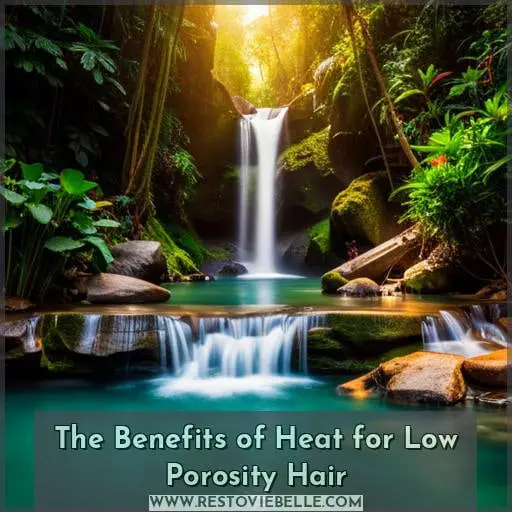 Heat can be a helpful tool for those with low porosity hair, but it must be used correctly in order to reap the benefits. From using indirect heat during conditioning treatments to utilizing ambient heat for product absorption, understanding how and when to use heat is essential for achieving healthy and hydrated locks.
How Heat Helps
Utilizing heat is an effective way to help retain moisture in your low porosity hair. Heat absorption increases the effectiveness of moisturizing techniques, such as deep conditioning and protein balance treatments, while protecting from damage caused by excessive heat styling.
Clarifying treatments are also beneficial for removing product buildup that can further impede moisture retention in low porosity hair. Consider incorporating a weekly or bi-weekly heated treatment with oils and butters into your regular routine to lock in hydration and promote healthy growth.
Additionally, ambient heat styling tools like satin bonnets or sleep caps will provide protection against nightly friction when you're catching some z's! All these methods combined should bring about improved manageability as well as shine and softness perfect for any occasion!
Using Heat Correctly
To ensure healthy hair growth, it's important to use heat correctly – but how can you do that?
Heat leveling is essential when styling low porosity 4C hair as the cuticle layer needs ambient heat for proper moisturizing.
Opt for water-based stylers such as mousse or gels during wash and go styles instead of high-heat tools like flat irons or curling wands.
Additionally, apply a thermal protectant spray prior to using heated devices, which will help reduce damage from direct contact with steam and hot tools.
Lastly, avoid blow drying at full power setting by keeping distance between the nozzle and scalp while gently diffusing air on damp strands.
The Role of Deep Conditioning in Growing Low Porosity Hair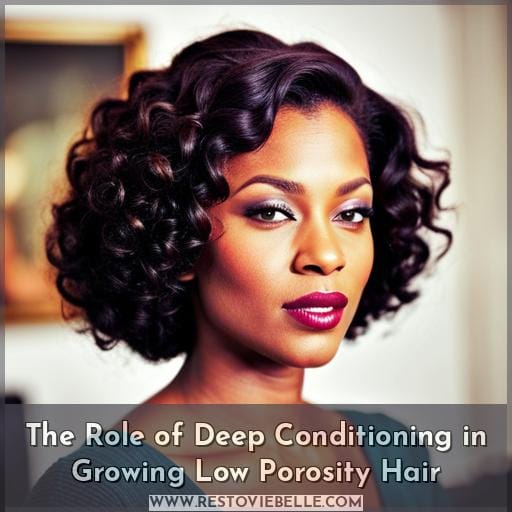 Regular deep conditioning treatments are key to keeping your hair moisturized, healthy, and strong. This is especially important for those with low porosity 4C hair. To get the most out of these treatments, utilize oils and butters like Mongongo oil or shea butter before shampooing as a pre-shampoo treatment.
Use Apple Cider Vinegar Rinses or Clay Washes to clarify your scalp without excessively drying it out. Incorporate nutrition support for stronger, healthier strands such as taking Hair Vitamins on a regular basis.
Sleep on silk pillowcases, which reduce friction while you sleep, preventing breakage.
Additionally, using ambient heat from warm water when rinsing conditioner helps drive the product deeper into the cuticles, resulting in maximum absorption of beneficial ingredients that promote growth.
Overall, properly nourishing and deeply conditioning your low porosity 4C hair can bring life back into lackluster curls, revealing softness that exudes healthiness!
Frequently Asked Questions (FAQs)
What are the best ways to prevent product build-up on low porosity hair?
To prevent product buildup on low porosity hair, use clarifying products that won't dry it out. Utilize apple cider vinegar rinses and clay washes for deep cleansing without stripping moisture. Consider bentonite or rhassoul clay treatments to remove buildup while nourishing your locks with essential minerals.
How can I reduce the risk of scalp irritation when using hair products for low porosity hair?
To reduce the risk of scalp irritation when using hair products for low porosity hair, opt for organic and all-natural ingredients. Consider a pre-shampoo treatment with Mongongo Oil to moisturize your scalp. Look out for fatty alcohols, panthenol, and friction-reducing butters in deep conditioners.
Additionally, use heat or steam during conditioning to penetrate deeper (up to 70% more!).
How can I tell the difference between low, medium, and high porosity hair?
You can tell the difference between low, medium, and high porosity hair by looking at how quickly it dries, water beading on the strands, and product buildup. Low porosity hair is slow-drying, with water beading up on top of the strands and heavy buildup.
Medium porosity hair takes slightly longer to dry but doesn't bead or have much buildup.
Are there any natural remedies that can be used to nourish low porosity hair?
Yes, natural remedies can nourish low porosity hair. Apple cider vinegar rinses and clay washes clarify, while bentonite or rhassoul clays deep cleanse. Oils such as argan, grapeseed, jojoba, and almond promote hydration. Use them with a pre-shampoo treatment like mongongo oil for added moisture retention.
What are the benefits of using a satin pillowcase for low porosity hair?
You'll experience a night of luxurious, silky-smooth hair when you switch to a satin pillowcase! With its friction-free surface and moisture retention capabilities, your low porosity hair will be taken to the next level – an absolute miracle for those suffering from dryness.
Conclusion
Low porosity 4C hair can be difficult to grow, but with the right products and techniques, it doesn't have to be. Knowing your hair's porosity level is the first step to healthy hair growth, and the right products can make all the difference.
From Redken All Soft shampoo to Cantu Refresh Root Rinse, there are plenty of products designed to nourish and hydrate low porosity 4C hair. Proper hair care techniques, such as shampooing, using water-based stylers, and limiting oils and butters, are also key to maintaining moisture.
Heat is another important factor, as it can help to open the hair cuticles and allow for better product absorption. Lastly, regular deep conditioning is essential for restoring moisture and promoting healthy hair growth.
With the right products and techniques, you can confidently achieve beautiful, healthy, and nourished low porosity 4C hair.