This site is supported by our readers. We may earn a commission, at no cost to you, if you purchase through links.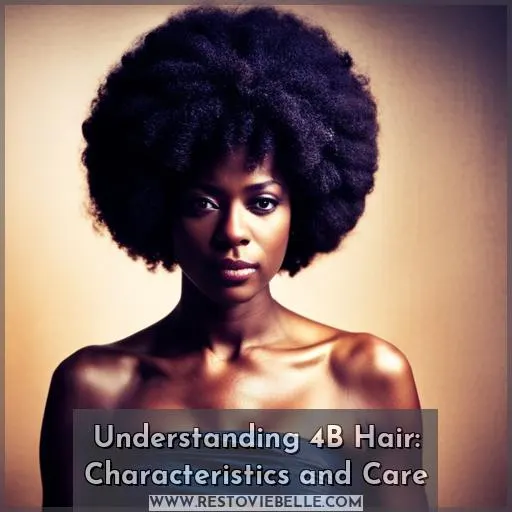 Are you wondering what 4b hair is? Are you looking for the best way to care for and style your 4b hair type? If so, then this article has all the answers.
4B Hair is easily distinguished by its zig-zag pattern and it can be soft or coarse depending on texture.
Understanding your curl pattern as well as how it responds to certain products will help ensure that all of your naturalista goals are achieved with ease – from length retention right down to perfecting those gorgeous styles!
Key Takeaways
4B hair is characterized by tight zig-zag curls with high shrinkage.
4B hair requires regular moisturization with water, leave-in conditioners, and oils.
Light hold products should be used for styling 4B hair to avoid crunchiness.
Protective hairstyles like buns, twists, and braids are recommended for 4B hair.
Understanding 4B Hair: Characteristics and Care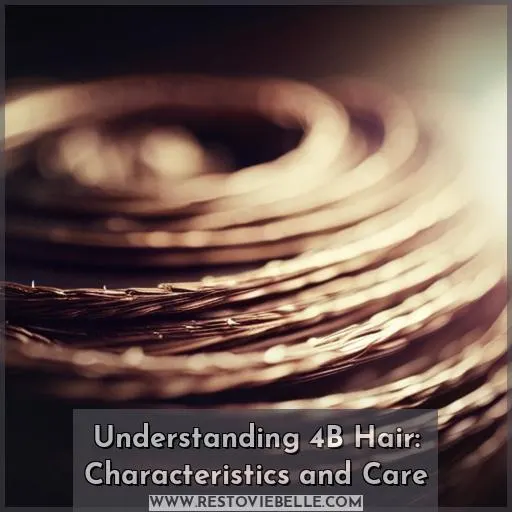 Are you wondering what 4B hair is? This type of hair has tightly packed, zigzagged curls with significant shrinkage and a higher risk of breakage. It requires regular moisturization with water, leave-in conditioners, oils, and butters, as well as protective styling to keep it healthy.
Furthermore, styling this type of curl needs light hold products that will help define the texture without making it crunchy or sticky.
What is 4B Hair?
You've got curls that make a statement, so you need to know your 4B hair needs the right nourishment and care to stay healthy and beautiful! It has tightly packed, zig-zagged coils which can be prone to breakage.
Holds styles up to 7 days; maximize volume with minimal shrinkage of 75%. Discover products tailored for your curl type: VERB Curl Leave-In Conditioner, Design Essentials Mousse, and more!
A combination of regular moisturization and protective styling is essential for Type 4B hair.
Characteristics of 4B Hair
You'll be amazed by the tight small springs or coils of 4B hair, giving you a high-volume style that holds up for days. For optimal results, perform a texture analysis to determine curl patterns and use styling techniques tailored to your type.
Moisture management is key; apply water spritzers with leave-in conditioners and rich butters before heat exposure or protective styles. With proper care, your curls will retain shape and shine without breakage from over manipulation.
Moisturization Tips for 4B Hair
To keep 4B curls healthy and vibrant, try spritzing your hair with water while sealing in moisture with oil. Curl definition is key to maintaining the unique look of Type 4B hair. Use hydrating products specifically designed for curly locks, such as leave-in conditioners, natural butters, and essential oils.
Regular moisturization helps prevent breakage due to tight coils and provides volume without shrinkage. For optimal curl care, invest in specialized products like mousses or gels that provide long-lasting hold without feeling sticky or crunchy.
Styling Tips for 4B Hair
Discover how to style your 4B curls for long-lasting definition and shine! Protective hairstyles like buns or twists are great for keeping moisture in while maintaining a neat look.
Daily maintenance is key, so you'll want products tailored to your type of curl pattern. Try using one with natural oils and butters that provide hydration without weighing down hair.
Heat styling should be kept at a minimum, however, if needed, use an ionic dryer set on a cool to low heat setting with a diffuser attachment for more volume.
A nighttime routine will help keep the cuticle layer sealed tight. Apply oil from root to tip before braiding or wrapping up in scarfs/bonnets.
With these simple steps, you can join the curly community feeling empowered, knowing how easy it is to care for Type 4B hair!
Distinguishing 4B Hair From Other Curl Types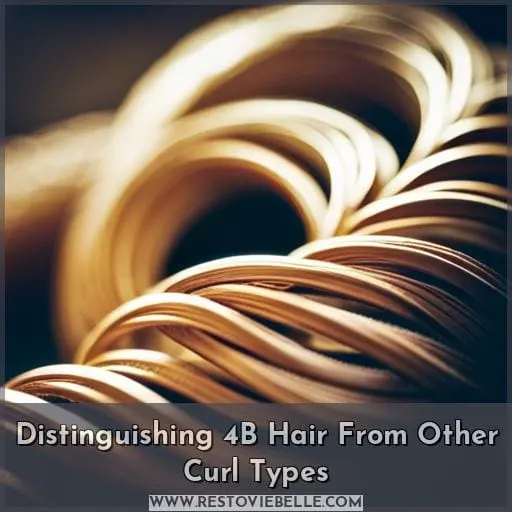 When it comes to understanding your curl type, distinguishing between 4A, 4B, and 4C hair is essential. Not only do these different types have distinct characteristics in terms of texture and volume, but they also require specific care routines tailored to their individual needs.
Differences Between 4A and 4B Hair
Comparing your 4A and 4B hair is like comparing apples to oranges; each has its own unique characteristics that need to be cared for differently.
When it comes to styling, 4A hair has more defined curls that are easier to manage, while 4B hair requires heavier products for definition and hold.
Additionally, the type of moisture needed differs as well. 4A hair needs natural butters or oils, whereas a leave-in conditioner with water works best on 4B hair.
Best practices include regular spritzing and oil sealing for added hydration, along with protective styles such as braids or twists, which help retain length over time.
Quality products can make all the difference when caring for both types of curls, so find what works best!
Differences Between 4B and 4C Hair
Unlock the secrets of your curls and find out how 4B hair is different from 4C hair. Type 4B has tightly packed, zig-zagged curls which shrink up to 75%, and it's prone to breakage due to its tightness.
On the other hand, Type 4C features tiny springs or coils with significant shrinkage too but is still more manageable than type 4B strands.
Moisturize both types with water, leave-in conditioners, and oils/butters for optimal hydration – protective styles are a must! Find products that suit your curl type for radiant results.
Hair Care Tips for Healthy and Radiant 4B Curls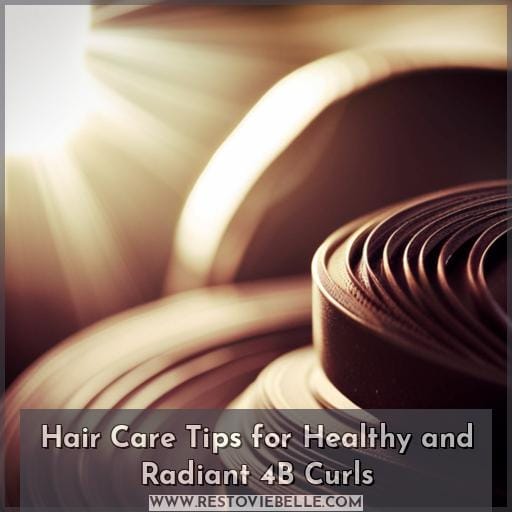 Caring for Type 4B hair requires understanding the curl pattern, as well as techniques to maintain and style it. Cleansing and conditioning, moisturizing with natural products, sealing in moisture regularly, and protective styling are essential steps to keeping your curls healthy and radiant.
Cleansing and Conditioning for 4B Hair
Caring for 4B hair requires a gentle approach, using products that nourish and protect your curls while providing the right amount of hydration.
Afterward, use light conditioners or deep conditioning treatments to replenish moisture levels without weighing down strands. When detangling, apply leave-in conditioner liberally throughout sections, then use wide tooth combs from ends up towards roots with minimal tension.
Choose styling products designed specifically for curly textures; lightweight mousses are ideal since they won't make your locks crunchy but still provide hold when setting twistouts or braidouts.
Moisturizing and Sealing Techniques for 4B Hair
For 4b hair, moisturizing and sealing techniques are essential to keeping your curls hydrated and healthy. Use products tailored for your curl type that support moisture retention, like leave-in conditioners, oils, butters, or gels.
Protective styles can help reduce everyday manipulation of delicate strands, which then reduces breakage and encourages growth.
Understand the porosity level of your hair so you know how much product is needed. High porosity requires more product due to absorption rate, while low porosity needs less due to a lack of absorption rate.
To achieve softness with definition, use light hold styling products that give bounce without compromising moisture balance for beautiful 4b curls!
Protective Styling for 4B Hair
Protective styling not only keeps your 4B curls looking great but also helps prevent breakage and damage. Braiding techniques, such as box braids or crochet braids, are popular protective style options for Type 4 hair.
Try accessorizing these styles with colorful hair cuffs and headbands for added flair! You can also go without extensions if you opt for easy updos like buns or twists that don't require too much manipulation of the strands.
A nighttime routine involving satin caps, silk scarves, and bonnets is essential in helping maintain scalp health while protecting from dryness during sleep. With all types of protective hairstyles, it's important to make sure they aren't pulled too tight.
Top 10 Products for 4B Hair
Are you searching for the best products to maintain the health and radiance of your 4B hair? Look no further! Here is a list of the top 10 products specifically designed for 4B curls, ranging from conditioners to styling mousse.
These products contain natural ingredients such as Coconut Oil, Castor Oil, Sweet Almond oil, and more.
1. VERB Curl LeaveIn Conditioner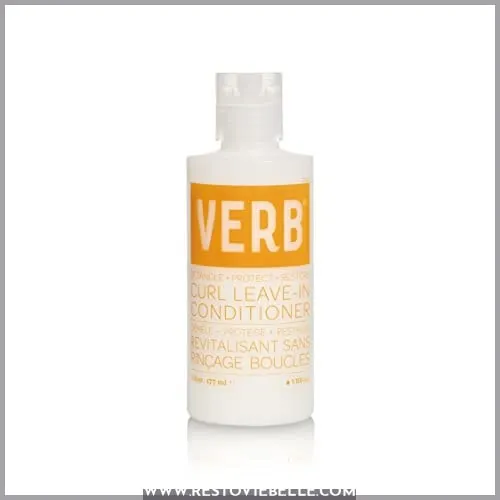 View On Amazon
Make your 4b curls super soft and hydrated with VERB Curl Leave-In Conditioner, a nourishing vegan formula that gives you the upper hand when it comes to taming frizz! Formulated without harmful sulfates, parabens, gluten, or mineral oil, this weightless wonder will reduce breakage while locking in moisture.
Sunflower seed extract adds memory to curl pattern, and glycerin binds moisture for added softness.
With its mild scent and non-sticky texture, you'll be able to brush through your hair without any hassle.
This product is suitable for all curly types but works best on 4b type hair as it helps control shrinkage along with providing definition and volume while reducing dryness and frizziness.
Customers have noted improved manageability after use, so why not give VERB Curl Leave-In Conditioner a try?
Weightlessly moisturizes & detangles
Reduces breakage & locks in moisture
Adds memory & promotes shine
Mild scent & non-sticky texture
Suitable for all curly types
Slight reservations about the scent
A user had difficulty combing out their hair
Some users found the consistency too thin
2. Design Essentials Curl Mousse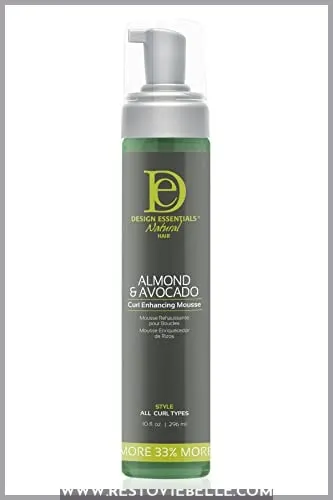 View On Amazon
Try Design Essentials Curl Mousse for a soft, pliable hold and a luminous shine that's perfect for all curl types. This lightweight mousse helps to define and set curls while locking in moisture and preventing frizz.
It contains beneficial ingredients like Sweet Almond Oil, Avocado extracts, Olive Oil, Vitamin B Complex, as well as being free from harsh chemicals like Sulfates, Parabens, or Phthalates.
The product is suitable for waves, curls, or coily textures with no sticky residue or crunch during styling. It also works great on 4C hair! Even better, you can use it alongside other products to achieve the look you desire without any greasy feel.
Whether you're looking at protective styles or voluminous looks, this mousse can help take care of all your needs, so give it a go today!
Lightweight formula prevents frizz
Softens & defines curls with natural oils & extracts
Suitable for most hair types, including 4C
Free from parabens, paraffin, petrolatum & mineral oil
Can be used in combination with other products
Not ideal when combined with some products caused itching
Need time to dry completely before styling
3. As I Am Coconut Cowash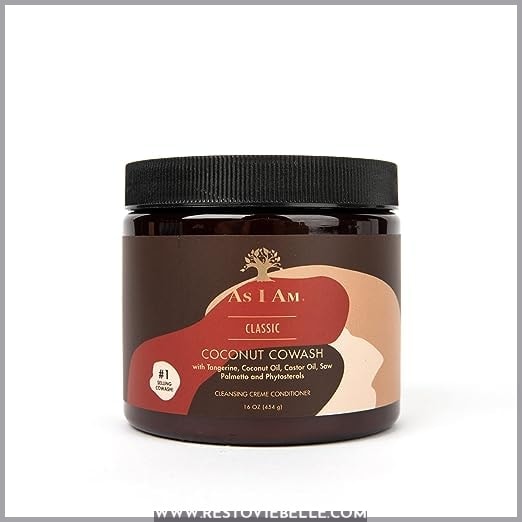 View On Amazon
Experience the nourishing effects of As I Am Coconut Cowash on your curls; why not give it a try? Formulated with natural ingredients like Coconut Oil, Castor Oil, Saw Palmetto, Phytosterols, and Tangerine, this cleansing conditioner is free from harsh chemicals like Sulfates, Parabens, and Phthalates.
It actively promotes hair growth from the follicular level, leaving you with softness and frizz-free hair. Customers have praised its effectiveness on dry, curly, or frizzy hair, as well as its lightweight yet non-greasy feel.
Deeply nourishes while preserving natural moisture
Reduces combing effort by 55%
Promotes healthy follicle growth
Lightweight but non-greasy feel
Vegan-Friendly Formula
Extra boost of Moisture
Not suitable for Dry Scalp
4. Carols Daughter Hair Milk

View On Amazon
Enjoy the lightweight mist of Carol's Daughter Hair Milk to deeply moisturize and rejuvenate your curls, coils, kinks, and waves. Infused with beneficial ingredients such as Agave Nectar, Cocoa Butter, Shea Butter, Wheat Protein, and Sweet Almond Oil, this vegan-friendly product helps reduce frizz while leaving hair soft with a luminous shine.
Suitable for all types of hair, from thick tight curls to color-treated tresses, layering it with other products will give you that healthy-looking style you desire without any mineral oil or petrolatum added.
Vegan-friendly formula & free from Mineral Oil & Petrolatum
Deeply nourishes hydrates without weighing down strands
Reduces frizz adds brilliant shine
Not suitable for 3A/3B type wavy hairs
Might leave a greasy feeling even when used sparingly
6. Goddess Curls Botanical Gel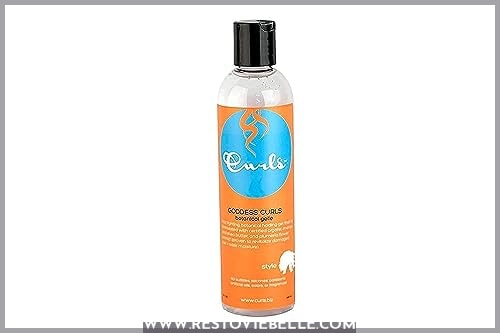 View On Amazon
Indulge in the Goddess Curls Botanical Gel and feel your curls come alive with shine, movement, and definition! This revolutionary styling solution is specifically designed to provide sheen while fighting frizz.
It's packed with natural botanicals such as Plumeria Alba Flower Extract and Aloe Leaf Juice that help define all curl types – from kinky to wavy.
Its lightweight formula adds moisture without weighing down hair or leaving it crunchy or sticky. Plus, this gel-cream combo works for various lengths of hair due to its strong hold ability even in humid climates.
Adds moisture and nourishes strands
Enhances shine and fights frizz
Defines curls naturally
Lightweight formula provides a good hold
May result in messy or inconsistent curl patterns
Not suitable for dense hair
Need daily reapplication
7. Rucker Roots Styling Mousse
View On Amazon
Try out Rucker Roots Styling Mousse for long-lasting hold and a pleasant scent, perfect for both curly and sleek hairstyles. This 100% vegan registered trademark hair support solution contains hydrolyzed castor oil to control moisture loss from the strands.
Plus, it's enriched with essential vitamins and oils, including ginger root oil, turnip root oil, and carrot root oil.
Perfect for fingerstyles, spiral rod sets, or wash & go sets on wet or dry styles. This mousse defines waves while setting curls without making them crunchy or sticky afterwards.
Vegan Registered Trademark Hair Support Solution containing Hydrolyzed Castor Oil to control Moisture Loss from Strands
Enriched with Essential Vitamins & Oils such as Ginger Root Oil, Turnip Root Oil, Carrot Root Oil
Stimulates Keratin Production
Increases Follicle Growth Rate
Suitable For Wet Or Dry Styles
Defines Waves
Sets Curls
Leaves Hair Hydrated
Bouncy After Each Use
Not Ideal For Thick Hair, Tight Curls, or Color Treated Hair
Cannot Be Used With Other Products or On Wigs
Does Not Hold Up Well In Humid Climates
Can Result In Frizziness
8. Hair Rules Kinky Curl Cream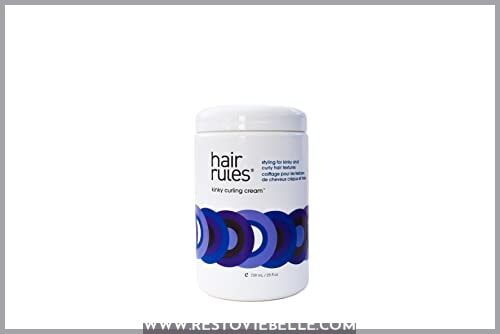 View On Amazon
Transform your kinky curls into vibrant spirals with Hair Rules Kinky Curl Cream and discover why it's a must-have for curly hair types. But what makes this product so special? This liberating gel-cream formula provides deep moisture, softening, hydrating, and managing hair effortlessly.
Featuring hydrolyzed wheat protein to boost elasticity and volume, plus botanical extracts that eliminate shrinkage without chemicals or heat styling, Hair Rules Kinky Curl Cream is truly unique.
Providing an authentic curl pattern without the need for harsh ingredients is what sets Hair Rules apart from other products on the market. It also acts as a leave-in conditioner that keeps strands looking great while stretching out natural length.
Softens & stretches tightly wound tresses
No mineral oil/phthalates/sulfates/parabens
Natural scent
Boosts elasticity & volume
Not ideal for moisturizers
May not work well on thicker, dryer, curlier textured hairs
Improved haircare routine needed as hair length increased
9. Vernon Francois Hair Mist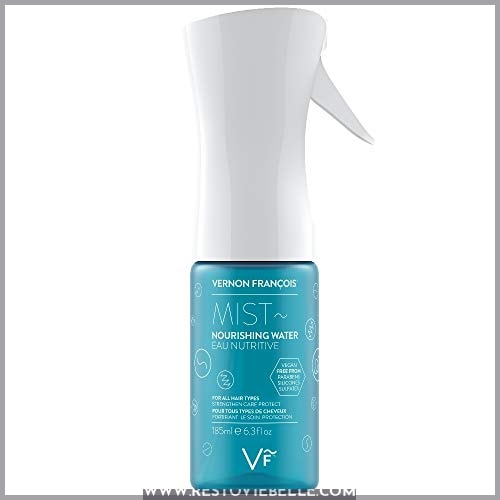 View On Amazon
Revitalize your curls and coils with Vernon Francois' award-winning Hair Mist that nourishes, repairs, and reduces dryness for all hair types. Formulated with natural botanicals, oils, and amino acids, this Hair Mist boosts protein strength in the follicles while also providing a pleasant fragrance.
This vegan-friendly mist helps detangle hair without weighing it down or leaving behind any residue.
Users love this product for its ability to reduce frizz while preserving their natural texture – perfect for 4b hair! With minimal use required per day, you can expect long-lasting results at an affordable price point compared to other products on the market today.
Lightweight detangler spray
Reduces dryness & damage
Adds moisture & softness
Developed by celebrity stylist Vernon François
Suitable for various textures of 4B Hair type
Some users reported a change in scent after one year of use
Not preferred by some users due to unpleasant scent
A bit pricey compared to similar products
11. Maui Moisture Curl Quench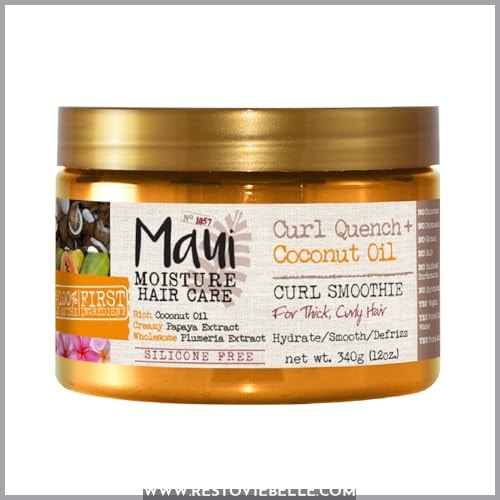 View On Amazon
Bring out your best curls with Maui Moisture Curl Quench and experience silky, hydrated tresses that feel soft to the touch. This coconut oil curl smoothie hair styling cream is formulated with 100% aloe vera, coconut oil, plumeria extract, and papaya extract.
It is a vegan-friendly product that is free of sulfates, surfactants, silicone, parabens, mineral oils, synthetic dyes, ammonia, chlorine, or any other harsh chemicals.
Ideal for 3b-3c curly hair
Pleasant coconut scent
Effective for adding moisture and reducing frizz
Can be used as a leave-in conditioner
Provides hold without making hair crunchy
Suitable for long thick curly hair
Not suitable if you're looking for extreme hold
May not work well on coarser textures
Needs reapplication after extended periods
How to Identify and Embrace Your 4B Hair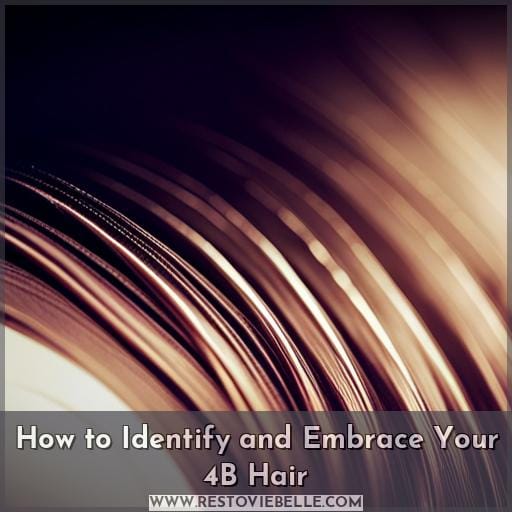 Discovering your unique 4B curl pattern is an empowering journey that can help you achieve beautiful, bouncy curls. Start by understanding the key characteristics of this type: tight coils and zig-zagged curls, significant shrinkage, and being highly prone to breakage.
Then, focus on identifying what products best suit your hair needs. For moisture, try using leave-in conditioners with natural oils or butters. For definition, gels are a great option. Mousses and creams can provide hold without crunchiness.
Don't forget about protective styles like twists or braids, which are great ways to encourage healthy growth.
When it comes to styling products specifically designed for 4B hair types, look out for ones that contain ingredients such as coconut oil, aloe vera extract, and shea butter.
Lastly, don't be afraid to experiment. Try different techniques until you find something that works best for your hair. Embracing your 4B hair is all about finding what works for you and embracing your natural beauty.
Conclusion
It's important to take the time to understand the unique characteristics of 4B hair. With its tight zig-zag curls and high shrinkage, proper moisturization is key to help keep your hair looking healthy and vibrant.
You can achieve this with the help of products like leave-in conditioners, oils, and butters. When styling, be sure to use lightweight styling products that will help tame frizz and provide hold without making your curls crunchy.
With the right products and care, you can embrace and enjoy your beautiful 4B hair.