This site is supported by our readers. We may earn a commission, at no cost to you, if you purchase through links.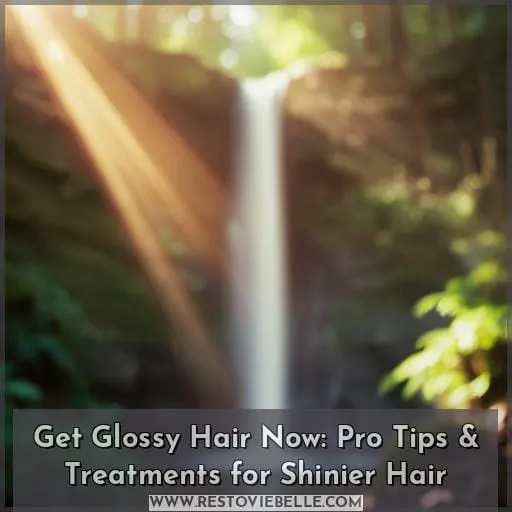 Gazing in the mirror to admire your glossy hair can be a daunting task, especially without the help of Instagram filters. To get that light-catching shine you desire, it takes more than just brushing 100 times before bed – as Marcia Brady suggested.
Here's what experts recommend when looking for how to get glossy hair fast: professional toners, cold water rinses, and using clarifying shampoo once per week; plus other tips like silk pillowcases or eating healthy foods.
Let's take a look at how these methods will make your strands shimmer brighter than ever!
Achieving Glossy Hair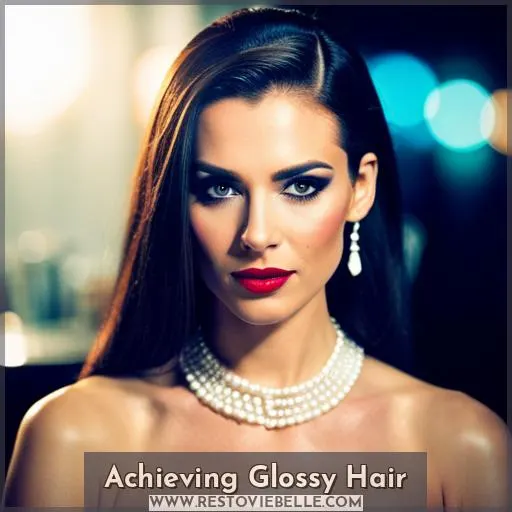 You can achieve glossy hair with professional treatments and at-home care, such as using clarifying shampoo and heat protection. Regular trims are important to maintain healthy ends, while home remedies like oil sheen sprays can give a natural shine.
Heat protection is essential for styling tools; opt for high-tech options like the GHD Platinum+ styler if possible.
Cuticle care also helps seal in moisture. Cold water rinses will lock it in post showering or swimming. Product selection is key – choose items based on your hair texture that won't weigh down locks or leave them greasy.
For an instant boost of shine, try Schwarzkopf Professional OSiS+ Sparkler Shine Spray before heading out the door. Then use Color Wow's Dream Coat cuticle sealing treatment afterwards to keep frizz away all day long! Finally, consider incorporating lighter color highlights into dark bases or lowlights for blondes – they'll naturally enhance glossiness without compromising health.
In-Salon Treatments for Glossy Hair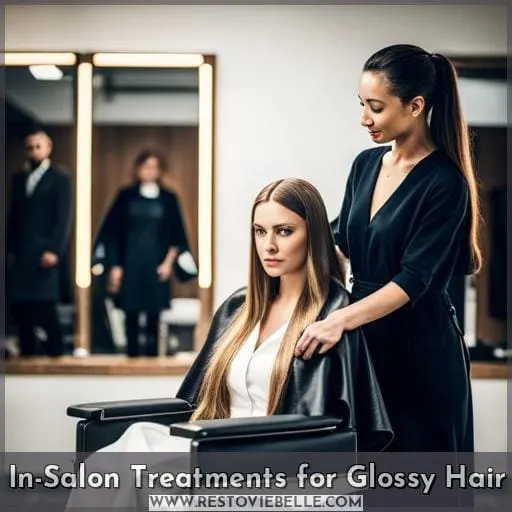 Take the plunge and pamper yourself with an in-salon treatment for glossy hair – it's worth every penny. Professional toners can add shine without affecting color, while acid-based toners create a varnish-like effect by reflecting light.
For ultimate glossiness, try Redken Shades EQ Hair Gloss or get a custom gloss created by your hairstylist to boost condition and sheen. Optionally, keratin smoothing treatments like Brazilian Blow Dry offer sleekness, while Permanent Blow Dry from Hershesons gives you smoother texture without sacrificing the health of the hair follicles.
Boar bristle brushes are great for distributing natural oils evenly over the scalp to promote healthy cuticle care that will give you that enviable glossy look!
At-Home Care for Glossy Hair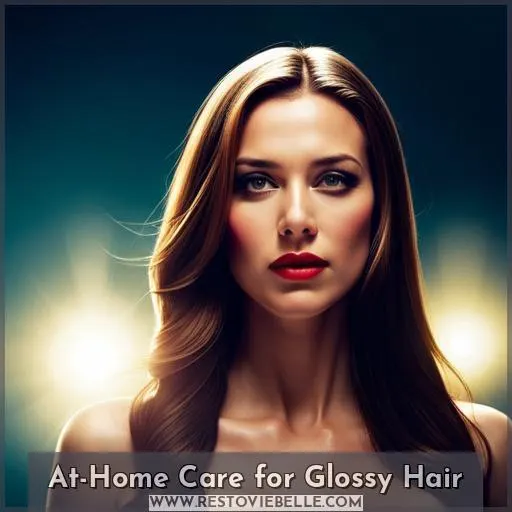 Start in the shower with a clarifying shampoo to remove buildup and reveal your hair's natural shine.
For instant shine, spritz Schwarzkopf OSiS+ Sparklers over dry hair. Then finish with oil sheen sprays or light serums depending on texture. Cuticle care is key. Cold water helps close cuticles for smoothness while nourishing the scalp with vitamin E gel boosts circulation at the roots.
Finally, opt for natural bristle brushes to distribute oils evenly and achieve sleek glossiness that lasts!
Using Clarifying Shampoo Once Per Week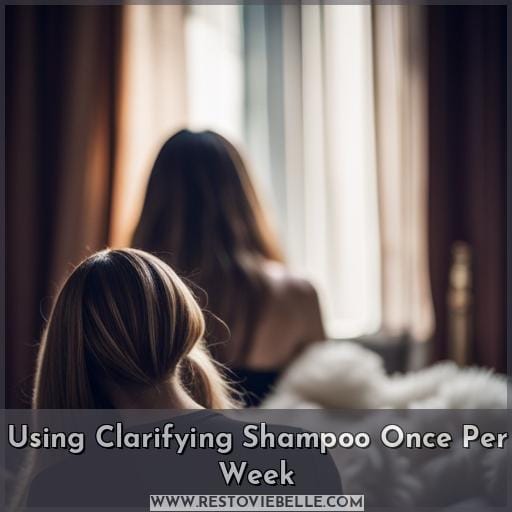 To keep your locks looking luscious, try using a clarifying shampoo once per week to give them the deep clean they need. With cold water temperature and regular scalp nutrition, you can maintain healthy hair texture and cuticle care.
Protect from heat styling with GHD Bodyguard spray or other high-tech tools for maintaining hair health. For at-home gloss treatments, Josh Wood Gloss will enhance shine without compromising quality, while OSiS+ Sparkler Shine Spray provides instant sheen suitable for all hair colors that lasts up to 6 weeks.
Color Wow's Dream Coat is also essential in sealing the cuticles of your hair, which reflects light more efficiently, creating a glossy finish.
Finally, use natural bristle brushes for distributing oils evenly around, as well as Le Angelique 1-2 Flat Iron adding extra subtle sparkle when styling — get ready to make heads turn!
Rinse With Cold Water

After using a clarifying shampoo once per week to remove buildup, rinse your hair with cold water. Cold showers are an essential step in achieving glossy locks as they help lock in moisture and promote cuticle care, resulting in high-shine hair that looks smooth and soft.
To further protect the scalp from heat damage while styling, use premium heat protection such as GHD Bodyguard spray for sleek results. Natural oils can also provide instant shine boosts when applied directly to wet or dry strands; vitamin E is particularly beneficial for nourishing the scalp, which increases circulation and adds glossiness to your tresses over time.
Finish off by brushing through gently with a natural bristle brush so you can evenly distribute these natural oils across each strand of hair for maximum glimmering effect!
Using Silk or Satin Pillowcase

Slip into a silk or satin pillowcase for glossy strands as you snooze. This method helps seal cuticles from heat styling and hot water rinses, while nourishing your scalp with natural oils. Use natural bristle brushes to distribute the oil evenly without disturbing sleeping patterns.
Jody Amable, a freelance writer, states: Sleeping on silk is like giving your hair an 8-hour long deep conditioner! Here are 3 tips to make the most of this technique:
Avoid cotton sheets, which can create friction that destroys shine.
Rinse off any product in the shower before bedtime.
Brush your hair before going to sleep to avoid tangles during rest time.
The best part? You wake up with silky smooth hair every morning! Shine and glossiness will increase after regular use of this simple but effective technique – just remember not to be tempted by hot water when washing away sweat or dirt at night!
Investing in quality products like fine mist sprays made specifically for shiny locks will only enhance its effect further if used properly alongside using a good brush and keeping hydrated throughout the day too – essential steps for fabulous-looking glossy hair no matter what kind you have!
Eating Hair-Healthy Foods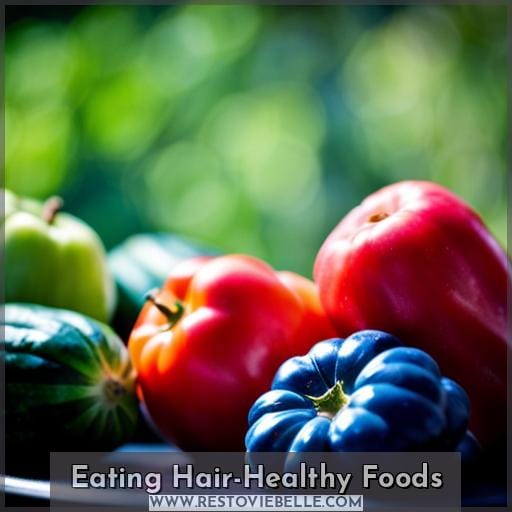 If you're looking to get glossy hair, it starts with eating hair-healthy foods. Nourish your scalp from the inside out by consuming fatty acid-rich foods like fish, avocados, nuts, eggs, and spinach. Consider taking fish oil supplements for an extra boost of omega-3 fatty acids for maximum shine.
For a more direct approach to nourishing your scalp and promoting healthy growth, consider adding some hair vitamins or vitamin E gel capsules into your routine.
Adding Temporary Shine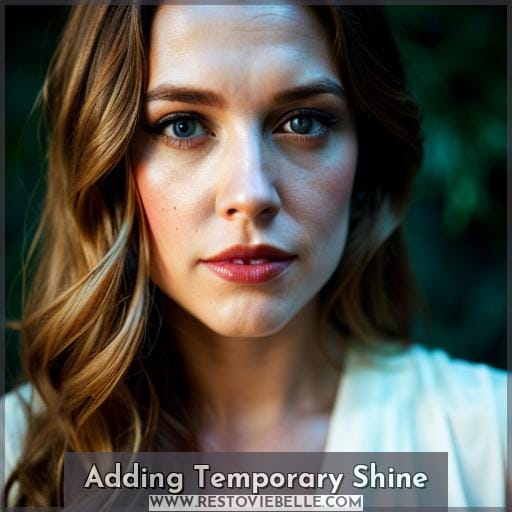 You can try products like Schwarzkopf Professional OSiS+ Sparkler Shine Spray for an instant sheen or Clairol Professional Jazzing in Clear pre-shampoo to add shine and enhance your hair's texture.
Here are a few other ideas:
Use GHD Bodyguard Heat Protect Spray before styling with the GHD Platinum+ styler for heat protection that won't compromise health.
Co-washing is also beneficial as it reduces product buildup and maintains shine without stripping too much oil from the scalp.
Incorporate oil sheen sprays – natural hair loves them – or light serums if you have fine locks.
Finally, don't forget vitamin E gel capsules to nourish the scalp at the roots and promote circulation!
Using a Boar Bristle Brush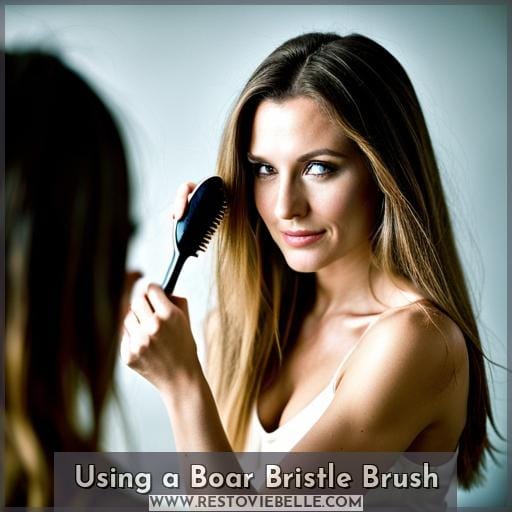 After adding temporary shine to your hair, you can use a boar bristle brush for the ultimate glossy finish. This brushing technique helps distribute natural oils throughout the hair and seal cuticles for a smooth look without any heat protection tools or heavy conditioners.
Natural treatments are best when it comes to achieving glossy locks, so minimize heat styling and incorporate regular scalp massages with nourishing products like olive oil or coconut oil serum.
To get an even shinier effect, try using lighter serums specifically designed for fine tresses – this way you won't end up with greasy-looking roots after applying them onto damp locks.
Lastly, opt out of sulfates and silicones that may dry out your mane as they strip away all moisture from the surface level down! With just some simple steps incorporated into your haircare routine, you can achieve stunningly shiny results in no time at all!
Enhancing Shine With Hair Color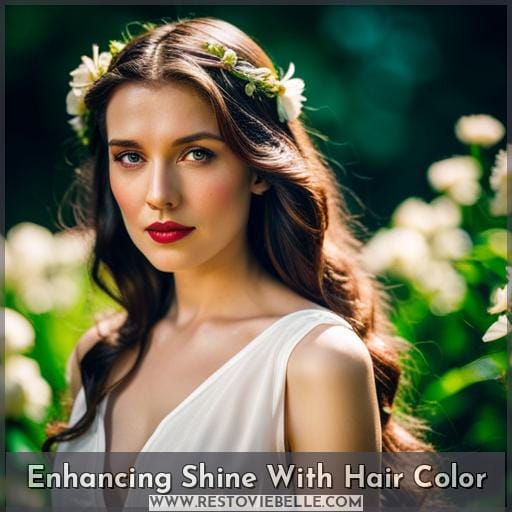 Experiment with adding subtle highlights and lowlights to your hair for a glossy look that's sure to turn heads. To achieve this, it's important to consider color balance. Too much of one tone can cause dullness.
Cuticle care is also key – use heat protection when styling and avoid sulfates or silicones that could dry out the hair. Opt for product selection carefully. Natural ingredients like honey masks are great nourishing treatments, while oil treatments will leave you with an extra layer of shine! Acid-based toners create a varnish-like effect by reflecting light from any hue.
Try apple cider vinegar masks as well for added radiance! Remember to focus on long-term health rather than short-term gain. Choose light conditioners depending on texture type, and rinse in cold water to lock moisture in cuticles! With these tips in mind, you'll be able to enjoy glossy locks all year round without compromising their health.
Frequently Asked Questions (FAQs)
Is a gloss treatment permanent?
No, gloss treatments are not permanent. They offer temporary shine and can be used to extend the time between color appointments. Professional toners provide a glossy, varnish-like effect, while salon treatments like Redken Shades EQ hair gloss boost condition and shine.
At-home options include products like Josh Wood Gloss and Kristin Ess Hair Signature Gloss for lasting results.
How often should I use heat protection when styling?
You should always use heat protection when styling your hair to protect it from damage. Try using GHD Bodyguard spray or the GHD Platinum+ styler for a smooth, glossy finish that won't compromise your locks' health.
Are natural ingredients better for my hair?
Yes, natural ingredients are often better for hair because they lack harsh chemicals and provide nutrients that increase shine. They nourish the scalp and help to keep cuticles closed, resulting in healthy locks with a glossy look.
How do I choose the right product for my hair type?
Consider your hair texture and choose products accordingly. Natural hair benefits from oil sheen sprays; fine hair can use light serums.
Are there any at-home treatments I can do to get glossy hair?
Transform your hair from dull to glossy with at-home treatments! Start by using a clarifying shampoo to remove buildup, then use a nourishing mask or gloss treatment for maximum shine.
Conclusion
Glossy hair is within reach! With a few simple tips and treatments, you can get the glossy hair of your dreams.
Start by using clarifying shampoo once a week to remove product buildup, and rinse with cold water to lock in moisture and close the cuticles.
Treat yourself to a silk or satin pillowcase to reduce hair friction, and don't forget to nourish your scalp with vitamin E from capsules.
Use heat protection and high-tech tools like the GHD Platinum+ styler and Le Angelique 1-2 Flat Iron to help maintain hair health.
Instant shine sprays like Schwarzkopf Professional OSiS+ Sparkler Shine Spray can give you filter-worthy hair.
For an extra boost, try temporary hair dye like Clairol Professional Jazzing in Clear or Kristin Ess Hair Signature Gloss.
With these tips and tricks, you'll be able to get glossy hair that looks healthy and stylish.