This site is supported by our readers. We may earn a commission, at no cost to you, if you purchase through links.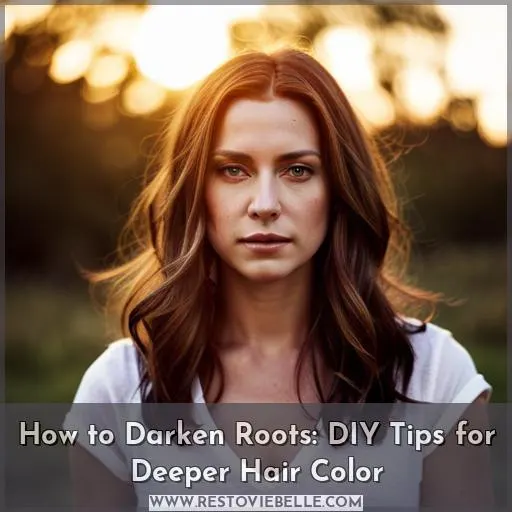 Ready for a change? If you're wondering how to dye your roots darker than the rest of your hair, we've got you covered with some DIY tips for achieving that stunning, deeper hair color.
Root shadowing, also known as root shading, is the key to adding depth and dimension to your look. It's not as complicated as it may seem, and you have options. You can choose to go a shade darker than your current hair color for a subtle, harmonious effect, or for a bold, edgy style, you can opt for a high-contrast look.
So, let's dive into the world of root shadowing and learn how to master this technique from the comfort of your own home.
The process isn't just about going darker; it's about creating a seamless blend that enhances your overall appearance.
If you've ever faced the dilemma of dark roots, brassy tones, or mismatched ends, don't worry.
Whether you're a DIY enthusiast or looking to consult with a professional stylist, this article will equip you with the knowledge and confidence to get the root color you desire.
Plus, we'll share tips on post-dye hair conditioning and explore the latest hair color trends, so you can embrace your roots in style.
Key Takeaways
Apply dye only to the roots to create shadowing and dimension.
Use a darker shade on roots than the existing hair color.
Use 10 vol developer to darken roots when correcting.
Consult a stylist for advice on balancing roots and ends.
What is Root Shadowing?

To master the art of Root Shadowing, think of it as adding a subtle shadow beneath your crown, creating depth and dimension in your tresses.
Root Shadowing benefits are aplenty. It's a versatile technique that suits any hair color, not just limited to blondes. The beauty of it lies in its low-maintenance nature, reducing the need for frequent root touch-ups.
It's your secret weapon for embracing those growing roots and avoiding that awkward in-between phase.
When it comes to Root Shadowing, shade selection is crucial. Choose a shade within the same tone family as your natural hair color for a seamless transition. Don't hesitate to seek professional consultations or reach out to the Color Crew for expert advice.
And remember, using sulfate-free products for your hair care routine will help maintain that beautiful shadow root.
Now, what makes Root Shadowing even more appealing is its compatibility with various hairstyles. You can flaunt Shadow Root Hairstyles effortlessly, whether it's subtle dark roots for blondes, cool dark brown or black for brunettes, or a rich cinnamon hue for redheads.
DIY Root Shadowing at Home

Let's begin with DIY root shadowing at home. To achieve a seamless look, you'll need specific supplies and some application tips to ensure your roots are darker than the rest of your hair.
Supplies Needed
Get everything ready for your DIY root shadowing – you'll need a few essential supplies to nail this technique.
Hair Dye: Choose a shade that complements your hair color.
Gloves: Protect your hands from staining.
Hair Dye Brush: Ensure precise application for seamless results.
These tools will help you achieve professional-looking root shadowing without the need for a stylist consultation.
Application Tips
Enhance your at-home root shadowing with expert brush techniques for a gradual color transition that looks seamless. Begin by sectioning your hair and applying the chosen dark brown or black shade to your roots, ensuring even coverage and a gentle blend.
After the color sets for about 30 minutes, rinse with cold water to seal the color. Follow up with a sulfate-free hair toner to neutralize warm tones, creating a flawless shadow root look.
Fixing Hair Color Mistakes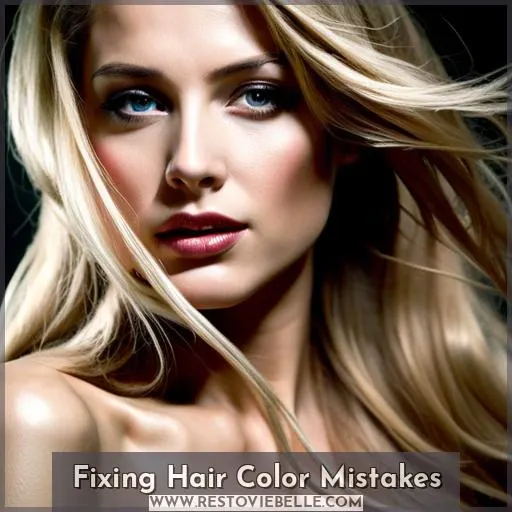 Looking to fix some common hair color mistakes? If your dark roots are too harsh against the rest of your hair, brassy roots are showing through, or you have mismatched roots and ends from uneven processing, don't fret – these issues can definitely be remedied.
With some thoughtful root touch-ups, toning, and salon treatments on over-processed sections, you'll get your hair coloring back on track before long.
Dark Roots Too Dark
If your roots have darkened too much, don't panic – a quick toner can help brighten them up.
Mix equal parts toner and 10 volume developer.
Apply the mixture only to the roots with a tinting brush.
Process for 10-15 minutes, then rinse thoroughly.
The toner will deposit a sheer veil of pigment to soften the roots. With some careful toning, you can get your shadow root back on track.
Brassy Roots
You've hit the nail on the head that a root touch-up kit counters brassy roots for seamless hair color. Brassy roots happen when blonde hair starts growing in darker. Root shadowing techniques like an anti-brass toner gloss can neutralize those warm undertones for a more natural look.
At home, apply the toner to regrowth only, keeping it off already lightened hair. Let it process for 5-15 minutes. Rinse thoroughly. For optimal results, seek professional consultations about the right supplies and color corrections.
With the proper products and techniques, you can conceal brassy regrowth and rock those shadow roots.
Mismatched Roots and Ends
Keep it interesting, girl. Go lighter on top if the roots are darker than the ends. To balance mismatched dark roots and light ends, use a comb to apply toner just to the lengths. Toning tricks like using violet toner on blonde lengths help soften the contrast.
For more harmony from root to end, lightly tone or glaze the ends a shade or two darker. Done right, you'll get that seamless color melt from root to tip by toning down the bottom.
Over-processed Ends
When your ends become over-processed from too much bleach, don't panic – trim off 1-2 inches of the most damaged hair to instantly improve texture and shine. According to hair stylists, 77% of clients see their hair completely transform after removing poor quality ends.
To restore moisture, apply a deep conditioning hair mask weekly focusing on the ends. Book a consultation with your stylist to discuss options for blending the roots and ends through subtle highlight placement or lowlights to enrich color and conceal over-processed sections.
You may want to consider a semi-permanent gloss or glaze for an overall color refreshment.
Orange-y Red Color
Your fiery locks crave a soothing cocoa balm. Let's revive that vibrant red into a rich auburn. Embrace those roots with a shadow effect, blending new warmth throughout those strands. Consult an expert stylist for custom color correction—they know how to amp up the dimension in your hair.
With the right tone fixes, soon you'll be rocking hair as lively as your spirit.
Step-By-Step DIY Root Touch-Up

So you're looking to touch up your roots? Here's a two-step process for DIY root coloring. First, get prepped by gathering your supplies, protecting your skin and clothes, and mixing the dye. Then, section your hair and apply the color only to new growth, taking care to thoroughly saturate roots while avoiding already colored hair.
Make sure to rinse immediately, shampoo, and check for even coverage so you can reapply to any missed spots if needed.
Preparation
Before saddling your steed for the journey, gather your provisions – the elixir, basin, brush, gloves, cloak, balm, and clips. Wash your hair the day before without conditioner for maximum color absorption. Put on protective gear to avoid stains.
Follow the instructions when making the tincture. Use clasps to divide your hair into workable sections. Apply the color only to new growth, not the lengths. After dying, shampoo and then condition to lock in rich saturation and shine.
With the right preparation and technique, you can seamlessly blend your roots' new color into sun-kissed ends.
Application
Once mixed, carefully apply the color only to new growth, avoiding previously colored hair. Part your hair into sections using clips, and start applying at the roots. Massage in a circular motion for even application, and make sure not to miss any spots! Use root shading techniques to create subtle contrast between old and new color with a cool toned gloss or hint of warmth, depending on the desired effect.
For brunettes, look for shades like dark browns or blacks, while redheads can opt for cinnamon hues as they grow out their existing shade.
Consult With Stylists

Before dyeing your roots darker, virtually consult professional hair stylists. They can provide personalized recommendations on the best root touch-up techniques and products for your hair color and texture.
Ask about the ideal darker shade to seamlessly blend your roots. Stylists are experts at color correction and can advise you on avoiding brassy tones or an uneven look.
For blonde hair with dark roots, they may suggest hair toner to neutralize warmth. Brunettes can get guidance on cool dark brown hues for shadow roots. Extensions are another option to temporarily conceal grown-out roots between dye jobs.
With professional input, you can achieve a natural, subtle root transition that compliments your face and style.
Hair Color Correction Tips
For brassy roots, use an anti-brass toner or root touch-up kit.
If you have light roots and dark ends, adjust the timing and thoroughly comb the dye through your hair.
Over-bleached ends can be trimmed and treated with a hydrating mask.
If the red's too orange, add brown dye for an auburn tone.
For missed spots, precisely re-apply dye only where needed. Follow up with a deep conditioner.
Consult a stylist for personalized solutions if you need further help. Mistakes can be fixed – start by trying these color correction techniques first.
Conditioning Hair Post-Dye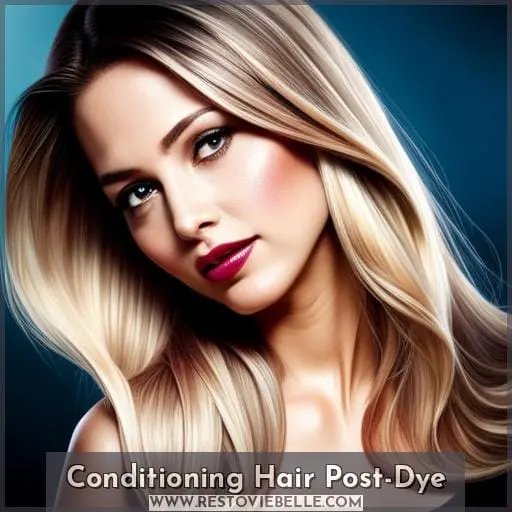 After coloring those roots darker, it's crucial to nurture your locks back to health. Start by washing with a sulfate-free shampoo to avoid stripping color. Grab a nourishing conditioner like Color Revival from Madison Reed, formulated to replenish dyed strands.
Work it through the mid-lengths and ends, giving extra attention to the dry parts. Let it sit for a few minutes while the emollients soak in before rinsing. Repeat if needed for ultra-hydration.
Finally, detangle gently with a wide-tooth comb to smooth the cuticle and finish with a dollop of leave-in conditioner. Your hair will air dry with a glossy finish, ready to show off those rich, dimensional roots blending seamlessly into the lengths.
Embracing Your Roots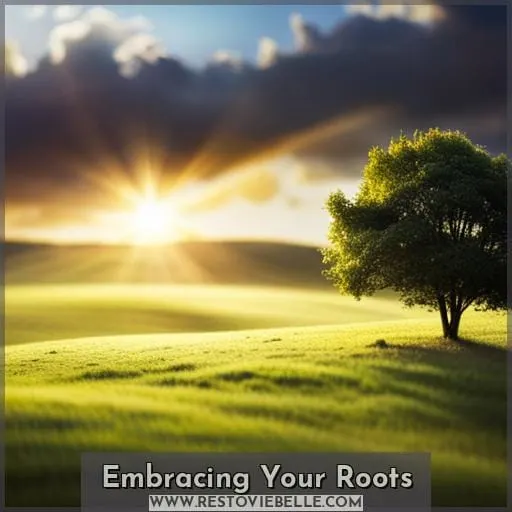 Ahh, I see you're choosing to rock those roots with pride. Embrace the shadow root look for a stylish, low-maintenance transition between color touch-ups. Let your roots grow out naturally with subtle dark regrowth that blends into the lighter lengths.
Ask your colorist about modern techniques like root stretching to prolong your shade. Massage in nourishing oils to keep roots hydrated as they grow out. Look to celebrities like Kylie Jenner rocking bold, dark roots with icy blonde lengths.
The modern ombré pairs effortlessly with makeup trends too. Stay on top of the hottest hair color advice from experts like Brad Mondo for insider tips. Trending shadow roots let you flaunt naturally grown roots before your next salon touch-up.
Hair Color Trends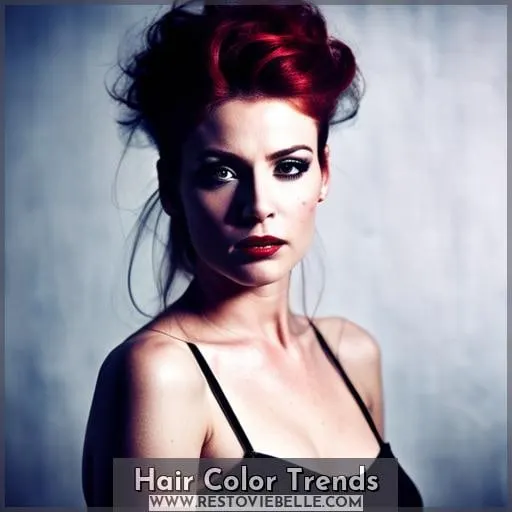 You'll be on trend when you explore all the fun new hair colors popping up on social media. From rose gold to pastel purples, hair coloring is getting more daring and expressive. Shadow roots continue gaining popularity for their low-upkeep approach to covering grays and growing out color.
Before jumping on the latest fad, ask stylists about shades that complement your complexion. They stay current on shifts in color trends while considering your hair's health. Avoid box dye disasters by leaving major makeovers to experts. Minor touch ups between appointments maintain your fresh hues.
Embrace frequently changing your color without damaging your hair. Stay involved in hair care communities to get inspired by nuanced techniques and clever color pairings.
Conclusion
Refresh your roots with confidence by embracing your natural hair color. The journey to your ideal hue may have twists and turns, but the tips here equip you to finesse your shade at home. With the right supplies and techniques, you can deepen roots for a seamless color transition.
Learn to cherish the ever-changing nature of hair by enhancing your regrowth. And when in doubt, consult the professionals for foolproof dye jobs and corrections. Your hair tells a story – make it a beautiful one by fearlessly rocking those darker roots.