This site is supported by our readers. We may earn a commission, at no cost to you, if you purchase through links.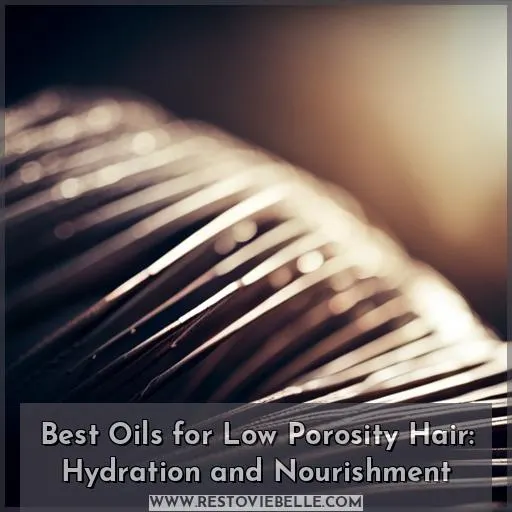 Picture this: You've been searching for that perfect product to help your low porosity hair reach its full potential, but every time you purchase something new, it's a gamble. Finding the right oil or moisturizer for your locks can be difficult and confusing – especially when it comes to low porosity hair.
Don't worry! We have compiled a list of the best oils specifically designed with hydration and nourishment in mind just for you.
7 Best Hair Oils for Low Porosity Hair
If you have low porosity hair, there are many oils available that can help improve the health of your strands. PURA DOR Argan Oil, Kate Blanc Jojoba Oil for Skin and Hair, NOW Avocado Oil Moisturizing, US Organic Sesame Oil, Handcraft Grapeseed Oil, and Organic Baobab Oil Moisturizer all offer powerful nourishing properties to help hydrate dry locks, while Premium Argan Oil is perfect for restoring shine and softness.
1. PURA DOR Argan Oil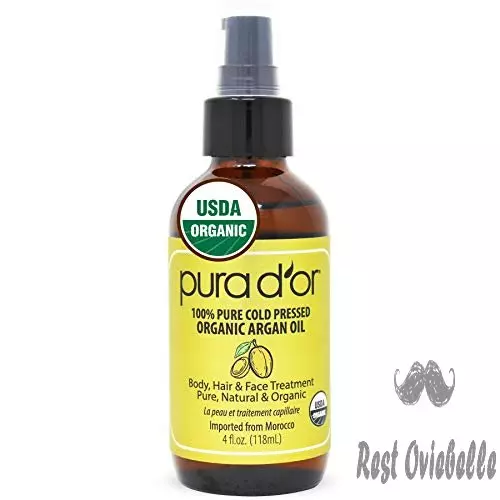 View On Amazon
Experience liquid gold with PURA DOR Argan Oil and transform your hair into a soft, hydrated masterpiece! This certified organic, cold-pressed oil is made from the nuts of the Argan tree to provide maximum benefits for skin, face, hair, and nails.
It is rich in vitamins A and E as well as oleic acid. The oil absorbs quickly without feeling greasy or leaving an oily residue. Additionally, it has a natural nutty scent that doesn't require any additional fragrance, making it perfect for those who prefer something more natural.
Certified Organic by CCOF
Cold-pressed argan oil
Non-comedogenic formula
Absorbs quickly with a non-greasy feel
Natural nutty scent without added fragrances
Easy pump dispenser bottle
Not suitable for oily skin types
Can leave too much shine on the face if not used sparingly
2. Kate Blanc Jojoba Oil Skin Hair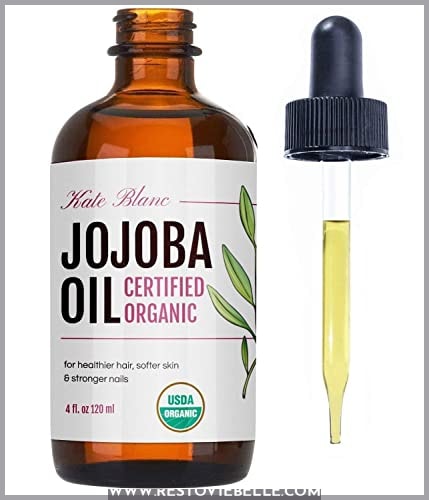 View On Amazon
Unlock your hair's hidden potential with Kate Blanc Jojoba Oil Skin Hair—a USDA certified organic, pure, natural oil that nourishes skin and hair. This versatile product is suitable for daily use as a moisturizer for all types of skin.
It can be used to reduce wrinkles, stretch marks, acne scars, and blemishes on the face.
It helps promote healthy hair growth while reducing breakage due to its rich nutrient content such as vitamins A, E, and K, plus fatty acids from jojoba oil extract. The lightweight formula absorbs quickly into the scalp without leaving any greasy residue behind, yet provides maximum hydration throughout the day-long period of time it takes effect.
Additionally, this product is free from fillers or additives, making it an ideal choice for both men and women alike who are looking for authentic results in terms of their skincare needs, as well as promoting healthier, more manageable strands!
Lightweight non-greasy formula
Rich in Vitamins A, E, and K, plus fatty acids from jojoba oil extract
Absorbs quickly into scalp without leaving any greasy residue behind
No additional fragrances added
3. NOW Avocado Oil Moisturizing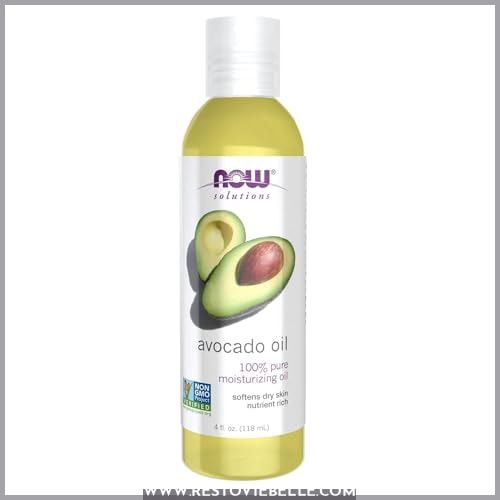 View On Amazon
Indulge in the luxurious NOW Avocado Oil Moisturizing to soothe and nourish your dry, sensitive skin. This 100% pure, nutrient-rich vegetable oil is suitable for both hair and skin. It's heavy enough to keep your complexion supple without feeling greasy.
It absorbs quickly into wet or dry skin while protecting against UV radiation damage with its vitamins A, E, and K content.
The 4 Fl Oz bottle comes with a convenient pump dispenser that's easy to use – perfect for those seeking an effective moisturizer! This product has been GMP Quality Assured by NPA A-rated certification standards, ensuring it is free of fillers, dilutions, parabens, or alcohols.
Customers have found this avocado oil extremely beneficial, resulting in softer scarring areas on the face from acne scars or other sources. It also provides glowing, healthy-looking skin due to its emollient properties, locking moisture within their pores and giving them lasting hydration throughout their day.
Lightweight texture that absorbs easily into wet/dry skins without leaving a sticky residue
Protects against UV radiation damage
Cruelty-free & not tested on animals
Suitable for all types of skins (normal/mature/sensitive)
Vitamin-enriched, offering long-lasting effects
Thin consistency compared to other brands
Issues reported with packaging leakage during shipping
4. US Organic Sesame Oil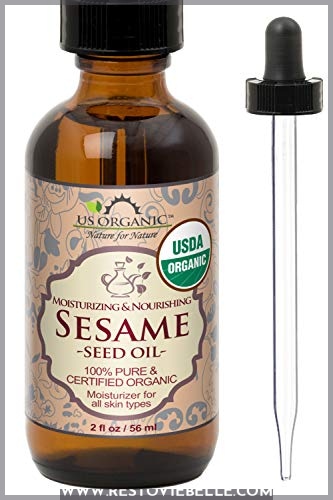 View On Amazon
Discover the nourishing effects of US Organic Sesame Oil, a single ingredient, cold-pressed oil that will unlock your skin's potential to be soft and radiant like liquid gold. This USDA certified organic oil is suitable for massage therapy and aromatherapy as well as being an all-over body moisturizer.
It hydrates and boosts skin elasticity while reducing wrinkles and fine lines with no fillers or additives present.
Suitable for all skin types, it absorbs quickly into the surface without leaving any greasy residue behind – perfect if you have dry or sensitive skin! Plus, it has been certified cruelty-free by Leaping Bunny Program standards so you can trust that this product was not tested on animals in its production process.
The reviews are positive when it comes to US Organic Sesame Oil's effectiveness; users have found relief from joint pain in their hands due to arthritis; reduced nosebleeds caused by dryness; reduction of neck pain; improved overall appearance of their skins' tone plus some people even enjoy using this oil for 'oil pulling'.
With its pleasant scent yet lack of additional fragrance added makes US Organic Sesame Oil a popular choice amongst those looking for an effective hair & skincare product that won't let them down – try today!
USDA certified organic
Suitable for massage therapy/aromatherapy carrier oil
Hydrates & boosts elasticity while reducing wrinkles/fine lines
Cruelty free
Not ideal if you prefer fragrances added
May cause scalp irritation depending on individual sensitivity
5. Handcraft Grapeseed Oil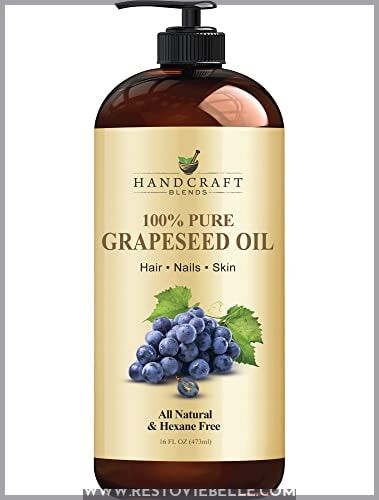 View On Amazon
Experience the nourishing power of Handcraft Grapeseed Oil, a lightweight oil packed with vitamins A, E, and K to help keep your skin soft and hydrated. This premium quality pure and natural oil is hexane-free, fragrance-free, preservative-free, and chemical-free.
It absorbs quickly into the skin without leaving any greasy residue behind or weighing down on it.
Plus, its protective properties against UV radiation damage make this an ideal choice for those who are exposed to harsh sun rays daily.
And if that wasn't enough already – its pleasant smell makes this product even more desirable! With all these amazing benefits, there's no surprise why so many people have been raving about Handcraft Grapeseed Oil lately!
Lightweight texture easily absorbed
Helps dislodge debris from pores
Protects against UV radiation damage
Keeps the skin soft & supple
Issues with dispenser functionality
6. Organic Baobab Oil Moisturizer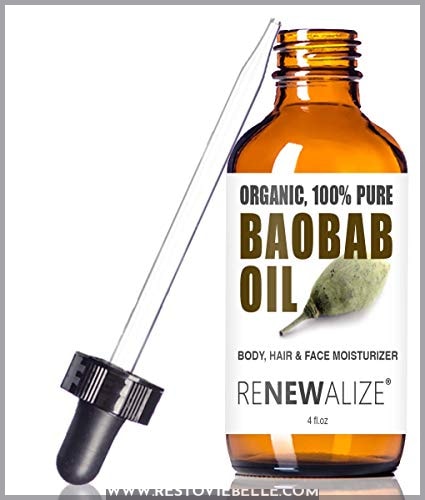 View On Amazon
Replenish your skin and hair with Organic Baobab Oil Moisturizer, a USDA certified oil packed with vitamins, fatty acids, and more to nourish dryness away. Loaded with omega 3, 6 & 9 fatty acids as well as Vitamins A, D, E & K, this natural wonder works wonders on all types of skin; from normal to mature or sensitive.
Its emollient properties help moisturize the surface without leaving you feeling greasy, while its antioxidant content helps rejuvenate your cells for healthy-looking skin.
Not just for the face, this oil is also great at restoring dull strands, giving life back into lifeless locks! It can even be used to fight dandruff and soothe an itchy scalp, due in part to its anti-inflammatory qualities.
USDA Certified Organic
Rich in Omega 3/6/9 Fatty Acids Vitamins A/D/E&K
Emollient Properties Help Hydrate Skin Scalp
Antioxidant Content Rejuvenates Cells
Long Shelf Life In Dark Amber Bottle
Size Of Bottle Can Last Longer Than 2 Years
Change In Color Between Purchases
7. Premium Argan Oil Hair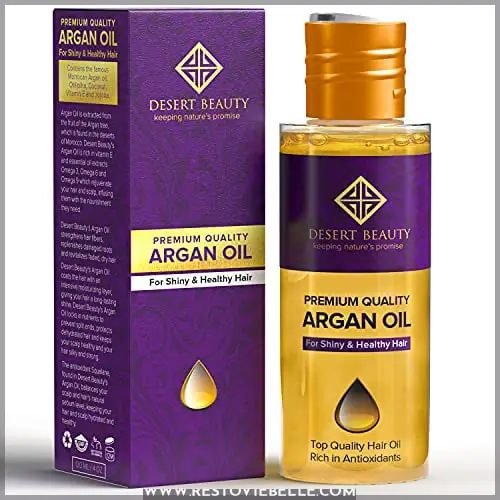 View On Amazon
Treat your tresses to the pampering they deserve with Premium Argan Oil Hair, a luxurious blend of Moroccan argan oil and other natural ingredients that helps restore softness and shine. Enriched with jojoba oil, coconut oil, and vitamins A & E for extra nourishment, this lightweight, non-greasy formula controls frizz while enhancing waves.
The pleasant scent won't linger on hair all day like other products do, and its cruelty-free/environmentally friendly status makes it the perfect choice for those looking to live more sustainably.
Perfect for damaged or dyed hair types as well as fine-haired individuals who are struggling to tame their mane – give Premium Argan Oil Hair a try today!
Restores softness & shine
Controls Frizz & Enhances Waves
Cruelty Free/Environmentally Friendly
Non-refundable once opened
Not suitable for very oily scalps
What is Low Porosity Hair?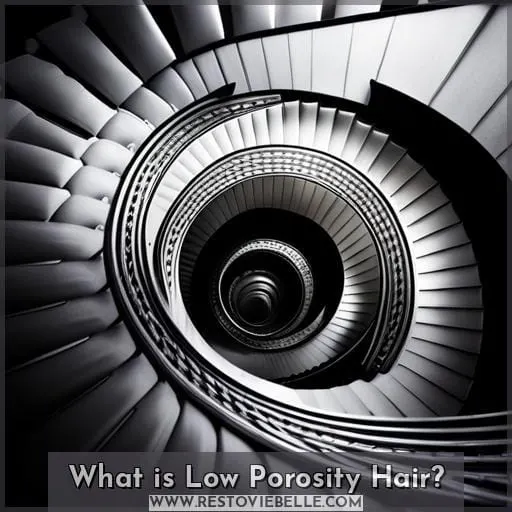 Are you dealing with low porosity hair? Understanding your hair's porosity is essential for proper care. Hair porosity refers to the tightness of the cuticle layer and affects styling, moisture retention, and behavior.
To test for it, try a float test—strands that float in water indicate low-porosity hair, which struggles with dryness and greasiness. Combat this by using humectants and pre-pooing with oils such as sweet almond, jojoba, or grapeseed oil before showering.
The LOC method (Liquid + Oil + Cream) can also be used to maintain moisture balance while avoiding daily oiling to prevent scalp product buildup.
Finally, avoid olive or organic coconut oils on these types of manes since they won't absorb efficiently enough! With the right products tailored to your locks' individual needs, you'll have healthy strands looking their best in no time at all!
How to Choose Oils for Low Porosity Hair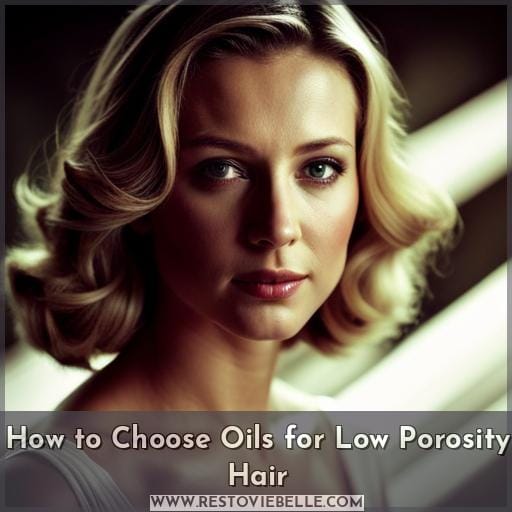 Choosing the right oils for low porosity hair can be a challenging task. Argan oil is rich in vitamins A and E, while jojoba oil is lightweight and hydrating – both excellent options that provide numerous benefits to your locks.
Benefits of argan oil
Argan oil can give your hair a luxurious sheen and help restore its natural vibrancy. Its high concentration of antioxidants, vitamin E, and fatty acids make it an ideal choice for low porosity hair. It helps to reduce frizz and flyaways while adding shine, moisturizing the scalp without making it greasy, promoting healthy growth, nourishing dry ends with vitamins A and D, and protecting against UVA/UVB rays damage from the sun.
Jojoba oil for hydration
Experience the ultra-hydrating power of jojoba oil – it's like quenching your hair with liquid gold! Jojoba oil has a rich content of moisturizing properties, making it an ideal lightweight option for low porosity hair in need of hydration.
Its natural molecules penetrate deep into the strands to lock in moisture and promote healthy growth. Improve your hair care routine today with this luxurious and naturally derived product that will leave you feeling refreshed.
Oils to avoid
It's important to know which oils are not recommended for low porosity hair, so you can keep your locks healthy and hydrated. Avoid Olive Oil, Coconut Oil, Castor Oil, Sunflower Oil, and Pomegranate oil – baobab oil is a better choice.
Sweet almond oil hydrates well while grapeseed is light enough for oily scalps; avocado adds elasticity while sesame seed helps with detangling.
How to Moisturize Low Porosity Hair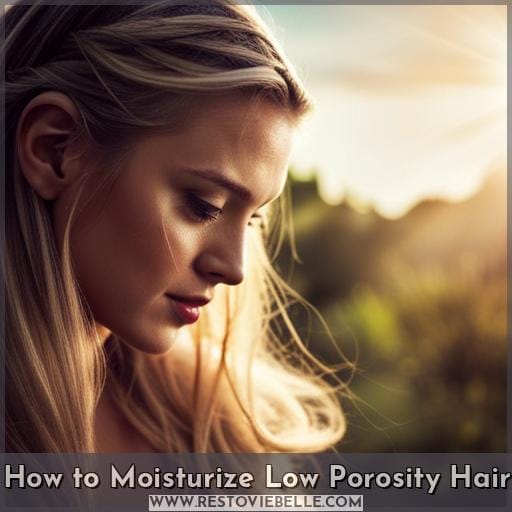 Applying the right oils to your hair can help moisturize and nourish low porosity strands for improved texture, softness, and shine. To achieve this goal, opt for lightweight oils such as jojoba oil or sweet almond oil.
Use deep conditioning treatments like the LOC Method (Liquid + Oil + Cream). Avoid using olive or coconut oil on low porosity hair.
Jojoba oil has fatty acids that provide hydration without leaving a greasy residue, while sweet almond oil penetrates tight cuticles. Deep conditioning helps with product absorption, so consider incorporating it into your routine if you haven't already.
Finally, avoid too much heat styling to ensure healthier-looking tresses over time.
Benefits of Jojoba Oil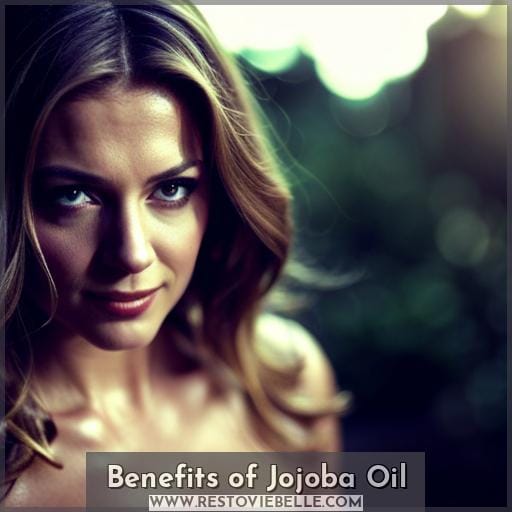 If you are looking for a powerful oil that effectively hydrates your low porosity hair without feeling greasy, then jojoba oil is the perfect choice. This lightweight and non-greasy oil deeply penetrates tight cuticles to provide maximum moisture while helping to promote healthy hair growth.
Jojoba oil also helps control frizz and enhance waves while restoring softness and shine, making it an ideal solution for those with low porosity hair.
Hydrating properties of jojoba oil
You've heard of liquid gold, but nothing compares to the hydrating properties of jojoba oil! Jojoba is a lightweight oil that penetrates deep into the hair's cuticles for maximum hydration. It helps low porosity hair retain moisture and prevents dryness and split ends better than other oils.
Not only does it provide intense hydration, but it also nourishes scalp health with its blend of fatty acids and vitamins A and E.
Lightweight and non-greasy
The lightweight and non-greasy formula of jojoba oil can help hydrate and restore your hair without weighing it down. This makes it a great choice for those with low porosity hair, as many heavier oils like olive or coconut oil can sit on top of the cuticle and cause product buildup.
Jojoba is less likely to leave your locks feeling greasy while still providing moisture retention benefits for healthier-looking strands.
Benefits for low porosity hair
Discovering the benefits of Jojoba Oil for low porosity hair can mean healthier, softer locks with renewed shine. Testing your hair's porosity is key to styling and moisture retention success. Low porosity is characterized by difficulty absorbing leave-in conditioners and relying on heat for product absorption.
Jojoba oil helps combat dryness, greasiness, frizz, and dullness while providing nourishment to promote scalp health without weighing down texture or building up residue.
Benefits of Argan Oil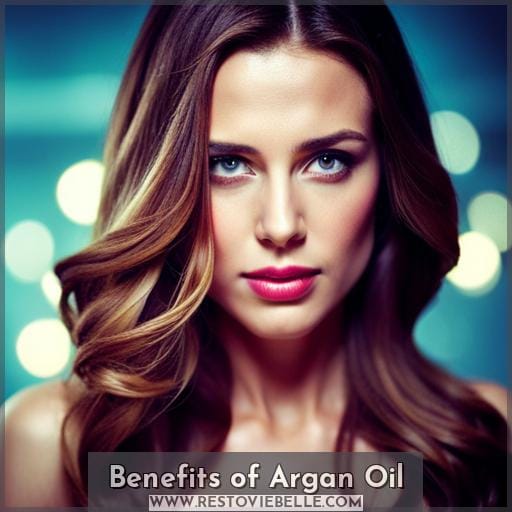 If you're looking for a nourishing, hydrating hair care option that is rich in vitamins, look no further than Argan oil. This natural product boasts numerous benefits to help low porosity hair maintain moisture and stay healthy.
Nourishing properties of argan oil
Organic argan oil is packed with vitamins and fatty acids that provide nourishment to your hair, leaving it soft and hydrated. Jojoba, almond, and avocado oils are key for low porosity hair hydration, while pomegranate oil helps fight dandruff and hair loss.
Hydration benefits for low porosity hair
You'll find that argan oil offers intense hydration for your tight cuticles, helping you combat dryness and greasiness.
From pre-pooing with oils to using the LOC Method of moisturization, there are various ways to keep low porosity hair healthy.
Recommended products include Kate Blanc Jojoba Oil Skin Hair and NOW Avocado Oil Moisturizing, which help reduce hair breakage while promoting scalp health.
US Organic Sesame Seed Oil is great for detangling, whereas Handcraft Blends Grapeseed Oil can be used as a light heat protectant.
Renewalize Certified Organic Baobab oil intensely hydrates to prevent further damage from occurring, while Dessert Beauty Store Argan oil helps stimulate hair growth and retain moisture balance in the strands!
Vitamin-rich haircare option
Reap the nourishing benefits of Argan Oil, a vitamin-rich powerhouse that helps promote healthy hair growth and revitalize your locks. Rich in vitamins A and E, it hydrates lightly with penetrating oils to keep moisture locked in.
Moisturizing benefits include protection from heat damage, while key ingredients like almond oil provide proteins for nourishment.
Benefits of Sweet Almond Oil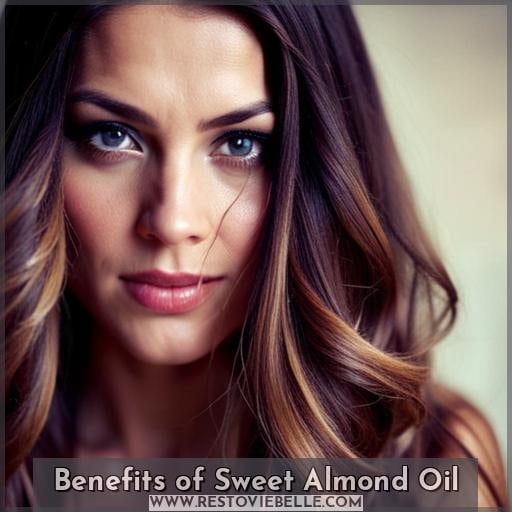 Are you looking for a natural oil to help moisturize and nourish your low porosity hair? Sweet almond oil is an excellent choice due to its penetrating properties, as well as its rich content of vitamins A and E.
Not only does it hydrate the scalp, but it also helps protect from further damage caused by environmental stressors.
Moisturizing properties of almond oil
Discover how the vitamins, proteins, and fatty acids in sweet almond oil can immediately nourish your hair with its superior moisturizing properties. This natural hair care product is light enough to penetrate tight cuticles yet powerful enough to lock in moisture for long-lasting hydration.
Suitable for all types of porosity levels, it helps balance scalp health while adding shine and softness to strands.
Penetrating low porosity
To effectively penetrate low porosity hair, you'll need oils specifically designed to do just that. Argan oil and jojoba oil are rich in vitamins A and E, while sweet almond oil helps open up tight cuticles for product absorption.
Avocado is light yet hydrating with fatty acids, while baobab intensely moisturizes the scalp. Grapeseed provides a protective barrier against heat damage, and sesame seed detangles strands without weighing them down.
Vitamins in sweet almond
Unlock the nourishing power of sweet almond oil, packed with vitamins A and E to keep your hair healthy and hydrated! Its nutrient-rich properties penetrate deep into the scalp, providing essential moisture retention.
Haircare advantages include long-lasting conditioning effects while protecting against damage. The vitamin-rich benefits further help strengthen strands from root to tip for a healthy shine.
Nutrient content provides essential moisture retention
Long-lasting conditioning effects protect against damage
Strengthens strands from root to tip for a healthy shine
Vitamin-rich benefits provide overall hair health
Conclusion
The perfect hair oil for low porosity hair is like a refreshing oasis in the desert. Whether it's the nourishment of argan oil, the hydration of jojoba oil, or the penetrating power of sweet almond oil, having the right oil for your hair can make a world of difference.
Low porosity hair requires special oils to ensure hydration, nourishment, and moisture retention. With the right oil, your hair can look and feel its best. So don't be afraid to explore the benefits of different oils for low porosity hair and find the one that works for you.