This site is supported by our readers. We may earn a commission, at no cost to you, if you purchase through links.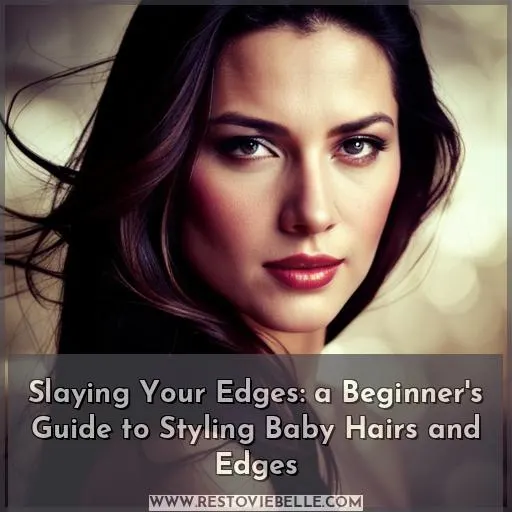 Ah, baby hairs – you either love 'em or leave 'em! Let it be known, when styled correctly those tricksy edges can transform your look from drab to fab.
Truth is, you needn't be a slave to harsh gels and waxes to achieve an iconic laid-look.
The key is starting with hydrated strands and a gentle hand.
A dollop of curl cream, spritz of water and satin scarf are your new BFFs.
Massage cream through edges, spritz damp hair then tie down overnight.
Come morning, unravel your masterpiece: defined yet touchable edges that frame your face like a work of art.
Press on sisters, freedom awaits – rock those edges with pride!
Key Takeaways
Edges or baby hairs are an important part of Black hairstyles and culture, with origins dating back to the 1920s when women would sculpt their short hairs along the hairline into unique shapes.
Contemporary celebrities like Rihanna and Cardi B have helped popularize creative, bold edge styles on social media, inspiring new trends.
Using the right techniques and products like edge control gels and creams is the key to achieving the various edge looks from sleek to spiky.
Protecting the health of your edges by avoiding damage from chemicals, friction from tight hairstyles, and other sources is very important.
What Are Hair Edges?

Baby hairs along your hairline, often called edges, are an integral part of Black hairstyles that allow you to express your style and identity. As a hairstylist, I know the history of edges goes back to the 1920s when stars like Josephine Baker and Baby Esther popularized the look.
Edges came back in style in the 1990s with artists like Chilli rocking sleek baby hairs. Now the natural hair movement has made edges about embracing your beautiful textured hair.
There are so many options for styling your edges, from soft and subtle to bold and sleek. Using the right edge control product can help you achieve any look, from slicked back to curly waves. Your edges are part of what makes your hair uniquely yours. Embrace and maintain them as an extension of your personal style and cultural identity.
Experiment and find what makes you feel most confident and beautiful. Your edges deserve care and creativity.
History of the Baby Hairs Trend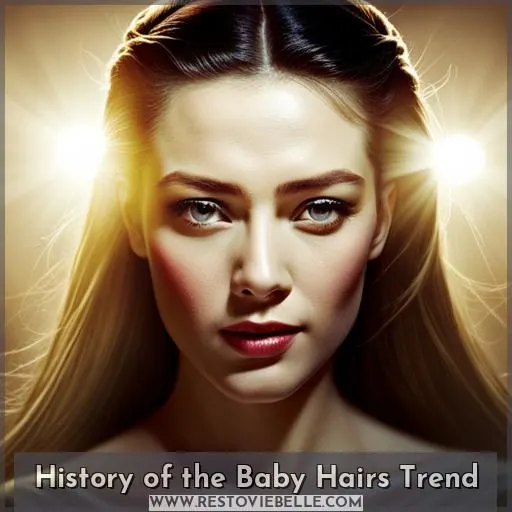 You rocked 'em like Baker in the '20s when that trend took off. The history of styled baby hairs has its roots in the influence of trailblazing performers like Josephine Baker. Her short, sculpted hairline was an iconic part of her flapper style in the 1920s.
In the 1990s, baby hairs edged into pop culture through hip hop and R&B artists like TLC's Chilli, Aaliyah, and Brandy. Their sleek updos and laid edges sparked a resurgence of the trend. Even today, celebrities continue impacting the popularity of styled edges.
1920s – Josephine Baker's iconic flapper style
1990s – Chilli, Aaliyah, Brandy inspire resurgence
Recent years – Lizzo, Saweetie, Doja Cat rock bold edges
Social media drives modern edge styles
The art of slaying your edges has evolved thanks to influential figures putting their creative twist on the baby hairs trend over time. With the right products and techniques, you can style your edges to complement your textures and personal style.
Popular Edge Styles

Gone are the days when laying down your baby hairs meant simply brushing them flat with gel. These days there are tons of edgy yet effortless-looking edge styles to try—from softly rounded shapes to textured, piecey edges that are messy chic.
Soft & Subtle
Girl, keep those edges laid with a soft, subtle look. For an effortless finish that frames your face, lightly brush and sweep your baby hairs using a toothbrush dipped in hair gel or edge control. Seal the look by tying on a silk scarf at night. Soft edges complement natural makeup and are ideal for occasions like brunch or the office.
| Styling Technique | Edge Maintenance |
| --- | --- |
| Lightly brush edges | Use satin scarf at bedtime |
| Finger swoop with gel | Avoid manipulation throughout the day |
| Let dry completely | Use water-based products |
Swirly & Sleek
Get that s-curve poppin' with some swirly, sleek edges that'll make 'em stare. Achieve this trendy style with:
Edge control gel for grip
A precise angled edge brush
Lots of practice on your swoops
Rocking swirly & sleek edges shows off your skills. With the right products and tools, you can finesse your hairline into a work of art.
Messy Chic
Instead of perfectly laid edges, go for an undone messy chic look by letting those baby hairs fly free around your forehead and temples.
Messy Chic Styling Techniques
Recommended Products
Lightly brush edges
Edge booster serum
Twist strands
Finger coil
Scrunch
The messy chic look allows you to embrace your natural textures. Let those flyaways and frizzy strands shine by avoiding too much styling product. With some simple twists, coils, and scrunching, you can achieve a relaxed, just-rolled-out-of-bed look.
An edge booster serum helps define and control baby hairs around the hairline for a polished finish.
Water Waves
Allure your eyes with undulating ocean currents along your temple, creating a vision of effortless beauty with water wave edges. Achieve this look by using a toothbrush and edge control to sculpt S-shaped waves.
Focus the waves along the hairline, tapering them off towards your crown. This style evokes tranquility, reminiscent of seafoam kissing the shore.
Best Products for Edges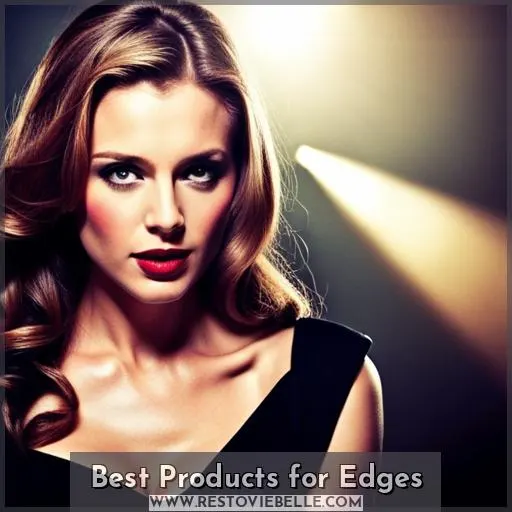 Hey girl, it's all about finding the perfect edge control and hair gel to help you slay those sleek baby hairs and edges. From moisturizing formulas packed with oils to maximum hold gels that won't flake, we've got the inside information on products that will keep your edges neatly styled and frizz-free without leaving any greasy buildup or residue.
Finding the right edge control and gel for your hair type and style preferences is key for flawless, polished edges that last. Look for water-based gels for sleekness without crunch, while thick creams infused with nourishing oils can help hydrate and tame flyaways.
Silicones are great for humidity resistance. And waxes or butters provide touchable softness.
When applying your chosen edge control, start with a thin layer, gently smoothing back baby hairs and flyaways in the direction you want them styled. Let it dry before going in with another coat if more hold is needed. For extra polish, use a small fine tooth comb or old toothbrush to perfect those swoops.
The result should be soft, defined edges that look natural – not crunchy or flaky.
With the right tips and products, you can rock flawless edges that withstand busy days. Experiment to find your holy grail gels and creams for slaying neat, frizz-free styles – day or night.
Edge Control
Try Carol's Daughter edge control smoother for lightweight, moisturizing hold on flyaways. Define those baby hairs and edges with precision styling. Dab the non-greasy formula along your hairline for a flawless finish.
The aloe and shea nourish without heaviness. Get the perfect slick-back or polished updo. Twist outs and braids stay neat and frizz-free. Give movement to the front pieces framing your face. With innovative edge control products, you can highlight your beautiful natural texture and achieve any look.
Embrace your hair's uniqueness. Experiment, get creative and have fun with your strands.
Hair Gel
You'll be blown away by how EcoCo's olive oil hair gel defines those edges! Sleek baby hairs frame the face, adding personality to your signature style. This nourishing, alcohol-free formula controls frizz and flyaways for a polished look.
The pure olive oil conditions without buildup. It's loved by all hair textures and types.
For versatile styling power, EcoCo outperforms many top brands. Reviewers praise the soft hold and shine.
This handy gel simplifies your routine. Just apply to damp edges, allow to dry, et voila! Shapely edges that dazzle.
To define your edges beautifully, reach for EcoCo Olive Oil Hair Gel.
Styling Tools for Edges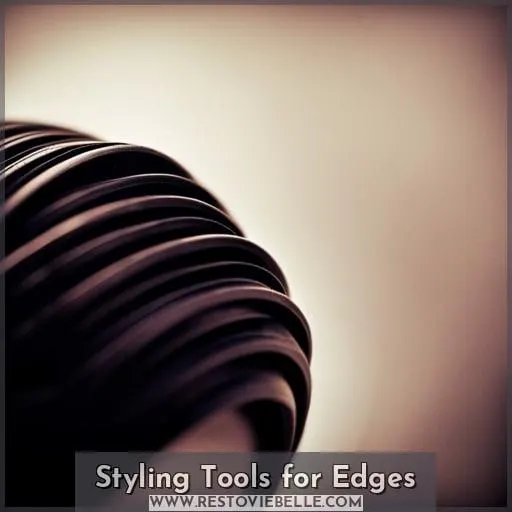 Grab your toothbrush to sweep your edges into perfection. Whether you're aiming for sleek, swirly, or messy chic edges, the right tools are key. An edge brush with stiff bristles helps define and direct edges into place. Use the edge of the brush to sculpt precision parts.
For looser, undone looks, a toothbrush excels at dispersing edges into an artfully mussed style. The key is using a gentle zigzag motion to dishevel strands while avoiding breakage. When paired with a quality edge control like Eco Styler or Carol's Daughter's, you'll achieve longevity between washes.
Explore the freedom of self-expression through your edges. Reflect your mood, cultural pride, or favorite era through your edges' shape and accessories. Tend to your edges daily to maintain their integrity. Life's stresses can cause hairs to thin, so be patient and nurture their regrowth.
Your edges are the finishing touch that completes your look, framing your beauty. Shape and define them consciously, with the care of an artist perfecting her masterpiece.
Impact of the Edges Trend

Look out, the edges trend has blown up social media, reshaping hair culture and identity along the way. You've likely seen the sleek baby hairs and flawless edges on your Insta feed, masterfully styled by influencers and celebrities alike.
This trend celebrates the diversity of hair textures, especially in Black culture.
With the right products and tools, you too can slay your edges. Use edge control gels and pomades for definition and hold. Finesse flyaways with a toothbrush or edge brush. Draw inspiration from natural hair icons like Tracee Ellis Ross, Yara Shahidi, and Cardi B.
Ultimately, this trend is about more than just hair. It represents generations of women embracing their authentic selves. The freedom to show off their edges comes after years of trauma and discrimination.
So go ahead, get creative! Honor your roots and culture through your hairstyling.
How to Do Your Edges

Smooth 'em, swoop 'em, or spray 'em – get creative stylin' your edges! Whether you want sleek, defined edges or loose, messy hair, the right technique and products create flawless results.
Exfoliate first with a gentle scrub to remove dirt, oil, and product buildup so edge control glides on smoothly.
Work in sections for precision. Use a toothbrush or edge brush to coat strands.
Less is more – go light on product to avoid flaking. A little goes a long way.
Don't overwork it – finger coil and shape edges gently into place.
Set it to lock in your look. Try a scarf or headwrap for 5-10 minutes after styling.
Edge control helps you keep flyaways in check for a polished finish. Play with baby hair shapes and textures. Draw inspiration from Yara Shahidi's swirly strands or Zendaya's undone waves. Most importantly, embrace your edges as a form of self-expression.
Caring for Edges

Preserve your edges by staying clear of harsh chemicals and tight hairstyles. Gently style and define your edges with the right products and techniques to keep their health and beauty. Use a light-hold edge control like Carol's Daughter to smooth flyaways. Only secure edges when absolutely needed, and avoid pulling too tight.
Massage in growth-promoting oils like argan, castor, and olive oils. Stimulate blood flow with gentle fingertip massages using circular motions. Wrap edges at night and always use a satin pillowcase. Stay hydrated, eat nutrient-rich foods, reduce stress, and get enough sleep.
Edges need nourishment and care inside and out. When you make edge health a priority, your tresses will thrive.
| Product | Key Ingredients | Benefits |
| --- | --- | --- |
| Carol's Daughter Curly Wavy Natural Hair Edge Control Smoother | Aloe, Shea Butter, Sweet Almond Oil | Light hold, hydration, shine |
| Creme of Nature Argan Oil Perfect Edges | Argan Oil | Smooths flyaways, nourishes |
| EcoCo Olive Oil Hair Gel | 100% Pure Olive Oil | Weightless moisture, control |
Handle your edges with care. Make smart styling choices, pamper them often, and keep harmful elements away. Happy, healthy edges impart confidence and beauty. Embrace your edges as they are – your natural crown.
Conclusion
Girl, you better slay those edges! Whether you're going for a soft and subtle look or want to make a bold statement with swirly and sleek edges, the right products are key. Don't forget to grab an edge control brush and some hair gel to slick down flyaways and define those baby hairs.
Let your edges tell the world who you are – keep 'em laid or make 'em slay! Remember, your hair edges are a part of your crown, so take good care of them.