This site is supported by our readers. We may earn a commission, at no cost to you, if you purchase through links.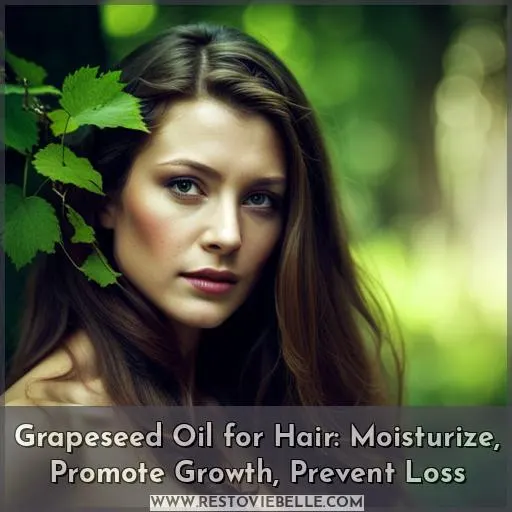 Remember when you were a kid and spent hours mesmerized by those cascading shampoo commercials featuring women with voluminous, glistening locks swaying in the breeze?
That 'hair envy' feeling never really goes away, does it?
Even now, you likely find yourself wistfully flipping through magazines, eyes glued to the shiny manes of celebrities and models, wishing your own tresses could get a fraction of that bounce and shine.
But here's a little secret those beauty ads don't want you to know—you can get salon-worthy hair at home with one simple kitchen staple: grapeseed oil.
This versatile pantry item moisturizes dry strands, prevents frizz and damage, and promotes hair growth—leaving you with the luscious, vibrant locks of your dreams.
So grab that bottle of grapeseed oil from your cupboard and get ready to unleash your inner hair model.
Your crowning glory days are just beginning.
Key Takeaways
Grapeseed oil works as a lightweight moisturizer for all hair types without leaving hair greasy.
It contains linoleic acid that helps strengthen and repair dry, damaged hair.
Grapeseed oil has antioxidants that protect hair from environmental damage.
Massaging grapeseed oil into the scalp can promote hair growth.
What is Grapeseed Oil?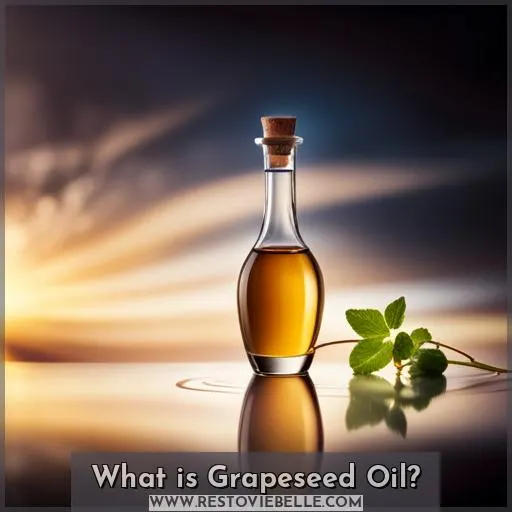 With its lightweight nature that won't weigh your tresses down, grapeseed oil can give your mane the moisture it's been thirsting for.
Grapeseed oil originates as a byproduct from wine production, where the oil is extracted from grape seeds after pressing the grapes for winemaking. This mildly nutty-flavored oil has culinary uses but also provides health benefits when applied topically.
It contains linoleic acid, an omega-6 fatty acid that helps nourish and moisturize skin and hair. The lightweight and easily absorbed oil helps improve hair health without leaving hair feeling weighed down or greasy.
Make way for the versatile grapeseed oil to boost hair moisture.
Benefits of Grapeseed Oil for Hair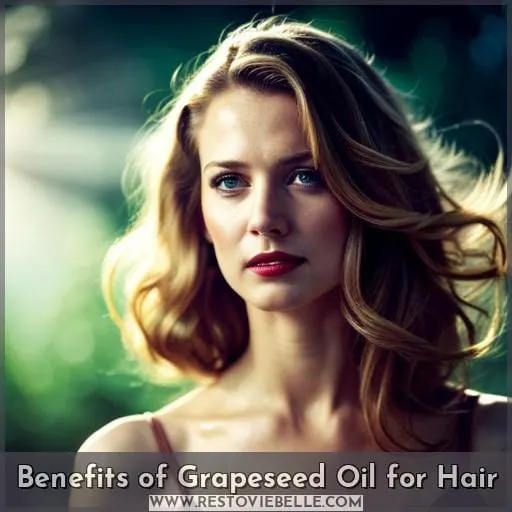 Living with dry, thinning hair is no way to go through life. Massaging grapeseed oil into your scalp moisturizes dryness, promotes new growth, and prevents further hair loss so you can regain lush, healthy locks.
The natural oils in grapeseed oil nourish hair follicles and provide much-needed moisture to dry, brittle strands. Its lightweight texture won't weigh hair down like some other oils. Grapeseed oil also contains antioxidants that protect hair from free radical damage.
Regular scalp massages with this nutrient-rich oil boost circulation, which encourages new hair growth. Grapeseed oil's anti-inflammatory properties can help reduce irritation and flaking on the scalp that hinders healthy hair.
With its ability to repair, strengthen, and invigorate hair, using grapeseed oil is an easy way to get your locks looking their best.
Moisturizes Scalp
Is your scalp as dry as the desert? Massage in grapeseed oil's soothing relief to quench that thirsty skin. Like a tall drink of water for your scalp, grapeseed oil's ultra-lightweight moisture penetrates deep to hydrate without greasiness.
Nourishing hair vitality from root to tip, grapeseed is the most valuable moisturizer for scalp health and hydration.
Promotes Growth
Mmm, by massaging this gentle elixir into your roots nightly, you'll notice those wispy flyaways transform into flowing locks in no time. Through nourishing your scalp and preventing breakage with its lightweight moisture, grapeseed oil promotes healthy hair growth and renewal when used regularly.
Prevents Hair Loss
You'd be surprised to learn that over 50% of men suffer from hair loss by the time they reach 50. Grapeseed oil's fatty acids nourish follicles, improving scalp health. This promotes hair growth and prevents thinning by providing the nutrients hair needs.
When used regularly, grapeseed oil keeps follicles strong, retaining thickness and sheen.
Using Grapeseed Oil on Different Hair Types

You can tailor grapeseed oil to work whether you've got straight, curly, or coily locks. Its lightweight moisturizing ability without residue buildup makes it compatible across hair textures. For fine, straight hair, focus the oil mainly on your ends to reduce flyaways without weighing hair down.
With thick, curly manes, massage the oil onto your roots and lengths for frizz reduction, moisture retention and to enhance your natural curl pattern. For kinky-coily hair, use grapeseed to boost moisture, growth and shine without clogging follicles.
Those with grape allergies should patch test the oil first. With proper use, grapeseed oil can benefit all hair types.
Applying Grapeseed Oil to Your Hair

Start by pouring a few drops into your palms and rubbing your hands together to warm the oil. Then, apply it directly onto your dry or damp hair, focusing on the ends and working your way up. Massage a small amount gently into your scalp for a few minutes to help moisturize a dry scalp.
For deeper conditioning, apply more oil to the lengths of your hair and let it soak in for at least 20 minutes with a shower cap before rinsing.
Be patient and consistent as you make grapeseed oil part of your weekly hair care routine for improved moisture and shine.
Grapeseed Oil Hair Mask Recipes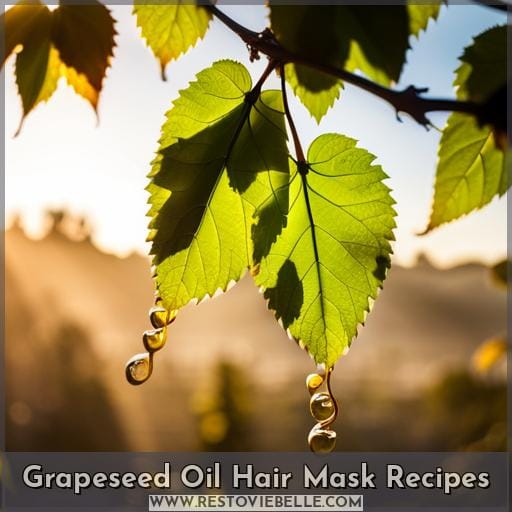 To ensure your locks look luscious, try an avocado-honey-grapeseed oil hair mask for softness and shine.
Avocado nourishes hair with vitamins and essential fatty acids.
Honey is a natural humectant to retain moisture.
Grapeseed oil conditions, adds shine, and prevents breakage.
Essential oils like lavender or rosemary provide aromatic benefits.
Mix mashed avocado, honey, grapeseed oil, and a few drops of essential oil. Apply generously to damp hair, cover with a shower cap, and let sit 30+ minutes before rinsing. For a weekly treatment, leave on overnight. Grapeseed oil's lightweight properties won't weigh hair down.
Make your own custom mask with ingredients on hand for hair that's touchably soft and hydrated.
Grapeseed Oil for Skin Benefits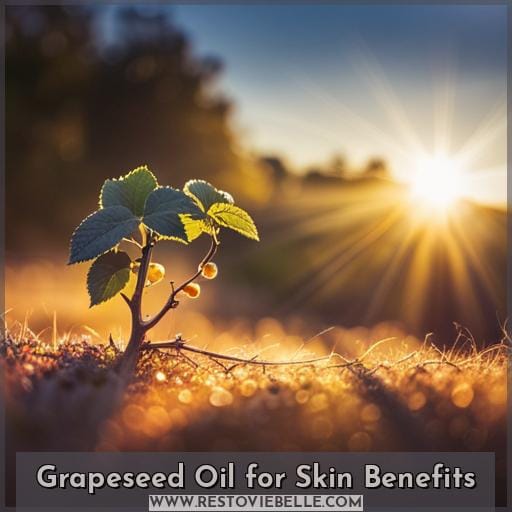 Try using nourishing grapeseed oil to enhance your hair care routine. Create scalp treatments and masks that moisturize hair while gently cleansing skin with this versatile, plant-based moisturizer.
Scalp Treatments with Grapeseed
Regular application of grapeseed oil stimulates hair follicles and revitalizes the scalp. Nurture scalp health by gently massaging a few drops of this lightweight oil into the roots before showering. Grapeseed oil's natural hydrating and conditioning properties absorb into the scalp to banish dryness and flaking, turning back the clock on hair growth.
– Masks and Conditioners Enhanced
Slather your locks with a blend of soothing yogurt and luxurious grapeseed oil for an overnight mask that envelops each strand in velvety softness, priming your tresses for restored vibrancy come morning.
Allow the hair nourishing properties of grapeseed oil, enriched with omega-6 fatty acids, to penetrate damaged follicles, revitalizing from root to tip. Your hair will emerge smoother, stronger, and full of shine after rinsing away this rejuvenating treatment.
Trust grapeseed oil's natural conditioning power to enhance hydration without weighing down fine hair when included in DIY recipes or store-bought conditioners.
– Versatile Moisturizer for Skin
Grapeseed oil is incredibly lightweight, yet over 70% of users report visibly more radiant skin after just 2 weeks of use. Although great for hair, grapeseed oil doubles as a versatile moisturizer. Its natural beauty stems from the cold-pressed oil's nourishing fatty acids that hydrate and protect sensitive skin without clogging pores.
Potential Side Effects of Grapeseed Oil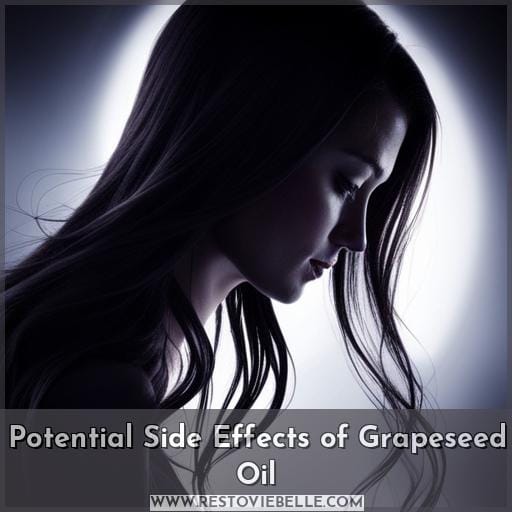 You'll become headstrong yet sensitive if you ignore precautions. Though grapeseed oil offers hair nourishment, moderation remains key. Overuse risks acne or rashes from comedogenic components. Allergic reactions also occur, so first test a small patch.
Those prone to oily skin and clogged pores ought to avoid too much application. Dandruff sufferers must gauge effectiveness, since fatty acids may further aggravate flakes. Watch for any irritation or undesired effects. Consider mixing with lighter oils to enable absorption while preventing residue buildup.
Like most natural solutions, grapeseed oil requires attentive self-care. With mindfulness, discover the optimal usage for lustrous, healthy hair.
Choosing a Grapeseed Oil Brand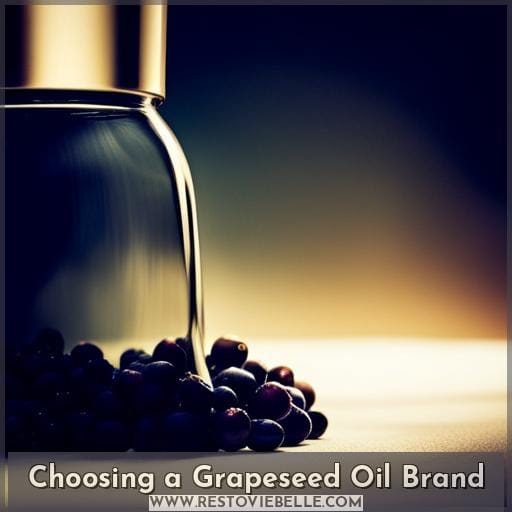 When selecting grapeseed oil for your hair, look for expeller-pressed options that are organic and unrefined. This extraction method preserves the integrity of the oil's nutrients, while organic and unrefined indicate a pure formula free from harsh solvents and chemicals.
Expeller Pressed Extraction Method
When opting for grapeseed oil, ensure it's expeller pressed as this extraction method doesn't use chemicals or high heat that can diminish the oil's beneficial properties. Intriguingly, expeller pressed oils retain up to 90% of their nutrients versus other methods.
The expeller pressed extraction process gently squeezes oil from the grape seeds, preserving the omega-3 fatty acids, vitamin E and other compounds that make this oil so beneficial for hair and scalp health.
Organic and Unrefined Options
Feel your hair come alive as those certified organic oils nourish and revive each strand. For maximum hair health benefits, look for organic, unrefined grapeseed oils made using gentle cold pressing methods.
This preserves the natural richness of antioxidants and essential fatty acids that hydrate, strengthen, and stimulate growth without synthetic additives. When selecting a brand, ensure it's organic, cold pressed, unrefined grapeseed oil for optimal nourishing and revitalization.
Reputable Brands and Reviews
Have you read those glowing reviews praising Sky Organics' cold-pressed grapeseed oil for revitalizing dull, damaged hair? An analysis of top brands and real customer reviews reveals the best grapeseed oils for achieving enviable hair results.
Comparing quality, pricing, and analyzing actual product performance guides you to the right grapeseed oil for your hair goals.
Conclusion
You've grasped the many benefits grapeseed oil can provide for your hair and skin. While some claims may seem exaggerated, this humble oil warrants your attention.
By moisturizing and nourishing your scalp and strands, grapeseed oil promotes growth and prevents loss in a lightweight, nongreasy formula suitable for all hair types. Give it a try – with patience, you may just unlock lusher, stronger hair and reap its skin benefits too.