This site is supported by our readers. We may earn a commission, at no cost to you, if you purchase through links.
Ever felt your mane was lacking something? Let's talk dry conditioner. It can transform frizzy, dull locks into sleek and glossy tresses quickly!
When it comes to the battle of dry shampoo vs dry conditioner, what's best for you depends on the state of your hair. Dry shampoos absorb excess oil in between washes, while a waterless conditioning product softens hair and reduces frizz – giving you that salon-styled look from home.
Learn about how to use these products effectively, plus get tips on which are top rated by stylists so you can find one that works for your unique needs!
Key Takeaways
Dry shampoo absorbs excess oil, while dry conditioner softens hair and reduces frizz.
Dry conditioner adds moisture and maintains blowout styles, while dry shampoo is for freshening up hair.
Dry conditioner contains natural oils and conditioning ingredients, while dry shampoo is designed to absorb oil.
Recommended brands for dry conditioner include Amika, Drybar, and R+Co.
What is Dry Conditioner?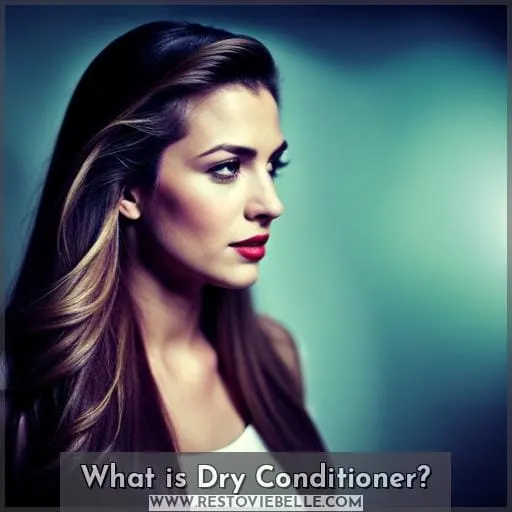 You can give your hair a quick boost and reduce flyaways with dry conditioner, which contains natural oils and conditioning ingredients to provide a silky smooth finish.
Dry conditioner is ideal for fine or medium hair types but benefits all styles. It works by adding moisture while maintaining the style of blowouts, taming frizz and static buildup without leaving residue behind like dry shampoo does.
The ingredients in dry conditioners are usually silicone-based or oil-based. They also help keep Brazilian or keratin treatments intact while protecting against heat damage from styling tools.
For curly hair types, using a lightweight product will help define curls without weighing them down unnecessarily – plus it's safe to use regularly!
With regular application of both dry shampoo and conditioner, you'll be able to extend the life of your hairstyle as well as maintain hydration levels for healthy-looking locks that have brilliant shine.
How Does Dry Conditioner Work?

Rather than masking grease, dry conditioner works by infusing your hair with a combination of oils and conditioning ingredients to restore hydration and sleekness. It provides relief from static, detangles unruly locks, and helps protect against heat damage while maintaining the style you desire.
Dry conditioner benefits include:
Hydrating without making hair greasy
Softening frizz for a smoother finish
Extending time between washes
Providing a glossy shine that lasts all day
It is easy to apply – simply spray 6-8 inches away from your head in mid-lengths to ends for an even distribution.
A must-have product if you want waterless convenience in streamlining your haircare routine while enjoying silky softness and gorgeous sheen throughout the day!
Benefits of Using Dry Conditioner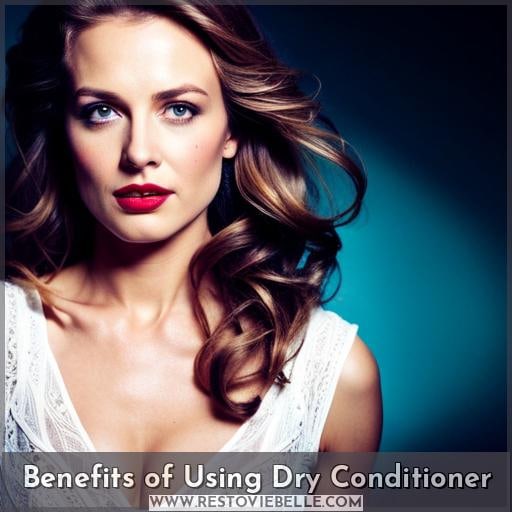 Experience the taming of frizz and flyaways, along with glossy shine and a silky smooth finish when you use dry conditioner. Not only does this product hydrate hair without making it greasy, but it also helps to reduce the need for heat styling.
Perfect for those who want to preserve their style while still experiencing softness and shine! Dry conditioners are a great way to ensure that your look stays fresh between washes. Compared with other products such as dry shampoo or leave-in conditioner, they provide many unique benefits.
Dry conditioners reduce static buildup in your hair, provide long-lasting anti-frizz effects, and detangle strands quickly and easily – all without leaving behind any residue or weighing down your locks! When looking for a good quality product, there are several options available.
Amika Silken Up Dry Conditioner is one of the top choices among experts. Drybar Detox Dry Conditioner has a pleasant scent.
With these amazing benefits combined together into one easy spray bottle product – what's not to love?
How to Use Dry Conditioner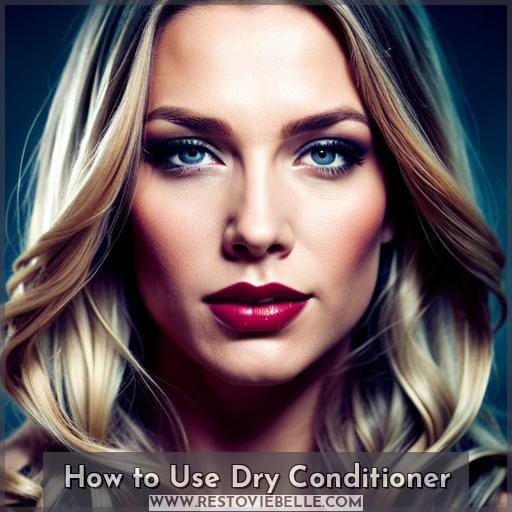 To enjoy the benefits of dry conditioner, spray it 6-8 inches away from your hair and muss gently for an even distribution; this will help smooth out frizz and add shine!
To use dry conditioner properly:
Shake the can before applying to mix ingredients.
Apply directly onto mid-lengths to ends, avoiding roots where buildup can occur.
Gently muss for even distribution throughout your hair.
Avoid using on freshly washed or greasy hair; instead, opt for a regular shampoo & conditioner routine alongside a good quality dry shampoo if needed in between washes.
Consider investing in one of the many recommended brands available like Amika Silken Up Dry Conditioner, Drybar Detox Dry Conditioners, or R+Co Rainless Cleansing Conditioners – all designed specifically with haircare needs at heart!
With careful application, you'll be able to reduce static build-up, tame flyaways, and restore moisture without sacrificing style – perfect for busy lifestyles that don't have time (or energy) to spare every day washing their tresses!
When to Use Dry Conditioner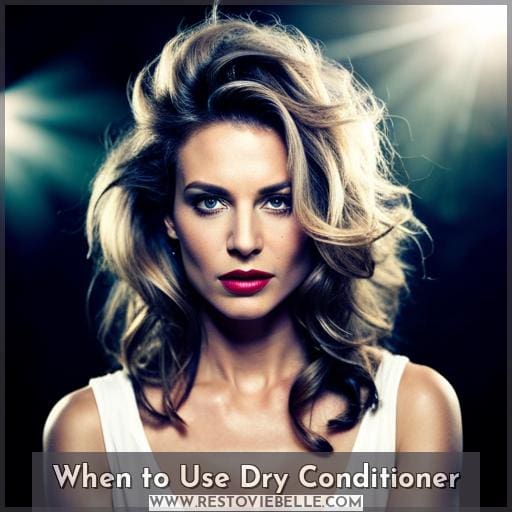 Unlock the potential of your hair with dry conditioner – add shine, smoothness, and hydration without leaving a greasy residue. Dry conditioner is perfect for all hair types – curly, fine, or extensions. It's great post-workout to restore moisture and control static in your locks while keeping them looking fresh throughout the day.
Not only that, but it also helps fight frizz from humidity and nourishes split ends! Use it after shampooing or when you need an extra boost of hydration on second-day hair for ultimate softness.
Keep in mind that excessive use can lead to product buildup, so make sure not to overuse it as part of your regular hair care routine! Frizz control has never been easier; give dry conditioner a try today!
Dry Conditioner Vs. Dry Shampoo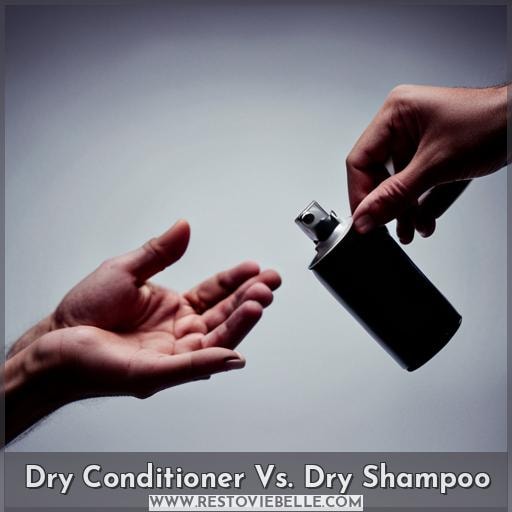 You could think of dry shampoo and dry conditioner as the yin and yang of hair care: while one adds a little grease, the other takes it away. Dry shampoos are perfect for quickly absorbing excess oil at the roots to give you some extra days between washes.
On the other hand, applying a waterless dry conditioner is great for restoring moisture without making your hair look limp. It helps fight frizz, adds shine, and softens strands – all while providing an instantly smooth finish that won't weigh down even fine or thinning tresses! Plus, using this product after styling will help extend blowouts longer than ever before.
When it comes to ingredients such as silicones found in most formulas nowadays, use with caution since overuse can lead to buildup on strands which can be hard to remove later on.
To sum up: if you want less grease, then opt for dry shampoo. If more hydration and conditioning is what you need, then go ahead and reach out for a high-quality waterless alternative like Amika's Silken Up Dry Conditioner instead!
Top 5 Dry Conditioners on the Market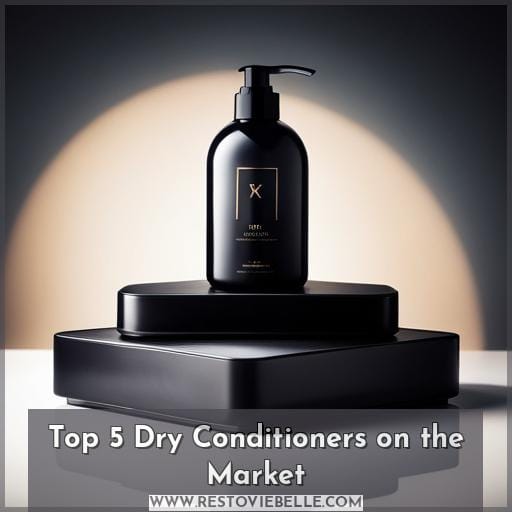 Transform your hair with one of the top 5 dry conditioners on the market, creating a silky smooth finish and lasting hydration. Whether you have curly or straight hair, there's an ideal product for your unique needs.
Amika Silken Up Dry Conditioner offers lightweight frizz control and shine.
Drybar Detox Dry Conditioner reduces static.
R+Co Rainless Dry Cleansing Conditioner is perfect for those who want to avoid heat styling.
Smooth Talker's conditioning oil helps restore moisture without weighing down tresses.
All these products contain ingredients like oils or silicones which help eliminate flyaways and add softness to strands – key benefits of using a dry conditioner!
For curly-haired beauties, look out for products designed specifically with curls in mind that won't leave behind any greasy residue after application.
And don't forget about all the myths surrounding this type of product: it doesn't substitute the regular shampoo/conditioning routine but rather complements it when used sparingly every few washes!
With so many options available, finding an effective dry conditioner has never been easier – get ready to experience nourished and healthy locks like never before!
Smooth Talker Dry Conditioning Oil

Smooth Talker Dry Conditioning Oil by [Brand] is a game-changer for dry hair, giving you the power to turn straw into silk with just one spritz. This product works wonders on all hair types, restoring moisture and providing lasting softness without weighing it down.
Hair experts recommend using this oil in place of regular conditioner or as part of your post-shower styling routine to combat frizz and add shine.
It has silicones that help detangle while adding extra hydration – perfect if you're looking for a fuss-free solution to static and flyaways.
With Smooth Talker Dry Conditioning Oil, ordinary days won't seem so dull anymore with beautiful tresses, no matter what type of texture or length your hair may be!
Can You Use Dry Shampoo and Dry Conditioner at the Same Time?

Combining dry shampoo and conditioner can help you reduce frizz, add shine, and extend the life of your blowout. Using both products together has a number of benefits. It hydrates hair without weighing it down, reduces static buildup, detangles strands, and adds moisture to dry or damaged locks.
Plus, different product combinations work for different types of hair – from fine to thick – so be sure to choose one that's compatible with yours. To avoid overuse leading to product buildup on the scalp or in hair shafts, use them separately instead.
Use dry shampoo on days when you need an extra boost at the roots but don't want wetness added. Use leave-in conditioners every couple of washings for hydration and protection against heat styling damage.
Ultimately, understanding how best to use each type will give your mane better results!
Is Dry Conditioner Bad for Your Hair?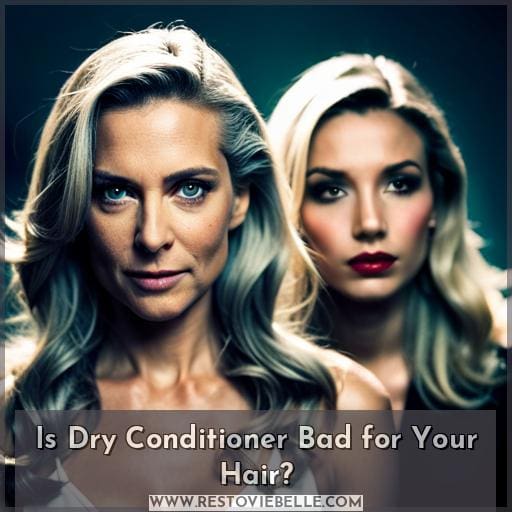 While using dry conditioner can be beneficial for your hair, it's important to understand if excessive use could have adverse effects. So, is dry conditioner bad for your hair? Excessive use of a product containing silicones may result in product buildup on the scalp and strands, which can cause irritation or leave the scalp feeling heavy and greasy.
It's also best not to replace regular shampooing with only using dry shampoo as this strips away natural oils that are essential for healthy hair growth. To prevent overuse of any products, we recommend alternating between regular cleansing routines and occasional touch-ups with a light mist of conditioning spray throughout the day instead.
When applied correctly after shaking up the contents inside first, dry conditioners provide great benefits like reducing frizziness instantly while softening locks without making them look limp or greasy.
Conclusion
In a nutshell, dry shampoo and dry conditioner are two very different products. Dry shampoo is designed to absorb oil and reduce greasiness, while dry conditioner works by adding moisture and eliminating frizz.
The main difference between the two is that dry shampoo should be used on freshly washed hair, and dry conditioner should be used on dry hair.
Dry shampoo is great for extending the life of a blowout, while dry conditioner is the perfect finishing touch for softening and adding shine.
Whether you're looking to extend the life of your blowout or just need to tame some frizz, dry shampoo and dry conditioner are essential for maintaining healthy, beautiful hair.