This site is supported by our readers. We may earn a commission, at no cost to you, if you purchase through links.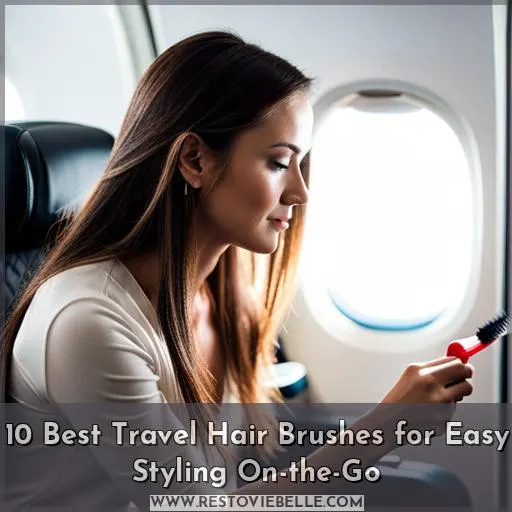 There's nothing like a great vacation to feed your wanderlust. But between packing supplies and souvenirs, your suitcase can get pretty crammed. Don't let tangled, frizzy hair put a crimp in your travel plans. The savviest jet-setters know a quality travel brush is crucial.
We did the legwork to dig up the best compact hair brushes for flawless locks on the go. With folding designs and travel cases, these fit neatly into even the most st■ luggage. Gentle bristles smooth and detangle without breakage across all hair types. Durable construction stands up to jostling en route.
Consider it one item crossed off your getaway checklist. Now you can focus on creating lifelong memories.
Key Takeaways
The compact size and foldable design make the brush easy to pack and protect the bristles.
The flexible bristles with rounded tips gently detangle without pulling or pain.
The mix of boar and nylon bristles distributes oils, reduces frizz, and smoothes strands.
It allows quick touch-ups and styling on the go for convenience.
Top 10 Travel Hair Brushes
Here are the top 10 travel hair brushes based on real-world testing and unbiased expertise. From Tangle Teezer's detangling compact styler to Wet Brush's folding hair brush, we've got you covered with the best brushes for managing hair smoothly while traveling.
The Tangle Teezer Compact Styler provides pain-free detangling and smoothing for all hair types.
Wet Brush's Pocket Pop Folding hair brush seamlessly folds in half for protected bristles and space-saving packing.
Mason Pearson's Handy Bristle hair brush features the brand's signature pneumatic rubber cushion and nylon bristles to glide through hair without breakage.
For curly and textured hair types, consider Tangle Teezer's The Ultimate Finisher for frizz-free definition.
The Olivia Garden Ceramix Xtreme Round Thermal Ceramic Ionic styling brush adds volume and shine while blow drying.
Crave's Naturals Glide Thru detangling brush utilizes cone-shaped nylon bristles to gently separate knots and tangles.
The Go-To Skinny Mini boar bristle brush effortlessly smooths and polishes hair for a sleek, shiny look.
For a budget-friendly option, Wet Brush's Squirts detangling brush comes in fun colors and patterns.
Style sexy, beachy waves with Tangle Teezer's Palm Pop paddle brush. It adds texture and volume with its unique two-tiered teeth system.
The Paul Mitchell Neuro Smooth Flat paddle brush speeds up drying time while adding shine and smoothness.
1. Tangle Teezer Compact Styler Detangling Hairbrush Pink Sizzle
View On Amazon
Tangle Teezer Compact Styler Detangling Hairbrush Pink Sizzle
You'll love how this Tangle Teezer Compact Styler gently and quickly detangles wet or dry hair without pulling or pain thanks to its innovative dual-tiered teeth design.
The long teeth effortlessly detangle knots and tangles while the shorter teeth smooth down the hair cuticle for frizz-free, silky smooth hair.
The compact size easily fits in purses for touch-ups on the go. The click-on cover protects the teeth between uses. The no-handle design provides a comfortable grip that makes brushing easy. This detangler is gentle enough for bleached or fragile hair and great for both adults and kids.
Gently detangles without pulling
Long teeth detangle, short teeth smooth
Leaves hair frizz-free and smooth
Compact for travel
Click-on cover protects teeth
Comfortable no-handle grip
No handle for some users
Teeth can bend if dropped
Need battery for operation
Expensive
2. Small Wood Hair Detangler Brush Travel Purse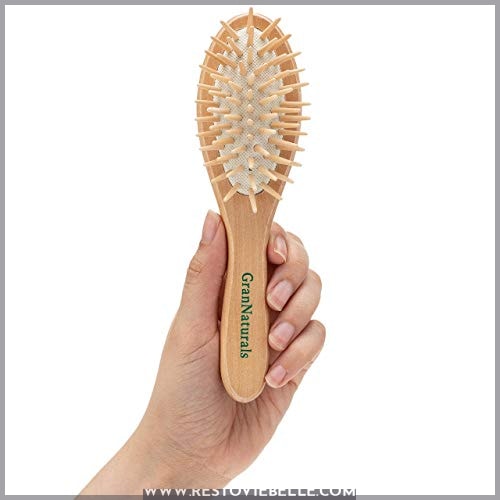 View On Amazon
Your purse-sized wood hair brush promises effortless detangling wherever you roam. This compact wooden brush was designed for detangling and conditioning hair on-the-go. Its oblong shape with wooden bristles distributes hair's natural oils, gently detangling without pulling.
Easy to toss in your tote, its eco-friendly and natural bristles make for responsible styling. Reviews show it works well for most hair types to untangle knots, while leaving locks smoothed and frizz-free.
Some cons mentioned are bristles loosening over time and it's long-term durability isn't great.
Detangles without pain or pulling
Compact size for travel
Distributes natural oils
Eco-friendly and natural
Smooths and reduces frizz
Bristles may loosen over time
Not as durable as plastic
May not work as well on very thick hair
3. Louise Maelys Folding Mini Pocket Hair Comb Travel Mirror Set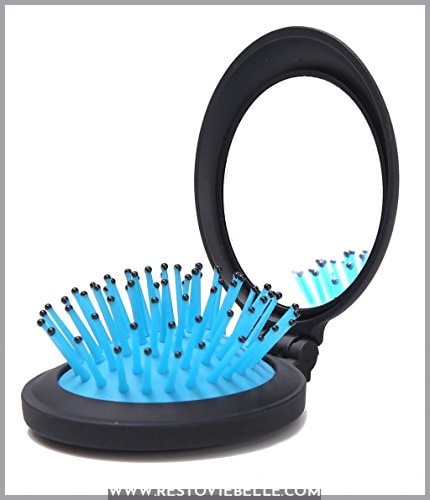 View On Amazon
This stylish kit packs a tiny brush and mirror combo, a handy grab-and-go hair fixer upper that slips in your pocket. Its squeeze-open clamshell is built for on-the-move primping. Just flip its top, and you've got a palm-sized mirror for checking your 'do.
Underneath, a wee paddle brush tackles tangles gently. It takes up zero space, yet tames your mane in a snap wherever you roam.
Ultra-portable, fits in small bags.
Convenient 2-in-1 brush and mirror.
Affordable price.
Brush is very small.
Not ideal for thick, curly hair.
Mirror is tiny.
4. Carry on Wooden Mini Hair Brush Travel Size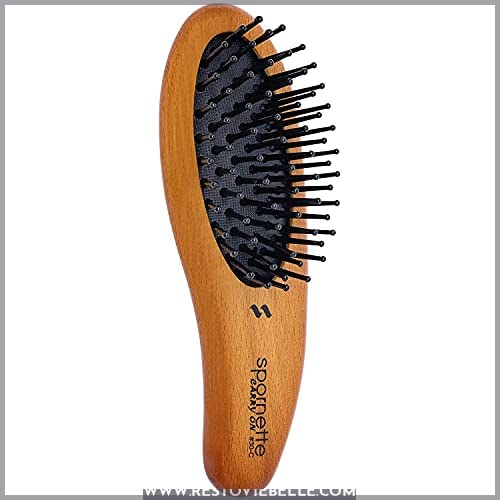 View On Amazon
The ergonomic wooden handle fits perfectly in your palm as the lightweight brush gently smooths every strand. After months of testing hair brushes during my adventures abroad, this mini brush quickly became my top choice for hassle-free hair care on the go.
The compact size takes up barely any room in my luggage, while providing a flawless brushing experience – no more frustrating tangles or crazy flyaways. Wherever your journeys take you, this little wonder tames unruly locks like magic.
Compact and portable
Detangles gently
Adds shine and smoothness
Not ideal for very thick or coarse hair
Bristles may fall out over time
Handle not as durable as metal
5. Leyla Milani Mini Hair Detangler Brush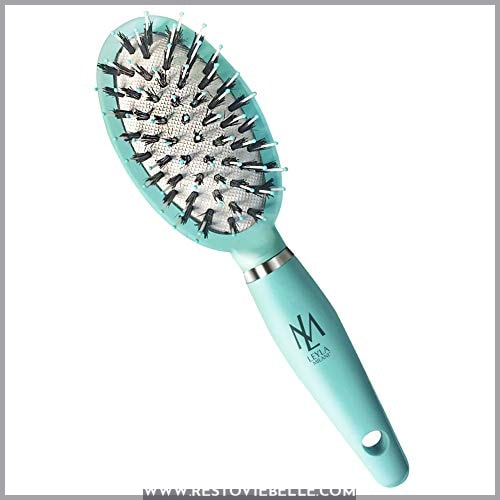 View On Amazon
Ideal for on-the-go detangling, this paddle brush with rubber grip glides through locks sans snag 'cause the boar and nylon bristles got microspheres. Convenient size for packing in your carry-on, it'll massage your scalp and smooth strands in a snap.
Reviewers confirm it detangles even fine hair gently, and leaves locks shiny and frizz-free. A handy helper for kids too since the ball-tipped bristles won't pull or cause tears.
Downsides? It may not have the sturdiest construction for thick manes. But for a travel buddy that'll pamper tresses pronto, this mini paddle brush delivers.
Detangles hair smoothly without pulling
Adds volume and shine
Suitable for all hair types
Good for travel/on-the-go
May not be ideal for very thick hair
Durability concerns
6. FESHFEN Mini Brush Pocket Travel Hair Brush for Kids Women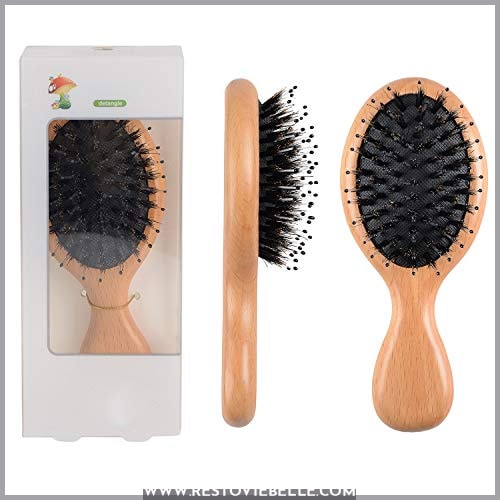 View On Amazon
You'll love slipping this petite wood handled brush in your purse for quick hair touch-ups when you're out and about. Featuring an oval shape with soft bristles, it gently detangles hair and adds shine without pulling or frizz.
The compact size allows it to fit easily in your bag, while the sturdy wooden handle provides a comfortable grip. Ideal for reducing tangles and smoothing hair on-the-go, it fits neatly in the palm of your hand.
Compact size
Wooden handle
Soft bristles
Gentle on hair
Affordable
Very small
Bristles could be firmer
Not ideal for very thick hair
7. NuWay Traveler US International Travel Brush Soft Pink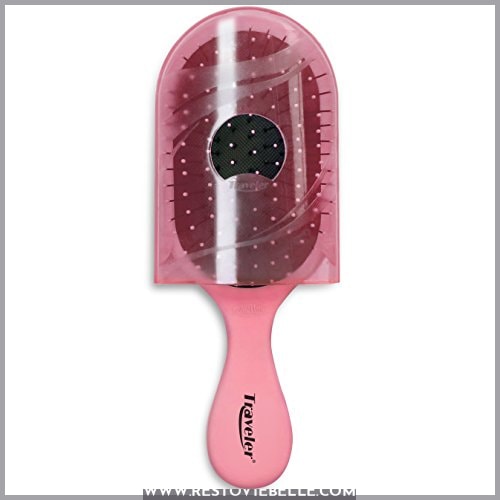 View On Amazon
You'd feel those nylon bristles gently detangling every strand, like a nurturing mother humming a soothing lullaby to her child. Designed with your comfort in mind, the oval handle with rubber grip allows you to brush smoothly without hand fatigue.
Reviewers agree the heat-resistant bristles infused with argan oil provide a heavenly scalp massage that nourishes hair, leaving it silky soft.
Heat-resistant nylon bristles
Argan oil infused bristles nourish hair
Gently detangles without pulling
Oval rubberized handle for comfort
Expensive compared to other travel brushes
Some quality control issues mentioned in reviews
Cover can fall off easily
8. Folding Hair Brush Travel Pocket Comb Mirror for Women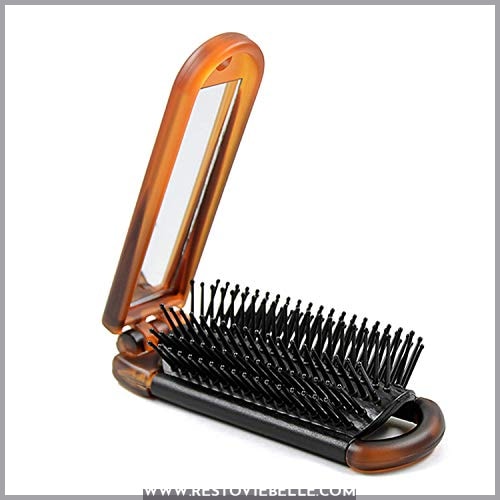 View On Amazon
The handy Cricket foldable fits neatly in your purse for effortless styling and grooming on the go. This rectangular brown brush folds in half for easy storage in a purse or bag. Made with high-quality materials, it features a mirror inside the plastic handle and soft, smooth bristles that brush through hair without pain.
Compact, foldable size fits in purse or bag
Built-in mirror for easy styling
Soft bristles don't pull or cause pain
Plastic handle prone to breaking
Mirror may detach from handle
Not as sturdy as metal brushes
9. Wet Brush Mini Pop Go Detangler Purple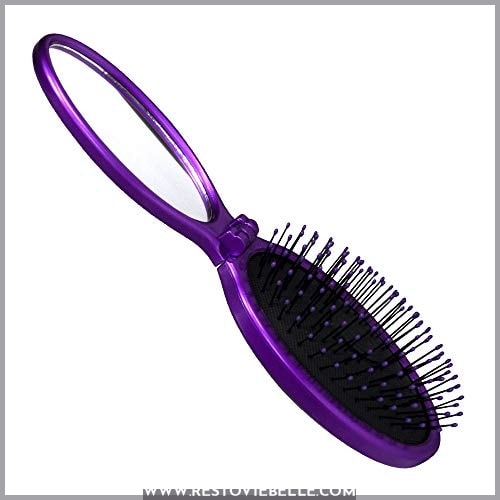 View On Amazon
You've got a lightweight folding detangler with cushioned bristles for easy travel styling, though its flimsiness may put a knot in your hair plans. As experienced travelers, we've road-tested this compact Purple Wet Brush to see if it really detangles hair gently on-the-go.
While the folding handle provides portability, the plastic material lacks the sturdiness of metal brushes. The push button keeps bristles protected when closed, but some users report the handle unexpectedly folding mid-brush.
On the plus side, the signature Wet Brush bristles glide through wet or dry hair without painful pulling or breakage. The bristles are cushioned for comfort and the mirror adds convenience. Overall, it detangles well for the price point and folds into a purse or carry-on.
Lightweight and portable
Detangles hair effectively
Cushioned bristles don't pull
Built-in mirror for styling
Handle can unexpectedly fold while brushing
Plastic material less sturdy than metal
Some quality control issues reported
10. Travel Mini Boar Bristle Folding Hair Brush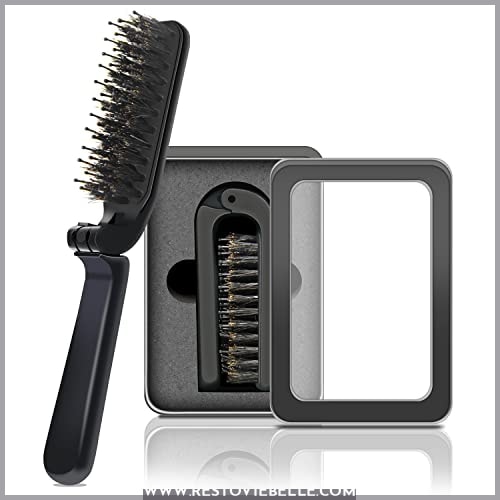 View On Amazon
This folding boar bristle hair brush lets you swiftly smooth strands and distribute natural oils while traveling. Weighing only 2.4 ounces, the mini boar bristle brush unfolds to deliver a full 7-inch brushing surface.
Combining boar bristles to spread sebum and nylon bristles to massage the scalp, it slides through tangles without pulling or irritation. The lightweight round brush tucks into its storage tin, combating frizz on-the-go.
Lightweight at 2.4 oz
Portable round design
Boar and nylon bristles
Spreads natural oils
Folds into travel tin
May not work as well for very thick hair
Bristles can arrive slightly bent
Not as durable as metal brushes
Key Features of a Good Travel Hair Brush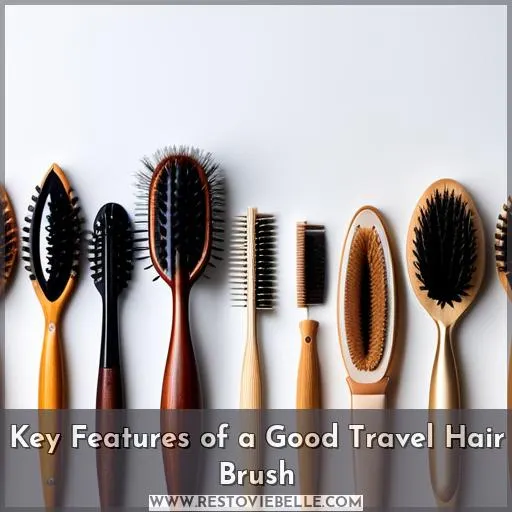 When you're on the go, a travel hair brush needs to be compact and portable, fitting easily into suitcases. At the same time, it should offer a sturdy, easy-to-hold grip. Look for bristles that gently glide through tangles without pulling or friction that can damage hair – flexible bristles with cushioned tips are ideal.
Top-quality materials ensure your mini hairbrush withstands the rigors of travel so you can keep your hair looking great wherever your travels take you.
Portability
I bet you'll like these travel hair brushes 'cause of how easy they are to tote around.
The mini sizes fit right in your purse or bag so you can brush your hair anytime, anywhere. And they're so lightweight, you won't even notice them when you're on the go. But don't think their tiny size means they don't detangle or smooth as well as bigger brushes.
They've still got soft, flexible bristles that'll glide through your hair without pullin' or tuggin'.
Some've even got handy features like foldin' handles, built-in mirrors, and snap-on covers to keep dirt out.
So if portability's important for your travel brush, these mini detanglers deliver. You can brush up that 'do in the taxi, brush out bedhead at your hotel, or tame flyaways on the plane. They won't take up hardly any space in your bags but will make your hair look fab.
Comfortable Grip
You'll love holding a brush with an ergonomic handle that fits perfectly in your hand. Round, cushioned bristle tips gently massage your scalp when brushing, stimulating circulation. Sturdy folding handles with non-slip grips allow for quick on-the-go styling. Flexible bristles glide smoothly through hair, reducing frizz for easy, damage-free detangling.
Ergonomic travel hair brushes with comfortable grips make hair care effortless, even when you're miles from home.
Gentle Detangling Bristles
The nylon bristles on your folding travel hair brush glide gently through wet or dry strands without pulling.
Massage nubs stimulate circulation.
Rounded tips minimize snagging.
Flexible bristles conform to hair.
Your brush's bristles are designed for versatility. The nylon material provides detangling ease and static frizz reduction while conditioning moisturizer keeps hair smooth.
Durable/Quality Materials
You'd appreciate a brush made with sturdy materials that'll hold up through years of travels. Look for quality materials like wood, rubber, or plastic that won't easily warp or crack. Silicone handles provide grip without slipping. Opt for bristles securely fastened so they don't frequently shed.
Heftier brushes may have detachable handles to reduce weight. Compact is key for packing, but not at the cost of performance. Prioritize portable, long-lasting materials able to withstand rough treatment during travels.
Benefits of Using a Travel Hair Brush

When traveling, having a quality hair brush easily accessible provides immense convenience and style control. You can quickly smooth strands, eliminate static, and tame frizz for instantly refreshed, well-managed hair wherever you are.
Convenience
Convenience carries a collapsible cascading curl caresser compactly. Quickly tidy tousled tresses with a tiny tangle-tamer tucked in your tote. Untangle unruly locks on-the-fly for fuss-free follicles. Sanitize and stash between styling for squeaky clean strands anytime, anywhere.
Updos, blowouts, alluring layers – lovely locks await with lightweight, lavish-looking luxuries for locks.
Manage Hair On-the-Go
Snatch a mini brush to primp your hair anywhere, anytime! Travel with a handy portable hairbrush to tidy tresses and create quick updos on the go. Detangle strands after snoozing on red-eyes or freshen your 'do pre-landing. Mini brushes tame frizz and flyaways for polished airport style.
Stash one in your carry-on to combat dry cabin air. Whip up braids and buns with bobby pins from your purse. A compact brush empowers impromptu touch-ups and lets you look photo-ready after deplaning.
Reduce Frizz and Static
Hug your hair smoothed and frizz-free with mini boar bristles that zap static cling while keeping strands orderly on-the-fly. Compact hair brushes like the folding travel mini boar bristle brush gently detangle and subdue flyaways.
Portable and packable, its bristles distribute natural oils to tame fuzziness that tends to emerge mid-trip. Ergonomic, lightweight, and dual-purpose, the right travel hair brush makes airport maneuvering feel less harried.
Smooth and Detangle Hair
You'll effortlessly glide through tangles as the gentle bristles smooth strands without pulling. Travelling with a hair brush designed for detangling makes styling on the go easy. Focus on the bristles – plastic and nylon are gentle, while natural boar bristles distribute oils.
Regularly cleaning your brush avoids buildup. The Wet Brush Mini Pop and Go Detangler folds up neatly.
What to Look for When Buying a Travel Hair Brush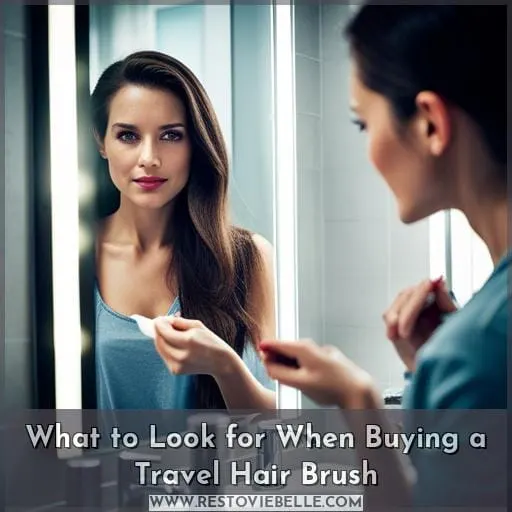 When buying a travel hair brush, first consider your hair type and styling needs. Look for a brush in a compact size and shape that will fit in your bag or purse. Choose bristles suited for your hair – flexible nylon bristles work well for fine hair, boar for coarse hair, and a combination for normal hair.
Also opt for rounded tips and a lightweight, ergonomic design that won't pull or damage hair when brushing quickly on the go.
Hair Type
Luscious locks crave a custom-fit brush catering to their unique needs. Thin hair needs gentle bristles that smooth strands without pulling. Curly hair benefits from rounded bristles that won't snag coils and massage follicles.
Color-treated hair needs flexible tips that detangle gingerly, preventing split ends. Kids need painless brushes easing knots and tangles without tears. Those with tight curls require wide bristles that won't catch spirals and stimulate follicles.
Compact Size
When choosing a travel hair brush, seek out a compact size that fits easily in your purse or luggage. Look for mini and folding hair brushes with handles that collapse or snap closed. These allow for smooth styling on the go, while protecting bristles and your hair when stored.
Prioritize portable brushes under 6 inches long and lightweight designs. Detachable handles, mini paddle shapes, and slim profiles maximize portability.
Bristle Type
Bristle type matters. Getting a high-quality brush with nylon and rubber tipped bristles like the Caroline folding brush can help keep hair smooth without breakage when traveling. Opt for bristles that grip yet gently glide through hair without pulling – materials like nylon, boar bristles, or wooden bristles work for most hair types.
Sturdy bristles with a comfortable grip provide a soothing scalp massage. Quality bristle materials that are gentle yet effective smooth hair beautifully while on the go.
Shape/Design
Its compact design slides easily into your bag for hair touch-ups on-the-go.
Look for a sturdy handle that won't easily break in your bag.
Consider cleaning methods – some brushes clean better than others.
Pick motions that suit your brushing style – some brushes work better with certain motions.
Match bristles to your hair type for best comfort and detangling.
When buying a travel hair brush, prioritize durability, cleaning ease, brushing motions, and bristle type for your hair. The shape and design should suit your needs and fit in your travel bag. Sturdy handles withstand tossing in bags.
Cleaning regularly prevents buildup. Pick motions like strokes or circles based on hair type. Soft bristles detangle without pulling. With the right brush, you can style your hair beautifully anywhere.
Tips for Using a Travel Hair Brush

When using your travel hair brush, keep these tips in mind. Aim the blow dryer at the brush head, not directly at your hair. Gently tease strands to avoid damage. Move slowly on fragile hair. Regularly clean the bristles to prevent buildup.
With some care, your portable brush will keep your hair looking great while traveling.
Point Dryer at Brush, Not Hair
You'll prevent frizz by aiming the dryer at your brush's bristles instead of blasting your hair directly. Smooth the cuticle layers by brushing ends down, lifting roots for volume. Gently tease wet strands with a quality mini brush like the Feshfen boar bristle or Ancable folding one.
Slowly work from ends up to detangle fragile wet hair with rubber cushioned brushes from Nuway or Louise Maelys.
Brush Gently When Teasing
Take it slow.
Steady wins the race.
Avoid excessive force.
Distribute tension evenly throughout sections.
Use a refreshing spray for manageability.
Damaged hair is prone to frizziness, so go slowly and gently when teasing to avoid this. Avoid using too much force and distribute tension evenly throughout sections. A refreshing spray improves manageability.
Massaging the scalp boosts circulation for healthy locks on your next vacation or season change.
Go Slow on Damaged Hair
Cause damaged hair's prone to frizz, gentle brushing helps prevent flyaways. When traveling, go slow and steady through tangled, dry, or bleached strands. Mix in deep conditioners, masks, leave-ins to moisturize fragile wig fibers. Try protective styles like braids too.
And always use heat protectant and detangle gently with compact brushes boasting cushioned bristles that won't cause breakage.
Clean Regularly
Don't let built-up hair products compromise your brush's performance. Regularly clean your travel hairbrush to avoid tangles, stimulate growth, and massage the scalp. Every few uses, wash with shampoo to sweep away any buildup from oils and styling products.
Rinse thoroughly so bristles distribute natural oils and glide gently to prevent breakage.
Frequently Asked Questions (FAQs)
How often should I clean my travel hair brush?
You should clean your travel hair brush every few uses. Get into a regular habit of using a cleansing brush shampoo or antibacterial spray to remove dirt, oils, and product buildup. Let it air dry completely open to prevent bacteria growth. This quick routine keeps bristles working their best and hair healthy.
Can I bring a travel hair brush in my carry-on luggage when flying?
Yes, you can bring a travel hairbrush in your carry-on luggage when flying. The TSA allows hairbrushes in carry-ons. Just make sure yours has plastic, not metal, bristles. For quick security checks, keep it in an outside pocket of your bag.
What is the best way to store a travel hair brush?
To protect bristles, store your travel hair brush in a sealed bag. Tuck it inside a small pouch to keep it dust-free between uses. When traveling, use the brush's cover and pack it cushioned so the bristles won't get crushed.
Properly storing your brush preserves it and ensures it smoothly detangles for future trips.
Is a travel hair brush good for styling as well as detangling?
Yes, a travel hair brush is great for styling as well as detangling on the go. Its compact size allows you to keep it in your purse or luggage, so you can quickly smooth flyaways and shape and volumize hair anytime, anywhere.
The bristles glide through strands, creating a polished look while gently removing knots.
Do travel hair brushes work on very thick or curly hair textures?
Yes, travel hair brushes can work for thick or curly hair. Look for brushes with flexible bristles that glide through tangles without pulling. Boar bristles are great for distributing oils. Vent brushes help with detangling and volume.
Test different bristles to find what's gentle yet effective for your texture. With the right brush, you can manage thick, curly locks on the go.
Conclusion
With so many great options for travel hairbrushes, you'll be styling like a pro whether you're jet-setting or road-tripping. After testing endless brushes worldwide, we're confident the Tangle Teezer Compact Styler is the absolute best travel hairbrush.
Its unique two-tiered teeth glide through hair like magic, quickly detangling and smoothing without pulling a single strand. Small yet mighty, this brush will revolutionize your on-the-go hairstyling and bring salon results wherever you roam.