This site is supported by our readers. We may earn a commission, at no cost to you, if you purchase through links.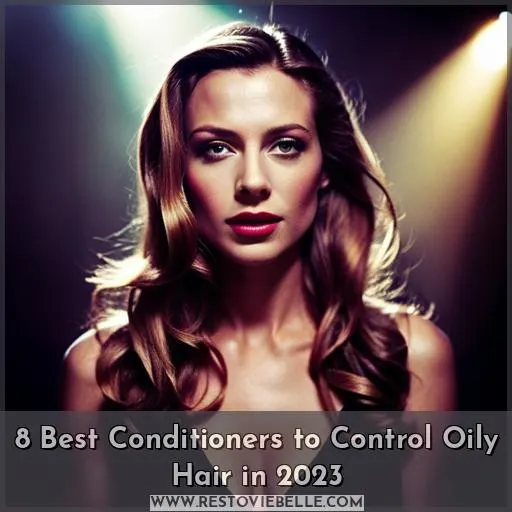 You hear the word oily, and your hand shoots to your hair, anxiously patting down your roots. It's a reflex for those of us cursed with fine, flat locks that turn greasy faster than a New York pizza. But before you break out the dry shampoo again, there is hope! The right conditioner can actually help control oils and boost volume, without weighing your hair down.
Read on for a bailout for oily hair, and reclaim soft, fresh strands that last more than a day.
Key Takeaways
Choose lightweight, oil-balancing conditioners such as L'Oreal Paris Elvive Extraordinary Clay or Sukin Oil Balancing to avoid greasiness.
Focus the conditioner on mid-lengths and ends; avoid direct contact with roots and scalp.
Limit conditioning to 1-2 times per week to prevent over-conditioning of oily hair.
Incorporate oily hair styling products like texturizing sprays to absorb excess oil and add volume.
8 Best Conditioners for Oily Hair
Oily hair can be frustrating to deal with. However, there are effective solutions available. The best conditioners for oily hair will help regulate your scalp's oil production and moisturize the dry ends without leaving hair limp.
L'Oréal Paris Elvive Extraordinary Clay Rebalancing Conditioner, OGX Hydrating Tea Tree Mint Scalp Conditioner, Voluminous Rahua Conditioner for Fine Hair, Fine Hair Volumizing Conditioner with Keratin and Chia Seed, Acure Lemon Tea Tree Daily Clarifying Conditioner Free of Gluten, Maple Holistics Tea Tree Conditioner for Dry, Oily Scalp and Hair, Sukin Oil Balancing Hair Conditioner, and Truss Equilibrium Conditioner for Oily Scalp and Dry Ends can help you achieve healthier, more manageable hair.
1. Loreal Paris Elvive Extraordinary Clay Rebalancing Conditioner
View On Amazon
You'll appreciate how L'Oreal's affordable Clay Rebalancing Conditioner helps purify your roots and hydrate ends for up to 48 hours, making it a solid option for managing excess oil.
The purifying clay soaks up excess oils from the scalp while hydrating ingredients moisturize dry lengths and ends. This daily use, color-safe conditioner provides lightweight moisture between washes for those with oily to combination hair.
Use after shampooing with the complementary Elvive Clay Rebalancing Shampoo.
Affordable price
Purifies oily scalp and roots
Hydrates dry ends
Color-safe
May not provide enough moisture for some
Results vary by hair type
Can be drying if overused
2. OGX Hydrating Tea Tree Mint Scalp Conditioner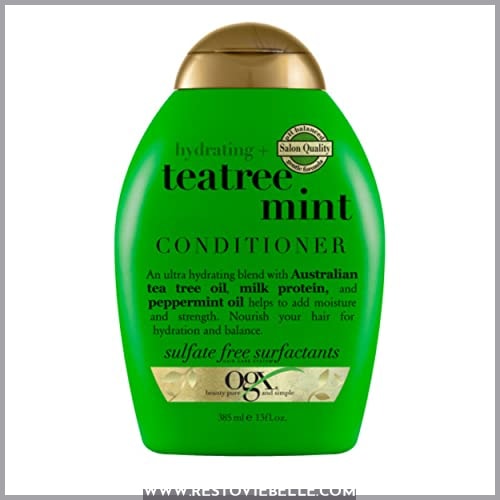 View On Amazon
After the L'Oreal Paris clay conditioner, consider OGX's tea tree mint scalp conditioner to refresh your scalp with hydrating oils and a tingling, cooling sensation. Infused with Australian tea tree oil, milk protein, and invigorating peppermint, this lightweight formula moisturizes hair while leaving a refreshing tingle.
The soothing botanicals help control flaking and irritation for an optimally balanced scalp.
This paraben-free, sulfate-free conditioner suits fine or thin hair needing a boost.
Leaves hair feeling soft and smooth
Provides a refreshing, tingling sensation
Helps control dandruff and irritation
Lightweight formula won't weigh hair down
Pleasant peppermint scent
Scent may be too strong for some
May cause buildup or oiliness for some hair types
Minimal difference noticed by some users
Doesn't provide enough conditioning for thicker hair
3. Voluminous Rahua Conditioner for Fine Hair
View On Amazon
Then spill a rainforest on your mane with the divine Botanical Bounce elixir to add softness of lambs and a sunrise sheen over the Amazon. Infuse your tresses with the Rahua Voluminous Conditioner for Fine Hair's pure Rahua oil, lavender, and eucalyptus extract blend.
Experience lightly conditioning organic hydration which gently cleanses while fortifying fragile strands.
Though the sustainably-sourced, fair trade formula's more dear, it aids rainforest preservation one bottle at a time.
With prolonged use, enjoy increased volume, body, bounce, and balance ideal for co-washing fine locks.
Organic and natural ingredients
Lightweight moisture
Adds volume and shine
Preserves the Amazon
Expensive
Packaging issues
4. Fine Hair Volumizing Conditioner Keratin Chia Seed
View On Amazon
Now nourish fine locks with OUAI's volumizing keratin and chia seed conditioner. Formulated specifically for limp, fine hair prone to oiliness, this hydrating conditioner boosts volume and shine through its trifecta of strengthening biotin, frizz-fighting hydrolyzed keratin, and hair-thickening chia seed oil.
The nourishing blend leaves hair touchably soft without ever appearing greasy or limp. Massage from mid-shafts to ends and experience the fragrant coconut and floral scent as this conditioner nourishes each strand, leaving hair full of movement and silhouette-enhancing body.
Biotin strengthens and thickens
Keratin smooths and protects
Chia oil provides lightweight moisture
Ideal for thin, limp hair
Helps increase volume
Floral coconut fragrance
Expensive
Strong scent bothers some
Difficult bottle design
5. Lemon Tea Tree Conditioner Daily Clarifying Gluten Free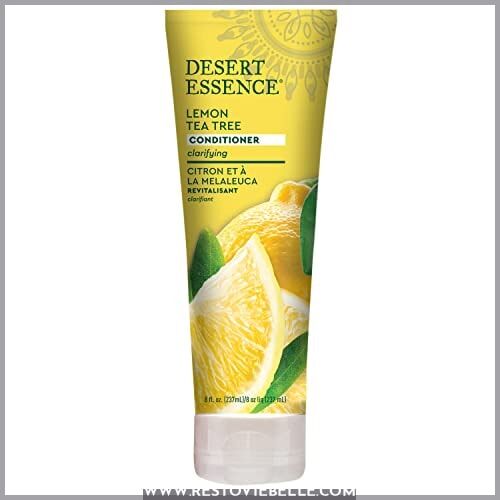 View On Amazon
Harken! This clarifying lemon tea tree conditioner purifies your locks sans stripping their moisture. The purity of Australian tea tree oil imbues antiseptic qualities upon your tresses, banishing bacteria while balancing your scalp's pH.
Aloe vera's succulent succor nourishes both hair and scalp; its emollient moisture quenches thirsty strands.
Lemon peel extract lifts away excess oils and product buildup without compromising natural sebum levels. Certified organic, vegan, and cruelty-free, this concoction cares for your coiffure with conscience.
Balances scalp pH
Reduces oiliness
Lightweight moisture
Clarifying without stripping
Can be drying for some
Light moisture may not suffice
6. Tea Tree Conditioner for Dry Oily Scalp Hair

View On Amazon
You'll love how it soothes your irritated scalp. This tea tree conditioner from Maple Holistics is specially formulated to provide relief for dry, flaky, itchy scalps. It contains tea tree oil, lavender, and rosemary to moisturize hair, soothe irritation, and prevent dandruff.
This sulfate-free and paraben-free conditioner is ideal for damaged, frizzy hair that needs intensive conditioning. Customers report it effectively hydrates dry scalps and reduces flaking after just one use.
Though it may not detangle hair well, it's highly recommended for extremely dry, irritated scalps.
Provides relief for dry, flaky scalps
Reduces dandruff and itchiness
Moisturizes with natural oils
Sulfate-free and paraben-free
May not detangle hair well
Relatively expensive
Can leave hair frizzy
7. Sukin Oil Balancing Hair Conditioner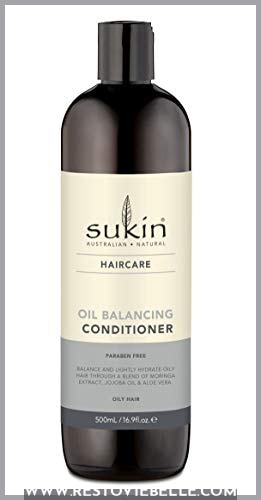 View On Amazon
Nourish an equilibrium between your roots and strands with Sukin's restorative balancing act. The hydrating, cruelty-free formula leverages natural citrus extracts like mandarin, tangerine, and lemon to counteract greasiness while banishing frizz and flyaways.
Though divisively scented, this oversized bottle provides lasting conditioning to smooth and detangle all hair types, minimizing scalp oiliness and restoring hair's health when paired with the Oil Balancing Shampoo.
Hydrates dry ends without weighing hair down
Helps reduce greasiness and frizz
Restores hair health when used with shampoo
Large 16.9 oz bottle provides value
Scent is divisive/unappealing to some
May not fully transform overly oily hair
Can cause static if shampoo strips hair too much
8. Truss Equilibrium Conditioner Oily Scalp Dry Ends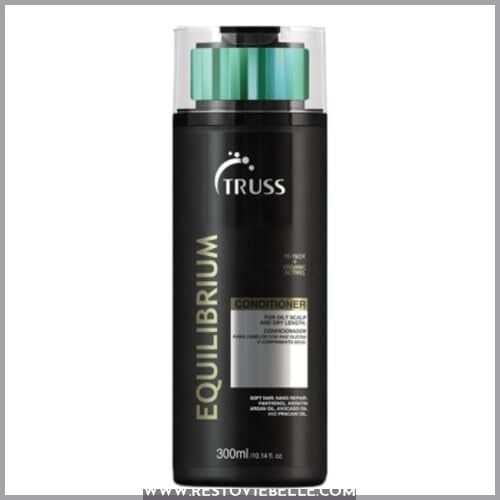 View On Amazon
Discover this Truss Equilibrium Conditioner balancing your roots' slickness yet quenching parched lengths. Specially formulated for oily scalps and dry ends, this pH-balancing formula eliminates excess oil around hairlines while deeply hydrating brittle tips.
Split ends and chemical damage get repair from amino acids and proteins that target worn cuticles. Protection from environmental aggressors comes through sealed, lustrous strands.
Soft, detangled tresses benefit from ingredients that mimic hair's natural moisture balance. While most praise effectiveness reducing oil and improving texture over time, some cite packaging concerns.
Expect a pleasant scent and long-lasting bottle but lightweight hydration. See revived hair without scalp grease after using this soothing serum for all types.
Reduces oiliness around scalp and hairline
Deeply hydrates dry, damaged ends
Repairs split ends and chemical damage
Protects hair from environmental damage
Restores softness and shine
Suitable for all hair types
Packaging complaints
Lightweight hydration
Mixed reviews on scent
Causes of Oily Hair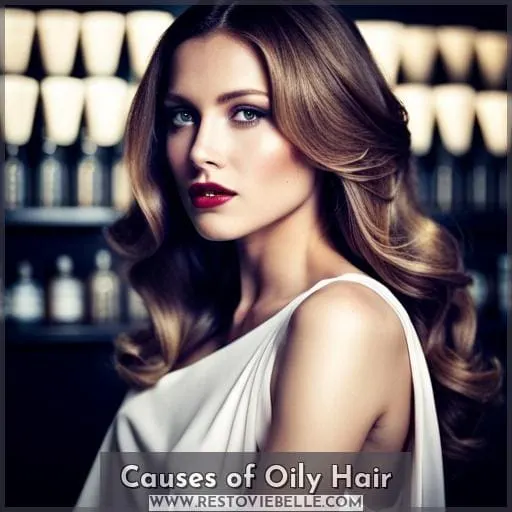 Overproduction of sebum from the scalp's sebaceous glands is the main culprit behind greasy, oily hair. Your body's sebaceous glands produce this natural oil called sebum to lubricate and protect your skin and hair.
When these glands work overtime and produce excess sebum, it leads to oily hair buildup, especially along the scalp and hairline.
Excess androgens, hormonal fluctuations, stress, medications, diet, hair products, and genetics can all contribute to overactive sebaceous glands and increased sebum production.
Finding the right gentle shampoos and lightweight conditioners can help reduce greasiness and excess oils without overstripping your hair. Focus on scalp health and sebum regulation for lasting improvements in oily hair.
Choosing the Right Conditioner for Oily Hair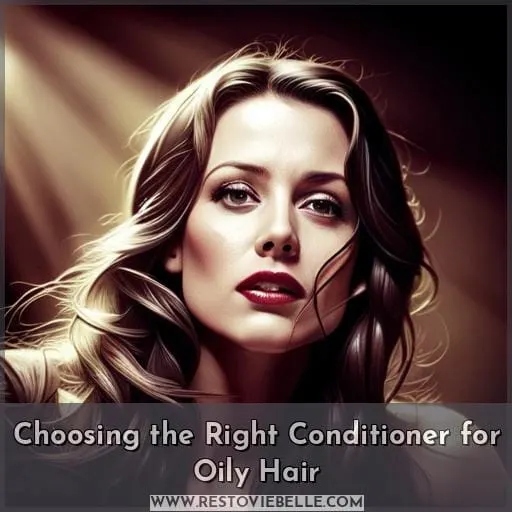 Managing oily hair requires proper conditioner application. You'll want to focus on conditioning only the mid-lengths to ends of your hair, avoiding the roots near your scalp which naturally produce oil.
Conditioner Placement for Greasy Hair
As foreign as it seems, focus the conditioner on your hair's parched tips, not the well-oiled roots, so your mane stays slick, not icky. Oily hair craves balanced care. When managing greasiness, condition only the mid-shaft to ends.
Let shampoo focus on purifying roots while conditioner quenches dry lengths, leaving hair smooth, not slick. Nourish all hair types properly with the right placements. Science-backed products complete the routine.
– Mistakes to Avoid with Conditioners
You'll want to avoid over-conditioning and improper rinsing when using conditioners for your oily hair. Applying an excess of conditioner or leaving it on too long can weigh hair down. Avoid getting conditioner on your roots, as this can make hair appear greasy. Be sure to rinse thoroughly after the recommended time.
Using too much conditioner or the wrong type can have adverse effects. Follow the instructions and avoid common mistakes for proper conditioning of oily hair.
– Top Conditioners for Oil Control
Looking deeper at one conditioner that delivers silky ends while refining the roots, OGX's Hydrating+ Tea Tree Mint Conditioner refreshes and soothes the scalp. Formulated with tea tree oil and peppermint, it provides a tingling, cooling sensation that helps control flaking.
Milk proteins and botanicals hydrate hair without weighing it down, allowing for soft, smooth strands with renewed manageability. The refreshing peppermint scent invigorates the senses. With regular use, OGX leaves hair revitalized and roots balanced – a simple solution for restoring hair's natural beauty.
Common Conditioner Mistakes for Oily Hair

Keep conditioner off your roots and thoroughly rinse it out. When it comes to conditioner, less is often more for oily hair.
Massaging conditioner into your scalp – conditioner is made to moisturize, so keep it on the lengths and ends only.
Using too much conditioner – a dollop the size of a quarter is plenty for shoulder length hair.
Not rinsing thoroughly – conditioner residue left on your strands causes buildup on fine or oily hair.
For the best results, use a lightweight conditioner and focus just on your ends. Limit conditioning to 1-2 times per week. Thoroughly rinse with cool water to lift roots and remove excess oils and product.
Creating an Oily Hair Care Routine

Blasting out the grease-gunk with some rockin' cleansing teaches your 'do's roots that grunge ain't fly, daddy-o! When your scalp's sebaceous glands are overproducing oil, stay cool and give that greasy mop some TLC.
First, lather up with an Oily Scalp Care shampoo containing purifying ingredients like charcoal or tea tree to soak up excess oil without stripping your hair. Follow with a lightweight conditioner focused on your ends to keep them hydrated.
Complete your routine by styling with products designed for Greasy Hair, like texturizing sea salt sprays, to absorb oil and add volume.
Conclusion
Your hair is the crowning glory that frames your face – so take control of oily hair by choosing the right conditioners. Armed with the proper knowledge on causes, placement, mistakes to avoid, and the top conditioners for oily hair, you can transform your greasy strands.
With this deep conditioning guidance for oily hair, you'll find the perfect solutions to nourish dry ends without exacerbating your roots, leaving your tresses touchably soft and shine-free. Now you hold the keys to balance your scalp's oil production and conquer oily hair conditioners for good.