This site is supported by our readers. We may earn a commission, at no cost to you, if you purchase through links.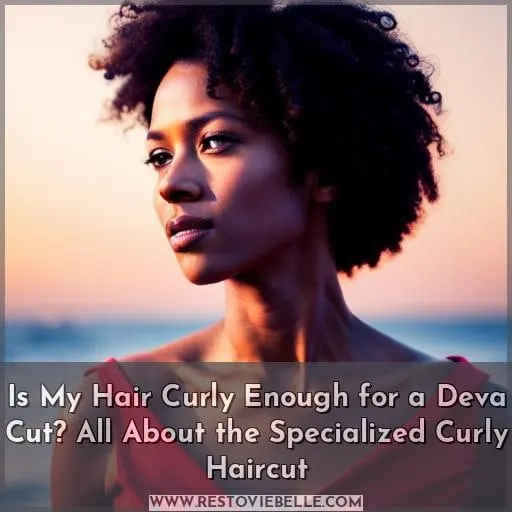 You've been trapped in a tower, longing to roam free. The wicked witch cursed your curls, binding them in knots and tangles.
I am the Devacurl sorceress, wielding blades infused with curl power. With one slice I shall break the witch's spell, unleashing your spirals in all their glory.
No more shall your locks lie limp and lackluster. Rejoice, for you've found someone who understands the magic of curls.
With the 'devacut', I'll shape each coil to maximize bounce and beauty. Finally you can show your true colors, wild and free.
Come, take my hand. Adventure awaits, and your curls will shine beautifully!
Key Takeaways
The Deva cut works best on wavy, curly hair with natural curl shape.
Assess your curl type and texture to determine if you are a suitable candidate for the cut.
Prepare your hair properly before the appointment by conditioning and air drying.
Find an experienced, trained stylist who is familiar with Deva techniques.
What is a Deva Cut?

With a Deva Cut, the stylist cuts your curls dry, shaping them based on your hair's natural curl pattern instead of when wet like a traditional cut. The deva cut is not merely a haircut – it's a specialized technique that caters to the unique characteristics and needs of curly hair, unlike traditional haircuts.
A deva cut is done on dry hair, allowing the stylist to visualize each individual curl and determine the best way to shape it. The result is a customized haircut that accentuates your curls, adds volume, and eliminates frizz.
From loose waves to tight coils, all you need is hair that's at least 2-3 inches long when stretched. You may be wondering if your hair's curly enough to pull it off. The good news is the deva cut's specifically designed for curly hair of different patterns and textures.
Whether you have tight coils or loose waves, a deva cut can help bring out the best in your hair.
So whether you have type 2 waves, type 3 curls, or type 4 coils, a deva cut can help you achieve the look you desire. There's no specific requirement for how curly your hair needs to be to get a deva cut.
The beauty of this cut is it works with a variety of curl patterns and textures to create a look that brings out the best in your natural hair.
Do I Need a Deva Cut?

You're wondering if your curls are the right texture for a Deva Cut. This specialized curly haircut works best on wavy to curly hair that has some natural shape and curl pattern.
Check your curl pattern to see if it's 2A-3C. The looser the wave, the less it'll hold the Deva shape.
Very coily 4A-4C hair may be too tight for the Deva style. The curls spring up and lose the shape.
Fine strands don't hold styled curls as well. See if your hair is medium to thick.
Damaged or overprocessed hair won't hold the bouncy curls. Healthy hair cuts better.
Photograph your texture. Consult a Deva stylist to see if you're a good candidate.
tight curls, long layers, curly bangs, wide waves, volume boost
How to Prepare for a Deva Cut

There are a few key steps to take to prepare your curls for a Deva Cut.
Skip shampooing for at least 24 hours beforehand. This allows your natural curl pattern to show.
Condition your hair the day before to boost moisture and definition. Finger detangle in the shower.
Let your hair air dry or diffuse it the day before your appointment. Avoid heat styling.
Before your appointment, mist hair with water to refresh your curls without frizz.
Now that you've prepped your curls, you're ready for your stylist to cut them dry, customizing the layers and shape to your texture. This specialized curly cut will give you maximum volume and curl enhancement. Go over any desired changes with your stylist so they can best accentuate your natural waves and ringlets.
Caring for Hair After a Deva Cut

Now that you've gotten your Deva Cut, it's time to learn how to properly care for your curls. Proper aftercare will help enhance and maintain the shape created by your stylist during the cut. Let's go over some tips to keep your curls looking fabulous in the weeks following your personalized Deva haircut.
To care for your curls after a Deva Cut, focus on maintaining moisture and enhancing your hair's natural texture. Use sulfate-free shampoos and silicone-free conditioners to cleanse hair without stripping natural oils.
Condition your hair every time you shampoo and use a wide-tooth comb in the shower to detangle curls. After washing, apply a curl-enhancing and frizz-fighting cream while hair is still damp. Let curls air dry or diffuse with a diffuser attachment to encourage curl formation.
At night, protect curls by tying hair up in a loose pineapple ponytail or covering with a satin bonnet or pillowcase. Avoid brushing dry curls, which can cause frizz and breakup curl clumps. Get regular trims every 8-12 weeks to maintain the Deva shape.
With proper at-home care, your personalized Deva Cut will keep your curls looking fabulous and defined.
Loose Curls
Although you're thrilled about your new Deva cut, maintaining your loose curls can feel daunting, so don't fret. Moisturizing daily, avoiding heat styling, embracing your natural texture, and focusing on enhancing your curls' best assets like volume and bounce are key.
Silk pillowcases prevent tangles and breakage overnight. With a little TLC, those beautiful loose waves will flourish.
Consider using styling products, refreshing curls, air drying, using leave-in conditioner, and trimming split ends.
Tight Curls
Your curls require extra moisture after getting a Deva cut to maintain their bounce and definition. Use a curl cream and hydrating mask weekly to lock in moisture. Gently scrunch in leave-in conditioner and gel when styling to avoid frizz.
Air dry or diffuse on low heat. Sleep in a silk bonnet and refresh curls in the mornings with a spray bottle. Focus on nurturing your curls during this adjustment period after the cut. Fringe can add shape and movement.
Boost shine with oils. Identify your curl type for products that target your specific wave pattern. Revive second day curls by respraying with water and conditioner to reactivate product.
Deva Cut Vs. Regular Curly Cut

You're wondering how a Deva curly haircut differs from a regular curly haircut.
Precise dry curly cutting technique
Trained and certified stylists
Customized for curl type
Enhances natural curl shape
A Deva Cut is a curly hair cutting technique that involves cutting curls while they're dry, so the stylist can cut each curl in its natural resting state. This helps create better curl definition, volume and movement. Regular curly cuts are often done on wet hair, which can result in unevenness as the curls tighten up.
Deva Cuts are performed by stylists specifically trained and certified in the DevaCurl method, while regular curly cuts have no such formal training. With a Deva Cut, the stylist will cut and style based on your exact curl type and desired finished look.
Overall, a Deva Cut is done by specialists with the needed training, focusing on dry cutting curl by curl.
Is a Deva Cut Worth It?

Having weighed the benefits, you're likely pondering whether a Deva cut is worth the investment for your curls. Though more expensive than a standard curly cut, the meticulous Deva technique and specialized training create seamless layers and shapes tailored to your curl pattern.
The end results – easy styling, defined curls, frizz elimination, and maximized volume – can be transformative. Considering the boost in hair health and confidence, along with the reduced styling time, most agree their curls are absolutely worth splurging on.
Deva Cut Pricing

This specialized curly haircut comes at a cost—expect to pay $75-$200 for your Deva Cut, depending on your location and stylist experience.
There are three main factors that impact the price:
Cut type and length
Stylist experience level
Geographic location
Some Deva Cuts cost more due to the expertise required to properly cut curly hair. However, the results are worth it for many curly haired clients. The key is finding an experienced stylist you trust to get the right shape and curl enhancement.
With good maintenance at home, your Deva Cut should keep your curls bouncy and defined for months.
You can learn more about:
Price quotes, expertise required, stylist searches
Learning at home, salon finding, before and after
Finding a DevaCurl Stylist

After paying for your Deva Cut, your next step is finding a DevaCurl stylist who can properly execute the specialized techniques. You'll want to find a stylist well-versed in cutting curly hair so you can get the most out of your investment.
Look for:
| Expertise in curly hair cuts and styles | Familiarity with the DevaCut technique specifically | Ability to evaluate hair texture and curl patterns |
| --- | --- | --- |
| Understands curl types | Properly trained by DevaCurl | Can assess your unique hair needs |
| Specializes in cutting curls | Uses curl-by-curl cutting method | Customizes cut for your curl pattern |
| Lots of experience with curly cuts | Follows DevaCurl standards | Considers face shape and head shape |
Check their reviews, social media, and don't be afraid to ask questions about their experience and approach. Getting the right DevaCut for your curls will help maximize and enhance your gorgeous natural texture.
Maintaining Deva Cut Curls

You'll often need to maintain your curls carefully after getting a Deva cut to keep your style looking fresh. Focus on using the right products, like DevaCurl's No-Poo Zero Lather Cleanser and their One Condition Delight Daily Hair Cream, which are specially formulated for curly hair.
Avoid overly drying shampoos or products with sulfates and silicones.
Refresh curls on non-wash days with a curl spray like DevaCurl's Mist-er Right Dream Curl Refresher.
Let hair air dry fully before touching or styling it. Scrunch in a bit of styling cream once dry.
Get trims every 8-12 weeks to keep your Deva Cut looking its best.
Conclusion
[CORRECTED INPUT]:
So, is your hair curly enough for a Deva cut? With proper preparation and aftercare, even wavy and loosely curled locks can benefit from this specialized curly haircutting technique. The key is finding an experienced stylist who can assess your texture and pattern to determine if a Deva cut will enhance your curls' natural shape and movement.
Do your research, embrace your waves and coils, and you may just find the perfect curly haircut.