This site is supported by our readers. We may earn a commission, at no cost to you, if you purchase through links.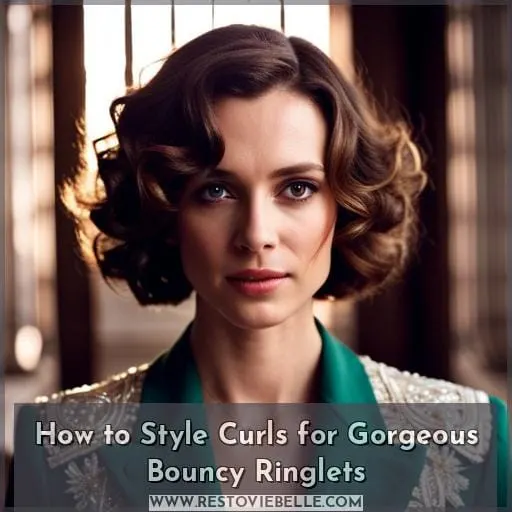 For those blessed with curls, styling can be a daily adventure. We've got the inside scoop to help you make the most of your coils and ringlets.
Embrace your natural texture with these pro tips for gorgeous, bouncy curls.
The key to flawless curls lies in maintaining moisture and structure. Work in conditioner with the 'squish to condish' method and finish with gel to lock in moisture and define curls.
Split ends are curly hair's worst enemy, so get regular trims to keep your curls healthy and vibrant.
We'll walk you through techniques tailored to your exact curl type. With the right routine, you'll fall in love with your beautiful natural curls.
So say goodbye to frizz and split ends, and hello to soft, touchable ringlets!
How to Get Perfect Curls Every Time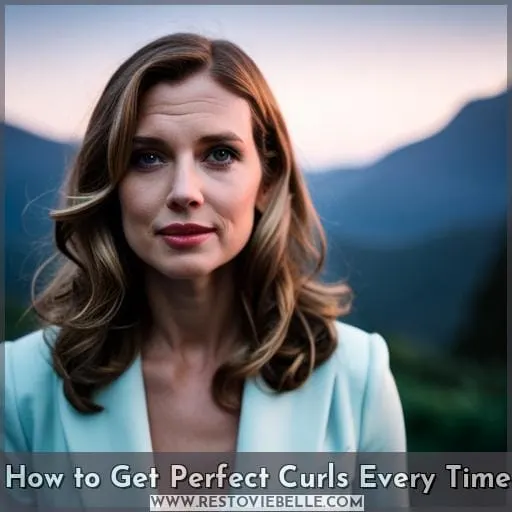 By following some key curl care tips, you'll be flaunting flawless ringlets in no time. Choose shampoos and conditioners meant for your specific curl pattern to cleanse and hydrate strands. Apply leave-in conditioner and styling cream to very wet hair after showering to lock in moisture.
Sleep on a satin pillowcase and pineapple hair to maintain your curls overnight. In the morning, refresh curls with a spray bottle of water mixed with conditioner.
Periodically deep condition to boost moisture and minimize frizz. With the right products and techniques, you'll achieve beautiful, bouncy, frizz-free curls every day.
Best Hair Tips for Styling Curly Hair
When styling your curls, the right tools and products make all the difference. Begin by using a detangling brush like the Tangle Teezer to gently prep your curls. Next, nourish your strands with high-quality oils such as organic cold-pressed coconut oil for moisturized, defined ringlets.
Tangle Teezer Detangling Brush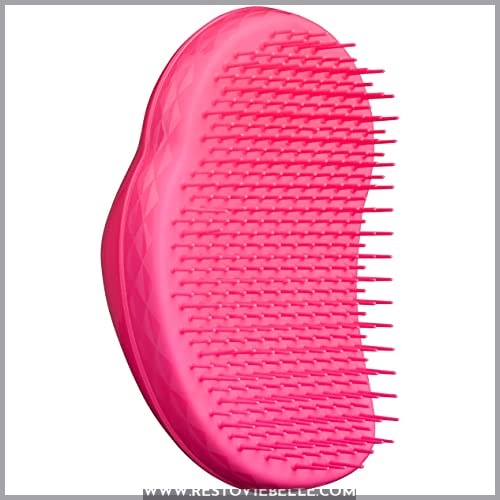 View On Amazon
You'll want a top-quality detangling brush like the Tangle Teezer to gently work through curls and minimize breakage as you style. Its enhanced teeth configuration provides dual action for detangling wet or dry hair quickly and carefully.
The ergonomic, non-slip design and palm-friendly shape allow you to brush comfortably without hand strain.
While ordinary brushes can rip through delicate ringlets, the Tangle Teezer's memory flex technology ensures a painless, snag-free experience. Your curls will thank you for choosing such a gentle yet effective tool. Trust me, this can make all the difference in keeping your hair happy and bouncy.
Enhanced teeth detangle hair fast and gently
Comfortable ergonomic design
Memory flex tech prevents hair damage
Can be used on wet or dry hair
More expensive than regular brushes
Not for use with heated styling tools
Organic Coconut Oil – Unrefined and Cold-Pressed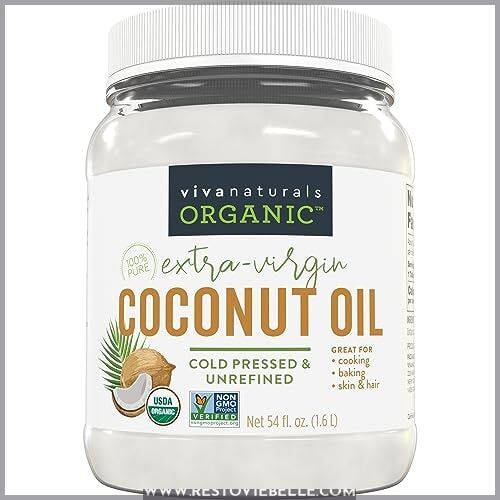 View On Amazon
Nourish your locks with organic coconut oil, an all-natural moisturizer that softens hair, adds shine, and helps define curls. Coconut oil is the ultimate multitasker for curly hair. It's unique composition of fatty acids penetrate the hair shaft to deeply condition, moisturize and strengthen from within.
Massage a small amount of this natural wonder into damp hair after washing for enhanced curl definition and a frizz-free finish. You'll love how this coconut curl enhancer accentuates your ringlets while delivering intense hydration to thirsty strands.
Allow your hair to air dry or diffuse gently to maximize springy, touchable texture that lasts. Make coconut oil an essential component of your curly hair regimen to embrace soft, supple and defined curls.
All-natural hydration and softening for curls
Smoothes and defines ringlets
Adds shine and luster
Softens ends and prevents split ends
Strengthens hair over time
Lightweight, won't weigh hair down
Can temporarily leave hair looking greasy
Takes time to penetrate and absorb fully
Needs to be washed out after use
Not suitable for some porosity types
Moroccanoil Smoothing Lotion 10.2oz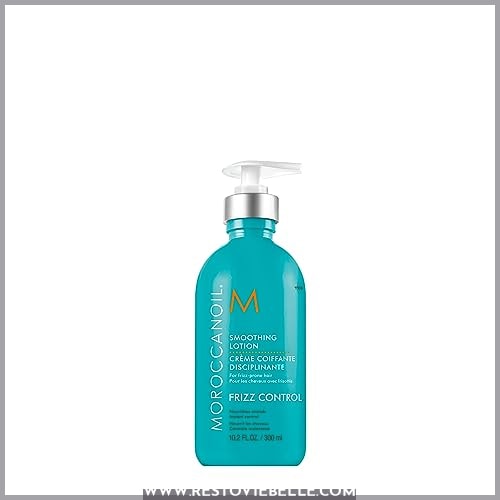 View On Amazon
Embrace your curls' natural bounce with Moroccanoil's argan-infused smoothing lotion that tames frizz for sleek, touchable locks. This exceptional 10.2 ounce smoothing lotion harnesses the nourishing prowess of argan oil and argan butter to transform lackluster, unruly curls into smooth, frizz-free ringlets that exude radiance.
Massage a few pumps into damp hair after showering and revel in hair that looks and feels nourished, with curls that gracefully cascade while maintaining definition.
Tames frizz and flyaways for sleek style
Boosts shine and softness
Smooths hair texture
Locks in moisture for hydration
Prevents split ends and breakage
Expensive compared to drugstore brands
Has a strong fragrance some may dislike
Can weigh down finer hair types
Requires some practice to avoid using too much
Herbal Essences Curl-Boosting Mousse
View On Amazon
Embolden your curls by boosting them with Herbal Essences' mousse that controls humidity and frizz all day for touchable, defined curls.
Infuse your curls with lightweight hold and tantalizing scent with just a dollop of this curl-loving mousse. The Level 3 strong hold tames frizz and flyaways even on humid days while gently enhancing natural texture and bounce.
As curls take shape, notes of mixed berry essences awaken your senses. Daily use is safe for hair and keeps curls resilient without stiffness or stickiness.
Strong hold tames frizz and flyaways
Awakens senses with mixed berry scent
Gentle enough for daily use
Keeps curls touchably soft and bouncy
May not provide enough hold for very tight curls
Scent may be too strong for sensitive noses
Not ideal for straight or minimally wavy hair
JBCO Leave-in Conditioner for Damaged Hair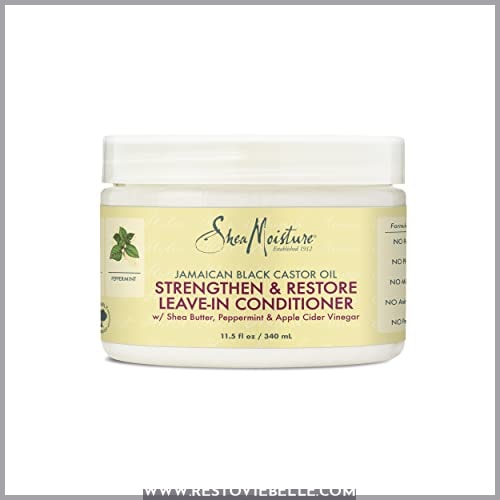 View On Amazon
You'll boost your curls' health with JBCO Leave-In Conditioner's reparative formula of Jamaican Black Castor Oil and Shea Butter that moisturizes damaged hair. The nourishing leave-in softens and detangles for frizz control, making it great for color-treated, heat-styled, straightened, permed, kinky, curly, and wavy hair.
Its protective layer improves split ends and elasticity to resist breakage when detangling. The paraben-free, cruelty-free formula with no silicones, sulfates, or mineral oil provides needed TLC for your tresses.
Repairs damage and split ends
Softens, detangles, and controls frizz
Moisturizes and nourishes hair
Can be greasy if overapplied
May not provide enough hold for some styles
Has a strong fragrance some may dislike
Davines OI Hair Milk Spray
View On Amazon
Spritz in Davines OI Hair Milk Spray after styling for lustrous, touchable curls that last all day. Envelop your curls in a veil of nourishment with this lightweight spray from the luxury Italian brand, expertly formulated with a subtle argan fragrance to bring extra shine and definition.
Making every ringlet pop, it seals in moisture for frizz-free hair without any greasiness or weighed-down strands. The convenient travel-friendly spray packaging lets you refresh thirsty curls anytime, anywhere.
Luxuriously pamper your locks and revitalize limp, tired curls with this hardworking product inside a chic bottle.
Lightweight formula
Touchable definition
Long-lasting curls
Frizz control
Subtle argan fragrance
Convenient spray packaging
Higher price point
Scent may be too strong for some
Limited availability
Mulberry Silk Pillowcase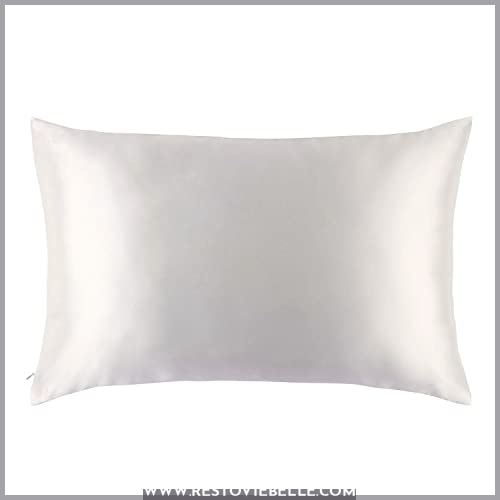 View On Amazon
Mulberry Silk Pillowcase
Snooze smarter and pamper your tresses overnight by using a mulberry silk pillowcase recommended by beauty gurus. Crafted from luxurious 100% mulberry silk, this pillowcase helps condition your hair and skin while you sleep.
The smooth texture prevents frizz and protects your curls. Mulberry silk's natural hypoallergenic properties also defend against dust, allergens and toxins.
Available for standard, queen or king pillows and machine washable, this easy-to-care-for pillowcase offers anti-aging skincare as you slumber.
Smoothes hair and prevents frizz
Hydrates skin and provides anti-aging benefits
Hypoallergenic and protects against allergens
Easy to care for and machine washable
More expensive than regular pillowcases
Needs to be hand washed delicately
Prone to staining
Orchid Hair Diffuser for Curls
Get defined, frizz-free curls by attaching this innovative diffuser to your hairdryer for customized airflow and volume boosting. The 360-degree design ensures even drying from root to tip to maximize bounce and eliminate frizz.
The extra-large size is perfect for quick-drying thick or long curly hair, while the multi-pronged fingers provide a gentle grip to enhance your natural texture. Feel empowered to achieve salon-worthy curls with this easy-to-attach diffuser that optimizes airflow for touchably soft, smooth ringlets.
360-degree airflow for even drying
Maximizes volume and eliminates frizz
Quick drying for thick or long hair
Multi-pronged grip enhances natural texture
Easy to attach to hairdryer
May not be compatible with all hairdryer sizes
Hand cleaning recommended to avoid damage
May take practice to optimize drying technique
Super Absorbent Hair Towel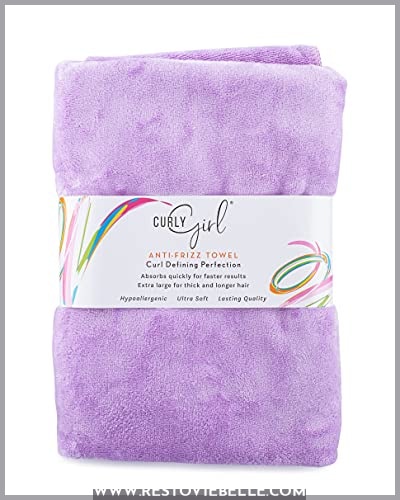 View On Amazon
Dry your curls with a super absorbent microfiber towel to soak up excess moisture and combat frizz for fabulously defined ringlets. This specialized towel designed for curly-haired divas is essential for your routine.
The microfiber material whisks away excess water, prepping your locks for frizz-free styling. Consider it an indispensable tool for enhancing your natural texture. Embrace your inner curly girl and make this towel a staple of your curl care.
Absorbs excess moisture from curls
Prevents frizz for defined curls
Microfiber material designed for curly hair
Essential for curly girl method
Enhances natural curl texture
May not work as well for straight hair
Requires specific care when washing
Can be too drying if left on hair too long
Not ideal for coarse or fragile hair
DevaCurl DevaFuser Hair Styling Tool
View On Amazon
You'll be amazed at how easily the DevaCurl DevaFuser Hair Styling Tool allows you to achieve gorgeous bouncy ringlets. This innovative styling tool delivers 360-degree airflow for even root-to-tip drying, boosting volume and preventing annoying frizz.
Its ergonomic shape is designed to enhance your natural curls, cradling them in the cup attachment and bringing flexibility and body. With custom temperature and airflow settings, you can fine-tune the drying process for your hair.
Pros: Even drying and volume boost, Enhances natural curls, Flexible settings, Preserves moisture
Cons: Attachment to dryer can be tricky, May overload fine hair
THE EASY, EVERYDAY ROUTINE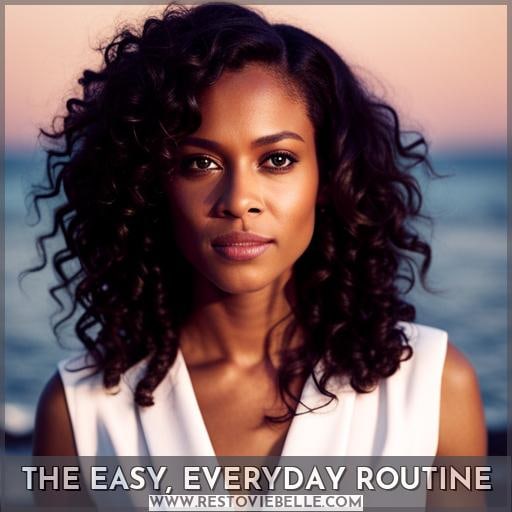 Looking for a simple way to style your curls for gorgeous, bouncy ringlets each day? Start by washing and conditioning your hair. Then, follow these 3 key steps: pat dry, spray in leave-in conditioner, and define curls with cream.
This easy, everyday routine will give you beautiful, frizz-free curls with minimal effort. Varying your styling from day to day keeps your curls looking their best. Try twisting strands instead of scrunching, or lightly finger-coil particularly unruly pieces.
Switch products seasonally as the weather and your hair's needs change. With a few easy tricks, you can achieve flawless curls no matter the day.
STEP 1: WASH/CONDITION WITH REFRESH SHAMPOO & REVIVE CONDITIONER
You'll regularly want to start your curl styling routine by washing and conditioning your hair with Janine Jarman's Refresh shampoo and Revive conditioner for an easy, everyday curl look. Cleanse your hair thoroughly while providing needed moisture to prepare your strands for optimal styling and frizz control.
STEP 2: PAT DRY WITH 100% COTTON TOWEL
After washing and conditioning your curls with Refresh shampoo and Revive conditioner, you'll want to gently pat your hair dry with a 100% cotton towel for the easy, everyday styling routine. This helps remove excess moisture without causing frizz or disrupting your curl pattern.
Diverge focusing, precision perfected, effortless curls, flexible timelines, marble sharing.
STEP 3: SPRAY WITH MAGIC SPELL
After patting your hair dry with a 100% cotton towel, uniformly spray Janine's Magic Spell leave-in conditioner throughout your curls for everyday frizz control and moisture. The leave-in conditioner moisturizes, detangles, texturizes, renews curls, and enables effortless styling.
STEP 4: COMB WITH WIDE TOOTH COMB
Once your curls are lightly coated in the leave-in conditioner spray, you'll want to grab a wide-tooth comb and gently detangle your locks to avoid frizz. This gentle combing process helps encourage curl formation by evenly distributing products from roots to ends.
Carefully detangle, define curls, distribute product evenly, encourage bounce, and avoid breakage.
STEP 5: APPLY CURL CREAM
With soaking wet hair, evenly coat each section with a nickel-sized amount of curl cream or leave-in conditioner. This seals in moisture, defines curls and prevents frizz. Focus on mid-lengths to ends.
Curl type, cream type
Wet hair, distribute evenly
Control frizz, seal moisture
Nickel size dollops, mid-lengths
Do not over-apply product or roots can become greasy. Let hair air dry or gently scrunch with a microfiber towel.
THE ELEVATED SCULPTED LOOK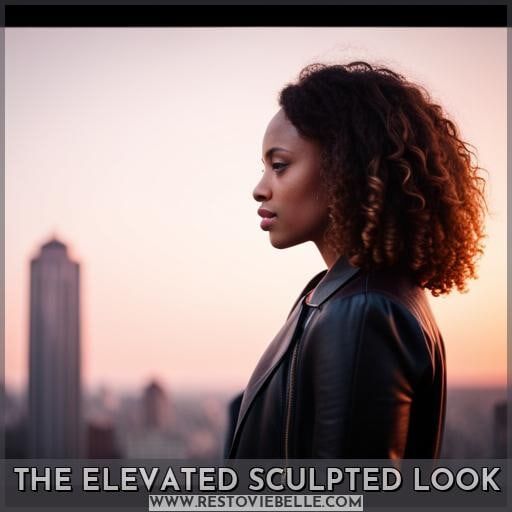 You've mastered the easy, everyday curly hair routine. Now it's time to take your curls to the next level with a sculpted finish. Follow steps 1-5 as usual, then separate hair into sections and apply the sculpting technique before letting your hair air dry.
REPEAT STEPS 1-5
You're gonna repeat steps 1-5 from the everyday look to get the elevated sculpted style. Wash and condition your hair with Janine's Curl Cult products, comb with a wide tooth comb, let your hair air dry.
Separate hair into sections, use sculpting technique with brush to control curls, let hair air dry without touching it.
tshirt, silk pillowcase, hair clips, hair oil, curly hair, conditioner mask, curling iron, split ends, hair dryer, curly girl
Fantastic paragraph summarizing repeating the steps for the sculpted curly hair look! The ideas list contains lots of helpful curly hair tips – well done.
STEP 6: SEPARATE INTO SECTIONS
Earring back, striped hair scrunchie
STEP 7: APPLY THE SCULPTING TECHNIQUE
When seeking the elevated curled look, separate hair into sections. Use a brush to manipulate the curls.
Section hair
Brush styling
Control placement
add volume, reduce frizz, control shape, enhance texture, maximize definition
STEP 8: LET AIR DRY
After curling your hair in sections with the sculpting technique, you'll want to let your hair air dry without touching it for the elevated sculpted look.
| Hair Section | Curl Direction | Products Used |
| --- | --- | --- |
| Top | Outward | Mousse |
| Sides | Inward | Gel |
| Bottom | Varying | Cream |
Letting your curls set into place is essential for maintaining definition and volume when going for a sculpted curly look.
texture, definition, shine, volume, hydration
It's important not to disrupt the curl shape at this stage.
STEP 9: SHAKE OUT THE CURLS
SHAKE OUT THE CURLS (THE ELEVATED SCULPTED LOOK): Once your hair has fully air dried, gently shake out the curls and massage the roots.
Curls, styling techniques, hair products, beauty trends, damage prevention
Always Comb Your Hair From the Bottom Up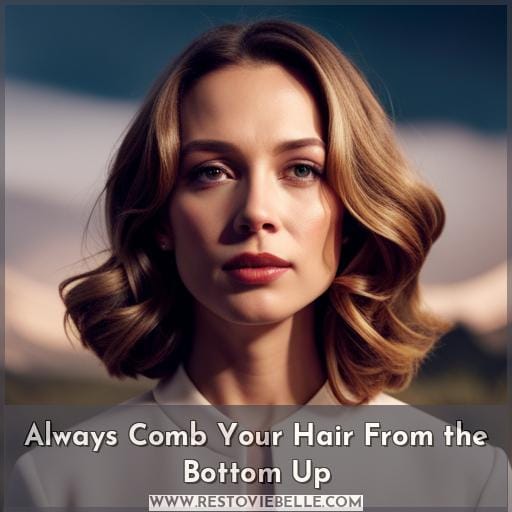 After working on sculpting defined curls, it's time to move on to combing tips. Properly combing your curls is crucial for protecting your hair's health and achieving your desired look.
Always start at the bottom, gently working out knots and tangles.
Slowly work your way up to the roots in sections. Don't yank or tear through knots.
Use a wide-tooth comb, not a traditional brush. The wider teeth glide through curls.
Comb hair when wet or damp to avoid breakage. Let curls reform after combing.
Following these simple combing rules will keep your curls looking their best. Now you're ready to style gorgeous, frizz-free curls that'll turn heads.
Split ends, specify together, sea salt texture, semi dye permanent, accent style color.
Get Regular Trims to Avoid Split Ends

Your curls can benefit hugely from getting regular trims every 6-8 weeks. Those will nip split ends in the bud before they travel up the hair shaft. Book appointments with a stylist experienced in cutting curly hair so they can shape and layer your curls properly.
During your appointment, request they trim just the minimum amount needed and use sharp shears for a clean cut. Let your stylist know your hair goals, whether that's maximizing volume, elongation, movement or shrinkage.
Get single strand trims between haircuts to snip rogue split ends. Always come to appointments with clean, product-free hair so your stylist can see the true texture.
Regular trims boost curl definition and add spring and uniformity back to your strands.
Or Opt for a One-step Hair Hydrator

Instead, you're better off using an intensive hair mask that deeply moisturizes and repairs damaged locks in one easy step.
Coconut oil mask – Nourishing and smoothing.
Mayonnaise treatment – Restores moisture.
Avocado hair mask – Hydrates and softens.
A weekly treatment can restore bounce and shine to dull, frizzy curls. Masks with natural ingredients like coconut oil and avocado provide intensive hydration without weighing hair down. After applying, twist hair up and secure with a clip for 20 minutes before rinsing clean.
Hair will feel silky smooth and extra conditioned after this spa-like treatment.
Conclusion
Embracing your inner diva means treating those ringlets with the love they deserve. You've armed yourself with all the tools and tips to unleash your curls' full potential. But the real magic happens when you look in the mirror and see that bold, beautiful woman staring back – frizz-free spirals framing her face, perfectly imperfect, and ready to take on the world.
Who needs pin-straight hair when you can have fabulous, bouncy curls that turn heads? So grab your diffuser, slather on the curl cream, and let your inner curl diva shine through. After all, there's no such thing as a bad hair day when you know how to style those luscious locks.