This site is supported by our readers. We may earn a commission, at no cost to you, if you purchase through links.
Have you ever wondered what it means to have 4C hair? With its kinky, coily texture and tendency for shrinkage, 4C hair can be both beautiful and challenging. But with the right understanding of how to care for your curls – as well as some top-notch products designed specifically for 4C strands – you can learn to love your unique locks.
In this article, we'll take an in-depth look at all things related to type 4C hair. We'll start by identifying it and distinguishing it from other types of textured tresses.
So let's dive in!
Key Takeaways
4C hair is tightly coiled and lacks a defined pattern.
It experiences extreme shrinkage when wet or dry.
Hydrating products and regular deep conditioning are essential for 4C hair.
Protective styles like braids and twists help prevent breakage.
Understanding 4C Hair: What You Need to Know

4C hair is the most tightly coiled and kinkiest of all natural hair types. It has unique characteristics that set it apart from other curl patterns, such as a lack of a defined pattern, extreme shrinkage when wet or dry, and fewer defined curls than its counterparts.
Characteristics of 4C Hair
You can recognize 4C hair by its lack of a defined curl pattern, high shrinkage, and tight zig-zags that make it stand out from the other types. To care for 4C hair, keep it moisturized with hydrating products, shampoo twice monthly, detangle regularly, deep condition to reduce split ends, and avoid overstyling or using heat.
Protect it overnight with silk or satin caps or wraps. Protective styles like braids and twists are great, but regular trims are essential! Recommended products include VERB Curl Leave-In Conditioner, Design Essentials Curl Mousse, and As I Am Coconut Cowash – all specifically designed for this unique hair type.
Differences From Other Hair Types
Discover how 4C hair stands out from the other types with its unique characteristics and texture. It's kinkier than type 4A and has less curl definition than 3B or 3C. 4C hair requires more maintenance to keep it moisturized.
Unlike Type 2 curls, which mostly need product for styling purposes, 4C hair needs moisture balance to stay healthy. Its porosity level can be high due to tight coils, so hydration must be maintained through deep conditioning treatments.
Low manipulation styles, such as protective hairstyles like braids or twists, are ideal for reducing breakage caused by excessive handling of the strands.
How to Care for 4C Hair: Essential Tips and Techniques

It is important to have a proper care regimen for 4C hair in order to maintain health and vibrancy. Shampooing, detangling, deep conditioning, and protective styling should all be part of your routine.
Proper Shampooing and Detangling Techniques
Properly shampooing and detangling 4c hair is an essential part of keeping it healthy since incorrect care can lead to breakage. Start with a mild sulfate-free shampoo that won't strip your scalp's natural oils.
To maximize moisture retention, apply a natural leave-in conditioner or styling product after washing. Seal in moisture with an oil like coconut or olive oil. For best results when styling 4C hair at night, opt for protective styles such as braids and twists.
These will keep the strands from rubbing against each other while sleeping, minimizing frizz.
Finally, if you want to give your curls an extra boost of hydration during the day without adding too much product buildup, try using lightweight hydrating mists between wash days.
Deep Conditioning and Protective Styling
Deep conditioning and protective styling are key to keeping your 4C curls looking luscious and healthy! Deep conditioning helps replenish moisture, reduce breakage, soften strands, boost shine, and improve elasticity.
Consider adding dedicated hair-care products specifically designed for kinky hair into your collection.
Protective styles like braids or twists help keep moisturize in while reducing friction that causes breakage. To retain maximum hydration overnight, opt for a silk/satin pillowcase or bonnet, which is gentle on delicate coils while helping to prevent frizzing out of the style you achieve during the daytime.
A great way to ensure strong detangling sessions with minimal damage is by using conditioner when combing through damp locks. This will make it easier than when tackling dry tresses! Product recommendations, such as mousses and creams, can provide extra hold without sacrificing softness or definition.
Look for natural ingredients like coconut oil and shea butter, known for their restorative properties suited towards 4C textures.
Top 10 Best Products for 4C Hair
Are you looking for the best products to care for 4C hair? Maintaining healthy, hydrated, and moisturized hair is essential in order to have beautiful curls. To help you on your journey, here are 10 of the top products specifically designed for Type 4C hair.
1. VERB Curl LeaveIn Conditioner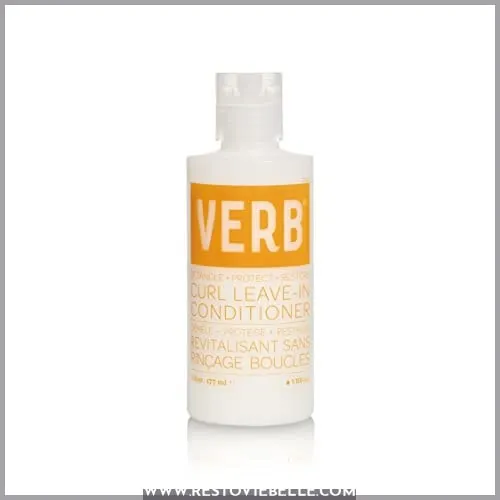 View On Amazon
Feel your curls come alive with VERB Curl Leave-In Conditioner, a lightweight formula that helps moisturize and detangle hair while fighting frizz. This vegan-friendly conditioner is specifically designed for 2B/2C waves. It contains sunflower seed extract with fatty acids, glycerin for added softness, and paraben-free ingredients that provide memory to curl pattern.
It repairs damage from heat styling or coloring without weighing down the hair or leaving it feeling greasy. The non-greasy consistency makes it easy to brush through tangled hair without causing breakage or further tangling of strands.
The mild scent will leave your locks smelling fresh all day long while taming frizz in humid weather conditions, as well as reducing dryness caused by overstyling.
Though some may find the scent bland compared to other products containing essential oil blends such as lavender or rosemary oil, overall this leave-in provides great hydration benefits without making curly strands feel crunchy after drying them off completely air-dried or using a hooded dryer attachment on low settings.
Lightweight formula
Non-greasy consistency
Paraben-free ingredients
Contains protective sunflower seed extract & fatty acids
Repairs damaged ends & reduces split ends
Tames frizz
Not suitable for Ethnic 4c Hair
Bland smell
2. Design Essentials Curl Mousse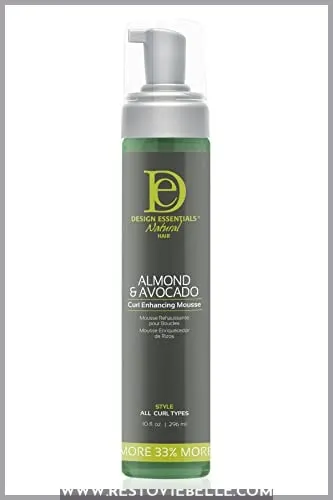 View On Amazon
Design Essentials Curl Mousse works to define your curls, reduce frizz, and provide a soft, pliable hold for any curl type. With an enhanced blend of Sweet Almond Oil and Avocado extracts, as well as Vitamin B Complex for increased hair strength and elasticity, this product is suitable for all types of waves or curls – from 3A loose curls to 4C coily textures.
The lightweight formula is non-greasy, leaving behind luminous shine with no flaking! Users have had positive feedback on its effectiveness in reducing frizz in mixed-race or 4C hair.
For best results, apply the mousse onto wet hair before styling into finger coils or combing out your desired look. You can also use it alone or combine it with other products like gels and creams, depending on what kind of finish you want.
Additionally, this product works great even during humid weather conditions, thanks to its natural ingredients, making sure that each individual strand stays defined without breakage throughout the day!
Lightweight & Non-Greasy Formula
Enhances Definition & Separates Curls
Reduces Frizz & Provides Soft Pliable Hold
Free From Parabens, Petrolatum, And Mineral Oil
Suitable For All Hair Types (3a To 4c)
Works Even In Humid Weather Conditions
Can Cause Itching When Used With Other Products
Not Ideal For Those Who Prefer Stronger Holds
3. As I Am Coconut Cowash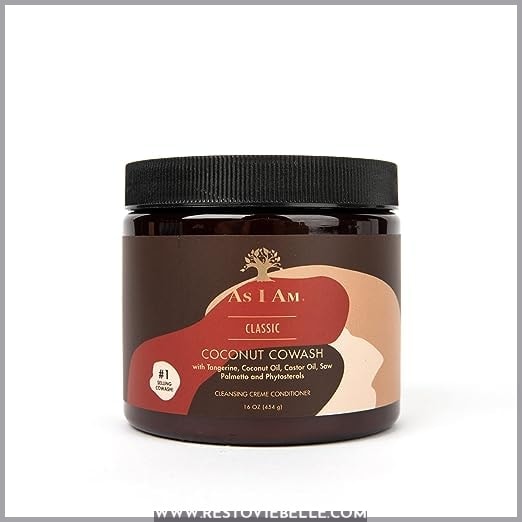 View On Amazon
As I Am Coconut Cowash helps to nourish and protect your curls, giving them a glossy shine and all-day definition without the chemical buildup. This vegan formula is enriched with natural ingredients like Coconut Oil, Castor Oil, Saw Palmetto, Phytosterols, and Tangerine.
These ingredients work together to reduce combing effort by 55% for curly hair while keeping strands tangle-free.
Perfect for those looking to restore their curls or keep them hydrated in hot desert conditions, this product is free of sulfates, parabens, and phthalates.
Deeply nourishing formula
Reduces combing effort by 55%
Free from harmful chemicals
Promotes healthy hair growth from follicles
Pleasant fragrance
Softness & Moisturization
Container design not user-friendly
Not suitable for dense/thick hairs
Can feel like hairspray when applied
4. Carols Daughter Hair Milk

View On Amazon
Carols Daughter Hair Milk is a lightweight mist that helps revive and define curls, coils, kinks, and waves. It does so with its nourishing blend of Agave Nectar, Cocoa Butter, Shea Butter, and Sweet Almond Oil.
This product hydrates the hair without making it greasy or crunchy. It contains Wheat Protein for strength and Vitamin B Complex to help prevent breakage from styling products and reduce frizziness. Carols Daughter Hair Milk can be used on all curl types, ranging from 4C natural hair to 1C waves, which is an added bonus.
Those who have tried it appreciate how light yet effective Carols Daughter Hair Milk is. A refreshing spritz helps bring back life into tired locks in between washes or when you need a quick pick-me-up after styling your hair.
Lightweight formula prevents grease build-up while providing moisture and hydration
Contains Wheat Protein for strength and Vitamin B Complex for reduced frizziness
Suitable for various curl types (4C – 1C)
Scent not liked by some users
Not suitable or effective on dense hair
Texture reported as sticky by some users
5. Mielle Organics Styling Gel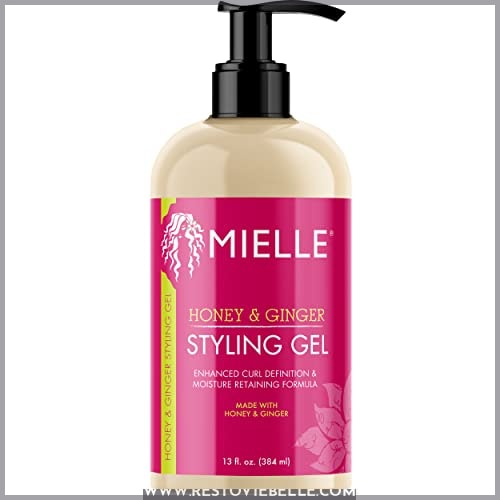 View On Amazon
Mielle Organics Styling Gel is perfect for those looking to add moisture, definition, and curl without the heavy feel of other gels.
This vegan gel contains natural ingredients like honey, ginger root oil, turnip root oil, and carrot root oil that stimulate keratin production to help promote healthy hair growth. Its lightweight formula holds styles without making hair sticky or crunchy while adding thickness and curl.
Lightweight formula won't make your hair sticky or crunchy
Promotes healthy hair growth with natural ingredients like honey & ginger
Adds thickness & curl while holding styles in place
Not suitable for dense hairs as it may feel like a hairspray when applied
Some users find the strong ginger smell overwhelming
6. Goddess Curls Botanical Gel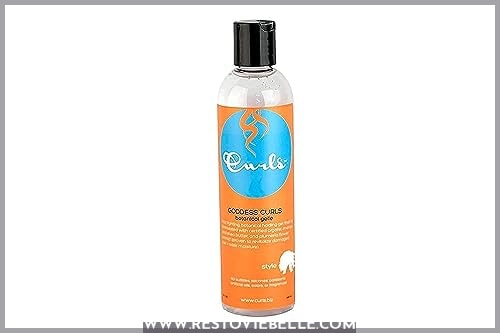 View On Amazon
Goddess Curls Botanical Gel is the perfect solution to fight frizz and create popping curls that will last throughout the day.
This gel provides a damage control hold that helps protect hair against environmental stressors like humidity while keeping your locks feeling soft all day long. Not only does it provide amazing definition, but its moisturizing benefits also keep your curls hydrated without leaving them greasy or crunchy – hello healthy hair growth! Plus, it's free of mineral oils and artificial colors, so you can be sure you're nourishing your strands with nothing but natural goodness.
Provides long-lasting definition for curly hair in humid climates
Damage Control Firm Hold
Moisturizing
Free from Mineral Oil & Artificial Colors
May result in messy & inconsistent curl patterns
Daily reapplication needed
May not be suitable for dense hair
7. Rucker Roots Styling Mousse
View On Amazon
Rucker Roots Styling Mousse is the perfect vegan-friendly styling product to give your curls, coils, kinks, and waves a long-lasting hold with added strength and elasticity. It's formulated with the Rucker Roots Complex, which is made from ginger root oil, turnip root oil, and carrot root oil.
This complex stimulates keratin production while protecting hair color from fading. The mousse is also infused with Vitamin B7, which helps increase the hair follicle growth rate for stronger, healthier strands.
This lightweight mousse can be used on wet or dry styles, making it ideal for Fingerstyles, Spiral Rod Sets, Wrap Styles, Roller Sets, Wash & Go Sets, Curls, Waves, or whatever style you desire! Plus, it's free of synthetic colors, mineral oils, sulfates, petroleum, and parabens, so you can use it worry-free, knowing that it won't cause any damage to your luscious mane!
Stimulates Keratin Production
Protects Hair Color From Fading
Increases Hair Follicle Growth Rate
Not suitable for dense hair
8. Hair Rules Kinky Curling Cream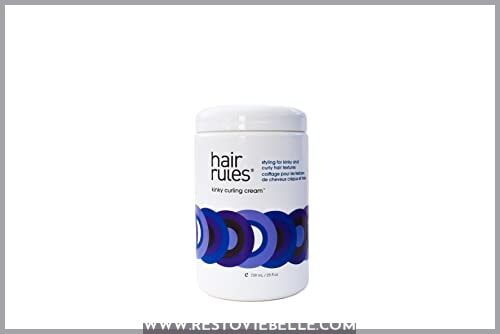 View On Amazon
Experience the kink-taming power of Hair Rules Kinky Curling Cream and redefine your curls with its natural, moisturizing formula. This vegan-friendly gel cream transforms spongy kinks into bouncy, luscious spirals without the use of chemicals or heat styling.
It's formulated with hydrolyzed wheat protein to boost elasticity while preventing moisture loss and adding volume for a fuller look.
A little goes a long way, so you can get maximum benefits from this lightweight product that won't weigh down your hair or leave it feeling greasy.
Lightweight formula doesn't weigh down hair
Moisturizes deeply while eliminating shrinkage & frizz
Boosts elasticity & adds volume
Can be drying in some cases
May feel like hairspray when applied
9. Vernon Francois Hair Mist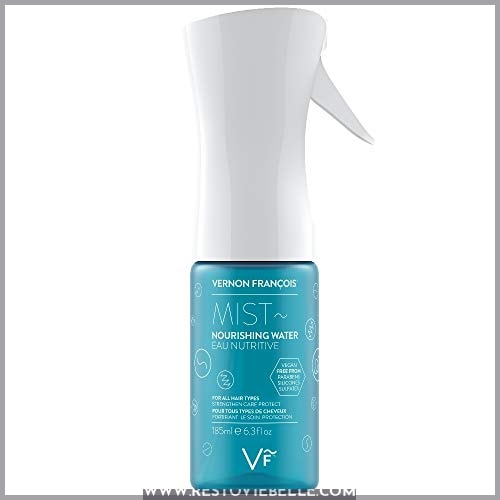 View On Amazon
For long-lasting hydration and shine, Vernon Francois Hair Mist is a great choice for 4C curls! Featuring plant-based ingredients with natural botanicals, oils, and amino acids, it protects hair from damage while preserving color vibrancy.
Users have reported that it reduces combing effort by 55%! The lightweight formula locks in moisture without leaving the hair feeling greasy or crunchy. This product is perfect for those who want their curls looking lush all day while also promoting healthy hair growth.
Plus, it's vegan-friendly, so you know your locks are getting only the best treatment possible.
The mist has a light scent, making it pleasant to use on a daily basis. It also keeps mid-day curls fresh, which is highly desirable among users. The spray bottle is perfectly designed to prevent waste during application and provides an easy way to style your own hair at home or on vacation without the need for bulky products.
Light scent
Moisturizing
Great spray bottle
Minimal amount needed
Smelled rancid after a year
Limited effectiveness
Weird smell upon spraying (resembling pee)
Somewhat pricey
11. Maui Moisture Curl Quench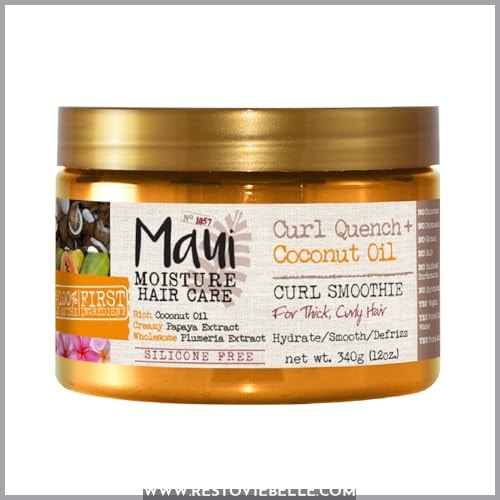 View On Amazon
Discover the secret to soft and bouncy curls with Maui Moisture Curl Quench! This vegan coconut oil curl smoothie hair styling cream contains aloe vera as its first ingredient, plus nourishing coconut oil, plumeria extract, and papaya extract.
The lightweight cream can be used daily without build up or crunchiness. It holds curl definition in place without weighing down your locks.
Hydrates & smoothens curly hair
Reduces frizz & enhances body of curls
Lightweight formula won't weigh down locks
Suitable for 3b–3c curly hair types
Not suitable for fine or thinning strands
Overall, Maui Moisture Curl Quench is an excellent choice if you're looking to enhance natural texture while keeping moisture locked in all day long.
How to Determine Your Hair Type: a Guide for 4C Hair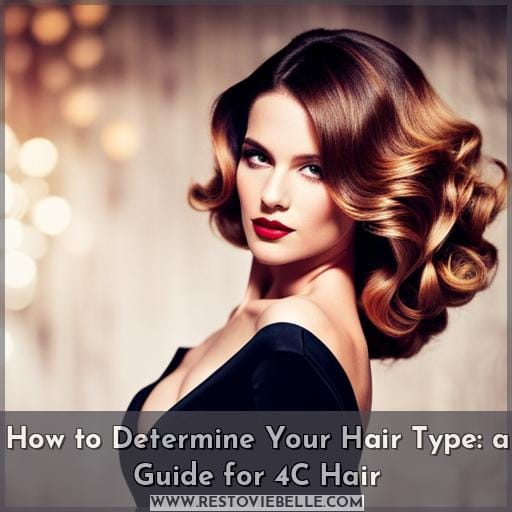 Trying to determine your 4c hair type can be tricky, but with the right guide, you can easily identify and care for your strands.
Start by examining each strand's texture. Is it coarse or fine? Does it feel dry or oily?
Next, assess curl patterns. Look at both shrinkage and width of curls to determine if they are tight coils or loose waves.
Then, use products designed specifically for 4C Hair Styling like VERB Curl Leave-In Conditioner, Moisturizing Tips from Design Essentials Curl Mousse, and As I Am Coconut Cowash. These products will enhance definition while providing moisture without causing product buildup.
Finally, create a customized Hair Care Routine using Carols Daughter Hair Milk, along with Mielle Organics Styling Gel and Goddess Curls Botanical Gel. These products add thickness and strength while protecting against frizz in humid climates. You can also try Rucker Roots Styling Mousse fortified by Hair Rules Kinky Curling Cream, Vernon Francois Mist, and Creme Nature Hydrating curling cream moisturized through Maui Moisture's Quench Coconut Oil Smoothiehair styling Cream. All of these products provide amazing results!
With these steps in mind, determining your 4c hair type should be more manageable, so you can start enjoying beautiful bouncy curls today!
Tips for Styling and Maintaining 4C Hair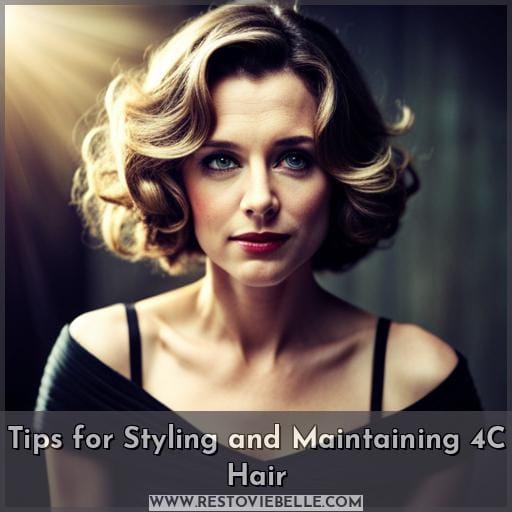 Getting your 4C curls to look their best requires a few simple steps. From finding the right products and protective styles to regular trims.
For styling techniques, VERB Curl Leave-In Conditioner is great for 2B/2C waves. Meanwhile, Design Essential's Curl Mousse provides curl definition and separation without feeling crunchy or greasy.
To maintain moisture in between washes, try As I Am Coconut Cowash or Carols Daughter Hair Milk.
For long-lasting curl pattern definition that won't leave hair feeling like hairspray, try Goddess Curls Botanical Gel.
If you have kinky, spongy hair and need extra hydration, use Rucker Roots Styling Mousse paired with Hair Rules Kinky Curling Cream.
To finish off your look, add Vernon Francois Hair Mist. It helps revive curls throughout the day. Additionally, Creme Nature Hydrating Curling Cream and Maui Moisture's Quench Coconut Oil Smoothie are surefire ways to get bouncy, luscious spirals without heat damage.
Common Challenges and Solutions for 4C Hair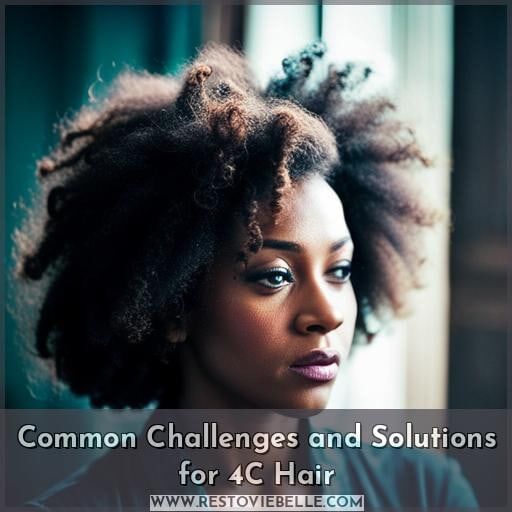 4C hair is beautiful, but it can be challenging to style and maintain. Detangling 4C hair requires patience and the right products. A leave-in conditioner with moisturizing ingredients like coconut oil or shea butter can help make detangling easier.
It's important to establish a haircare routine that works for your individual needs. This routine should include protective styles such as braids and twists, which will reduce breakage. Moisturization is key when caring for 4C hair. Deep conditioning regularly helps keep strands hydrated while increasing elasticity.
You can also use natural oils like avocado or jojoba oil in between washes for an added boost of moisture.
When it comes to styling, opt for lightweight gels or stylers containing nourishing ingredients. These products won't weigh down curls while keeping them defined throughout the day.
Embracing and Celebrating 4C Hair: Building Confidence and Self-Love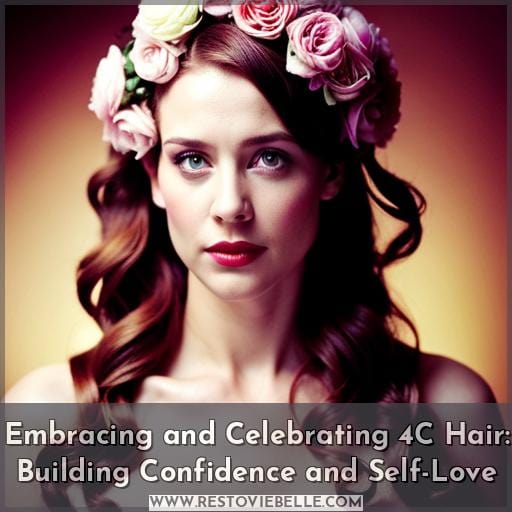 Celebrate your 4C hair and embrace its unique beauty – after all, beauty is in the eye of the beholder! Your journey to self-love begins with embracing your natural curls. Whether you wear it out, put it up in styles, or just let it be free, take pride in knowing that 4C hair is a symbol of strength and power.
Here are some ways to build confidence while celebrating your beautiful locks:
Take time for yourself – dedicate some time each day towards taking care of yourself both physically and emotionally by engaging in activities such as yoga or meditation.
Embrace positive affirmations – speak kindly about yourself on a daily basis; start every morning reminding yourself how amazing you look today with those gorgeous curls!
Practice self-care through haircare – don't forget to nourish those strands from root to tip by keeping them hydrated throughout the week using products specifically formulated for 4C hair types like Curl Mousse from Design Essentials.
Be creative when styling – have fun experimenting with different hairstyles until you find one that fits perfectly into who YOU are as an individual inside & out; this could include box braids or even crochet twists!
Love accepting compliments – feel confident enough so that whenever someone gives you a compliment, whether they're talking about how stunning your spirals look today, accept their words graciously.
So go ahead – celebrate YOUR uniqueness & own YOUR story. Let nothing stop you from feeling empowered & show off what makes YOU special!
Conclusion
4C hair is a unique curl pattern that requires special care and attention. To gain the best results, you need to understand its characteristics and the differences between it and other hair types.
Take the case of Alice, who was struggling with her 4C hair before she started following the essential tips and techniques for caring for her curls. She began shampooing and detangling her hair properly, deep conditioning, and using protective styling.
Additionally, Alice started using the best products for her hair type, such as VERB Curl LeaveIn Conditioner and Design Essentials Curl Mousse. With these strategies, Alice was able to gain the beautiful, healthy, and defined curls she desired.
So, if you have 4C hair, make sure to follow the tips and techniques outlined in this article, as well as use the right products to get the most out of your curls!