This site is supported by our readers. We may earn a commission, at no cost to you, if you purchase through links.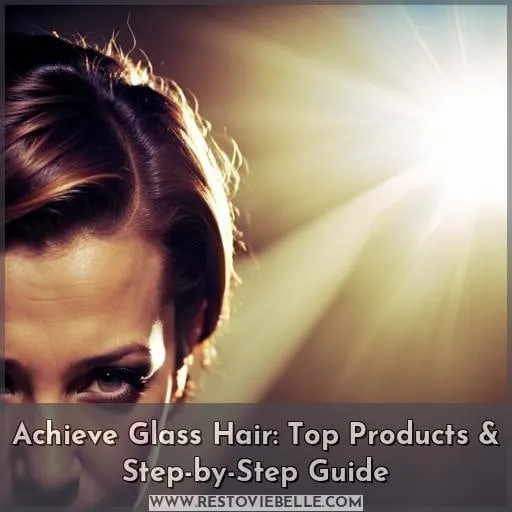 Many of us have dreamed of having that perfect glass hair look – smooth, glossy strands with light reflecting off each strand.
Thankfully, the experts are here to show you how to get your much-desired glass hair in just a few steps! With the right products and techniques from our professionals Shelly Aguirre and Olya Iudina at Maxine Salon in Chicago and IGK in New York City respectively, plus some extra tips on maintaining your style for longer periods of time – it's easier than ever before turn heads with your reflective look!
Key Takeaways
Begin with trimmed ends and even out hair lengths.
Use a shine-boosting gloss to enhance hair's natural luster.
Cleanse with Amika Hydro Rush Shampoo containing hyaluronic acid for hydration and elasticity.
Utilize Kerastase Elixir Ultime Hair Oil for shine, softness, and heat protection.
Top 5 Products for Achieving Glass Hair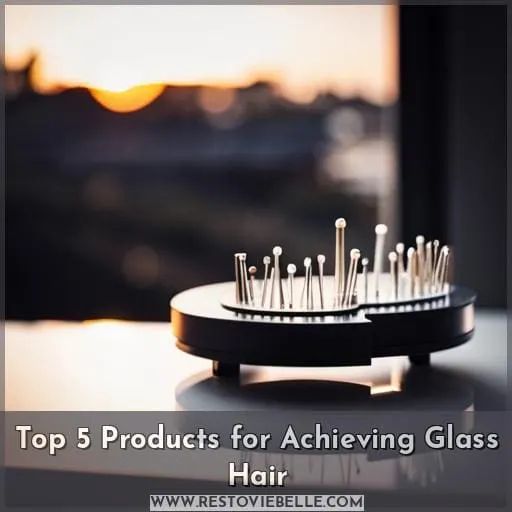 If you're looking to achieve the coveted glass hair look, Amika Hydro Rush Shampoo with Hyaluronic Acid and Kerastase Elixir Ultime Hair Oil are two must-have products. The former is a luxurious cleansing shampoo that boosts hydration for 72 hours, while the latter is a lightweight oil that strengthens, softens, and adds shine to your hair.
Both products protect from heat up to 450°F and provide anti-humidity protection for up to 48 hours.
Amika Hydro Rush Shampoo Hyaluronic Acid
You'll be amazed at the intense hydration and long-lasting shine that Amika Hydro Rush Shampoo with Hyaluronic Acid gives you for a glass hair look! Formulated with hyaluronic acid, this luxurious shampoo helps improve your hair's elasticity while providing an extra boost of moisture.
Its moisturizing formula also helps protect against dryness and damage from heat styling tools.
Plus, its lightweight lather ensures gentle cleansing without stripping away natural oils or irritating your scalp.
If you're looking for a product that will help you achieve glossy locks with minimum effort, try out Amika Hydro Rush Shampoo with Hyaluronic Acid today—you won't regret it!
Kerastase Elixir Ultime Hair Oil
Experience luxurious nourishment with Kerastase Elixir Ultime Hair Oil, a lightweight oil that will have your hair gleaming like glass in no time! Reap the product benefits of strengthening, softening, and adding shine while protecting from heat up to 450°F.
Application techniques include using 1 or 2 pumps on towel-dry hair for detangling and brushing; it functions as a heat protectant and nourishing leave-in treatment.
Hair Shine Tips
Nourishing Effects
Styling Elixir

for smooth sleek locks all day long! This is the ultimate styling elixir to give you beautiful glass hair with high gloss effects – try it today!
Prepare Your Hair for Glass Hair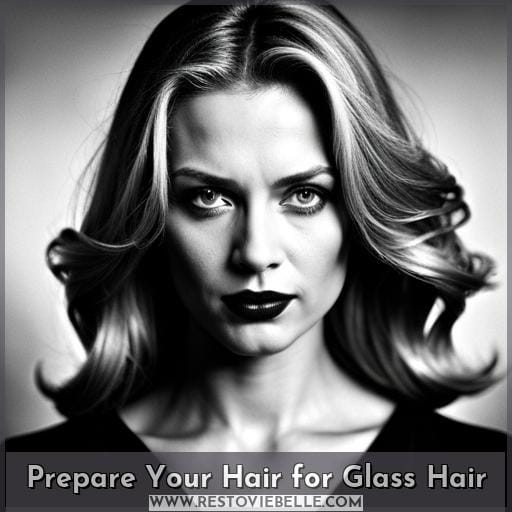 Getting glass hair requires a few steps to ensure the best results. To start, trim your ends for an even length and use products specifically designed to keep your hair clean and hydrated. Consider using a shine-boosting gloss in addition for extra glossiness; this can also help tone down any color if necessary.
Trim Your Ends
Take the time to trim your ends for a sleek glass hair look. Preparation techniques such as using hydrating essentials, the right styling tools, and proper cutting technique are key. Combat split end solutions with a deep conditioner or hair mask and follow up with hydration oil for added protection from heat damage.
Start With Clean, Hydrated Hair
Start your glass hair journey with clean, hydrated hair, like a river of silk cascading over your shoulders. Use hydrating techniques to nourish strands and glossy secrets to prevent frizz. Moisturize regularly with the right products for optimal health, such as shampoo and conditioner, leave-in conditioner, or oil-based serums and creams.
Use a Hair Gloss
Boost your hair's glossiness and color tone with a hydrating hair gloss like Amika Hydro Rush Shampoo with Hyaluronic Acid. Glossing has many benefits, from enhancing shine to locking in moisture for all hair types.
Get tips on choosing the right product, applying it correctly, and maintaining its glossy finish throughout the day! For straight glass-like styles, use products specifically designed for heat protection, such as GSQ by Glamsquad Thermal Heat Protectant, when blow-drying or flat ironing your locks.
Blow Dry Your Hair for a Smooth Base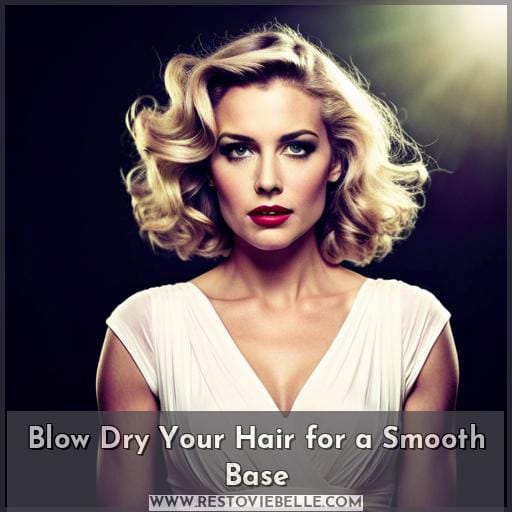 Before you begin to achieve your glossy, glassy hair look, it's important to start with a smooth base. To do this, use a heat protectant and give yourself an expert blowout. This will help ensure that your locks are protected from the high temperatures of styling tools while preparing them for the perfect sleek finish.
Use a Heat Protectant
Before styling, shield your strands from heat damage with a thermal heat protectant. Choose one specifically designed to guard against high temperatures and add shine while preventing frizz.
Styling cream: A lightweight option that helps hold shape without weighing down hair.
Humidity protection sprays: Protect hair from moisture in the air and add extra shine.
Heat protection serums: Prevent breakage while adding nourishment to locks.
For maximum glass-like effect, use these steps when applying product safely:
Use a pea-sized amount.
Work into damp roots first.
Then brush through ends until fully distributed.
Blow dry on low setting followed by quality flat irons set at the highest temperature possible for pin straight results minus any damage!
Achieve a Smooth Blowout
To get that glossy finish you've been longing for, start with a smooth blowout. Learn the techniques used by celebrity hairstylists to protect your hair from heat and create optimum straightness.
Select a quality brush that suits your hair type and use salon-style tips, such as using round brushes to lift roots or taking sections horizontally instead of vertically.
Be mindful of how long you blow dry each section, usually no more than 30 seconds per strand – any longer may damage fragile strands!
Utilize specialized products like Thermal Heat Protectant for maximum protection against styling tools while creating glassy locks fit for the red carpet!
Use a Flat Iron for Perfectly Straight Hair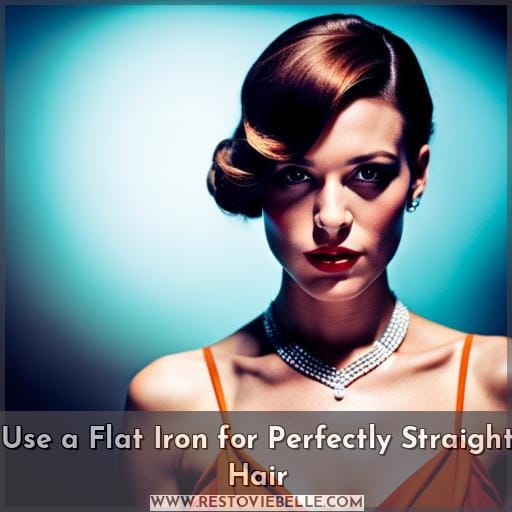 Achieving the 'glass hair' look requires precision and care. To get a perfectly straight finish, divide your hair into small sections and pass the flat iron through each one.
Divide Hair Into Sections
Divide your locks into manageable sections to ensure a perfectly straight finish and make flat ironing quick and easy. Creating sections with a comb or brush helps reduce styling time. The right parting method assists in achieving an even result.
Experiment with different techniques like dividing hair from ear-to-ear, side partings, or center parts for the desired look.
Some stylists use the 'start at neck' technique. This allows you to easily style larger areas of hair without missing strands. It is often seen on red carpets when creating A-list celebrity looks! For extra hold, use flexible hairspray before sectioning.
Pass the Flat Iron Through Small Sections
Glide your flat iron through the sections of hair to achieve a pin-straight finish, like a glass pane reflecting light. To get precise styling, divide the hair into even parts and use heat protection before passing the tool on each section.
Using quality styling tools is essential for creating that perfect sheen and texture—try natural bristle brushes or ceramic material flat irons for the best results. For extra precision, opt for ultra-fine sections that are easier to manage when using the straightener.
Add Shine and Smoothness to Your Hair

For a glass hair look that's perfectly straight and shiny, you'll need to apply an oil-based hair serum and set your style with hairspray. Achieving the perfect shine requires taking certain steps, such as using quality heat protection products before using styling tools.
Apply an Oil-Based Hair Serum
Finish your look by applying an oil-based hair serum to get that glossy, glassy finish you've been dreaming of! Serums offer a range of benefits for hair health and shine, including protection from heat damage and humidity.
For application techniques, use 1-2 pumps on hands first, then distribute evenly throughout the strands.
Recommended products for enhancing shine while also protecting hair from heat up to 450°F are Oribe Gold Lust Nourishing Hair Oil, Kérastase Nectar Thermique Hair Serum, or ghd Heat Protect Spray.
Let the serum sit in the strands before styling. The results will leave you with beautiful locks full of luster!
Set Your Style With Hairspray
Lock in your gorgeous style with a protective hairspray to keep strands smooth and shiny all day! Choose one that won't leave buildup or flakes and offers long-lasting hold.
For maximum strength, apply spray close to the head at a distance of 8 inches.
To prevent crunchiness, layer different sprays for flexible texture—lightweight formulas followed by medium holds.
Avoid spraying directly on curls as this may weigh them down. Instead, mist over hands, then scrunch hair from ends up for added lift and definition.
Finally, use dry shampoo after each styling session to reduce product build-up while refreshing roots when needed between washes!
Additional Tips for Maintaining Glass Hair

To achieve the perfect glass hair look, make sure to take extra care with longer strands as they require more effort. To keep your hair looking shiny and smooth, use a shampoo and conditioner that contain argan oil.
Lastly, be mindful of humidity as it can easily ruin this style; avoid rainy or sticky days if you want to maintain your look for longer periods of time.
Longer Strands Require More Effort
If you have longer strands, achieving glass hair can be a more difficult task. Mane maintenance requires extra effort to ensure the pin-straight look:
Longer Strand Techniques
Styling Challenges
Lengthy Haircare Routine
Extended Straightening Process
Use Shampoo and Conditioner With Argan Oil
Try using a shampoo and conditioner with argan oil for added shine to help keep your longer strands looking glossy. Argan oil is rich in vitamins, minerals, and essential fatty acids that deeply benefit the hair.
Plus, its natural hydrating properties can give you a glossy finish without weighing down your locks.
Be Mindful of Humidity
Be mindful of humidity when rocking glass hair – it can ruin your style faster than a hot summer day! Humidity challenges require different styling techniques and weather considerations. Frizz management is essential to maintain that shiny, glossy finish; use hydrating oils or anti-frizz serums during the styling process for added protection against rain.
Haircare during wet weather should include avoiding activities like swimming or sweating to prevent damage from water and chlorine.
Final Steps to Get the Glass Hair of Your Dreams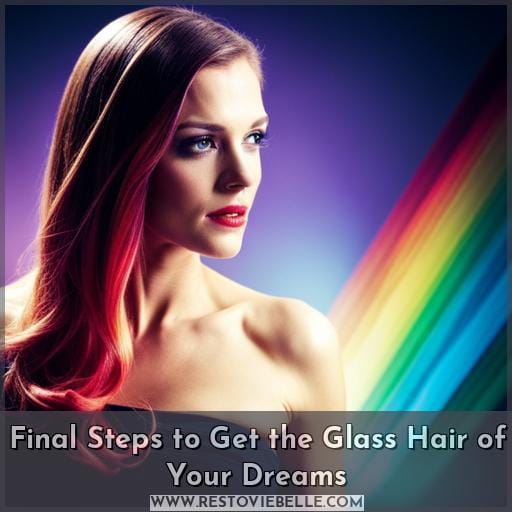 Getting the perfect glass hair requires precision and dedication. To begin, you'll need to even out your ends with a trim. Next, you should start with a clean slate by washing and conditioning your hair using specific products for added shine.
Even Out Your Ends
Even out your ends by trimming stray hairs with scissors for a polished glass hair look. Prep your strands with gloss, ensure adequate hydration, and trim the ends for a maximum glossy finish.
Start With a Clean Slate
Before you can achieve the glass hair of your dreams, start with a clean slate by shampooing and conditioning your freshly trimmed ends. Prepping essentials like heat protectant are key to keeping locks healthy before styling.
Hydration is also important – use hyaluronic acid shampoos or elixir ultime oil to seal in moisture and add shine. For ultimate glossiness, apply an acidic glaze while showering, then dry off with blowouts using natural bristle brushes for precision.
Blow Dry Hair Straight
Now, blow dry your locks with a smooth blowout and let the heat protectant do its job for glossy, glassy hair. Use heat protectants to achieve sleekness without damage, master flat iron techniques for pin-straight ends, enhance hair gloss to add shine, and defeat humidity challenges.
Flat Iron in Sections
Divide your hair into small sections, then pass a flat iron over each one 1-2 times for pin-straightness and a glassy shine. Heat protection is essential to avoid damage; use products with natural oils like argan oil for added glossiness.
Follow celebrity inspiration—Kim Kardashian, Jenna Dewan, and Ashley Graham are all seen sporting this trend! Flat iron techniques create perfect straightness while sectional straightening adds a glossy finish.
Conclusion
Achieve the glass hair of your dreams and leave your friends green with envy! With the right products, preparation, and steps, you'll be able to get that glossy, smooth look in no time.
Start off by trimming your ends, cleansing, and hydrating your hair with shampoo and conditioner with argan oil.
Once that's done, get out your flat iron and section off your hair. Pull the flat iron through each section for perfect straightness.
From there, add shine and smoothness to your hair by applying a hair serum and setting your style with hairspray.
Finally, remember to take into account humidity and use products to protect your hair from it.