This site is supported by our readers. We may earn a commission, at no cost to you, if you purchase through links.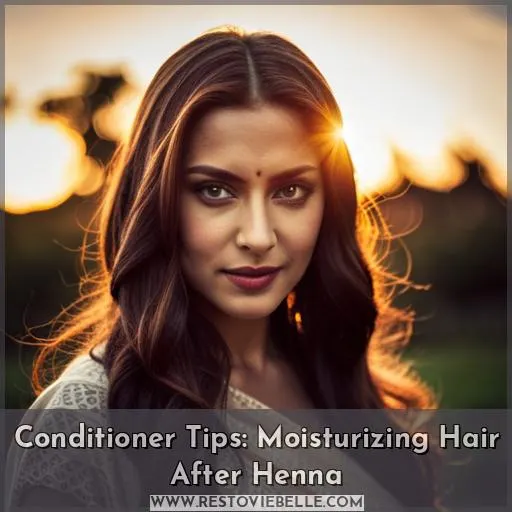 Are you looking for a way to keep your hair moisturized and healthy after using henna? You may have heard of the many benefits that come from this ancient beauty ritual, but it's important to know what steps to take following a henna treatment in order to maintain your results.
As an experienced enthusiast, I'd like to share my tips on how to best condition your hair after a henna treatment so that you can enjoy lush locks for longer.
Key Takeaways
Conditioning is crucial after a henna treatment.
Avoid protein-based conditioners and opt for deep nourishing treatments.
Incorporate hot oil or aloe vera masks with natural oils for added softness.
Use mustard oil for extra hydration and shine.
Importance of Conditioning After Henna Treatment

After Henna, your hair needs some TLC to restore it back to its former glory – conditioning is the key. Post henna care involves using a moisturizing conditioner, which helps keep moisture retention and prevents texture change in the hair.
Conditioning also ensures color vibrancy and shine, along with softness, making sure that you get beautiful results from your henna treatment.
Benefits of conditioning after henna can include improved manageability due to less tangling, as well as healthier-looking locks overall. It's important not to use protein-based conditioners since Henna already acts like a protein on the strands.
Instead, opt for deep nourishing treatments like hot oil or aloe vera gel masks combined with natural oils such as argan or macadamia oil for added hydration benefits without causing any damage or weakening of strands due to over-conditioning post-henna application.
In addition, steam therapy during and after dye sessions can help maintain essential moisture levels for the best results!
Deep Conditioning Tips for Moisturizing Hair Post-Henna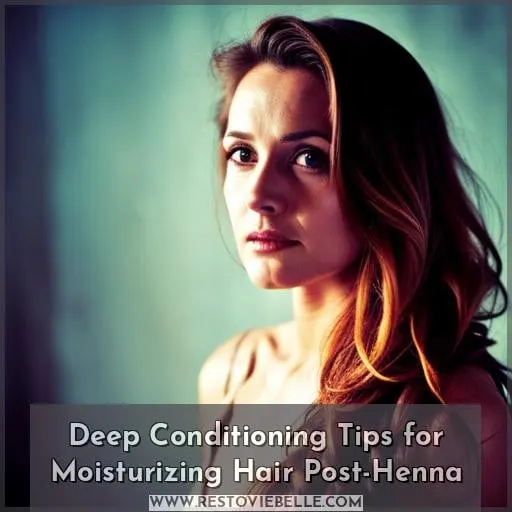 Are you looking for ways to moisturize your hair after a henna treatment? Protein-based conditioners can leave your hair feeling dry, so opt instead for moisture-rich ingredients and treatments. Hot oil treatments and daily moisturizers are great options that will help replenish the lost hydration in your locks post-henna application.
Protein Vs. Moisture Conditioners
When it comes to post-henna care, you may feel tempted to reach for a protein conditioner, but don't! A moisture conditioner will help keep your locks hydrated and healthy.
After henna rinsing is complete, consider adding hot oil treatments or daily moisturizers into your hair care routine. Organic conditioners made with ingredients such as horsetail and coconut are great for tangle-prone or fragile strands after henna application.
For best results, seek expert advice on the ideal conditioning routine that works best with your particular color of Henna dye job!
Hot Oil Treatments
Try hot oil treatments for extra hydration and shine after hennaing your hair! Mustard oil is particularly great, as it can prevent dryness and promote natural hair growth.
You'll want to apply the oil an hour before rinsing out the henna mix. For best results, warm up the mustard oil a little bit before applying it to your scalp in sections with a cotton ball or brush.
Massage gently for 15-20 minutes then cover with plastic wrap or shower cap; leave on overnight if possible.
After washing off all of the excess residue from Henna application, use this treatment once per week for optimal hydrating benefits that will make sure you don't experience any extreme dryness while maintaining beautiful color payoff!
Daily Moisturizers
To ensure your hair stays hydrated post-henna, try incorporating daily moisturizers into your routine. Keep in mind that natural remedies are best for scalp and hair protection. Opt for a conditioner or moisturizing shampoo with ingredients like aloe vera, coconut oil, honey, and shea butter to nourish the strands while keeping them soft.
Additionally, consider using an oil such as argan or macadamia on dampened hair every other day to provide extra moisture after henna application without compromising color results.
Steam Therapy for Maintaining Moisture After Henna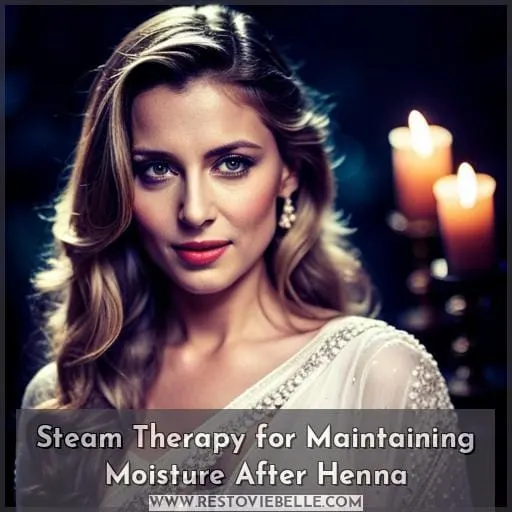 Experience a luxurious steam therapy to keep your hair hydrated and healthy after a henna treatment. Steaming is an ideal way to retain moisture in the strands, allowing you to enjoy shiny, soft locks without sacrificing color or texture.
The benefits of steaming are numerous. It helps open cuticles, boosting conditioning effects while reducing dryness and breakage caused by frequent washing or styling. For best results, wait 48-72 hours after applying henna mix on your hair before beginning the steam process.
To start the steam therapy, run hot water over the scalp for 5 minutes. Then, use warm towels draped around your head until they cool down completely. Repeat this action two more times if desired. This will help lock in moisture and leave you feeling relaxed during your post-henna care routine.
Additionally, try adding oils like coconut oil into Henna mixes before rinsing off. It will help maintain the luster of your tresses while nourishing them with additional nutrients from the natural ingredients found within the products used.
Oiling Techniques for Hydrating Hair Post-Henna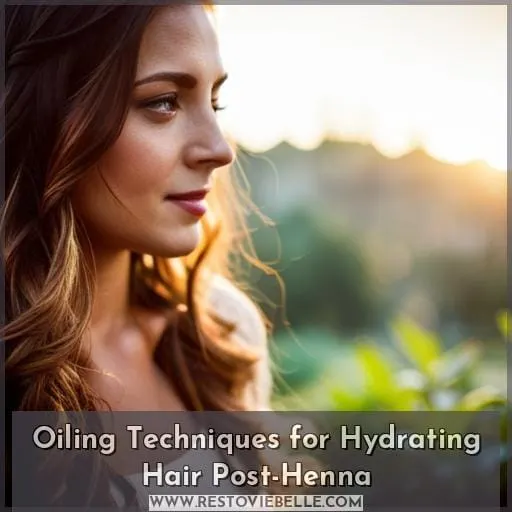 After 48-72 hours of henna application, it's time to condition your hair! Argan oil and macadamia oil are great for infusing moisture into the scalp and locks. The nourishing properties of these natural oils will help keep your tresses hydrated, healthy, and looking vibrant post-henna.
Argan Oil
After 48-72 hours, consider oiling your hair with argan or macadamia oils to keep it hydrated. Argan oil is known for its nourishing benefits and can help lock in moisture while softening strands. Usage includes applying a few drops of the oil directly to damp hair and massaging into the scalp and lengths before styling as usual.
Alternatives include jojoba, olive, almond, avocado, or coconut oils — all excellent options for dandruff control too! Hair care aside, using an organic conditioner post-henna treatment will also ensure dryness doesn't become an issue after application.
Macadamia Oil
Try macadamia oil for an intense hydration boost after your henna treatment – it worked wonders for Sarah, who'd been suffering from dry and brittle hair! This essential oil is rich in monounsaturated fatty acids that penetrate the cuticle, offering nourishment.
It also contains palmitoleic acid, which helps maintain the softness and elasticity of the scalp.
Macadamia oil has anti-inflammatory properties, making it a great choice for those with sensitive skin or scalp conditions like dandruff or psoriasis. Additionally, this natural ingredient can be used to reduce frizziness resulting from henna paste application, as well as other ayurvedic remedies such as steam therapy prior to shampooing before henna applications.
For best results, use a few drops on damp hair daily. Cover with a cap overnight to lock in moisture, then rinse out the next day using sulfate-free shampoo if needed.
Choosing the Right Conditioner for Post-Henna Care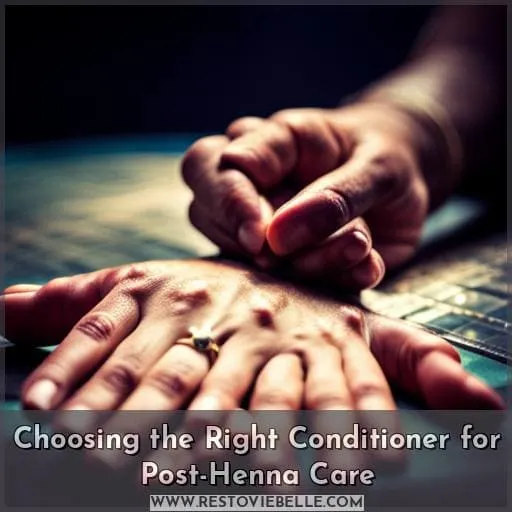 Maintaining the health of your hair post-henna is essential to ensure vibrant color and long-lasting results. If you have fragile, tangle-prone locks, choosing a moisturizing conditioner with natural ingredients like horsetail and coconut can help hydrate your strands without damaging them further.
Organic Conditioners for Fragile Hair
For tangle-prone or fragile hair, treat yourself to organic conditioners with ingredients like horsetail and coconut for maximum hydration post-henna. Herbal henna is known to have a strengthening effect on the hair structure while also providing intense nourishment.
Deep conditioning with natural remedies such as essential oils will help repair any damage caused by the application process and get your locks back in healthy shape. Organic solutions can be used as daily moisturizers, hot oil treatments, or deep conditioning treatments for an extra boost of moisture that won't strip away color or weaken strands further.
Enjoy softness without sacrificing vibrancy when you opt for herbal henna followed up by organic conditioners tailored specifically towards restoring fragile hair!
Ingredients to Look for in Conditioners
Look for conditioners with natural ingredients like horsetail, coconut, and argan oil to nourish post-henna hair and keep it looking great! A good ingredient checklist should also include natural extracts such as aloe vera gel or apple cider vinegar.
Not only do these ingredients provide moisture retention benefits, but they also darken the color of henna-treated hair temporarily. Conditioners containing these elements can be used on both straight and curly hair types to achieve maximum conditioning results after your henna dye job.
To ensure you get the best post-henna care possible, always check that there are no harsh chemicals or proteins included in a product's formula before use.
Expert Advice for Caring for Henna Color

Seeking expert advice for your henna color can help you find the perfect post-treatment care routine. Henna is an oxidative dye used to enhance hair strength and color. It's important not to shampoo until at least 48 hours after application.
After the initial waiting period, it's best to use a gentle sulfate-free shampoo when washing your hair. Avoid shampoos with protein since henna already acts as one itself! Mustard oil has numerous benefits such as preventing itching or aiding in rinsing out residue from the dunk method.
The dunk method involves submerging freshly dyed strands into a bowl of warm water. Mustard oil also helps prevent hair loss due to its anti-inflammatory properties.
For extra shine treatments, try neutral Cassia instead of chemical dyes. It's also important to avoid alcohol-based styling products altogether. Exploring The Henna Hair Color Journey will provide invaluable insight on maintaining beautiful colored locks without further damage.
Remember to deep condition with moisturizing conditioners and incorporate hot oil treatments. These are vital parts of keeping vibrant hues healthy and hydrated before returning back to regular washes.
Clarifying and Deep Conditioning for Maintaining Moisture After Henna

To ensure your hair stays hydrated after a henna treatment, try clarifying and deep conditioning with an organic conditioner that packs a punch! Clarifying will remove any build-up on the scalp that could prevent the henna from absorbing.
A moisturizing routine post-henna is essential for maintaining healthy hair hydration levels.
Deep Conditioning: Use a moisturizing conditioner without protein to restore moisture balance in the hair.
Hot Oil Treatments: Apply oil to dampened strands for added softness.
Daily Moisturizers: Use natural products such as shea butter or aloe vera gel daily to protect against dryness.
Following this simple regimen can help you achieve vibrant color results while keeping locks soft and nourished.
Rinsing and Aftercare Steps for Optimal Results

Make sure your henna application is a success with the right rinsing and aftercare steps! The 48-72 hour period following a henna treatment is vital for optimal results.
During this time, steam your hair to maintain moisture without affecting color. Afterward, rinse out any remaining residue using the dunk method.
Follow up with two washes using only sulfate-free, natural shampoos. Avoid shampoos with proteins, as they can damage your hair and color. Once you've completed the two washes, you can resume your regular washing routine.
To condition your hair after henna, consider using mustard oil. Massage it into your scalp before shampooing to help remove henna from the roots.
For added hydration, try deep conditioning or hot oil treatments. Additionally, use daily moisturizers that are free of protein ingredients, such as horsetail and coconut oils.
By following these simple yet effective steps, you'll be able to enjoy beautiful locks long after your henna experience!
Conclusion
As a complex tapestry, post-henna care weaves together multiple strands of conditioning, moisturizing, and oiling techniques to protect and preserve the vibrancy of your henna-colored hair. Taking the time to select the right conditioner, deep condition, and use steam therapy can ensure your hair remains hydrated and healthy.
Expert advice can help guide you in the right direction, while choosing organic conditioners with ingredients like horsetail and coconut can help keep fragile hair from becoming tangled and damaged. Clarifying and deep conditioning are key components to maintaining moisture after henna, so don't forget to take the necessary steps to keep your hair looking and feeling its best.
With the right post-henna care, you'll be ready to rock your new look with confidence.