This site is supported by our readers. We may earn a commission, at no cost to you, if you purchase through links.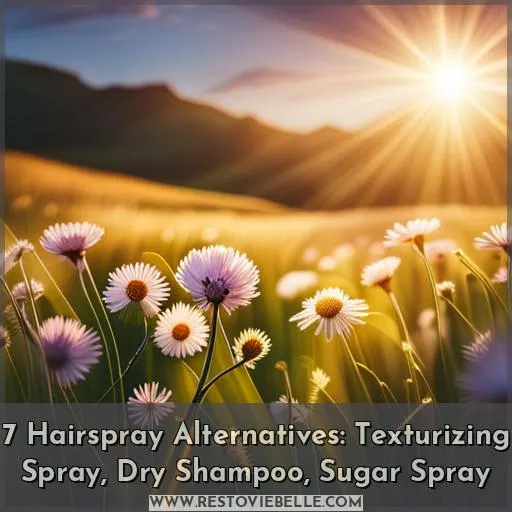 Are you looking for alternatives to hairspray? You've come to the right place. With so many potential drawbacks from using traditional hairsprays, it's no wonder that more and more people are turning away from them in search of something better.
Fortunately, there are plenty of great options available. Ranging from texturizing spray and dry shampoo to sugar spray and shea butter, these alternatives can give your hair all the hold without any of the downsides associated with regular hairspray.
Read on for seven of our top picks when it comes to finding alternative products that will help you keep frizz at bay while still keeping your hair healthy!
Key Takeaways
Options for Healthier Hair Styling
Benefits of Texturizing Spray
7 Top Hairspray Alternatives Discussed
Store-Bought Alternatives for Healthier Hair Care
7 Best Hairspray Alternatives
If you're looking for an alternative to hairspray, there are several options available that can provide you with the same hold and look. In this article, we'll discuss seven of the best products on the market – from mousses to pomades and beyond – so that you can find a product that works perfectly for your hair type and styling needs.
2. SheaMoisture Curl Mousse
View On Amazon
You can give your curls the perfect boost with SheaMoisture's Coconut & Hibiscus Frizz-Free Curl Mousse, an ethically sourced mousse that offers all-day hold and a soft finish. Formulated with Fair Trade Shea Butter, Silk Protein, and other natural ingredients, this product is free from silicone, sulfates, parabens, phthalates, mineral oil, and petrolatum.
It provides moisturizing properties to leave hair feeling soft and shiny while also giving good curl definition for those who are looking for defined waves or bouncy spirals. It works well on both curly hair as well as frizzy locks without leaving it feeling crunchy or sticky – even in humid conditions! Plus, its pleasant coconut scent won't overwhelm you like some traditional hairsprays do.
This affordable item can be found easily on Amazon subscription too, so there's no excuse not to add it into your routine!
Moisturizing, making hair soft and shiny
Provides good curl definition
Works well for curly hair and frizz
Doesn't leave hair feeling crunchy
Effective even in humid conditions
Pleasant coconut scent
May not provide as much volume compared to other mousses
Doesn't hold curls as long
Runs out quickly
Some users find the scent too strong
Works only a few hours but may not be long-lasting
3. Cremo Hair Styling Paste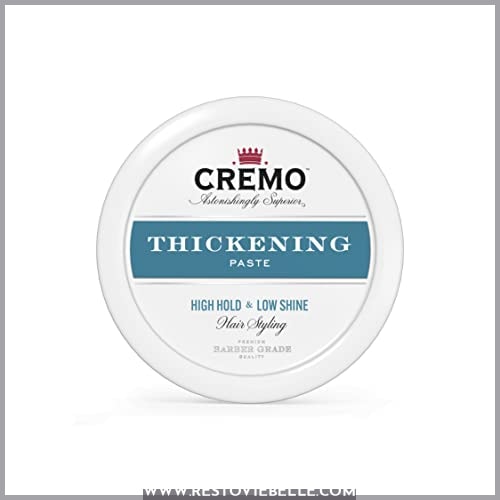 View On Amazon
Try Cremo Hair Styling Paste for a natural-looking, low shine finish that provides all-day hold and doesn't weigh down your hair. This barber-grade styling paste is suitable for short or fine hair and adds texture, volume, and thickness with ease.
Rub it together in your hands until the paste turns practically clear and feels tacky, then apply it from root to end of hair to create a messy style that lasts all day long.
It's free from dairy products, so those who are lactose intolerant can use this without worry.
Makes hair look thicker when used properly
Provides lift from the roots, keeping it elevated
Reasonable price
Suitable for thin or fine hair
Doesn't weigh down or make it look wet
Clean wash off
Matte natural finish
Requires a small amount of product
Mixed reviews; results vary based on type expectations
Not gooey shiny strong hold desired
May pull out strands if not applied correctly
Not suitable for people concerned about hair loss
4. Smooth Viking Hair Clay
View On Amazon
Experience the ultimate hold and matte finish with Smooth Viking Hair Clay for a natural look. This strong hold, matte finish hair clay is suitable for all hair types, containing beeswax, castor oil, soybean oil, and carrot seed oil to provide a lightweight formula for natural movement and flexibility.
It can be applied to slightly damp or dry hair while providing medium to strong hold with a natural matte finish – perfect for adding beachy waves or defining short cuts! Its easy application process makes it an ideal choice when you need your style in place without weighing down your locks or making them appear greasy.
The price tag might be higher than some other products on the market, but customers have praised its effectiveness upon use as well as its long-lasting performance throughout the day.
Strong Hold & Matte Finish
Suitable For All Hair Types
Lightweight Formula For Natural Movement & Flexibility
Price Tag Is Higher Than Some Alternatives On The Market
Can Be A Bit Sticky During Application
5. SoftSheenCarson Wavitrol Gel Pomade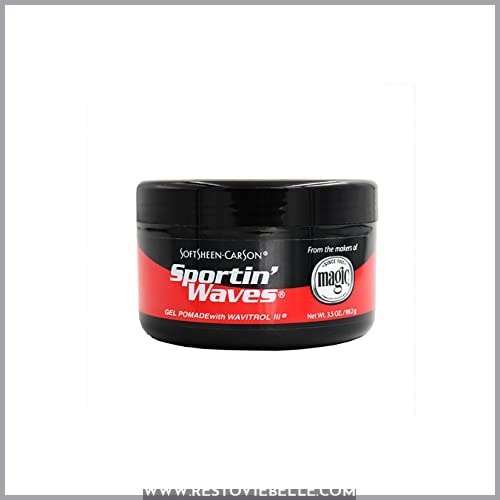 View On Amazon
SoftSheenCarson Wavitrol Gel Pomade offers regular hold strength and maximum wavemaking control to give you the perfect look. This barber-grade product is designed for all hair types, including wavy and curly.
It rinses out clean, so there's no need to worry about residue or a greasy feeling in your hair afterwards.
The formula also locks in moisture and adds natural movement with flexibility as it provides long-lasting style without any stiffness or crunchiness usually associated with hairspray products.
Provides strong hold with a natural matte finish
Adds texture, volume, and thickness without weighing down or leaving a greasy feel
Locks in moisture and adds natural movement and flexibility
Dye-free formulation and pleasant scent suitable for freshly cut hair
Requires multiple shampooing to completely wash out
Not suitable for achieving heavier hairstyles that require more hold
A bit pricier than other products
6. Kenra Platinum Dry Texture Spray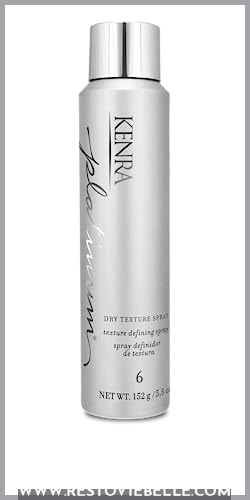 View On Amazon
For maximum hold with a natural matte finish, try out Kenra Platinum Dry Texture Spray. This ultra-lightweight, non-drying formula is suitable for all hair types and increases texture and fullness while absorbing oils and impurities.
Plus, it rinses clean so you won't be left feeling sticky afterwards. Customers have praised the product's pleasant scent as well as its effectiveness in providing volume to fine strands of hair that would otherwise need hairspray to stay put.
Better than hairspray
Smells great
Adds volume & reduces oiliness
Great quality at an affordable price
Holds without stickiness or residue
Gives a natural look
Can be too heavy on thick/curly hairstyles
Does not provide enough hold on some occasions
7. Batiste Original Dry Shampoo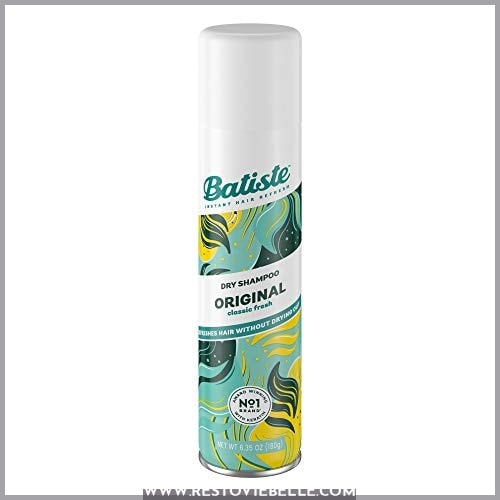 View On Amazon
Unlock your hair's full potential with Batiste Original Dry Shampoo! This waterless shampoo is perfect for those on the go, reviving hair between washes and leaving it feeling clean and fresh. With an easy application process and refreshing citrusy scent, this product targets excess oil at the roots to add texture and volume without weighing down or making hair look greasy.
Customers have praised its effectiveness as well as its budget-friendly price point. However, it is important to use sparingly to avoid any potential residue build up.
It works great for several different types of hairs, allowing you to style any way you'd like with added body and texture – all in one quick spritz! Perfect for those who lead busy lives or simply don't have time (or energy) left over after styling their own locks – Batiste offers convenience without sacrificing quality results.
Strong spray for lightweight application
Extends time between washing/styling
Easy brushing out & no visible evidence
Use sparingly if possible due to excessive buildup
Not suitable as a primary wash replacement
8. Organic Aloe Vera Gel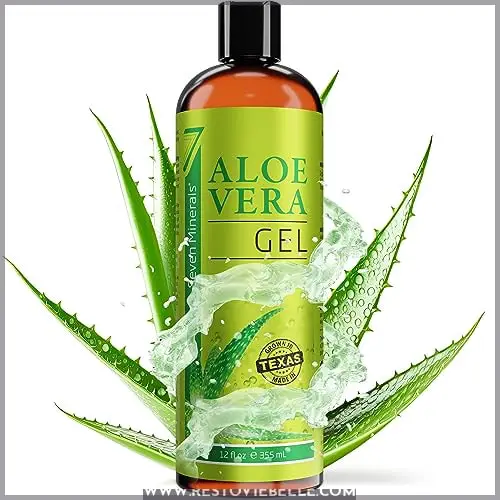 View On Amazon
Seven Minerals Organic Aloe Vera Gel is a great way to soothe sunburns and dry skin without adding perfumes or alcohol. Formulated with real aloe leaves harvested in Southern Texas, this gel absorbs rapidly and won't leave any sticky residue thanks to its natural thickener Agar.
Plus, it can also be used for treating cuts, rashes, as well as dandruff control. Customers have highly praised the product for its quality and effectiveness – making it an ideal choice for those looking to nourish their skin naturally.
The organic aloe vera gel is free from added perfumes or alcohol, which makes it perfect even if you have sensitive skin types yet still need effective moisturizing bio-gel that provides relief from sunburns quickly while soothing your dryness at once! However, some users experienced red marks or minor irritation when applied directly onto non-sunburnt areas of their bodies; thus recommending outdoor usage due to potential dust flakes indoors after application would be wise.
The consistency may seem thin but only contains chunky bits here & there plus dries up flakey – all these are easily manageable though given the impressive customer reviews regarding texture spreadability & lack of strong fragrance altogether that make using this product a joyous experience every time!
Proudly grown in Southern Texas ensuring freshness
Absorbs rapidly with no sticky residue
Suitable For Daily Use On Face And Skin
Free From Added Perfume Or Alcohol
Highly Regarded For Dandruff Control
Impressive Customer Reviews Regarding Quality And Texture
Some Users Experienced Red Marks Or Minor Irritation When Applied To Non-Burned Skin
Not Recommended Indoor Usage Due To Potential Dust Flakes After Application
Turn to Texturizing Spray

Try texturizing spray for lightweight hold and added texture. Texturizing spray is a versatile styling product that imparts volume, body, and texture to all hair types. It's the perfect alternative to hairspray as it provides light-to-medium hold without stiffness or stickiness.
Here are some of its main benefits:
Humidity Resistance: Texturing sprays provide humidity resistance so hairstyles stay in place no matter how hot or humid your environment may be.
Natural Look & Feel: Unlike other products with heavy ingredients that leave behind residue, texturing sprays create a natural look and feel without weighing down your locks or leaving an unpleasant smell behind.
Volume Boosting Secrets: Texturized styles also help add lift at the root area for more volume than typical hairspray can achieve – perfect when styling short cuts!
Easy Styling Tips: From beachy waves to sleek updos, applying this type of product helps enhance any style.
When choosing a brand, look for those formulated with natural oils such as coconut oil which not only give flexible control but also nourish locks from within. Popular brands include Volaire Air Magic Texture Spray (lightweight hold), Garnier Fructis De-Constructed Texture Tease (airy fullness), Dry Bar Triple Sec 3-in-1 (textured finish) plus many others.
Try Dry Shampoo

A quick switch from hairspray to dry shampoo can provide you with a refreshing boost of volume and oil control. If your hair is prone to feeling greasy or weighed down, then switching out the heavy hold of hairspray for lighter-weight alternatives like dry shampoo could be an ideal solution.
Dry shampoos come in many forms–from powders that absorb excess oils, to aerosol sprays that give texture and body instantly–so there's something for everyone! Not only do they refresh your look without leaving any residue behind, but they also offer some natural hold so you don't have to worry about flyaways when styling.
If store-bought products aren't quite doing it for you, there are plenty of DIY options too! From egg white gels that strengthen hair while controlling frizziness; to sugar sprays made from fresh cane extract; even flaxseed gel which nourishes the scalp as well as providing clumped curls or sleekness depending on what style suits best – all these ingredients can be found right in your kitchen cupboard ready for experimentation.
The possibilities are endless when it comes to creating unique hairstyles with no need for traditional hairspray substitutes! Whether using store-bought products or homemade concoctions tailored specifically towards individual needs – transitioning away from pungent spray cans means healthier overall styling habits free from damaging chemicals and long-lasting scents alike.
Use a Sugar Spray

You can achieve the perfect hold and natural look with a sugar spray made from sugar cane extract. Sugar sprays provide shine and light to strong hold, while adding texture without leaving your hair feeling sticky or stiff.
They're also great for those looking for an alternative to hairspray due to concerns over ingredients, environmental impact, or smell.
DIYers can easily make their own homemade concoction using simple ingredients like water and raw cane sugar syrup mixed together in equal parts before being poured into an empty spray bottle.
Store-bought options are available too if making your own isn't something you're comfortable doing yet; they even come in aerosol form which gives them similar convenience as traditional hairspray products – just be sure to check the label carefully first before buying as some may contain alcohol-based formulas instead of natural ones meant for more delicate tresses such as curly-haired individuals who need extra protection against damage caused by heat styling tools or chemical treatments used during coloring sessions.
Sugar sprays offer sweet solutions when compared side by side with other alternatives such as mousse, gel sprays, gelatin mousses, and flaxseed gels.
Use a Little Shea Butter

Using a little shea butter can provide your hair with hold and hydration, while simultaneously nourishing the scalp. Shea butter is rich in vitamins A, E & F as well as antioxidants, making it an excellent natural alternative to hairspray for protecting hair from heat damage or everyday styling products.
It helps reduce inflammation and redness on the scalp caused by dryness or irritation, and its high levels of fatty acids keep strands soft and healthy.
When used correctly, shea butter can be applied directly onto damp hair before blow drying or air-drying for extra definition without leaving any residue behind. This makes it perfect if you're trying to achieve a sleek look! If your curls lack volume after using traditional hairspray, try applying shea butter.
Simply apply some of the product into your palms first, then work it through sections from root to tip for maximum results.
Alternatively, you can mix up a DIY sugar spray recipe. Combine equal parts organic water with unrefined cane sugar extract.
For those who want something stronger, there is always pomade. Applying small amounts of pure shea butter infused with coconut and hibiscus around the roots works perfectly when you want more defined curls.
Overall, no matter what style you're going for, make sure it makes use of all the beneficial properties found within shea butter.
Pomade in Heaven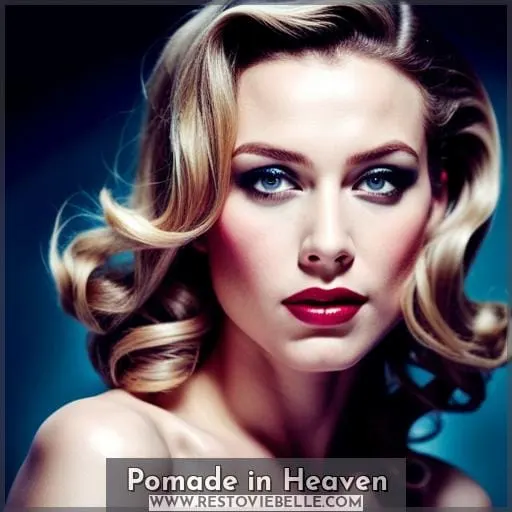 Making the switch from hairspray to pomade? You're in for a treat! Pomades are a great option for those looking to style, condition, and nourish their hair without using harsh chemicals. They offer all of the benefits that hairsprays do – hold, shape, and texture – but with natural ingredients like beeswax or shea butter instead of alcohol-based products.
Plus, they leave your locks feeling soft after styling rather than stiff and dry.
Pomades come in two main varieties: wax-based and water-soluble (oil-based). Waxes provide maximum hold while oil-based creates softer styles with less definition – perfect if you're looking for more movement without sacrificing control over flyaways or frizziness.
When it comes to curly hair specifically, pomade is ideal as it can help define curls while providing moisture so they stay hydrated throughout the day.
When applying pomade, make sure your hands are dry as this will ensure even distribution through your locks. Apply small amounts directly onto each section at a time until reaching the desired look. Use fingertips when rubbing the product into the scalp rather than fingernails, which can scratch the skin.
Finish off by brushing through any excess residue on the surface of strands before setting the hairstyle into place with a light misting spray or a similar tool such as a blowdryer on a low heat setting.
To remove, simply wash out using shampoo and warm water followed by a cool rinse afterwards!
Forget about sticky sprays that damage delicate follicles – embrace natural powerhouses like beeswax-infused formulas which add shine and volume while protecting against humidity and extreme temperatures! Get creative too: try playing around with different combinations such as mousses, gels, creams, etc.
Then mix them together to achieve unique looks every time you step out the door.
So go ahead, explore the world of luxurious haircare products, discover new favorites, and get ready to take all the compliments coming your way!
What to Use Instead of Hairspray: 8 Hairspray Alternatives at the Store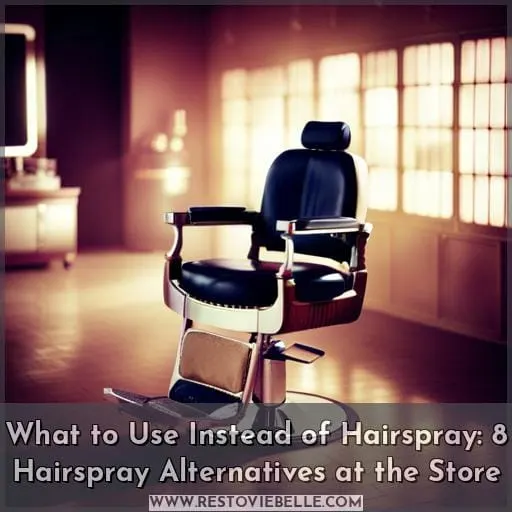 Discover eight store-bought hairspray alternatives for a healthier hair styling routine. Adding more natural and organic elements to your haircare can be beneficial to both the health of your tresses, as well as the environment.
From mousse and hair gel, to styling clay and aloe gel, there are plenty of options available so you can style without relying on harsh chemicals found in traditional hairsprays.
Mousse adds soft flexible hold ideal for curly hairstyles.
Hair Paste gives texture fullness with easy washability.
Hair Gel offers various hold levels but is not suitable for curls.
Styling Clay provides medium hold with a matte finish when applied slightly damp or dry hair.
Pomade is best used by those aiming for maximum flexibility especially if they love comb-formed updos.
Texturizing Spray works great at lightening up locks providing frizz control too!
Dry Shampoo volumizes fine strands though it may leave behind white cast residue.
Aloe Gel tames flyaways plus defines curls.
Citrus Spray nourishes scalp health naturally giving off long lasting results!
For an extra boost pick up Shea Moisture Curl Mousse which enhances natural curl memory while adding volume & shine all day long – perfect if you have wavy/curly styles that require some definition along with moisture retention benefits from Fair Trade Shea Butter & Silk Protein.
Cremo Hair Styling Thickening Paste ups texture & thickness leaving low-shine finish – just make sure you don't apply too much otherwise it'll look greasy!
Finally, SoftSheenCarson's Wavitrol Gel Pomade helps heal damaged hairlines offering regular strength locking in needed moisture without weighing down 'dos either!
With so many different types of product available on shelves today anyone looking switch away from using Hairspray has lots choose from – go ahead give them try now see how beautiful results will be!
What to Use Instead of Hairspray: 8 DIY Hairspray Replacements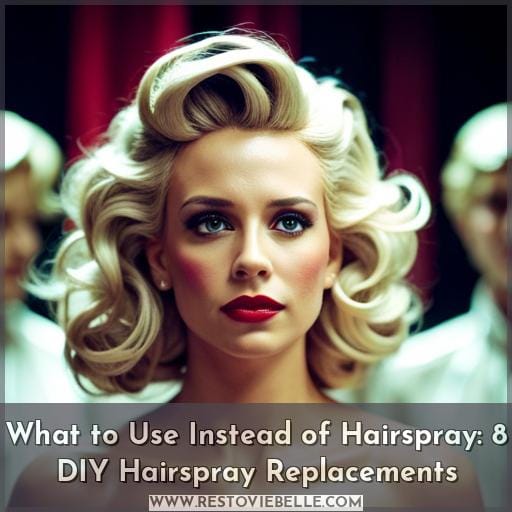 Unlock your inner stylist with these 8 DIY hairspray alternatives—perfect for a natural hold and healthy hair. Sugar Spray, Beeswax Pomade, Gel Spray, and Citrus Spray are all easy to make at home using simple ingredients like sugar cane extract or lemon juice.
If you're looking for even more nourishment, Shea Butter Mousse is the way to go. It offers light-hold while also providing moisture and shine! Egg White Gel is an affordable option that strengthens hair while controlling frizziness.
Flaxseed Gel helps create clumped curls or smoothness depending on what look you're going for.
| DIY Haircare | Natural Styling |
| --- | --- |
| Sugar spray | Texturizing |
| Beeswax pomade | Volumizing |
| Gren gel spray | Hairspray drawbacks |
| Citrus spray | Homemade alternatives |
| Shea butter mousse | Sustainable hairstyling |
| Egg white gel | Hold |
| Flax seed gel | Hair Grip |
| Aloe vera | Alcohol-free hairspray |
| – | Hair Volume |
Say Goodbye to Hairspray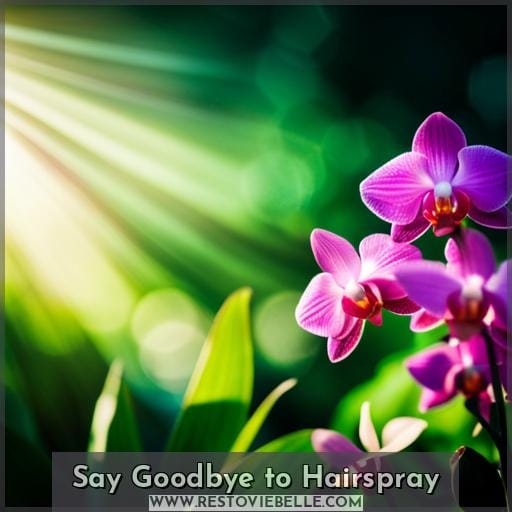 It's time to bid adieu to your beloved hairspray. While it offers great hold, the ingredients in some aerosol varieties can have a drying effect on hair and cause long-term damage.
From natural products like shea butter mousse and curl mousse to store-bought options such as hair paste, here are five styling methods for texture boost, volume control, frizz control, and more:
Texturizing spray: This lightweight formula provides invisible hold while nourishing strands with its beneficial ingredients.
Dry shampoo: An easy way to extend the life between washes while adding grip at roots for fine hair types.
Hair gel: Great when you need stronger hold, but avoid using this method if you're after defined curls or waves since gels often create stiffness instead of definition.
Styling clay: Offers medium strength with a matte finish – plus, it won't weigh down locks like most other heavy formulas will.
Pomade: The strongest option out of all these mentioned, pomades provide maximum flexible holds, especially suited towards combed hairstyles.
Whether you're looking for an alternative due to environmental impact concerns, smell sensitivity, or wanting something healthier than traditional hairsprays — rest assured knowing beauty writers everywhere agree that these five picks offer amazing results!
Conclusion
Not sure what to do with your hair? Forget about hairspray, it's time for some alternatives! There are tons of products and DIY recipes that you can use to get the same or even better hold without all the additional chemicals.
Texturizing spray, dry shampoo, sugar spray, shea butter, and pomade are just a few of the many options you have. And if you're looking for something more natural, you can always turn to DIY recipes such as sugar spray, beeswax pomade, gel spray, citrus spray, shea butter mousse, and egg white gel.
With all these alternatives available, it's easy to find something that will work for your hair type and style.