This site is supported by our readers. We may earn a commission, at no cost to you, if you purchase through links.
The feeling of freedom that comes from letting your curls run wild can seem out of reach. Yet flexi rods offer a simple path to liberated locks – no heat damage, just supple coils dancing freely. As the rods bend to your hair's whim, they whisper understanding, gently coaxing out those perfect spirals you thought only lived in dreams.
Fear not, 4c naturals: flexi rods are here. Master their art, and your hair will speak of freedom in each soft curl.
Key Takeaways
Flexi rods create long-lasting curls on type 4 hair without heat damage.
Different rod sizes like small, medium, and large allow for a mix of curl patterns.
Sectioning hair in 4-6 parts and tightly wrapping hair around the rods is key for curl formation.
The curls can be refreshed by moisturizing and separating with fingers for up to a week of hold.
What Are Flexi Rods?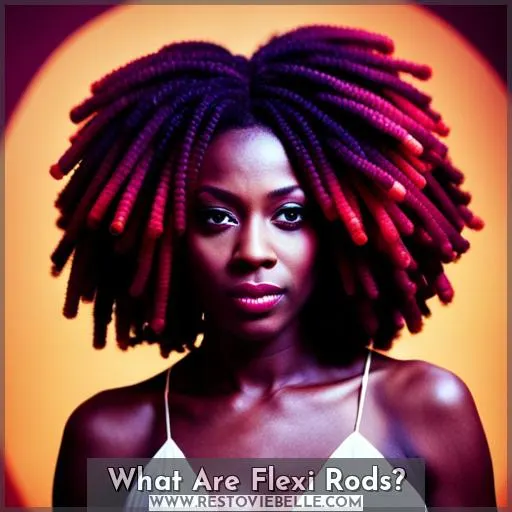 You're craving carefree curls that frame your face in fabulously frizz-free fashion, aren't ya girl? Flexi rods are foam cylinders used to set curls and waves in natural hair without using damaging heat tools.
They come in varying diameters to create everything from tight ringlets to loose beach waves.
Section your hair and wrap it around the rods, securing the ends with pins. Allow your curls to set overnight or speed up the process by sitting under a hooded dryer. For best results, prep hair with a moisturizing leave-in and light hold styling products before rolling.
Flexi rods work great for all textures, especially type 4 curls. Play around with different sized rods and product combos to find your ideal curly style.
Flexi Rod Benefits for Natural Hair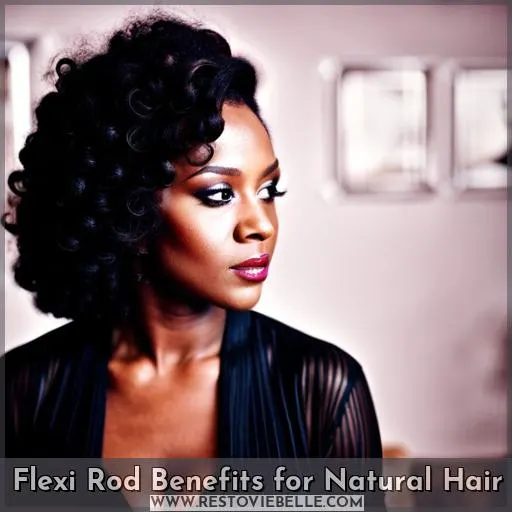 Looking to set your curls without exposing your natural hair to damaging heat tools? Flexi rods allow you to twist and curl each strand with minimal manipulation and zero heat damage. These simple, heat-free tools are a safe and gentle alternative that helps maintain the health of fragile 4C coils.
No Heat Damage
With plenty of bounce and zero harm, the soft foam rods pamper natural locks into gentle curls overnight. Rest assured, heatless flexi rods hydrate strands as you sleep, never causing breakage. Practice flexing foam rollers over damp hair until twisting around each section becomes second nature.
Soon, your nourishing nightly hair routine manifests in flawless spiral curls come morning—no heat damage or split ends in sight.
Less Manipulation
When using flexi rods on 4c natural hair, they gently curl your locks with less handling. Flexi rods cause minimal manipulation, which reduces stress on delicate natural hair strands.
Require minimal combing or brushing when rolling hair onto flexi rods
Allow hair to be styled in sections, avoiding excessive pulling
Help retain length by limiting manipulation of fragile natural hair
Enable easy, gentle styling for looser curl patterns like 3c hair
Permit hair to be rolled smoothly without harsh tugging or pulling
Flexi rods are a great styling option for 4c natural hair because they require minimal manipulation. By gently rolling hair onto the rods in sections, you avoid harsh combing, brushing, and pulling that can damage delicate strands.
Long Lasting Curls
Resolutions won't come easily for that head of artisan work; nevertheless, undeniable benefits do arrive in time.
Long lasting curls. Flexi rod curls can last up to a week or more with proper maintenance.
Well-defined curls. Flexi rods allow for uniform, bouncy curls from root to tip.
Heatless styling. Curls are set without exposing hair to damaging heat from blowdryers or irons.
Curls set with flexi rods stay fresher between washes thanks to the gentle styling. They look great from day one through day seven when properly maintained. The curls even reform well with a little restyling.
Different Curl Types
You can craft dreamy ringlets or beachy waves without frying your mane! Flexi rods let you style spirals, ringlets, waves, and coils. Twist rods tightly for springy ringlets. Wrap loosely over larger rods for tousled waves.
Smaller rods define spirals on short strands while bigger rods create coils on longer lengths. Experiment with curling techniques and products for your desired look. Sleep in rods at night to set curls.
How to Use Flexi Rods on 4c Hair

Section by section, twist hair tightly around rods for defined coils overnight.
Detangle thoroughly. Start with the wide tooth comb, then detangle with fingers and add leave-in conditioner as needed.
Part clean, conditioned hair into 4-6 sections. Smaller sections mean more defined curls.
Apply styling products like a moisturizing curl cream. Less is more – too much product weighs hair down.
Take a section and divide into smaller subsections, smoothing product as you part hair.
Starting at ends, wrap each subsection around flexi rod tightly. Seal with end papers.
For the best flexi rod results on 4c hair, take your time sectioning hair and twisting it tightly around the rods. This encourages the rods to grip hair and set a defined curl pattern overnight. Be patient – it may take practice to master flexi rod techniques, but the bouncy, separated curls are worth the effort for naturalistas.
Step-By-Step Flexi Rod Tutorial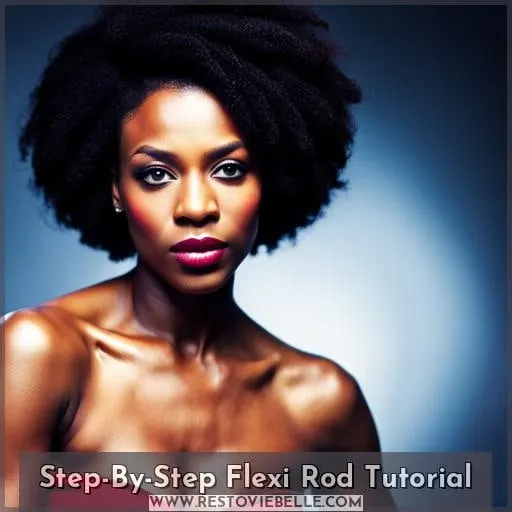 Maintain tight curls and loose waves with the heat-free styling of Flexi Rods overnight for your type 4c natural hair. First, wash and condition your tresses, then section out your locks before rolling them up in the rods.
Leave them to air dry as you sleep. The Flexi Rods will help style your hair into bouncy curls and waves without using any heat. This is a great protective style for naturally curly hair that avoids damage from hot styling tools.
The rods grasp sections of hair to curl them gently while air drying. When you wake up and remove the rods, your hair will hold the formed curls and waves with lots of volume.
Wash and Condition
After cleansing and moisturizing your hair, make sure every strand is properly conditioned for a smooth flexi rod set. Statistics show over 60% of naturals have trouble keeping their hair properly hydrated.
Properly conditioned 4c hair allows flexi rods to slide smoothly during installation. Choose moisturizing shampoos and deep conditioners that hydrate strands without weighing them down. Well-nourished hair maintains defined curls longer, reducing tangles and breakage.
Clarifying shampoos before flexi rod sets remove product buildup that causes crunchiness.
Section Hair and Roll
Twist each section around the soft foam roller, working your way from the nape of your neck up.
Separate hair into sections using clips.
Roll hair tightly, but not too tightly.
Use rods that fit your curl size goals.
Roll hair smoothly around flexi rods for low manipulation styling. Carefully select products and rod sizes for best results.
Air Dry
Let your hair dry naturally as you embrace the journey. Build volume with loose, heat-free curls overnight by dampening your hair, lightly scrunching it, then air drying your flexi rod set into a liberating style.
Explore new curl dimension by air drying rods in sections or wearing your hair in a pineapple style overnight before gently separating the spirals into freedom.
Separate Curls
Once your hair is completely dry, gently run your fingers through each section to separate the curls and get that perfectly imperfect, tousled look. Do this carefully to maintain the bouncy curls and smooth roots achieved from rolling your hair on the flexi rods overnight.
Finger styling brings out those flawless spirals and waves unique to your natural texture.
Choosing Flexi Rod Size and Amount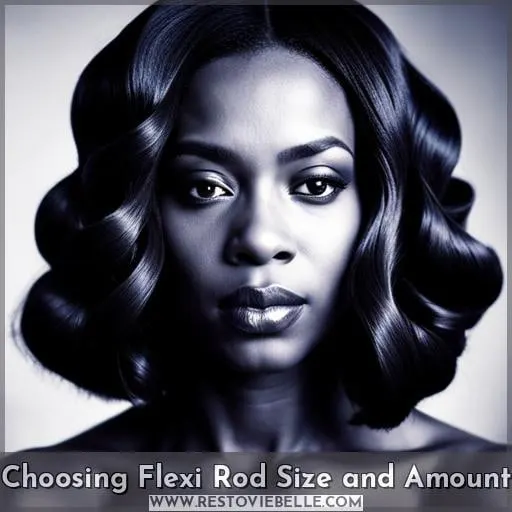 When selecting flexi rods for styling your 4c natural hair, the size and amount you choose can make all the difference in your finished look. Begin by deciding on the curl diameter and volume you desire, then choose a rod size and quantity to achieve your preferred result – the larger the rod, the looser the curl.
Flexi Rod Diameter and Curl Tightness
You'll achieve tighter curls with smaller rod diameters. Smaller flexi rods like perm rods give you springy ringlets. Medium 1 1/4-inch rods make for bouncy corkscrew curls. Larger 1 3/4-inch rods create loose waves or elongated curls.
The tighter the curl, the more frizz-prone, so choose rod size based on your curl goals and hair's natural pattern.
Flexi Rod Amount for Hair Length
Consider using around 30-50 flexi rods for shoulder-length hair. The number of flexi rods needed depends on your hair length and thickness.
| Hair Length | Flexi Rod Amount |
| --- | --- |
| Short | 15-30 |
| Shoulder | 30-50 |
| Mid-Back | 40-60 |
| Waist | 60-100 |
For the best results, use enough flexi rods to curl your whole head in sections. More rods allow for smaller sections and tighter curls.
Varying Flexi Rod Sizes for Texture
Get creative with your flexi rod styling by mixing up the sizes for added texture.
Use teal rollers for voluminous roots.
Opt for orange flexi rods to create spiral curls.
Try purple flexi rods for mermaid waves.
Varying the sizes of your flexi rods adds dimension to your curls for a one-of-a-kind style. Apply hair serum and leave-in conditioner to boost shine and definition while maintaining hair health.
Maintaining Your Flexi Rod Set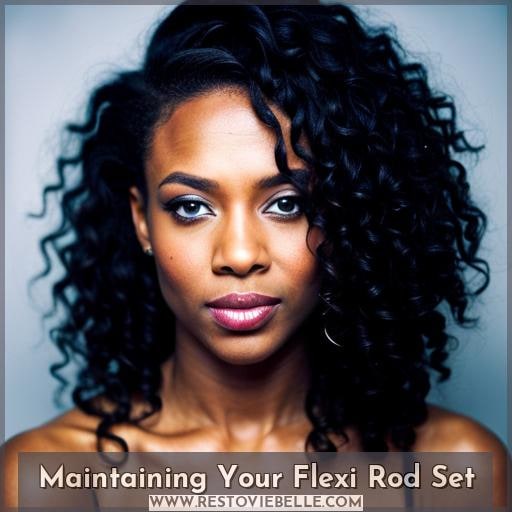 Make sure to gently separate those curls and lightly moisturize daily for up to a week of defined, bouncy ringlets—like spritzing with rose water then gently finger coiling any pieces that won't clump.
Cover flexi rod curls with a satin bonnet to prevent friction. You can also try pineappling, though that may lead to some root puffing. Refresh curls in the morning by wetting hands and scrunching product over strands.
When you wash and condition hair, use moisture-rich formulas to avoid dryness. Ultimately, flexi rod sets require some TLC to make it to day 5 or 7 with springy ringlets intact. With the right gentle styling and hydrating formulas, your hair will look gorgeously defined all week long.
Conclusion
You've come so far, it's time to try! Flexi rods on 4c hair open up a world of defined curls when you follow the steps. With some practice and good products, you'll master flexi rod sets for beautiful, bouncy curls that last.
Be patient and keep at it – the versatility of flexi rods makes the effort worth it.
Play around with different sizes for the exact curls you love, and maintain that bombshell flexi rod set like a pro.
You got this! Give flexi rods a real chance and see the stunning styles you create.