This site is supported by our readers. We may earn a commission, at no cost to you, if you purchase through links.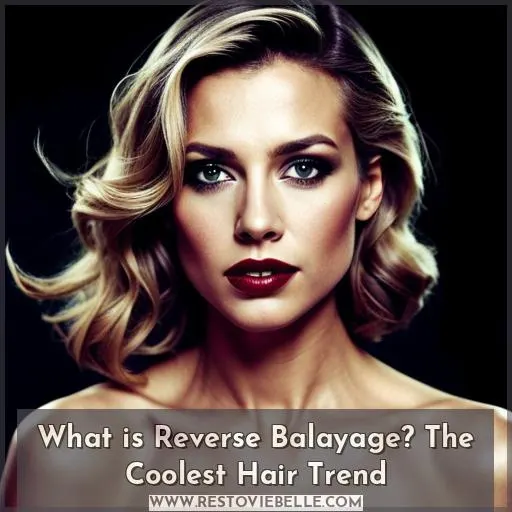 Are you looking to make a statement with your hair? Reverse balayage is the perfect way to achieve an edgier look. This cutting-edge technique involves adding darker strands and lowlights, instead of highlights like traditional balayage.
It's the ideal way for blondes who want richer tones without committing to full color or all-over lightening – plus, it gives off major cool girl vibes! Read on as we explore everything there is to know about reverse balayage: what it is, its benefits and downsides, how much it costs, maintenance tips, and more.
Key Takeaways
Reverse balayage is a trendy hair technique for blondes.
It focuses on darker shades, creating a natural progression from dark roots to lighter ends.
It adds darker strands and lowlights for depth and contrast.
It requires minimal maintenance, no root touch-ups, and can last up to 12 weeks.
What is Reverse Balayage?

Discover the transformative effects of a reverse balayage and how it can add depth and dimension to your look for fall. Reverse balayage is an innovative hair-color technique that adds lowlights to achieve a darker shade while retaining some blonde, creating a natural progression from dark roots to lighter ends.
It's different than traditional Balayage in that it focuses on darker shades instead of lighter pops for contrast, adding depth without patchiness on damaged hair. With this style, you'll get fresh results with minimal maintenance required – no root touch-ups! Plus, semi-permanent dye means less damage overall, so even busy individuals can give their locks an uplift with ease.
The process itself involves sectioning off the hair before applying darker dyes at the midlengths and ends.
Stylist recommendations make sure all precautions are taken into account when deciding what color works best. However, Lauren Grummel NYC colorist suggests opting out completely if unsure about commitment levels since growing out requires time plus effort, especially when transitioning from one season into another like fall where brunettes tend to become popular again after summer months have passed by.
So why not try something new? Reverse balayage offers stunning results along with complimentary nature between highlights, ensuring dynamic multi-dimensional looks while avoiding any hint of robotic repetition due to its low maintenance upkeep.
The Difference Between Balayage and Reverse Balayage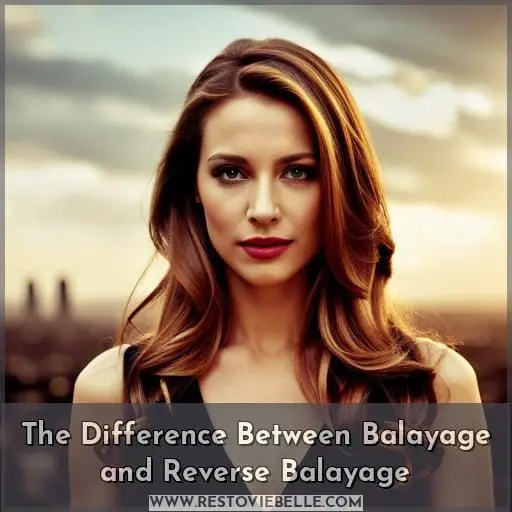 You can create a bold and beautiful look with balayage or reverse balayage, but what's the difference between them? Balayage is all about lightening hair for a sun-kissed look, while reverse balayage adds darker shades to contrast.
Here are 3 key differences:
Progression – With traditional balayage, there's an effortless flow from dark root to lighter tip. Reverse balayage, on the other hand, places lowlights for depth and creates more of a natural progression in your hair color.
Color Pop – While both techniques offer subtlety, regular balayage will still have some lighter pops in it.
Maintaining reverse balayage will require color-safe shampoos and conditioners, as well as heat protection sprays when styling your hair to avoid fading or breakage due to the change in color intensity from blonde to brunette.
Benefits of Reverse Balayage

Reverse balayage is a transformative trend that offers blondes a low-commitment, low-maintenance way to transition to darker shades. This technique adds depth and texture with its gradual application of muted colors for contrast compared to traditional highlights, which lighten the hair.
The process includes sectioning off areas and applying darker dye in strategic sections like mid-lengths and ends before blending it out for a natural progression from dark root to lighter tip.
Stylists also recommend using color-safe shampoos & conditioners along with heat protection sprays while minimizing any styling tools used on colored hair for better maintenance results.
All in all, reverse balayage provides stunning results, including added thickness & dimension, resulting in heads turning wherever you go – just ask celebrity stylist Bianca Hillier, who recommends this trendy technique again & again!
Downsides of Reverse Balayage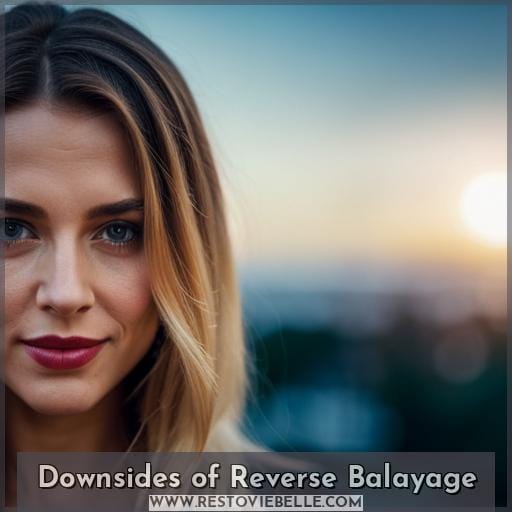 Although reverse balayage is a low-commitment and manageable way to transition from blonde to brunette, one downside of the process is that it typically ranges from $150-$500 depending on salon complexity, which is up to three times more expensive than traditional highlights.
Additionally, for some styles, extra maintenance may be required, such as protecting hair with heat spray or using color-safe shampoo and conditioner. Furthermore, if you're not fully committed to going darker or lighter, you'll need additional touch-ups over time as your natural roots grow in, which could result in patchiness.
For those considering this type of low-commitment hair color technique, it's important to consult their stylist first regarding suitable colors for their skin tone and current level of damage before taking the plunge into reverse balayaging.
Lastly, remember when playing around with different shades, there's no one-size-fits-all approach. Look at what colors work best on people who have a similar face shape and skin tone combination before making decisions about any specific shade choices or recommendations given by stylists like celebrity hair colorist Bianca Hillier.
Cost of Reverse Balayage

The cost of a reverse balayage typically ranges from $150 to $500, depending on the salon and complexity of the style. Reverse balayage is a trendy hair technique that offers low-commitment and low-maintenance results for blondes wanting to transition to darker shades with subtlety.
It's great for adding depth, texture, and natural dimension without root touch-ups or damaging dye treatments.
Color options can include brown tones, caramel hues, copper shades, or pink color. Always consult with your stylist first before making any changes as they will be able to advise you on what best suits your skin tone.
As far as maintenance goes, using color-safe shampoo and conditioner while minimizing heat styling (with regular use of a heat spray) will ensure long-lasting results that are easy to manage when it comes time for seasonal transitions.
With celebrity hair colorists such as Lauren Grummel and Bianca Hillier singing its praises, reverse balayage may just be the perfect way to achieve the look you desire.
How to Maintain a Reverse Balayage

Keep your reverse balayage looking fresh with the right maintenance routine! To keep your chic hair trend in check, it's important to follow a few simple rules.
Color-safe products should be used on dyed hair, and heat protection sprays are essential for protecting locks from damage.
Additionally, if you're transitioning from brunette to golden or adding intense contrast tones, regular trims will help maintain the look and prevent split ends.
A haircare routine doesn't have to take long – just some extra care is needed when washing and styling. Stylists recommend using specialized shampoos that target colored strands, as well as conditioners enriched with natural oils such as coconut oil or argan oil.
These oils can help nourish scalp health while keeping color vibrant longer between touch-ups.
Seasonal adjustments might also be required depending on environmental factors like sun exposure, so don't forget hats during hot summer days!
Maintaining a reverse balayage isn't difficult but needs proper commitment for best results. Invest in quality products tailored specifically designed for colored tresses, combined with professional advice provided by stylists who know how different shades affect each other over time.
Can You Undo a Reverse Balayage?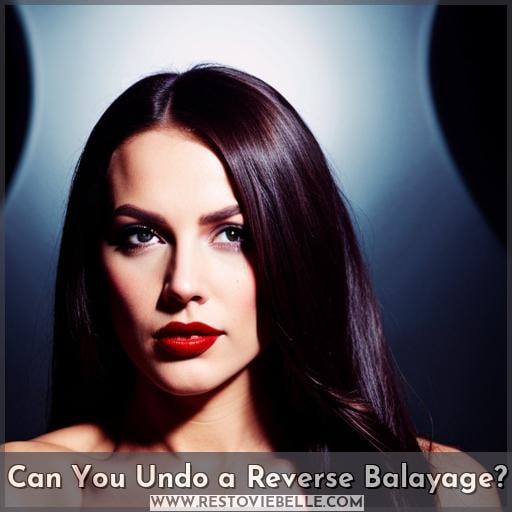 If you've recently tried the trendy reverse balayage for a darker effect but now want to undo it, there are some steps that can help. It's important to note that reversing hair color of any kind requires patience and time as your hair grows out.
There may also be damage depending on how much dye was used originally and what type it was.
To begin with, talk with a professional who will assess the situation so they can recommend the best plan of action going forward. Depending on their advice, you might need multiple appointments or treatments to restore your natural shade if desired.
When caring for reverse balayage at home, make sure not to skip using heat protection when styling your locks. Use only shampoos specifically designed for colored hair as these contain extra nutrients that nourish dyed strands more effectively than standard products do.
Additionally, opt for deep conditioning masks once per week. This will go hand in hand with avoiding chlorine pools as well as sun exposure without hats.
Ultimately, though transitioning from reverse balayage back towards lighter tones takes dedication, don't forget about its perks either: less maintenance compared to highlights, plus longer-lasting effects overall.
How Long Does Reverse Balayage Last?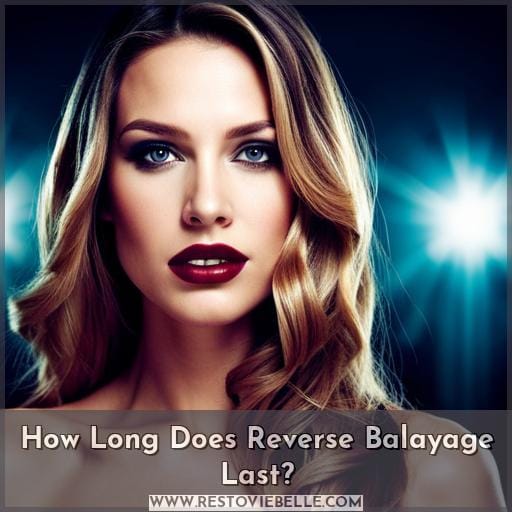 Your reverse balayage can last up to 12 weeks, depending on your hair type and care routine.
Pros and Cons: Reverse balayage is low maintenance but requires some commitment if you want it to stay for longer periods of time.
Maintenance Tips: Use color-safe shampoos and conditioners, as well as heat protectors when using styling tools. Keep your hair hydrated with weekly deep conditioning treatments or masks for best results.
Color Options: Choose a shade that will be flattering against your skin tone while still transitioning from blonde to brunette in an effortless way without creating patchiness on damaged hair strands.
Undoing Reverse Balayage: If desired, reverse balayage can easily be grown out over time by lightening the ends gradually until achieving the desired effect – adding lighter pops into the hairstyle.
With all these considerations in mind, reverse balayage could just be what you need if you're looking for subtle changes without making too much of a commitment! Whether it's going full brunette or transitioning from sand tones through highlights, this versatile trend offers great options that look amazing no matter how long they last!
Popular Color Ideas for Reverse Balayage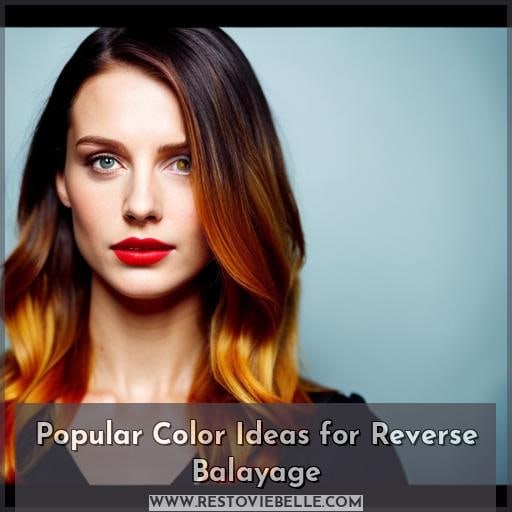 Are you looking to transition your blonde hair to a darker shade with depth and dimension? Reverse balayage is the perfect technique for achieving that, allowing you to choose from popular colors such as dark brown to golden blonde, chocolate light brown, honey blondes, and blushy mauve rose.
It's an effective way of transitioning while still maintaining some of the lighter shades in your hair.
Dark Brown to Golden Blonde
Try transitioning from dark brown to golden blonde with reverse balayage for an effortless, sun-kissed look. Undo the brunette to toffee shades by adding depth and dimension in just one session; get a natural look that won't require frequent touch-ups.
Consider your skin tone when selecting shades, then upgrade your hair care routine and styling tips for long-lasting results.
Chocolate to Light Brown
Take your hair journey to the next level by transitioning from warm chocolate tones to light brown for a subtle yet eye-catching look. Undoing reverse balayage is easy with maintenance tips and hand-painting techniques that give longevity of color.
Stylist recommendations are key when considering brunette to crimson hues or lowlights and tone.
Brown to Honey Blonde
You can go for a stunning honey blonde look with reverse balayage, seamlessly transitioning from brown to lightened shades and adding texture and dimension that will turn heads. Undoing the transition is easy, making it perfect for those wanting to experiment or just try something new.
Its longevity depends on hair type and texture, but consider skin tone when choosing this shade as well.
Dark Blonde to Blush
Consider transitioning from dark blonde to a subtle blush hue for the perfect fall look. A reverse balayage is ideal, allowing you to blend brunette and gray with soft highlights of blush. Suitability should be discussed with your stylist – color and maintenance tips are essential! Styling options range from beachy waves to sleek bobs; this color shift adds depth while still keeping it natural.
Mauve Rose
Try opting for a mauve rose reverse balayage to achieve a unique yet subtle look that will attract attention. This color works particularly well with darker strands, adding depth and dimension without the hassle of highlights.
With its low-maintenance styling techniques and compatibility with all skin tones, it's no wonder why celebrities are embracing this trend! For inspiration, take cues from celebrity hair stylists like Bianca Hillier, who prefer this hue for blonde transformations.
Conclusion
Reverse balayage is the perfect way to give blondes an effortlessly cool transformation. It's a low-commitment and low-maintenance approach that is becoming increasingly popular. Whether you're looking for a subtle or dramatic shift, reverse balayage is a great way to add depth and dimension to your blonde hair.
Not to mention, it's safe, effective, and the perfect way to transition from summer to fall. Plus, you can customize it to suit your style with a range of shades and colors to choose from. So, if you're looking for a trendy new look this season, consider giving reverse balayage a try.